Advertise Your Store,
Double the Sales,
By The #1 Dropshipping Ad Spy Tool.
Want to DOMINATE YOUR MARKET? Use FindNiche to uncover the winning secrets of best dropshipping ads and competitors' marketing strategies.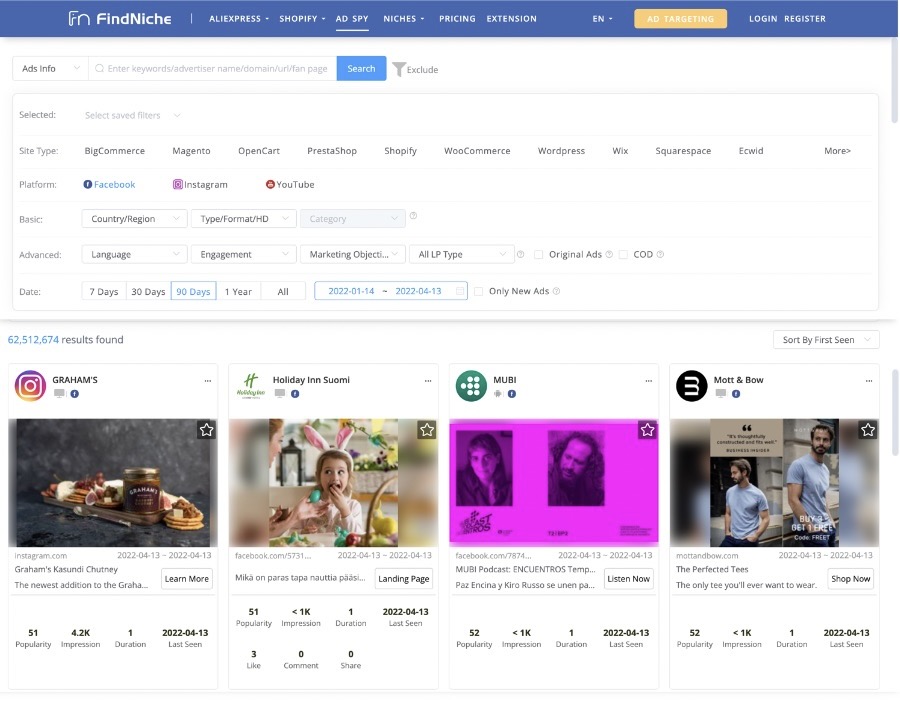 Best Dropshipping Ads & Products Will Be A Click Away!
80M+ dropshipping ads with comprehensive social media coverage. Spy dropshipping ads that hit the market and get hot winning product trends. Gain insight into competitors' marketing strategies and skyrocket your business!
Largest Ad Database
This largest database of dropshipping tools consists of 80M+ dropshipping ads and e-commerce ads. Examples of ads for your dropshipping marketing come from 80+ countries and 40+ websites.


All Platforms Covered
Dropshipping ads examples cover 36 e-commerce platforms and three major social media. You can get the available ads examples from Facebook & Instagram & YouTube according to the e-commerce platforms you use.

Intelligent Filtering
Search by keywords and filter available ads examples by 50+ filters such as website type, platform, country, category, etc.
Daily Update
With 10k+ latest dropshipping ads recommended by AI every day, you will never miss any of the latest product trends!
how to
Scale Your Business With The Dropshipping Ad Spy Tool
Spy Competitors' Dropshipping Ads On Multiple Platforms
The social media tracker covers dropshipping ads being run by dropshippers from all over the world.

In this huge database, you can filter the ads of your competitors with a very wide range of restrictions.

Search by keywords, advertiser name and domain name, or filter by website type, social media, country, ad type, engagement, time and more to load all the e-commerce ads you want to view with one click. Next, sorting by popularity, likes and comments will let you know which ads are winning people's hearts.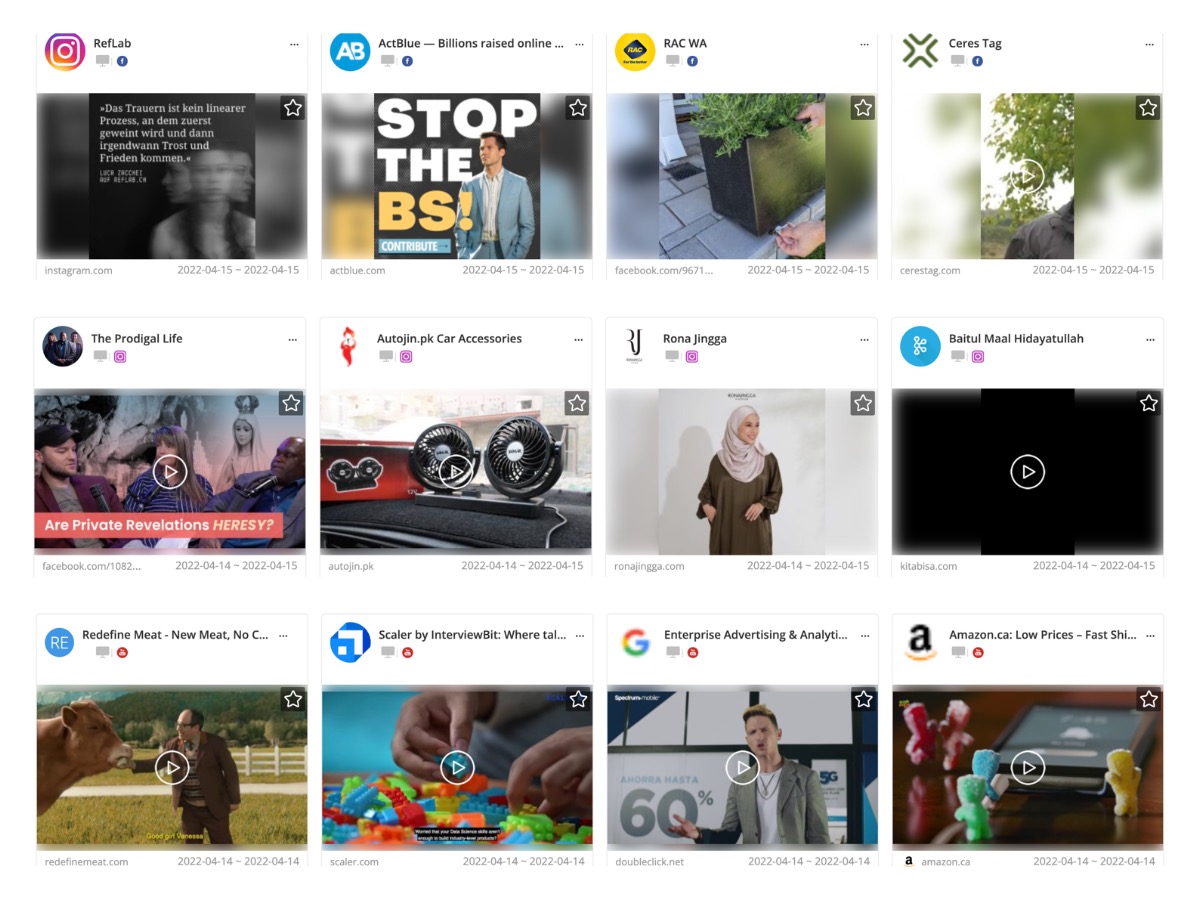 Learn From Winning Dropshipping Ad Examples
Do you want to start Facebook dropshipping? Or want to know how to run dropshipping ads on YouTube, Instagram, TikTok and Pinterest?

Winning ads examples from these social media sites hit the spot!

Based on the huge database, the dropshipping ad spy tool provides you with fine-grained ad examples analysis and you will save time on ad research and ad creation. Ad details, Shopify analytics, product profits, ad audience and launch calendar are information that competitors will never reveal to you.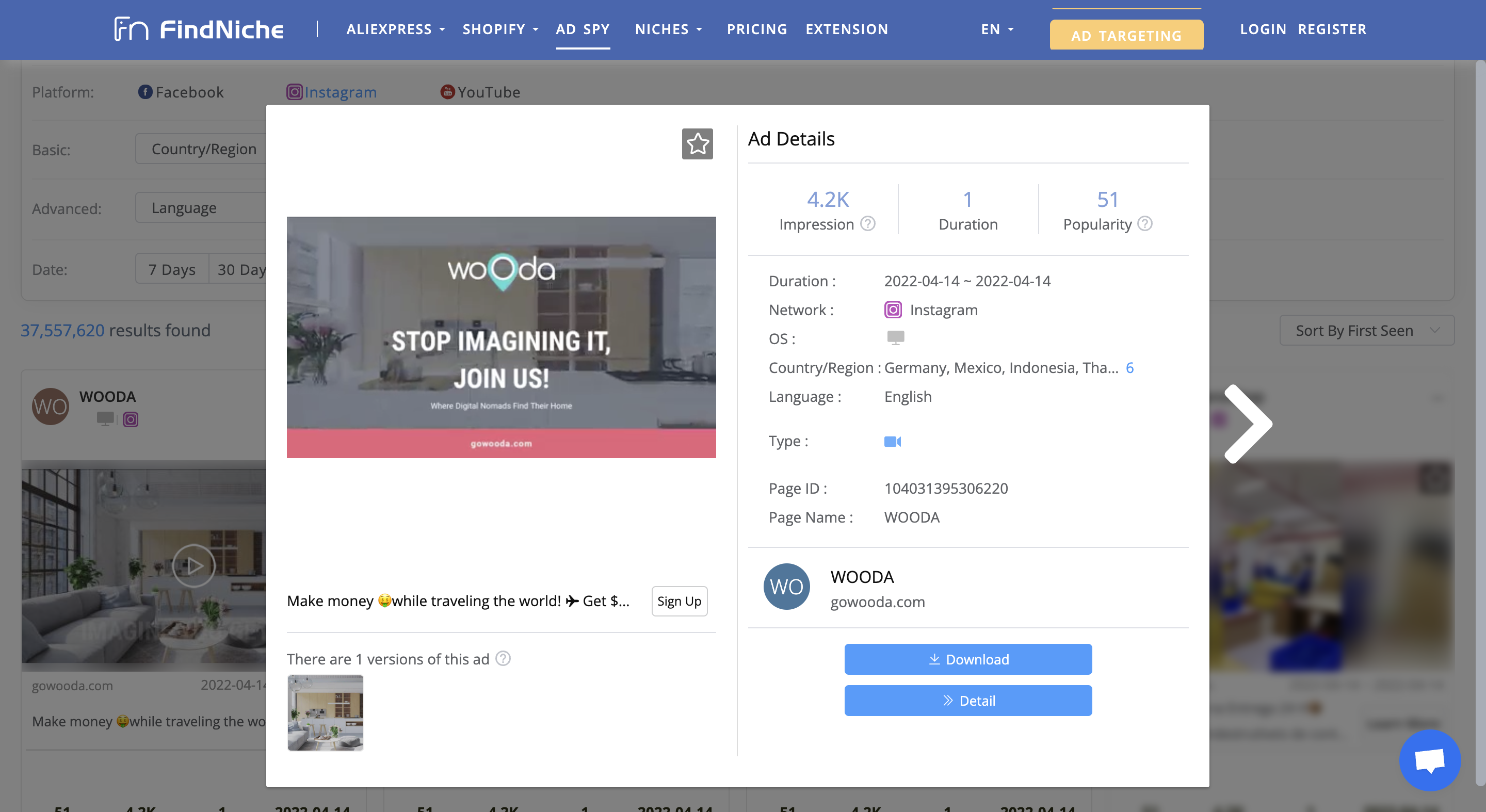 Full Access to The Latest Products Trends
Have you ever thought about it? Your competitors may be successful not because of a successful marketing strategy, but because of selling a successful product.

A smart dropshpper will not only learn marketing strategies from winning dropshipping ads, but will also get product ideas and spy competitor product research strategies.

Behind the 10k+ latest and most popular ads are thousands of hot product ideas that could transform your business overnight.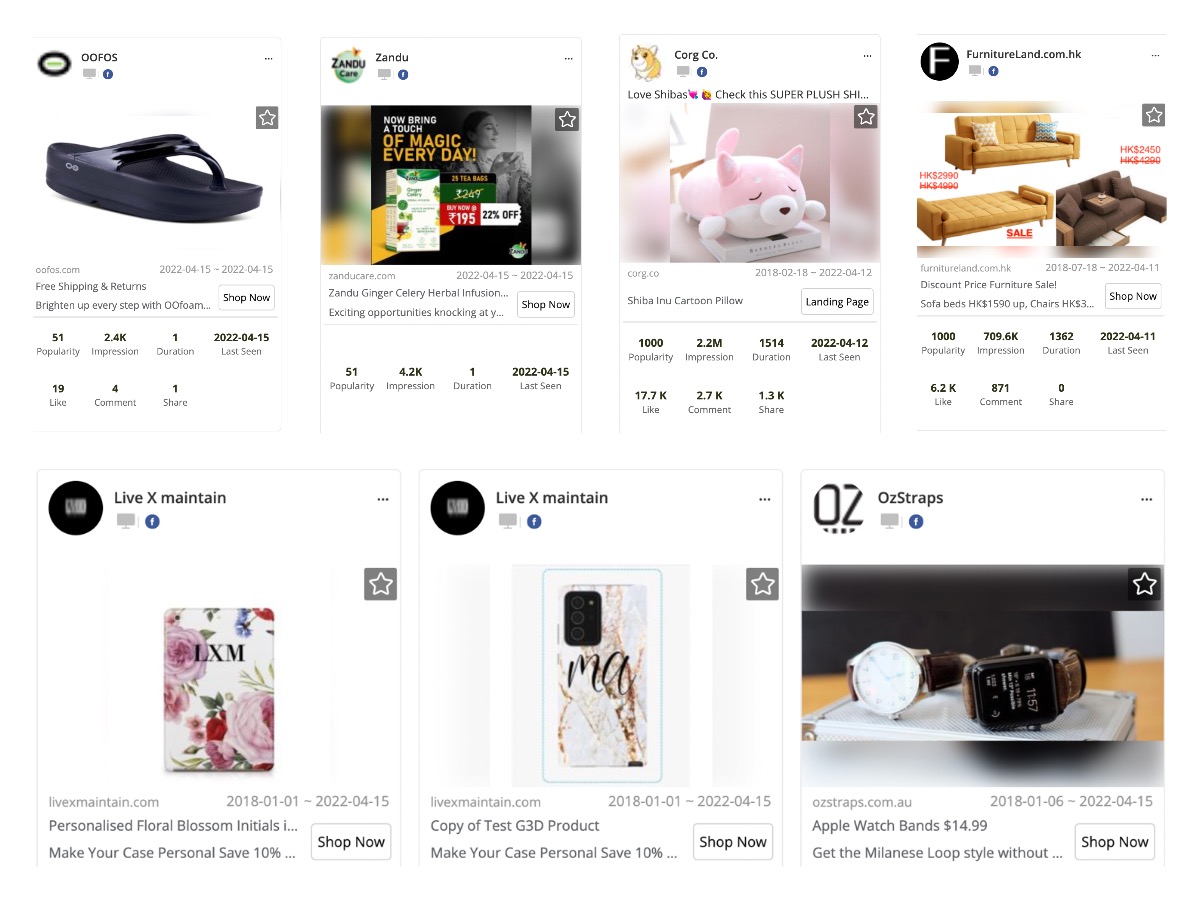 Accelerate Your Sales, At A Rate You Never Imagined!
FAQ
Frequently Asked Questions
1. About Dropshipping Ad Spy
2. About FindNiche
FindNiche is a Dropshipping Ad spy tool that provides with ad spy & analytics from 40+ websites.

Just as powerful as Ad Spy is the product research feature, FindNiche provides winning dropshipping niches for dropshipping sellers based on analysis of 125M+ products from AliExpress and Shopify.
FindNiche allow sellers find winning ads and helps sellers take inspiration from competitor's ads.
FindNiche allow sellers spy competitor's marketing strategies.
FindNiche allow sellers get access to winning dropshipping niches and spy product trends.
FindNiche allow sellers monitor competitors' product research strategies.
FindNiche will become sellers' competitive advantage and grow dropshipping business.
FindNiche provides AI analytics and intelligent filtering based on the most powerful ad database, enabling customers to view any
dropshipping ad
they want to see.
FindNiche provides
dropshipping product analysis
based on the most powerful product database, including sales volume, competition and trend forecasting.
FindNiche recommends the latest dropshipping niches and winning ads for sellers every day.
FindNiche offers dropshipping store monitoring to help dropshipping sellers learn from competitor's product research & marketing strategies.
Try FindNiche for only $1
.
All-In-One Dropshipping Ad Spy Tool
More than just Ads...