The Best Alternative to AliExpress Dropshipping Center
AliExpress Dropshipping Center is a great way to find the best items on AliExpress. However, if you explore more, you will find that FindNiche has great features to make dropshipping from AliExpress easier and faster.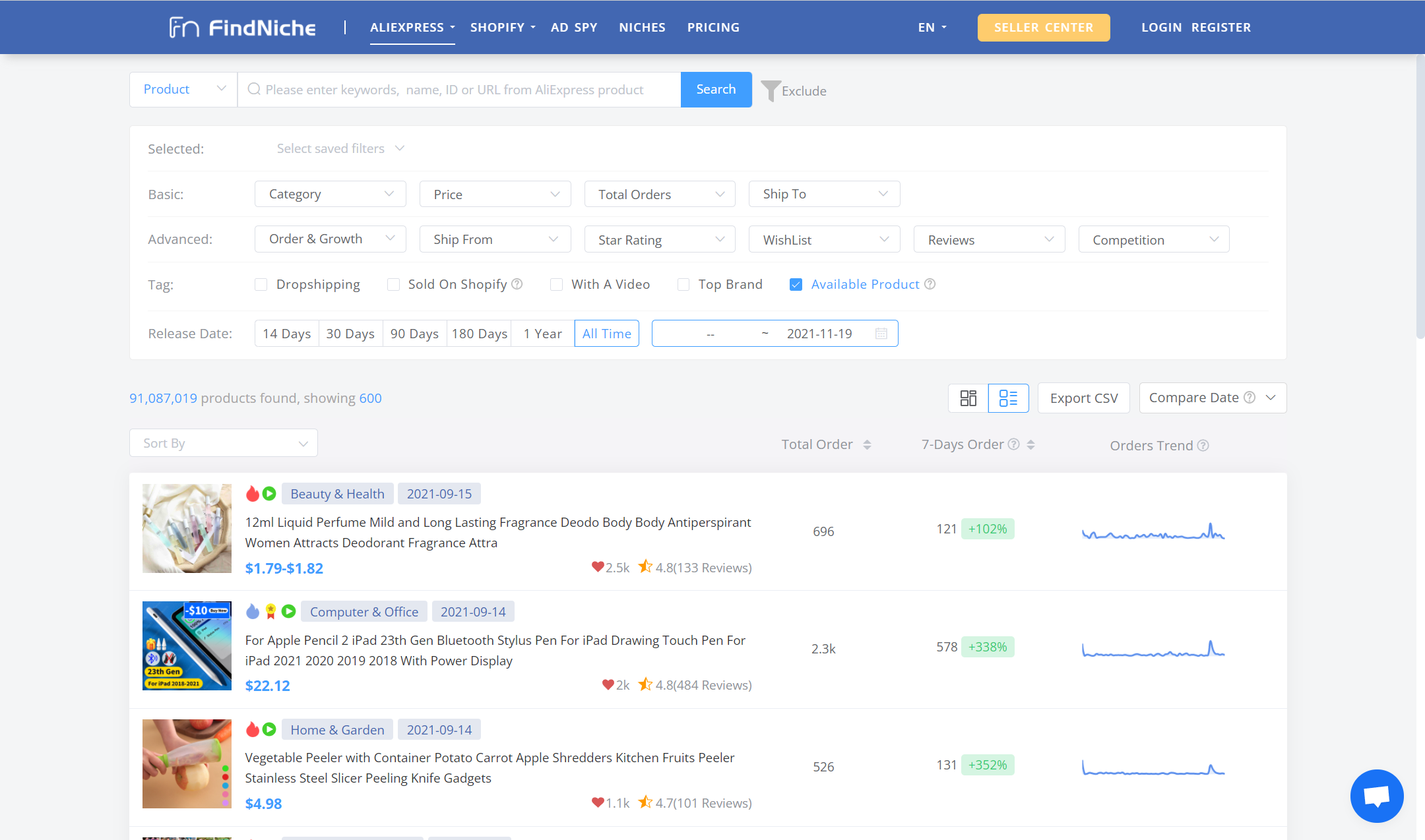 BENEFITS
Why FindNiche?
Similar to AliExpress Dropshipping Center, FindNiche offers two primary functions for you to choose from.
AliExpress Product Analysis
AliExpress Database is one of the awesome functions. With it, you can find products, analyze products, and easily look for potential products.


How?
The database provides 100M+ products. You will get a lot of filtering and sorting options. For example, you can filter and sort proudcts over a certain growth rate of order (up to Last 30 Days).

Besides, the Product Detail can give dropshippers some useful information. Such as the wishlist trend, price trend and stores on sale.
Trending AliExpress Products
The trending products is the other wonderful function. With it, you no longer have to look through thousands of closely similar items, but choose the right trending products on AliExpress quickly and easily.

How?
The page provides 2 lists: Hot Trending shows you 500 items that are best-selling on AliExpress. New Trending displays 500 AliExpress products that are going up!

What's more, you can filter the trending products by category. Such as shoes, women's clothing, pet products.
TEST-DRIVE FINDNICHE ALIESPRESS DROPSHIPPING TOOL
Blog
How to Boost Your Sales with AliExpress?
Sit back comfortably, and read AliExpress dropshipping blogs.