15+ Best Free AliExpress Product Analysis Tools For Dropship 2022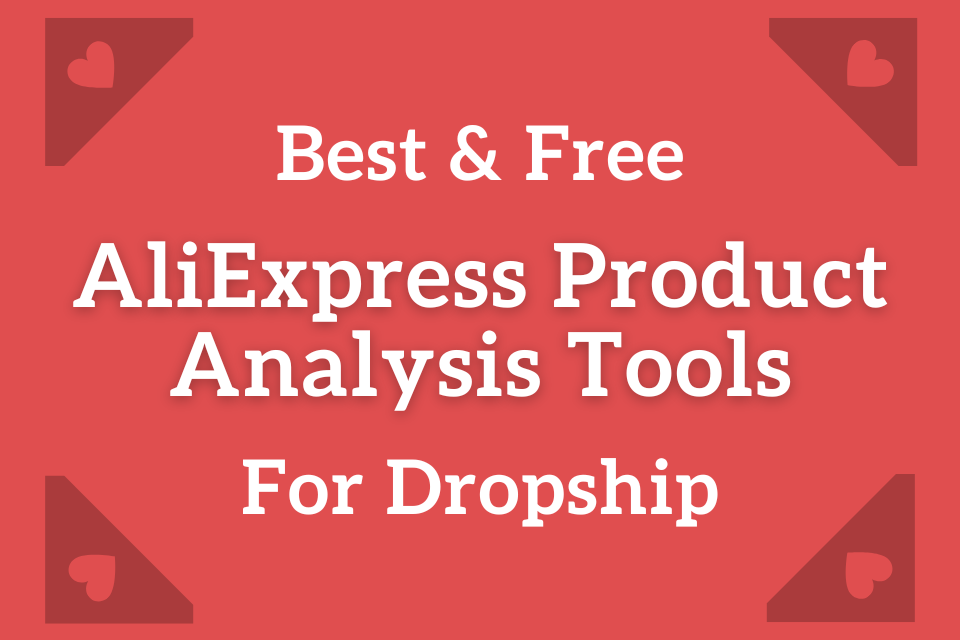 Table of content
Why is AliExpress product analysis necessary for dropship sellers?
AliExpress is now a world-known platform for retail and wholesale, and also, a proven best choice to find suppliers for dropshipping businesses. The lower prices and resourceful types of products attract a steady stream of online sellers to mine niche products on AliExpress. Let's take a look at 5 reasons why online sellers prefer AliExpress most!
AliExpress provides services for over 190 countries on the earth.
The categories and items are so plenty that you can almost find everything on AliExpress.
The majority of AliExpress listings have exquisite image sets and descriptive text to get you inspired.
You can directly buy from the factory suppliers on AliExpress, which means lower prices and higher profits.
Friendly to dropship sellers because AliExpress will charge no upfront fees for drop ship businesses.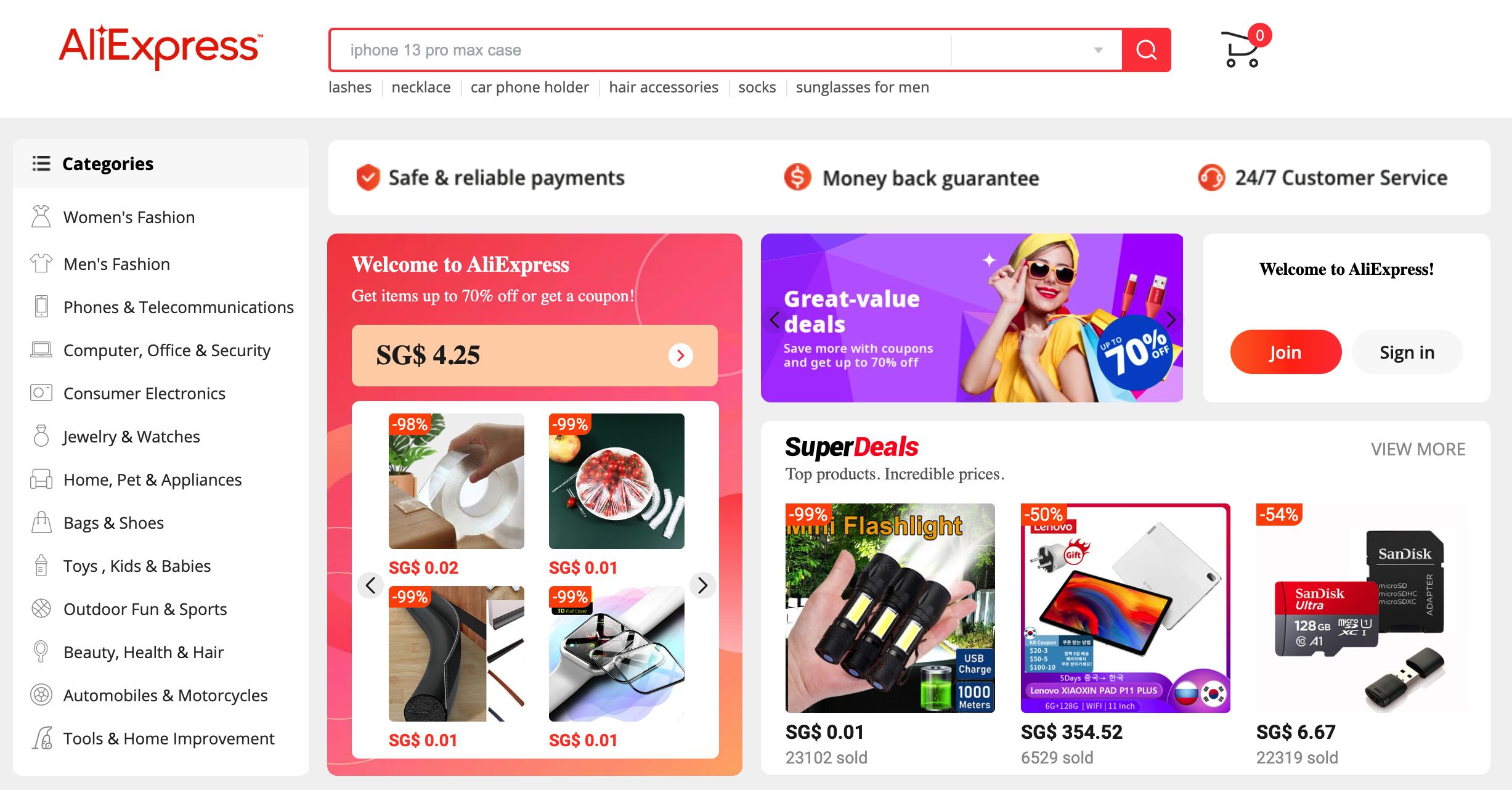 A qualified product with a well-organized and SEO-oriented listing can be the killer, and the control of costs will help maximize the profit margin. To make sure you are selling the correct (trending, profitable, hot, winning, compliant with laws and policies) products, it's a must to perform an AliExpress product analysis before taking action!
Why do you need for an AliExpress product research tool?
AliExpress is a paradise for dropshipping, however, it could be puzzling when it comes to determining which product is profitable and worth investing in, especially for dropship novices. An AliExpres product analysis tool is a nice choice to get you out of struggle.
To be regarded as a "nice" tool, it needs to provide trustworthy data, turn practical methods into easy-to-use functions, and automate complicated processes. A "nice" tool is to grow your business, while an overrated tool could ruin your workdays.
——That's why I choose to write down this article to save you time in testing countless AliExpress product analysis tools in the market.
What are the best AliExpress product analysis tools?
If you have no ideas where to start your product analysis process, AliNiche is your best solution because it'll take you to the best-selling products on AliExpress (the "best-selling" items are picked by the AI algorithm). On the home page, category pages, and every search result page, the best-sold products are displayed as originally, so as to save users' time in finding trending and profitable items to sell.

When you are going through the item lists or details on AliExpress, this extension will straightly add some supplementary information about each item right on the page, including sales in multi periods, sale trends, user feedback, buyers' geographic analysis, the estimated cost of different shipping plans, etc... So users can know better about this item/product. Don't forget to click the AliNiche icon for more analysis!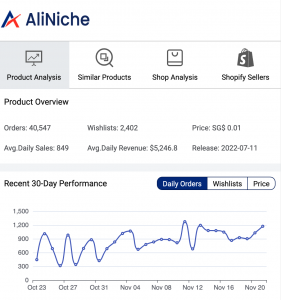 There could be multiple vendors on AliExpress that are selling the same or similar products but at various prices. Right-click on any picture of the product you are interested in to check more similar listings on AliExpress. Carefully compare each source to find the suitable supplier that can bring you the most profits!
Unlike many other free tools, AliNiche provides online customer support despite of being free. The developer of this AliExpress product analysis extension is the famous FindNiche company, so you can always find help at https://findniche.com.
---
FindNiche is a popular Aliexpress product finder tool for AliExpress and Shopify, which provides comprehensive performance analysis, including total sales, reviews, and estimated profit margins, as well as links to AliExpress suppliers, Shopify competitors, and successful social media ad campaigns.
It mainly helps in finding niche products by grabbing and analyzing data from AliExpress and Shopify. You can learn about AliExpress and shopify market through findniche software:
Which products perform well in the market and are worth following up.
Which competitors are worth investing, imitating and surpassing.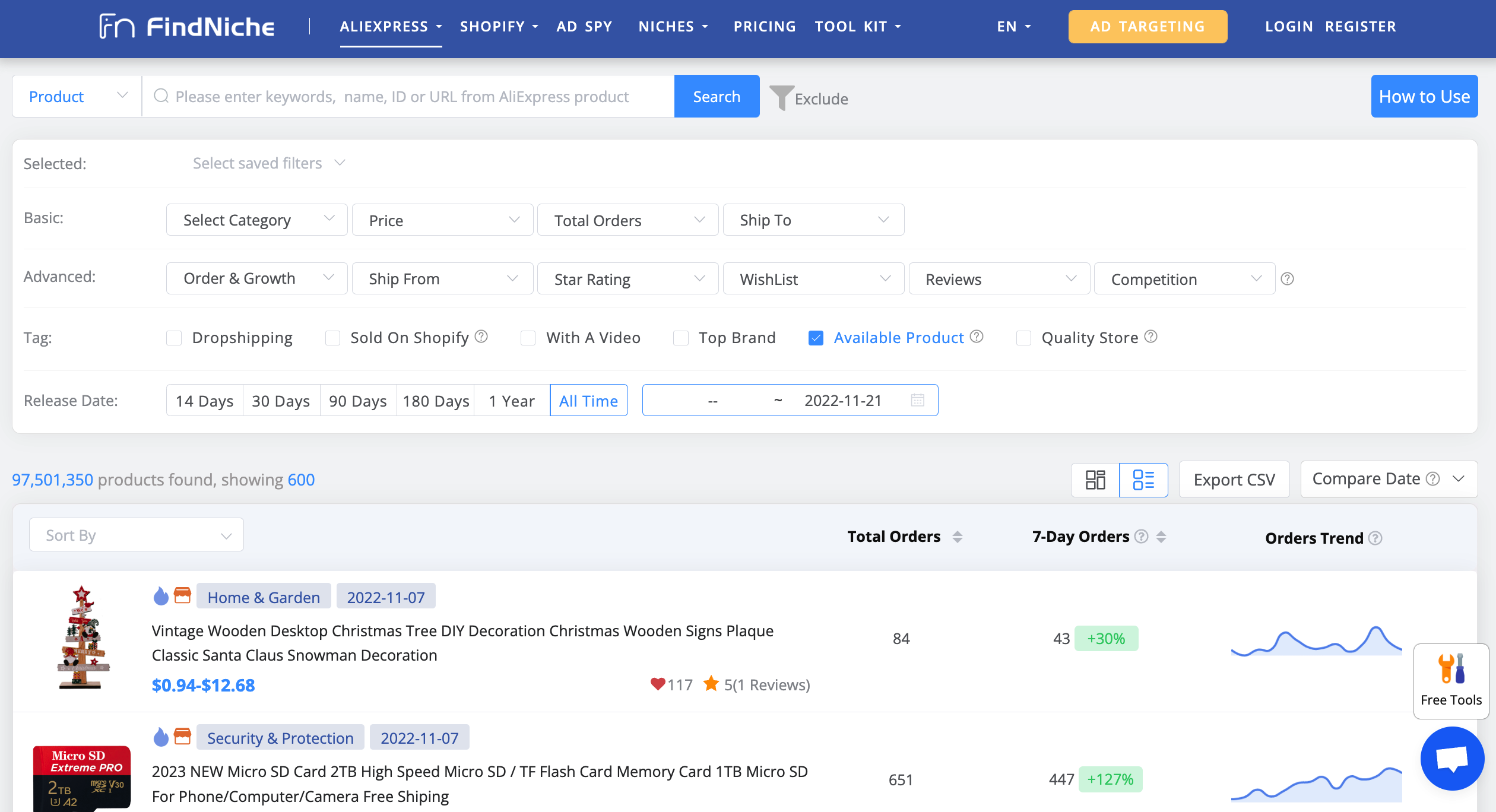 ---
3. Ali Insider
Ali Insider is an AliNiche alternative extension that also works on Chrome. It's designed to find top-selling AliExpress products and niche ideas without time-consuming manual product research. It has a curated database of constantly-updated 30K+ best products on Aliexpress along with paths to their suppliers.
As a Chrome extension, Ali Insider lets you view comprehensive data for any AliExpress product, like sales, growth, shipping options & their costs, and displays average sales, orders, and reviews instantly.
It's free to use some features of Ali Insider. To access its full features, a membership (charges $19.95/month) is required.
---
4. Product Mafia
Product Mafia is a product research platform with a database of over 1,000 well-selling AliExpress products, as well as advanced performance data including total sales, social media engagement, and links to top suppliers.
Although Product Mafia is newer than other AliExpress research tools, it is one of the highest-rated tools on the market, scoring an impressive 4.8 on TrustPilot from over 280 customers.
It's easy to start product research with Product Mafia. Simply use its advanced filters to browse the vast database, and quickly import winning items into your Shopify or WooCommerce store with a few clicks.
Users can access most analytics about products and sales with a free membership on Product Mafia.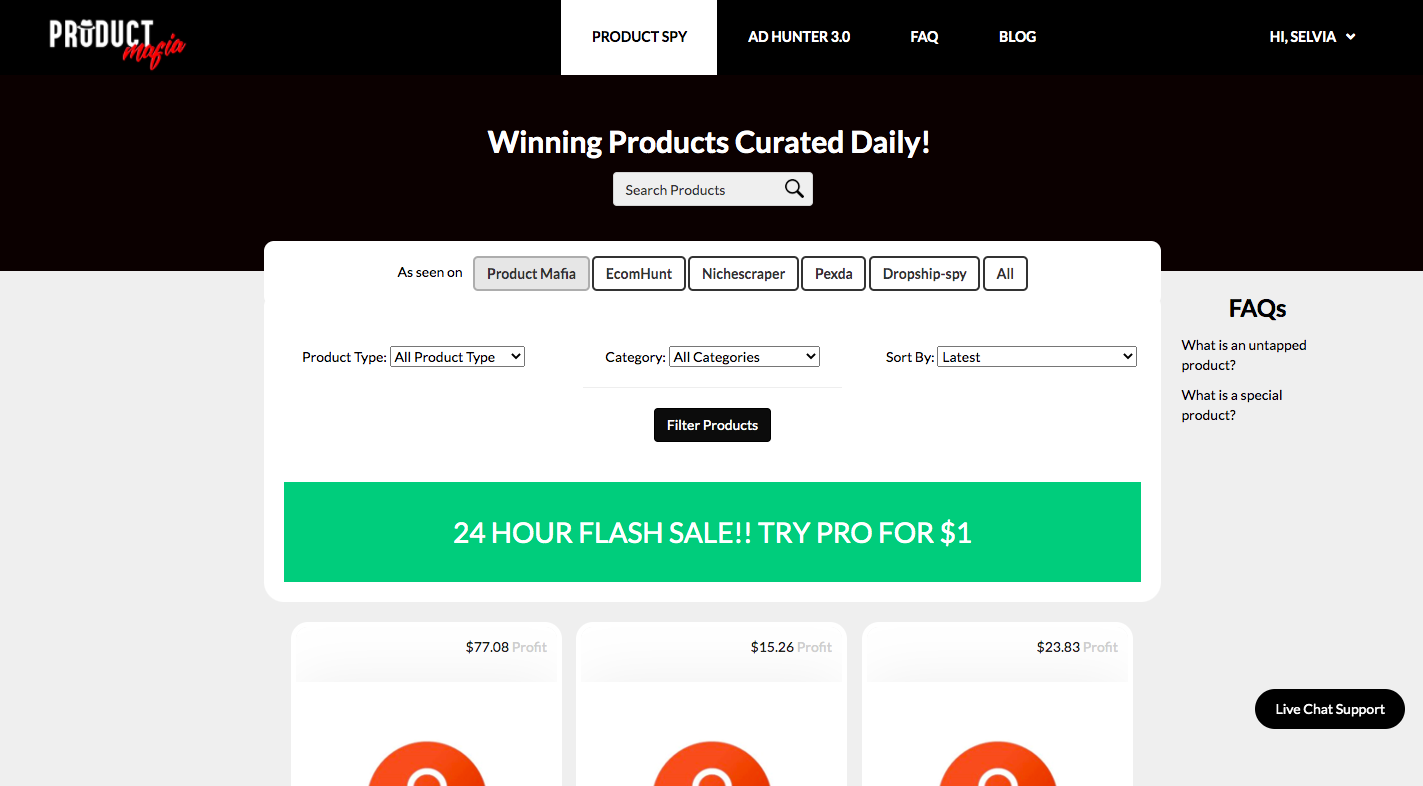 ---
5. Dropship Center
Dropship Center is an official and free tool from AliExpress that allows you to quickly locate trending aliexpress products with the highest sales growth and real customer ratings.
All you need to do is create a free account on AliExpress to access Dropship Center. After creating that, you will be able to start analyzing any AliExpress product immediately. In addition to providing a list of over 2,000 of the most popular products on AliExpress, Dropship Center allows you to quickly scan any AliExpress product using a URL to see sales data and growth rates, and the reliability of logistics.
Official, powerful, and free!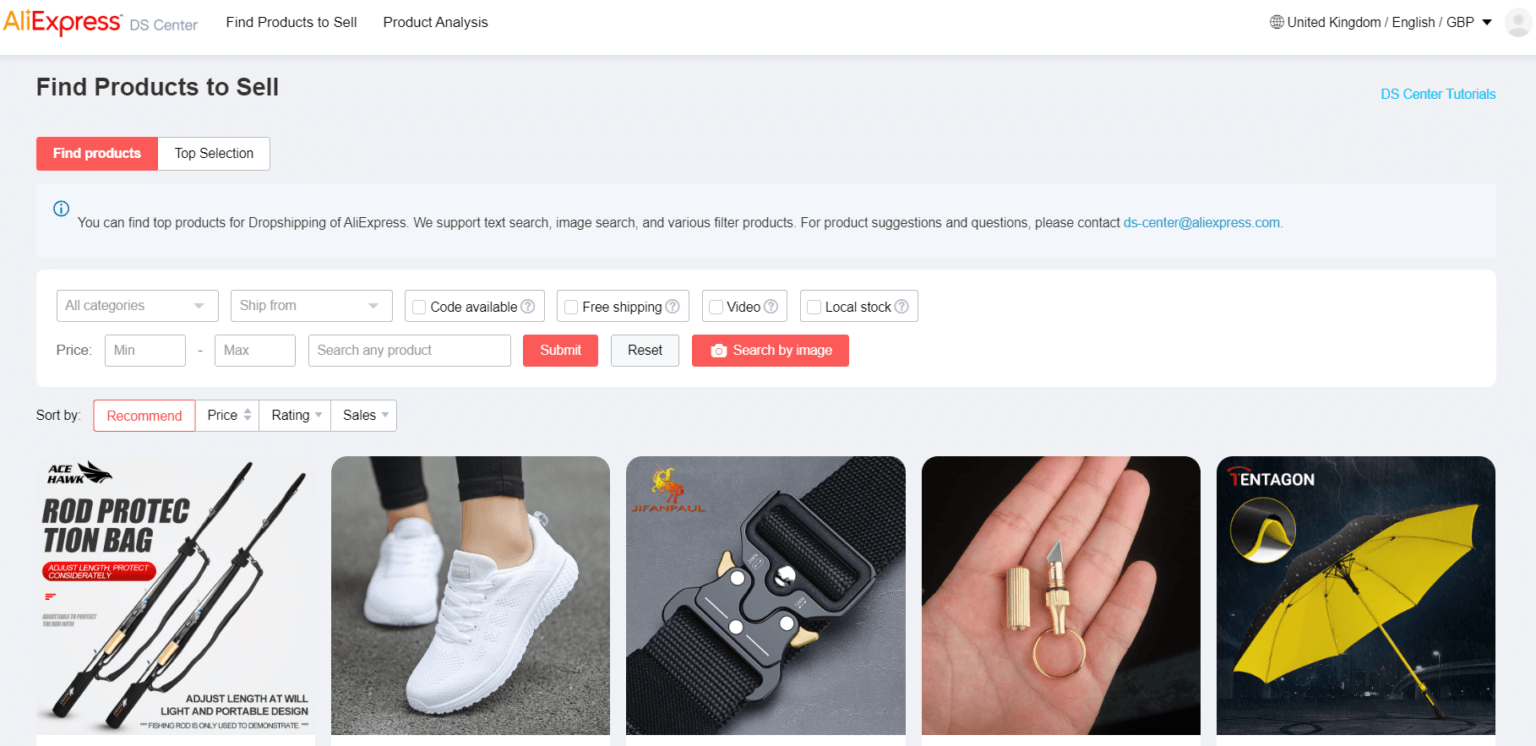 ---
6. Ali Hunter
Ali Hunter is another popular Chrome extension for AliExpress product discovery. You can use it to:
Analyze products' price change to buy at the perfect time.
Find the winning prooducts to sell by discovering daily aliexpress trending products and identifying to-selling items.
Identify the best selling prices by comparing simialr products.
Track store's sales performace in real-time.
Discover your competitors' hidden sales data by finding out their daily revenue, best sellers, and hourly sales.
Check suppliers' credibility before buying any items.
It costs no fees to view the basic information about the product and stores, but when it comes to sale tracking, data export, and generating data reports, Ali Hunter charges from $19.9 to &149.9 per month.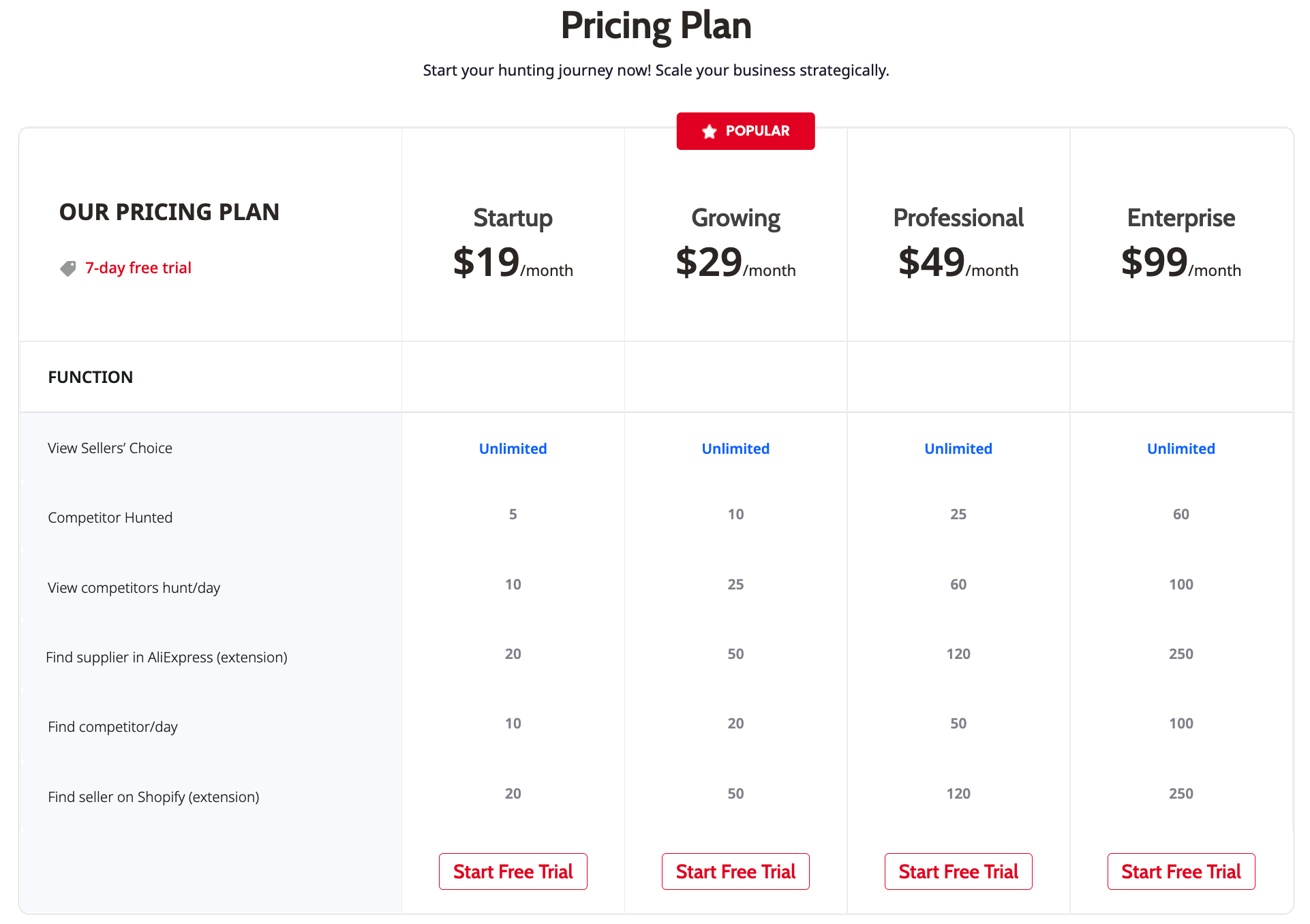 ---
7. Ali Quick
Ali Quick is an AliExpress product research tool for dropshipping and online selling, which has similar features as AliNiche. It's totally free to use! The most useful information/functions it provides are:
price history
order history
similar products
seller reliability
real photos of goods
product summary
image & video download
video identification
AliExpress standard shipping identifications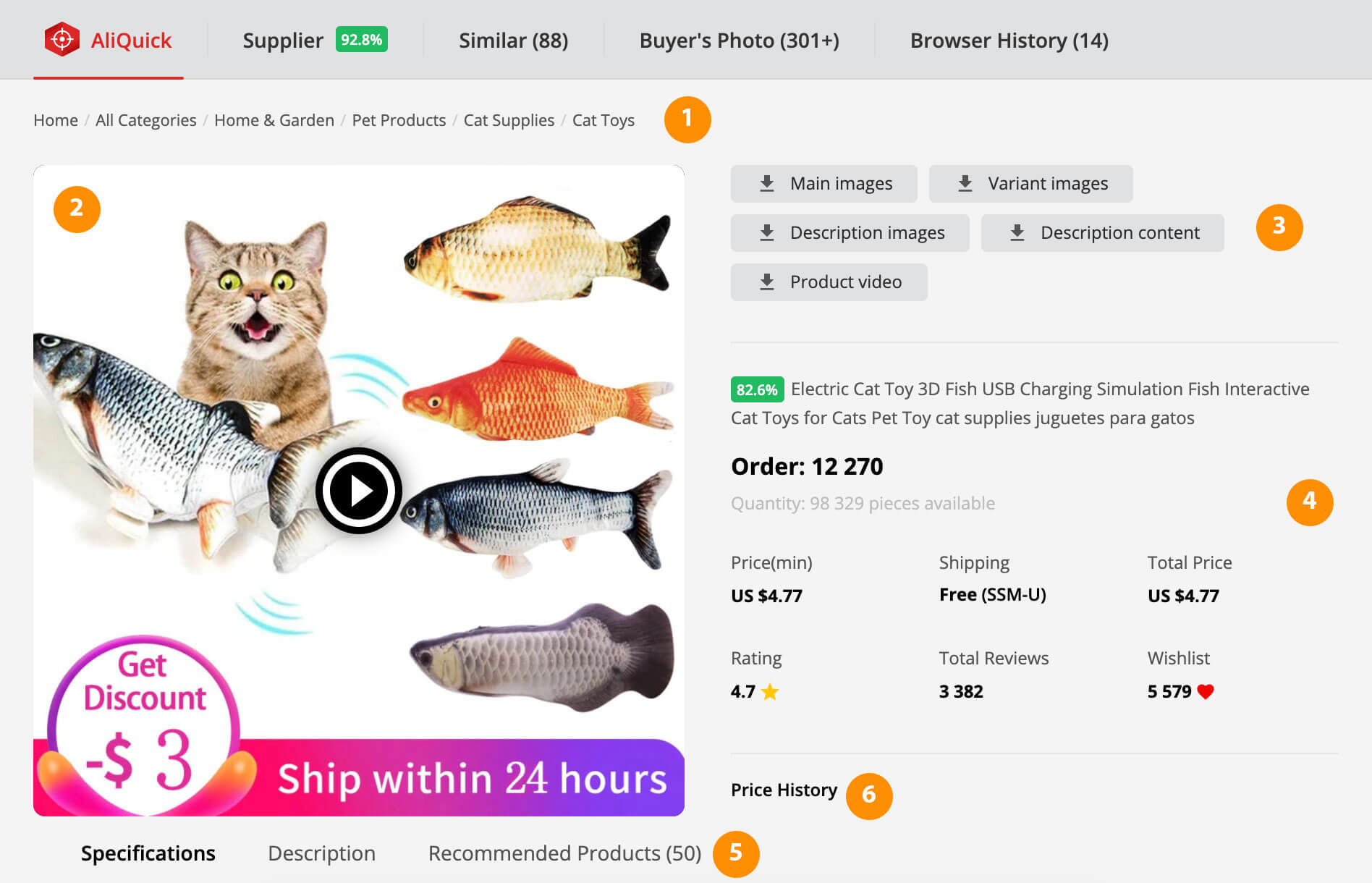 ---
8. ZIK Analytics
ZIK analytics is a market research tool that helps sellers find profitable products to sell on the online marketplaces, trusted by thousands of users. It offers product search tools for eBay and AliExpress.
For AliExpress product finder, ZIK Analytics offers filtering by price, votes and ratings, shipping method, sales or shipping method. Users can also view data on supplier performance, which products are selling well, and get inspiring ideas for your online store. It also provides a market overview of each product where users can view the number of listings, the number of products sold, the average price, and the total sales revenue in USD.
ZIK Analytics currently charges for each month from $20 to $50.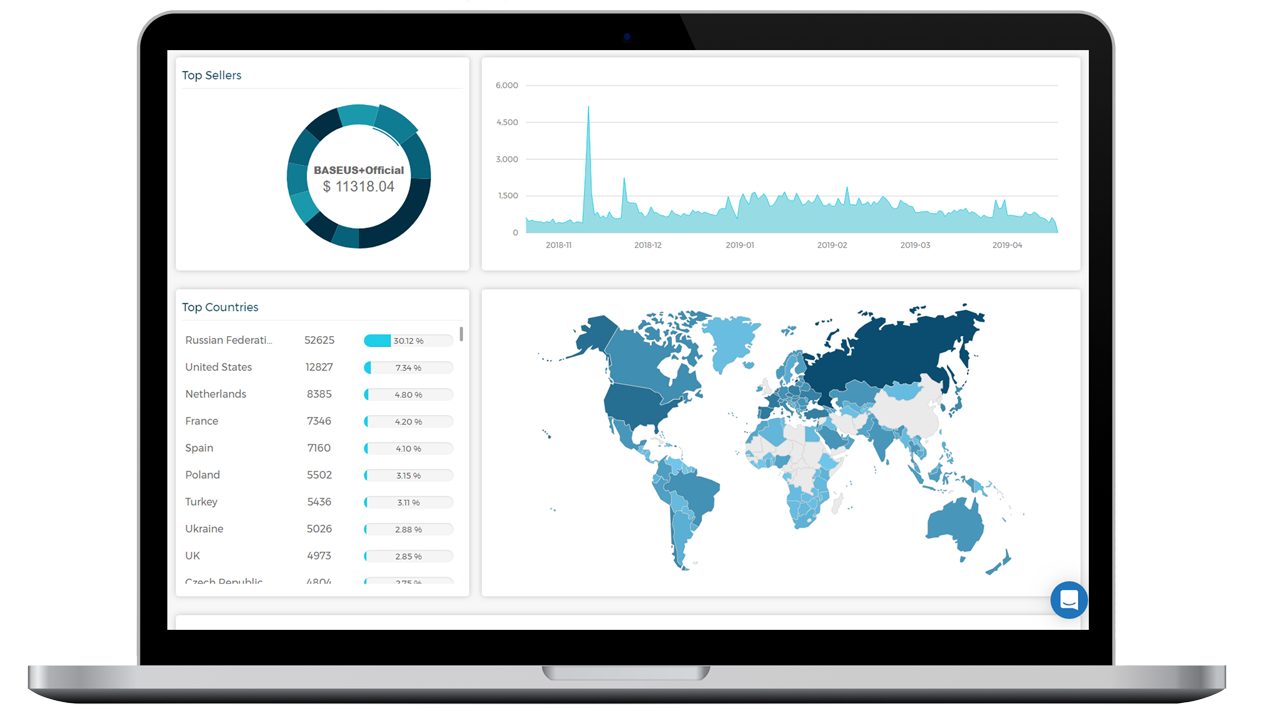 ---
9. Ali Extractor
AliExtractor is a professional Chrome browser extension that allows you to research and analyze numerous AliExpress products with a few clicks.
From cost and retail prices to total monthly sales, revenue and ratings, AliExtractor gives you instant product analysis including cost, retail prices, monthly sales, revenue, rating, etc. and quick filters to find winning products and niche opportunities with ease.
There are also many other unique features and benefits, such as exclusive cashback rates on AliExpress orders, an innovative profit calculator and product data export.
---
10. AliShark
The next tool is called AliShark. If you want tons of filtering options to find great products on AliExpress, AliShark is the product discovery tool for you.
If you want to use keywords for research, they give you a lot of options (like including and excluding keywords).
Just browse the massive product database, filter products by price, shipping location, category, sales or vote, you can find the right item in minutes. Additional features include importing items directly into Shopify and save products for later review.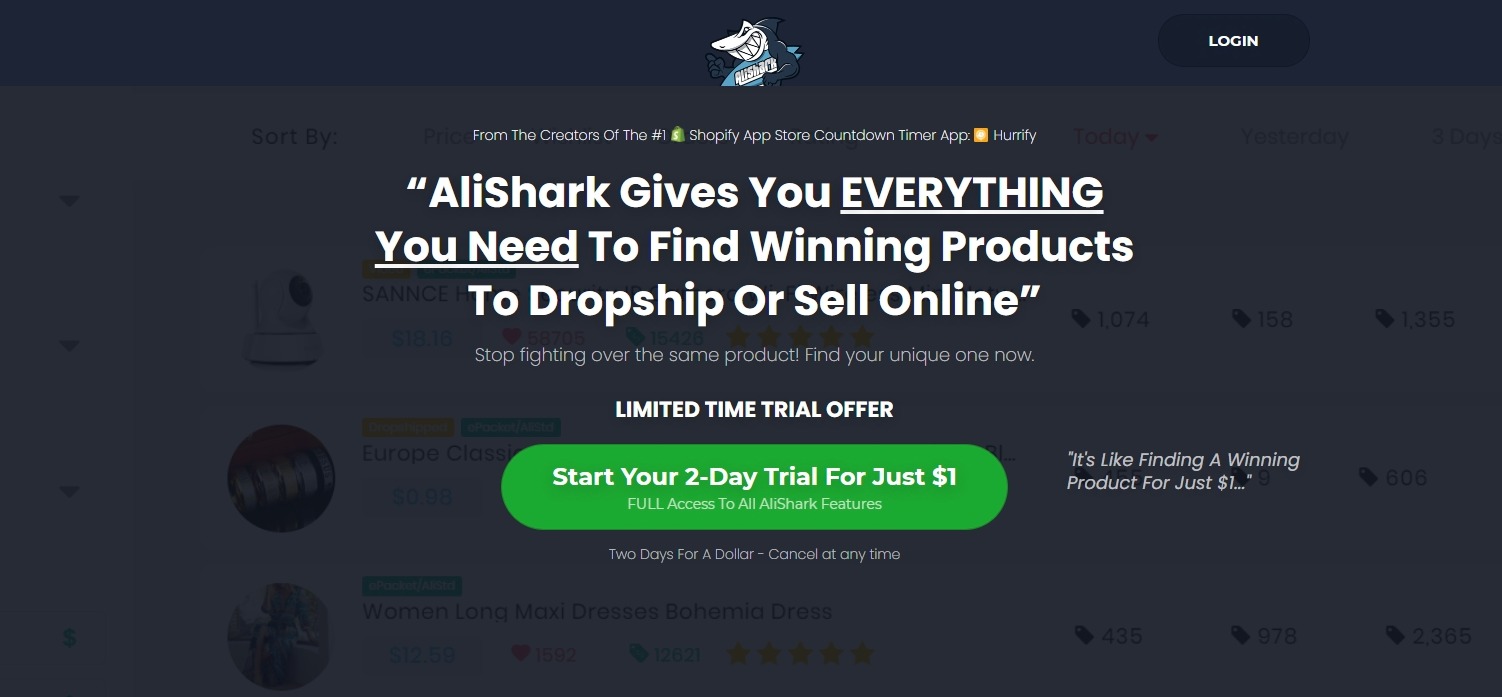 ---
11. DropshipMe
DropshipMe is the most popular WordPress plugin for finding winning AliExpress products and importing them into WooCommerce powered stores.
Being the top 1 plugin AliExpress-to-WooCommerce, DropshipMe is good at professionally editing product titles, quickly filters to find products in any niche, and the ability to import existing customer reviews from AliExpress.
Simply install the plugin, then you'll be able to browse a massive database of over 50,000 manually selected AliExpress products!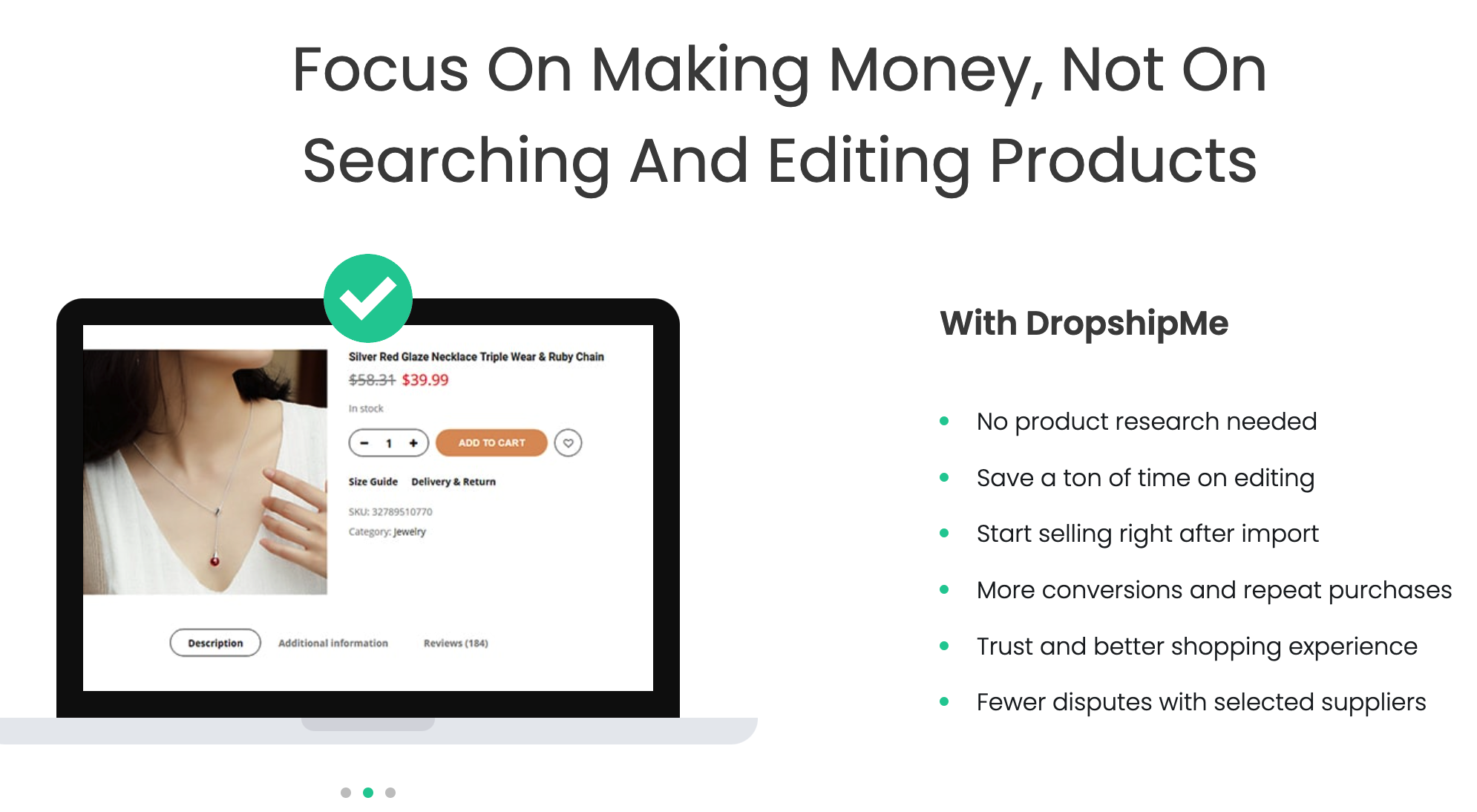 ---
12. Thieve
Thieve is a AliExpress finder tool that shows what's trending on AliExpress and gives you lots of inspiration for your product searches - you can even filter products by category and view items in your niche.
You can quickly locate popular AliExpress products across multiple categories, including homewares, electronics, apparel, sports, and toys with the help of Thieve.co.
Free users have full access to all products, but to use some additional features such as sales data and links to the best AliExpress suppliers, you need to purchase the optional premium plan.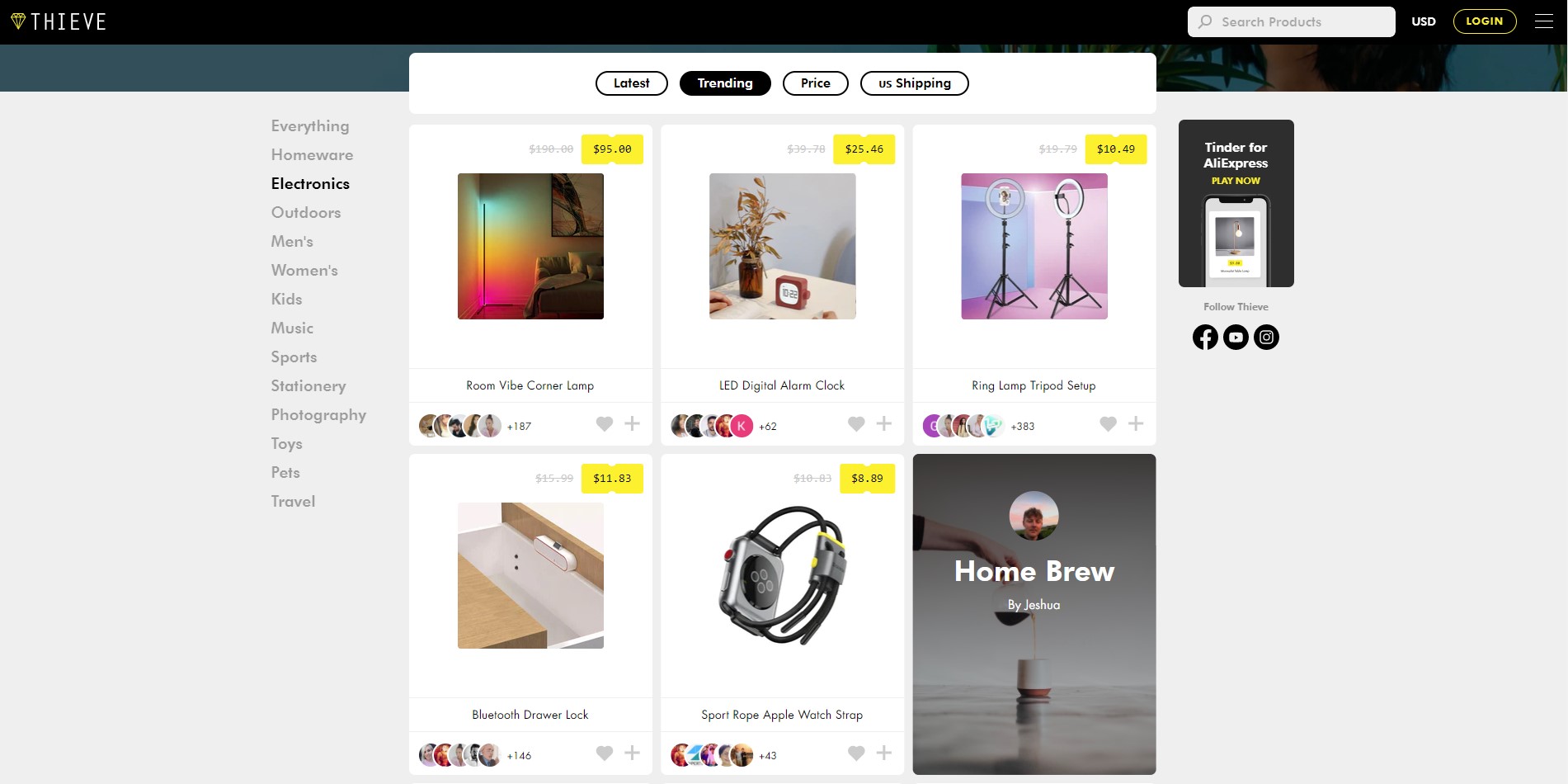 ---
13. Sell The Trend
Sell The Trens is an innovative product research tool for AliExpress product analysis. It provides many useful filter options such as prices, with videos or not, ratings and so on.
For each item, Sell The Trend displays a graph on which useful information is prvided, such as order trends over time.
This tool provide a 7-day free trial, and after that the monthly fee will be $39.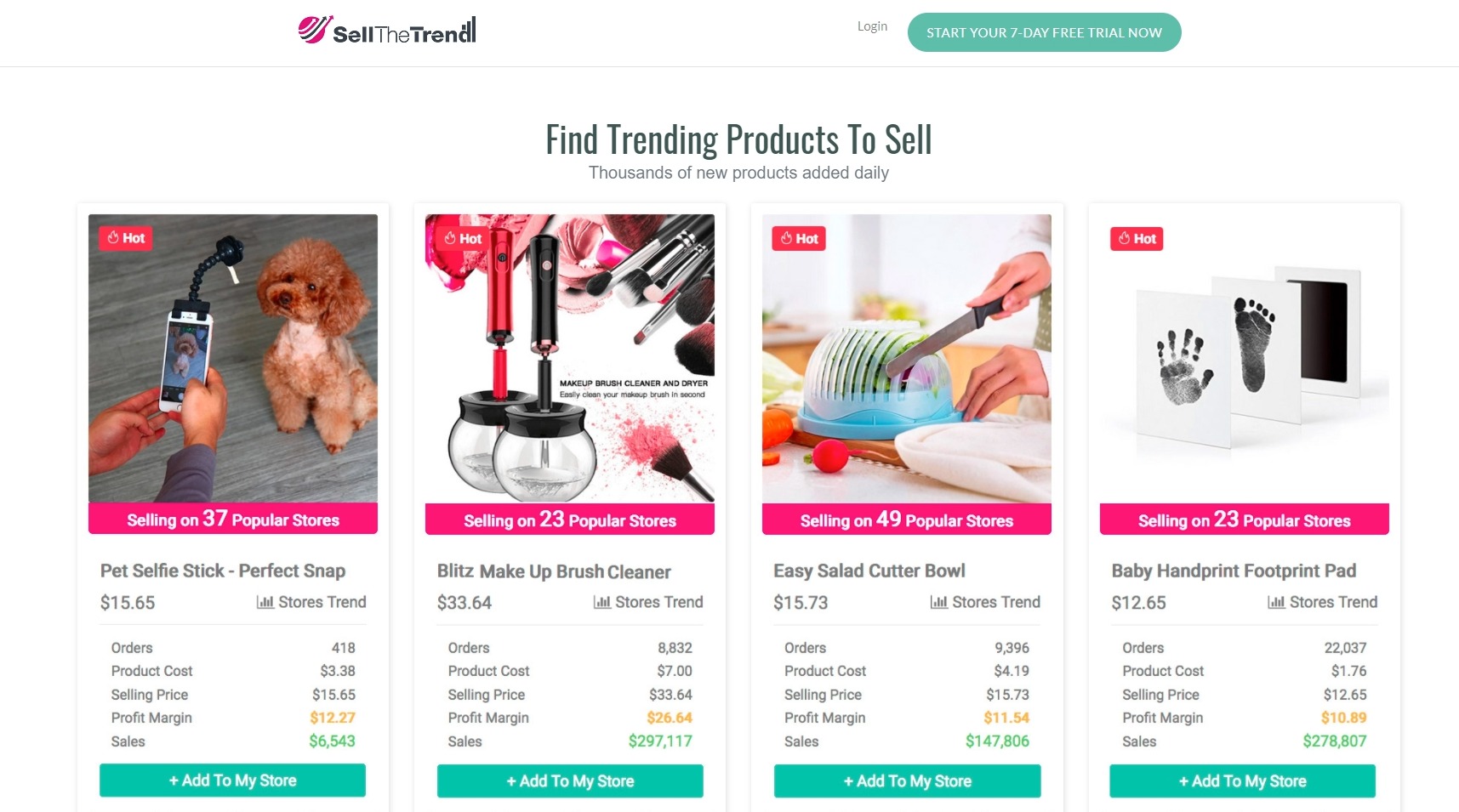 ---
14. Asify
Asify is a free Chrome extension provided by asify.tools. It's thought as an essential tool for all E-merchants for the development of their business with Aliexpress.
This product search tool will add a lot of information to AliExpress for you. The surface is kinda like the AliExpress Dropshipping Center, with much more additional information provided.
You can view the lasting time of the target AliExpress store and the number of orders a store or a product has got on it. What's more, it is completely free & unlimited uses! No registration, no trial period, you install it and you enjoy it instantly.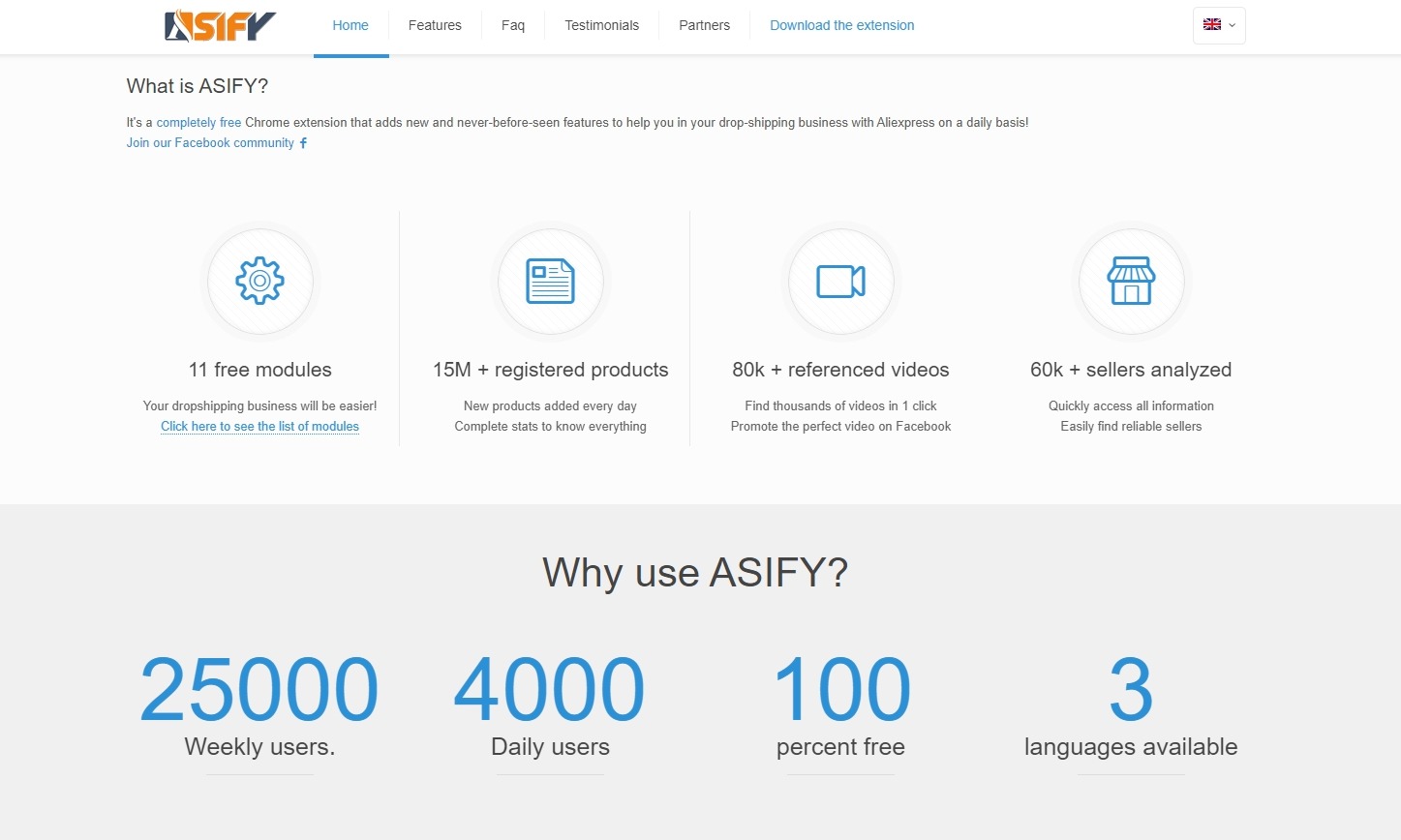 ---
15. Niche Scraper
Niche Scraper is another highly-recommended AliExpress analysis tool that includes an "AliExpress Product Scraper" inside. The splendid options for filtering products are the highlight of this tool. Here is what you can use for sorting:
category - shows products that have been crawled from the current AliExpress category.
recent orders - applies to products with limited order quantities.
price - you can enter the price range here.
Ali score - determines the performance of a product with its own formula. The higher the score is, the more valuable.
competition - refers to how many sellers are selling the same/similar products on AliExpress. The lower the number is, the better.
growth rate - shows the increase in the sell-through rate over the past 7 days. The higher the score, the better!
recent order - shows how many orders the product has received in recent months. This indicates the popularity of the product.
The great thing is that not only can you filter by categories, but you can also enter any keyword you want, although you might end up with some irrelevant products because they added that keyword to the product name.
Niche Scraper is currently priced at $39 per month.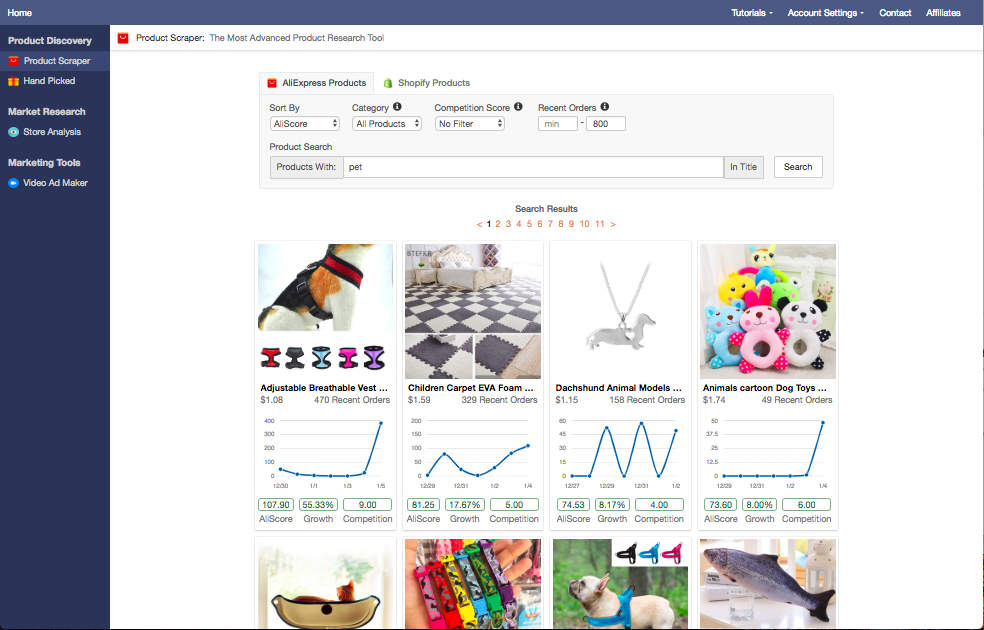 The bottom line
That'll be all about the 15 best (including free) AliExpress product analysis and research tools I want to recommend. I hope this article helps in saving your time of investigating tools like these and wish you good luck with your online dropship business!
---