How to use the Walmart tools to select products on the Walmart platform?
For a seller, choosing the right product can make your store operations more efficient and accelerate the growth of GMV (gross merchandise transaction). So how should Walmart sellers choose products?
It is said that seven points depend on product selection and three points depend on operation, which shows how important it is for sellers to choose the right product. How should Wal-Mart sellers choose products? The following lists several ways for you to choose products:
1.Learn which products cannot be sold on Wal Mart through Walmart tools
Wal-Mart's Prohibited Products Policy stipulates which products are prohibited from sale and which products can only be sold after written consent and approval. Common items include explosives, recalled products, firearms, etc., and less common items include digital items, stuffed crib liners, eclipse glasses, etc. It is recommended that sellers check Walmart's prohibited product list again before putting new listings and new products on the shelves, because Walmart may update it from time to time. Of course, products that are not on the banned list must also follow applicable laws. Walmart's official seller help center can provide all prohibited sales lists, which can be used as a reference for all sellers.
2.Find out which products are selling well on the Walmart platform through Walmart Tools
Products that are currently performing well on the Walmart platform can give sellers a reminder that they should consider the category of these products when selecting products. There are four great Walmart tools that can be used to analyze the best-selling products and categories on the Walmart platform:
Walmart Best Seller Ranking: A product research tool from Walmart Seller Central
Walmart top-selling Key items: a list of popular products on the Walmart platform
Algopix: Multi-channel product research tool from third parties
WalmartHunt: the most popular chrome plug-in tool on the Walmart platform
Here is an example of the acclaimed WalmartHunt plug-in tool:
Add the WalmartHunt plugin to your Chrome browser and it will work when viewing the Walmart catalog or searching for any keyword.
You can quickly check the core indicators of the product at the bottom of the product list page. Including seller information, logistics provider, arrival time, return policy, popular keywords, brand, positive rate, number of sellers.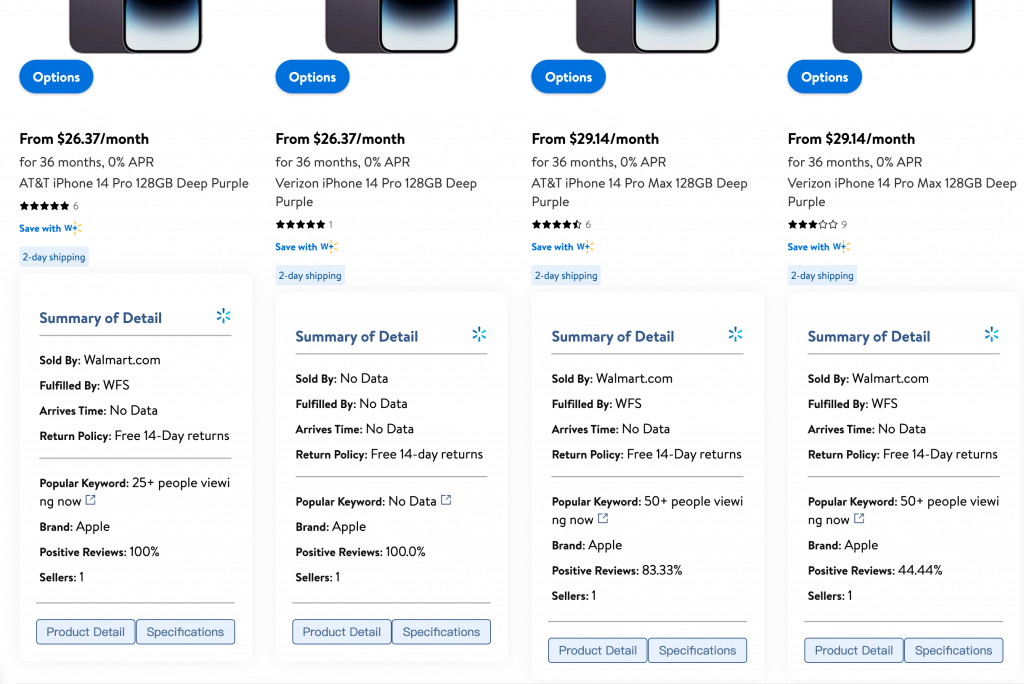 And this process is very fast, and the data can be collected and calculated synchronously when you browse the Walmart Product List page, making you even feel that this itself is a part of the Walmart website.
3.Research which products are selling well on other e-commerce platforms through Walmart tools
The Wal-Mart platform itself also has competitors, such as Amazon, eBay, etc., and each platform is committed to attracting more consumers, earning more revenue, and creating a better shopping experience.
The best-selling products on these platforms also need to be understood. Through these products, we can identify the gaps in the Wal-Mart platform and make full use of them.
The following Walmart tools are worth researching for every Walmart seller:
Amazon Best Sellers
eBay Trending Deals
Best Sellers on Wish
Google Trends
4.Consider consumers on the Walmart platform
Wal-Mart's mission of providing "high-quality products at reasonable prices" has attracted a large number of budget-conscious consumers who like to look for discounted products. This type of consumer especially likes to buy health care and beauty products, household daily necessities, clothing, shoes and accessories, and pet care products at Walmart.
When selecting products, keep these consumer characteristics in mind, especially when looking for gaps in the Walmart platform. For example, sellers generally do not sell designer handbags or antique custom-made furniture on the Wal-Mart platform, not because Wal-Mart restricts the sale of such products, but because Wal-Mart consumers basically do not search for these products on this platform.
5.Calculate profit margin
Wal-Mart has strict pricing rules, and those products whose prices are not competitive will be canceled immediately. Of course, while ensuring the price advantage, we must also ensure the profit, otherwise it would be meaningless to open a store in Wal-Mart, so the purchase price of the product is very important. When estimating the profit margin of a product, consider the following costs:
Product procurement costs, including manufacturing, inbound transportation, and storage fees
Seller fees, including promotion fees, advertising costs
Fulfillment fees, including storage, packaging, and shipping
Note that when different sellers list the same product on Walmart with the same price, Walmart will favor the first listed seller. That is to say, if you can't have an advantage in pricing and shipping speed, it is not recommended for sellers to choose the same product that is already popular on Walmart.
Instead, sellers should use the data of "current best-selling products" to predict the next Best seller by researching complementary products or related subcategories.
6.The Best Products to Sell at Walmart
Walmart sells branded and generic products. On the Wal-Mart platform, branded products sell better than non-branded products. Meanwhile, Walmart has also been acquiring brands so it can sell directly. According to Webretailer's report, the following product categories are the best sellers at Walmart:
Home, furniture and electrical products (Home, Furniture & Appliances).
Electronics.
Gardening products (Patio & Garden).
Clothing (Clothing, Shoes & Accessories).
Outdoor Living.
The products that Walmart sellers should sell include well-known products, high-quality products, and products with competitive prices. Such as direct-to-consumer (DTC) branded products, sellers who sell DTC products do not need to compete with resellers (resellers), and the chances of success in Walmart are often greater. Brands can control their messaging, making it easier to align prices with other marketplaces like Amazon.
Product price is very important on the Wal-Mart platform Similar to Amazon, Wal-Mart also has a Buy Box. But Amazon's Buy Box is affected by many factors, including price, FBA, etc. The Wal-Mart Buy Box puts price first. At Walmart, the lowest priced product is expected to get the biggest sales. Walmart's Everyday Low Prices program encourages sellers to cut prices to compete.