How to Find a Reliable Aliexpress Store
Simply completing product selection is the first step in the entire Dropshipping link. There are more important tasks to be completed later, such as how to choose a reliable supplier!
A reliable supplier is a strong backing for Dropshipping practitioners, but a supplier with no integrity is a nightmare for Dropshipping practitioners. 80% of the Dropshipping colleagues around me are because the supplier can't send their goods quickly and accurately. Some suppliers even disappeared after getting orders! This makes us not only lose a lot of customers, but also lose our reputation!
So, let me introduce how to choose reliable Aliexpress stores based on my 5 years of experience in dropshipping practitioners!
1. Find keywords or commodities through software or others
Here we use FindNiche to make inquiries. The products with higher profit in seven days are Bluetooth headsets, so we can mainly check the suppliers of Bluetooth headsets.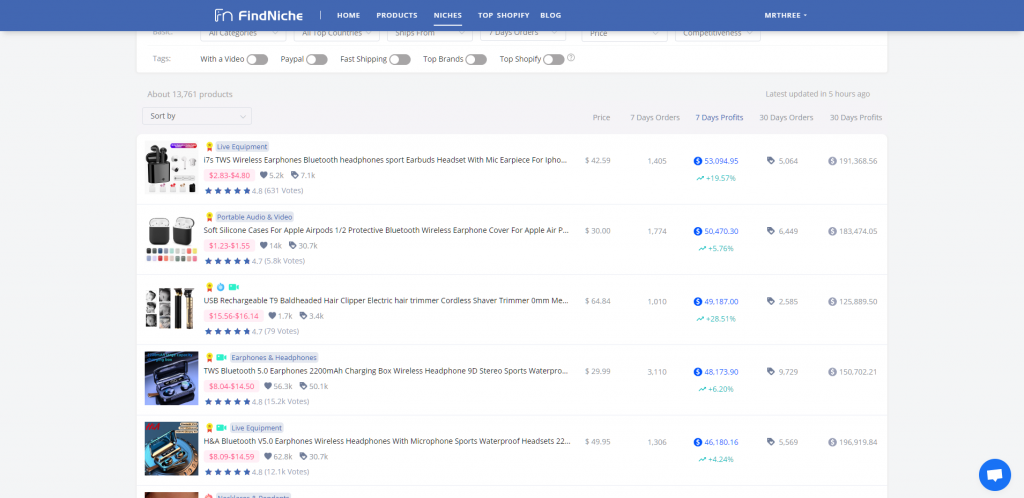 2. Screening by order to find products with more sales
Don't use price to sort! Low prices mean low-end services. The services of this type of Aliexpress store are generally very poor. They do not have a dedicated customer service, they cannot communicate with you in time, and their product quality cannot be guaranteed!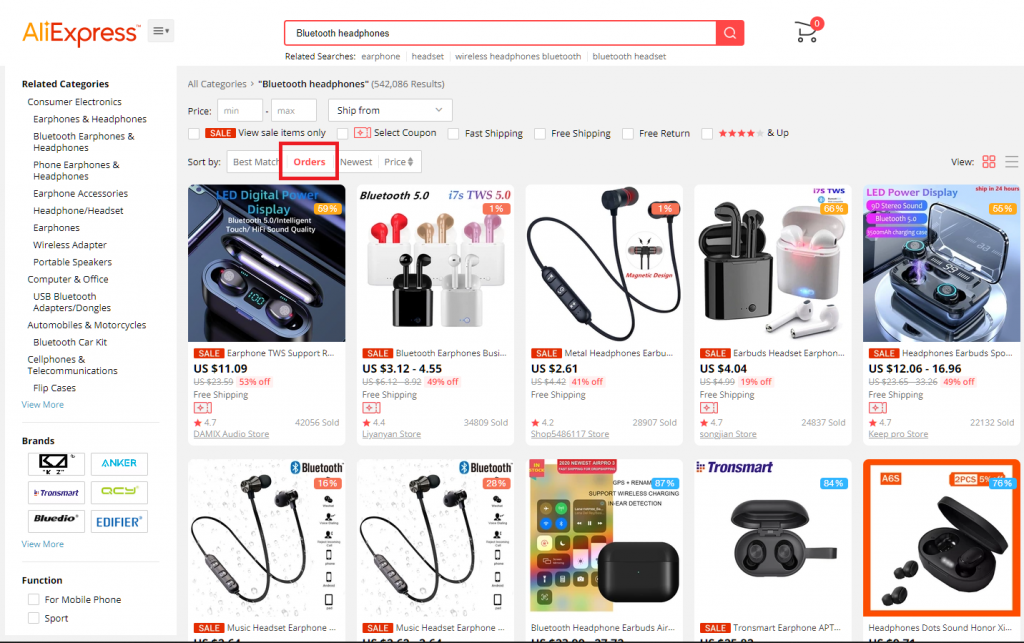 3.Through oberlo to find yourT favorite courier specifications, shipping areas and payable currencies
For example, my store is mainly for American users, so I will choose to support express delivery to the United States while supporting US dollar payment products. Secondly, I will prefer to choose epacket for logistics. This type of courier will usually reach the user in two to three weeks, and the price is cheap.
4.Enter the product details page
The content viewed after entering the product details page is roughly divided into the following points:
1) Check the overall situation of the product
The general view here is the overall product rating, comments and orders.
2)Check the product express specifications and freight
The main concerns here are the country, arrival time, cost, and whether it is tracked in real time.
3)Comments
1. Filter by time, view the date of the most recent review, and determine the recent shipments; the distribution of recent ratings, the reasons for the low rating reviews, etc.
2. To view the information of bad reviews, you can click one to three percent of Samsung's ratings to view the content of bad reviews.Check the time of bad reviews, if it is a long time ago, it means that many problems of the supplier have been corrected;
5.View supplier information
Judging by the supplier information whether the supplier is authentic and worth cooperation;
The content that needs attention here is:
1. Creation time: it is best to choose suppliers with a creation time of more than three years.
2. Praise rate: Praise rate above 96%.
3. Scoring: You can check the supplier's rating on logistics, commodities and other details in more detail.
4. Comment trends and recent comments: View the supplier's recent service quality, and at the same time be able to see the supplier's other goods and service quality.
After selecting Aliexpress store according to the above steps, you can start to contact the store. Communication is crucial. A smooth communication supplier also means that there is a more standard sales process, which can provide more help for the problems we encounter later.