How can I download an invoice from AliExpress for free?
As we all know, AliExpress does not provide invoice orders, which is a headache for those who order in bulk, making it difficult for them to keep track of all the orders. So how do you keep track of every transaction? The AliExpress invoice generator is a useful tool for downloading AliExpress invoices and making it easy to generate the invoices you need.
VAT on AliExpress: What is it?
Before discussing how to obtain invoices, you must understand what AliExpress charges VAT for. Duties and taxes are usually not included in the price of the item and may not be included in the total shipping cost you pay to the seller.
When you shop on AliExpress, you buy from an overseas seller. That's why sometimes you are asked to pay a tariff. Taxes may depend on where your order was sent from, the type of items you purchased, their value and the weight of the package. Different countries may have different tax policies for specific products. It is best to check with the seller or local customs authorities.
In Europe, for example, markets located outside the country must pay VAT directly before delivery. In this case, AliExpress calculates the VAT and collects it from you before placing your order.
Is it possible to download an AliExpress invoice?
AliExpress does not offer any possibility of downloading or generating invoices from its website, but the AliExpress invoice & receipt generator can do the job based on your AliExpress order history. One-click download of AliExpress invoices - To make it work, all you need is the Chrome browser and a special Chrome extension to do the rest.
What should the invoice contain?
If you have managed to get the seller to send you the invoice, or you plan to use one of those applications that make the invoice for you, it is important to check that the information on the invoice is correct. An AliExpress invoice should contain the following information:
Order ID
Order date
Store name and website
Product Title
Unit Price
Quantity
Shipping Cost
Tax/VAT
Order Total
How to use AliExpress invoice & receipt generator?
Express does not provide invoices but requires payment details as evidence for administrative and bookkeeping purposes. All receipts require the company name and tax information, especially if you want to file a tax return. We must now find other options to generate invoices and receipts to meet our financial and bookkeeping needs. There are only a few options on the market that can help solve this problem.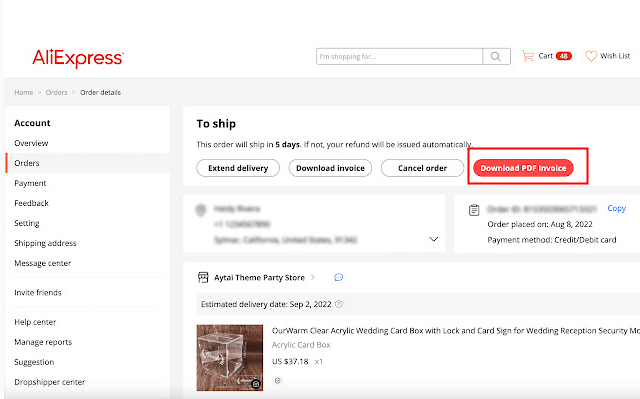 Now let me show you how to use the AliExpress invoice & receipt generator!
Go to the AliExpress website and log into your account
Navigate to: Account > My Orders
Pick an order you want to download invoice, and click "Order Details"
On the top of your detailed order information, you will see a red "Download PDF INVOICE" button
Click the button
The site will send you an order confirmation email after you have completed your purchase, but is not responsible for providing you with a reason for your purchase. Our Invoice Generator tool allows you to add a description of this order when generating a PDF file for you, helping you better manage your financial accounts, funds reports and purchase records.