Under COVID-19, Start A Dropshipping With Household !
Dropshippers are looking for a way out in the COVID-19. Are there any new opportunities? Of course, the household!
Data on Ecommerce & Coronavirus' (COVID-19) Effects
The performance of household
Find niche products for household
1.Data on Ecommerce & Coronavirus' (COVID-19) Effects
In the US, recession language has shifted from "if" to "what shape?" Fears surrounding COVID-19 have swung the stock market and rocked mainstream retailers. Just last week, eMarketer and Reuters reported a fresh round of closures for Gap, J.Crew, and Sears. To greater or lesser degrees, these effects come to life in relation to each industry's demand — its felt necessity in the current moment.
You can see from the illustration below that the CPM and CTR of Ecommerce risen slowly but has recently declined. It is worth noting that, in the performance of the national region, Germany and Japan are more volatile.
2.The performance of household
At the same time as the growth in medical commodities, the growth of households cannot be ignored. People spend more time at home and have more demand for household goods.
However, what kinds of household products are mainly in need?
3. Find niche products for household
To find household niche products, magnet wiper surface brush cleaning tool household double-sided glass may be a good choice. After all, staying at home, people want the house to be cleaner and brighter. Such a more convenient tool will definitely be welcomed. We can see that its sales volume has increased very much in the last month. As you see, that SDARISB Magnets Wiper Surface-Brushes Cleaning-Tools Household Double-Side Glass Usefulr is mainly sold in Russia and the United States.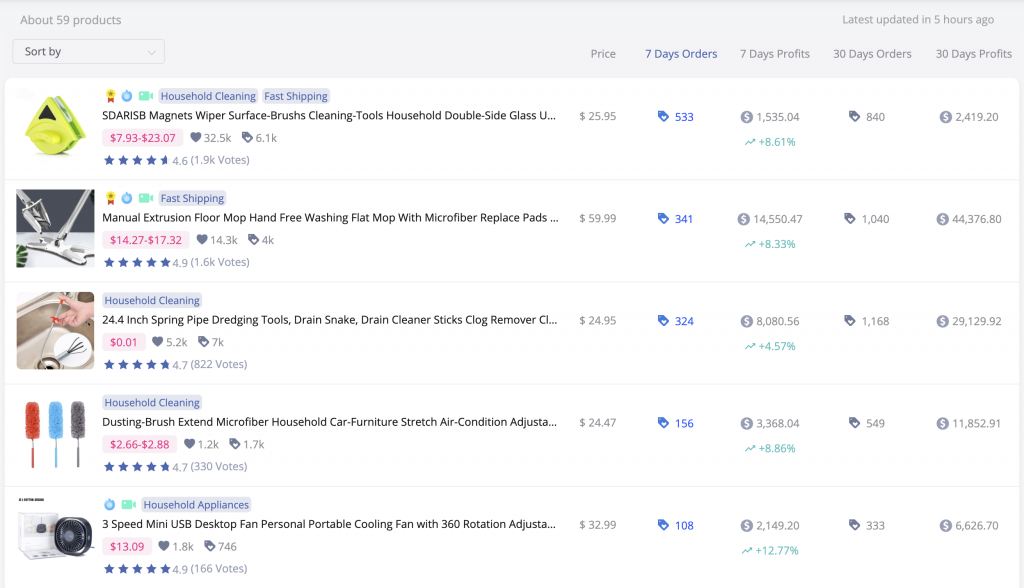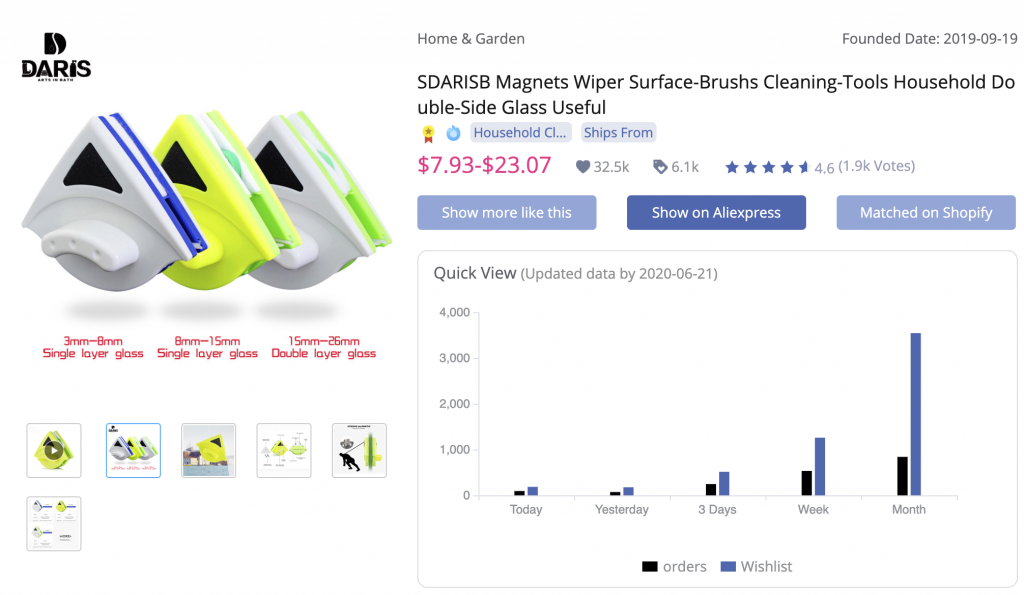 In addition, Magnets Wiper Surface-Brushes and other similar products can be a good choice. Household cleaning products such as Extrusion Floor Mop, Spring Pipe Dredging Tools, Dusting-Brush, etc. can be considered options.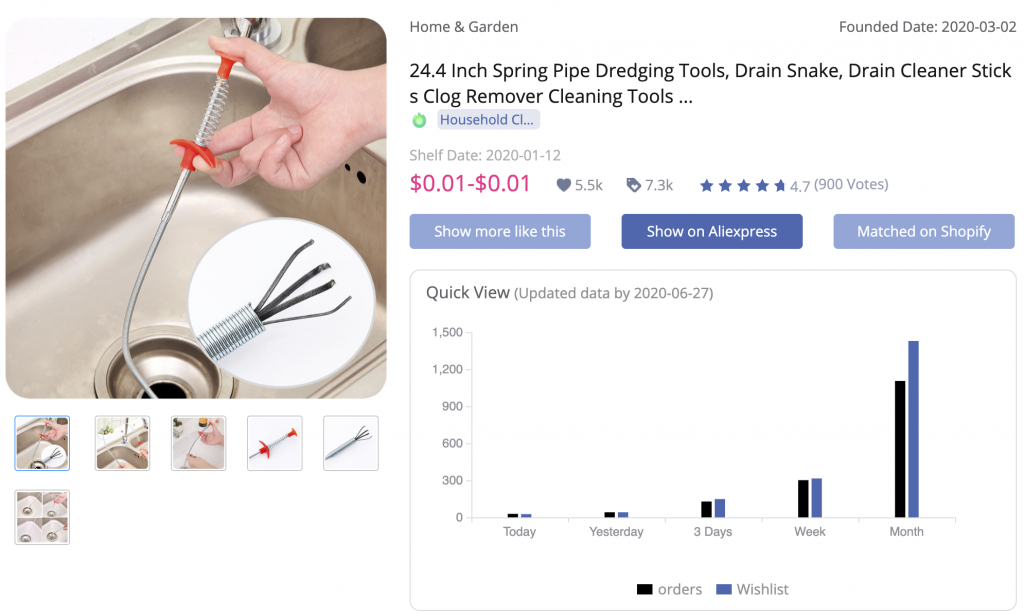 Look at this 24.4 Inch Spring Pipe Dredging Tools, Drain Snake, Drain Cleaner Sticks Clog Remover Cleaning Tools Household for Kitchen Sink, that Home essential. Especially at this time, most of us cook at home, it is relatively easy to cause clogging of the kitchen sink. So, it will be very smart to list this product.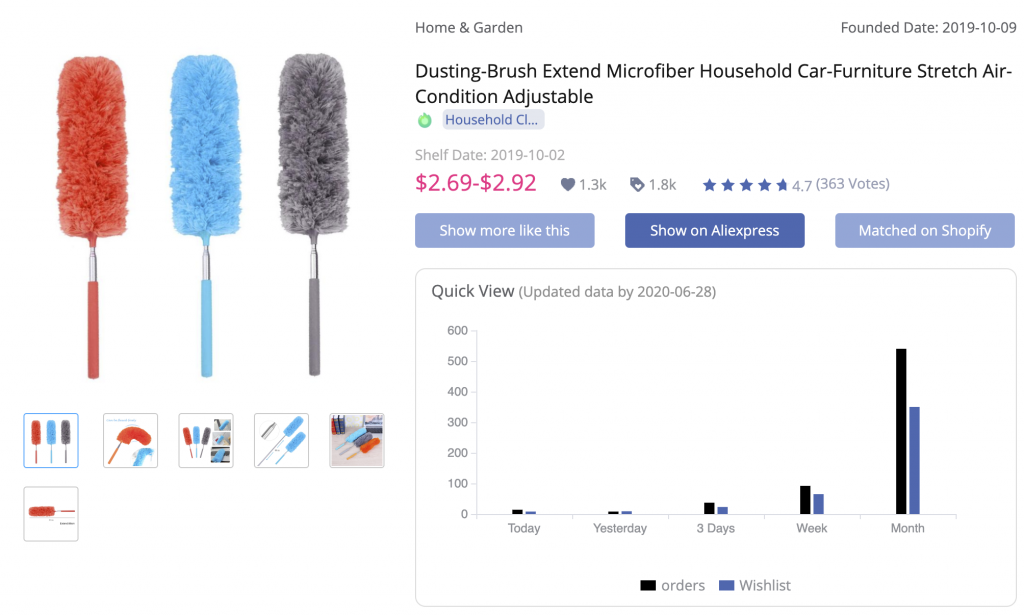 Dusting-Brush, that can clean the high place and can be bent, clean without dead angle, all-directional removal of stubborn stains. The price of AliExpress is US$2.69-2.92, and the profit of Dropshipping is US$14-21. The number of orders it has received has grown dramatically in the last month, so why not start trying to sell it?
Finally, do you still want to start your dropshipping during the global CONVID-19? Starting from a household would be a good idea.