NicheScraper VS FindNiche [Review] – Best Dropshipping Spy Tool
Under the influence of global economic integration, offline physical stores have been greatly impacted, and the importance and popularity of e-commerce have become more prominent. In recent years, the dropshipping business has become a popular business model. We can open an online store with the least cost and use it to obtain huge profits. This is one of the reasons for the rise of Aliexpress and Shopify platforms.
As competition intensified, more and more dropshipping spy tools appeared. These tools often help us find the most profitable trending dropshipping niches in the least amount of time so that we no longer waste money on the wrong product.
FindNiche and NicheScraper are two tools that have received widespread attention. Many practitioners are concerned about whether these tool reviews are good or bad, how they are used, whether they are good to use, and so on. Today this article will give you an analysis of these two dropshipping spy tools.
1.NicheScraper Vs FindNiche, which is the best dropshipping spy tool?
1) What is FindNiche, and how does it works
FindNiche is one of the best dropshipping spy tools for people to easily find out winning products, niches, and Shopify stores. The database of FindNiche contains more than two million Aliexpress products with a massive 11000 niches and more than 700,000 Shopify stores. It is designed especially for a dropshipping business.
What problems can FindNiche help us solve?
Track niche product orders and their growth rate
See the product's price at Aliexpress and its selling price at Shopify.
Monitor product's recent profit and growth rate
Provide product copy and picture reference
A full list of Shopify stores
2) What is NicheScraper
NicheScraper helps you to Reveal winning products with our powerful niche research bot. NicheScraper has helped hundreds of sellers grow their businesses on Shopify. Leverage our powerful web scraper to find winning products instantly.
3) Comparative analysis of the functions of NicheScraper and FindNiche
| | | |
| --- | --- | --- |
| | FindNiche | nichescraper |
| Free | ✅ | ✅ |
| New Winning products | ✅ | ✅ |
| Find niches | ✅ | ❌ |
| Advanced Filter | ✅ | ❌ |
| View product detail | ✅ | ✅ |
| Facebook Video Ad Generator | ❌ | ✅ |
| Store Analysis | ✅ | ✅ |
| Most Popular Shopify Stores | ✅ | ✅ |
| Sharing blog | ✅ | ❌ |
| Seeing at least 50 pages of data | ✅ | ❌ |
| training video | ❌ | ✅ |
| Show more like this | ✅ | ❌ |
| Show on Aliexpress | ✅ | ❌ |
· Product data--FindNiche provides more detailed data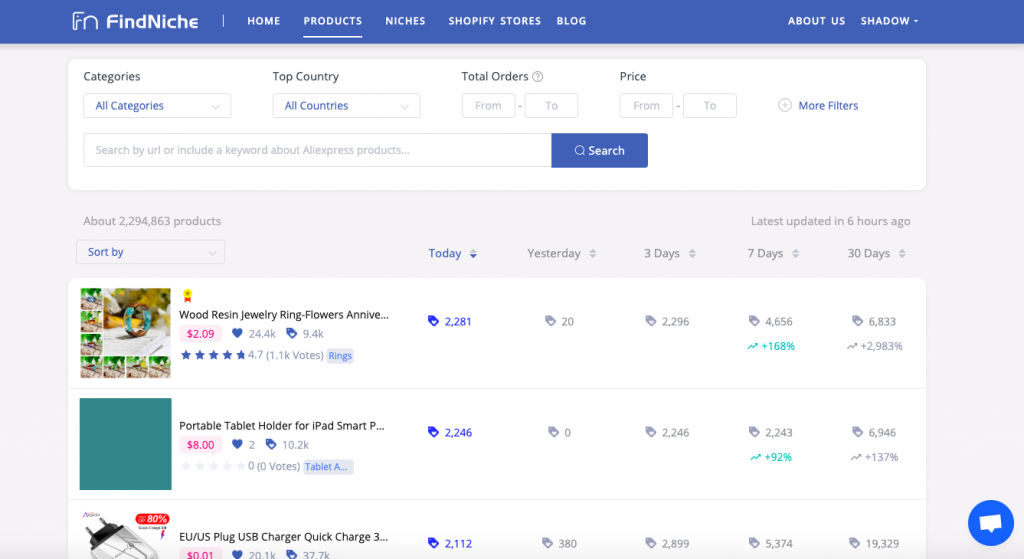 This is FindNiche's Products page and product details page. You can see the exact number of orders for each product in the last 30 days, including its growth rate of orders in the last 7 days. On the product details page, we can clearly see the price of the product in Aliexpress, the price of the Shopify store, and its profit. In addition, the product's country of sale, changes in the number of wishlists, Aliexpress and Shopify links and so on.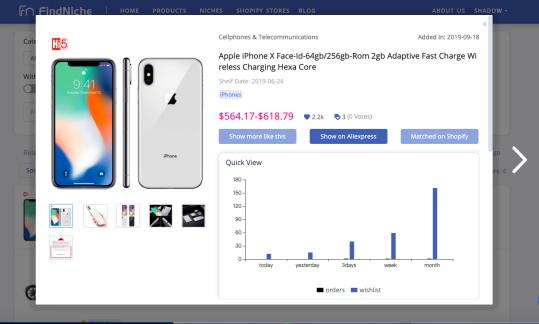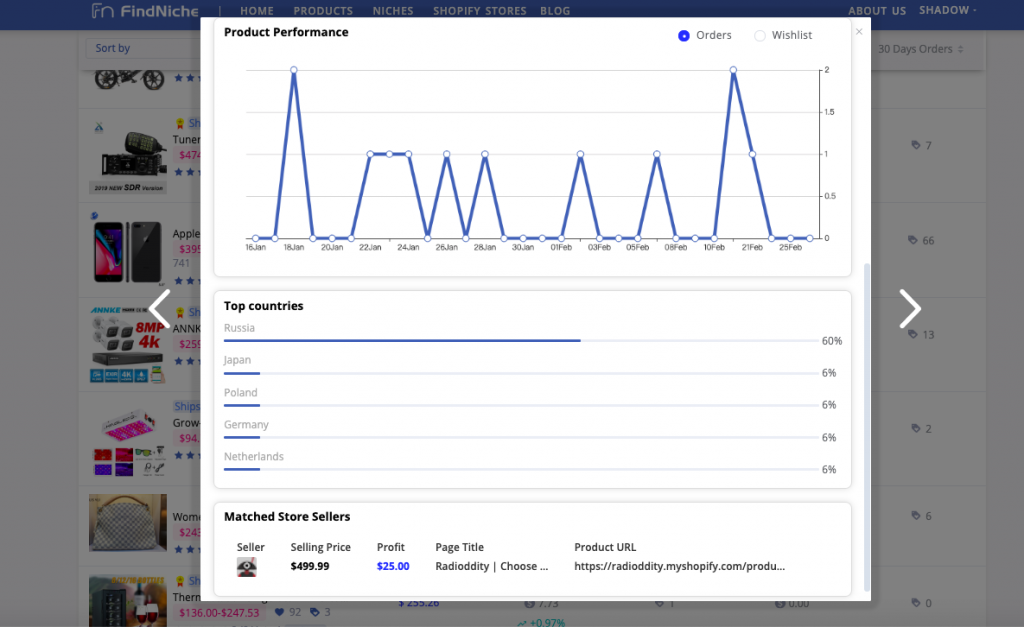 The picture below is the product page of NicheScraper. All the data about the product are shown in the table below. Click the product picture to link to the Aliexpress page, and you need to log in to display it normally. Here, NicheScraper gives two sets of data according to its own algorithm: AliScore and Competition, which can provide users with a reference and have a rough understanding of the product's competition.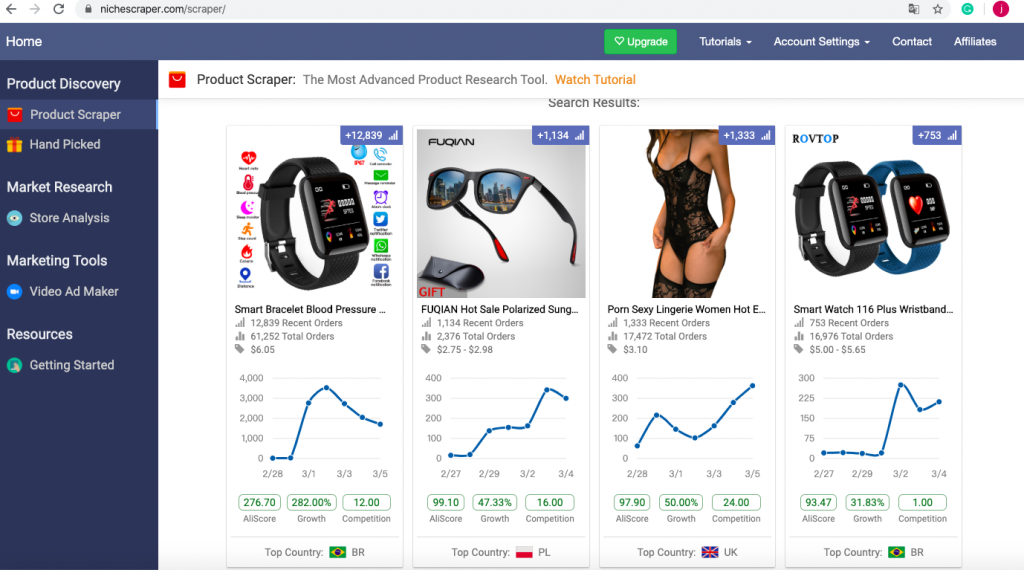 It is worth mentioning that NicheScraper has a "Hand Picked" section, this section gives detailed data and analysis of more products.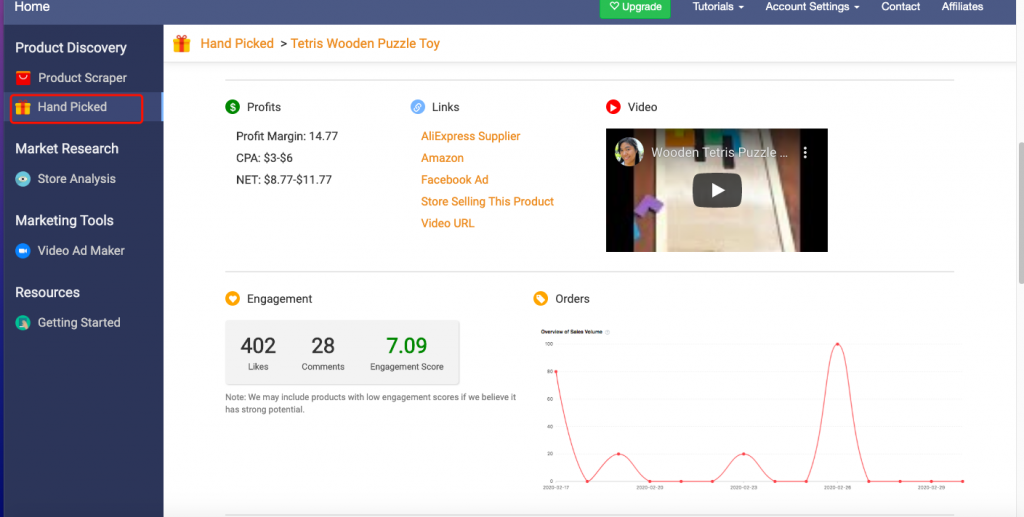 · Shopify store analysis--The data provided by FindNiche is more complete and detailed, and NicheScraper provides hot-sale product display in the store
The figure below is the analysis of FindNiche's Shopify store. We can see that the FindNiche platform has information on approximately 726,612 active Shopify stores. This information includes store links, categories, target countries, 30-day ads, FB popularity, rankings, and more.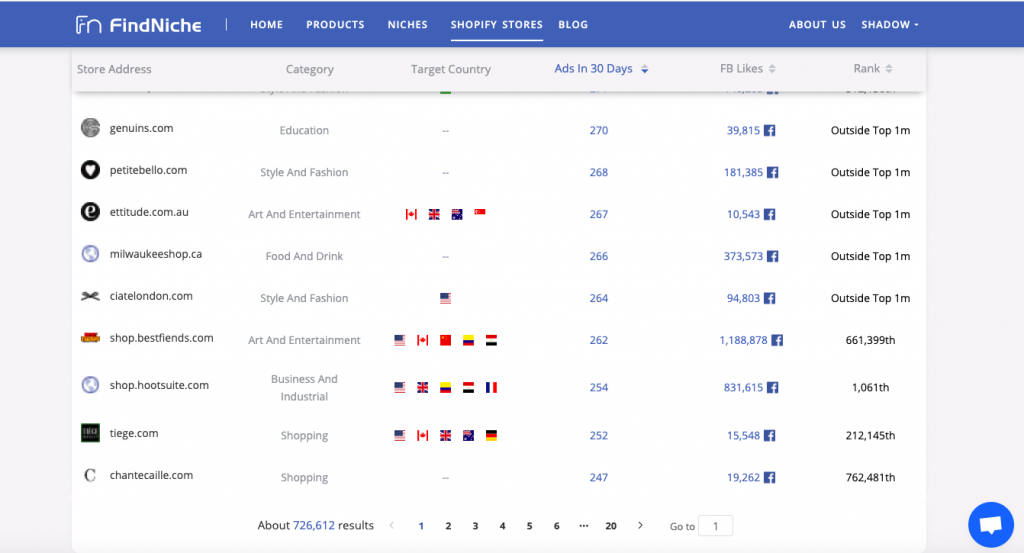 The following figure is the store analysis page of NicheScraper. The data we can see are store links, store hot products, Alexa Rank, Traffic & Revenue. Compared to FindNiche, there is less data, but there are also bright spots.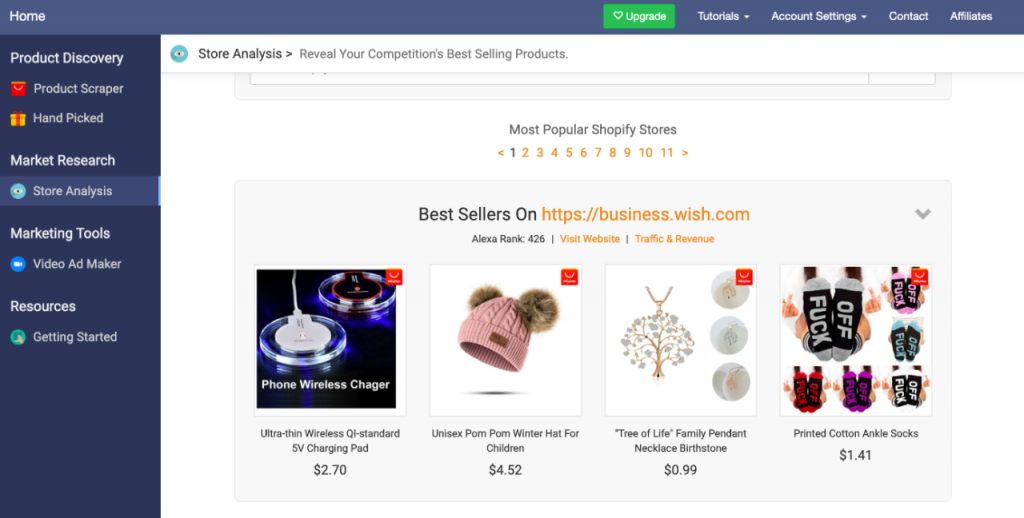 · FindNiche has a special "Niches" section that can help you find niche markets
The products displayed in this section have undergone data analysis and believe that they may become winning products. The data analysis of these products is very detailed, you can see their profit amount and profit growth rate in the past 30 days.
· NicheScraper has a marketing tool-Video Ad Maker
This feature is very useful for users who need advertising. You only need to upload a few product images and text descriptions, and you can immediately generate a video ad.
· NicheScraper video tutorial
NicheScraper must upgrade the account to the Pro version to see various product details, so the platform provides a video tutorial module.
2. Membership plans and pricing
FindNiche
Regular accounts are free to use, and premium members can pay or qualify for the event. Advanced members have more permissions.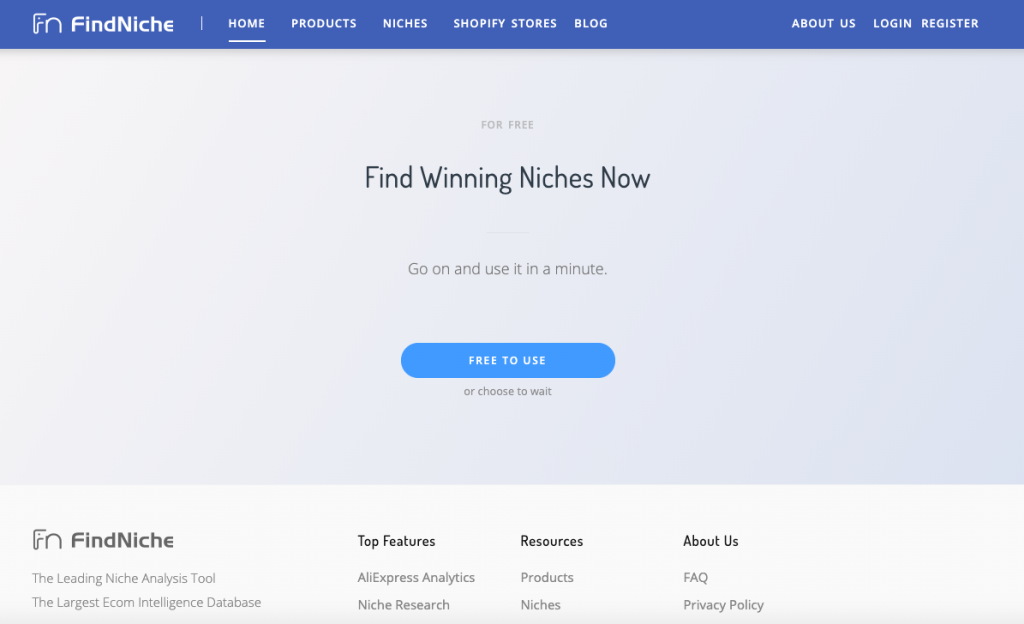 NicheScraper
Ordinary accounts are free to use and members are priced at $ 39 / month.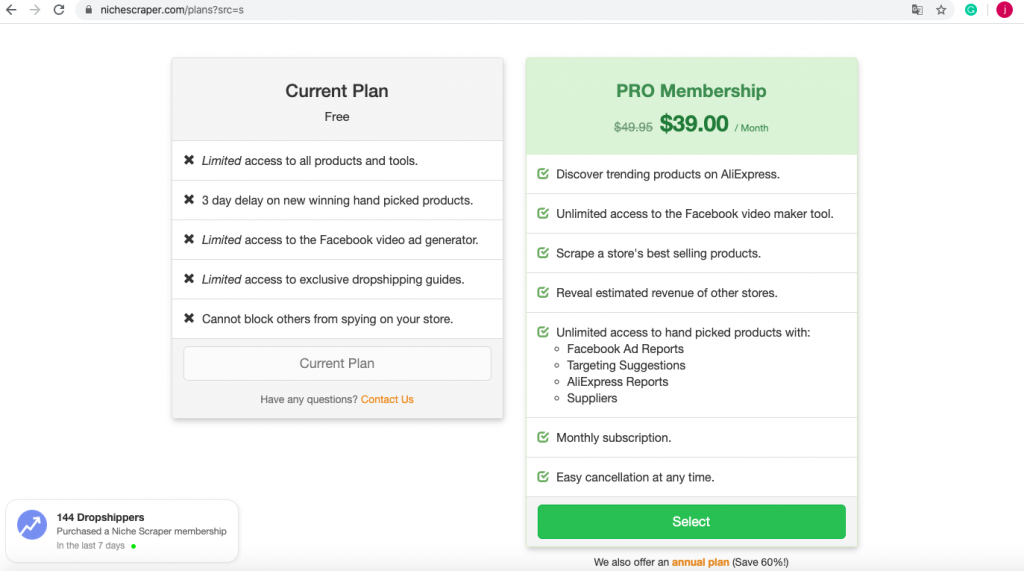 3.FindNiche and NicheScraper alternatives
There are many similar winning dropshipping niches platforms, here I only introduce a few that I think are convenient to use:
Ecomhunt
It mainly provides selection and advice services for dropshipping groups. In addition to updating hot products daily, Ecomhunt also has online video tutorials and blogs to provide users with knowledge services. Ecomhunt is a paid product, but the membership fee is lower.
Pexda
Help companies find the latest hot products and provide Facebook ad copy inquiry. In addition, Pexda has its own member distribution system, and members can get a corresponding amount of commission from the sales income of each invited member. Paid services, subscription costs are a little high.