One Product Shopify Store – Examples and How-To Guides
Did you know that over 93% of global internet users have purchased products online? That's a lot of purchases, especially considering the total population of the world.
But it's still not the verge of it. Numbers are still increasing, and there are predictions that by 2040, 95% of all the purchases will be via eCommerce.
And a top trend in this market is the one product Shopify store. They are smaller, better, and easy to operate for all types of businesses.
The following post will tell you more about them and why it's a great time to invest in them. It will also help you get started with a Shopify one-product store.
What is One Product Shopify Store?
The term one product store means to sell one particular type of product.
In simpler words, if you are selling sound systems, then the whole e-commerce sells only sound systems. There are no other electronics in there. Similarly, if you are into vegan products, then your site has none other than authentic vegan products. It helps to keep eCommerce unique, authentic, and really easy to manage.
There are no particular rules for what type of product to sell, but it needs to be from the same genre. Like if you are focusing on digital products, you don't have to rely on just smartphones, computers, or digital tabs. You can always add related products like software, tools, eBooks, courses, and other such things.
Alternatively, you can also focus on a particular niche product for your one Shopify store. And then there is the option for general product options, where you sell backpacks, Smartphone skins, secure cases, and other such products.
What are the Advantages of One Product Shopify Store?
The one common factor for most popular eCommerce stores is the product range. They have products ranging from electronics to clothing and from kitchen utensils to bathroom articles. So, the question is why you should focus on one product type for your Shopify store.
And the most straightforward answer is simplicity. The one product Shopify stores are low on management and equally good on the audience or profit side as general e-commerce. Here are a few other advantages they can offer.
Personalization
Selling one type of product means you have a set target audience. Everything or every service you provide focuses on those specific people, enabling you to understand them better.
It will be easier to understand their needs and mold your business accordingly. You will have less to focus on, which makes you more effective.
Audience Reach
The one product stores limit you to a specific type of audience, which seems like a downside, but it's not. The limitation may reduce the quantity, but it increases the quality by a huge factor. It connects you to an audience that's actually interested in your product rather than the general ones.
Thus, you have better chances of selling and a greater retention rate. The personalization factor adds to these benefits.
Branding
Branding and marketing is the uttermost important part of every business. It's what ensures your market appearance and gets customers for you. And one product store is great in this part.
You have a defined audience, low management, less product to source, and you have more time to plan. Moreover, you have a clear focus point for your brand building. Thus, you don't need a huge investment in branding and still get customers.
Management
The biggest advantage of a one product store is the low management requirements. You don't need multiple product sources, records, or catalogs for eCommerce. Even creating and updating the website is much easier this way.
The same goes for inventory control. You have one specific product type, which makes it easy to maintain a record for it. In short, you have one product and the opportunity to perfect it.
Resource
When you have a range of products, you have to go multi-channel. It means you will need multiple dealers to source and deliver the product. Thus, the investment increases in terms of both financial and human resources.
What are the Disadvantages of One Product Shopify Store?
While the one product Shopify stores offer great opportunities, it does have some concerns. Most of them are manageable with planning, but you need to know them first.
Risk Factor
Since you have only one product type, there is no backup. If you manage to sell it, the business thrives, else it collapses. So make sure you choose something that the customer wants and research the opportunity before proceeding with it.
Investment
Like every business, your one product store also needs some initial investment. It includes the price of creating the store, marketing, and the product prices. Thus, if you choose an expensive product, it will cause trouble. But that's a risk with every store, and it depends highly on your choice.
Excellent One Product Shopify Store Examples
While the one product store may seem like a new concept, it's not. This type of eCommerce store has existed and thrived for a long time. There are many of these eCommerce currently in operation, including the following.
Pravano: It is a fashion store that sells men's beaded bracelets. The store has a variety of them in different colors, types, materials, and patterns.
Hohowowo: The one product eCommerce store is a women's fashion store. It sells all kinds of women's fashion stuff, including dresses, shoes, and some accessories.
Shapertool: This eCommerce is a technological store focused on one product shaper tools. Its main product is a precision routing machine, and its secondary product is a workstation.
Unicorntoys: If you need a DIY kit, this eCommerce store is the perfect place. It has multiple types and models, but all its products are DIY kits.
CYSM: CYSM is a one product store selling body shapers. It includes a whole set of them in different types, materials, and colors. There are also shapers for all body parts, even for the face and chin.
Getsnooz: Snooz is a technological e-commerce company that sells a couple of different white noise machines. Its main focus is on three products - the Snooz Go, Snooz Go baby, and the Snooz white noise sound machine.
How to Get Started With A One Product Shopify Store?
The one thing that never changes for any eCommerce is the work you have to put in for creating them. Shopify will take care of some aspects of your one product store, but there is a lot of work to do.
Here's a step-by-step process to keep things easy for you.
Market and Product Research
The first and the most important part of starting a business is research. You have to know about the business, your competitors and customer trends to excel in it.
The initial research is also good to find the perfect product for selling. It can ensure you have a product that can get maximum sales with minimum effort. Something that the current users need.
The research using tools like findniche.com or amzchart.com can also come in handy for devising your plans and the store interface. It can help you to identify potential marketing routes, product sources, and even target audiences.
Using these tools is also very simple. Here's how you can access and use them.
Open the findniche.com for Aliexpress research or amzchart.com amazon charts.
Click on the 'Register' button on the top right side of the site.
Fill in your email and password on the page. Using Google login is also possible.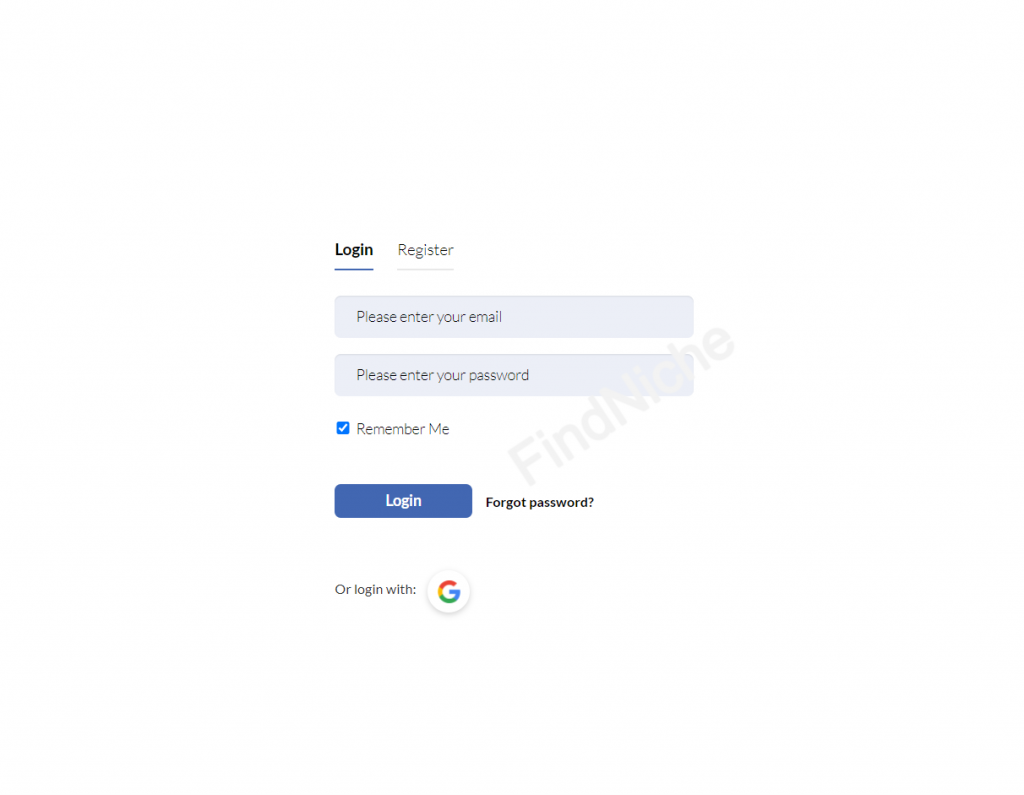 Then, fill in the extra details, select the plan and sign up.
You can go for a free plan for the beginning stage or directly jump to a paid plan-your choice.
Once you log in, click the 'Shopify or Aliexpress' button in Findniche or the 'Product' button in Amzchart.
The page that opens will have filters to find the top products according to category.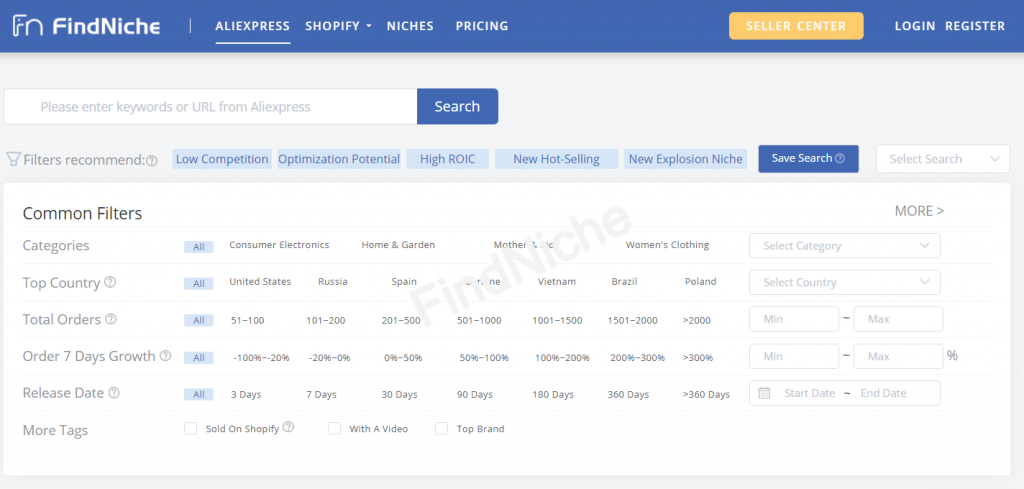 You can select the product category, target country, order, sales growth release date, and a few more options.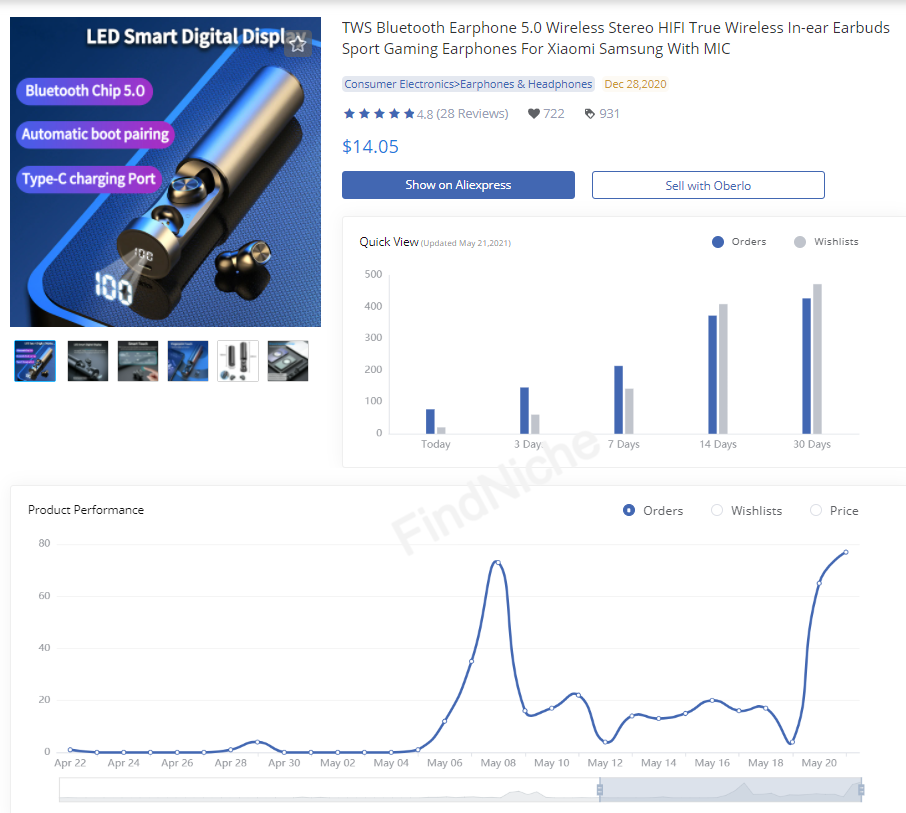 The tools also allow you to search products using keywords.
You can use the tools to find the top seller products, their sales margin, and sales history for your selected period. You can also use the tools to provide products according to competition, optimization potential, ROIC, and potential.
Gathering Intel
Market and customers are one part of your business; the other is the competition. You need to understand that there are multiple businesses with large markets that you need to beat.
Moreover, each of them uses strategies that you can learn and use to your advantage. Thus, you need a full online analysis to collect data on them.
Now, you can use multiple software for it, with SellerCenter.io being a great option. The spy tool is excellent in identifying the top competitors of your potential store. It can also reveal important data like their customer, marketing, and more.
Create Shopify Account
Once you have the initial data and plans, it's time to work on the main e-commerce store. For that, you need to create a Shopify account if you don't already have one. Here's how to do it.
Open Shopify.com, and on the page that opens, fill in your email address and press 'Start free trial.'
Then enter the desired password, store name, and click the 'create your store' button.
After that, Shopify will ask for details like product type, name, addresses, contact, and some questions. Fill them.
And with that, you are ready in the Shopify system. All you need now is to set up the store and load your products.
The store will also need a domain name. You can get one by paying a small amount at Shopify or buy it from their party provider. You can add a third-party domain by navigating to an online store and then the domain option.
Then click on the Connect existing domain button and fill in your domain name. Next to the domain, you will see the 'manage' option. Use it to add a storefront password. It ensures your store stays protected till you are ready to launch it.
Setting Up Shopify Store
The store you create will have a functional default theme. You can either go with it or go for a custom one according to your product. Shopify also has ready-to-use templates, both free and paid to consider.
Just head to the theme store, browse/search for a theme, and add the theme. Once it's downloaded, click publish, and you have the perfect base. You can then move to the customization tab and adjust the template according to your store.
Shopify also has an expert team you can contact for a completely customized theme.
Launch products
Now that the user interface of your one product store is ready, you will need to add your products. It's a simple process and won't take much longer. Here's how you can do it.
Open your Shopify dashboard and click on 'All Products' under the 'Products' tab.
There you will find the 'Add product' option. Click it.
Now, in the windows that open, fill in the details of your products along with their pictures.
You can also add descriptions and SEO descriptions for better exposure.
Once you are satisfied, click Save Product, and it gets added to your store.
After setting up the store, you will also need to add some payment methods for it. It's best to go for the Shopify Payments option as it's simple, quick, and reliable. You will find the option for it under the Payment section in the admin setting. Here you can view the payouts, transactions and also select gateways.
And once it's set, you can visit the checkout section under the 'Settings' to provide primary sales data. You will need to write a refund policy, privacy policy, and terms of service for the store. After that, you need to test the store with some demo orders.
Once you are sure of the performance, you can remove the security and open the store for customers.
Drive Traffic
The Shopify stores will give you a place to sell, but you still need routes to bring customers. The simplest way for it is to use your social media account to share awareness about it.
Alternatively, you can publish some blogs about your products and store. Use some common keywords and SEO tricks to get an appearance on Google and other search engines.
Another good idea will be to add some online channels to your store. You can combine it with a Facebook store, Instagram store and link it with a well-known e-commerce site like AliExpress or Amazon.
The marketing option like guest posting, SMS marketing, and email can also come in handy.
Optimize The Store
The work for an online one product store does not end with a list and launch. You have to keep on upgrading it for a better market appearance and speed. You have to add new blogs, introduce better marketing strategies and better retention techniques.
It's essential to stay in trend and ahead of your competitors. And, you can depend on your customer for this part. You can ask for feedback on your service to get an idea of your performance.
They can tell you about the problems in your store and the features they would like to see. You can then optimize the store for them. You can edit its interface, add payment methods, compress pictures to enhance speed, and do a lot more.
Summary
One product Shopify stores are newer and better forms of eCommerce stores that sell a category of product. It's simple to operate and needs much less management than general eCommerce.
Moreover, the store is relatively easy to build and does not need any large investment. And the data you read should be enough to get started with a store of your own.
So, do your research, find a decent product, and get started.