Pandemic and Epidemic,How Shopify Store Turns Crisis into Safety?
With the outbreak of the epidemic, Those forward-thinking sellers put on anti-epidemic products early such as masks and forehead guns, opened up the supply channels, and prepared all the necessary certifications. The end is naturally to make a lot of money. However, most of the small and medium sellers are too late to discover this business opportunity, and the supply of goods and logistics channels have been seized by the sellers who entered the market early.
Therefore, most small and medium sellers dare not rush into the category of anti-epidemic products, but the original products in their hands are affected, the sales volume plummets, and even face the dilemma of the store's close to failure.
So in the face of this dilemma, how to find a way to break the situation? The key point is to tap those products that are hidden behind the epidemic prevention products and contain high demand; According to a report released by Stackline on March 2020, the fastest-growing and the largest-decreasing list of 100 items in online transactions in the United States, among which disposable glove sales skyrocketed by 670%, Bread machine sales soared 652%! The fastest-growing ones include (TOP 10): disposable gloves, bread makers, cough medicines, soups, dry cereals, bagged foods, assorted vegetables and fruits, dumbbells, dairy products, and dishwashers. The fastest declines include (TOP 10): suitcases, briefcases, cameras, men 's swimwear, bridal clothing, men 's formal wear, women 's swimwear, sun protection clothing, sports shoes (men), sports bags.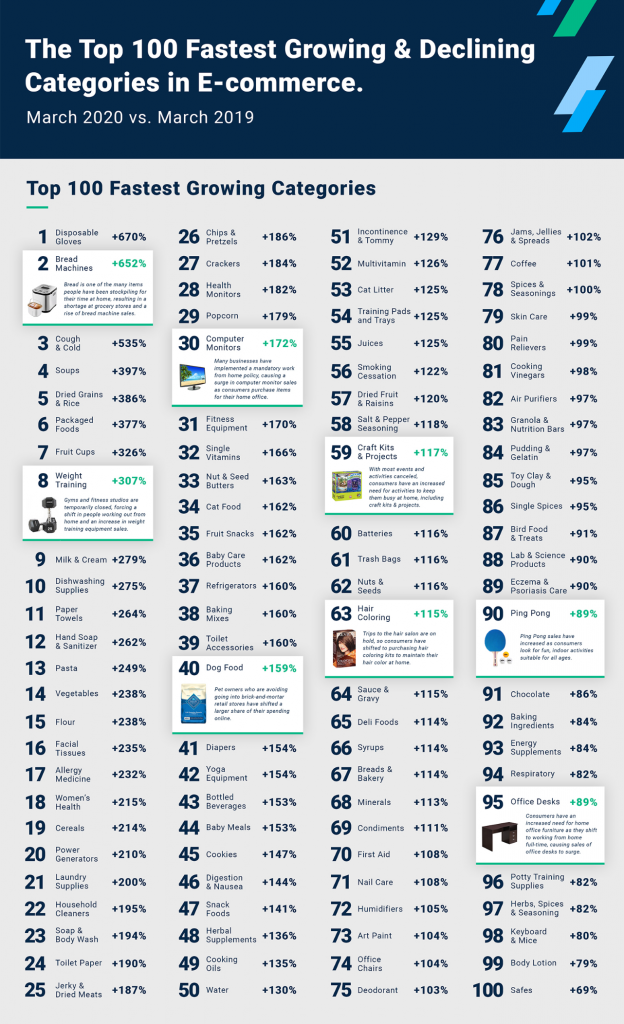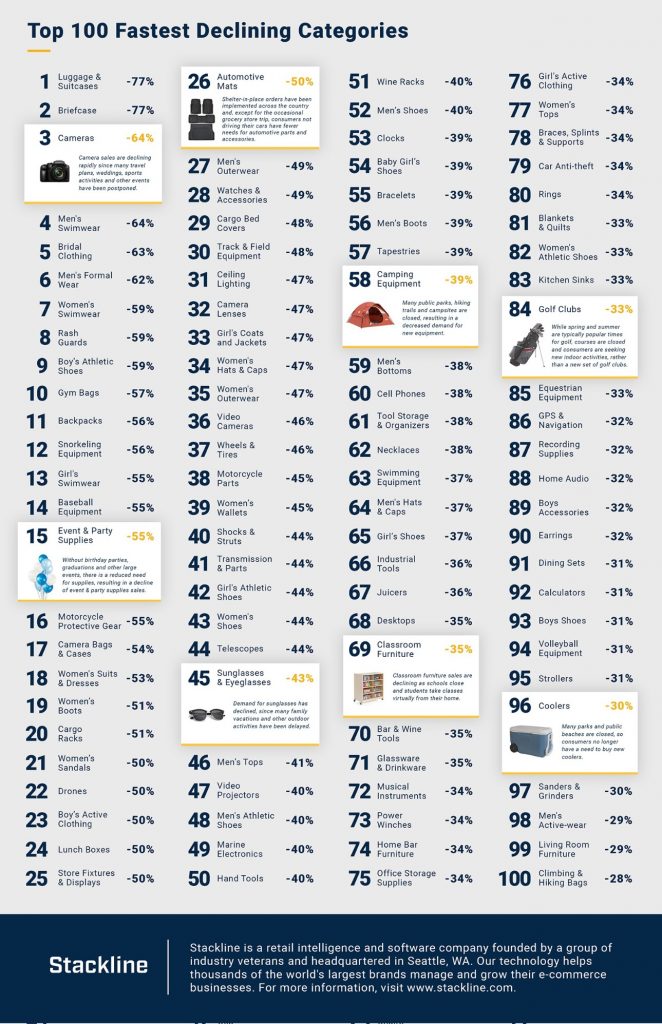 These are the products that have seen a surge in sales except for epidemic prevention products since the outbreak. However, for small and medium-sized sellers, they want to know how to tap their own categories and advantages to tap such potential products when the supply chain resources are limited.
First of all, we have to make clear whether these products have certain things in common? The answer is yes.In order to focus on express delivery, Amazon previously closed the channel for non-essential FBA storage. Although it will resume after April 5, most sellers of non-essential items still cannot create a delivery plan. Since then, European sites have also restricted FBA .Therefore, most sellers currently focus on self-delivery. And because the current is a special period, the buyer's purchasing needs are different from the past, which also means that those products that generally perform generally and have fewer reviews may renew new opportunities this time. Secondly, due to the concentrated outbreak of demand, the product order volume has skyrocketed compared to the past, and may be out of stock, and the keyword search volume will also increase rapidly.
To sum up:
Products are mainly self-delivery;
There are generally very few reviews of the product itself;
The order volume of products has skyrocketed much more than in the past;
Out of stock status;
The search volume of keywords will increase rapidly;
This outbreak is a big wave for all sellers, even for old sellers with many years of experience. Products that were originally hot may not be hot anymore, while those with poor sales in the past may reverse sales. However, this may be an opportunity for new sellers who have just entered the market.
If we can adjust our strategy in a timely manner during this industry reshuffle and follow the trend, then we may usher in a counter-trend after the epidemic.