Drop Servicing 2022: How to Start Drop Service Business?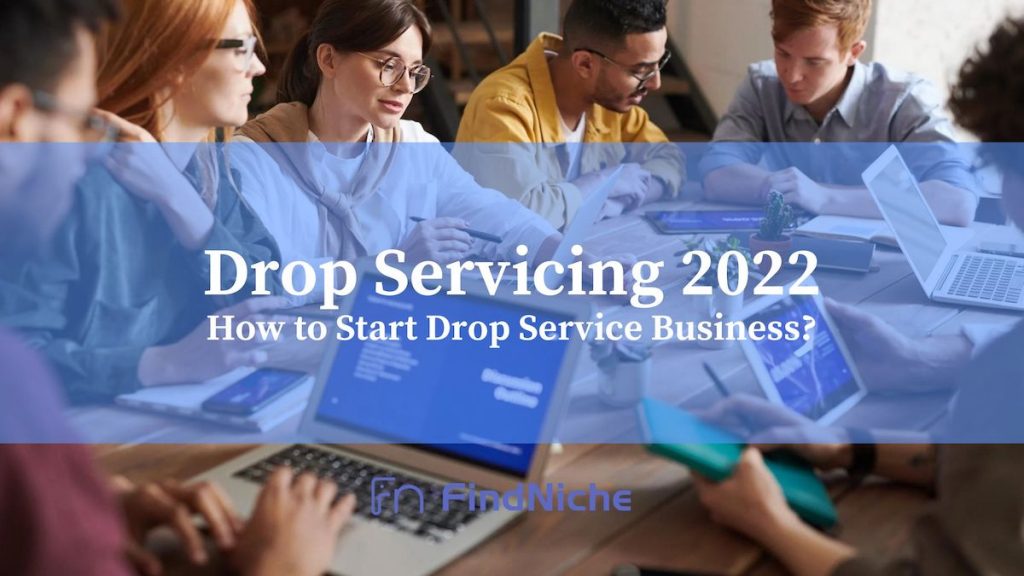 Today, the rising usage of the internet and the tendency to fulfill all of the people's needs online have led entrepreneurs to find new opportunities.
The most common of these attempts, and perhaps the business model you hear about the most, is dropshipping, which offers selling online without inventory.
However, this article will dive into "drop servicing" and let online entrepreneurs discover this model. It is simply a method for selling a service that someone else has already purchased or ordered.
Keep on reading to explore what drop servicing is, how it works and how to start it.
Table of contents for this article.
What is Drop Servicing?
Drop servicing, in other words, service arbitrage or white label agency, is a business model that involves outsourcing work, usually creating digital products. You can sell service to other people by having it done by freelancers or service providers.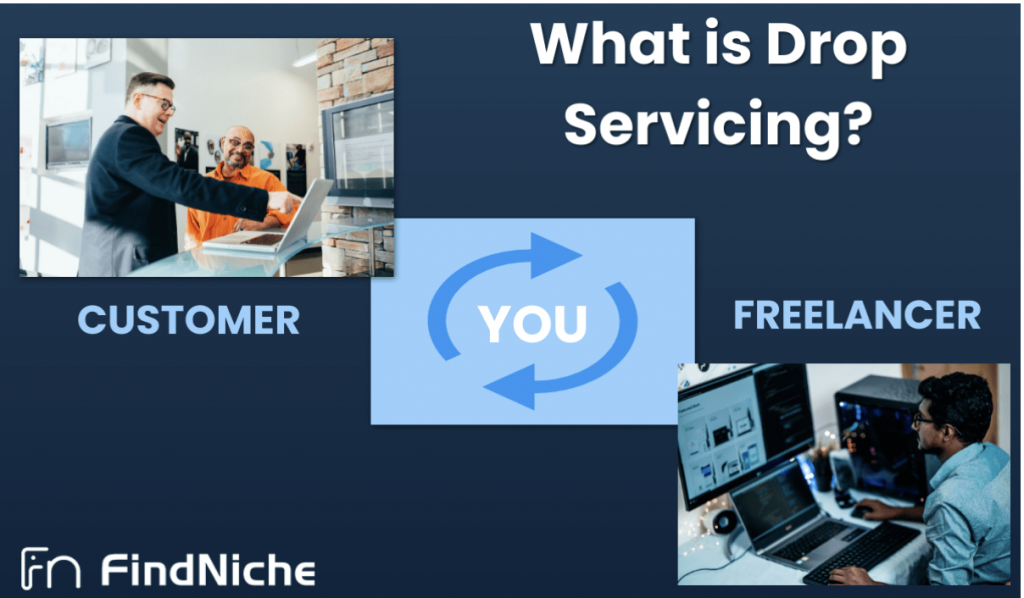 Basically, you act as a middleman connecting the client to the service provider. You are in charge of the sale, and your team or agency or service providers are responsible for delivering a quality service to your client.
How Does Drop Servicing Work?
Here are 4 steps that explain how to drop servicing work:
The client pays you for any service.
You hire or create a team of freelancers to accomplish this job.
Freelancers or service providers turn in the deliverable within the deadline.
You check the quality and send it to your customer.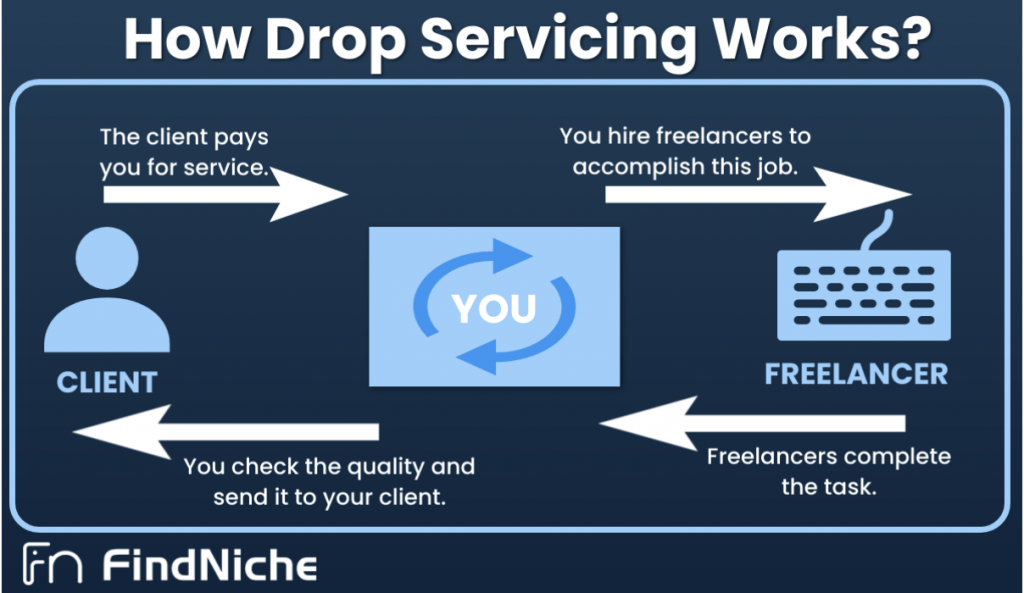 For example, BK Company posted a job that includes monthly SEO Consultation, social media management, and advertisement optimization. You, as a drop servicing business owner, proposed $5,000 for this job and the offer was accepted by the company.
Then, you hired 3 freelancers for these three tasks and they totally cost you $2750. Your team started to work on this project. To sum up, you will pocket the $2250 monthly profit from the transaction.
Pros and Cons of Drop Servicing
It is time to discover the benefits and drawbacks of drop servicing and decide whether it is the right business model for you or not.
Advantages
It is a profitable business model. You can earn huge amounts of money if you follow the proper strategy.
Drop servicing requires minimal startup costs. Unlike other businesses that require upfront investments, you can start this business with a minimal budget.
Drop servicing businesses can attract large contracts. So, you can obtain long-term and loyal clients.
💡Pro Tip: Once you have developed your customer base, you can consider adding a customer satisfaction survey to your website.
Disadvantages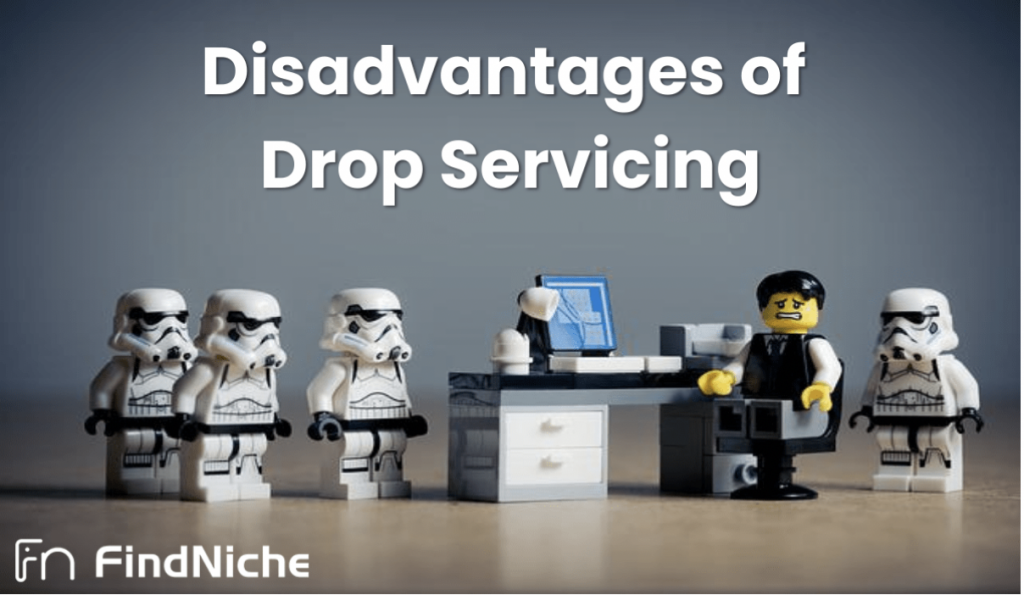 Service providers may overbook themselves or be overwhelmed by work. You might find that your relationships with freelancers change over time, which can negatively impact the credibility of your drop servicing business.
You may face hefty international transfer fees when paying freelancers since you will be working globally.
💡Pro Tip: You can use alternatives like Wise and PayPal to traditional methods. For instance, Wise (formerly transferwise) offers safe, instant, and relatively cheap transfers internationally.
There is always a risk of making the wrong choice when selecting a service provider or freelancer, and the outcome of this incorrect decision can be annoying. Because an inexperienced freelancer can directly ruin your business.
How to Start Drop Service Business?
If you think drop servicing fits you but do not know where to start, this section is for you. Here is the 5-steps guide:
1# Get an instructive drop servicing course
If you are considering a drop servicing business but are not sure how to get started, you should look for a drop servicing course. This type of business is relatively new and there are not many courses available on this topic.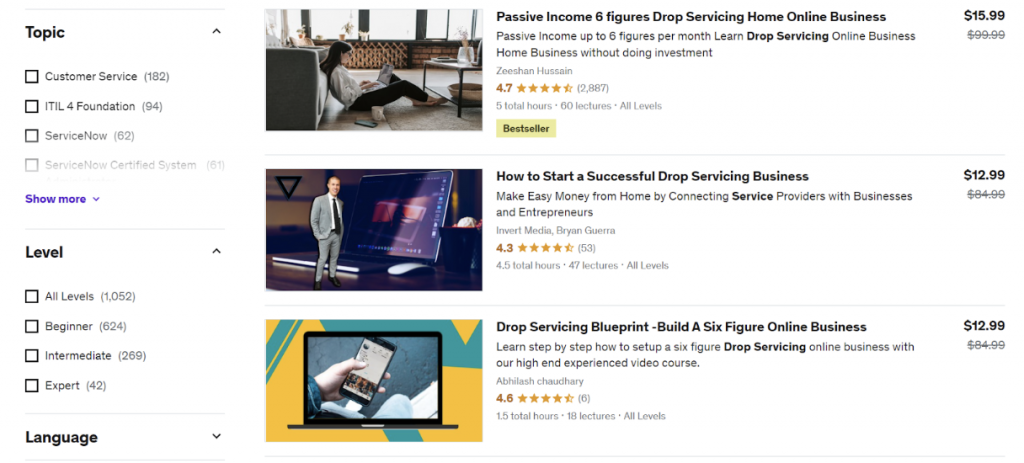 You can get an online paid drop servicing course from Udemy or Skillshare according to your budget. Alternatively, you may go with free courses on YouTube.
Whichever type you choose, do not forget to read the comments and reviews of the course you will take. Keep in mind that every course provider may have fake reviewers.
2# Determine your niche
The key to success in this business model is to select the best drop servicing niches. Otherwise, you will fail in growing your business. Because a niche can help you identify profitable markets and attract more customers.
There are plenty of drop servicing niches to choose from. However, you should consider these 3 main factors when picking your niche:
Your interests
Target audience
Profit margin.
This is so that you can make the most out of your service, earn money and not face any embarrassment later.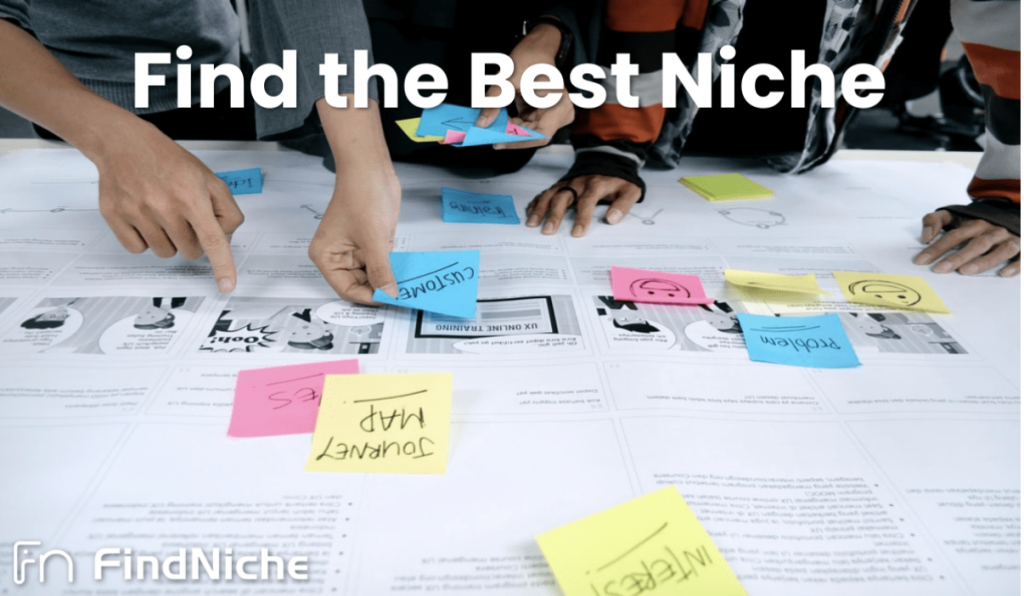 Here are 15 popular drop servicing ideas to get started with:
Data Entry,
Customer Service,
Writing (Copy, content, article, product description, etc),
Graphic Design,
Video Editing,
Social Media Management,
Advertising,
Quality Assurance,
Web Designing,
SEO,
Transcription,
Translation,
Programing,
Proofreading,
Virtual Assistant.
3# Create a dedicated team or find service providers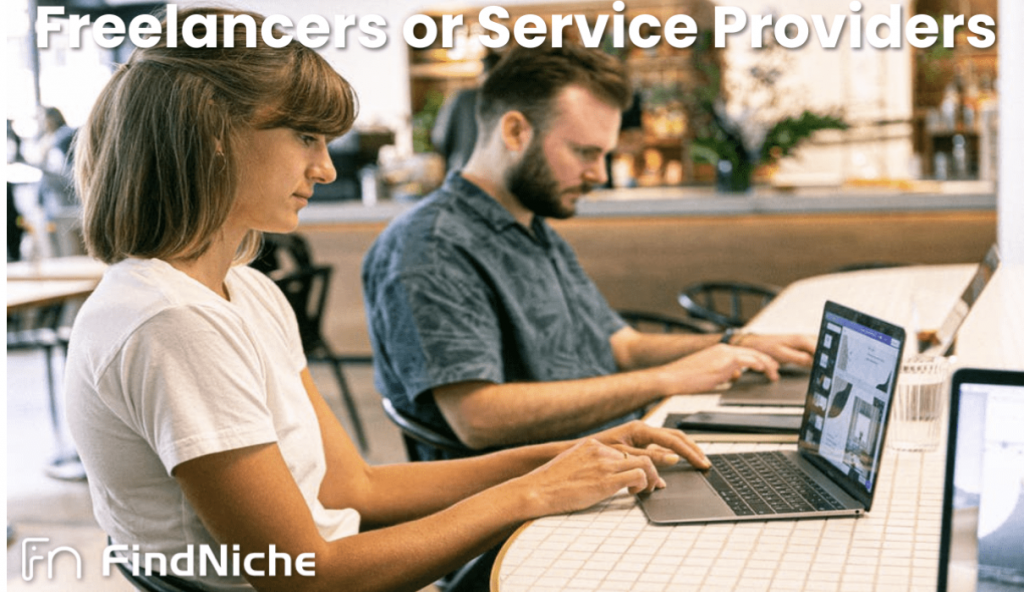 Hence, you should carefully look for your team members. Follow these steps to create a drop servicing team:
Get a team of freelancers to work for you. Use freelancer platforms like Upwork, Fiver, Freelancer, etc.
Analyze their reviews, portfolios, and sample works.
Build a good relationship with them, and offer them a test order.
Make sure they know that you are going to resell their services.
Motivate them by paying on time and giving a bonus when you get a high-profit job.
4# Build your brand and create a drop servicing website
Branding matters in drop servicing since the customers want to collaborate with trustable and qualified companies. Thus, you should pay great attention to your logo, motto, social media, website, and reviews.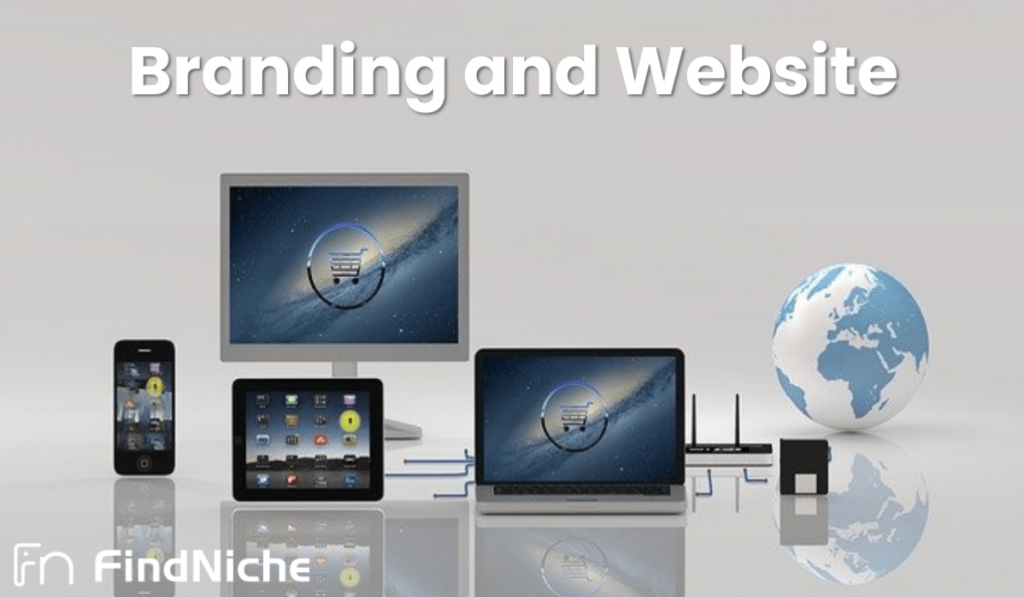 If you are starting a drop servicing business, you might already have contacts. But to increase your chances of converting your contacts into clients, you need a website. Your website should detail your services and who will be on your team.
💡 Pro Tip: If you have a limited budget, try to use Content Management Systems like WordPress to build your website at a minimum cost.
5# Promote your business
Once you have your drop servicing website up and running, you can begin finding clients by promoting. You have 2 options to market your service:
You can follow any strategy according to your budget. However, the best way to promote your business effectively is to use both ways. SEO will affect in the long-term whereas paid advertisements result in a short period.
For SEO, do keyword research and analyze competitors. Then write blogs, create a YouTube channel, or hire a writer to write articles for you. These articles should be readable, informative, and optimized for search engines like Google.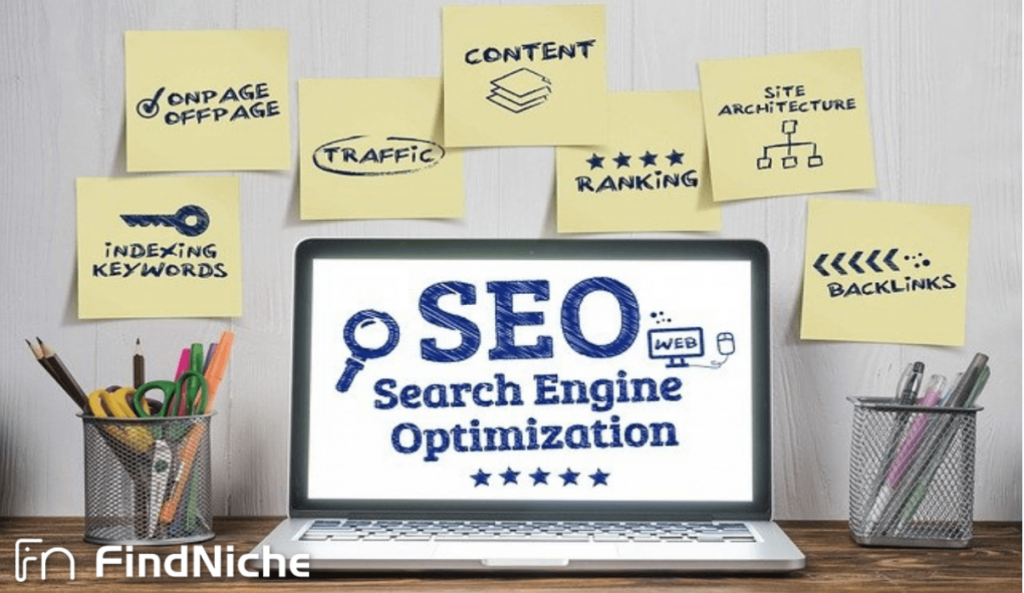 This will bring you free traffic and potential clients. It's a smart way to market your drop servicing website.
For paid advertisements, you can prefer social media or Google ads. These options enable your business to get noticed in a short time.
6 Exceptional Tips for Boosting Drop Servicing Business
Avoid always hiring the cheapest freelancers. Because, when you are not satisfied with the job and hire a new service provider, drop servicing will be more costly and you will waste time. Furthermore, if you can not handle this process well, you will fail in customer satisfaction.
If you are unsure about your niche, you can use Google Trends To find out what kind of service is in high demand.
Analyze competitors' webpage and discover their features. Get inspired by their approach to this business model.
When starting a drop servicing business, you can start small by offering lower rates and attracting more customers. This will help you land more work, and you can adjust your rates as you grow.
When determining deadlines for your team members, say the date a few days before the actual date, bearing in mind that the freelancer may be late for busyness or unforeseen reasons.
Always read your client's testimonials and reviews carefully. Make sure you know what you are getting into. Focus on what your customers are criticizing about you. You can even use negative reviews to your advantage.
Dropshipping VS Drop Servicing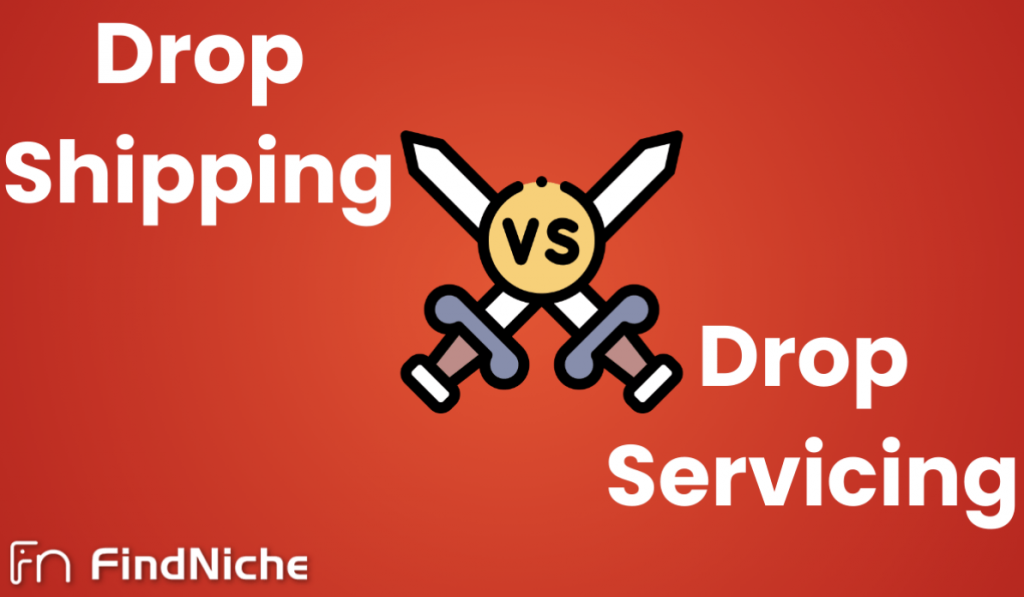 Although both types of business are legal, there are a few differences between the two:
You can start selling immediately with dropshipping on marketplaces. However, in drop servicing, you should find or create service providers and promote your business to earn money.
The main difference between dropshipping and drop servicing is the logistics. In dropshipping, you will work with a supplier who will store your products and ship them to your customers. But in drop servicing, you are not obliged to involve in logistics since you offer service.
While dropshipping can be extremely profitable, you have less control over the quality of the products. However, you can determine the quality of the service in drop servicing.
Since entrepreneurs can start selling online without inventory in minutes, the competition is high. However, compared to dropshipping, you will have fewer competitors in drop servicing.
In dropshipping, you are expected to deliver the order as soon as possible (within 24 hours on average), while in drop servicing, you must complete the requested service within the deadline. It means you have more time to get things done in drop servicing.
In Conclusion
Online business models have become increasingly common in recent years. Many entrepreneurs focus on online models, both because they are more profitable and because of the opportunity to spread the target audience to the world.
In this article, we covered one of the most profitable business models, drop servicing. We shared the advantages and disadvantages, and advice on how to start and grow your business.
As a result, drop servicing can be lucrative for anyone looking to start their own business, regardless of their chosen niche. However, if you are considering this business opportunity, you should make sure you choose a profitable niche that fits the line, build a team that does quality work, and promote your business properly.
FAQs
Is drop servicing legal?
Yes, drop servicing is a legitimate business model. This business model is ethical and consists of a middleman. But, drop servicing businesses must disclose their terms and conditions in order to avoid any legal issues.
Moreover, they must comply with applicable laws. You should beware of any service providers that claim to be 100% legal but may not be. It's better to be safe than sorry.
In this case, a service must be ethical and transparent. This is to avoid attracting unprofitable clients and damaging your business.
Is drop servicing profitable?
Yes, drop servicing is profitable providing that you follow proper strategy, build a highly-skilled team, and offer tremendous customer service.
According to some experts, drop servicing will make you millions overnight. While this isn't entirely true, it does hold some truth if you work hard, plan properly, and are prepared to develop with your firm, you can have a lot of profit chances.
Where do you find freelancers or service providers?
Freelancers and service providers join many active platforms around the world to be hired. Here are the most popular ones:
Upwork
Fiverr
Freelancer.com
Toptal
Guru
SimplyHired
ServiceScpae
People per Hour
Hubstaff Talent
What do I need to start drops servicing?
You need to fulfill these requirements to start drop services:
Find your niche
Create a skilled freelancer team or collaborate with service providers
Build branding and create a website
Promote your business with proper marketing strategies and SEO.
Dominate Your Market Now!
460,000+ sellers are using FindNiche as a secret weapon to win! But they'll never tell you.
Try it for $1!