FindNiche vs AliShark
With globalization, eCommerce is rapidly developed all over the world. Different from the traditional business model, dropshipping attracts an increasing number of entrepreneurs. While it is fairly difficult to choose the potential winners among millions of products. So a product research tool that can present the most trending bestsellers is essential and significant to dropshippers.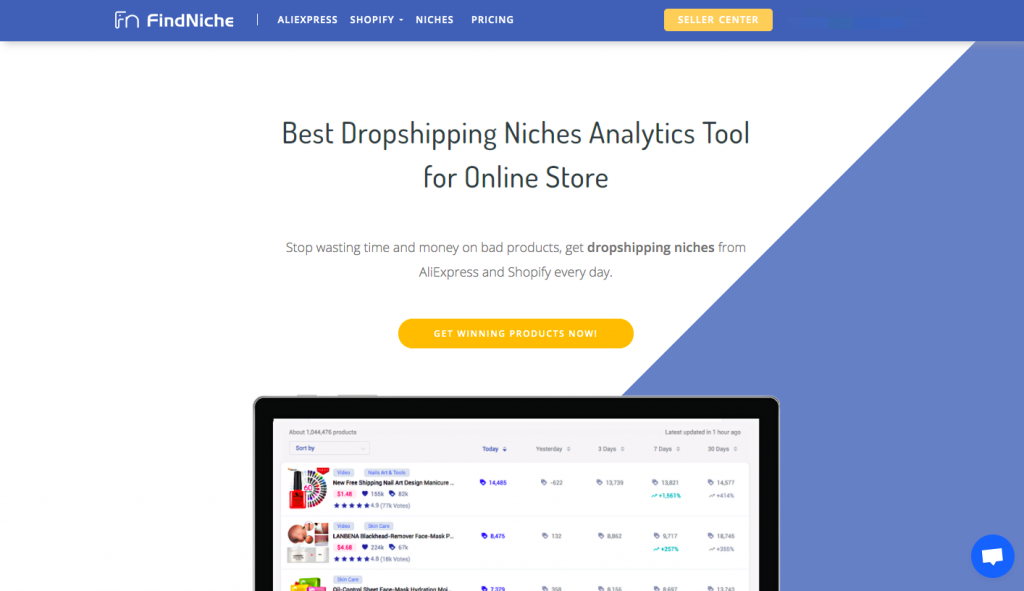 1. Overview of these tools
FindNiche is a leading dropshipping niches analytics tool with a huge eCommerce intelligence database. It typically serves the functions, finding niche products and trending Shopify stores.
AliShark is another hunt tool for best-selling products. It provides data analysis about the winning products. Users can easily access completed information about a winning product.
2. The main features of these two tools
1)Description of database
Both two tools have a big database of winning and popular products, while there are still some differences between them.


FindNiche
AliShark
Main channels
AliExpress
Shopify
AliExpress
Banggood
Main function
Dropshipping & Trending stores
Dropshipping
Updating frequency
An hourly basis
An hourly basis
Language supported
English
English
2) Advanced search & filtering
Both FindNiche and AliShark have access to all the data you need about a product, while they also decorate with individual features.
| | | |
| --- | --- | --- |
| | FindNiche | AliShark |
| Categories | ✔ | ✘ |
| Top country | ✔ | ✔ |
| Facebook ad links | ✔ | ✘ |
| Shopify Competitors Analysis | ✔ | ✘ |
| Total orders range | ✔ | ✔ |
| New recommend | ✔ | ✔ |
| Niches Picked by Algorithm | ✔ | ✘ |
| Recommend Filter Settings | ✔ | ✘ |
After searching out the result, both tools present detailed information about the ads with distinct key features.
| | | |
| --- | --- | --- |
| | FindNiche | AliShark |
| Carousel | ✔ | ✔ |
| Shipping country | ✔ | ✔ |
| Related products | ✔ | ✔ |
| Original page on AliExpress | ✔ | ✔ |
| Product performance | ✔ | ✔ |
| Top countries | ✔ | ✔ |
Regarding these two tools, both of them have individual features. As for FindNiche, users can find products on AliExpress, but also they can access the niches on Shopify. According to their details of niches on Shopify, people can sort the niche rate to find out the right products. Meanwhile, after clicking the details, people can match the product on AliExpress.
Importantly, users can search out the trending Shopify stores with FindNiche by typing the keywords or domain, and selecting the categories and top country, it would be helpful for users to refer to the original webpage to check their store design and business strategy.
While AliShark also provides a new function to generate a video. If the product post with pictures, users can make a video by selecting pictures, even you can decorate it with music, active banners, and text, people can also download it after the whole process.
FindNiche charges $20/$29 per month, but you can access lots of products, FB ads, and store data! As for AliShark, users can get a 2-day trial with $1, after that the monthly payment is $20.
As presented above, both FindNiche and AliShark are great tools for dropshipping business, especially when people try to find winning dropshipping niches on AliExpress. If users need to design their online stores or learn from related trending stores, it would be a wise choice to log in to FindNiche. As for AliShark, it provides new tools for people to make a video. While regarding the price, FinidNiche is definitely attractive with its incomparable price.