Amazon to eBay Dropshipping: All You Need to Know
Dropshipping is an e-commerce practice that sellers purchase products from a third party and have them shipped directly to the buyers. Dropshippiers are responsible for selling and marketing products, in order to do so, many dropshippers start their dropshipping business of Amazon to eBay dropshipping to take advantage of the two large platforms.
Amazon and eBay have a large visitors base that makes them ideal marketplaces to market and sell dropshipping products. It sounds great. But how exactly do you, as a dropshipper, start Amazon to eBay dropshipping? Before we go through that, it is best to understand what is Amazon to eBay dropshipping.
What is Amazon to eBay dropshipping?
The most common practice - Amazon to eBay arbitrage
Amazon to eBay dropshipping, as it puts out, is a dropshipping model that involved ordering Amazon items and having them shipped to the customer.
Basically, dropshippers are reselling Amazon products on eBay. It is also called Amazon to eBay arbitrage. Amazon to eBay arbitrage is when dropshippers sell the same items and make profits on the price difference between the Amazon price and the selling price on eBay. When a buyer makes an order, dropshippers make a separate order on Amazon to purchase the item and ship it directly to the buyer. Dropshippers take advantage of free traffic from the two markets while taking a low risk of no inventory.
Therefore, Amazon to eBay arbitrage is the most common practice in Amazon to eBay dropshipping model. When we talk about Amazon to eBay dropshipping, we are referring to the arbitrage practice in most cases.
Amazon to eBay arbitrage v.s. Classic dropshipping
You might have noticed that Amazon to eBay dropshipping is different from a common dropshipping practice, although they look almost the same. Amazon to eBay dropshipping doesn't involve a partnership with a supplier, since dropshippers is making orders from Amazon sellers instead of a wholesaler or a manufacturer.
Dropshippers who practice their business on Amazon or with a Shopify store often stick with a single niche, while the arbitrageur can sell anything they want since they are not building a brand or a store. The arbitrageurs are not like classic dropshippers in the way that they don't need to have an agreement with suppliers, thus they don't need to worry about the surplus. In one word, dropshipping from Amazon to eBay endure less risky than classic dropshipping.
Amazon to eBay arbitrage v.s. Amazon FBA
Amazon FBA is a storage and shipping service provided by Amazon. Sellers can ship their items to Amazon warehouses and Amazon is responsible for shipping them after they got ordered. Amazon to eBay arbitrageurs can also use this service to ship their orders. But again, they are not the same thing.
Amazon to eBay arbitrage is reselling Amazon products on eBay, while Amazon FBA provides services that handle picking, packing, shipping, customer service, and returns for classic dropshippers. Amazon doesn't charge any fees when you dropship from Amazon to eBay, they charge fees on Amazon sellers who use the FBA service.
Amazon to Ebay Dropshipping Pros & Cons
As a dropshipper, it is important to be aware of the pros and cons of any business model. Amazon to eBay dropshipping also have their pros and cons.
Pros
Low costs. It is easy to start dropshipping from Amazon to eBay. There is no need to buy a large inventory in advance.
Free traffic. eBay provides free traffic to your dropshipped products. You will have a lot of potential customers.
Low marketing costs. Unlike classic dropshippers who need to run ads to promote their products and stores, dropshipping from Amazon to eBay means your products are going to get lots of exposure without doing any promotion.
Flexibility. Dropshipping from Amazon to eBay doesn't require you to focus on one single niche, You can always switch to another niche with minimum costs.
Cons
Ethical issues. Buyers might feel fooled when they found they are receiving an Amazon package. When they found out items on your eBay store are charged more than on Amazon, they might feel manipulated and leave negative reviews on your store.
Policy restriction. Selling Amazon products on eBay might face the challenge from platform policies. It is important to not violet the policies since that will ruin your entire business.
Speaking of policies, let's take a look at those policies.
Is Amazon to eBay Dropshipping Legal?
Does Amazon allow you to dropship to eBay?
First, let's be clear that arbitrageurs are also buyers on Amazon. They are not sellers. Therefore, selling policies don't apply to them. There is no explicit policy against a buyer who orders and marks an item as a gift and sends it to another address.
However, it is noticeable that Amazon has clearly stated that "Prime members are not permitted to purchase products for the purpose of resale, rental, or to ship to their customers or potential customers using Prime benefits." Prime members clearly have more restrictions than ordinary buyers, which means you can do arbitrage by using an ordinary Amazon customer account.
Does eBay policy allow dropshipping from Amazon?
eBay has a clear policy against arbitrage, saying "Dropshipping, where you fulfill orders directly from a wholesale supplier, is allowed. However, listing an item on eBay and then purchasing the item from another retailer or marketplace that ships directly to your customer are not permitted".
However, eBay seems pretty relaxed on dropshippers who provide excellent customer service and make sales. eBay is more concerned about dropshipping from Amazon to eBay since buyers make orders on eBay and receive an Amazon package. They might feel fooled by eBay rather than Amazon.
Therefore, if you want to continue doing dropshipping from Amazon to eBay, you want to be put extra effort into maintaining customer relationships and make sure you are delivering quality products for eBay to allow your practice.
Common Problems When Dropshipping from Amazon to eBay
While you are doing dropshipping from Amazon to eBay, you will need to prepare yourself with the following problems.
Trademark or copyright issue. When you create listings on eBay, you may run into trademark or copyright issues. If you breach eBay's VeRO program, you might face a temporary or permanent suspension from eBay.
Unable to provide Amazon item tracking. Amazon tracking number is not shareable. You are only going to see it when you log into your Amazon account, which means your customers can't track the order by themselves. You might have to deal with customers' complaints about that.
Price changes and items are out-of-stock. Price and stock fluctuate on Amazon. You might get an order that originally gets you a $10 profit ends up with $3 since the Amazon seller changes the product's price. Or, you might find the item is out-of-stock when you purchase it. Therefore, it is important for dropshippers to place the order right away to avoid price change and product shortage.
Amazon accounts get locked. Amazon to eBay dropshippers will encounter accounts locked when they place heavy orders.
Being flagged as dropshipper on eBay. Being flagged as dropshippers on eBay face certain restrictions, such as limited listing numbers.
How to Start Dropshipping From Amazon to eBay?
Set up accounts and settings
To start dropshipping from Amazon to eBay, you will need to create accounts for Amazon, eBay, and a PayPal account.
Conduct through dropshipping product research
Although you are free at choosing any products, it can get overwhelming since there are tons of categories and millions of products out on Amazon to choose from. Researching products takes time. To simplify the process, you can try some tools to help you scout products that make sales.
Use FindNiche to find hot dropshipping products
FindNiche is an online service that is dedicated to dropshipping.
FindNiche features Aliexpress database, Shopify database, and e-commerce ad database. It covers over 93 million Aliexpress products, 43 million Shopify products, and 50 million ads. With that large amount of data, e-commerce sellers are able to discover any products using the advanced filters, keyword, or URL search options provided by FindNiche.
In addition to that, FindNiche provides key products metrics and comprehensive analysis drawing upon the metrics to present insights into products. How is FindNiche going to help dropshipping from Amazon to eBay?
First, select winning products. FindNiche recommends a list of potential winning products every day. Explore the "Niches" feature, you will find winning products of different categories.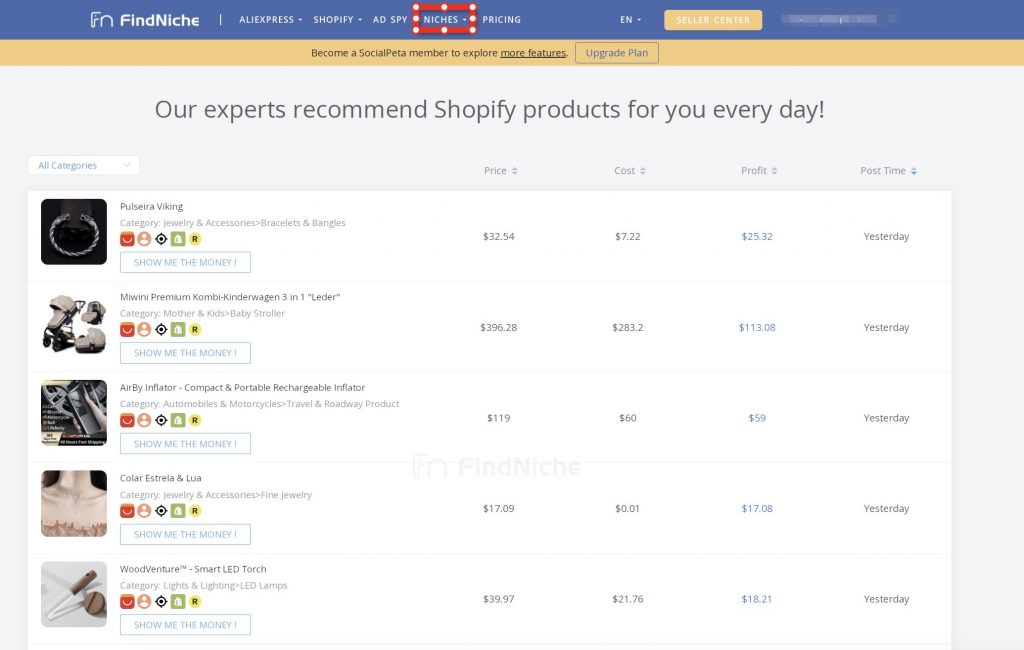 Second, find low-competition, high-demand products with FindNiche. FindNiche provides advanced filters to help you locate products with high sales and moderate sellers. Go to the sub-feature "Shopify Database" under the main feature "Shopify". You can choose a certain range of orders and competition. Usually, a 7-day order and moderate competition will give low-competition, and high-demand products.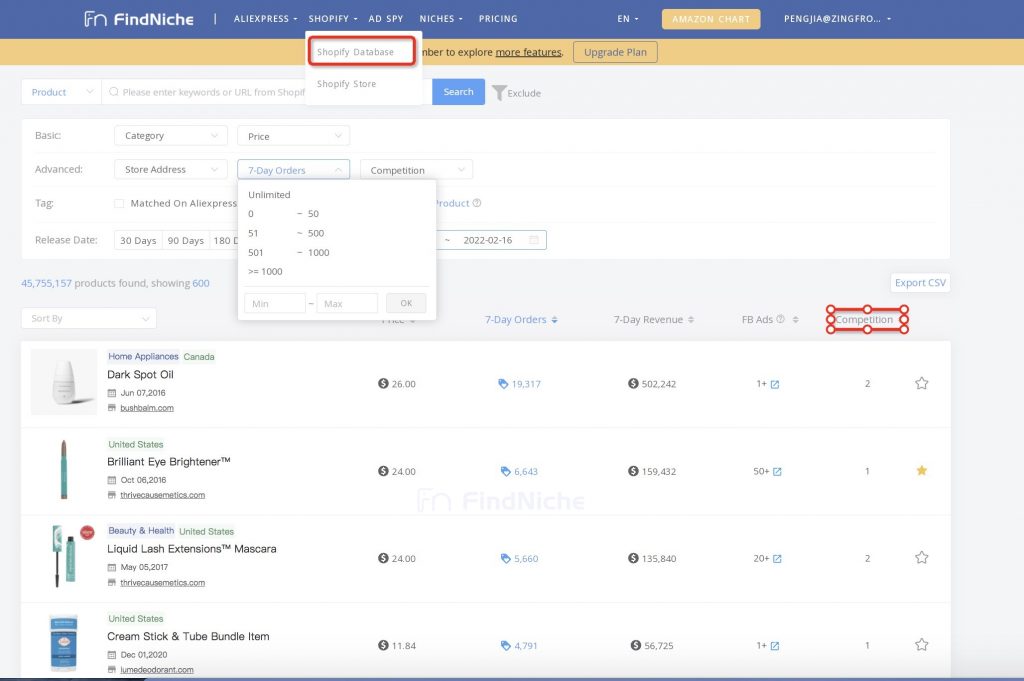 Other methods to find Amazon to eBay dropshipping products
Source best-selling products on Amazon at a lower price
If you want to maximize your profit, you will want to find Amazon sellers who sell the same products at a lower price. AmzChart helps you with that.
AmzChart provides filters that allow you to locate products from various dimensions. Even you don't know what filters should apply, AmzChart shows you a list of products ranked by their total sales. You can go from that. AmzChart also shows you all the sellers that are selling the same products. You can go find the selling prices of that product on Amazon and decide which one you want to dropship.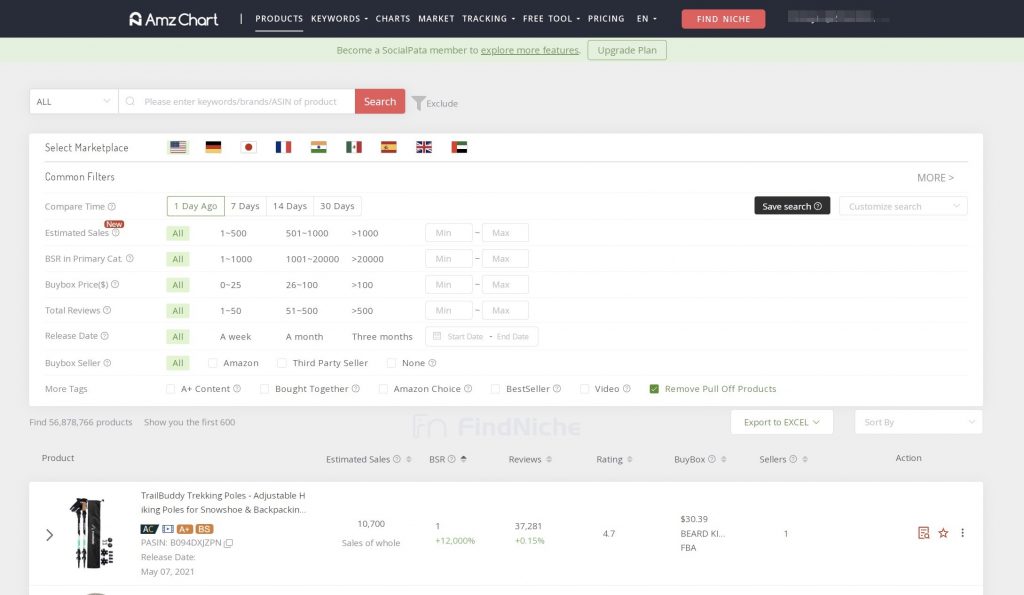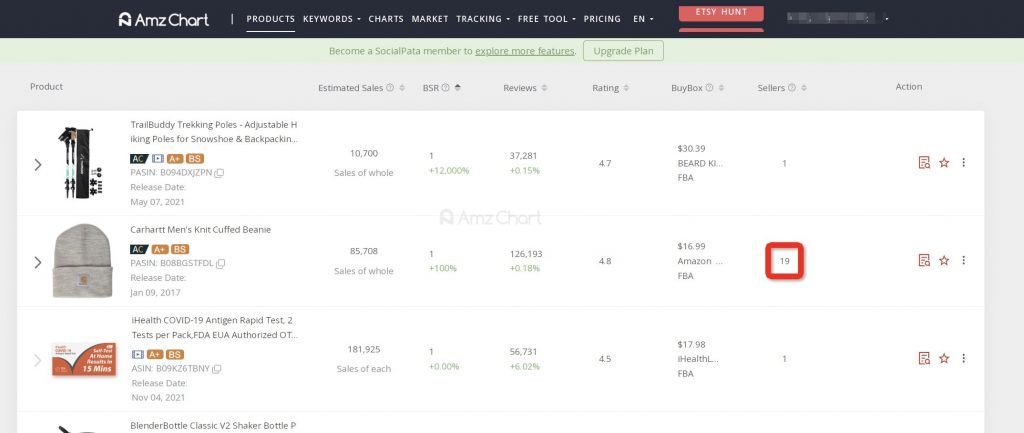 List items
Go to eBay, click the "Sell" on the top right corner from the homepage.
You will be directed to a page where you should see a blue button "List an item".
Click the blue button, and copy the name of the Amazon item.
Choose the condition of the item.
Fill in some descriptions about the item, and upload good-quality photos to your listing.
Your listings are ready to go!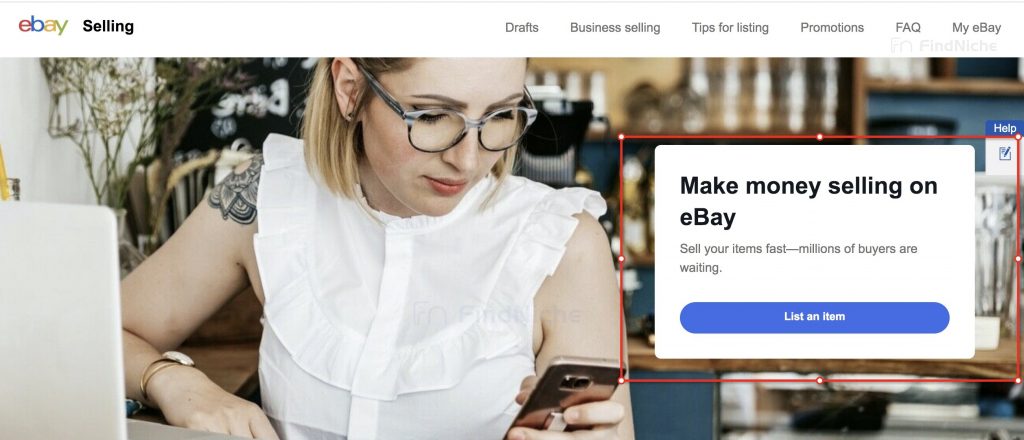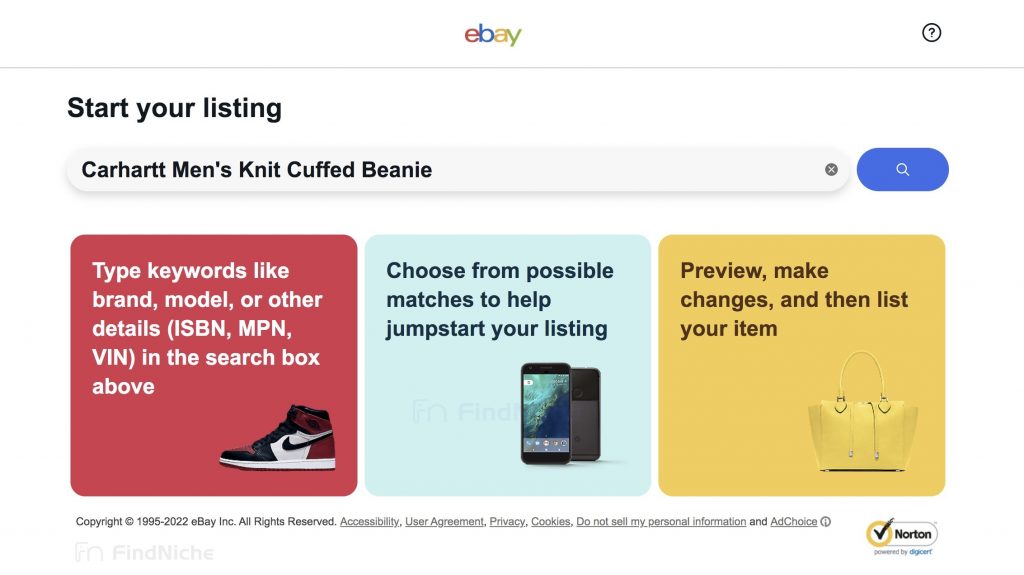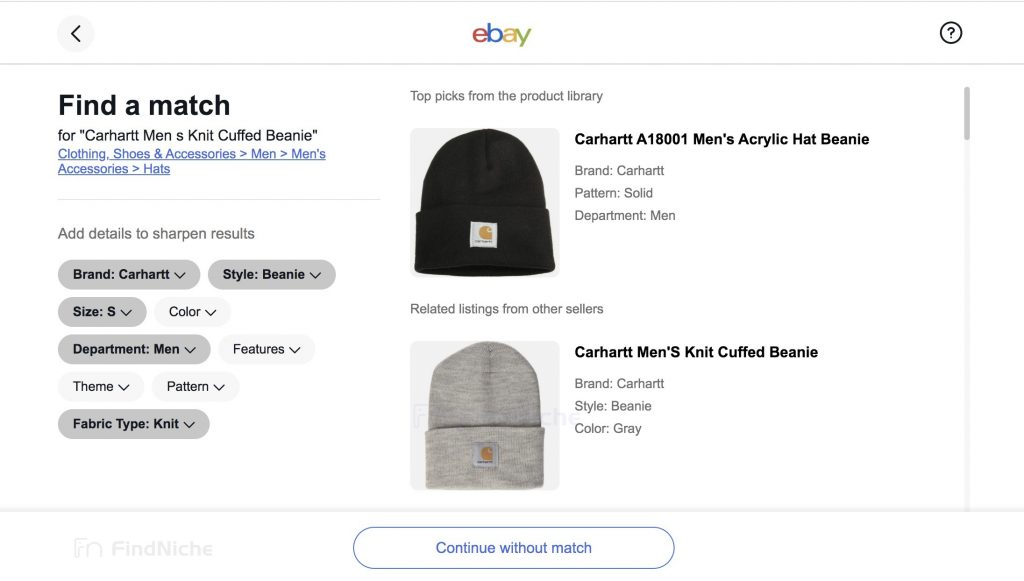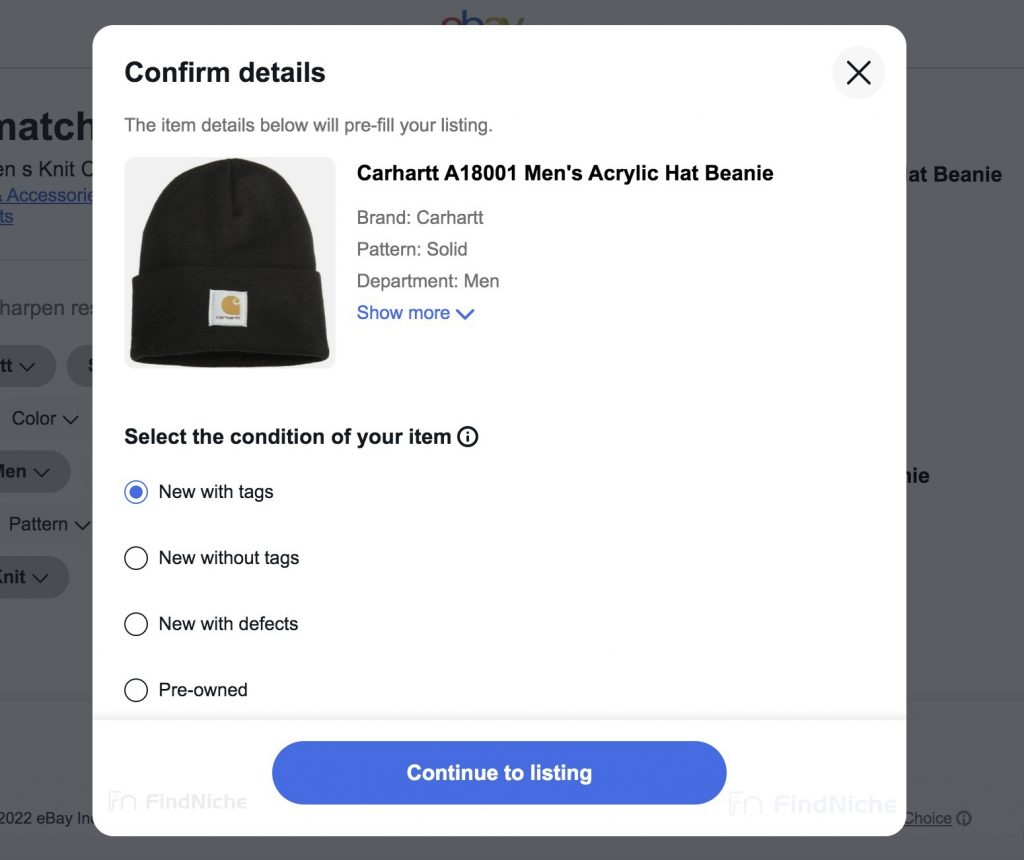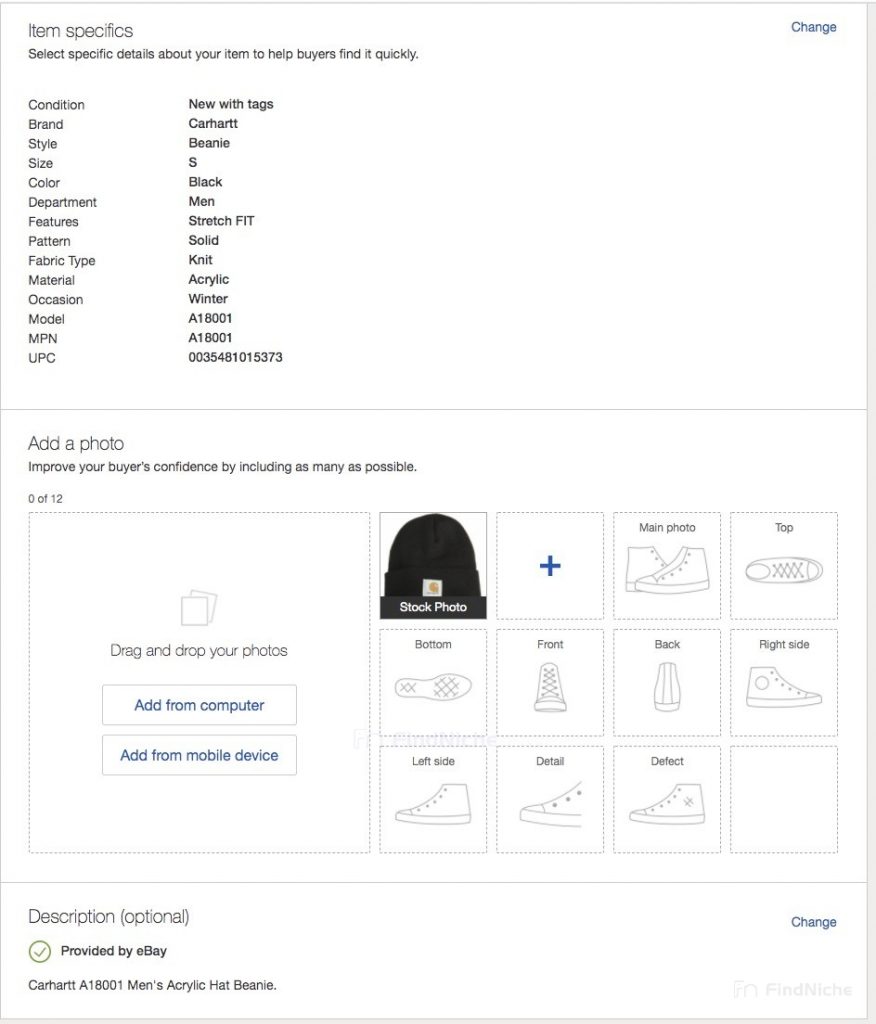 Fulfill orders
After you receive an order on eBay, you log in to Amazon and place the order on Amazon. Mark the item as a "gift" and enter the customer's address. Your order will be then be fulfilled!
Conclusion
Amazon to eBay dropshipping is comparatively low-risk than other dropshipping models. You can take advantage of their traffic, visitors, and services to help you kick off your dropshipping business. Amazon to eBay often refers to reselling the same Amazon products on eBay, which is also known as online arbitrage.
Although eBay has clearly stated reselling is forbidden, they are fine if your store is performing well. Therefore, you should be really focusing on your order fulfillment and customer service in order to keep the business. Dropshipping from Amazon to eBay also needs you to discover products that are going to make sales even you are not focusing on a specific niche like other dropshippers.
Tools like FindNiche and AmzChart will help you to find dropshipping ideas, source best-sellers on Amazon, and high-demand, low-competition products faster, saving your time on product research and helping start your dropshipping immediately.