16 Top-Notch Coffee Dropshippers in 2022
The most widely consumed beverage type in the world is coffee According to multiple studies. For example, 517 million cups of coffee are consumed daily in the United States alone. Besides, coffee is extremely popular in Europe and Asia. 82 percent of adults drink coffee in their daily routine.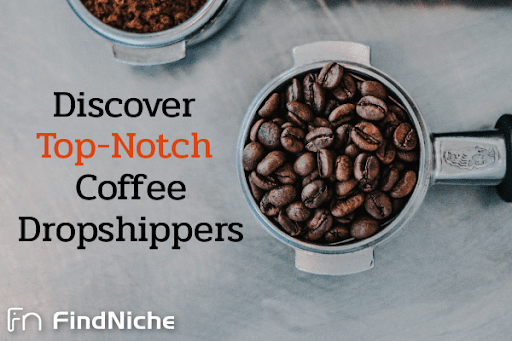 All dropshippers can predict that this high demand for coffee will create a profitable sales opportunity. It is also a known fact that the supplier plays a vital role in the success of the dropshipping business model.
In our article, we will cover coffee dropshipping from the supplier side and explore 16 splendid coffee dropshippers.
Table of contents for this article:
Coffee Niche: Is it Worth Dropshipping?
When it comes to coffee sales, we come across a profitable niche for dropshipping, based on demand and online sales statistics. Let's deep dive into coffee statistics to discover more: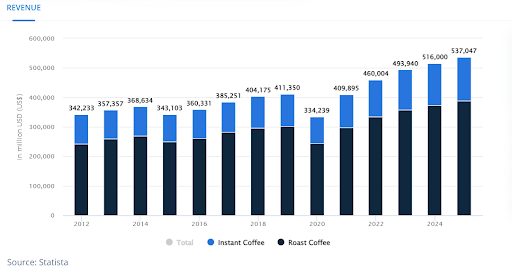 Revenue in the Coffee segment amounts to US$460,004m in 2022. The market is anticipated to grow annually by 5.30%
More than 400 billion cups of coffee are drunk each year.
Coffee is an essential part of coffee drinkers' morning habits and 84% of US people have it with breakfast.
Finland is the world's greatest consumer of coffee on a per-person basis.
In relation to total population figures, per person revenues of US$60.64 are generated in 2022.
In the Coffee segment, volume is expected to amount to 7,884.1mkg by 2025. The market for the Coffee segment is expected to show a volume growth of 2.5% in 2023.
In global comparison, most revenue is generated in the United States. Japan, Brazil, Canada, and Germany follow respectively.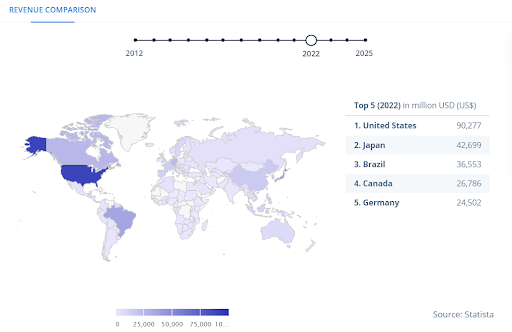 Shopping Trends for Coffee
When it comes to coffee sales, offline sales are actually preferred by coffee gourmets. They want to taste before purchasing.
However, when we consider the coffee trends around the world and the online shopping habits brought by the pandemic, online coffee sales are rising rapidly.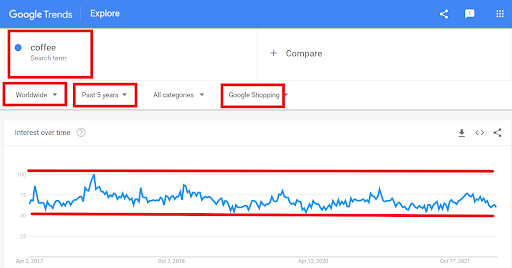 When we examine the Google Shopping trends, we see that there has been a constant demand for coffee in the last 5 years.
As can be noticed, numeric values and trends are revealing the coffee niche as a profitable area for dropshipping. So how to find the best suppliers for coffee? Now, it is time to explore coffee dropshippes.
16 Top-Grade Coffee Dropshippers & Wholesale Suppliers
Here is our list that is consisted of dropshippers that stand out in the coffee niche and the most preferred marketplaces in wholesale and dropshipping.
1. Path Coffee Roasters
Path Coffee Roasters is an experienced coffee roaster that is located in the USA. It offers a straightforward, rapid, convenient, and cost-effective coffee dropshipping program. They do not require recurring fees. It also provides you with your personal account manager.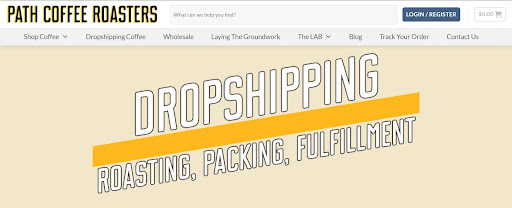 Not only will you obtain wholesale pricing on every order that your shoppers make but also you have the opportunity to benefit from these huge discounts when purchasing your own coffee.
This is among the foremost advantages of being a Path Dropshipping Customer. Thus, you will always have access to freshly roasted specialty coffee at wholesale cost.
2. Aroma Ridge
Aroma Ridge is a family business with 30 years of experience in coffee. It offers coffee lovers, wholesalers, cafes, and retailers an array of the finest gourmet mountain-grown coffees.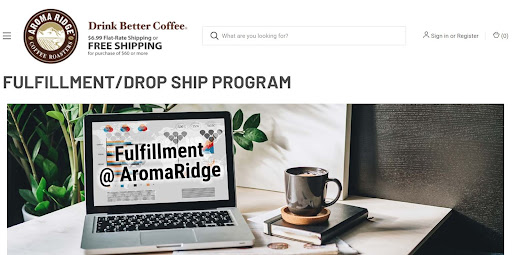 After joining their dropshipping program they will:
Fulfill your orders.
Insert gifts or promotions in packages per your desire.
Ship packages directly to your clients or to you, whichever you prefer.
⚠️ Please note that starting cost is $100 and this fee is nonrefundable.
3. Limini Coffee
Limini Coffee is UK Based coffee manufacturer. It offers a complete dropshipping service for dropshippers. Thus, they roast, pick and ship your order straight to your consumer.
It is relatively straightforward to join. Merely create a dropshipping account on the Limini website and follow the instructions.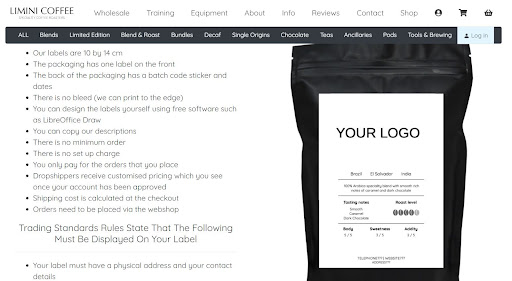 ⚠️ Please note that coffee dropshipping is ONLY eligible for UK companies or individuals
4. Temecula Coffee Roasters
Temecula Coffee Roasters provides a small collection, of handcrafted coffees to retail and wholesale coffee lovers. It also offers a full dropshipping program and private label coffee dropshipping.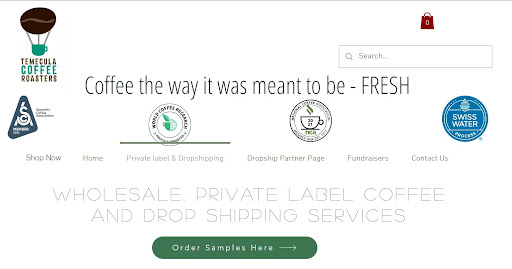 They do not require any minimum order, monthly fees, and start-up fees.​
Temecula is 100% transparent in terms of pricing.
Immediate email access to the Temecula team.
40+ coffee selections are available.
Sales support at no cost.
5. Dripshipper
Dropshipper is a coffee roaster that developed the app to create an effortless solution to sell and dropship their coffee using the Shopify platform. They enable entrepreneurs to bring their own unique coffee brands to the world market.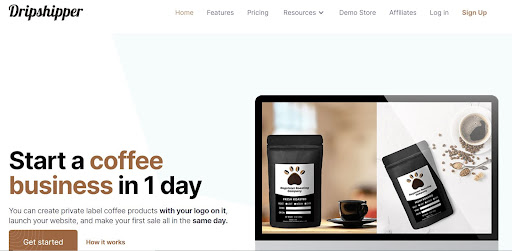 Offering a 14-day free trial period, Dripshipper wants you to purchase three different membership types at the end of this process:
The starter is $30 per month, the Professional is $99, and the Elite is $197.
After registration, Dripshipper carries out the entire fulfillment process, from roasting the coffee to packaging and delivering the order to the customer. Their motto is " No risk, quick setup, and beginner-friendly"
6. Francesco's Coffee Company
Francesco's Coffee Company is a Canadian based company that offers a private label coffee solution based on:
no minimum orders,
helpful customer service,
state of the art processes,
coffee manufacturing expertise.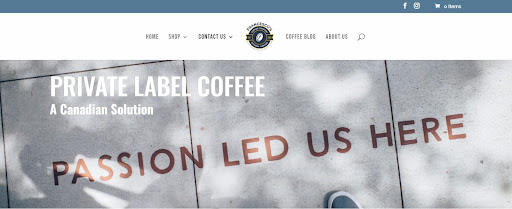 The majority of Francesco's coffee's private label clients are owners of online stores and dropshippers from Canada. However, the company does permit international partners who meet the requirements of their clients.
For shipping, this provider gives a flat price on shipping to Canada, Ontario, and the USA.
7. Blessed Bean Coffee
Blessed Bean Coffee is a real family business that has been serving for 20 years. They are located in Florida, the USA. They ship more than 100 types of coffee to the whole world. When your order arrives, Blessed Bean roasts the beans, packs them and puts the label on the package.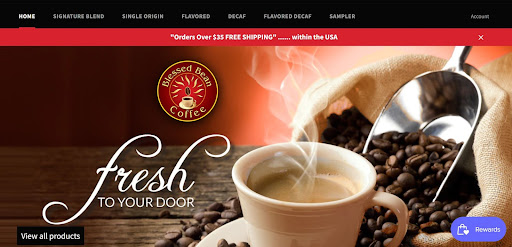 Joining the dropshipping program is super easy. You just need to send an email and they will reply with a Welcome Letter which will answer many of the questions.
8. Sharehaus Coffee
ShareHaus.coffee is a Canadian-based coffee roastery that specializes in producing stunning, high-end, private-label coffee for coffee lovers. They produce your coffee, to order, in real-time, and drop-ship it to you in your store and to your private label customers.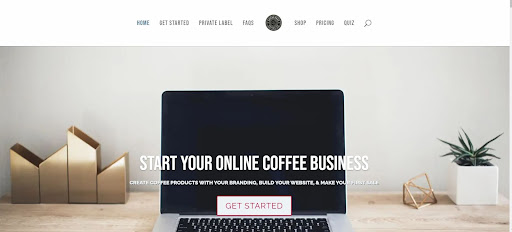 After the 14-day trial period, you can get the Aficionado plan for $20 per month and the Master Roaster plan for $100 per month.
9. Joe's Garage Coffee
Joe's Garage Coffee is a coffee roaster in Washington State for over 20 years. It provides flexible, reliable, and superior service in wholesale and private label coffee areas.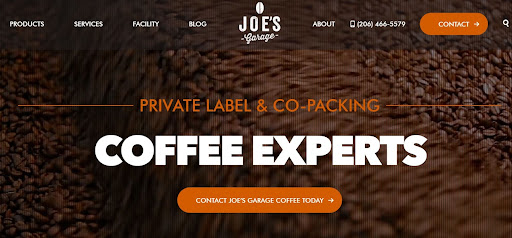 Their aim is to invariably provide exceptional service to customers by offering fast, reliable turnarounds with low minimums and high volume capacity. They promise to provide:
Lower minimums
Shorter lead times
Supereminence
Outstanding service
10. Seattle Gourmet Coffee
Seattle Gourmet Coffee has continued to provide premium service and coffees to wholesale customers and dropshippers at their Lynnwood, WA location since 1994. Besides offering free shipping to many regions without minimum, SGC also does not charge shipping costs for orders of 20lb or more to other regions.

If you want to sell private label coffee with Seattle Gourmet, you have to send your own label and bag. They will package and ship out the orders as come in.
If needed, they have local printers they can recommend to get your bags private-labeled. Seattle Gourmet does not print labels themselves.
11. Old Chicago Coffee Co
The next coffee company is from the USA again. Old Chicago Coffee is a wholesale coffee dropshipper that offers a variety of coffee grinds to pick from. You can upload your logo to create your own labels in black or white. Moreover, you are enabled to send customized labels for the coffee bag.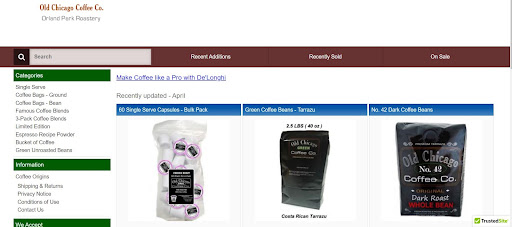 The most appealing aspect of dropshipping service is that it offers wholesale prices. You'll also have plenty of profit potential and have options for co-packing or private label.
Here are some ins and outs:
You will not pay dropship fee but pay a $10 monthly fee
There are no minimum order requirements
You will be charged one tıme $35.00 account set-up fee
One Chicago will handle all fulfillment processes and supplies order tracking numbers to you.
⚠️Orders are NOT automated, you have to enter an order in the dropship cart for each order you get from your buyer
12. Hormozi Coffee
Hormozi Coffee is a UK-based coffee company that dedicates itself to generating the exact flavor, aroma and visual aspect that every dropshippers seek.
They have in-depth experience in creating unique recipes and roast profiles for any business model, which will give you the edge in a coffee market that is heavily saturated with bland, carbon-copy blends.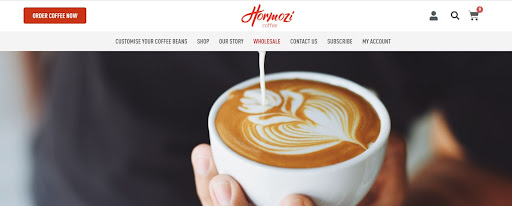 Dropshipping with Hormozi Coffee is quite easy. All the order fulfillment processes will be dispatched by them. All you need to get started is a PC, your own label designs and a unique selling point! Furthermore, there are no dropshipping fees
⚠️However, you should bear in mind that only UK-based dropshippers are allowed to join the program.
Online Marketplaces for Coffee Dropshipping
World-renowned marketplaces can be the safest and easiest way to find the best coffee dropshipper. Because you can dropship on these platforms without huge disappointments thanks to suppliers' reviews and the transparent price process.
13. AliExpress
Needless to say, Aliexpress comes to mind first for beginner dropshippers when talking about dropshipping. If the product is coffee, one of the first marketplaces that those looking for reliable suppliers start to search is AliExpress, a company of Chinese origin.
When choosing your supplier on AliExpress, you should read the reviews, contact the coffee dropshipper in advance and ask your questions. You should also learn the shipping process in detail.
14. DHgate Dropshipping
Many dropshippers have discovered DHgate an excellent option for AliExpress due to its broad range of product offerings as well as its low prices and flexible payment options.
DHgate has been serving in dropshipping since 2005. It is a Chinese B2C and B2B eCommerce platform that facilitates cross-border trade between buyers and suppliers. It is one of the largest trading platforms in China with more than 31 million customers all around the world.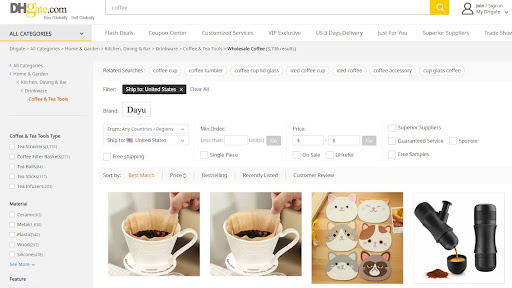 You can find numerous coffee-related items for dropshipping.
15. CJ Dropshipping
CJ Dropshipping sometimes referred to as CJ, is a fantastic platform developed by a Chinese wholesale company. They provide a range of dropshipping options like shipping services and product sourcing, custom packaging, branding of products as well as other processing and much more.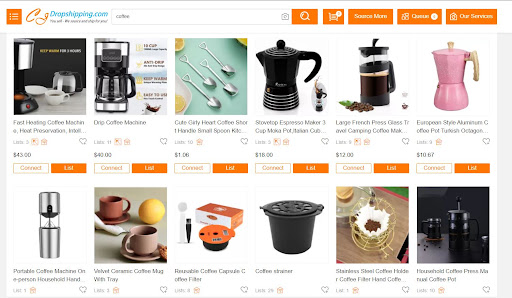 It also offers other services like the affiliate program, API Support, warehousing service, and photography and video recording. To sum up, you can find various opportunities for coffee dropshipping.
16. 1688
1688.com, another affiliate of Alibaba, is a streamlined company that allows customers to gain access to factories, wholesalers, trade companies, and wholesalers from China.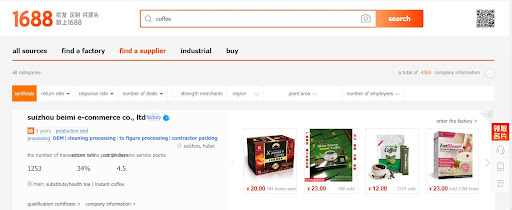 Compared to AliExpress, you can dive into a lot of different items in a coffee niche. Moreover, these products are available at a cheaper price in 1688 for dropshipping abroad.
Find The Best Coffee Dropshipper with FindNiche
Shopify is one of the most preferred platforms for dropshipping worldwide with its ease of use, reasonable prices, and marketing features. You can easily explore coffee dropshippers who want to announce their products globally with the FindNiche Shopify Store Tool.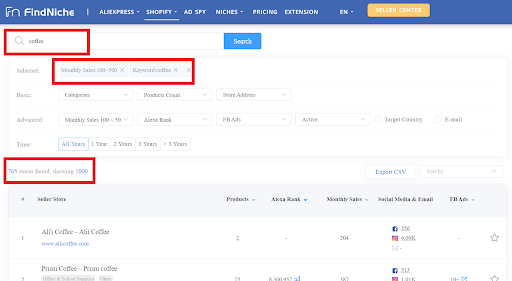 All you have to do is type "coffee" in the search field and review the listed vendors according to the features you filtered.
Conclusion
Coffee is more than just a beverage, it's a habit and part of the daily routine. Moreover, it is the most preferred type of beverage worldwide. Finding the best dropshipping supplier in this massive demand area also plays a paramount role in success.
After reading this article, you will have chosen the most suitable one among 16 top-notch coffee dropshippers.
Dropshipping Suppliers in Different Countries