Dropshipping Niche Finder: 5 ways to Find Potential Niches
The Shopify market is complex and highly competitive, and every seller wants to find the most profitable niche market to start selling products. As we all know, products with high demand and low competitiveness can make you money quickly. But the question is how to find a profitable niche market? You can manually search and investigate, but it will definitely require a lot of time and effort. Then, we can try to use tools to complete this work efficiently and quickly. Here are 5 ways to help you find potential niche markets.
1. Use your points of interest to find the direction you want
Whether you want to create your own Amazon niche site or start selling in a new niche market, the point here is to have a certain interest and enthusiasm for it. If you find a niche market you are interested in, then the next step is to check profitability and competitiveness.
When using your imagination to find the right market, you must first consider all the things you come into contact with every day. Observe everyone you meet in your life, what do they do, what they wear, or what are their hobbies? Apart from work, the place where people spend the most time is leisure time. In their leisure time, what people choose to do is often where they are more willing to invest their money.
The second step is to start from these points of interest, choose products that can touch their pain points, seize their needs, and then sell them. At this step, you can give full play to your ideas and combine all of this with your product. You have to know that there is only one purpose for all your actions: that is to sell your product.
2. Use FindNiche to find potential niches
We all know that to find a potentially profitable niche market requires a lot of time and energy. So, how can we save time and complete this work quickly and efficiently? Use the Niche Finder tool. FindNiche is one of our smart tools, which can help you successfully start your e-commerce sales journey.
In FindNiche, there are many ways to help you find a niche.
1) Use the filter key to filter the products you want
For example, on the "SHOPIFY" page, you can see that there are many filtering conditions, including: category, country, price, orders in the past 7 days, competitiveness, etc. tags, you can freely combine to choose the niches you want.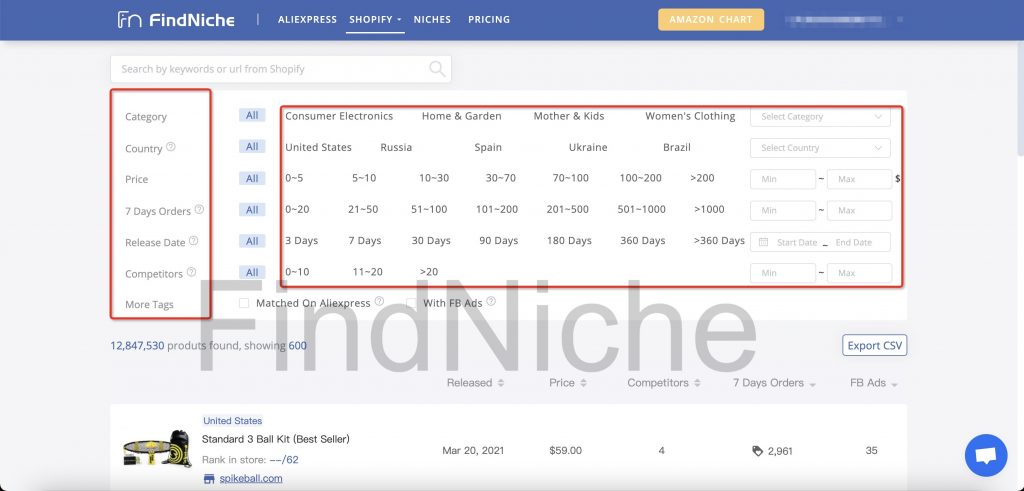 Of course, if you are a novice and feel that these filter conditions are complicated and don't know how to combine them, you can try these 5 tags we set for novices, refer to the selection and find inspiration. The labels are:
Low competition: Filter the products with Order Last 30 Days>200 and Total Review<100, which often have high demand, less competition, and low operating costs.
Optimization potential: Filter the products with Star Rating<3.7 and Order Last 30 Days>200, which often have high activity but low quality.
High ROIC: Filter the products with Price>20 and Order Last 30 Days>200, which often have higher units per transaction(UPT) and higher return on investment(ROI).
New Hot-selling: Filter the products with 7 Days Order Growth>100%, Total Order>1000, and Release Date in 3 months, which often have tested successfully with good sales.
New explosion Niche: Filter the products with Order 7 Days Growth>100%, Order Last 7 Days between 20~200, and Release Date in 3 Months, which often have a high growth rate but low sales relatively.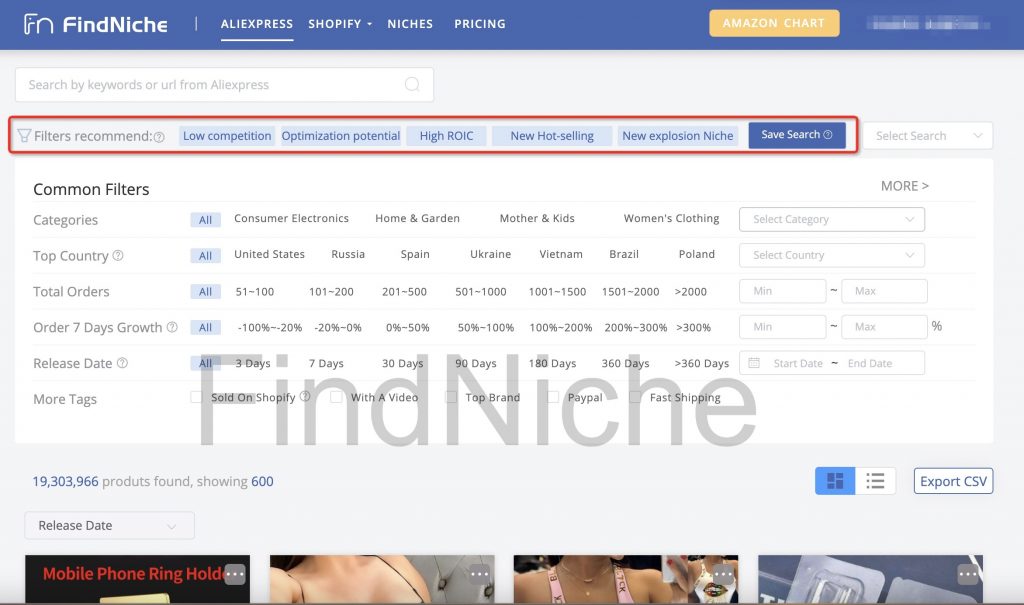 2) Use the "Niches" page to see the daily recommended selections
FindNiche will update some recommended Shopify products every day, as a reference for everyone's selection. Which will display the sales price, product cost, profit, update time and so on.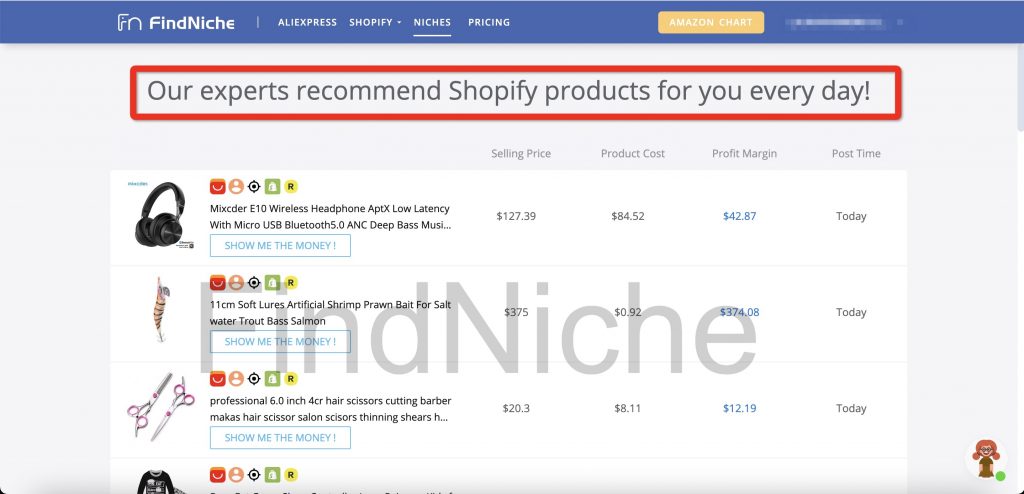 3) Monitor the selection of competitors
On the "Shopify Store" page, we can also monitor what competitors are selling, how many advertisements they have posted in the last 30 days, and the status of their FB pages, store rankings, and so on. The best way to get inspiration from a competitor is to get product selection!
In addition, on this page, you can not only look at your competitors at the same level, but also check which products are new in the top-level stores in your area of ​​concern, so as to get inspiration.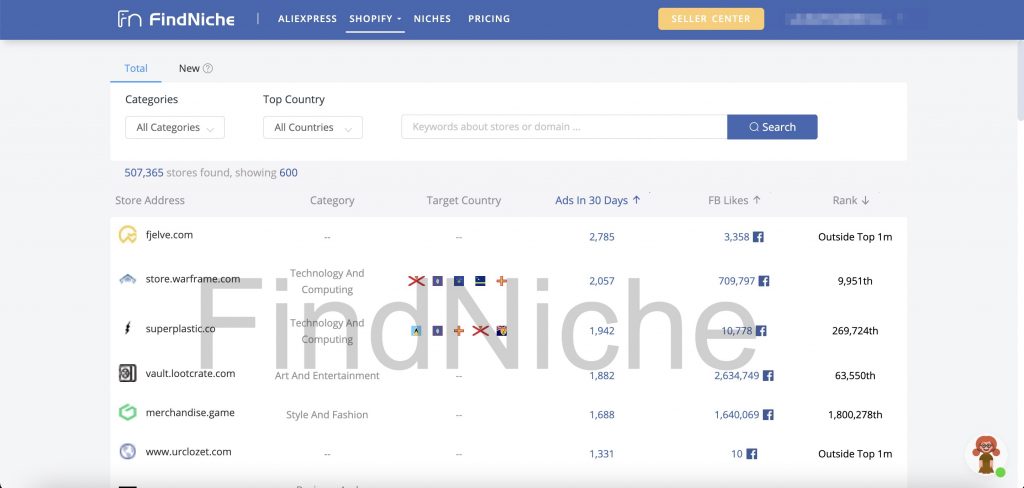 3. Use Google Trends to view keywords
Using Google Trends this tool, you can get unfiltered samples of anonymous search requests and their categories. This software can also identify interest in a topic worldwide or within a specific city. The data covers the past 7 days of real-time data, up to 36 hours can be searched, and even can be traced back to 2004, which provides you with valuable insights on trends.
You can use this tool to view keyword trends, and find the keywords that currently have a large traffic, and then follow this keyword to select products to find a profitable niche market.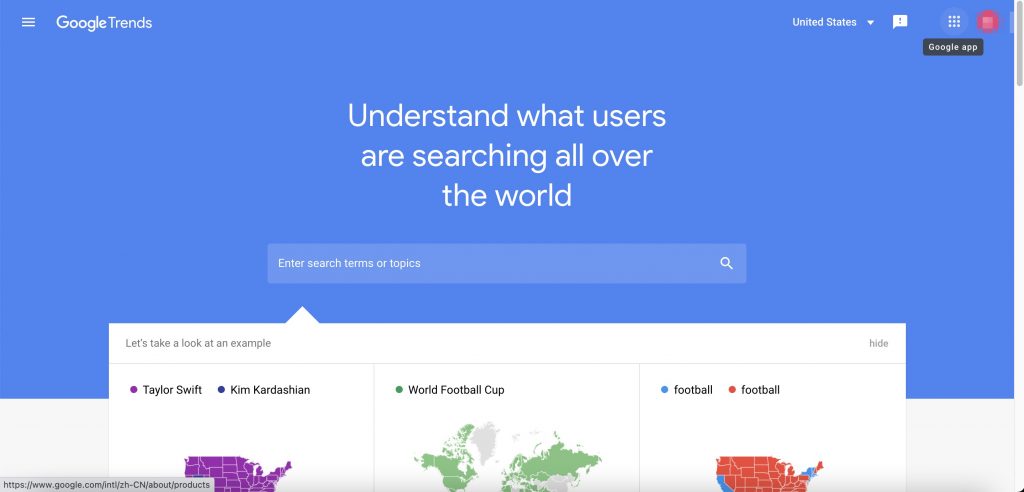 4. Explore niche communities to get inspiration for selection
In many online forums and communities, you can get information about the potential niche markets of Shopify or AliExpress. Of course, I recommend that you start with Reddit, because Reddit is one of the most popular online communities. There are many topics and discussion groups on Reddit for almost every topic you can imagine.
All you can do is explore these communities and see if there are any potential business ideas that can impress you. First, you can discuss lifestyle, travel, pets and animals, or whatever you think is interesting. With your in-depth research, please list all the interesting niche ideas you have encountered, and then proceed to the next step in the direction you are interested in.
5. Search in FaceBook
Facebook is one of the most popular social media sites used by businesses. By browsing the Facebook page, finding a niche becomes much easier. The Social Niche plugin provides a Facebook niche searcher that can make your focus clearer. Type in your keywords and you will receive ads related to these keywords on Facebook.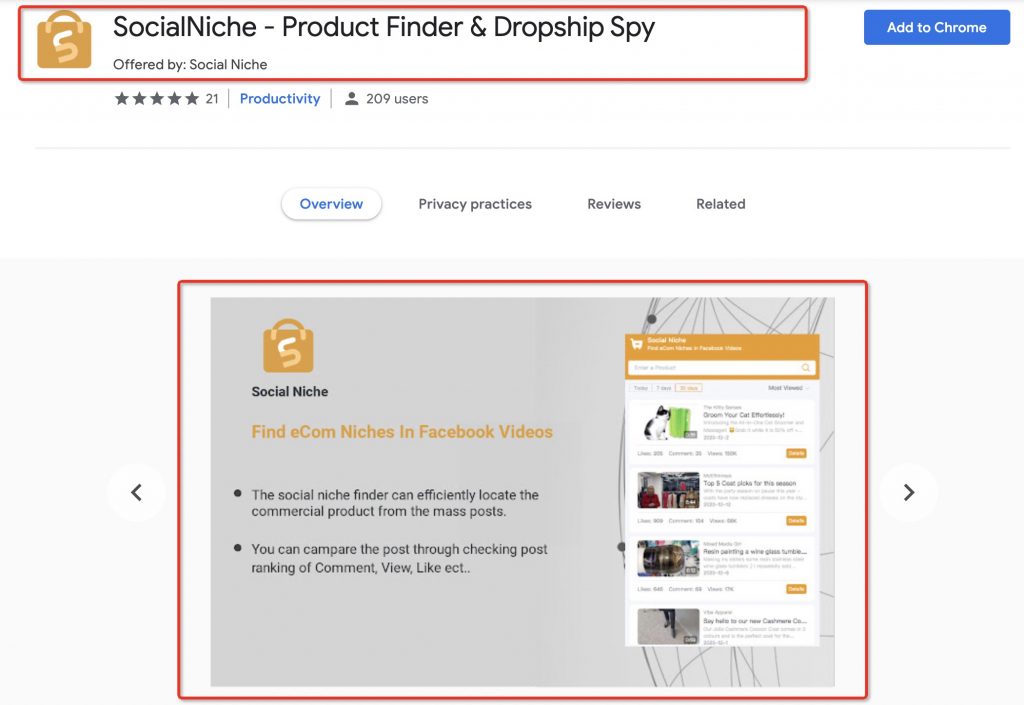 For example, enter the keyword "woman T-shirt" in the search box and SocialNiche will provide you with information about popular ads, videos, photos, and posts on Facebook, which will be useful in determining your business marketing strategy .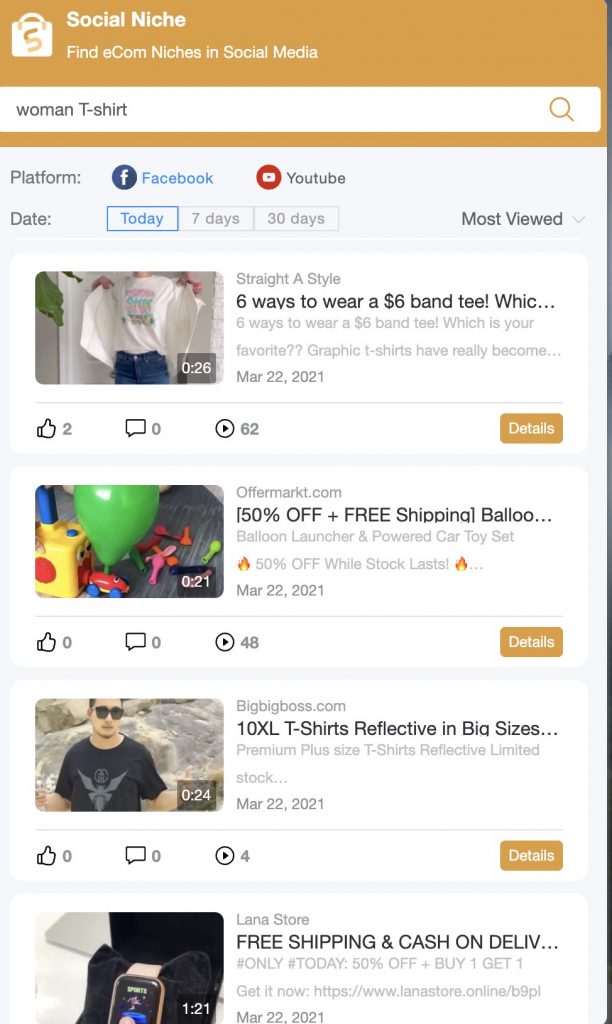 Conclusion
This article lists 5 ways to find potential niche markets, I hope you can get some inspiration and help.