Alibaba Vs AliExpress, Which One You Should Choose for Dropshipping?
As an e-commerce practitioner, you have probably heard of Alibaba and AliExpress. Before discussing Alibaba and AliExpress, you should first know that these two platforms are owned by the same company, that is, the huge Alibaba Group in China. As one of the world's largest e-commerce brands, Alibaba Group controls what may be the world's largest online wholesale and retail market. But who are they? In our dropshipping business, which one would be the best choice? Keep reading and you will find out which platform is more suitable for dropshippers.
What is Alibaba and how does it work?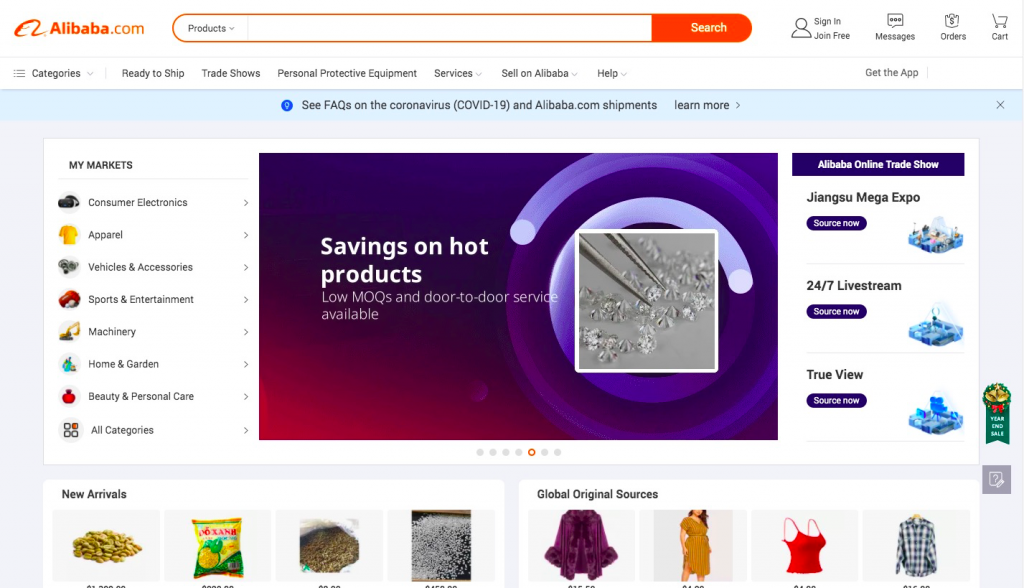 Alibaba is a B2B (business-to-business) wholesale platform that enables companies to make wholesale purchases from manufacturers and suppliers in Asia, especially China, a bit like Amazon. Merchants can find a wide variety of items on this platform, from mechanical parts to customized products, you can find almost anything you want.
But as a market, Alibaba does not own the product itself, nor does it have inventory. Individual suppliers are directly responsible for the quality of their products and orders processed. Different from Amazon, Amazon owns the inventory and supply chain of goods, and sells goods directly to customers, and provides separate direct transportation services, called "Fulfillment by Amazon" or "FBA".
So how does Alibaba make money? Alibaba makes money by collecting commissions from each transaction and charging subscription fees from sellers who have a storefront on the site. Although additional sales features and upgrade fees can be charged, sellers do not need to pay for listing their products.
What is AliExpress and how does it work?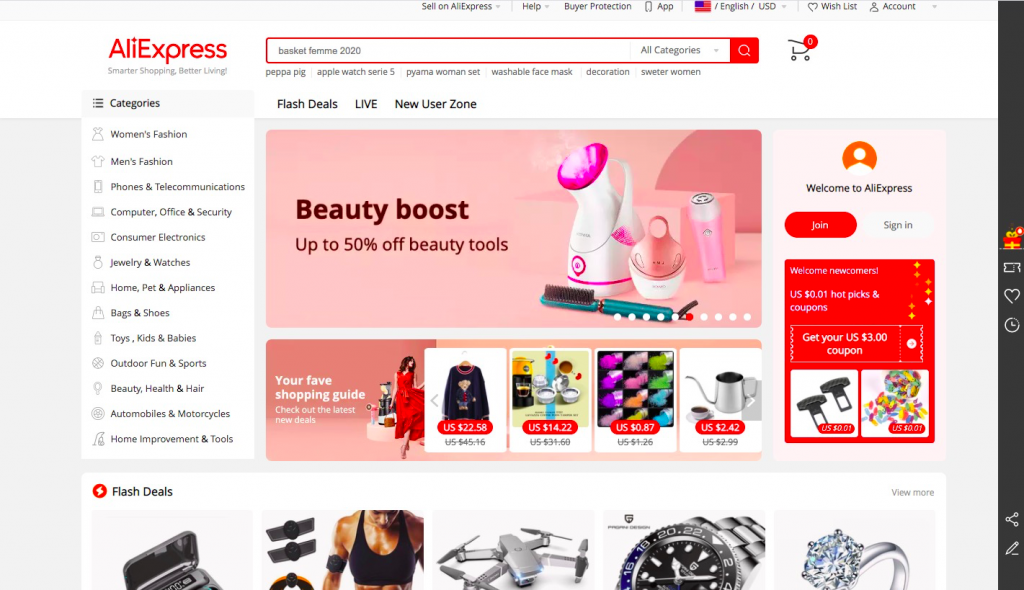 Just like Alibaba, AliExpress is one of the largest online markets in the world that does not sell its own products. It not only serves B-end customers but also C-end customers. AliExpress offers products at cheaper prices than Amazon and other similar sites because the products are manufactured by factors in China and shipped directly from China. But under normal circumstances, products may take one month or more to transport, but with the invention of ePacket (a shipping method), logistics time is shortened and efficiency is greatly improved.
Among the products available on AliExpress, you will find a small number of high-margin products, including men's and women's fashion, toys, consumer electronics, beauty products, and jewelry.
AliExpress's sales and payment logic are very similar to Amazon's. Although each store has its own showcase and products, purchases can only be made through the payment on the portal, and AliExpress will make a profit in each transaction.
One of its major features is that there is no minimum order requirement, that is, it supports retail, but these retail products are generally already made (except for specific print-on-demand products), so they cannot be modified again like products on Alibaba.
Comparison between Alibaba and AliExpress
Although both platforms are used for online shopping and product sourcing, there are still many differences in their respective uses and working methods. The main differences between these two top marketplaces are as following:
#1 Order quantity
Alibaba is a B2B platform, generally used for wholesale transactions between enterprises; AliExpress supports both B2B and B2C methods, which can be used not only for wholesale transactions between enterprises but also for ordinary consumers daily purchase, for example, there are a lot of videos on YouTube about "AliExpress haul"(which means purchase lots of items on AliExpress for once). Due to the differences in oriented groups, Alibaba usually needs large orders and has a minimum order quantity, while AliExpress does not have a minimum order quantity.
For dropshippers, AliExpress minimum the startup risks because you are allowed to purchase one unit of product, you can buy it as a sample first, if it's nice, you can have suppliers shipped it directly to your customers.
#2 Payment method
Alibaba does not process any payments. Therefore, it does not assume any responsibility for financial transactions between customers and suppliers. Instead, AliExpress offers instant payment options, such as credit and debit card payments, and a credit or debit service called AliPay similar to PayPal.
The payment methods offered through Alibaba will make life difficult for small-sized sellers who need to obtain funds quickly to maintain cash flow. In this case, it is better to start a low-cost but high-profit margin dropshipping business on AliExpress.
#3 Price & Shipping
The price of AliExpress is fixed, so there is no room for negotiation. Compared with Alibaba, the price may be slightly higher. This is only because Alibaba provides wholesale prices while AliExpress provides retail prices. However, Alibaba's prices are negotiable, and you can ask for quotations from various sellers to find a price that suits your needs.
On the one hand, AliExpress sells manufactured goods, which is why shipping usually does not take too long. On the other hand, Alibaba sellers must manufacture products for each order, which is why shipping takes longer.
#4 Customization
In Alibaba, suppliers produce the products themselves, you can get customized products with your own brand labels, or get products modified to your needs, this is unlikely on AliExpress (of course there are some print-on-demand products provided on AliExpress as well) because only ready-made products are sold here and therefore cannot be modified.
Which one is best for dropshipping?
We have made a major comparison between Alibaba and AliExpress, but which one is more suitable for the dropshipping business? Not only need to pay attention to the indicators mentioned above, but also consider other aspects.
One of the things we need to consider is whether there are suitable tools to help automate the dropshipping process. Typically, most dropshipping assistant tools only support the AliExpress platform. So there is no wonder why "AliExpress + Shopify" is regarded as one of the most popular dropshipping business modes. We have never heard that "Alibaba + Shopify" is better. Right?
Dropshipping tools such as Oberlo, Spocket, FindNiche, Ecomhunt, etc., have made things easier than before. Let's take FindNiche as an example.
When conducting product research on AliExpress for your dropshipping business, you will find that it takes a long time to find potential products, because there are large quantity products on AliExpress. But FindNiche has collected all AliExpress products in their database, and then distribute them through hundreds of search criteria, you can narrow the product results down with just several clicks.
We know that AliExpress and Shopify are more popular dropshipping combinations, so FindNiche integrates the dropshipping niches of Shopify and AliExpress, which means you can see the cost price of a certain product on AliExpress, the selling price of it on Shopify stores, and the potential resell profit margins of this one. FindNiche also provides the number of Shopify sellers, which means that if you find one product that is sold at more than 4 Shopify stores at the same time, then the competition is too fierce and you can skip this product.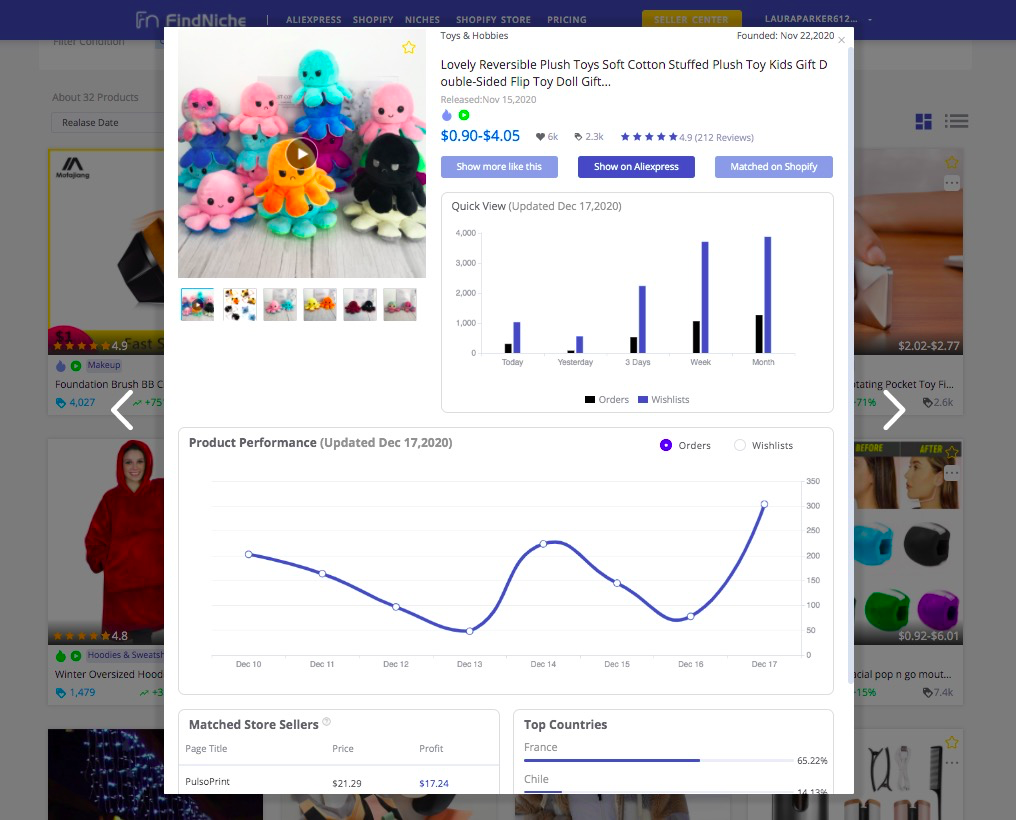 At the same time, you can also check the main sales countries of this product through FindNiche's curve. Don't underestimate this indicator. This can clearly tell you which country/specific group you should advertise to.
Final Thoughts
When it comes to starting a dropshipping business, AliExpress dropshipping is more suitable. It supports dropshipping and the ePacket shipping method will take less shipping time, which is more acceptable by customers. At the same time, with the emergence of more dropshipping tools (such as FindNiche), dropshipping on AliExpress will become more and more efficient.