10 Best Shopify Apps 2018 – FindNiche
Shopify is currently a easy way to open an online store, and many sellers make a lot of money from Shopify. However, there are always a small number of successful Shopify stores, and many sellers have tried a lot but still cannot achieve product sales growth. Shopify has more than 500,000 sellers, so how can you stand out among so many sellers? Using some Shopify apps will help you save a lot of time.
The Shopify App Store offers a large number of free and advanced apps, these Shopify apps can help you grow your business. The most important thing is that many mechanical and complex tasks can be achieved quickly by these Shopify apps. FindNiche has compiled some of the best Shopify apps since 2018, they can help you achieve sales and money growth.
1. AddThis Share Buttons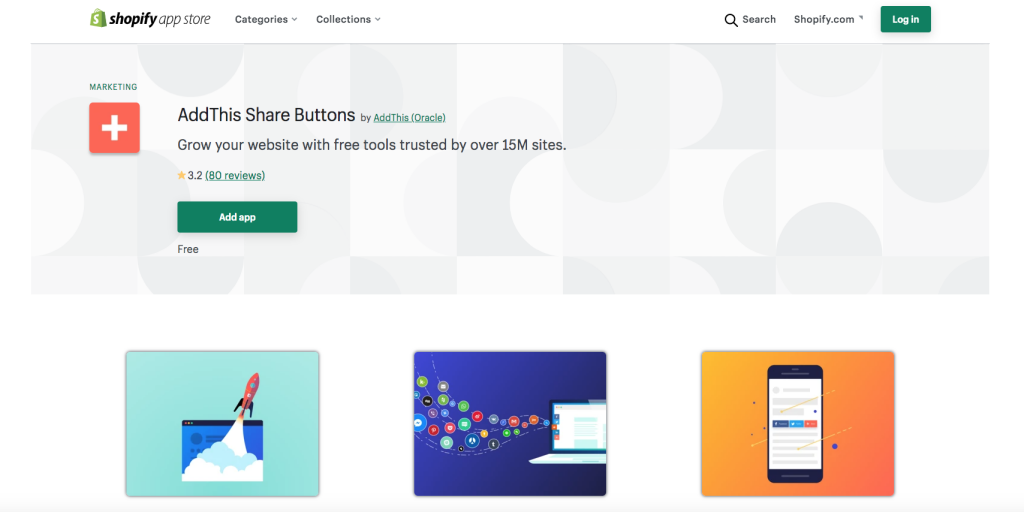 The AddThis Share Buttons application is 100% free, and it can help you spread your products on the Internet. The Shopify Share Buttons app allows you to connect to more than 200 social channels, including Messenger, WhatsApp, Facebook, Twitter, Pinterest, and more.
2. Social Media Stream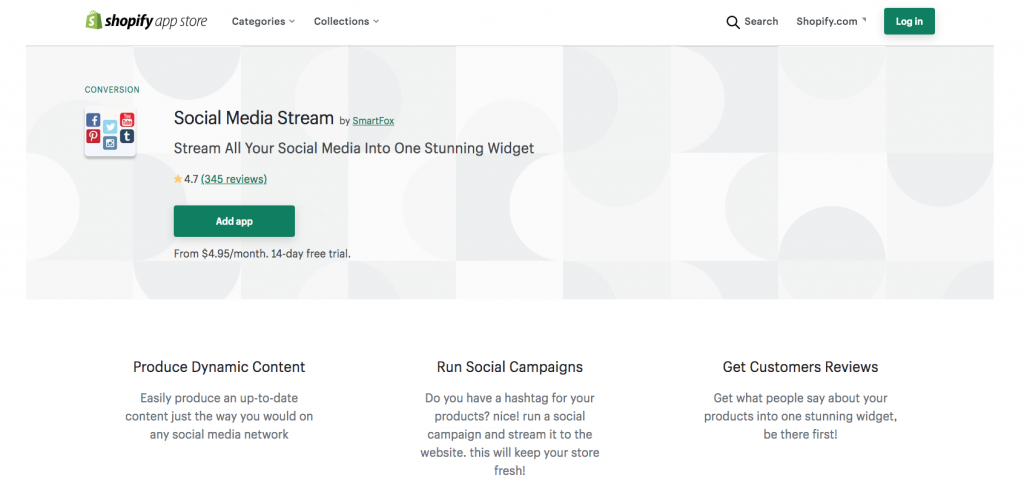 Social Media Stream connects Facebook, Twitter, Instagram, Youtube, Pinterest, and Tumblr to an amazing social widget that can be embedded on your website. It can realize streaming pictures, videos or texts. Social Media Stream is very flexible and supports all types of media. Whether you are browsing on a PC, mobile phone or tablet, it will ensure that 100% of your time stream looks great.
3. Oxi Social Login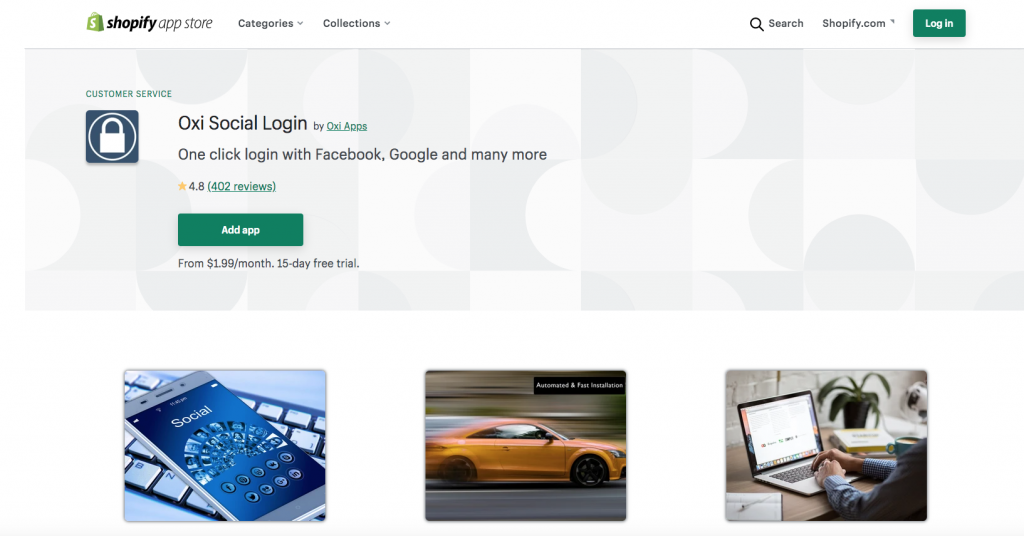 Oxi Social Login is a social login app. Often when there is no social login, the customer's purchase process will be very complicated. This long registration and login process will lose a lot of purchases. Using social login is less likely to abandon the shopping cart. Oxi Social Login supports Facebook, Google, Twitter, LinkedIn and Amazon login. It can realize automatic installation, customized services, configure your own application by providing your client ID and key, and view users registered through social login . At the same time, it can help you realize user automatic marking, which is very convenient.
4. BEST Currency Converter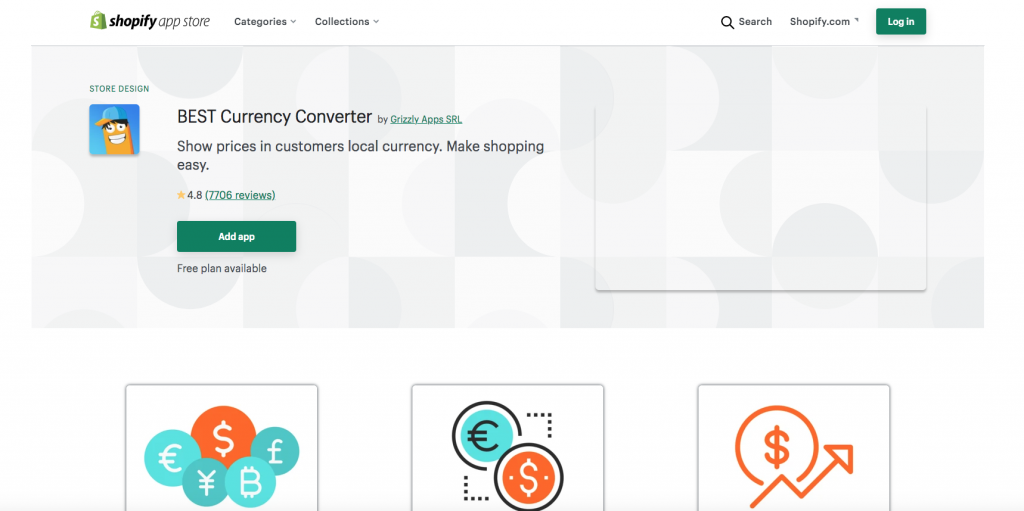 BEST Currency Converter is a multi-currency setting tool, it will detect the location of your customers and automatically select currencies for them. They can also change it manually from the currency switcher. BEST Currency Converter is suitable for more than 160 currencies including Bitcoin. Even if you use ajax, you can instantly convert prices on any device and any subject. You can even add all currencies with the click of a button. Since Shopify does not allow price conversion on the checkout page, EST Currency Converter has come up with several ways to notify your customers. Whether displaying a custom message on the shopping cart page or hovering the mouse over the converted price, they can still see the original price.
5. Product Reviews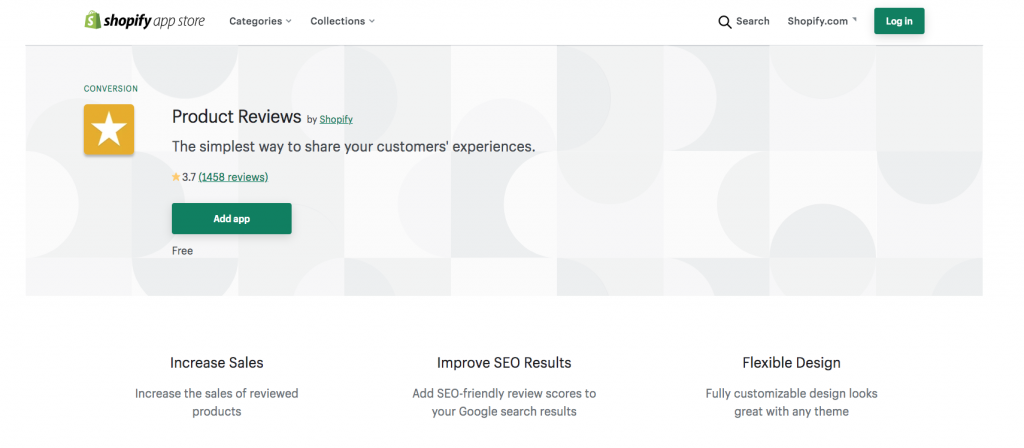 Product Reviews is a review tool that allows you to add customer reviews to products. This provides a way for your customers to interact with you and each other to encourage sales. During use, you don't need to write code, you can edit layout options, text and colors with simple clicks. Product Reviews can implement batch operations, which can quickly and easily publish, hide, filter and manage reviews. Similarly, Product Reviews supports CSV import and export and SEO friendly comment scores. It can add comment scores to your Google search results, which is very helpful for SEO optimization.
6. langify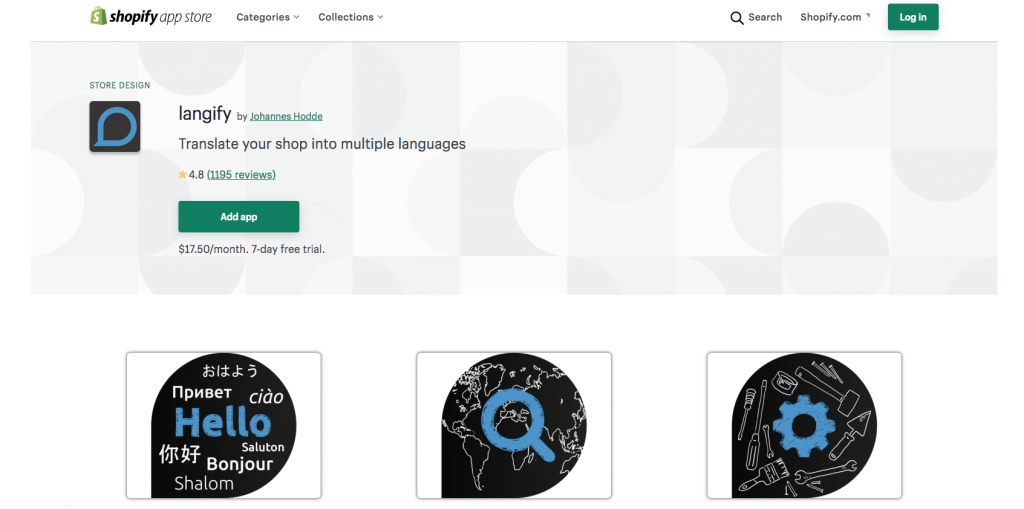 Langify is a translation tool, which can expand your shopify website to more countries and fulfill orders in more regions. You need to pay to use langify, $17.50/month. 7-day free trial. Langify implements automatic language detection, a customizable language switcher, complete SEO support, including meta tag translation, translation import/export (CSV, gettext, XLIFF, JSON), and image translation support.
7. tawk.to Live Chat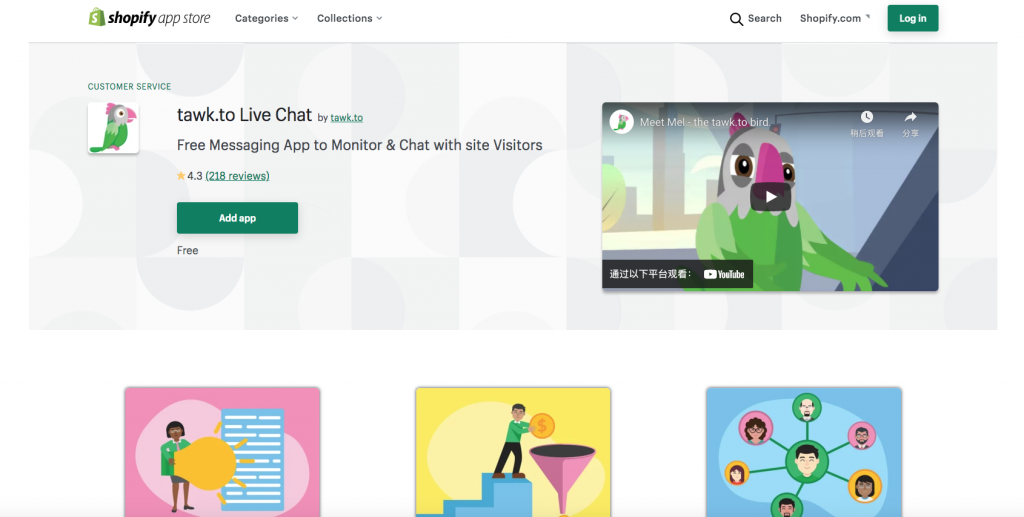 tawk.to Live Chat is a free online customer service app, it can be adapted to mobile computers, Android, IOS, windoes, mac, you can easily see user activity status, browse pages, countries, etc. The tawk.to love chat application, knowledge base and ticketing system are seamlessly integrated with your store, so you can provide real-time support and service to your customers. Never lose another potential customer or sale again, with tawk.to, you can monitor and chat with website visitors when they need you the most.
8. Justuno Pop Ups Bundle Upsell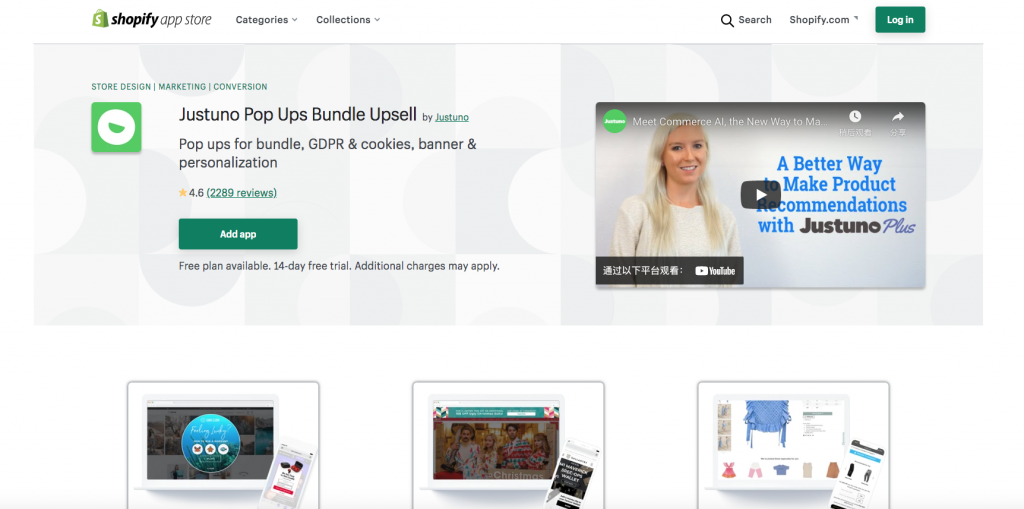 Justuno Pop Ups Bundle Upsell is the best solution for Shopify pop-ups, banner offers, exit offers, upsell promotions, and recommendations is the best solution to capture data and push it to your existing marketing tools (such as email or SMS solutions). With Justuno, you can increase efficiency by converting existing traffic, and improve marketing performance from other channels such as email, paid advertising, and SEO by targeting on-site visitors. Justuno Pop Ups Bundle Upsell has more styles, you can pay for it, and of course it also has free features.
9. Bulk Image Edit ‑ Image SEO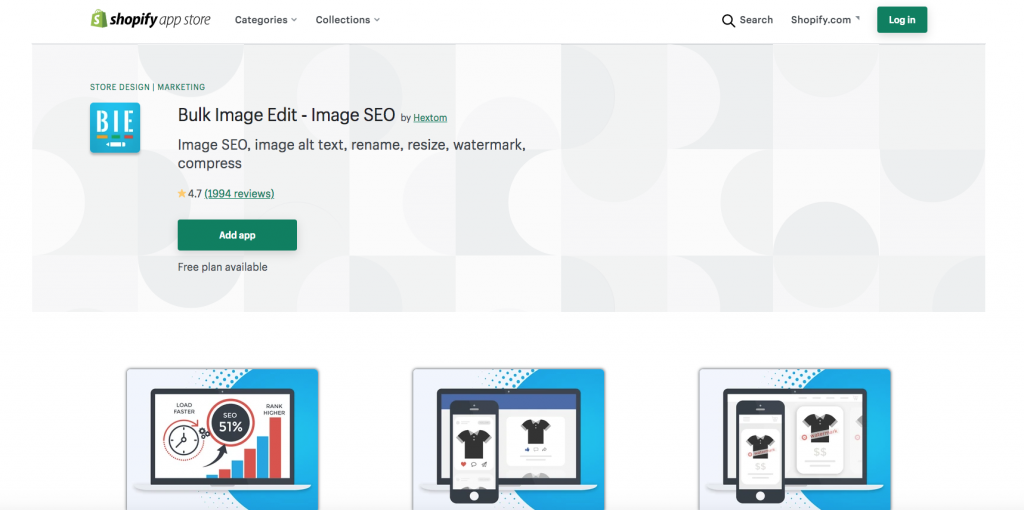 Bulk Image Edit-Image SEO is a free image batch editor, you can use customizable templates to batch update image alternative text and file names to indicate your store name, product name, product type, etc. Of course, it can minimize the product or theme asset image file size without losing image quality, and add a text or image-based watermark to protect your product image from being stolen by competitors. This satisfies all our requirements for picture manipulation, which makes picture editing very simple.
10. Plug In SEO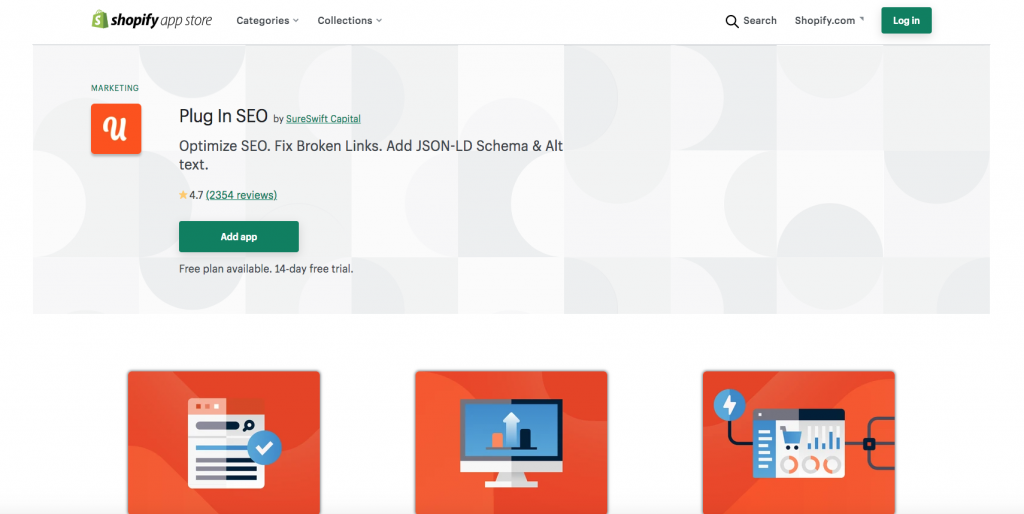 Plug In SEO is one of the highest rated Shopify SEO apps, with an easy-to-use interface that can improve the SEO of your store. It is worth mentioning that he offers a free plan, a 14-day free trial. The purpose of using Plug In SEO is to improve the ranking of the website and do basic optimization for achieving more page exposure. Plug In SEO can batch edit meta titles and description templates, repair titles, image ALT tags, file names, detect and repair broken links/404 pages. Of course, some keyword suggestions and multi-language functions will be easily implemented here. Even if you don't have much programming experience, you can quickly achieve SEO optimization.
Final Thoughts
Shopify apps can help sellers better plan their Shopify website. These apps can save you a lot of time. More Shopify apps will be mentioned for you in the following blogs. But it is worth mentioning that if you encounter product research difficulties in Shopify, FindNiche will provide you with the best quality help. FindNiche is a powerful niches analytics tool, you can find the best quality products based on powerful filters. Of course, shopify store tracking is also an essential function, spy your competitors from now on.