Best Shopify Stores: 8 Stores To Inspire Your Own In 2020
According to data, in 2019, Shopify has more than 800,000 stores, is the third-largest e-commerce platform in the world, and has a market share of nearly 10%. In 2020, when the competition is getting fiercer, how can we make a breakthrough and let our Shopify stores get high traffic and high conversion rate?
We use big data to extract useful information, including recent ads, Facebook popularity, target countries, and more. Through data analysis and processing, we have selected the 8 hottest stores from the recent 700K Shopify stores,and introduce them to you. I hope that I can comprehensively analyze the page design and store operation to find out the reasons for their success and give everyone some inspiration.
You can check the recent Shopify store rankings on FindNiche now.
So let's go straight to the topic! 8 of the best Shopify stores:
1.The Economist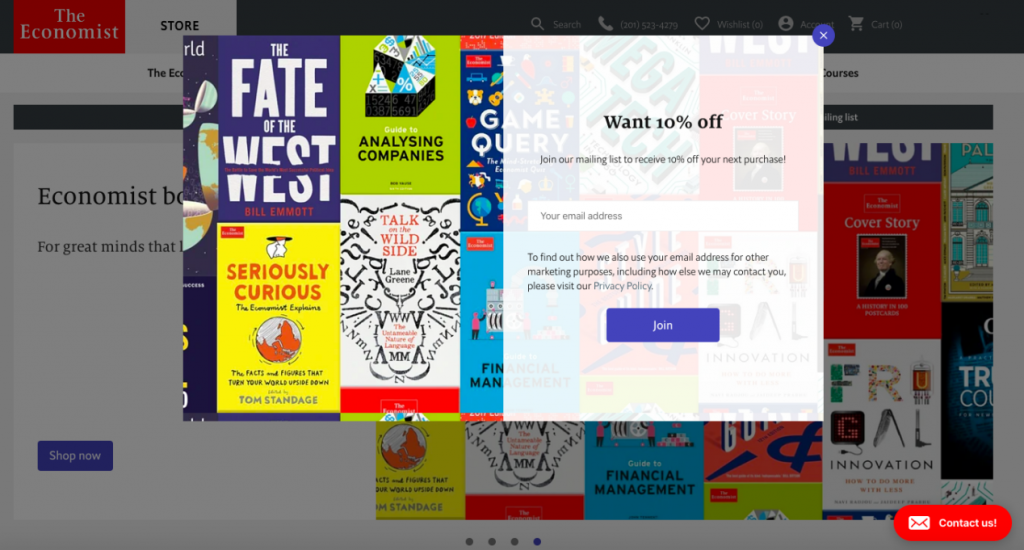 Target Country: Australia, Egypt, France, India, Italy
The Economist is a very distinctive Shopify store. This website is run by the staff of The Economist. The Economist is a newspaper originally published in 1843. With such a deep history, The Economist has a strong uniqueness and inherent advantages in select the right products. My favorite is The Economist historical archive. The archive allows us to read and print back copies of The Economist online, with issues dating from 1843 to 2014. This is equivalent to a small journal library.
In addition to economist books and 2020 Calendars, The Economist Store will also sell some related peripheral products, such as drinking glasses and clothes.
Also, it does a great job of collecting user information. A pop-up window will appear on the landing page, telling users to join the email address to get a 10% discount.
2.Magnum Photos Shop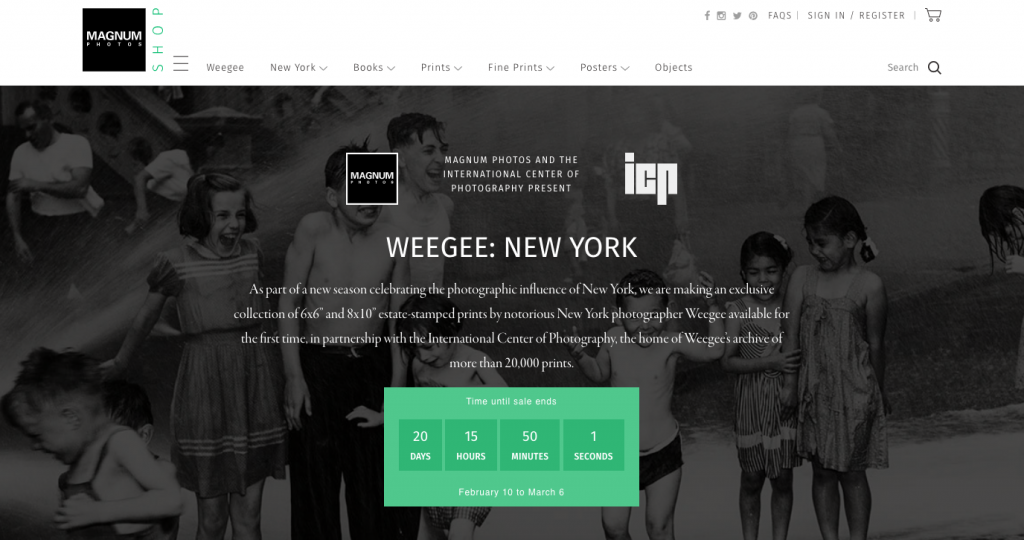 Target Country: United Kingdom, France, Germany, India, Italy
Magnum Photos is also a shop opened by an organization with a deep history. Magnum Photos is a photographic cooperative, agency, and archive, owned by its photographer members. Founded in 1947, two years after the apocalypse called the Second World War ended, Magnum Photos was born.
In the Magnum Photos Store, the main items sold are the works of Magnum Photos' outstanding photographers. I like the photos of the New York City theme in the shop. It records the changes in the city and personal emotions. At the same time, these works are very artistic and collectible.
However, as we know, art is expensive. All works on sale at the Magnum Photos Store are a little expensive.
Recently, they are making an exclusive collection of 6×6 "and 8×10" estate-stamped prints by notorious New York photographer Weegee available for the first time. These works will be sold for a limited time. In order to support this event, Magnum Photos Store recently did a lot of Facebook advertising.
In addition, the entire design and layout of the Magnum Photos Store has been adjusted, which is worth learning and reference for shop owners who need to do promotional activities.
3.RedBullShopus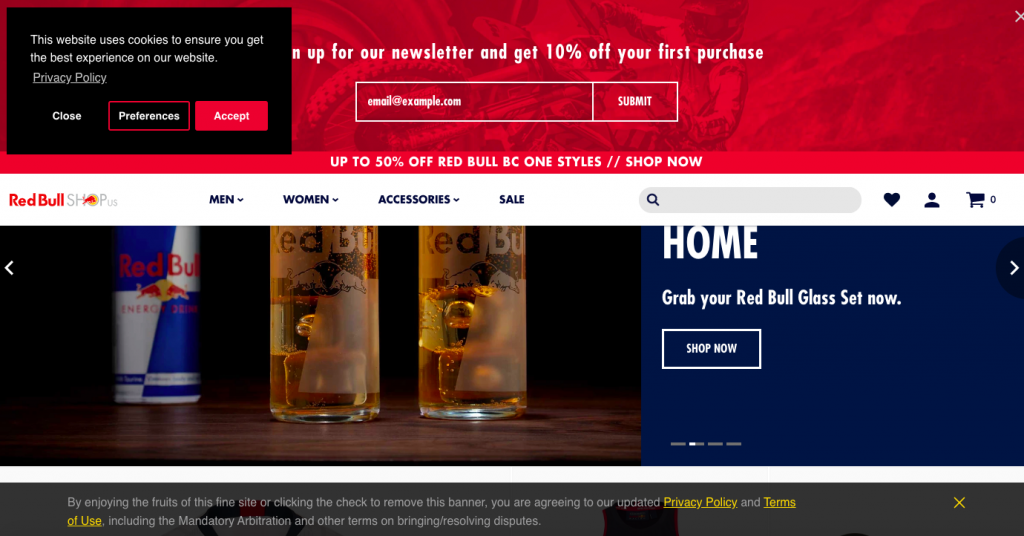 Target Country: United States, Canada, United Kingdom, Colombia, Francem, Colombia, France
I really like the clean design of the RedBull store. The homepage banner has several main promotion activities, mainly discount models, hot item glass sets, and some RedBull racing sale.
The theme of the Red Bull store is also very clear and distinctive, with outdoor sports and racing as the main focus. With some offline events and tournaments from Red Bull, the store will launch team-themed and racing-themed products for sale.
It is worth mentioning that they are also willing to lose some profits in order to obtain user information. For example, the recent main push activity is: Subscribe to their news and enjoy a 10% discount on the first purchase.
4.Crunchyroll Store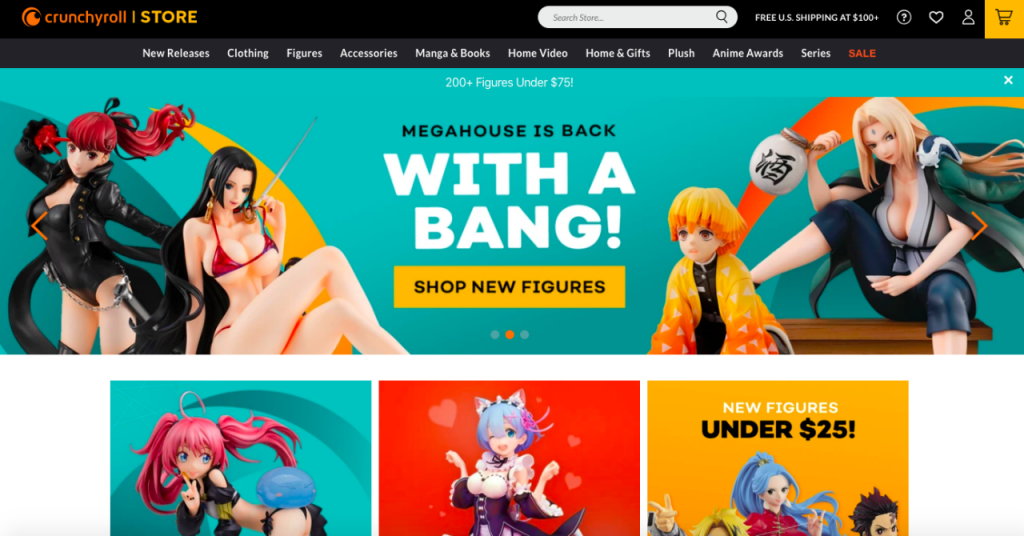 Target Country: United Kingdom, Australia, Germany, New Zealand, Norway
This is an anime-themed store. The Crunchyroll Store mainly sell apparel, plush with plushies, furnished with figures, BD / DVD, and so on. You can buy almost all animation-related products at the Crunchyroll Store.
It is not difficult to find that the best Shopify store has a common feature, that is, it has its own theme and characteristics. This uniqueness is the key to victory.
In terms of promotions, the Crunchyroll Store has a special offer in addition to specials: Free US shipping on orders over $ 100.
In terms of store design, the Crunchyroll Store is as clean and organized as Red Bull. The different product categories are also clear. On the downside, I think the Crunchyroll Store can be improved in terms of design and aesthetics.
5.Miss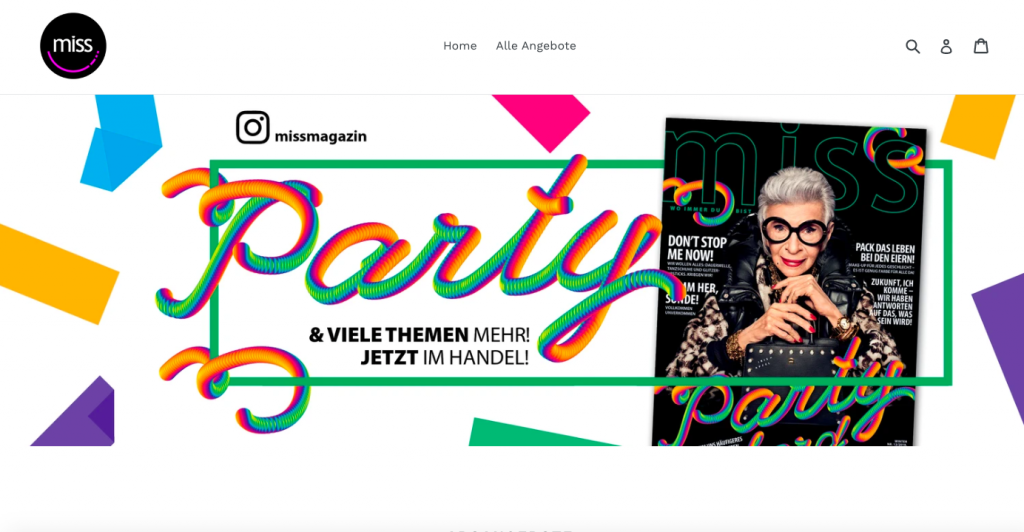 Target Country: United Kingdom, France, Germany, Italy, Netherlands
Miss Store relies on Miss Magazine. The entire store has only a few products, two of which are subscription packages for magazines, and the others are derivatives. Consistent with the style of the magazine, Miss Store design is very fashionable. Of course, the core of Miss is not in the Shopify store but in the magazine itself and its website. Shopify is just a channel.
6.HUBBLE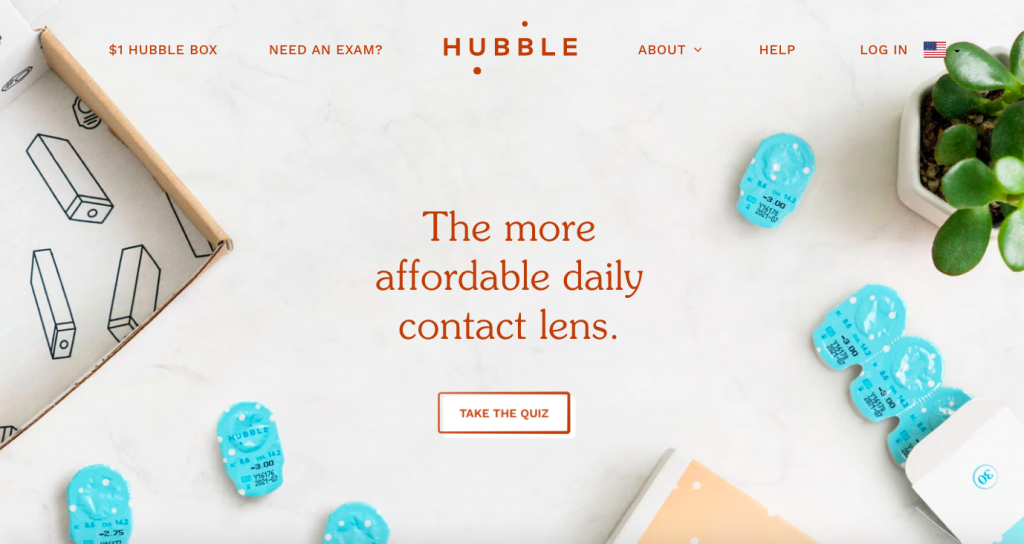 Target Country: Canada, France, Spain, Sweden, Belgium,
Hubble is a new brand of contact lenses. They hope to offer you the high quality, affordable lenses you deserve. Their landing page design is very particular.
First of all, in terms of design style, they firmly grasped the preferences of their target audience, young, interesting and Instagram style.
The first screen set the call to action button in a very conspicuous position. Seeing this, users may still have questions, why should I use your unknown brand of contact lenses?
So, next, the second screen of their landing page began to explain the advantages of Hubble contact lenses: our design is very high quality and comfortable. There is also a call to action button here. Unlike the previous CTA, this will link to their brand story page to let users know more about Hubble.
Then, tell users how we work, how you can join our quiz, and get your first box of Hubble Lenses for $ 1. Finally, there is a Hubble promotional video.
The design of the entire landing page is very smooth, grasping the user's psychology tightly, from hesitating to hitting the user's pain point, and then guiding the conversion.
7.Elastic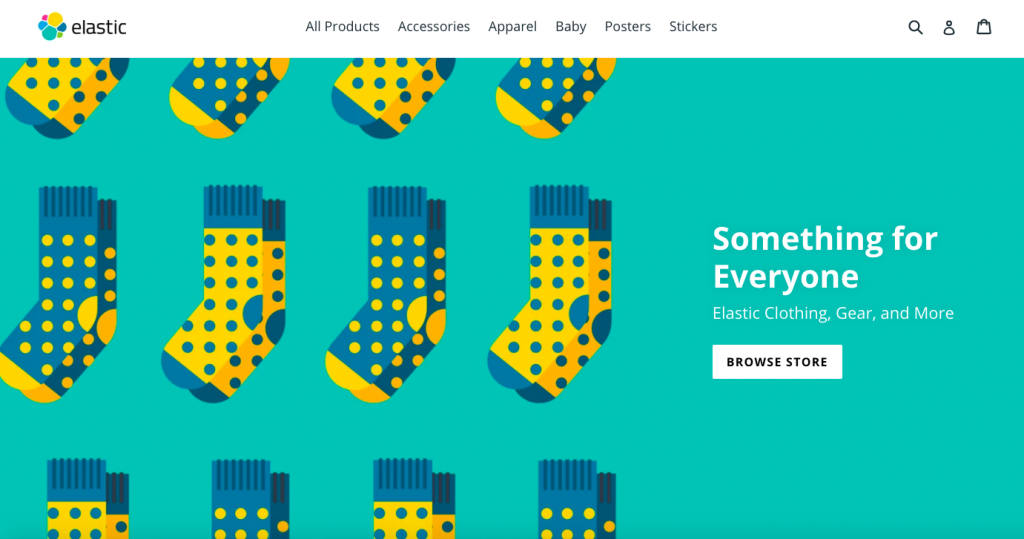 Target Country: United States, Canada, United Kingdom, Australia, Colombia
This is an elastic company's Shopify store, which sells dozens of elastic company's theme products, including T-shirts, source code stickers, posters, socks, luggage tags, earrings, and more. elastic is an Internet company whose core business is IT development, big data, and search engines.
The overall page design of the Elastic store is very bright, fun and simple. Brings a youthful feeling and makes people happy. As an Internet company, we can find another way to make achievements in the area of ​​theme products, which is worthy of our e-commerce practitioners' deep thinking.
There is no doubt that Elastic Shopify stores are also linked to its official website.
8.Charmed Aroma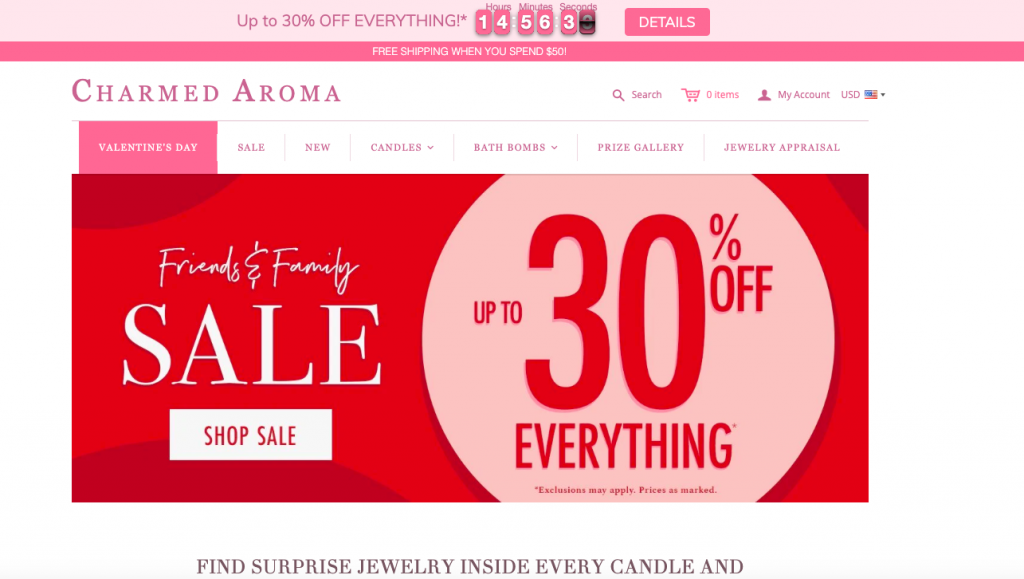 Target Country: United States, Canada, United Kingdom, France, Germany
This shop is as charming as its name. The pink dreamy feel is very attractive to girls with a girly heart. This is a shop that sells scented candles. What is different is that each of its products includes jewelry. After the candle burns out, you will get a ring or a delicate necklace, and this jewelry can be identified.
Each product in the Charmed Aroma store is very charming and the raw materials are very particular. The candles are handmade by soybean wax, which is cleaner and burns longer.
In terms of operations, Charmed Aroma has also spent a lot of thought and it is worth learning. For example, the discount information on the homepage uses a countdown method, which is fully in line with the user's "disgust loss" mentality. In the lower-left corner, there is a real-time pop-up window, which tells other users who have placed an order and which product.
At the same time, the store will combine Facebook accounts to carry out irregular activities to increase user stickiness, increase the repurchase rate, and expand publicity.
This is one of my favorite Shopify stores.
The above data is as of February 15, 2020