Better Than Ecomhunt? Ecomhunt VS FindNiche[Review in 2021]
Perhaps you should have heard of Ecomhunt, FindNiche, Pexda, NicheScraper, Alishark, etc. There are too many niche analytics tools that are well known. But, do you know why most dropshipper prefer FindNiche better than Ecomhunt?
Today we will compare Ecomhunt with FindNiche, help you get the newest FindNiche & Ecomhunt review, and discover the secret of these two tools. By using the tool, you can get insights into dropshipping niches on Shopify and AliExpress.
1. FindNiche & Ecomhunt Review: Quick Review for Busy People
What is Ecomhunt and how does it work?
Ecomhunt mainly provides product selection advice service for dropshipper. It provides a curation of the best new products, every day. In addition, Ecomhunt has online video tutorials and blogs to provide users with knowledge services.
Ecomhunt's analysis of winning products is fairly detailed. We can select products through Ecomhunt. But one thing I think is a little confused is that too many people are using Ecomhunt, and the winning products offered by Ecomhunt are very limited. This means that there are many dropshipper competing with us.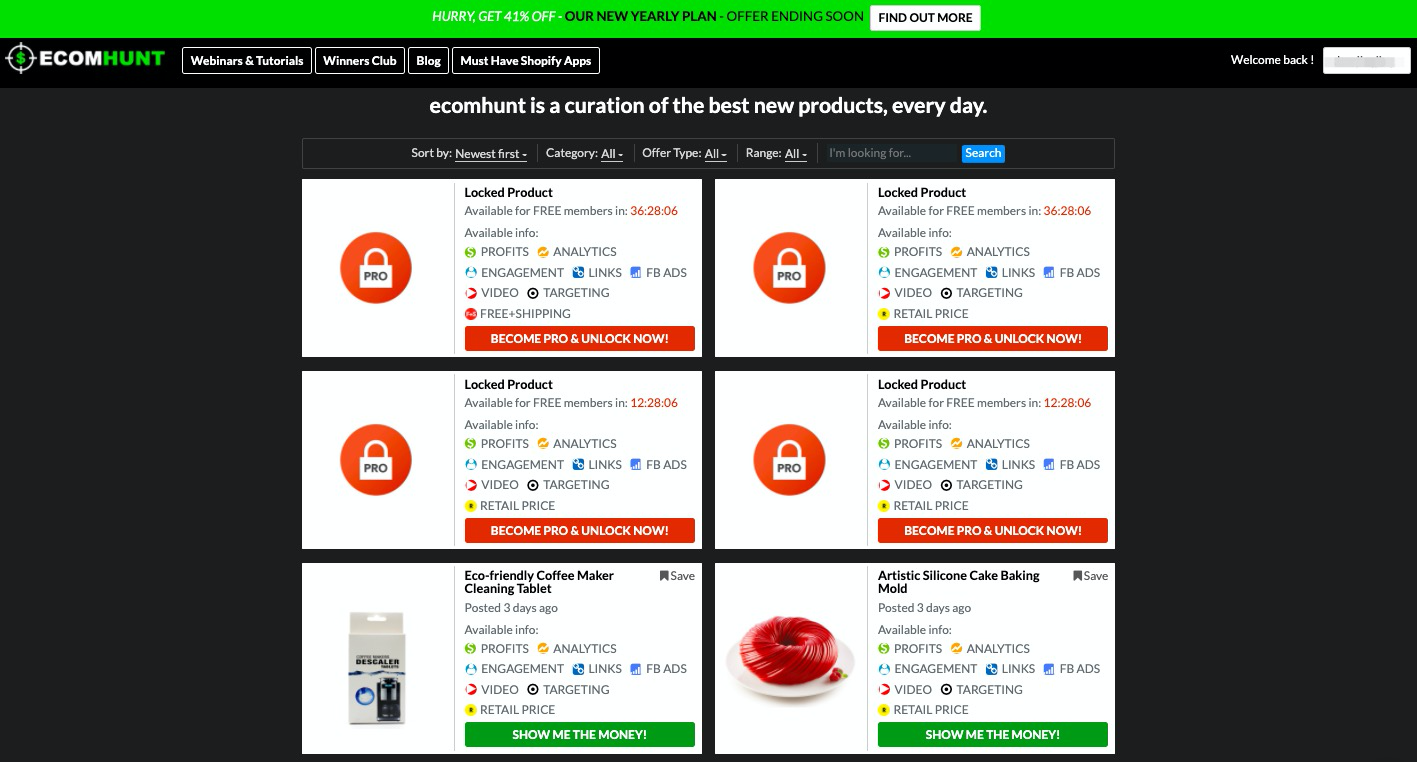 What is FindNiche and how does it work?
FindNiche is a free niche analytics tool for Shopify and Aliexpress. It can help us find winning and popular products, not popular but high margin niches. At the same time, provide analysis reports of trending stores and new competitors.
Its advantage lies in the huge amount of data, you can find almost all products on Aliexpress, and can query the data performance of each product. For products that perform particularly well and have large profits, FindNiche will provide more detailed data analysis to help us select dropshipping niches.
In addition, there is another feature that is very attractive to me – Top Shopify. You can search for the Shopify stores of the competitors you want here and link directly to the homepages of these stores. Learn about competitors' store operations and advertising strategies.
Function comparison:
| | | |
| --- | --- | --- |
| | FindNiche | ecomhunt |
| Pricing | $29/$59 | $29/month |
| Total products | Unlimited👍 | 2 products per day👎 |
| Total data | Unlimited👍 | Very limited data👎 |
| New products | Update instantly👍 | 3 days delay on new products👎 |
| Community | Unlimited👍 | No access to the community |
| Product performance | ✅ | ❌ |
| Shopify stores | ✅ | ❌ |
| Stores analysis | ✅ | ❌ |
| Product detail | ✅ | ✅ |
| Save | ❌ | ✅ |
| FB Links | ✅ | ❌ |
| FB Ads | ❌ | ✅ |
| Targeting country | ✅ | ✅ |
2.Database comparison
Ecomhunt
Ecomhunt provides about 2180 winning products and manually updates the data every day.
FindNiche
The database of FindNiche contains more than two million Aliexpress products with a massive 11000 niches and more than 700,000 Shopify stores.
FindNiche's data volume is relatively advanced among similar products. The data of products is updated every hour.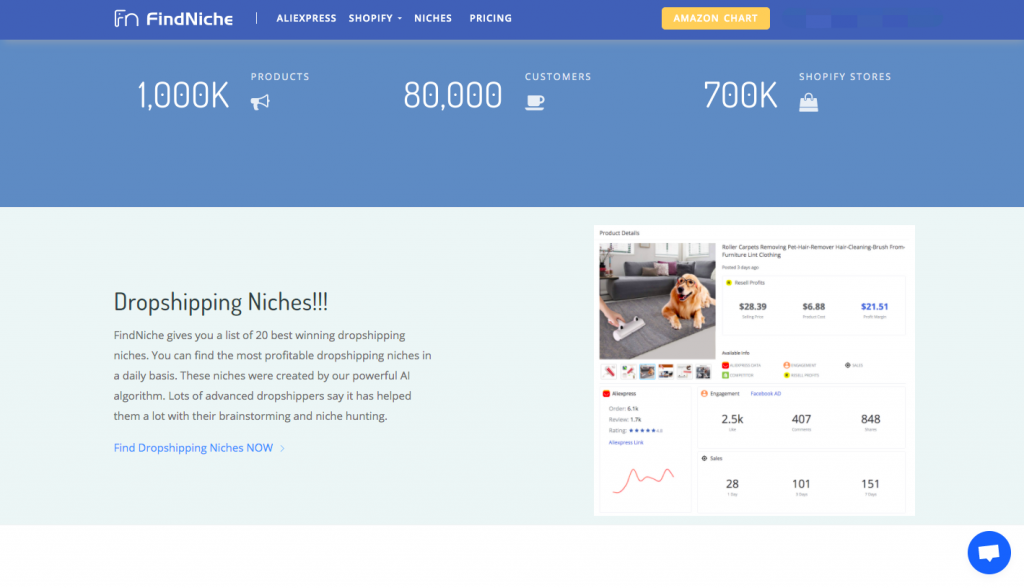 The dropshipping niches provided by FindNiche cover almost all categories:
Women's Clothing
Men's Clothing
Cellphone & Telecommunications
Computer & Office
Consumer Electronics
Jewelry & Accessories
Home & Garden
Luggage & Bags
Shoes
Mother & Kids
Sports & Entertainment
Beauty & Health
Watches
Toys & Hobbies
Weddings & Events
Novelty & Special Use
Automobiles & Motorcycles
Lights & Lighting
Furniture
Electronic Components & Supplies
Office & School Supplies
Home Improvement
Security & Protection
Tools
Hair Extensions & Wigs
Apparel Accessories
Underwear & Sleepwear
Conclusion: In terms of data volume, FindNiche is far ahead of Ecomhunt, and can be sorted and filtered according to the performance of these niches. We can use some data performance to select some niches that are not yet popular but have great potential. Ecomhunt has a much smaller amount of data than FindNiche, but most products are proven to be winning products. Because of the small amount of data and a large number of users, these products are highly competitive.
3.Search and filter comparison
The search and filter method determines whether the platform is easy to use. A good search and filter design will definitely be more in line with the needs of users and meet the search needs of most users.
Ecomhunt
Dropshipping Niches on Ecomhunt can be sort by:
Orders
Newest first
Oldest first
Category
Offer type (Free + shipping, Funnel, Retail Price)
Range by last 7 days
Range by last 14 days
Range by last 30 days
Previous month
FindNiche
Dropshipping Niches on FindNiche can be sort by:
Keywords or URL from Aliexpress
Categories
Top Countries
Ships From
Total Orders
Today Orders
3 Days Orders
7 Days Orders
30 Days Orders
Growth in 7 Days
Growth in 30 Days
30 Days Profits
7 Days Profits
Price
The number of wishlist
Votes
IF there is a Video
Whether to support PayPal
Whether to support Fast Shipping
Is it Top Brands
New Recommend
Conclusion: Most searches also have similar filtering logic, but it is obvious that FindNiche is much more detailed and richer than Ecomhunt 's search and filter.
4. Dropshipping niches tracking comparison
Dropshipping niches tracking is the core function. We can judge whether the products are worth buying through the performance and analysis of relevant data of niches.
Ecomhunt
Profits
Analytics
Engagement
Links
FB Ads
Video
Targetting
Retail Price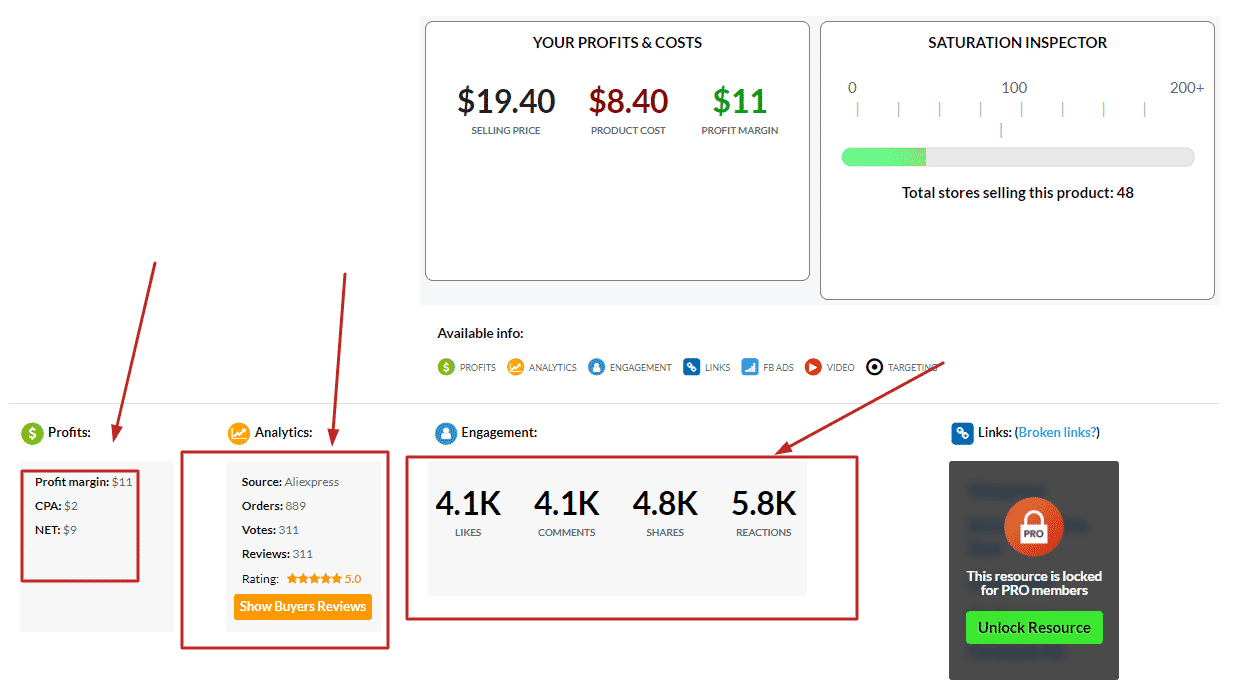 Save products
Sell ​​with Oberlo
Saturation Inspector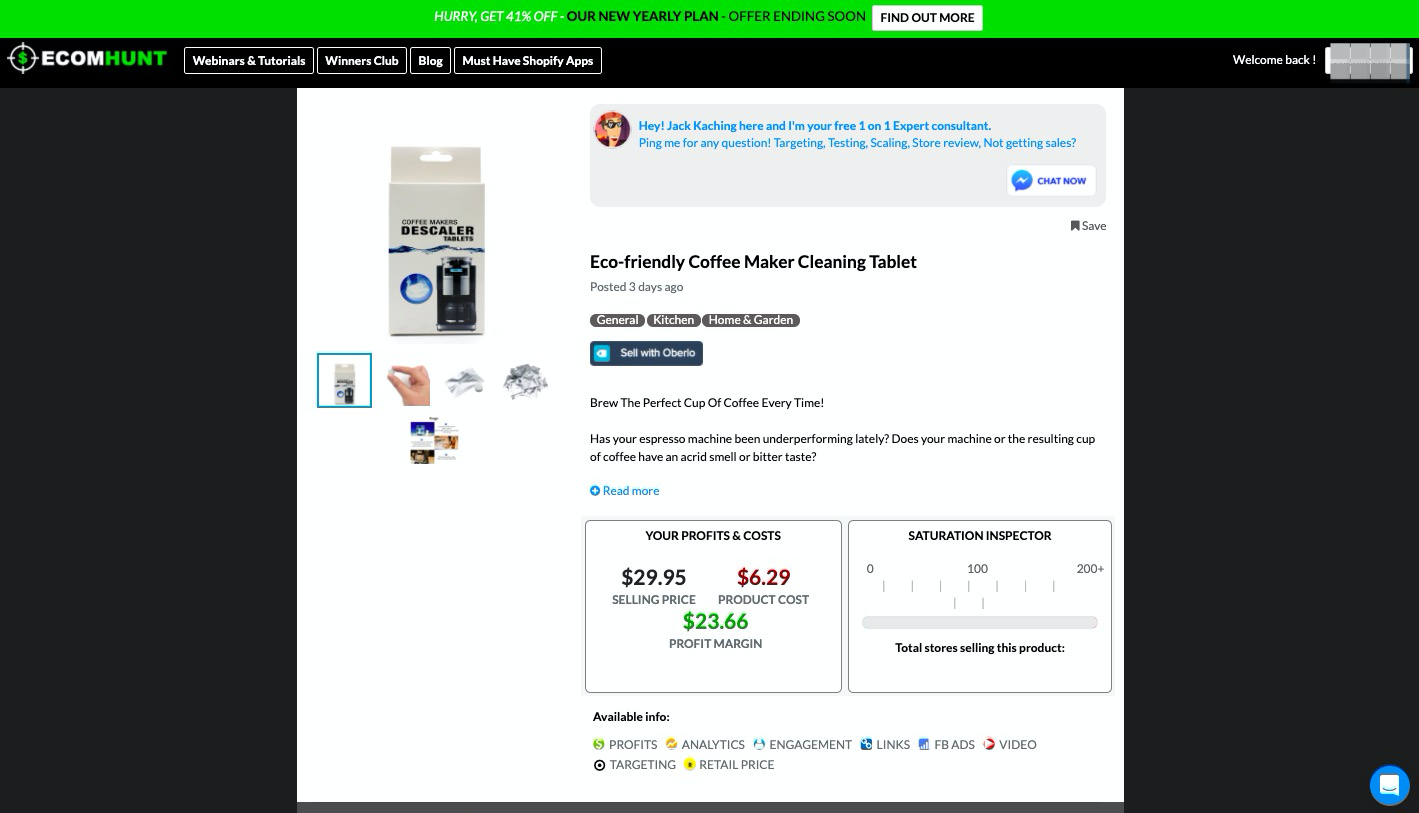 FindNiche
FindNiche is more detailed and in-depth on product data analysis. From the following two product details page images, we can see that the dropshipping niches tracking data include this info:
product name
image
Video
Category
Is it Top Brands
Founded Date
Price
Profit
Growth Rate
The number of added to wishlist
Total number of orders
Votes
Link to Aliexpress
Show more like this
Quick view of recent orders and wishlists
Product Performance
Matched Store Sellers
Top Countries
…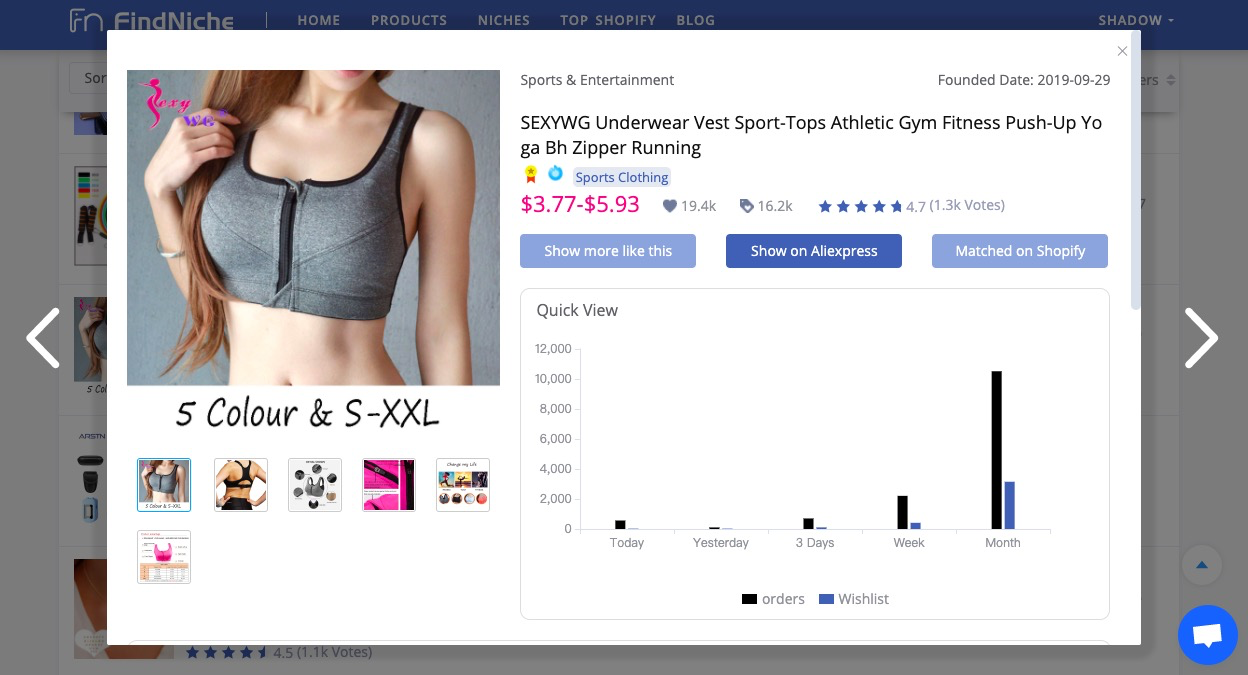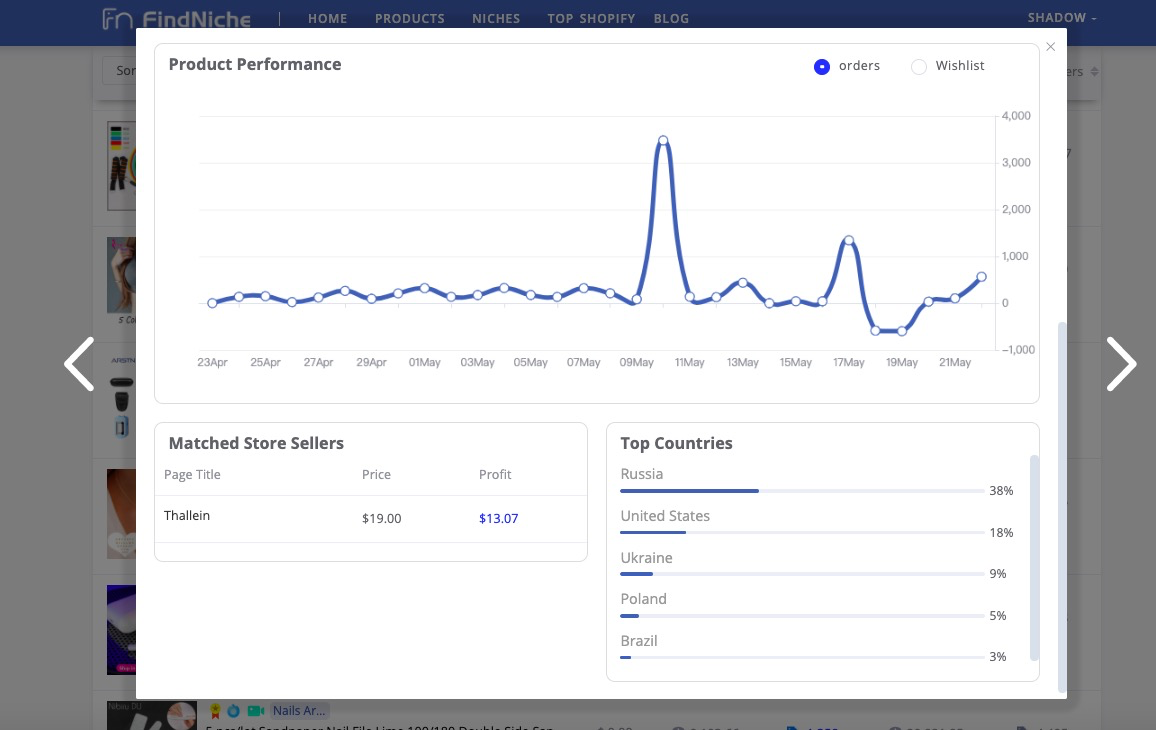 Conclusion: The advantage of Ecomhunt is that it can provide information about Facebook ads of winning products and its performance on social platforms, and can be viewed directly in Oberlo. FindNiche is more abundant in data analysis and has more advantages than Ecomhunt. Whether it supports PayPal, whether it is Fast Shipping, etc., these details are also very important information. In addition, FinfNiche can provide product performance for nearly a month. We can analyze whether the product has the potential to become an explosive model through the change of various data.
5. Price comparison
Ecomhunt
Recently, Ecomhunt has discounts. You can buy Pro for 20 $ with a coupon. Of course, Ecomhunt also has a free trial, but the use of permission is less, the number of queries per day is limited, and no more detailed data can be seen.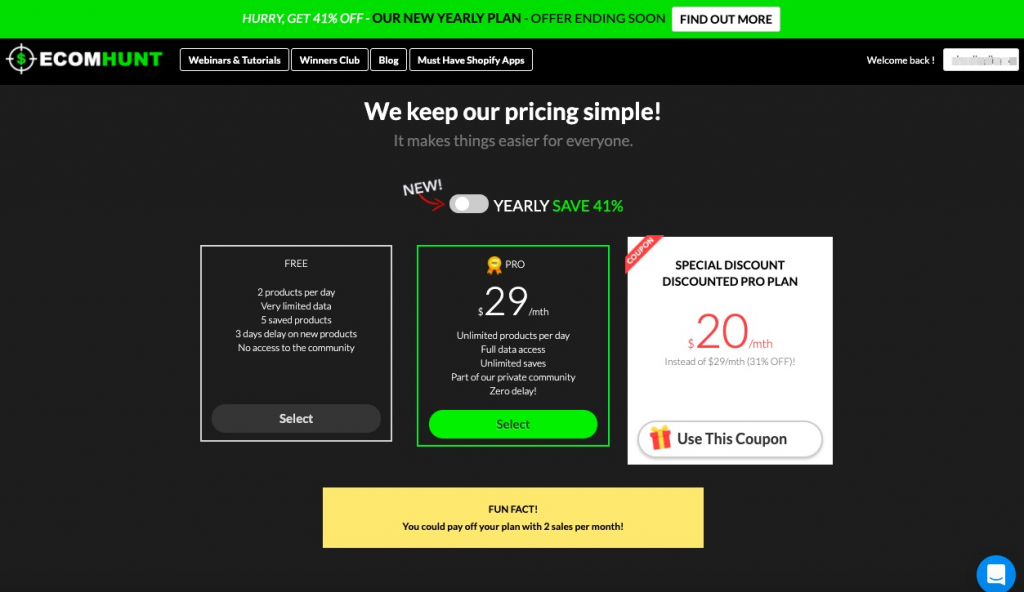 FindNiche
FindNiche has two pricing plans, $29 and $59 per month. And you can start a 7-day trial for just $1. FindNiche has more functions, you can access more data when subscribing to the Pro or Elite plan.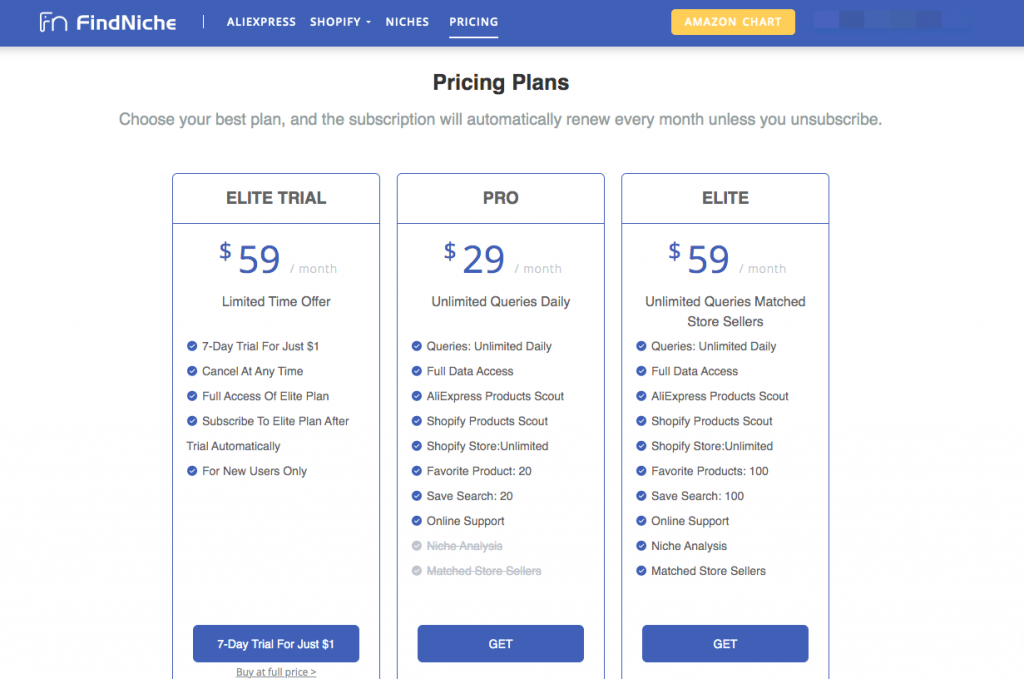 The final decision:
Overall, Ecomhunt and FindNIche are not very different in function, but FindNiche has a larger data volume and is more convenient to use. Also, FindNiche worth the price for its high database and advanced product research solution.