Jared Goetz – eCom Hacks Course Review
In recent years, e-commerce has developed rapidly with a huge market, a lot of people are involved in this big fat industry to make some profits, then many e-commerce courses, designed at these "startup entrepreneurs" have sprung up, most of these courses are established by entrepreneurs who have great fame and already earn tons of money in their own e-commerce business.
Jared Goetz is one of them, he has many beautiful titles, such as e-comm expert, online marketer, and he is a social media influencer with a net worth of approximately $7 million dollars. His course——eCom Hacks Academy has caused extensive discussion, today we are going to take a closer review.
Who is Jared Goetz?
Jared became famous in 2017. Surprisingly, he made two million dollars in just 6 months! The store, The Gadget Snob, at one stage went on to make five million in sales in less than 12 months! He is an experienced self-made entrepreneur who manages several very successful companies worth millions of dollars when he started his own dropshipping business, he found his winning products through some niche analytic tools such as Dropshipspy, Ecomhunt, and FindNiche, which make his future success easier.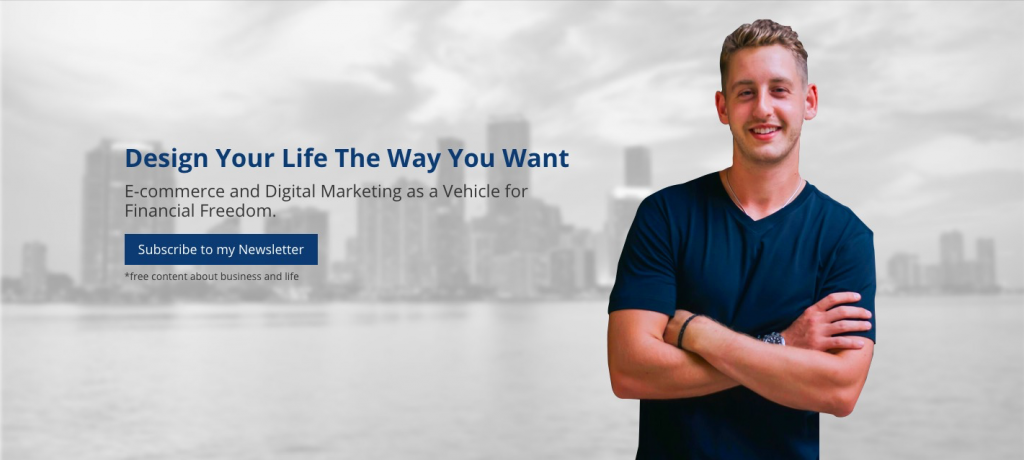 And he is known not only for his success in building multiple seven-figure e-commerce stores but also is the creation of the eCom Hacks Academy, one of the largest e-commerce education platforms worldwide. Since creating the second-fastest-growing Shopify store in 2017, Jared has won the favor of coveted entrepreneurs. His rise in the e-commerce world has made him shine in the media positioning of many well-known publishers (such as Entrepreneur, Inc., CBNC, Forbes, etc.).
What is eCom Hacks Course?
This course established by Jared Goetz, mainly covers all of the details concerning how to set up a successful e-com store in the dropshipping model with a simple and clear way, and The course includes 24 hours and 18 minutes worth of videos. Also, this particular training lecture system is divided into 4 modules, which provide you different inside information about the dropshipping store. The different modules can help you learn how to integrate your system for advertising and put it into practice.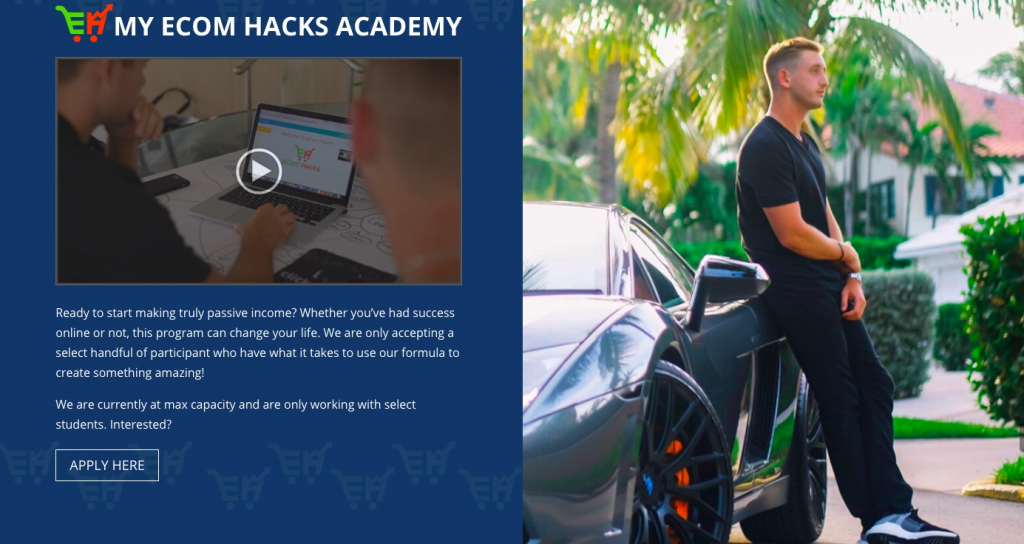 eCom Hacks Review
Module 1: Structure
It's a basic introduction about how to start an e-commerce business, especially for Shopify stores. In the first few videos, he did not tell any specific details of the content and steps, just displayed the information you may want to browse, such as Shopify store and Facebook advertising costs, and show the whole process of setting up a Shopify store. He also explains more in this part, such as how to purchase a domain name and link it to Shopify store, rules for shipping, creating meta descriptions and linking your payment facilitators via Shopify and PayPal, he also shares some great behind-the-scenes tips as well.
This module is definitely designed for beginners, and most of them are very standard information, which is easy to study.
Module 2: Setting Up Your Store to Convert
This module contains some essential information about the course. It not only shows in great detail how to set up a store, how to choose a theme, which apps can be used on your website, how to install them, the reasons for using them, how to maximize the use of these apps to optimize your store, and provides all of your visitors with the great quality services, but also emphasizing your conversion rate and how to increase the conversion rate, Jared Goetz talked about the actual conversion rate of most e-commerce business is only 2%-3%, and he also talked about how many orders you need to break even, and what kind of numbers you should, or rather, want to achieve.
Module 3: Products
In this module, he provides product-related information. For example, how to choose products and add relevant content to your store, where to find the right products, and the degree of order completion. He uses his company's tools to find winning products. If you buy this system, you can use this tool and it helps you to know which commodities can bring you the most profit. Here, I recommend to you FindNiche, a niche analytic tool, which can not only help you find the most profitable products and the products with the most orders but also provide more product information and store information. Most importantly, it is completely free!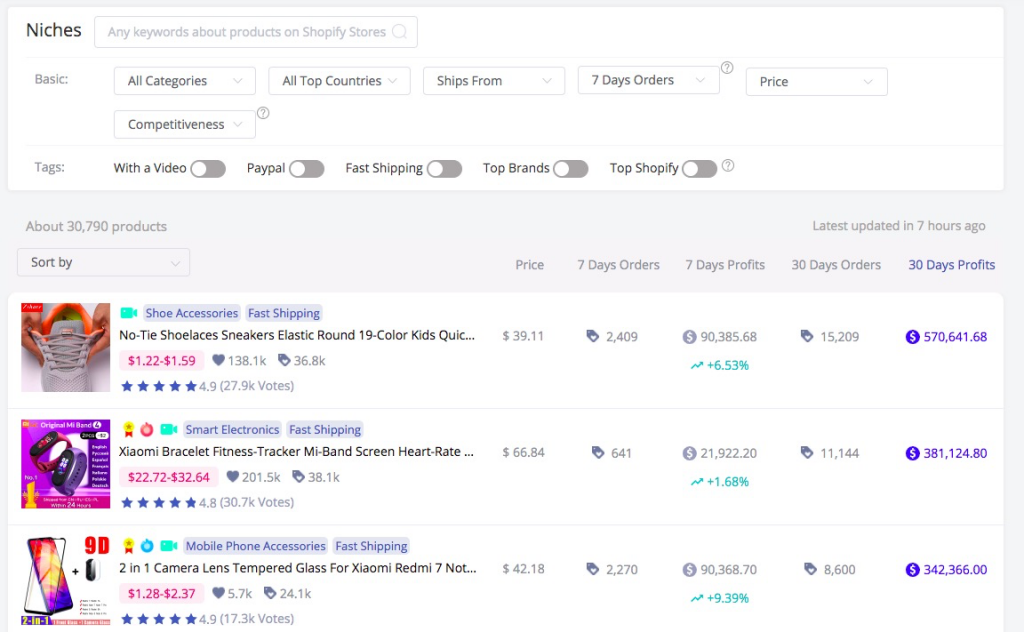 His strategy is not to spend time looking for new and popular products but to build on the success of others. Basically, you can find your own winning products by imitating the success of others, but you need to decide for yourself whether this is the best strategy.
Module 4: Advertising
This is the most valuable and comprehensive module, more detailed than previous modules, and covers more advanced topics because advertising is the most essential step in the process of building your own business. It covers, such as, how to set up your Facebook page, how to set up your business manager, ad accounts, and page, campaign structuring, different Facebook ad testing methods, scaling strategies, manual bidding strategies…… if you are going to market your product, you have to know this.
Supplemental Documents & Bonuses
Besides the regular modules, this course also offers Bonus features and Supplemental documents for you. Additional documents are a bonus with great resources, it offers insights to improve your on-page SEO and contains the FAQs you might need in the process of setting up your own store.
Is it a worthwhile course?
This course is user-friendly, and even novices who do not know the dropshipping module will be able to complete and implement the content taught in this course, and most of the courses are aimed at the beginners, except for the "advertising module", there is one thing you have to pay attention and be careful, the advertising method recommended by Jared Goetz is very radical and going to "burn" your money, I would suggest you make advertising strategies according to your own situation.
Additionally, the course should be regarded as an introductory because most of the content is very basic, not a straightforward knowledge of dropshipping, for many experienced dropshippers, this course is not cost-effective, and it not comprehensive, for it only focuses on Facebook advertising.
In general, It's a course with some special insight, but it is definitely, not the most perfect, nor the most comprehensive one.