Reselling Business: How to Start an Online Reseller Business?
In today's world, you don't need to have a unique product or service to start a successful business online. Moreover, you don't even need to make, design, or manufacture something to start a business, and this is the beauty of online businesses. There are various ways in which you can venture into the entrepreneurship sphere, and reselling is also one of the ways.
Let's venture into what an online reseller business is and how you can get started with it, along with the benefits and useful resources that will set you off on the right path.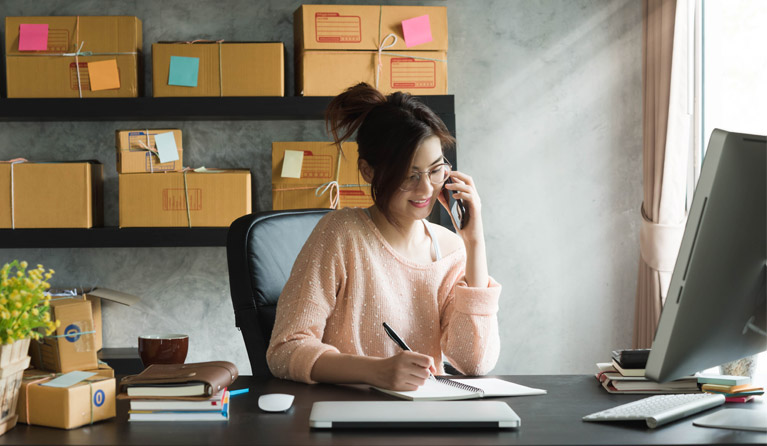 What is an Online Reseller Business?
Let's begin with the basics of an online reseller business. As the name suggests, this type of online business involves selling goods that are manufactured, designed, and marketed by other entities to your customers. You can buy these products to sell from either retailer or directly from the manufacturers.
Moreover, you can also deal in second-hand products, where you buy them from the online or physical markets and sell them to your customers online. You can set up a website, online store, or another platform, or simply sell it through social media. Most successful online resellers keep all their options open and use multiple platforms.
Difference Between Online Reseller Business and Distributor Business
You may think that an online reseller business is the same as being a distributor or wholesaler since both of these buy products from suppliers or manufacturers to sell for a profit. They may be quite similar, but there are actually quite a lot of differences between the two.
When it comes to having a professional relationship with the manufacturer, the distributors have a stronger connection, as they can also do much more for the manufacturer than simply buying their goods in bulk. For instance, they may be able to help them with marketing and distribution in new markets.
On the other hand, resellers aren't as close to manufacturers and in most cases, they might not even have any contact with the manufacturer. Rather, they would get their goods from wholesalers or suppliers.
Another major difference between distributors and resellers is that the former tend to buy inventory of the products that they have to sell, whereas the latter buy goods according to the demand.
Distributors have to worry about inventory management as well. They also keep their stocks in a safe place so the products don't get ruined. Resellers are much more relaxed, as they get their products only when an order is placed for them. In other words, they act as a middleman between the manufacturer and the end customer.
Why Do You Want to Run an Online Distributor Business?
Everyone has their own motivation behind starting a business, whether it is physical or online. Similarly, there could be a number of reasons why you would want to start and run an online reseller business. Let's go through some of these reasons one by one.
No Limit on Product Categories
With an online reseller business, you have unlimited options on which product categories you want to deal in, as you don't have to actually buy an inventory. Suppose you have added a hundred different product categories to your website.
Moreover, all of the product categories don't even have to be from the same niche. You can experiment with different categories if you aren't getting enough sales for the ones you have uploaded.
Lower Lead Time
The best thing about the online reseller business is that you don't require a high lead time, since most of your customers won't require the hard sell or any persuasion. Your typical customers are the ones who know what they need to buy or at least have an idea of which product category they need to buy from, which is why they are on your website. Therefore, the time taken for leads to convert to sales is very low.
Lower Startup Capital Required
There is no better business than the one that doesn't require a higher capital to start off. This means that anyone can become an online reseller. All they require are enough resources to build an online store and the money to handle shipping costs. Other than that, you don't even need to inventory the products, which costs a major portion of the money in most businesses.
Less Chances of Loss or De-Stocking
Very few businesses bring you the security of having lower chances of losing your revenue or goods. If you are a retailer and have stocked your inventory, only to find out the products are of sub-par quality or their demand has drastically reduced, you will be at a heavy loss. On the other hand, if the products you are selling on your website aren't getting sold out, you have no losses to worry about, since you haven't actually spent money on the products.
Lower Financial Risk
As mentioned above, since you don't have to spend a lot of money in establishing an online reseller business, you have a lower financial risk as well. Even if you don't get a single order for an entire month, all you will have lost is time and nothing else. You will only have to pay the maintenance or uptime charges for your website, and that is all. Moreover, you don't have to worry about inventory costs or any other operational costs, for that matter.
Higher Profits
Since you are running an online business that delivers goods to people's homes, you have a wider target audience. If you pair up with an e-commerce platform, you can even transport your goods all over the world. Moreover, you can also make a decent profit from your sales, which may be much higher than you can get by being a retailer or any other business.
How to Start an Online Reseller Business?
Basically, anyone can become an online reseller, be it a student or a person working a 9-to-5 job. First and foremost, you need a willingness to become an entrepreneur and basic knowledge of how reselling works. Let's go through the steps you can follow to start your online reselling business.
Choose the Right Products and Suppliers
The key step to any business is to decide what to sell. To decide the product or product category. It could be anything, ranging from home accessories to kitchenware, from software to hardware, from musical equipment to gardening equipment, and much more.
A pro tip is to choose products that you have an interest in and there is also a high demand for them.
To determine how much demand there is for a product, you can use professional product analysis tools. For instance, if you are setting up your online store on AliExpress or building your e-commerce website with Shopify, you can use FindNiche to conduct product analysis and find out what people are shopping for the most. This would help you narrow down a product category, as well as some high-demand products from the category.
At FindNiche, you get complete and updated information for every product, including its prices, reviews, order volume, sale records, and many other statistics that help you decide whether a certain product is right for you or not. Plus, you can follow the niche product recommendations that you get on its platform every day, and these recommendations come through numerous algorithms that process data and bring out the best results.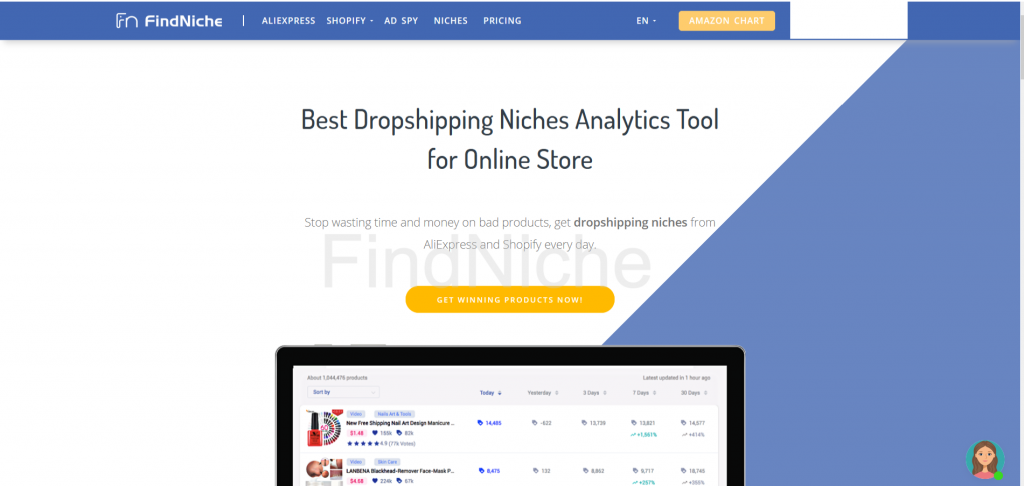 The first thing you do is to choose between searching for Shopify or AliExpress products. FindNiche has a huge catalog of niche products for both of them, so you won't have any difficulty in finding the right items to resell. You can choose between three pages: niches, database, and store.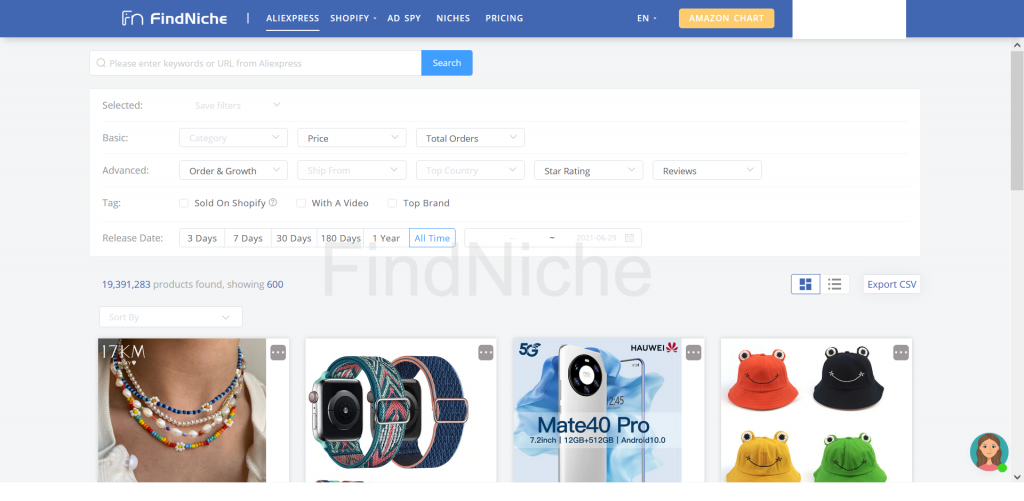 Once you select the platform, the niches page will show you the dropshipping prices for your niche products. It shows you the orders and profits for the last 7 days and 30 days, so you can see how easy it would be to sell the product. On the other hand, the databases page will show you all the products on sale on the e-commerce platform, and also gives you a filter you can apply to get relevant data.
Lastly, if you select the store page,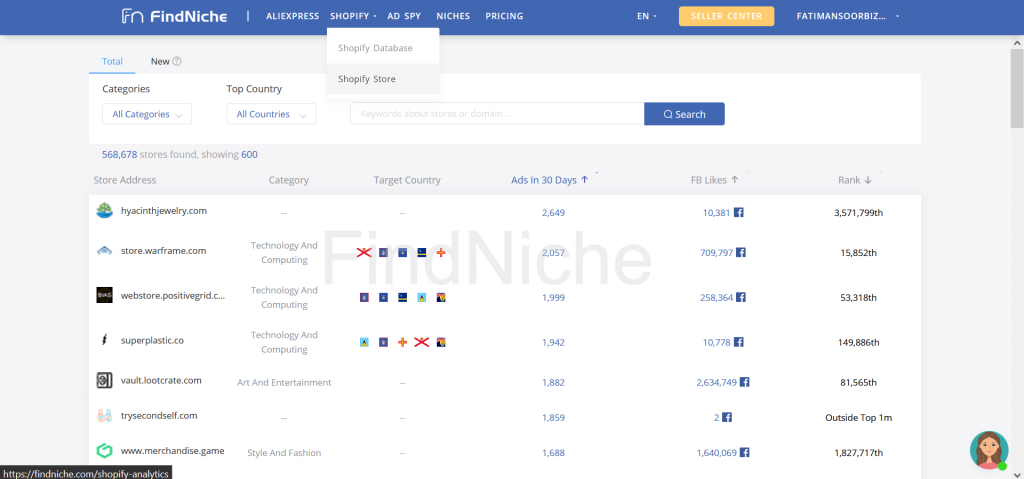 you will be redirected to a list of best performing e-commerce stores on the platform, along with their performance stats. This page will help you gain insight on the best products to choose from, along with valuable market intelligence.
Ideally, you should choose products by checking out their profits on the niches page, and use the database page to see how many orders have been placed for a particular product in the past 7 days, along with a list of the best-selling products. If this doesn't work for you, you can check out what stores with high sales volumes are selling.
Research Your Target Audience
The second pillar for your business' success is to determine the people you are going to sell your products to, i.e. your target audience. Many people make the mistake of thinking that their business is for everybody, and this causes them to set very high expectations. Since you have already determined the product category, it won't be hard for you to determine the target audience.
Typically, you can break down your target audience into various demographics and factors, which will help you narrow down the people who would be interested in buying your products.
Price Your Products Well
Apart from marketing, pricing your products is also crucial to generating a high number of sales and making a decent profit. You need to set the price of your products in a way that the profit covers all your expenses, such as the cost of marketing, website hosting, plugin subscriptions, and much more.
As mentioned above, FindNiche offers you a vast product catalog for AliExpress and Shopify. Judging by which platform you choose, you can use the product selection process to find out what would be a fair and competitive price for each product that you plan on selling on your online store. You can also check out dropshipping rates and profits on the niches page so that you can find out how much profit you can expect from your sales.
By using FindNiche as support for pricing your products, you will be able to direct more sales towards your business by keeping the prices lucrative for your customers, thus having a higher sales volume than your competitors.
Invest Money in Marketing
Just like any other business, effective marketing is incredibly important for online reseller businesses. By designing your marketing strategy, you can reach out to your target audience efficiently. Some of the effective marketing strategies may include competitive pricing, free delivery, discount offers, and much more.
All these strategies go a long way towards generating a lot of sales and allowing you to meet your financial expectations much more easily. You can also utilize a Facebook interest targeting tool, such as AdTargeting, to find out which keywords are trending on the social media platform. AdTargeting's advertiser is also useful for you, as it helps you analyze the success of your competitor's marketing campaigns to find the strengths that you can also use.
Create Engaging Content
Content creation goes a long way in bringing out your brand among customers and also boosting sales. By creating content, you can actually engage your customers and compel them to place an order in your store. You can start making video ads or even venture into blogging if it resonates with your brand.
Moreover, if you start getting a sufficient number of readers on your blog, you can even monetize it, which will mean another stream of income for you.
Learn from Your Competitors
No matter which business you venture into, competitor analysis and research is a key facet and its power should never be overlooked. For this, you need to know who your competitors are. You should examine their websites, social media pages, blogs, and other mediums to find out what they sell and how they sell it.
When doing so, make sure to also keep an eye on their pricing strategies and the offers that they give out. This will help you to tailor your marketing and pricing accordingly, and it will also give you a solid foundation to build upon.
Have you started your online reseller business but are struggling with making it work? If yes then you need FindNiche to lead the way!
It is the best niche selection research tool with a ton of useful features to help you choose the right product categories and also determine the competition.
With FindNiche, you have access to a vast product library of top e-commerce platforms, such as AliExpress and Shopify. Plus, you also get the same great features as these platforms provide you with.
You can analyze prices, product reviews, order volume, sales volume by country, highest sales records, etc. Not only will it help you choose the right products, but it will also bring out your competitors.
At FindNiche, you can find an extensive database of top online stores on Shopify and AliExpress, and you can browse their separate store's pages for finding out the best performing stores. You can find stores that are relevant to your niche, and can also filter them through a variety of metrics, such as ads in 30 days, Facebook and Instagram engagement, website ranking, target country, and much more. Plus, you also get custom filters that you can apply to receive more relevant data.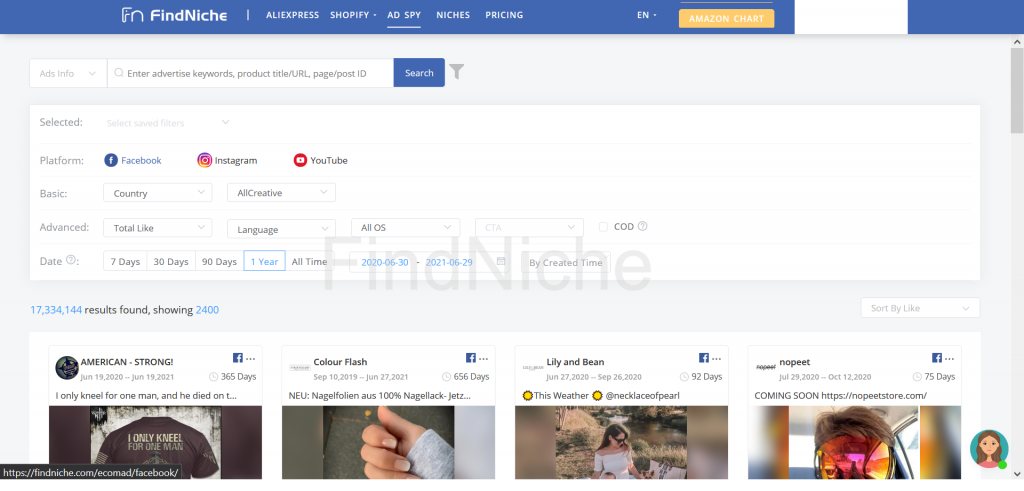 Niche Recommendation
Through FindNiche, you get access to a list of the best performing niches. It utilizes a powerful AI algorithm to help resellers with niche hunting and product research. Through this feature, you can actually start off your reseller business on the right foot and experience more sales and revenue.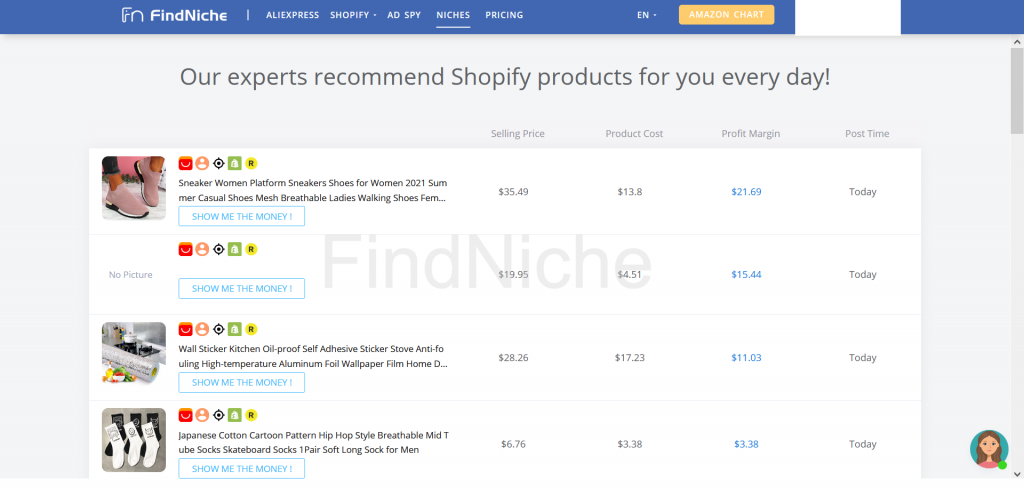 Advanced Product Filters
What's more, you also get around 20 different product filters on FindNiche. You can conduct your product research through different filters, such as product category, order number, order growth, top country, and many others.
Moreover, you can also add your own custom filters in the product database to select a high-performing niche that will bring you the best profits.
So, if you are looking to start an online reseller business, there is an easy entry point. All you need is a website, social media page, or an online store on an e-commerce platform, and you are good to go. The rest of the steps can be easily done through a robust AI-powered niche selection tool like FindNiche.