eBay Dropshipping in 2022: How to Dropship on eBay?
eBay has become the top marketplace as dropshippers turn to start or expand their dropshipping business. eBay dropshipping is an inevitable trend. Dropshippers love eBay as it is a huge marketplace with free traffic and low risk that they are willing to invest in eBay dropshipping. Dropshipping on eBay is definitely doable even though the competition is tight. If you are planning to set up a dropshipping business on eBay, you need to be prepared for the challenges.
What Is eBay Dropshipping?
eBay dropshipping is when you buy stock from a supplier or wholesaler after you receive an order on eBay. The whole process should be you (retailer) ordering the product to wholesalers or suppliers and having them ship the product to the customer. The challenges of eBay dropshipping are that you need to figure out what products to sell and find products that are selling. Before we get to that, let's first break down the hardcore, eBay dropshipping policy. The policy keeps updating itself to make eBay dropshipping harder for new sellers. Therefore, it is important to be familiar with the policy before any moves.
A Breakdown on eBay Dropshipping Policy
Dropshipping on eBay has rules and restrictions. There are things you certainly are not allowed to do, while there are some rules that need to be followed during the dropshipping that you don't want to mess around with.
What is allowed to dropship on eBay?
Fulfilling orders from a wholesaler is allowed. When we think about wholesalers, we need to broaden our definitions of wholesalers to help us look for more partnership opportunities.
There are three kinds of wholesalers from which we are allowed to dropship that is not going to violate eBay dropshipping policy. The first category you can reach out to is inventory suppliers who allow you to make an inquiry, buy stock, and have it stored for you.
The second category is wholesale dropshipping suppliers who allow you to resell their products. You don't need to buy an inventory from them, instead, you get contracted with them that allows you to order products from them after you receive orders from buyers.
The third category is called "dropshipping-friendly" suppliers. They come with a "dropshipping-friendly" package that supports dropshipping in a small amount. no invoice that reveals sensitive details, and package without brand logos.
What is not allowed to dropship on eBay?
Listing and purchasing an item that is selling on another retailer or marketplace is not allowed
You might find people are doing Amazon to eBay dropshipping or Walmart to eBay dropshipping and you start to wonder is it a forbidden practice according to eBay dropshipping. Well, practically it is not, if you work ethically, meet the expectations of eBay in regard to customer service, and bring value to eBay by making sales.
With that being said, you can dropship from a retailer as long as you maintain good health in your account. However, by doing so you are taking a risk since it is still against the policy. Therefore, you need to consider dropshipping from legit suppliers if you want to turn it into a long-term business.
What are dropshippers responsible for?
Dropshippers on eBay are responsible for granting delivery within 30 days.
Dropshippers on eBay are responsible when things go wrong with the delivery or product.
What are some consequences for running against the policy?
Removing, hiding, or demoting listings from search results
Lowering seller rating
Account suspension
The Pros and Cons of eBay Dropshipping
PROS
Constant traffic. Dropshipping on eBay means your listings are exposed to monthly visitors of 729.2 million. The organic traffic of eBay is the major advantage of dropshipping on eBay since that brings free traffic to your listings.
Easy to set up. It is not necessary to run a store to do dropshipping on eBay. You can start dropshipping on eBay with a regular eBay account.
Low cost. You don't need to worry about buying a large amount of stock in advance. As well, you are less concerned about investing a lot in marketing because you are dropshipping on eBay.
CONS
Low profits. You will need to split your revenue with eBay, suppliers, and Paypal. The profit margin will be lower than you expect it.
Competition. Given the advantages of eBay as a huge traffic source, you will have to compete with many other dropshippers who also want to get the benefits.
No loyalty. Since you are not building a brand or running a store, you are not going to have a stable source of customers compared to the store owners.
Not easy to find a supplier. Most suppliers are looking for huge orders from retailers. However, your orders may not be big enough to get a supplier to be willing to accept your order.
Guide to Dropship on eBay
Like any other type of dropshipping, dropshipping on eBay needs you to first determine what products to sell. This is one of the most difficult things that dropshippers struggle with. We will get you through that and explain how to find profitable products that are selling.
Step 1. Conduct product research for eBay dropshipping
We all know that the product is the key to success in any dropshipping business. Before we look for an item, we need to first determine a niche we want to dropship. Niches that are trending and low competition are what we are shooting for. That means those niches are the potential in making sales. A method I recommend finding niches ideas is by looking up niches from another marketplace, for instance, Shopify. Shopify is a great source for finding dropshipping products ideas. With the help of niche finder tools like FindNiche, it is much easier to find high-profitable and less-competitive niches.
Here is how you can use FindNiche to find niche ideas:
#1 Set up filters to leave out unwanted niches
Two parameters determine high-profitable and less-competitive niches: 7-day orders and numbers of sellers. FindNiche defines numbers of sellers as "competition". That makes the niche research much easier by applying a certain range of 7-day orders and competition on the facet search section. You can dive into different categories to explore products with high 7-day orders and in relatively low competition.
Set 7-day orders to 51~500. Then choose the competition and set it to 1~10. With these filters, we are able to find low-competitive products that make sales. Furthermore, we can filter products by country, price, and category.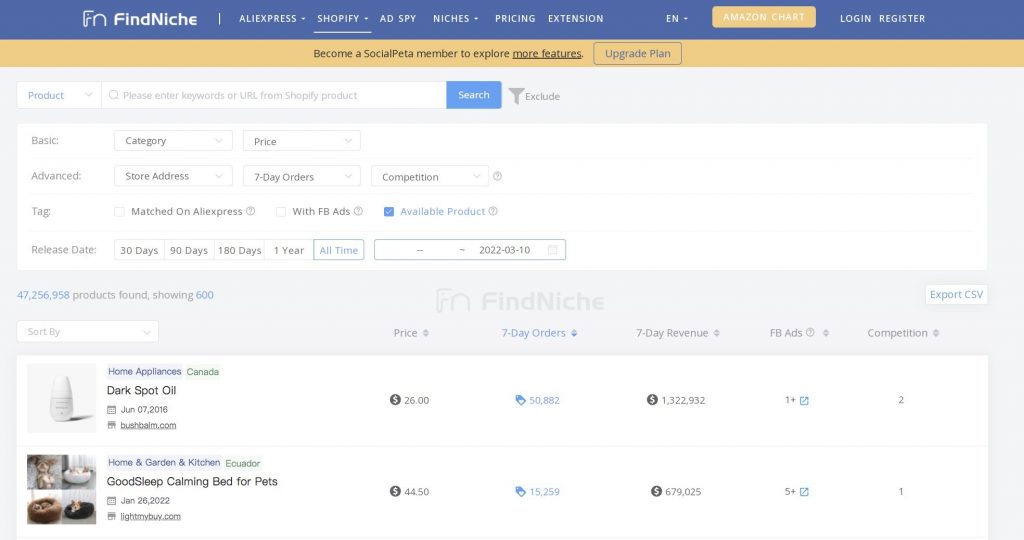 #2 Take a look at the best-sellers from top stores
It is a good idea to find niche ideas by looking at the top stores. FindNiche collects data from over one million Shopify stores and shows their best-sellers when you click on the "products" next to the "seller store". You can go from there to find popular products for your dropshipping business.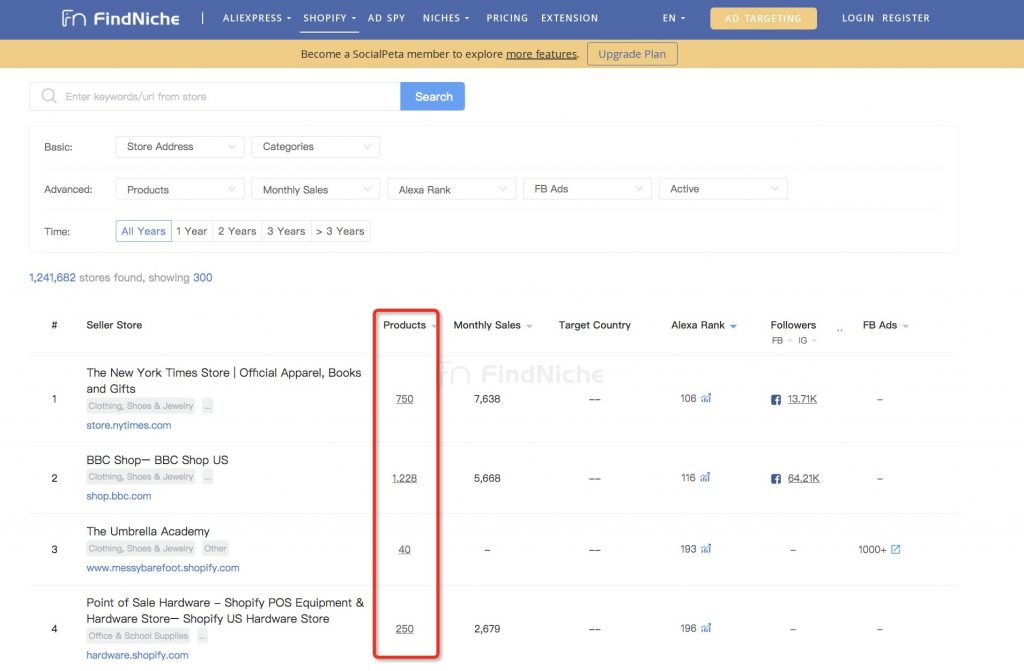 #3 Use the niche chart as a source to get niche ideas
FindNiche is a powerful source for newbies. It has a section called "Niches" where you can get a list of niches recommended by Shopify experts. The list shows niches with their sales, cost, and profit to help you determine a niche that fits within your budget.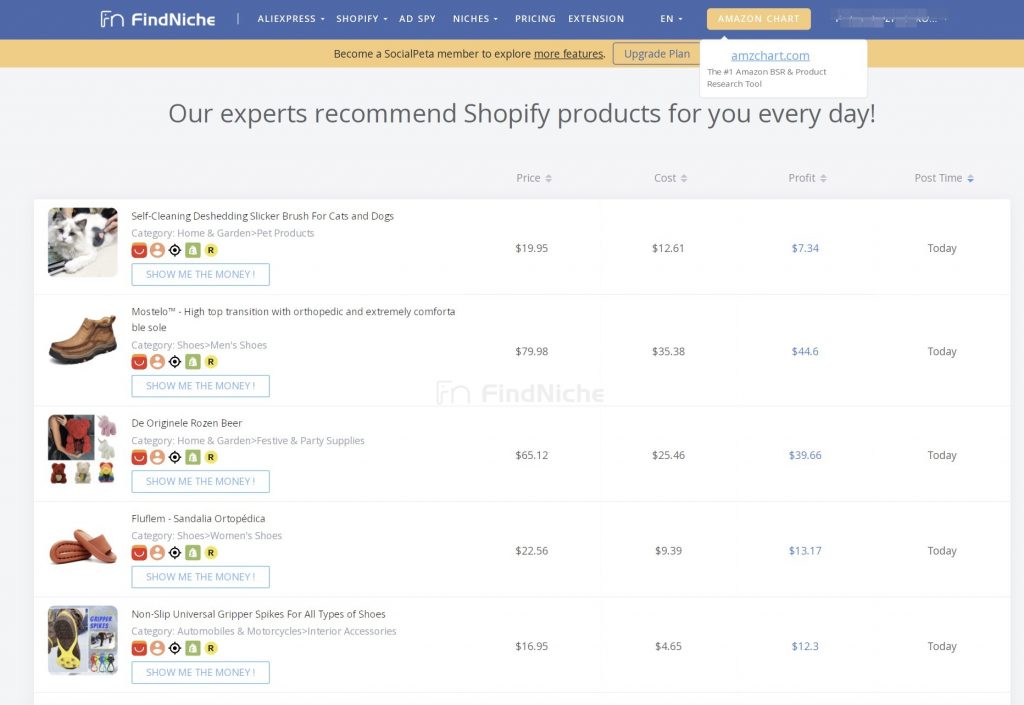 Step 2. Find reliable suppliers for your eBay dropshipping
Given the fact that you are not going to buy a lot of stock in advance in the case of eBay dropshipping, it is important to find reliable suppliers who are able to fulfill orders all the time. Therefore, as you research niche ideas, suppliers need to be taken into account. A recommended approach is to leave out niche options that have fewer suppliers than the others to get a higher chance to find reliable suppliers. Or, find suppliers who provide fulfillment for top stores.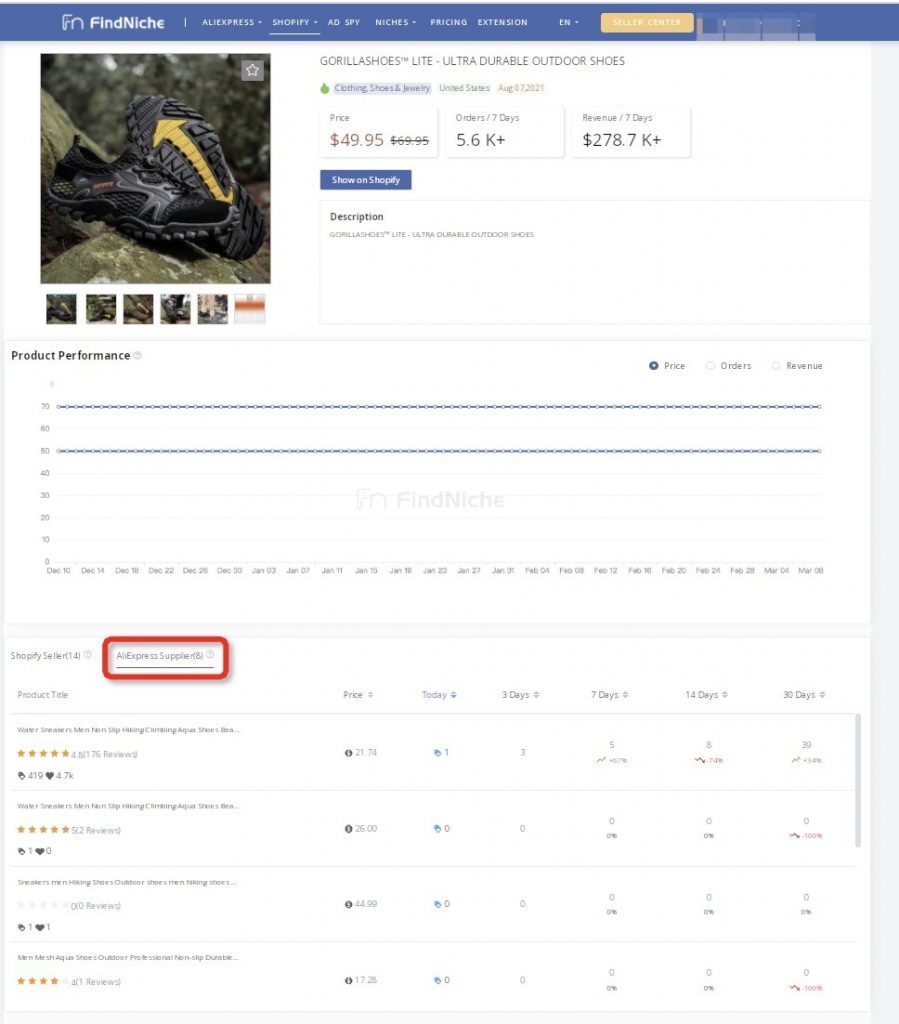 Step 3. Set up eBay seller account and business account on Paypal
After you decide on products, go straight to set up an eBay seller account. Make sure you are signing in the right marketplace where your target customers are in. As you set up the account, eBay may require you a tac ID from you. You can apply for the tax ID online.
Step 4. Create and optimize listings
Make sure you upload good-quality and real images. Write detailed and clear product descriptions to optimize your listings for maxim search visibility. It is important to build out your title with keywords so that it appears more readily in the search results. Another thing you can do to increase the visibility of your items on Google search is by filling out all sections of the item specifics. By doing these, your listings is going to have more exposure on both eBay search result and Google search result.
Step 5. Make sales
To maximize your eBay dropshipping business, you can take the following tips:
Be smart on pricing your products
eBay is a competitive marketplace where you need to compete with millions of other sellers. It is important to price your products because don't forget you are charged a fixed fee from eBay and a cost from your suppliers. The bidding mechanism might reduce your profit margin when you can't really control your final sale price. Therefore, I would recommend you to list the product at a fixed price. Or, you can set a higher reserve price to ensure you can make a profit.
Get positive reviews
Customer review is a factor that affects your listing visibility. Try to get more reviews to build up a reputation for your listings. That helps you show up in the first few search results to get you more sales.
Ensure availability
One of the advantages of eBay dropshipping is that you don't need to buy inventory in advance. However, that may cause a problem since you can't ensure you can get products from your suppliers at the time you receive orders from buyers. The unstable supply can possibly drive away customers and have no good for building a positive reputation for your dropshipping business. Therefore, to avoid that from happening you should get close contact with your suppliers and get a daily report from them to track the availability of products.
Ensure fulfillment
When you receive an order, you will need to purchase the item from your suppliers. Send them the buyer's address as the shipping address, and your contact information to get updates on the fulfillment. You will get a tracking number from your suppliers which you simply add to eBay so that the buyer can track the order on their own on eBay. If your suppliers do offer a "blind invoice" do ask them to apply it to your order so that no details will be sent to the buyer.
Conclusion
eBay is a great marketplace to start a dropshipping business given its traffic. However, instead of posting thousands of listings on eBay, finding out what people are interested in purchasing, in other words, trending products is more important. On the other hand, you want to avoid high-competitive products if eBay dropshipping is just a side hustle to you. Last but not the least, get your delivery on time and find reliable suppliers to avoid products issues. You are then well-prepared for your eBay dropshipping.
FAQ
Is dropshipping allowed on eBay?
Yes. You are allowed to dropship on eBay. You are allowed to make fulfillment from wholesale suppliers.
Can I dropship from amazon to eBay?
Yes, in most cases. However, you need to be extra careful about products you dropship from Amazon to eBay. You are not allowed to dropship any prohibited items. There are some ethical issues involved such as you may get negative reviews when buyers find out 1) they are getting a package from Amazon, 2) they can get a lower price on Amazon which can end up with funding. Getting negative reviews is going to get attention and restrictions from eBay. The actions taken by eBay include account suspension.
Where can we find eBay dropshipping suppliers?
Here are some wholesalers that can sell small product quantities, even a single product:
CJDropshipping
Chinabrands
Costway
Gogomall
Costco
Chinavasion
Tvcmall
Dhgate
Bangalla
How much does it cost to dropship on eBay?
Listing fees. You get 200 zero listing fee listings every month. For listings beyond that in most categories is $0.35.
eBay final value fee. You will need to pay 10% or lower of an item's total final sale.
Paypal fees. For U.S. residents, Paypal takes 2.9% of your payment as the transaction fee.
For non-U.S. residents, Paypal takes 4.4% of your payment as the transaction fee.
Fixed fee based on the currency. This is charged by Paypal, Each currency will be charged for a different fixed amount of fee when the transaction is made. For instance, if a transaction is made in the U.S. dollar, the fixed fee is $0.3.
What is the best dropshipping software for eBay?
Check out the following tools to reduce the struggle with dropshipping on eBay:
FindNiche: niche finder tool for finding products and suppliers' ideas.
AutoDS: an automated tool to help import product listings.
Pricefox: monitor eBay price changes
DSM Tool: help you with finding products, listing them, and repricing.
Easync: an eBay arbitrage software for finding products.