Aliexpress Dropshipping: Most Complete Guidelines In 2021- FindNiche
If you want to start a dropshipping business, then it is impossible to avoid Aliexpress and Shopify. FindNiche has prepared a complete content of Aliexpress dropshipping and Shopify dropshipping for you. If you want to start your dropshipping journey with Aliexpress, then please read the next section carefully.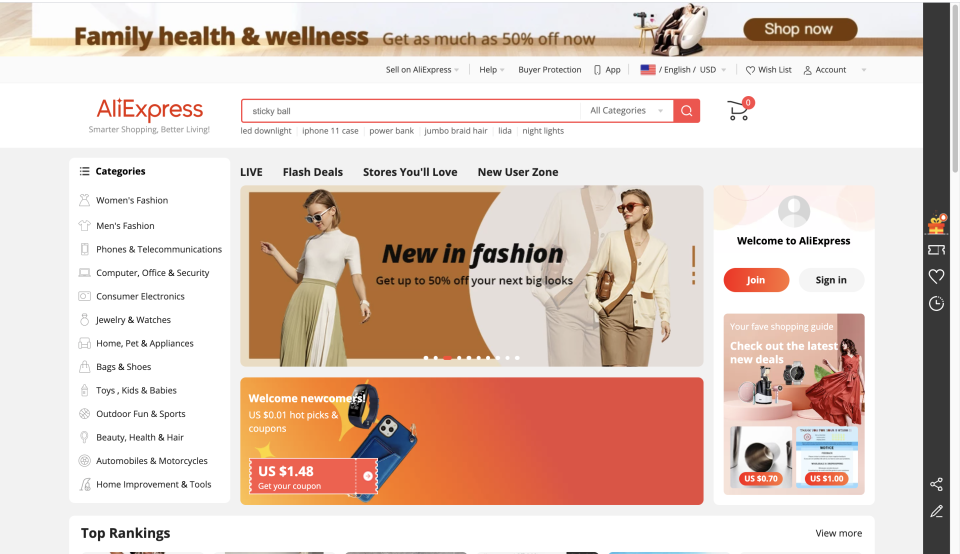 What is Aliexpress?
AliExpress, officially launched in April 2010, is the only online trading platform under Alibaba for the global market and the third largest English online shopping site in the world. AliExpress is Alibaba's foreign trade online trading platform that integrates order, payment and logistics to help small and medium-sized enterprises to reach the end wholesale retailers, sell small quantities and batches quickly and expand profit margins.
Thanks to China's strong industrial chain, Aliexpress has a large number of suppliers. Working with suppliers on Aliexpress, the suppliers will deliver goods directly from China to customers, you don't need to worry about inventory and transportation.
Should you use Aliexpress for dropshipping?
If you are new to the dropshipping business and want to start your dropshipping business with Aliexpress, then you need to read this article carefully and consider whether Aliexpress dropshipping is right for you.
How Aliexpress works?
Aliexpress works in a very simple way.
You search for your target products on Aliexpress and filter the suppliers that best fit your needs based on your budget, desired shipping location, and other options. You place an order with the supplier at the wholesale price and the supplier ships the item directly to your customer. Of course, product research is a crucial part of this process, and you can use the best Aliexpress product research tool - FindNiche to do so.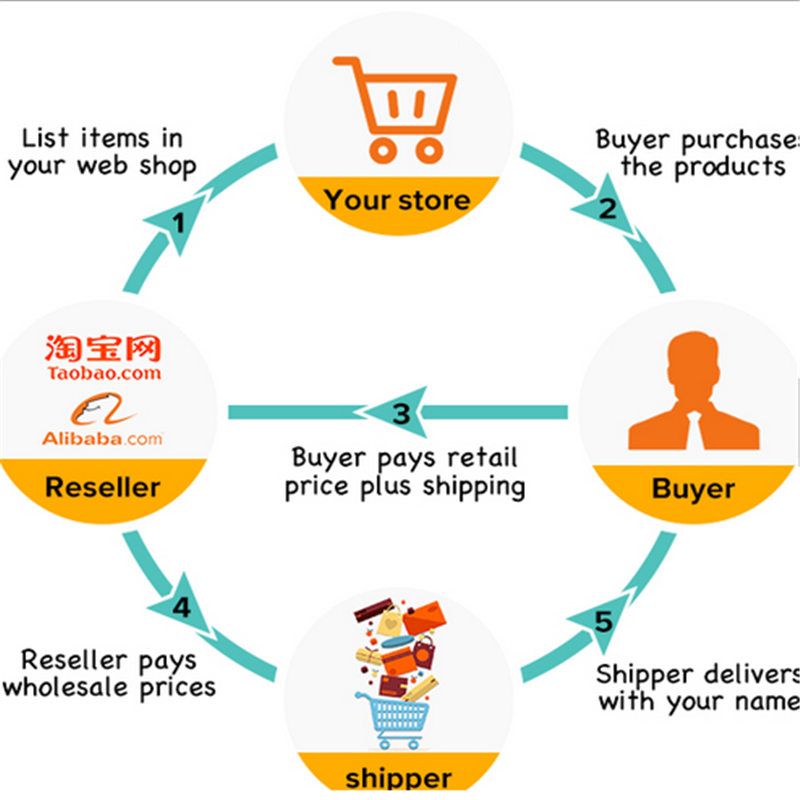 Advantages and Disadvantages of Aliexpress
Advantages
Have a large library of products
Aliexpress has a very wide range of products, in Aliexpress, only what you can't think of, nothing you can't find. Please do believe in the creativity of Aliexpress sellers, I often feel that many Aliexpress sellers are artists.
You may want to sell something unusual, consider these colorful, elegant, flowing traditional Chinese costumes?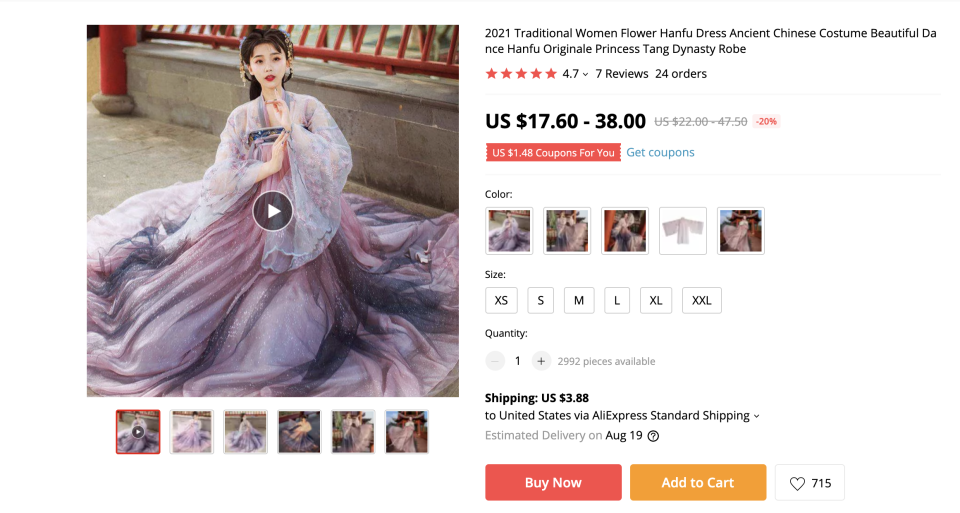 Or a Donald Trump toilet brush?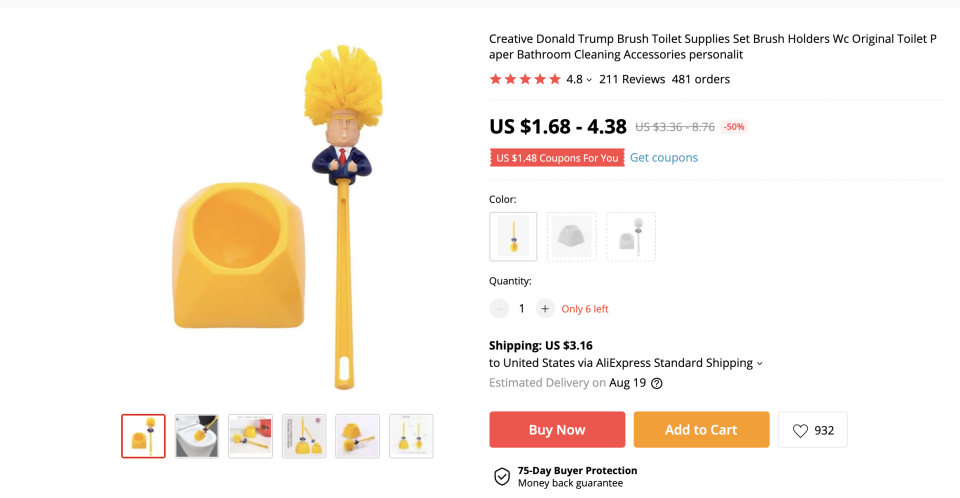 A cat treadmill might also be a good choice.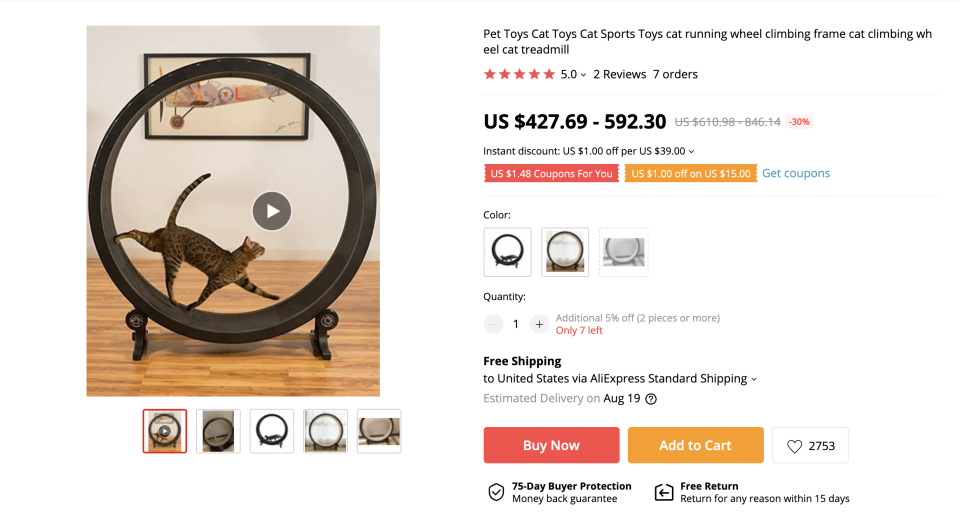 Generally low commodity prices and large profit margins
Many people consider dropshipping through Aliexpress because of the low price of the product, but because of the low price, many people have doubts about the quality of the product. So, why are Aliexpress products so cheap?
Most of the sellers on Aliexpress are Chinese manufacturers
As we all know, China has the most powerful manufacturing industry chain in the world, and the scale effect will reduce the cost of products. In addition, since you deal directly with suppliers, this will make the price of goods much lower.
However, you can't just go for the low price, Aliexpress doesn't produce the products, but helps the suppliers to sell them, so it can't guarantee the quality of the products 100%. The truth is that you get what you pay for, and that applies to Aliexpress as well. Anyone who sees an iphone with a price tag of $50 will think it is a toy. Therefore, try to choose those products that are reasonably priced.
There is no minimum order quantity, you can place only one order and send it to your customers.
When it comes to this, it is important to mention the difference between Alibaba and Aliexpress.
Many people may confuse Alibaba with Aliexpress, but in fact the two platforms are not quite the same. Although they are both e-commerce sites under the Alibaba Group, they are positioned differently. In layman's terms, Alibaba and Aliexpress are like twins, with Alibaba operating mainly on a B2B model and Aliexpress on a B2C model.
Therefore, for dropshipping business, Aliexpress has no minimum order, you can buy as little as you like, and the products will be shipped directly to your customers by Chinese sellers, you don't need to bear the warehouse cost.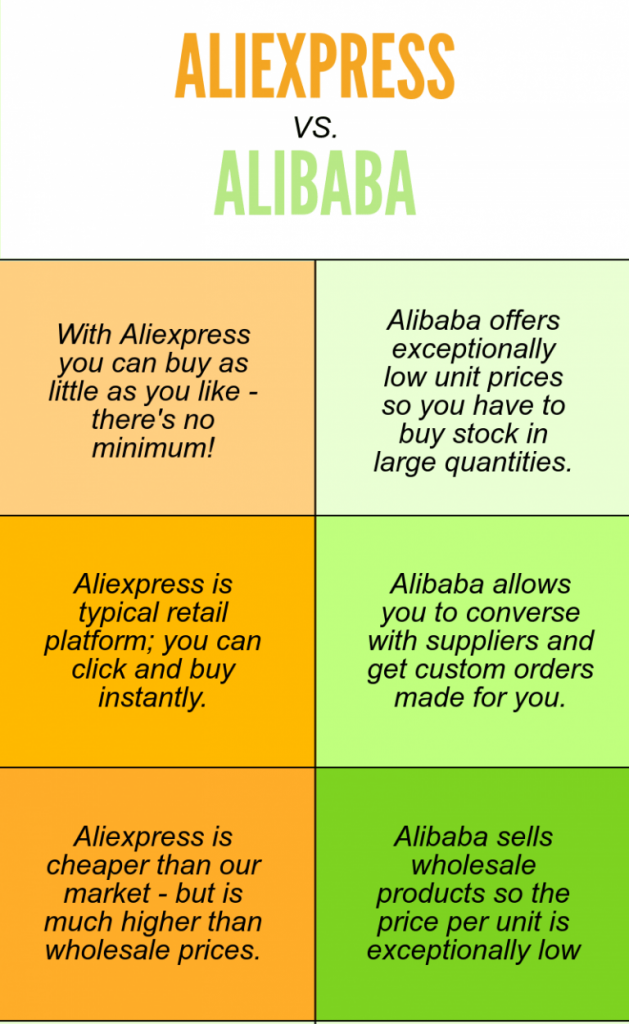 Low barrier to entry, no upfront capital investment required
Dropshipping is the cheapest way to open an e-commerce business. You don't have to worry about storage costs or deal with shipping and fulfillment. Also, there are no start-up or monthly fees to start a dropshipping business with Aliexpress. It is completely free to use Aliexpress. You only need to invest money in opening an online store and marketing.
Fast product updates and iterations, keeping up with trends
Have you heard of the Yiwu Index? The Yiwu Index uses sales of campaign goods in Yiwu, Zhejiang Province, People's Republic of China, as a predictor of victory or defeat in the U.S. presidential election and is not an official index. Proponents of the Yiwu Index believe that high sales of campaign goods reflect high approval ratings and that the party with strong sales will win the U.S. presidential election.
It sounds absurd, but there is a basis for it.
Since China has the most powerful industrial chain in the world, many goods around us are made in China. In the run-up to the 2016 election, businessmen running a flag business in Yiwu, China, were said to have predicted before the election that Trump would beat Hillary because the former had ordered far more flags than the latter.
It may have been a joke, but in a way, it shows that Chinese sellers know what is, or will be, popular in the world better than most people.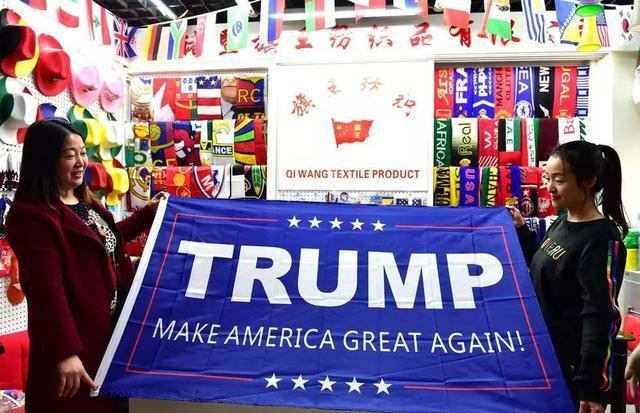 Disadvantages
Longer Delivery times
Aliexpress offers shipping services through ePacket shipping.
The number of countries and regions with access to ePacket is increasing, and shipping with ePacket is relatively faster and cheaper. However, you still need to be aware of the fact that while ePacket is already relatively faster, it is certainly slower than Amazon. A shipment from China to the United States usually takes 10-20 days to arrive, and it can take even longer if there are unforeseen circumstances such as customs, holidays, etc.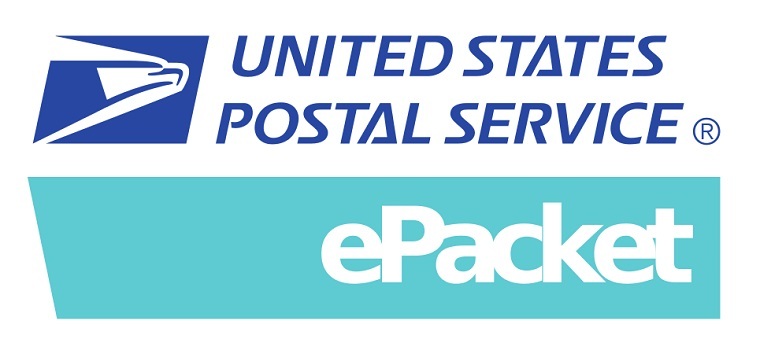 Product quality varies and product research is very important
As mentioned before, Aliexpress has a huge library of products. aliexpress does not guarantee the quality of the products. Since the goods are sent directly from the seller to the customer, you cannot control the quality of the goods either. Therefore product research and selection is very important and you need to spend a long time to complete this work.
Different items ordered by the customer may arrive at different times.
If a customer orders different items from your store and they originate from different Chinese sellers, then this means that your customers will get different packages at different times. Yes, Aliexpress does not combine packages from the same customer.
Product research has always been a very important task in the dropshipping business. Since the products on Aliexpress vary and you can't control the service level of the suppliers, you need to choose the right seller in addition to choosing a niche market and carefully identifying the quality of the products.
How to find a niche market?
You can use the dropshipping niche analysis tool for help.
FindNiche is the best dropshipping niche finder that can help you find niche products on Aliexpress by searching for keywords or advanced filters.
If you wish to find some niche products in women's clothing, then you can select Women's Clothing in the category, choose Total Orders > 2000 and competition < 5. If you also wish to select some popular products, then you can select Orders Growth > 300. In addition, you can also do advanced filtering by shipping place, receiving place and star rating. You can always find the ideal product!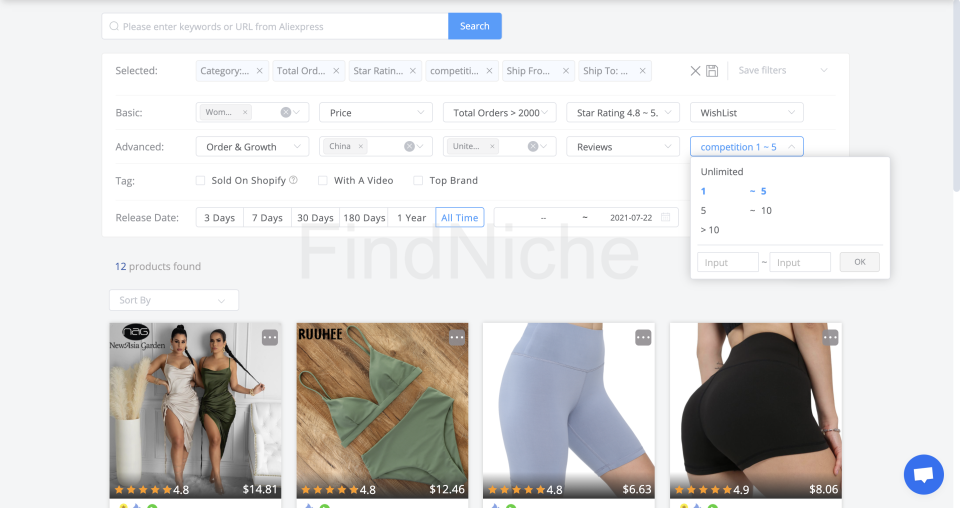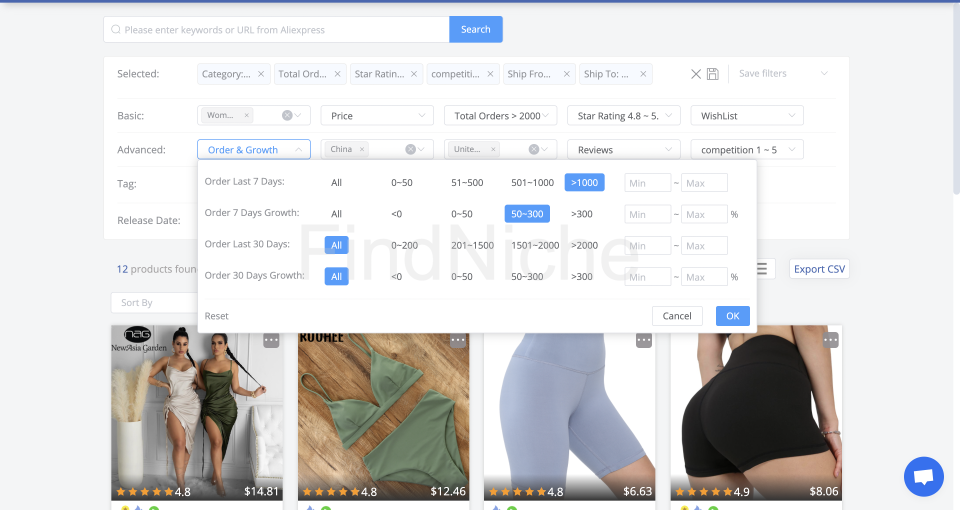 Please select those products that are in the "middle price"
Many dropshippers who do their dropshipping business through Aliexpress often find two almost identical products on Aliexpress, but at different prices. Many dropshippers may choose to sell the lower priced one in their own stores in order to increase their profits.
If you do the same, you'll regret it! You are likely to receive a lot of complaints and bad reviews from your customers.
At Aliexpress, you need to understand the fact that the quality of a product is somehow proportional to its price. If you are trying to squeeze costs and thus go overboard with low prices, then this may cause your products to be inferior.
When you are picking up a product on Aliexpress, put some extra effort into comparing the prices of all similar products. To keep costs down, try not to consider the most expensive batch of products, and at the same time, to avoid a decline in product quality, do not choose those products that seem to be the best value. Yes, I think you got the answer, the price range of the ideal product should be at the median price of similar products, while 50%-60% of similar products are priced in this range.
Choosing a suitable Aliexpress seller to work with is also part of the Aliexpress product research. Whether the seller will be able to work with you in the long term will play a role in determining whether you sell the item or not. After all, no matter how much you like a product, assuming that the seller of that product has bad reviews or he/she is not good at communicating in English, you will have to discard the product in order to guarantee a smooth cooperation in the future.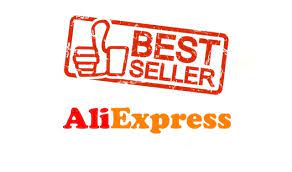 Please carefully evaluate Aliexpress seller reviews and ratings
I recommend that you include the seller's rating and star rating in your reference criteria when selecting products at the outset.
Generally, the seller's information will appear at the top of the product's page. You can slide your mouse over here to see detailed information about the seller, including the store's qualifications, and the buyer's rating of the store based on criteria such as whether the product description matches the actual product, whether the seller's communication is smooth, and the speed of delivery. In addition, Aliexpress will "very kindly" tell you what level this rating is among the competition. Generally speaking, sellers with a rating of 4.5 or higher are worth working with.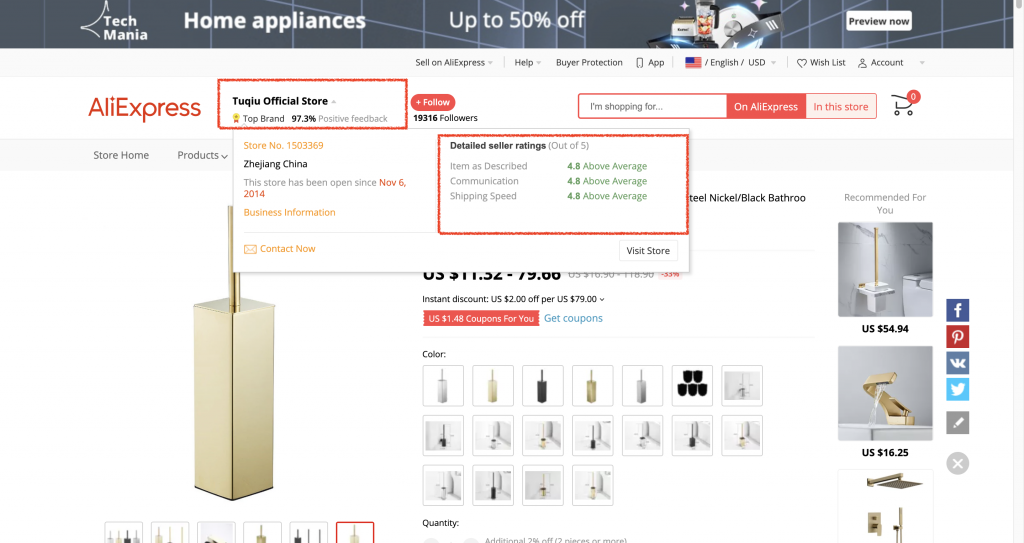 Communicate with the seller in advance
Before you decide whether to sell a product, you may want to chat with the seller. Aliexpress provides a communication channel between buyers and sellers. You can ask the seller when the product will be shipped, and how soon the product will be shipped to the customer? Generally, sellers will have a time interval. Also, you can preset some questions that customers may be interested in communicating with the seller to better serve your customers.
Of course, you can also try to work out a partnership with the seller. For example, if you work together for a long time, is it possible to have priority shipping? These are all things that can be communicated.
As for the language problem that many dropshippers worry about, I think it is unnecessary. the communication system on Aliexpress can already do automatic translation, and most of the problems caused by language differences can be solved by Alibaba translation.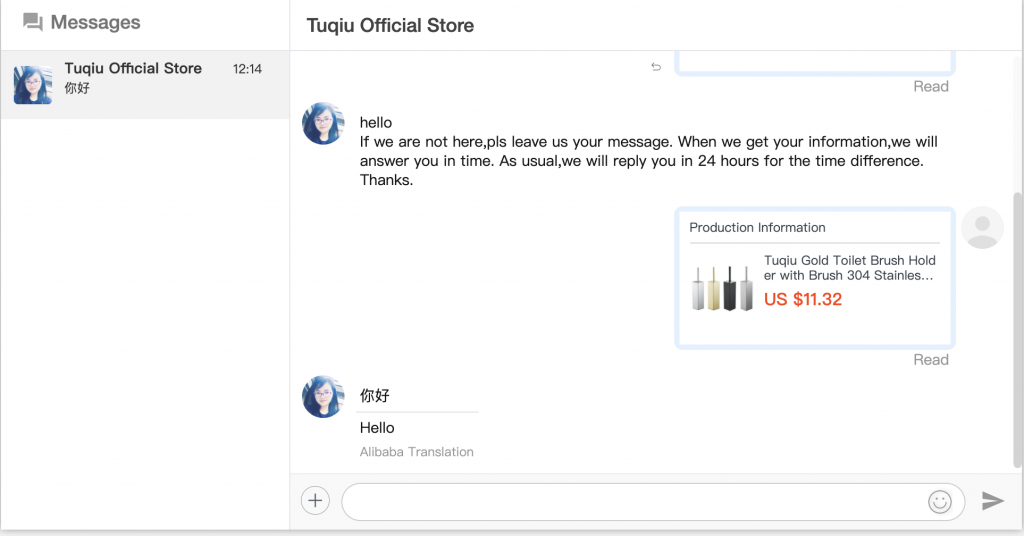 Pay attention to identify fake and poor quality products
As mentioned before, there are good and bad quality products on Aliexpress, and you need to find ways to avoid the fakes and bad quality products. In addition to the aforementioned try to choose those products that are in the middle of the price range, here are some other ways you can try.
Buy samples in advance to check the goods
As a dropshipper, you don't need warehousing, but you also have no control over the quality of the product because you can't get it. However, you can order a sample to check the product in advance when you decide to sell a product. You can check if the physical product matches the online description and if there are any quality issues. If you are patient enough, you can try the product for a while and then write a short trial report in your store, which will make your product description more realistic and will attract more customers.
Don't trust the branded goods on Aliexpress
You need to know the fact that until now, the big international brands are not in Aliexpress. if you expect to find cheap Chanel bags for dropshipping on Aliexpress, it's a pipe dream. If you think you've found one, then trust me, it's a fake.
Conclution
In the context of the US-China trade war, dropshipping through Aliexpress is not as easy as it used to be. But Aliexpress dropshipping still has considerable advantages. Aliexpress has the most extensive range of products and the most advantageous prices. This means that product research is quite important in Aliexpress dropshipping.
FindNiche has been committed to helping you do better product research for dropshipping, so please stay tuned to FindNiche, we will continue to update the content related to Aliexpress dropshipping. We will continue to update Aliexpress dropshipping related content to provide you with the latest and most complete Aliexpress dropshipping guide.