High Ticket Dropshipping: Best Strategy Guidelines in 2021
You must have heard the saying that the greater the risk, the greater the benefit often gained. In the dropshipping industry, this holds true as well. If you are brave enough, you can try high ticket dropshipping.
Below we will give you a detailed introduction to high ticket dropshipping.
What is high ticket dropshipping?
For what is high ticket dropshipping this issue, the industry does not have a uniform definition. Generally speaking, it is to focus on selling more expensive products to obtain higher profits.
You may ask, what price is considered high? Some would argue that high ticket dropshipping sells for $100 or $200 or more, while others would argue that high ticket dropshipping should sell for $1,000 or $2,000 or more. In fact, there is no single standard for this.
Here's an example that might help you understand a little better.
Using the best dropshipping selection tool, I found the fifth most trending item in the furniture category - a pair of black iron chairs. The price of this pair of chairs on Shopify is $159.99. A search for the same item on Amazon showed an out-of-stock status (apparently, this is a very hot item), but the price for a similar item was $227+.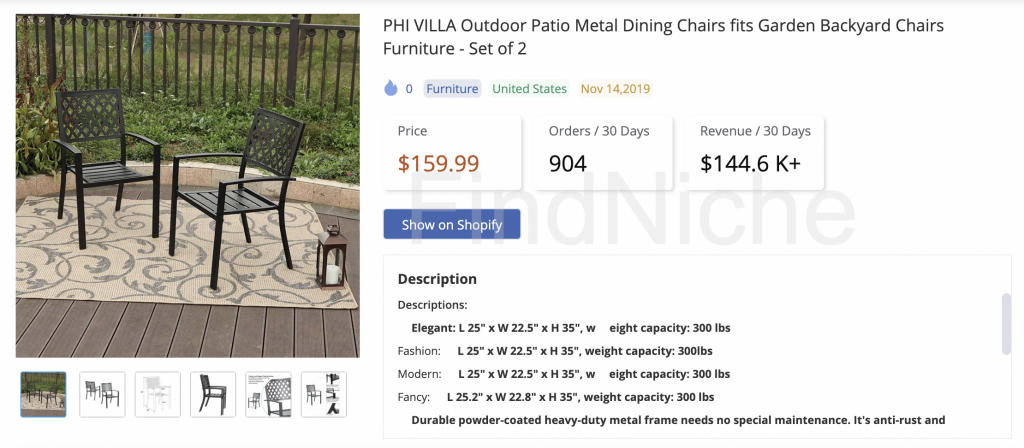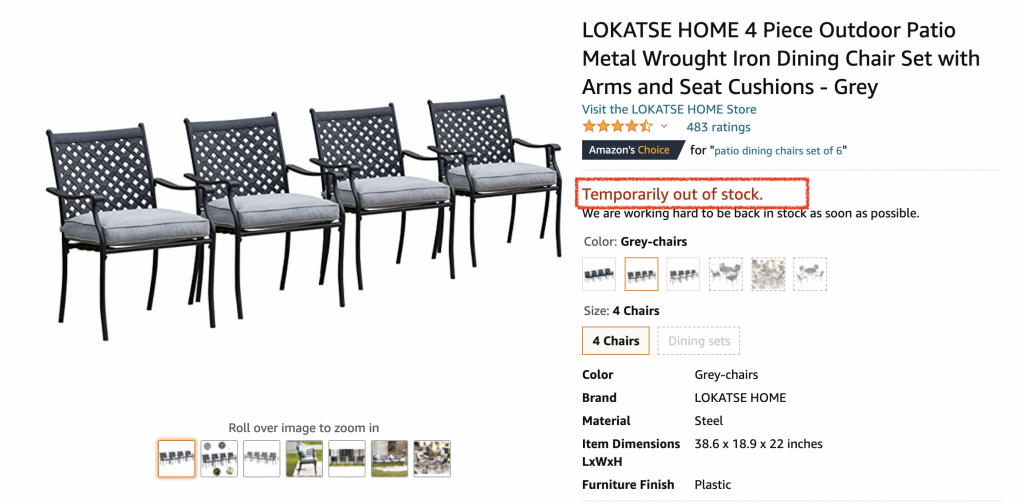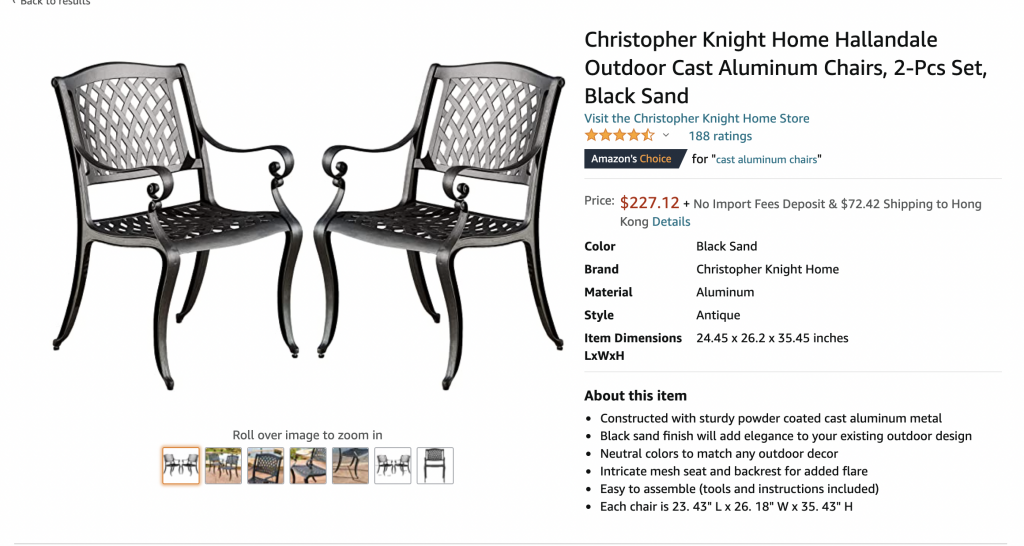 By selling high ticket items, you can be more flexible with pricing and also have higher profits per unit.
By selling high ticket items, you can be more flexible in pricing and also have higher profits per unit. However, high ticket dropshipping is not that easy and you need to know the advantages of high ticket dropshipping and the risks you need to take.
Advantages of high ticket dropshipping
Since high ticket dropshipping is more risky, then you will have less competitors.
Fewer clients, but higher quality of service required by clients
More room to adjust pricing and higher profit margins
Disadvantages of high ticket dropshipping
Relatively small market
Higher start-up costs
More difficult to operate, need more dropshipping experience
It is more difficult to gain the trust of customers
More difficult and costly to return
How to start high ticket dropshipping?
If you're ready to decide to start high ticket dropshipping after taking into account the risks, then these next strategies may work for you.
Focus on product quality
Customers are more willing to buy higher priced items because higher priced products tend to be of higher quality and will be more aesthetically pleasing. Don't try to treat your customers like fools. If the quality of the goods you sell doesn't match the price, then sooner or later the customers will leave you too. Therefore, you should ensure the quality of the merchandise.
Work with a reliable logistics company
Imagine if you purchased an item online for $200 or more and didn't receive it for over a month, would you be concerned that the item was lost or damaged in transit? Whether you end up receiving the item you purchased or not, your buying experience is not very good.
If the customer does not receive the item on time, or if they receive a lost item, then you will need to deal with the customer's return and exchange requests.
You, as a seller, should work with a logistics company with guaranteed service in order to ensure your customer's buying experience while avoiding losses.
Working with reliable suppliers
As mentioned earlier, in most cases, the reason why customers are willing to buy HIGH TICKET items is that they want to buy better quality items. In order to ensure the quality of the goods, you should carefully select the suppliers you work with. At the same time, you should also consider whether the supplier has a standardized return process if the customer returns the goods? Based on the above considerations, you should all choose a reliable and easy-to-communicate supplier to work with.
How to use FindNiche to find high-priced products
First, you should decide which platform provider you are working with. You can choose Aliexpress or shopify's Database on FindNiche. filter your chosen niche in the categories and use the price filter to filter out items priced above $200. Of course, if the items in your selected niche are $100 or more are hign ticket items, you can also filter the price by $100. As mentioned before, the prices of high ticket items are different for different categories.
At the same time, you can also set the country of sale according to your target market, for example, you can select "USA" in "Country". You can also filter "7 days orders" and "Competition" to get more niche items.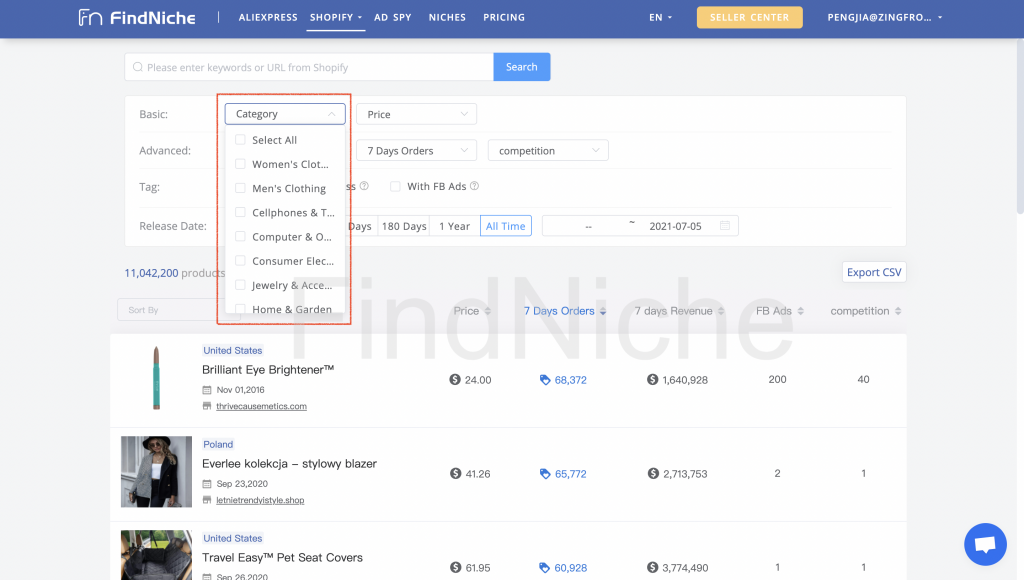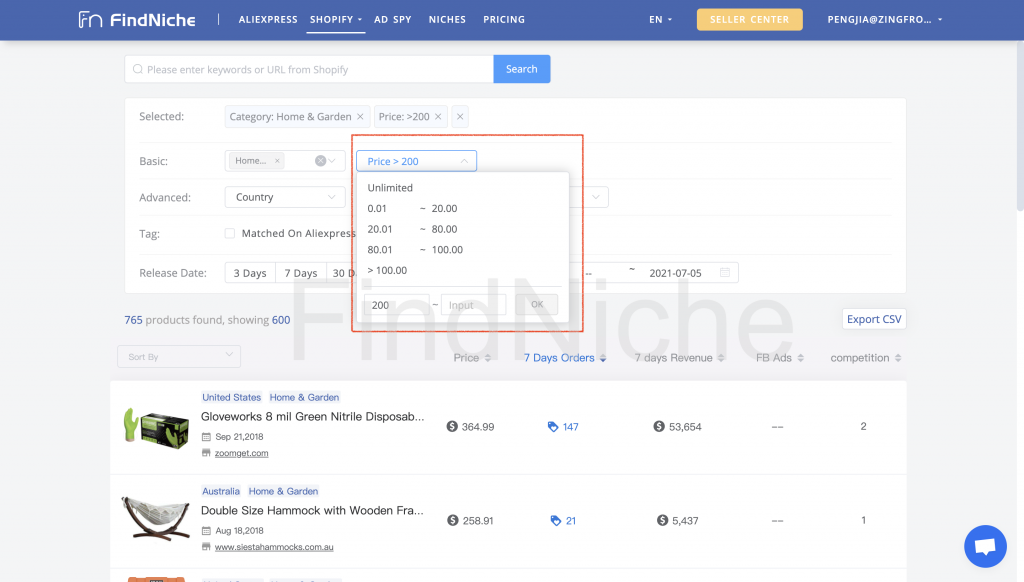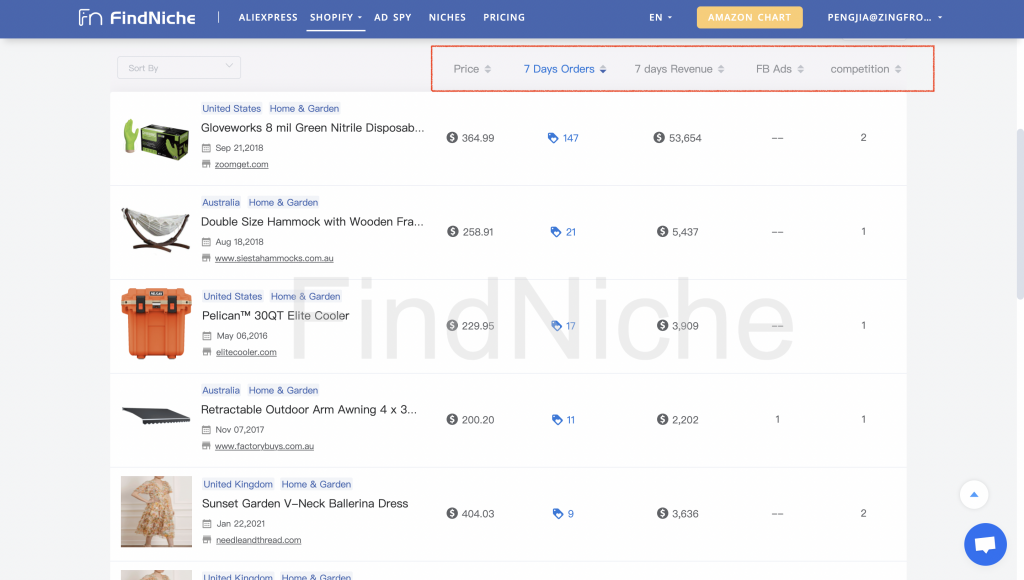 In addition, FindNiche's Niches feature can provide you with daily niche items from which you can pick out high ticket items.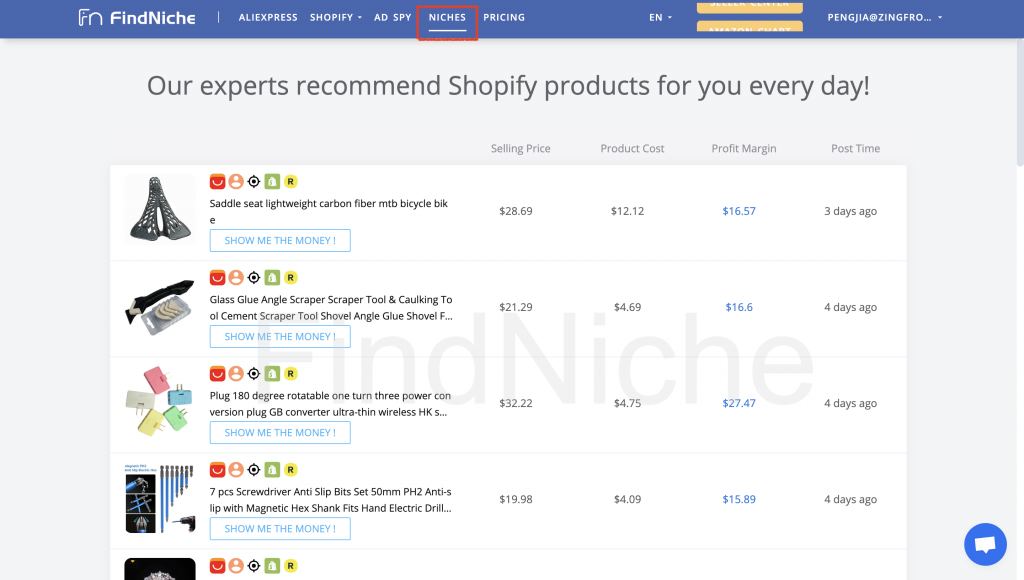 Gain experience from your competitors
Before you start selling, it is crucial to learn from the experience of your competitors. Using FindNiche's Shopify stores feature you can monitor your competitors' target countries, number of ads, Facebook page likes, Alexa rankings, and the total number of ads from your competitors or top dropshipping stores.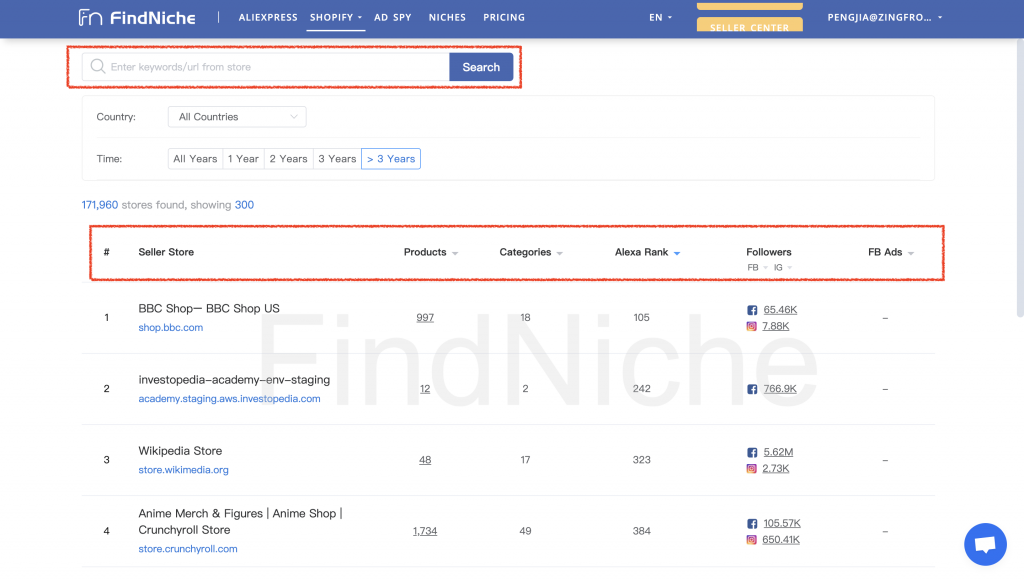 The best high ticket dropshipping products
This section below is a selection of several high ticket items based on the strategies I have summarized above for reference.
1. Digital Products——Portable Laptop Screen Extender
In general, digital products are not inexpensive products. Most people will be willing to pay for high technology, not to mention digital product enthusiasts.
2. Men's Hair Remover

In 2020-2021, which is enveloped by Covid 19, most people are locked in their homes for long periods of time, but the need for haircut and hair removal is immediate. High-end men's epilators will also see a surge in sales.
3. Pet Products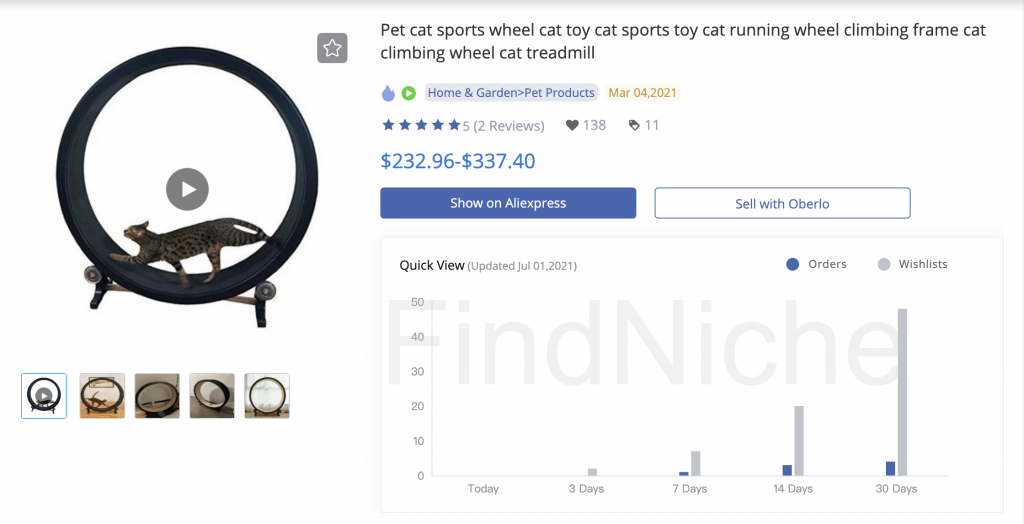 The problem of obesity is also becoming common among pets. This cat exercise wheel may increase the amount of exercise for cats.
4、Sierra Winged Bed - Bed Creed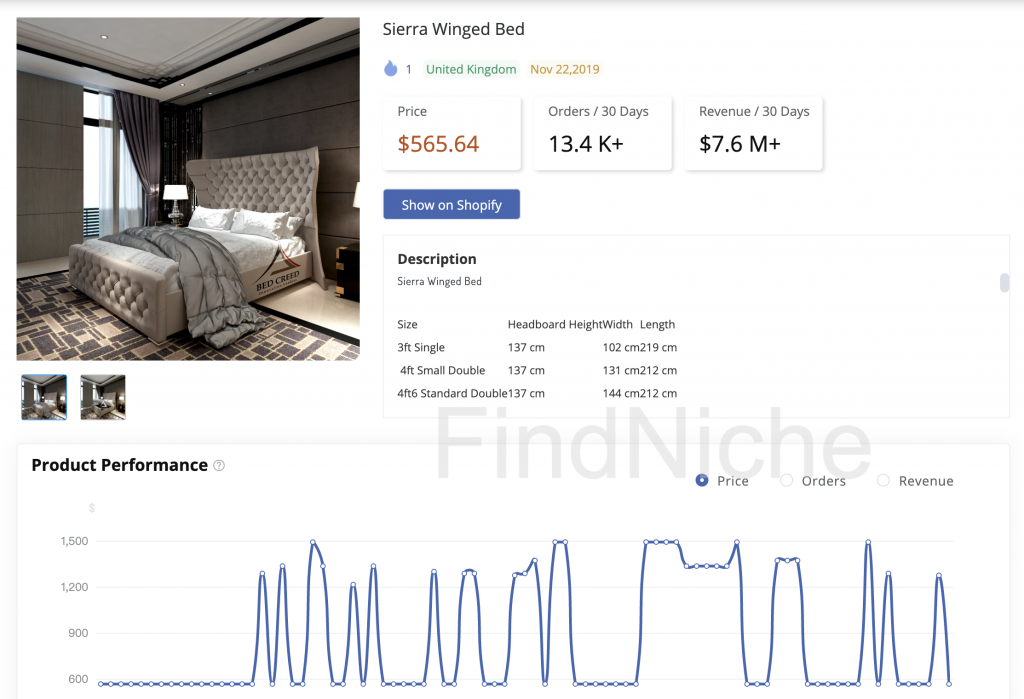 The problem of obesity is also becoming common among pets. This cat exercise wheel may increase the amount of exercise for cats.
In the list of high ticket niche items, high-end king size beds are definitely in the majority. The king size bed is often the most expensive high ticket item as well. If you are just starting a high ticket dropshipping business, then you are not the right person to sell this item right now.
5. Furniture with a sense of design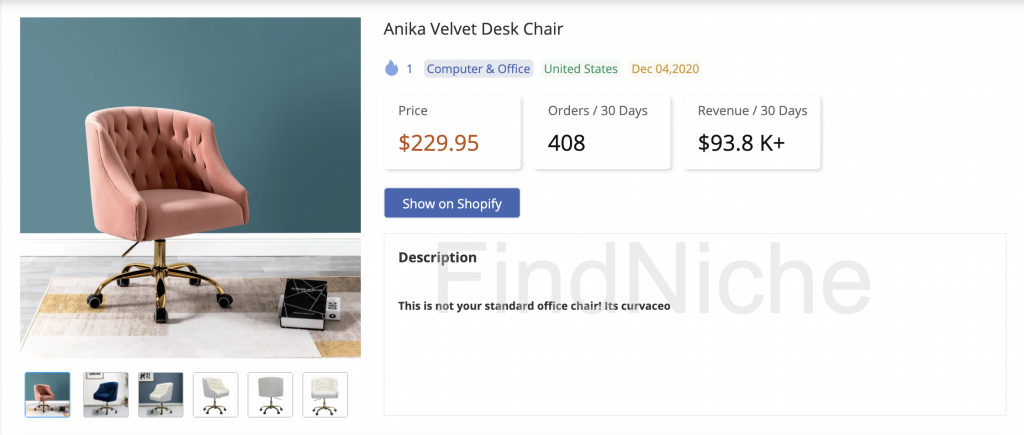 Beauty has value, and customers with a sense of taste and a love of life are willing to pay for furniture that is beautiful and artistic.
Conclution