Shopify vs Etsy:Which is more suitable for beginner?
Many beginners want to join e-commerce, but they don't know which platform to join, and even many Amazon sellers are considering it. Amazon's competition is getting bigger and bigger, so that many sellers' sales profits are getting less and less.
Shein, a Chinese company, has achieved great success in Shopify. In 2020, Shein has revenue of nearly $10 billion, and its valuation has exceeded $80 billion. It has replaced Amazon and has become the most downloaded shopping on iOS and Android platforms in the United States. It seems that the potential of Shopify is still very huge.
Etsy is an online store platform with the main feature of buying and selling handicraft products. It was compared with eBay and Amazon by the New York Times. It is not well-known for mainstream e-commerce websites, but it has a unique business perspective and diverse profit models. The products traded on the Etsy website are diverse, such as clothing, jewelry, toys, photography, household goods... It's just that these products have one thing in common. Prerequisite: original and manual. Therefore, Etsy gathers not ordinary people, but a large number of creative craftsmen and talented designers.
Both Etsy and Shopify are platforms for online sales, but these two platforms represent two very different ways of selling or reaching potential customers.
So, which platform is more suitable for developing your business? There may be no right or wrong answer. You need to determine which platform is more in line with your resources and business goals. In some cases, you may even sell on both platforms.
Shopify vs Etsy: Pros & Cons
Shopify Pros:
Through independent website domain names or APPs, you can continuously accumulate corporate brands, which can not only enhance the consumer trust of products, but also pave the way for the brand.
2、Achieve data security and value-added
Keep 100% of the data in your own hands to achieve data security and value-added. At present, third-party platforms only open part of the data, and many core user data are not open to sellers, but in Shopify, all data belongs to the company, except for In addition to controlling the security of the data, it can also realize the secondary development of the data and mine the value of the data.
High autonomy, avoid rule constraints, do not have to worry about changes in platform rules that will affect operations, and at the same time, through product design, the premium space of products can be increased.
The transaction commission cost is low, which reduces the transaction commission or annual fee paid to the third-party platform. At the same time, the service fee on the payment side is relatively small.
Shopify Cons:
While marketplaces such as Amazon, eBay, and Etsy have high search volume, customers don't know if a store was built on Shopify. They need to search for your site specifically. So your traffic is dependent on your own brand, marketing, and exposure.
Because Shopify has a lot of products, many sellers don't know what products they sell, nor can they query the sales of competitors' stores. If you want to know prices, profits, and traffic, you need to match product selection tools. Common operating tool is FindNiche. These tools can help you choose the right products, including: high-demand + low-competition products, high-return-on-investment products, and hot new products.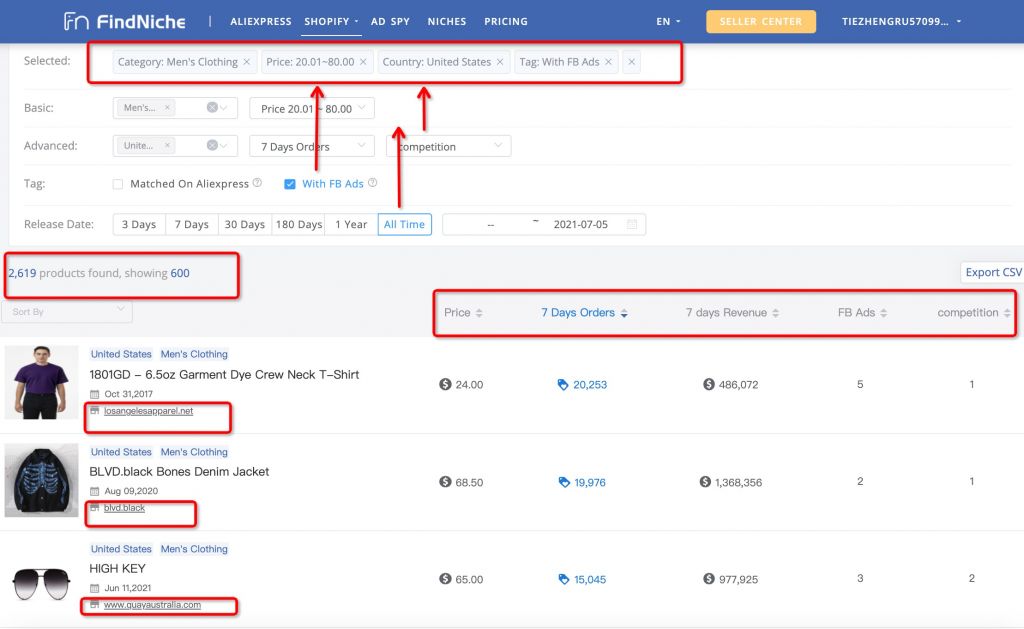 3、Need operational strength
Shopify needs to start from scratch. The consumer groups, the attributes of the platform, and the user's shopping experience, etc., are all designed by the company itself. The company needs to operate the platform as well as the products, which places very high requirements on the operation of the company.
Etsy Pros:
Just go to the official website and fill in the information as prompted. It should be noted that the platform's review of settled sellers is extremely strict and only accepts real handcrafters. The platform may ask you for a lot of manual processes to prove it. Therefore, if you are not a hand-producer, please don't recharge the account indiscriminately, so as to avoid the account being blocked and the loss is great.
Unlike Amazon's rules for optimizing keywords, Etsy has almost no skills at all. Sellers only need to pass on the product, and there is no follow-up. As long as the product itself is powerful, exquisite, and creative, the official platform will take the initiative to recommend it for you. Not afraid of no traffic, very suitable for novice novices to start.
You can sell on Etsy for no extra monthly charge on the Standard plan. You still have to pay listing fees and transaction fees, but you're not charged a monthly subscription unless you choose to upgrade..
Etsy Cons:
You pay a $0.20 listing fee, plus a 5% transaction fee on items you sell through Etsy. There's also a standard 3% + $0.25 payment processing fee. These fees can start to have an impact as your sales increase to larger amounts.
Etsy has firm rules about what you can sell through its marketplace. Etsy is only for handmade goods, craft supplies, and vintage items (which are more than 20 years old).
Etsy's format means you don't have freedom over the layout or branding of your product pages. You can enter your own logo but you can't create a strong brand image with Etsy.
Choose:Shopify & Etsy
The most difficult thing for Shopify is how to get user groups and traffic. But the premise is that you need a Shopify store. To successfully build a Shopify store, you need to choose products first. If you are a novice, it is best to check competitors' stores and hot-selling products. Search for your own products on Shopify's product,Shopify tool FindNiche can help you get informations.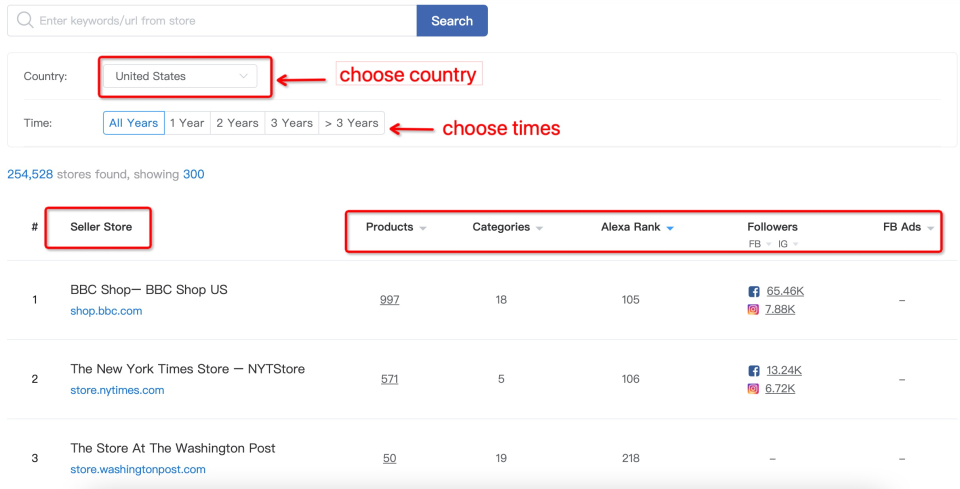 Now that we know a lot about both platforms, let's do a quick review of what we've compared so far:
1) Etsy is an online marketplace for artisanal products whereas, Shopify is an online store builder that's suitable for any business size or industry.
2) Etsy attracts 33 million customers to its online marketplace, whereas Shopify users need to build their own brand and drive their own website traffic.
3) Etsy doesn't have any monthly costs, but Shopify becomes more cost-effective once you start generating a higher monthly income.
4) Shopify has a more versatile toolkit and features.
5) Shopify's vastly more customizable and lets users design their own brand.
6) Shopify boasts 24/7 live chat and phone support, superior to Etsy's less flexible customer care system.
7) Shopify has more payment options to choose from.
8) Shopify allows you to use your own web domain, whereas your Etsy store will always be a subdomain of Etsy.
As we said, if you're simply counting the benefits and functionality, Shopify wins the comparison hands down. But not everyone has the money to invest nearly $30 a month when they first launch their business, nor the time to make use of all the customization and features Shopify has to offer.
Shopify is an exceedingly scalable platform, so if you're a growing or a larger business, it makes sense to use this solution. But as we've previously highlighted, there are many good reasons why a smaller seller might wish to use Etsy.
Conclusion:Shopify vs Etsy
Shopify and Etsy may seem similar at first, but they're very different selling platforms. This article has looked at the key differences between them, and what that makes them good for.
Shopify provides everything your business needs to succeed. It has powerful sales tools, scalable plans, and no limits on what you can sell. On the other hand, Etsy comes with product restrictions and basic features. Still, it's simpler and cheaper, making it better for small-scale sellers with a niche.
The cost of Shopify itself is a little higher than that of Etsy, and it is more difficult to operate. But he is very suitable for small and medium enterprises, and independent user groups, as long as you spend time and energy to actively find matching users and markets, you can get good results.
Etsy is more suitable for individual, small-scale sellers' market. To sell products on Etsy, they need to write their product information in a storytelling way to make their products more humane. The description of the product is an effort, but it is also very meaningful.
Overall, Shopify and Etsy are both good sales platforms. If you want to choose a platform with greater development potential, Shopify is more suitable for you. If you sell some homemade products every month, Etsy is your best choice.