12 Best Summer Products to Sell In 2021—-FindNiche
Summer is right at the corner! Are you in search of the best summer products to sell in 2021? I've got for you something you won't want to miss!
Undoubtedly, the summer season is the best time to hit the market with some evergreen products for a steady trickle of sales all through. Trust us, this is a possibility!
Summer is a season everyone looks forward to. Interestingly, families and friends spend time together outside enjoying the long and sunny days. Many others sit outside to enjoy the warm temperature even after sunset at night.
It's time to get your store ready with the best seasonal products since many start their shopping sprees ahead of the season.
But yet, with so many products available for sale in the market, finding the best summer products to sell can be an arduous task.
The following are the features of hot selling summer products:
¶ Heat-proof; products that prevent the body from the sauna-like temperatures of summer will go a long way this season.
¶ The warm effect; people need things to stay cool despite the melting summer heat. Products in this category are in high demand during the summer.
¶ High monthly search; hot selling summer products have over 100,000 monthly searches all through the season.
¶ Enjoyable outdoor experience; products that make the outdoor experience a one-and-again adventure hits the peak of Google Trends all through the summer.
You need to know how to select potential summer products. Thanks to technological advancement; you can have at your fingertips a list of top summer products to sell in a twinkle of an eye.
Having the best niche search tool.
Are you guessing where to start? Find high-converting products to sell this summer with FindNiche.
Nonetheless, I have compiled a list of the 12 best summer products to sell in 2021. From popular outdoor items like summer canopy to summer heat neutralizers like the USB pocket foldable fan, and more. We've got for you the hottest selection your prospects can't resist.
12 Trending Summer Products to Sell In 2021
1. USB Pocket Foldable Fan
Products that tend to minimize the daunting effect of summer heat will generate a stream of capital for any store this summer.
Here is the combo – the USB pocket foldable fan

Aside from the cooling effect this fan offers, the hand-free comfort makes it a sort after product.
Interestingly, it features no remote control function and no maximum timing limit. These characteristics make this product a perfect fit for anyone this summer. Besides, its upgraded compact folding design which allows blades to be automatically folded when not in use makes it a top-notch spec.
This USB pocket foldable fan has a 7-day revenue of $6,141 at $15.95 per product. Also, it has a 7-day order volume of 385 which validates its uniqueness.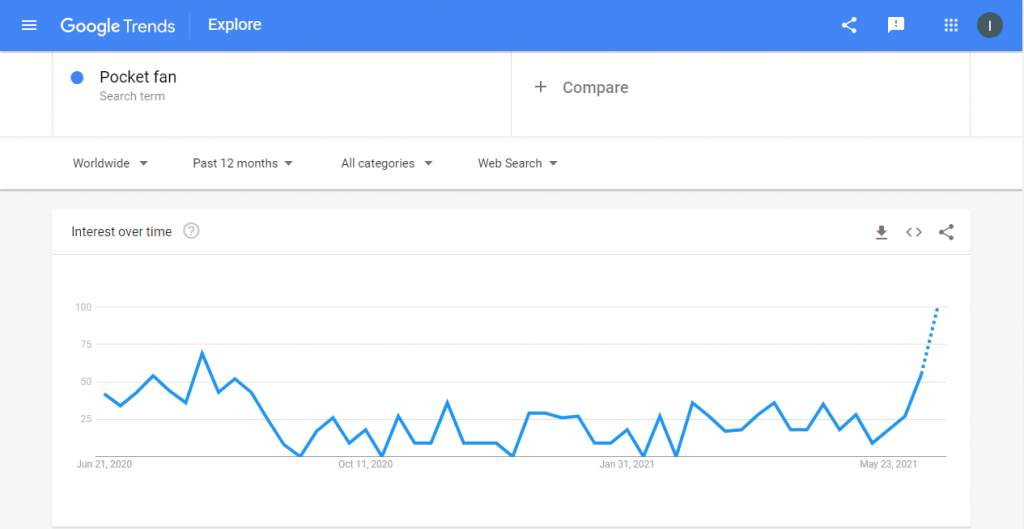 Further, according to Google Trends, there has been a steady rise in portable fan searches in recent times. Pair your store with this trending product, and be sure to have the perfect recipe for success.
2. High-waist Bikini Swimwear
Pool days, beach getaways, at-home sunbathing sessions; are the words that fill the atmosphere all through summer.
Ideally, it's time for your customers to get their classic swimwear. Yet, with the reinvention of the high-waist bikini swimwear with a classic look by swimwear labels, you can be sure this product is here to stay. Besides, the product came into the limelight after internet celebrity - Kim Kardashian lit up the internet with this style.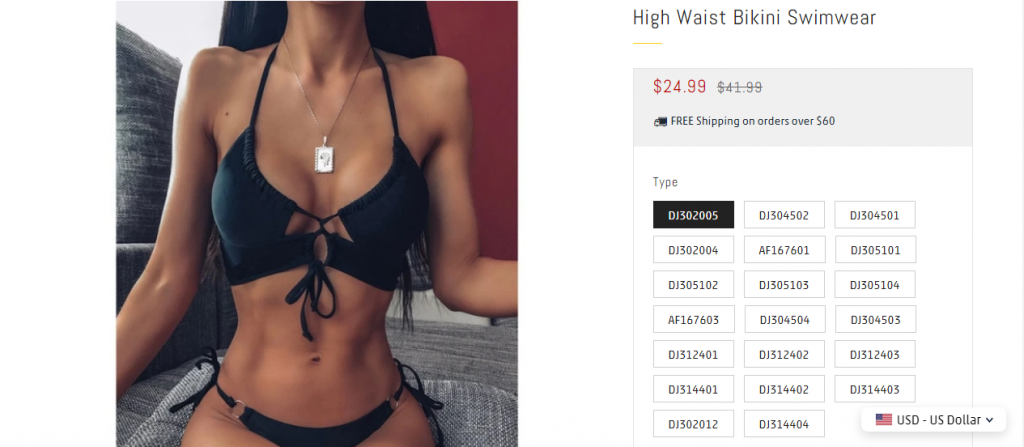 This swimwear comes as low as $24.99. Interestingly, it has a 7-day order of 746 and a 7-day revenue of $18,643.
What are you waiting for?
Check out the Google Trends analysis of this product below:

Give your customers what they want and skyrocket your store.
3. Backless Top
To get rid of the summer heat, females need to wear tops that aid proper body ventilation. Essentially, crop tops or backless tops are the best fit to enhance this.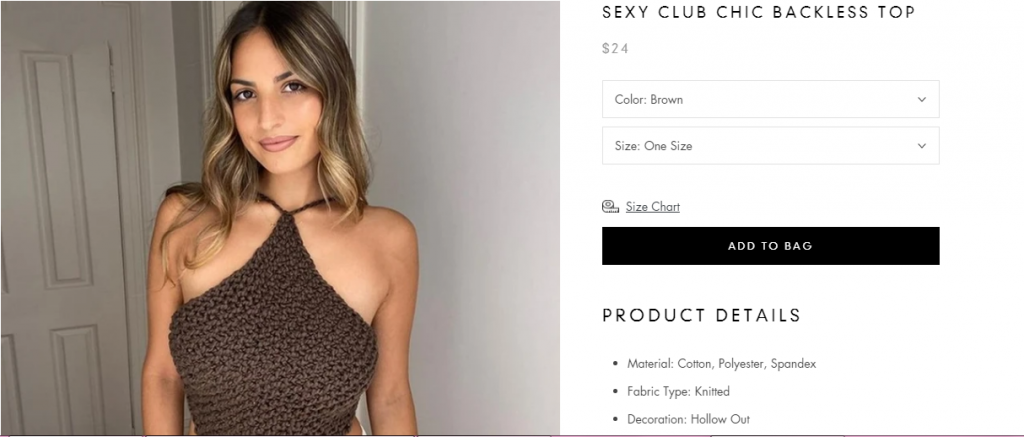 In particular, a recent search for backless top on Google rose by 50%. Summer is approaching – you should expect an increase in these statistics.
Importantly, backless tops feature an overall short length, a stylish stitch pattern, and an enhancing fashion statement. Besides, it is made of cotton, polyester, and spandex for an air-free experience.
Furthermore, its price is as low as $24 with a 7-day order of 2,485. Amazingly, the 7-day revenue for this summer product is $59,640. Trust us, this is the new favorite for all the new-gen girls and youth this summer.

4. Inflatable Swimming Floating Hammock
Summer calls for a soothing beach experience and nothing can be better as spending those awesome experiences in a classic hammock. Besides, this keeps you cool during the bad summer heat.
Additionally, hammocks have reserved an unquestionable place in the market due to their innumerable advantages. It can be placed in the pool to sit or lay on it for an optimum spectacular experience.

Besides, everyone wants to stay off the oppressive summer heat. Hammocks make it easy to float on the water well and do not require a pre-knowledge of swimming. This sturdy, lightweight, non-fading, and durable product is perfect for summer to enjoy the pools and lakes.

In particular, hammock search on Google had an increase of 38% between March and June.
Additionally, the inflatable swimming floating hammock features a price as low as $19.99 and a 7-day order of 1,880. Also, this product has a 7-day revenue of $37,562. Undoubtedly, this shows to be a perfect product to sell for the season.
5. Women Sun Hat
No one stands comfortable under the scorching summer sun – it can bake one's skin. Sun hats act as a natural barrier to this. Besides, this summer product is absurdly stylish and perpetually classic which makes it a beautiful product to have in your store this summer.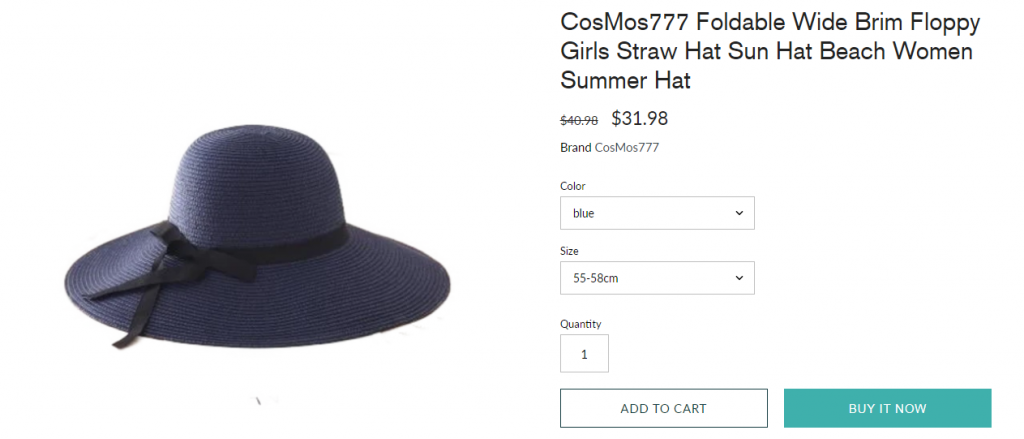 Furthermore, this hat gives your customers an option of colors. Besides, it features straw as its unique material and a floral pattern type which adds to the elegance and beauty of ladies.
Interestingly, celebrities of both yesterday and today wear it both out and about – it adds a sexy stylishness to their ensemble. In addition, this product has a brand price of $31.98 and a 7-day order of 306. In addition, it has a 7-day revenue of $6,993 which makes it unique among other summer products.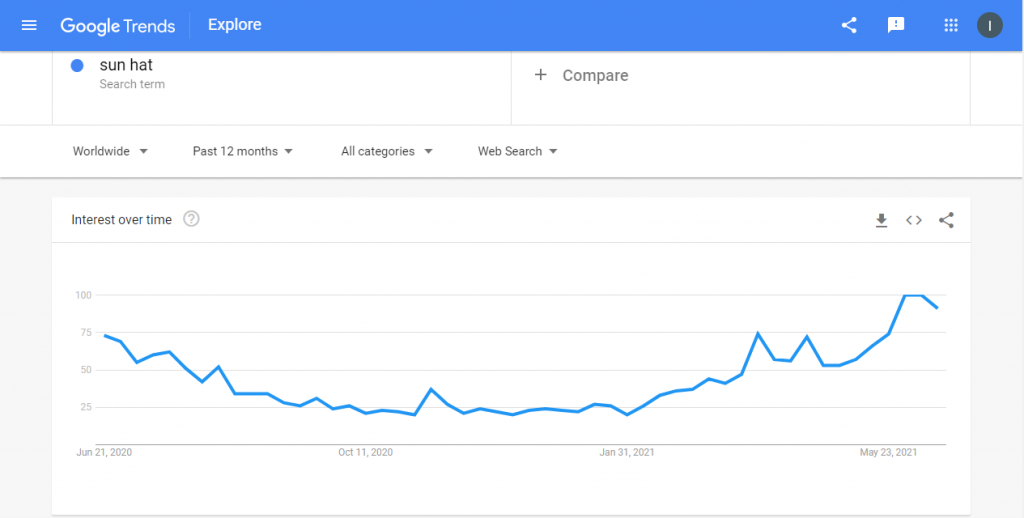 Most importantly, the skyrocketing increase in searches for sun hats validates this summer product to land you some sweet dollars
6. Women Summer Sandal
After months of toggling between sneakers, snow boots, and soft house slippers, it's time for the feet to get some much-needed sun. Frequent travelers will surely desire a pair of classic sandals for their road trips, weekend getaways, and a trip to the beach.

Maximize this season's sales with this promising summer product.
This sandal features a slip-on closure type and a PU insole and lining material. Furthermore, it has a solid pattern type and an open-side vamp type. In addition, it has a 7-day order volume of 679 at $18.98 per pair. Besides, this summer product has a 7-day revenue of $10,850.
Most importantly, with an increase in searches for summer sandals in the last three months, this product promises to yield massive sales to your store.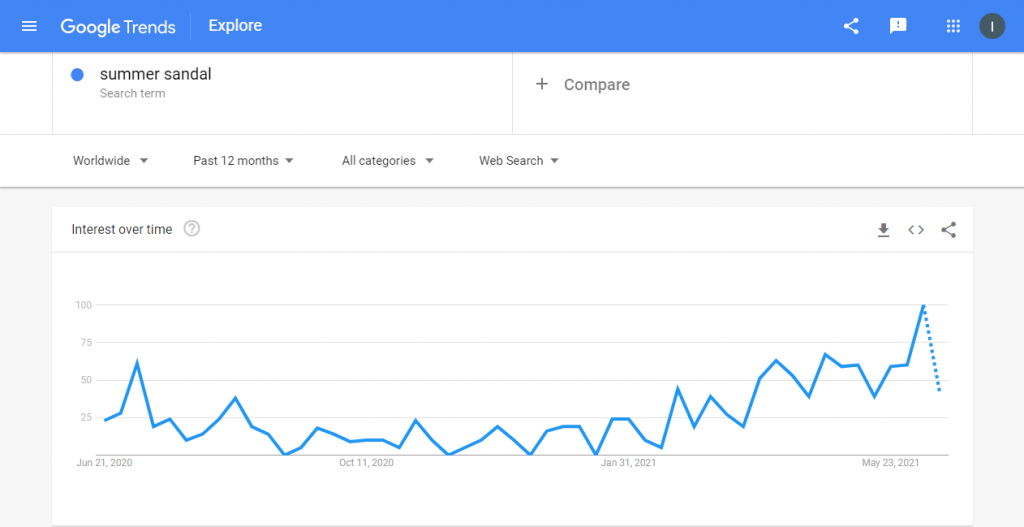 7. Car Magnetic Sun Shade
The summer comes with intense sun rays that give every individual a second thought for their trips. More so, everyone finds it frustrating to sit in a boiling-hot car - this is where the car's magnetic sunshade comes around.
Interestingly, you can increase your store's net sales by selling this intriguing product.
These shades effectively prevent the ultraviolet rays of summer sunlight but don't disrupt the view of the scenery outside the car.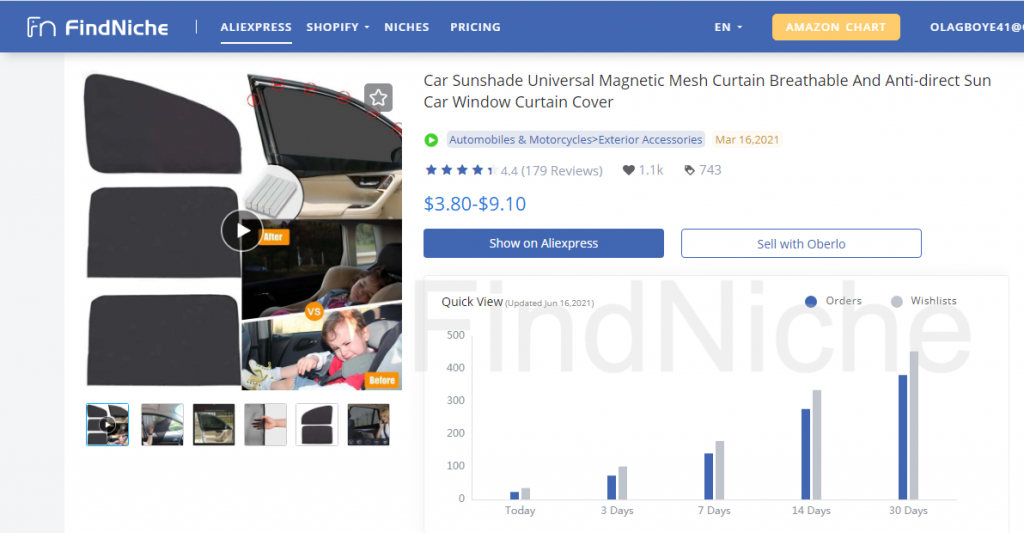 Importantly, this shade features high-quality breathable elastic mesh material that prevents the direct effect of sun rays on the skin. Besides, the sunshade is easy to install and remove from the car window. Most importantly, the magnetic sunshade is installed at the exterior of the car door which makes it easy to raise or roll down the window.
The sunshade has a price range of $3.80 - $9.10 and a 7-day order volume of 180. Ultimately, this is a perfect summer product that will keep the capital rolling into your store.
In particular, magnetic car sunshade shows a steady demand and search on google, which means they're not just a fad, but a hit!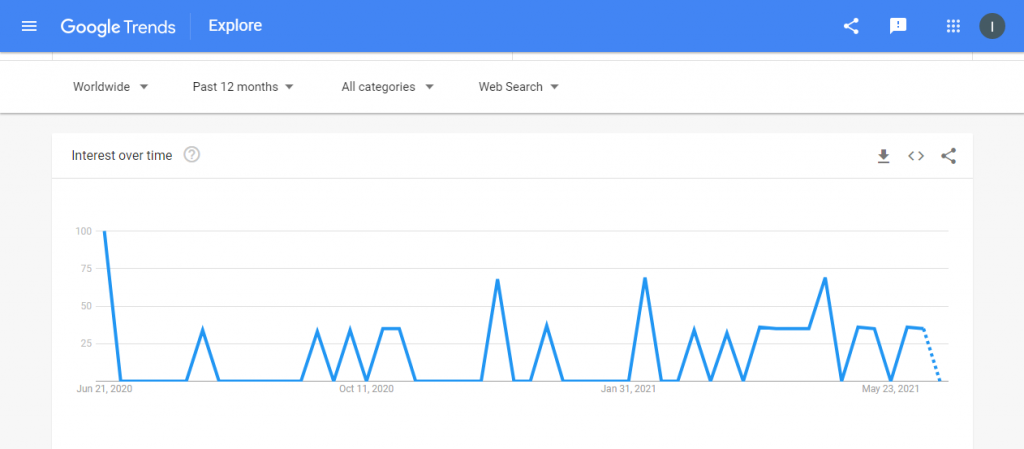 8. Summer Canopy
Summer is the best time for families and friends to hang outside comfortably. Make your customers' summer outdoor experience a memorable one by offering them this special UV protection canopy.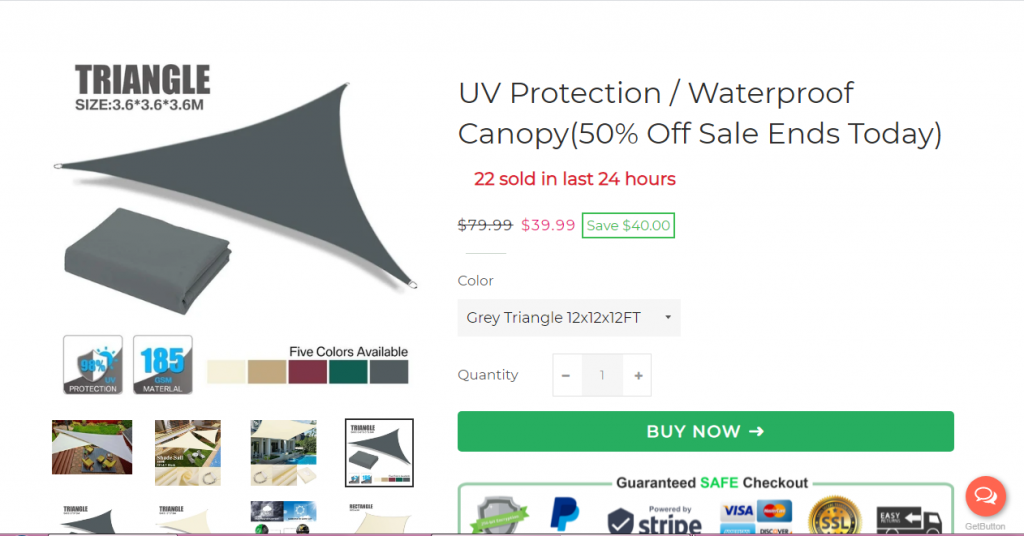 This unique sunshade allows your customers to enjoy the outdoors in their garden, backyard, pergola, swimming pool, and more without burning them to a crisp under the sun. This canopy blocks up to 90% of harmful UV rays thereby preventing the direct effect of the sun rays.
In addition, the canopy features an irresistible curved design and a high-quality material that will automatically glue your customers.
Amazingly, it has a 7-day revenue of $272,852 and a 7-day order volume of 7.798. Besides, it comes with a price as low as $34.99 which makes it an all-in-one summer product.
Additionally, Google Trends analysis postulates an increase in search for this keyword - summer canopy, in a few months.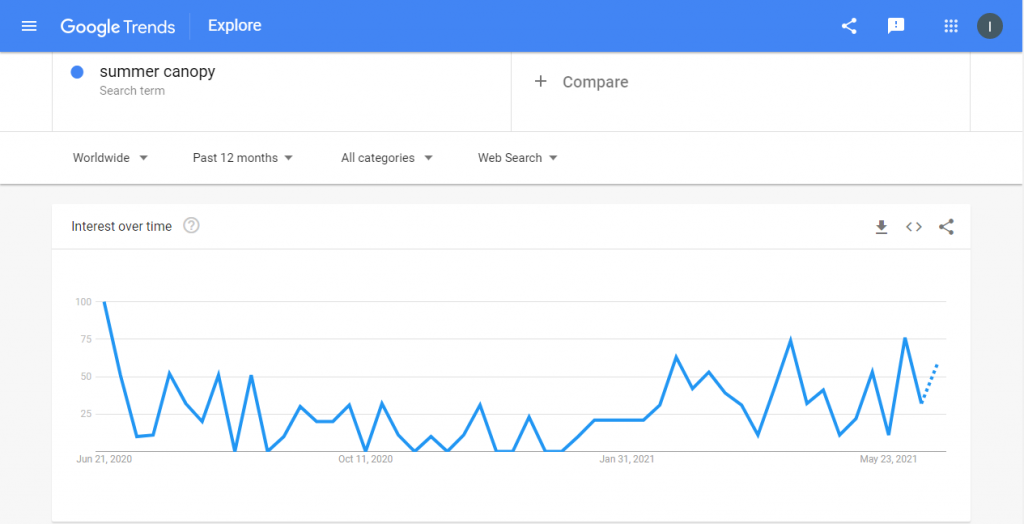 9. Waterproof Bluetooth Speaker
Here is another product you can offer to your customers for a rare outdoor experience – waterproof Bluetooth speakers.
Trip to pools and lakes will be the order of the day during summer. Besides, family members spend most of their time outside at night. Therefore, a classic Bluetooth speaker will make their experience a once-and-again. Check out this unique Bluetooth speaker from one of our suppliers.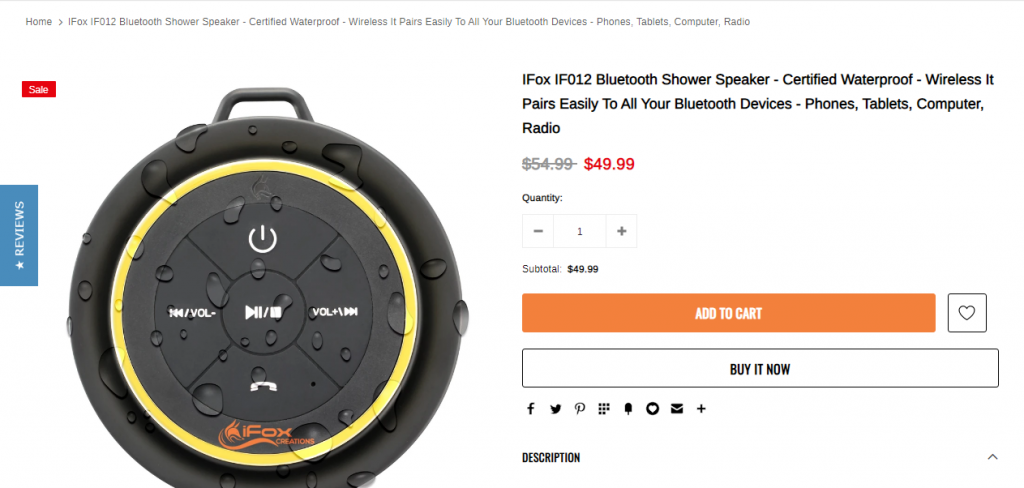 This speaker is 100% waterproof even when fully immersed in water up to 3 feet. Besides, it features 5 watts of power output which gives it fantastic sound quality. Also, this speaker connects with Bluetooth devices in less than 6 seconds at a 33-foot connection range.
Importantly, this Bluetooth speaker has a battery life that lasts up to 10 hours and can be recharged in 3 hours. Either at the pool or beach, your customers can enjoy the thrilling effect of this special speaker.
Besides, according to a report by Marketwatch, the global Waterproof Bluetooth Speakers market is valued at 612.8 million USD in 2020 is expected to reach 1458.9 million USD by the end of 2026, growing at a CAGR of 13.0% during 2021-2026. You can scale your store's net sales with this promising summer product.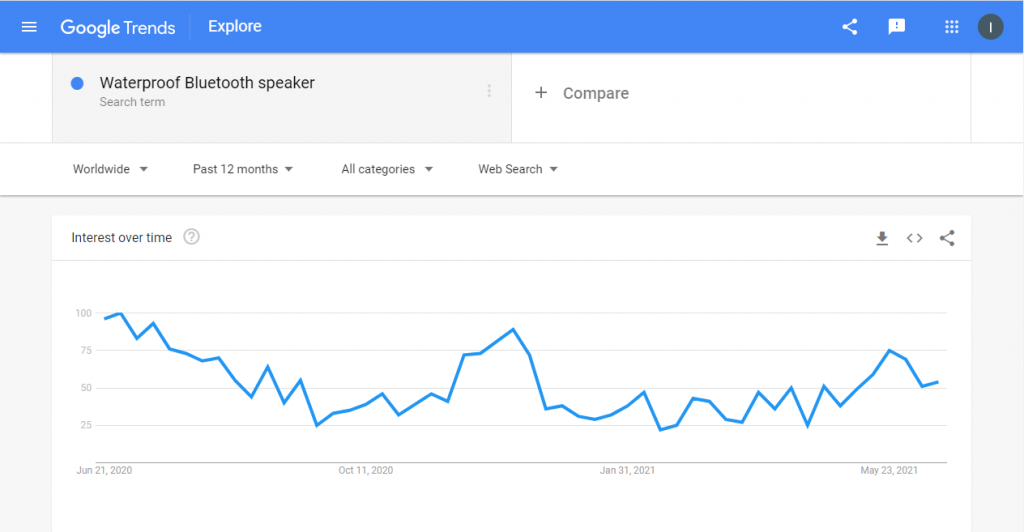 Further, the Bluetooth shower speaker has a 7-day order volume of 1,746 and a 7-day revenue of $87.283. Also, it can be purchased at $49.99 per product.
10. Outdoor Air Mat
A comfortable mat with a cozy pillow under a perfect sunshade will create an unforgettable experience at the pool, beach, or garden. This summer, this special air mat which features a pillow will create a sound sleep experience while still enjoying the beautiful backcountry environment.

Interestingly, this air mat will be a unique add-up to your store among other summer products.
Majorly, this mat is made out of 40D fabric and TPU coating. In particular, its TPU coating feature makes it reflect heat from the sun for warmth. Besides, the product's cubed surface design fits the body's natural curves which prevent the stone-like feeling while sleeping.
In addition, the outdoor air camping mat has a 7-day order volume of 1,121 at $34.95 per product. Also, this product has a 7-day revenue of $39,179 which makes it a great product to sell this summer.
Furthermore, Google Trends analysis shows an increase in search for an outdoor mat in recent months. You can be sure of optimum sales this summer.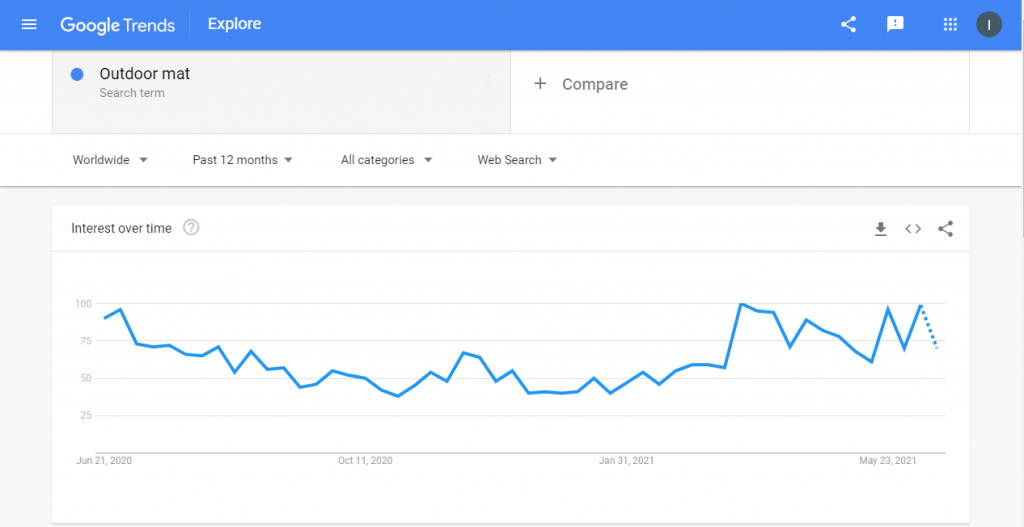 11. Baby Water Mat
The summer season calls for warmth. Products that offer this cooling effect are the hottest and most craved for. Among others, baby water mat is another rare summer product to sell this season with a promising outcome.
The baby water mat offers babies a perfect time activity with water without getting wet. Importantly, babies can enjoy a soothing experience in the sun with this wonderful play mat.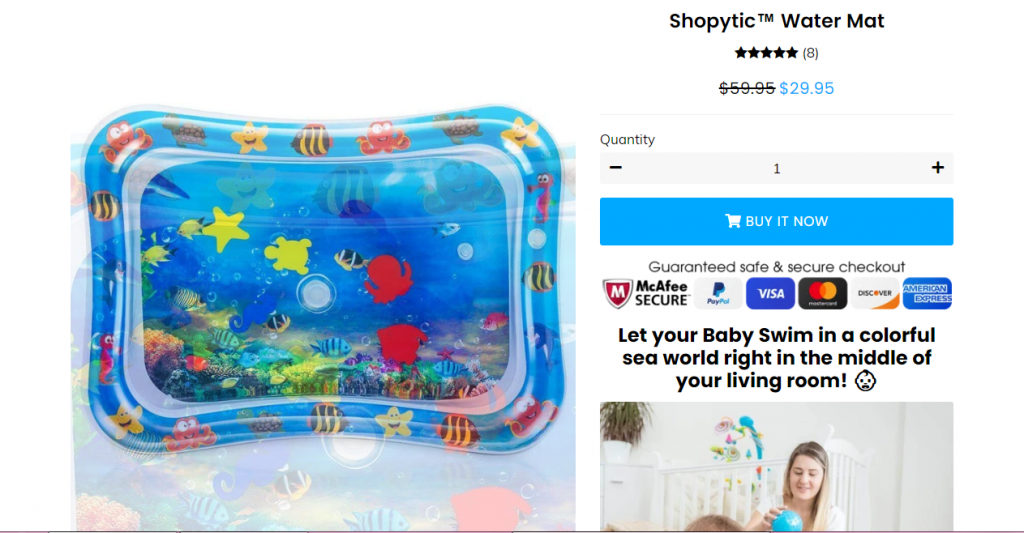 Additionally, the mat features eye-catching graphics with bright colors and cute floating toys. At the peak of the summer heat, this baby splash pad provides babies hours of quality stimulating and healthy fun.
Also, this product comes at a discounted price of $29.95 with a 7-day order volume of 2,978. Again, it has a 7-day revenue of $89,191.
Besides, recent search analysis of baby water mat shows an increase in daily search. Undoubtedly, this will be a special addition to your store this summer for maximum returns.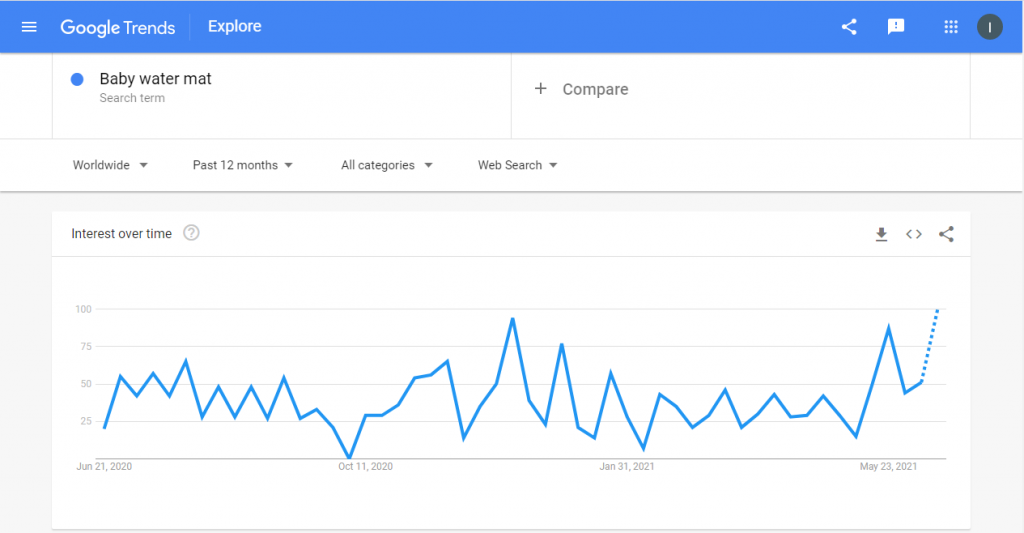 12. Drinking Bottle
Drinking bottles always make a comeback around this season. With the weather heating up and the sweaters being put away, people are itching for a glass of water to soothe their thirst. This classic product promises to bring you sales and happy customers.
The drinking bottle is an eye-catcher and a perfect companion this summer. Also, it has a 7-day order volume of 1,940 at $23.19 per bottle. Besides, this glass-made drinking bottle has a 7-day revenue of $44,989.
Furthermore, analysis from Google Trends shows this product to yield massive sales this summer. Recent searches for the keyword drinking bottle show an increase in the last few months.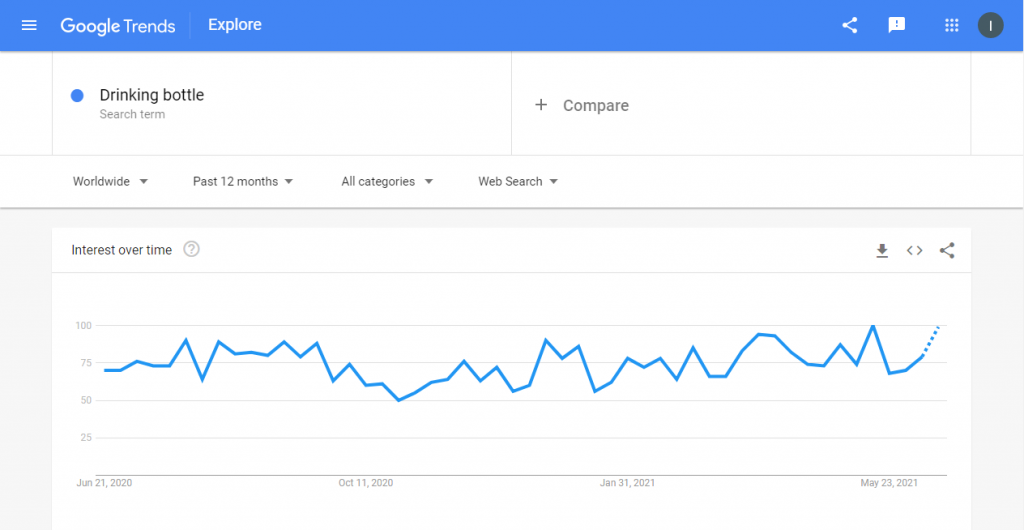 Undoubtedly, you have at your fingertips killer summer products to sell – it's time to get marketing.
Don't forget, summer products are seasonal yet you can't go wrong cashing in those desired dollars with any of the goodies listed above. But before you dive into sales, are you in search of a website extension to help you find high-converting products? Try FindNiche today!
You can be sure to find summer products that will bring happy customers and generate mind-blowing sales to your store.