Newbie Friendly: Dropshipping Hacks for Product Research!
Dropshipping is a way to sell items online without having to keep them in stock. Instead, sellers can use a third-party vendor to ship directly to their customers.
With the dropshipping model, sellers do not have to pay expensive costs for inventory and do not have to be in contact with the products they sell; they are only responsible for product selection and marketing.
Dropshipping allows you to launch a new e-commerce business or introduce a new product line without having to invest thousands of dollars in inventory upfront. You have the freedom to test market demand and change product selection if a product is not performing well without having to worry about inventory buildup. You can also keep up with retail trends without having to worry about stagnant inventory once demand cools.
Dropshipping sellers typically source products by purchasing them at low prices on Alibaba or Global Express. They then sell them on Amazon, eBay, or independent sites to make a profit.
How do I start a dropshipping business?
There are two main ways to run a dropshipping business.
1. Operating within a shipping program through, for example, a major e-commerce platform like Amazon
2. Working with a trusted supplier who ships directly from their inventory but sells through your independent site or social media.
Finding Dropshipping Niche Products
The success or failure of a dropshipping business depends on product selection.
Trends come and go, and it's easy to get on the "bandwagon" of the latest trend. However, if you want to earn a steady income over time, you need to offer a more diverse sales mix. Sometimes finding the right niche and sticking to it is the right strategy.
Product research is critical to finding products that are in demand and will generate high sales. You also need to select products that have relatively low competition and can be appropriately priced. Picking the most popular products currently available may seem like a successful strategy, but in a crowded market where competition is fierce, smaller retailers' product margins will be squeezed even more.
What are you looking for when you look for dropshipping products?
When considering which dropshipping products to sell, it's never a good idea to choose products based solely on personal preference or gut feeling.
The world of dropshipping is highly competitive and changing rapidly. To compete with existing sellers, you need to conduct thorough product research and analyze existing sales data. If you want to stand out from the competition, guessing is not enough.
Popular dropshipping products tend to be impulse buys.
Impulse shopping products are usually very cheap. Most consumers can afford it without having to wonder if the item is worth the money or if they need it. For more expensive items, people tend to do more extensive research and take the time to shop around before making a decision.
How to choose the right Dropshipping product?
Dropshipping products are divided into two categories:
colorful, eye-catching, and interesting toys (slime toys are a popular trend in 2019).
"magic tools" for consumers to solve everyday problems (such as lazy neck phone holders).
If you promote dropshipping products through social media channels, it's also important to remember that people don't usually buy everyday household items on Facebook or Instagram. People like to look for eye-catching, clever, and interesting products on social media that start conversations and appear in feeds to get people's attention. Such products are also shared on social media, and if you can find a way to tell your product's story, your ad will spread quickly.
Entertainment products that can be used for practical purposes combine these two key categories and are more likely to be winners. An example is clear plastic shoe covers, which look trendy but also protect expensive shoes from rain damage.
The product may also be seasonal; for example, you'll sell more shoe covers in the rainy season, but few in the dry season.
You may also want to consider unique products that are not available in local stores. People often use the Internet to search for products they can't find locally. If something is hard to get in brick-and-mortar stores, but also in high demand, then it is an ideal dropshipping product.
An online search for the top 10 most popular dropshipping products in 2020 will yield mixed results. However, you will find that all of the products listed share one or more of the following characteristics: cheap, solves a consumer pain point, new, unusual, compelling, or only available online.
1. Play slime (slime toys)
2. Mobile phone neck holder (neck phone holder)
3. Magnetic/wireless phone chargers (magnetic/wireless chargers)
4. Waterproof mobile phone cases (waterproof cell phone cases)
5. Car phone holder ( car phone holder )
6. Posture corrector (posture corrector)
7. Portable blender (portable blender)
8. Spider nail gel, for customizing nail designs at home (spider nail gel, for customizing nail designs at home)
9. Eyeshadow stamp (eye shadow aids)
10. Inflatable pet collar (inflatable pet headcover)
How to make a great dropshipping selection?
You can get inspiration and useful information by browsing the hottest selling products on popular e-commerce sites like Shopify and Global Express, or you can use product research tools to analyze products to show which ones have the greatest dropshipping potential.
High-priced products and low-priced products
The difference between a high-priced product and a low-priced product is simple: a low-priced product is simply an inexpensive item, such as a pen or a cup, that does not bring huge profits to the seller. A higher-priced product such as furniture sells for a higher price and offers a higher return to the retailer (but also a higher risk).
When conducting a dropshipping business, it's best to focus on selling lower-priced products because customers are more likely to impulse buy these products, which means your sales and profits should be higher.
When buying higher-priced products, buyers need more time to make decisions and more support from you, which means you will spend more time dealing with customer inquiries, and this information will not necessarily lead to sales. Consumers also need to build trust with the retailer before placing an order, and they may prefer to visit a physical store and experience it in person before buying a higher-priced product.
Lower-priced products take less risk and are a smarter choice for dropshippers, especially for a new seller.
Dropshipping tools, software, and websites
Niche scraper is a powerful dropshipping and product research robot. It replaces the need to do a lot of manual research on a product and only come up with some incidental results. Instead, it will provide you with specific sales data to help you make decisions and even monitor your competitors.
Google Trends is a free service provided by Google that shows you the latest trending search topics. If you are ready to do some in-depth research, the total global search volume for the selected words will reveal a lot of interesting dropshipping businesses.
Camel Camel Camel is an Amazon price tracking site that will alert you to price drops on millions of products on the site. It was voted by Lifehacker readers as the most popular price tracking tool in 2019, allowing you to track price changes in real-time via RSS feeds.
DS Comparison is a website that allows you to compare dropshipping software to decide which tool is best for your individual needs.
FindNiche is a professional selection research tool. This tool can recommend niche items for you daily through powerful AI algorithms. FindNiche also has a huge library of AliExpress & Shopify products and professional product analysis to provide professional advice for your dropshipping selection.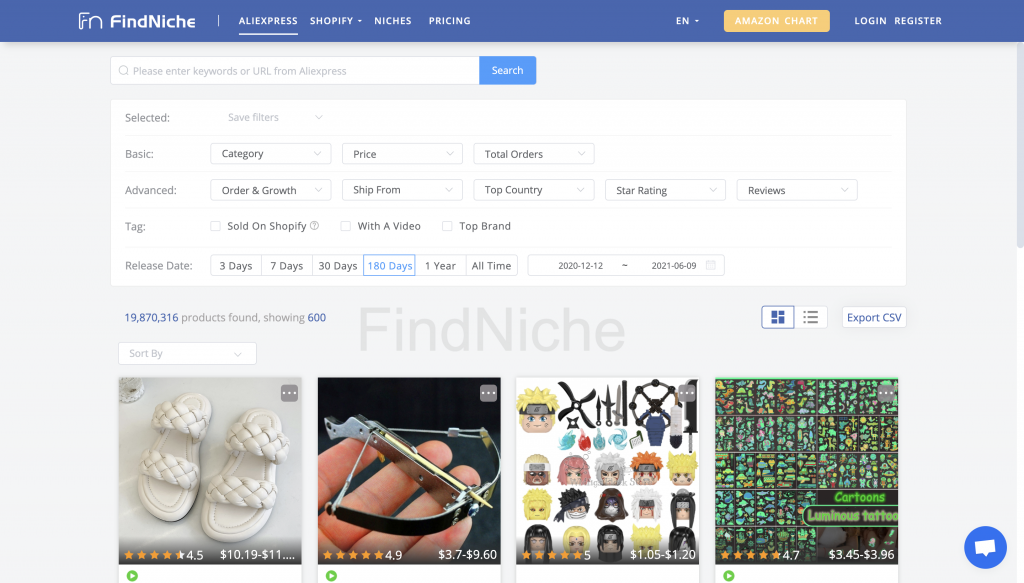 In addition, FindNiche has more than 20 filters, which can be very convenient and accurate to find the products you want. For example, potential pop-up items, high demand, fast growth, etc., you can be one step ahead of others.
7. What Dropshipping Products Should I Avoid?
When researching the ideal dropshipping products to sell, there are some products that must be carefully avoided.
First, avoid products that are difficult to advertise. For example, Facebook prohibits ads that contain adult toys. The lack of pin marketing opportunities will result in fewer sales. Therefore, choose those items that are suitable for young and old alike.
Amazon also has some restrictions on what you can sell, the categories and products that need to be approved to be listed. eBay also has some restrictions, but they are not as strict. Before choosing products for your dropshipping business, make sure you have checked this adequately.
8. Don't forget to control overhead
This may seem obvious, but it is important to avoid wholesale expensive products. This will require you to add a huge markup to make a significant profit. Remember to include shipping costs in your costs. A good rule of thumb is to avoid products that cost more than $15-$20 wholesale.
It is best to avoid large or bulky products. Many dropshipping (including FBA) charges based on shipping costs, which means larger products are charged a higher fee. Since you need to add shipping costs to the price of the product, it is also wise to choose small and lightweight products on top of that to keep costs as low as possible for your customers.
Finally, you should make sure that the products you sell in this market are not so "rare". For example, a variety of different dog breeds will appeal to a broader market than just Labrador or Chihuahua pins. You should also research the most popular breeds, as if only a few people like a particular breed of dog, the chances of selling a large number of related products are very low.