Dropshipping Without Shopify: Is It Possible? – Shopify Alternative Recommendations
Dropshipping without Shopify: Is it possible? - Shopify Alternative Recommendations
Hi you all, I'm Mary, 28. I've dropshipped for about 1 year and a half. You can get to know me better if you read my dropshipping case study. So far, fortunately, I've got some "tiny" success from dropshipping, which I find really proud & happy.
But above all, it feels like sharing & supporting people with dropshipping makes me way happier than just bragging about my 6-figure revenue or something like that. It's why this article exists here and now.
Back to the topic, I used to be in your shoes so I know how difficult it is to work on the step of choosing a dropshipping platform for your dream business. It's simply because there are millions of "gurus" out there who keep saying about "helping you build a high-converting dropshipping shopify website" or something like that.
Yes. Some people may choose to consult them. But some others (including you possibly) might get confused. You may be questioning yourself:
Does it have to be Shopify? Or is dropshipping without Shopify possible?
If yes, what are some Shopify alternatives?
Is dropshipping without Shopify possible?
Yes. (Sorry - The answer seems too obvious.)
To many people, especially newbies, Shopify is the first thing they've heard of when it comes to dropshipping. It's an excellent platform - there's no doubt. Shopify comes with a lot of features and third-party apps (free & paid).
But do you know why I have to add the "free & paid" in the paragraph above? - It's of course not some random words I chose for my article. (Just kidding). Actually, by "free & paid" I mean the reliance of Shopify users on third-party apps which they have to pay to use. According to some research, each Shopify user has to use up to 20 apps to get their site up and running well enough to bring them revenue, which could cost nearly $20,000 per year.
So if you are together with Shopify for longer than 1 year, you must know the reason why so many people have been searching for the keywords like "dropshipping without Shopify" or "Shopify alternative". And I bet they might have reached some solutions for this, such as BigCommerce, Wix, or WooCommerce.
What is the best alternative for Shopify?
It appears that those names (BigCommerce, Wix, or WooCommerce) are too familiar to be mentioned here again. I would say that those ecommerce platforms are excellent too, just like Shopify or even better.
But if you are really after a dropshipping-dedicated platform to base your business on, based on my experience, I will recommend this new, rising platform - ShopBase.
Built-in, free features & apps
You don't need to rely on third-party apps to build and operate your dropshipping business. All important apps required for creating a dropshipping website have been already developed by ShopBase and integrated into your shopbase store in the form of built-in features. The other apps to help boost your dropshipping revenue (which you can find on the Shopify store) are now optional & free to use on ShopBase.
Boost Upsell app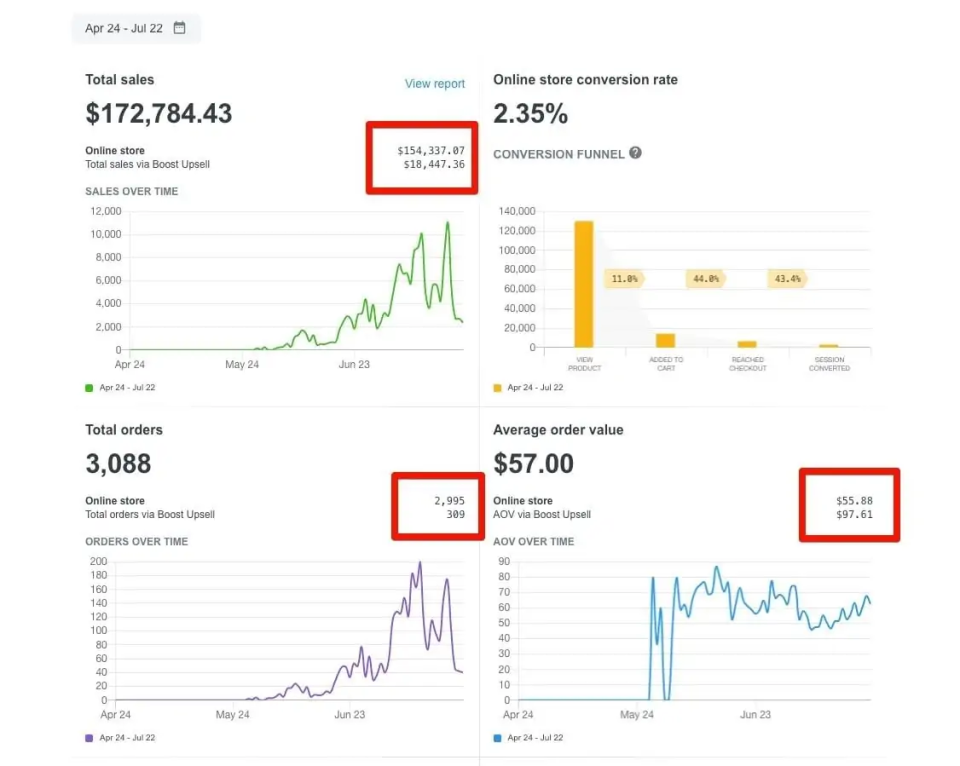 The Boost Upsell app of ShopBase has helped increase my revenue by nearly 10%. It performs different marketing activities that push my customers to spend more than they were supposed to.
In fact, this app works really well with the customers who have the willingness to pay. However, there are also a lot of others who just go in then out from my store without making any sales.
Just so you know, this is called cart abandonment and according to Baymard, the cart abandonment rate for the average online store is 69.23% . That's a huge loss in revenue.
However, with ShopBase's Abandoned Cart Recovery app, I can increase the recovery rate by 18%, leading to a 10% increase in the total revenue of my store.
The activities the app will perform for you are to send messages to your customers via phone or email, to show exit-intent pop-ups, etc.
Why get less for the same prices?
At a quick glance, ShopBase and Shopify are similar. However, once you have to pay the cost of third-party apps, it's obvious why so many dropshippers prefer ShopBase.
Basic plans: $19
Standard plan: $59
Pro plan: $249
Basic plan $29.00
Shopify plan $79.00
Advanced Plan $299.00
Shopify has limited support for options and variants
Shopify supports up to 3 drop down menu options per product with a cap of 100 variants. If the number of variants of your product exceeds this limit, you'll need third-party apps. And now it is added complexity in inventory tracking and product data management that you'll have to deal with.
ShopBase supports up to 250 variants - 2.5 times more than Shopify does. And as simple as it sounds, problem solved.
ShopBase offers more than just an active community
Don't know what to sell? Get winning product lists monthly.
If you're a dropshipper, you must know how difficult it is to have a list of trending & winning products in your hand. However, it turns out to be a piece of cake when you sell with ShopBase.
Every month, you'll be updated by the team with a list of 20+ must-sell items together with product copy, ads materials & suggested suppliers. And your task is just to find the right way to bring it to your customers.
Feel free to request new features and sign up for betas and test
ShopBase has a hub to receive users' feature requests called ShopBase Ideas.
By using this hub, you can submit your feature requests to the team and check if other users have the same requests as yours. Those requests will be reviewed and updated with the development progress. This allows you to get updates to and follow the features that are important to you.
Shopify themes and ShopBase themes? Which is better?
There are 12 free templates in the ShopBase template library, more than Shopify (9) but less than Wix.
Overall, ShopBase stays on top of offering free, premium-quality, and in-demand templates for dropshipping, in which each one is already verified to bring the highest conversion rate possible and designed for a specific niche exclusively.
On Shopify, you will have to pay from $100 to $180 for each high-converting, responsive website template like below.
ShopBase dropshipping template for women clothes niche
ShopBase dropshipping template for sports niche (mobile-friendly version)
In addition to pre-made templates, ShopBase offers 4 different themes and allows users to customize every element of them according to their preferences.
With the Preview feature, ShopBase users can preview all the changes they make to their website before they publish it.
ShopBase includes world-class customer support
No other dropshipping platform has the in-house customer support service of ShopBase. The platform offers onboarding teams of 50 people to help you migrate and launch your business with ease, as well as 24/7 chat, email and phone call support for technical issues, and a dedicated team focused on helping you grow your business.
When it comes to customer support, ShopBase has a wait time of less than 3 minutes on average to speak to a customer support representative with 98% of calls resolved on the first call.
Last words
To all my readers, if you are indeed seaking for my advice, I'll share this one last thing:
I've shared all my accumulated advice earlier in this post. That being said, I would like emphasizeemphasis this important thing, which I highly recommend you to bear in mind:
Don't hesitate to do what you want to do. According to my favorite writer, it's good to spend time planning (as well as reading, researching, and brainstorming ideas, and so on). However, it's only when you take action do you start making progress and heading to results.
Therefore, if you are serious about starting your dropshipping business and you're in the step of choosing the right platform for it, just choose one now. How long have you been reading, researching, or confusing whether this or that platform that you should pick? No matter how long, it's enough. Choose one and start doing business now.