Nick Peroni: How to Start Your First Shopify Store?
Nick Peroni, one of the legends in the e-commerce industry, from a veteran who dropped out of school to a legend in the field of the dropshipping business. How is he doing? Anyway, his Youtube homepage, Facebook, LinkedIn and other social software are very active.
His success is something everyone who wants to enter the dropshipping business wants to replicate. So, how did he start the Shopify business and make a lot of money? Why not listen to this story.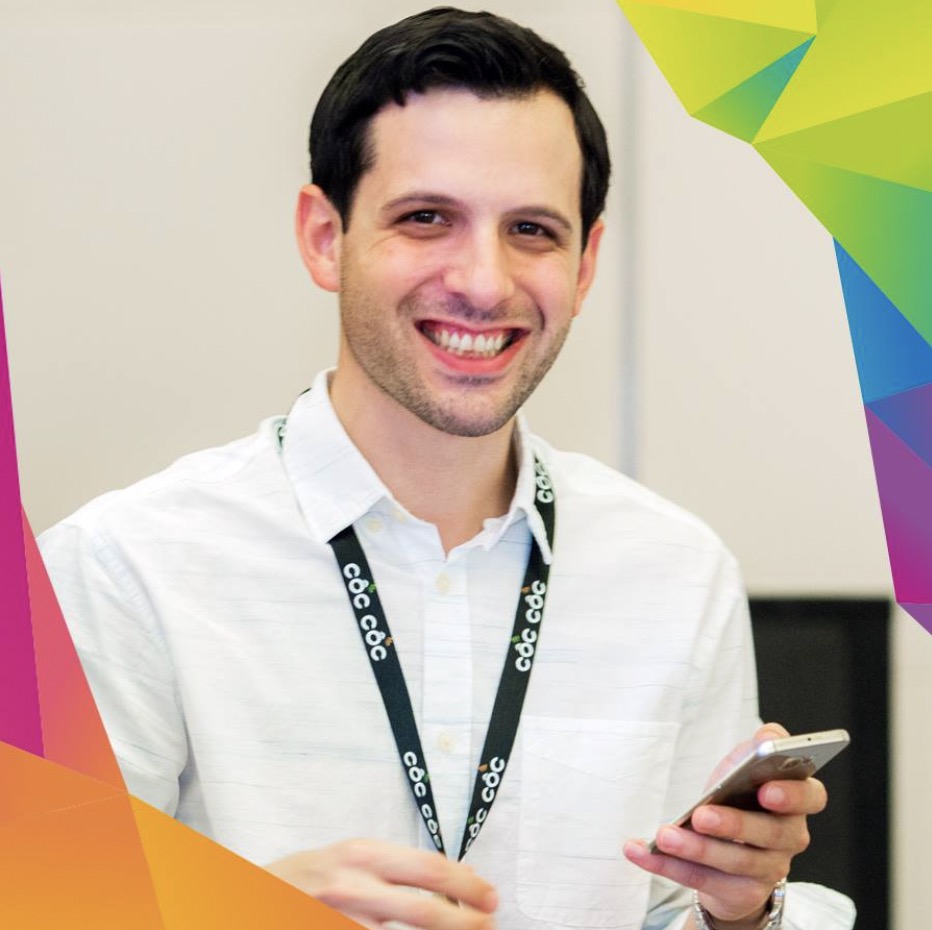 1. How did he start the dropshipping business?
Nick Peroni, a veteran who dropped out of school. Within a period of time after leaving the army, he learned that he was more willing to work for himself than to follow other people's arrangements. In the early days, he did 3 jobs to maintain his income. During this period, he read the "4-hour work week" and learned about the possibility of online business for the first time. This was also the beginning of his success in the e-commerce industry.
In the early days of contact with online business, Nick Peroni opened up a photo booth service with the partners he met while working. In the following three years, he used Google Ads to turn the photo booth company into his first million dollar business .
But this is still not the freedom he wants. Therefore, after discovering the dropshipping business model when he first used Facebook Ads in early 2016, Nick Peroni was immediately attracted and began to invest in this field.
In February 2016, he opened his first dropshipping store, and it exceeded $100,000 in 90 days. Since then, he began to focus on developing dropshipping business . In the next few months, he expanded the scale of his first store to a six-figure high and began to share his secrets of success online. At the end of 2016, he set up a Facebook group called Ecom Empires, in which Nick Peroni showed people how to replicate his successful model for free. Today, Ecom Empires has more than 99,000 members and has become one of the world's leading e-commerce communities.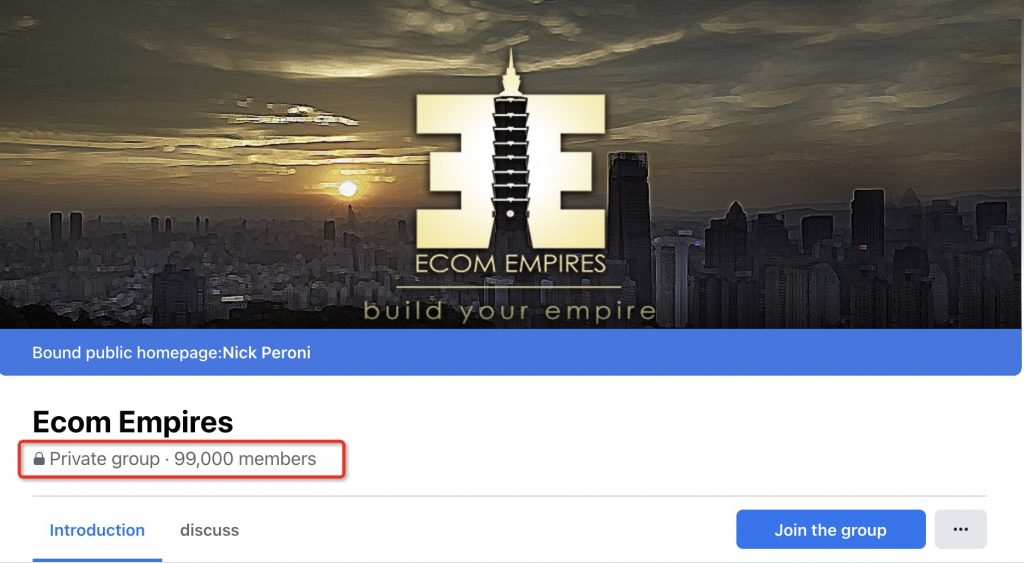 2. Why does Nick Peroni recommend using Shopify to start an e-commerce store?
In a podcast show by David De Souza and Nick Peroni, the host David De Souza asked Nick why he didn't choose Amazon, but recommended Shopify to start an e-commerce store.
After using and comparing, Nick shared his experience with us. He is currently using Shopify, because Shopify's settings are simple and easy to use and very user-friendly.
One-click settings are really easy to operate. All you have to do is to import products into it and conduct marketing.
On Shopify, you can set up very good free themes.
Shopify makes it very easy to have plug-ins.
So, Shopify has become the most common way of e-commerce now. Use Shopify to build a store, and then use Facebook ads to attract audiences to sell products.If you haven't confirmed whether you are ready to enter the droppshipping business, then you can join Shopify's membership plan to earn commissions.
For more information about using Shopify to make money, you can read this blog: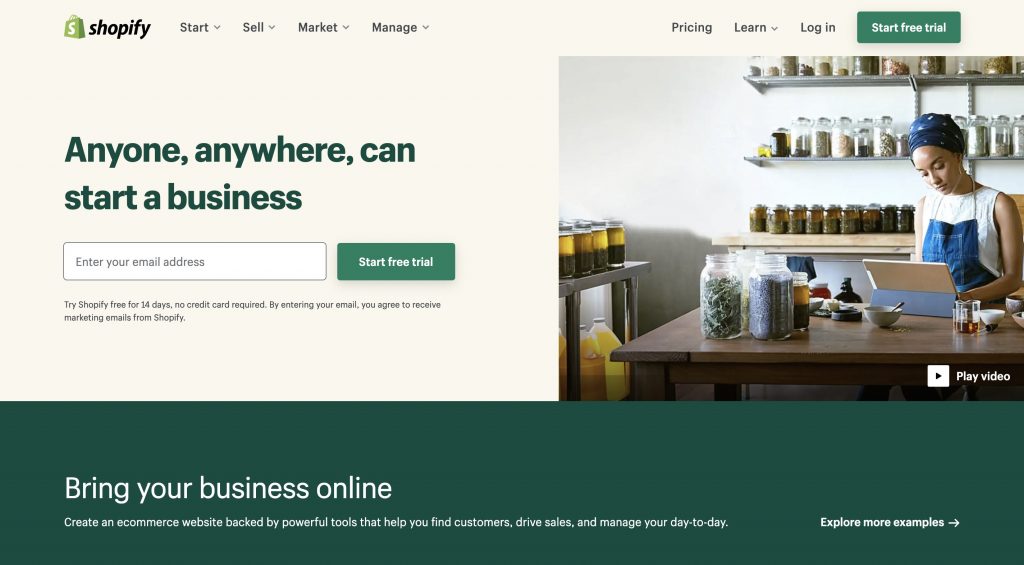 3. How to start your first Shopify?
I believe that the Internet already has a lot of steps and experience on how to build a Shopify store, so I won't go into too many narratives here. I just want to remind everyone that any operation must be analyzed and considered, and you cannot blindly follow the trend.
4. What is the role of Ecom Hunt in Nick's e-commerce business? What are the alternatives to Ecom Hunt ?
In an interview with Ecom Hunt, Nick said frankly that it feels great to use. Nick found inning products in different areas- AliExpress, Facebook, Amazon and so on. By using Ecom Hunt to find trending products and using a product store to create a strong brand and strengthen marketing, Nick and his partners found a better formula than the general store direct sales method.
Also as a dropshipping tool with a powerful database, when it comes to Ecom Hunt, you have to mention FindNiche.
FindNiche is a niche product analysis tool for droppshiping. Summarize the product data of mainstream channels, analyze the product database from the perspective of express delivery, Shopify and FB advertising, and find your own niche products through the screening and sorting of the database. As mentioned above, finding niche products is the first step in e-commerce, and the powerful database and customizable filter keys provided by FindNiche are really helpful.
1) The powerful AliExpress Analytics function helps you select products efficiently:
Although AliExpress's product categories are very detailed, you can search for whatever you want. But just like fishing in the vast ocean, it is a very time-consuming and energy-consuming method. The AliExpress Analytics function of FindNiche helps you save a lot of trouble.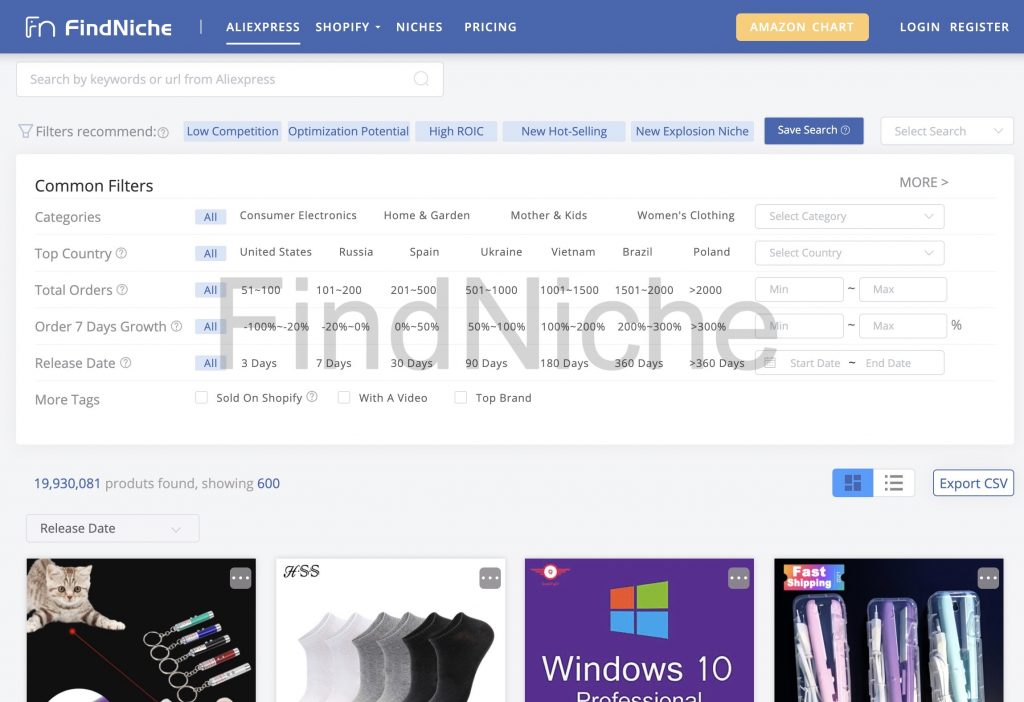 Method 1: You can directly search for the products you want by keywords
Method 2: Find inspiration for winning products according to the 5 tags given by FindNiche
Method 3: Customize the conditions you want to filter according to your needs, so as to finally find products that match your needs
Each product has a detailed data display, and it will also search for similar products for you, as well as the link of this product on AliExpress.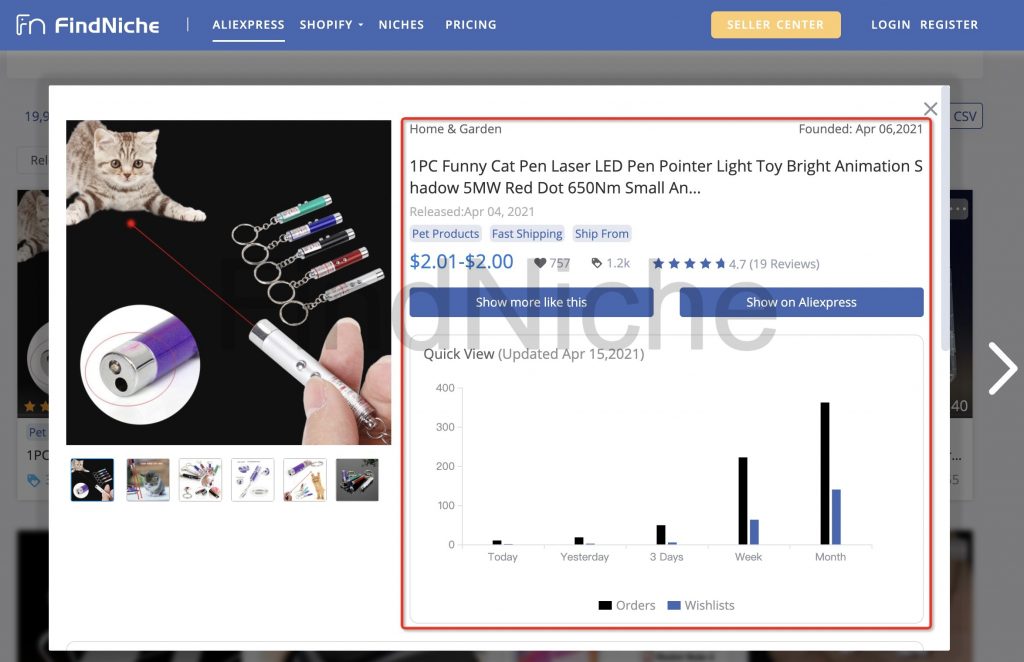 2) The Shopify Analytics function not only allows you to find niches but also monitors the trends of competitors :
Method 1: Use the filter button to search Shopify stores directly, and it will show you the relevant information of each store, such as Price, 7 Days Orders, 7 Days Profits, 30 Days Orders, 30 Days Profits.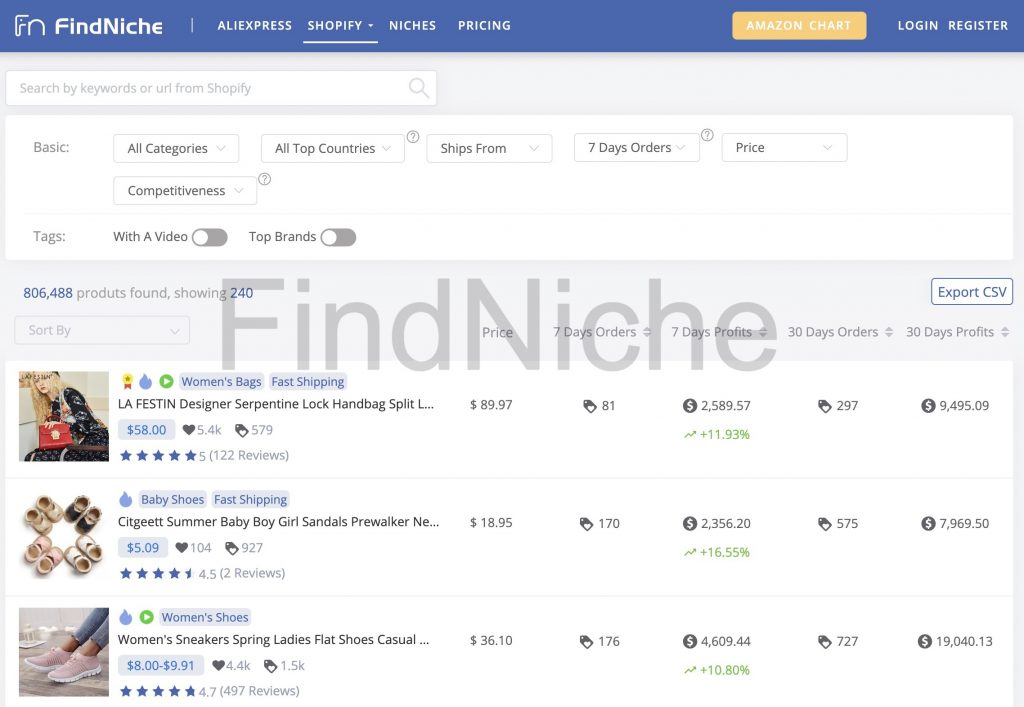 Method 2: Check the information of Top Shopify Stores directly to get inspiration for product selection and social marketing strategy.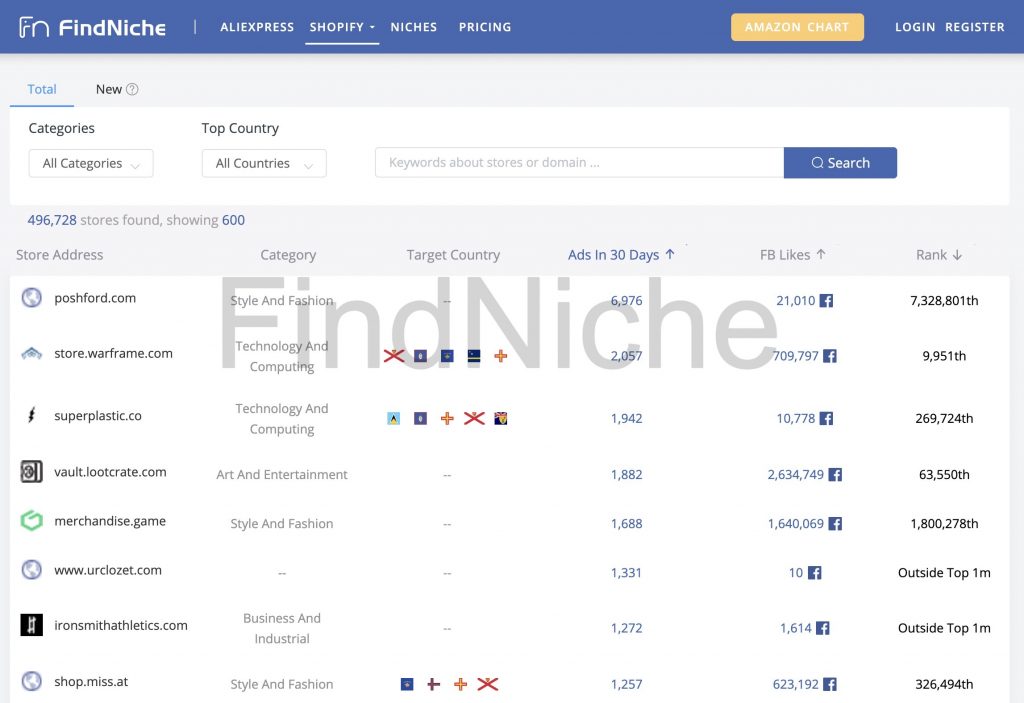 3) Powerful data analysis recommends 4000+ niche products daily:
If you want to know which products are selling as quickly as possible and don't want to analyze too much, then you can directly use FindNiche's Niches function. It is based on the 4000+ niche products updated by FindNiche's professional team every day, far surpassing Ecom Hunt.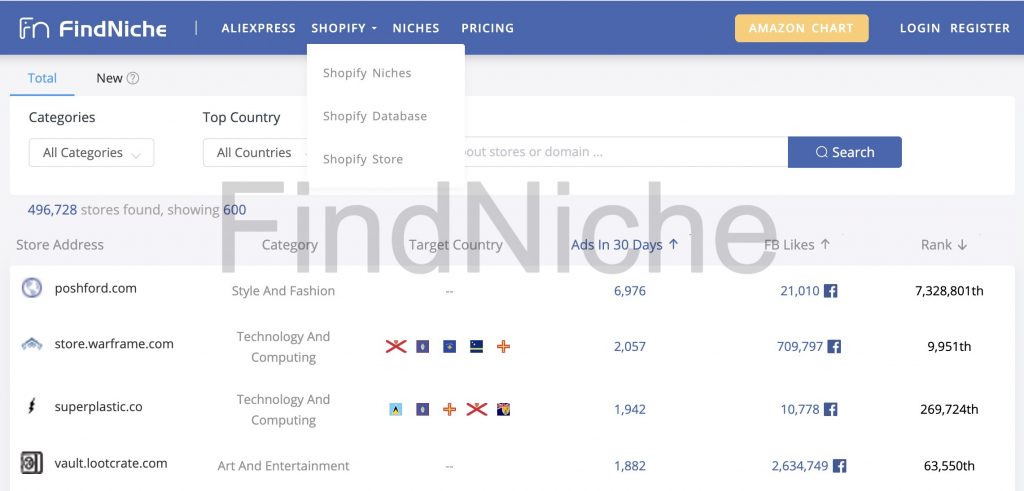 Conclusion
In public information occasions, Nick gives the following 5 suggestions to beginners:
Brand promotion of products through unique marketing methods;
Establish a product store to truly create value and gain the trust of users;
Look for products with high perceived value and don't sell cheap things;
Listen to customers' opinions, provide quality services, and improve products based on their feedback;
Test more audiences instead of increasing the budget;
Behind every success is a combination of contingency and inevitability. Although successful experience can be used as a reference, we also hope that everyone will not blindly believe and implement them in full accordance with these contents. They must have their own analysis and thinking.
I hope the content of this blog today will help you, see you next time.