Thieve Vs FindNiche[Review In 2020], Which One Is Right For You?
The rapid development of the Internet and globalization has put us in an era where business opportunities are everywhere. Today, you can easily start a global business with no or low investments and get more profits back within several months thanks to the dropshipping model.
In fact, there are lots of people trying to take a slice of it. Despite the fierce competition, dropshipping is yet to be saturated and hardly will it. If you want to stand out in the competition, you have to on the right track. The whole dropshipping business is built around having access to in-demand products. Hence, product research is an essential part of dropshipping, meanwhile, many product analytics tools like FindNiche, Ecomhunt, Pexda, Thieve, etc, have popped up that offer to find winning products for dropshippers. Therefore, choosing the right tool becomes crucial.
In this article, I'm going to compare these two popular niche analytic tools, Thieve and FindNiche, to find out which one is right for you.
What is FindNiche?
FindNiche is a free dropshipping niches analytics tool for AliExpress and Shopify, It collects information from more than 1,000,000 products, 11,000 Niches, and 700,000 Shopify stores. With which, you can easily discover winning and trending products, not popular but high margin niches, it also displays top Shopify stores, your new competitors, and dropshippers to help you choose the best niches.
What is Thieve?
Thieve is a dropshipping product discovery tool that offers a curated list of products you can buy direct from AliExpress, that is to say, it shows you what's popular on AliExpress.
Thieve Vs FindNiche comparison
| | | |
| --- | --- | --- |
| | FindNiche | thieve |
| Free | ✅ | ❌ |
| Pricing | 0$👍 | 29$\99$\monthly👎 |
| Product Performance | ✅ | ❌ |
| Frequency Of Products | Update instantly👍 | 5-10 products per day👎 |
| Exclusive Dropship Curated Products | ❌ | ✅ |
| Product Popularity & Conversion Stats | ✅ | ✅ |
| Advanced Filtering and Sort Options | ✅ | ✅ |
| Find niches | ✅ | ❌ |
| Shopify stores list | ✅ | ❌ |
| Stores analysis | ✅ | ❌ |
| Target country | ✅ | ❌ |
| Logo remove tool | ❌ | ✅ |
Target audience —— the main audience of FindNiche is dropshippers
FindNiche is a platform that helps dropshippers find their winning products, it's mainly for dropshippers, especially for those doing AliExpress dropshipping, which is relatively pure. Unlike FindNiche, when you first enter thieve.co, you will get two options, one is "dropship for my store, another is "shop for myself", even though your choice is different at this point, you finally get two same home pages, including the same products and prices, unless you have already bought Dropship Supply service, otherwise, you may see the same product and the same price as your potential buyer, who might directly enter AliExpress through the link to buy instead of going to your store.
Compared to Thieve, the target audience of FindNiche is more singular. Usually, most users are dropshippers. There is no obvious sign of opening to individual buyers. At Thieve, it seems that you can only make a difference by paying.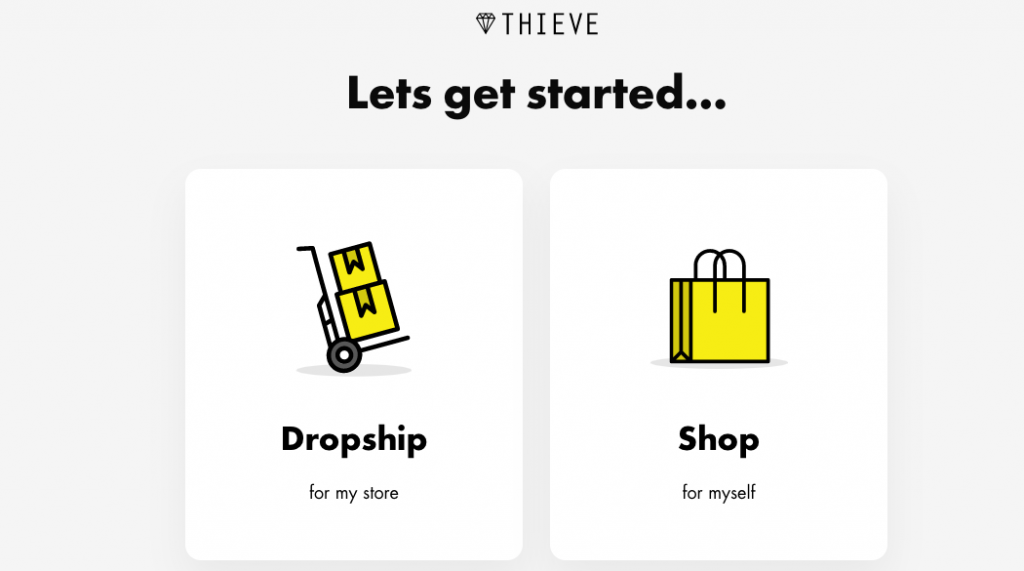 Product analytics —— more details are provided in FindNiche
a. How they choose products?
Both of their products are mainly from AliExpress. The product data of FindNiche is captured by the rob, it tracks meaningful data from a big raw database, and the data of products is updated every hour. These products rank according to different indicators.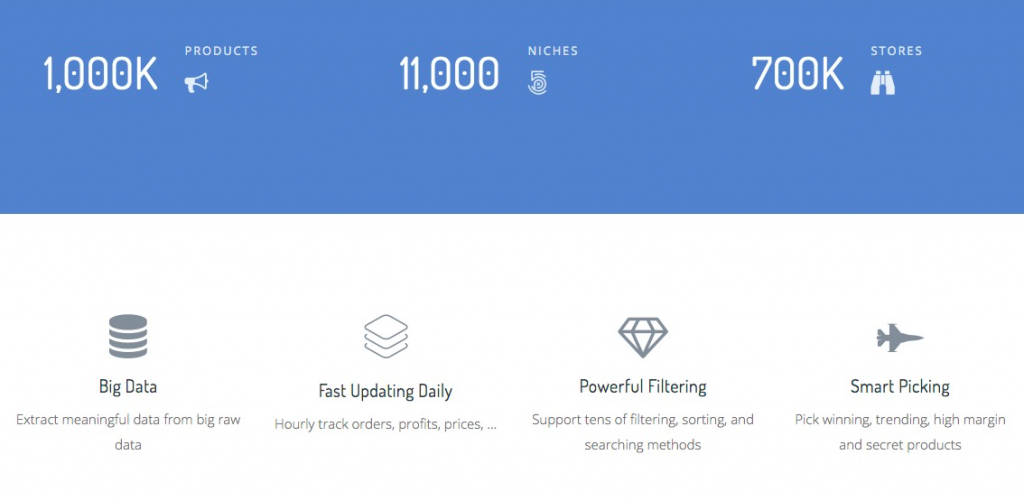 One of the features of Thieve is that they claim that their trending AliExpress products are curated by creatives, including bloggers, photographers, designers around the world.

Basically, hand-selected products usually have good advantages in terms of quality and price, but they still have some problems with this manual mode.
Firstly, the timeliness of products is also an important factor which merchants have to take into consideration, otherwise, there is no reason why we rank niches by "trending" or "latest", that's because there are only a few products in the world will always be popular, most of them just are popular for a while, and then tend to be flat. If you put the potential hot product on your store shelf when it is about to go viral, then you are very likely to seize the opportunity, and make a huge profit from it. If you haven't caught this chance and your competitors' take the first step, then it may become difficult for you to follow them, because, at that time, everyone sniffs the big new market, and swarm up, there's no chance left for you.
Secondly, everyone has their own taste, and the product selected by some people cannot represent the taste of the public, unless he/she is a highly-favored person with more than thousands of followers, influencer marketing do impact the market a lot, however, behind this, the sales of this niche doesn't necessarily mean how good it is, in most cases, it means how much influence this influencer has.
So, what exactly do people need in the market? After analyzing the huge database, sometimes rob would be more honest and effective than individuals.
b. Product data
you can clearly see the picture below, FindNiche collects about 3.5M products from AliExpress, the database of it is so powerful, and if you don't want to waste a lot of energy on massive AliExpress data, it offers you a special "niches" partition, you can choose among these high-quality products with orders, profits, and growth, and can also search by entering other Shopify store's products.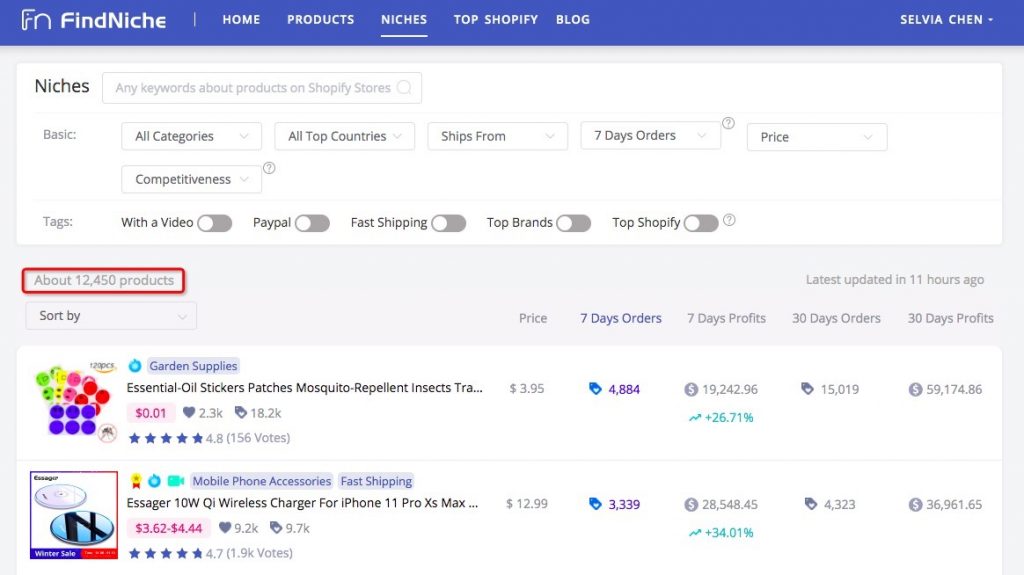 In Thieve, there are also lots of products provided for you even if you don't pay, but there is no exact number of products and page selection, the only thing you can do is keeping sliding down, just like browsing an endless checklist, every time you slide down to the bottom, and new products have been loading. If your network is not good enough and you reload, you have to start viewing again, which is not user-friendly.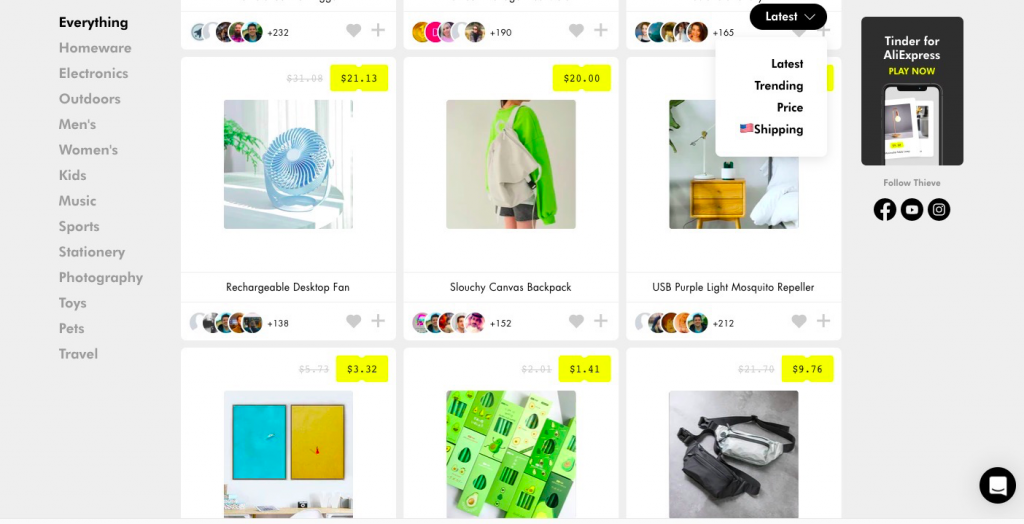 c. Search and filtering condition
FindNiche
Dropshipping products on FindNiche can be sorted by:
Keywords or URL from Aliexpress
Categories
Top Countries
Ships From
Total Orders
Today Orders
Price
The number of wishlists
Votes
Today Orders
Whether it is a Video
Whether to support PayPal
Whether to support Fast Shipping
Is it Top Brands

Besides the filtering conditions mentioned above, niches on FindNiche can be sorted by:
Today Orders in the last 7 days
Competitiveness
Is it top Shopify
Thieve
Aliexpress products on Thieve can be sorted by:
Lastest
Trending
Price
Shipping from The U.S.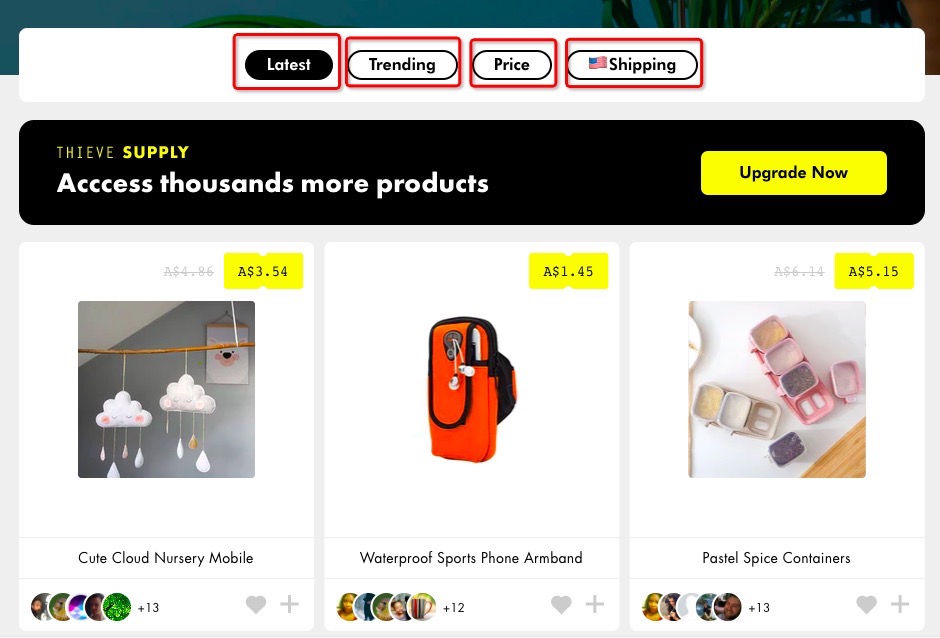 Through filtering conditions on FindNiche, you can quickly select your winning niches, and you can combine different conditions to choose, which is not available on Thieve.
d. Details page of products
The information on FindNiche products' page is quite rich, when you search for this product, there's lots of related information displayed on the thumbnail page, which shows below, just browsing some product pages, you will harvest much information.

When we refer to the detail page of products, you cannot imagine how much you can get on FindNiche!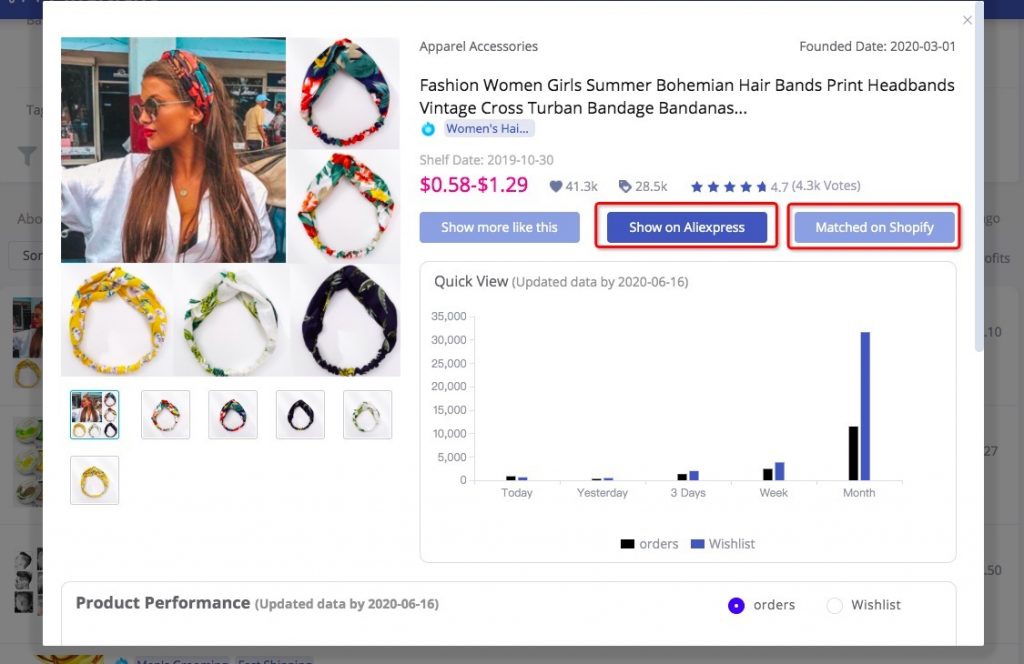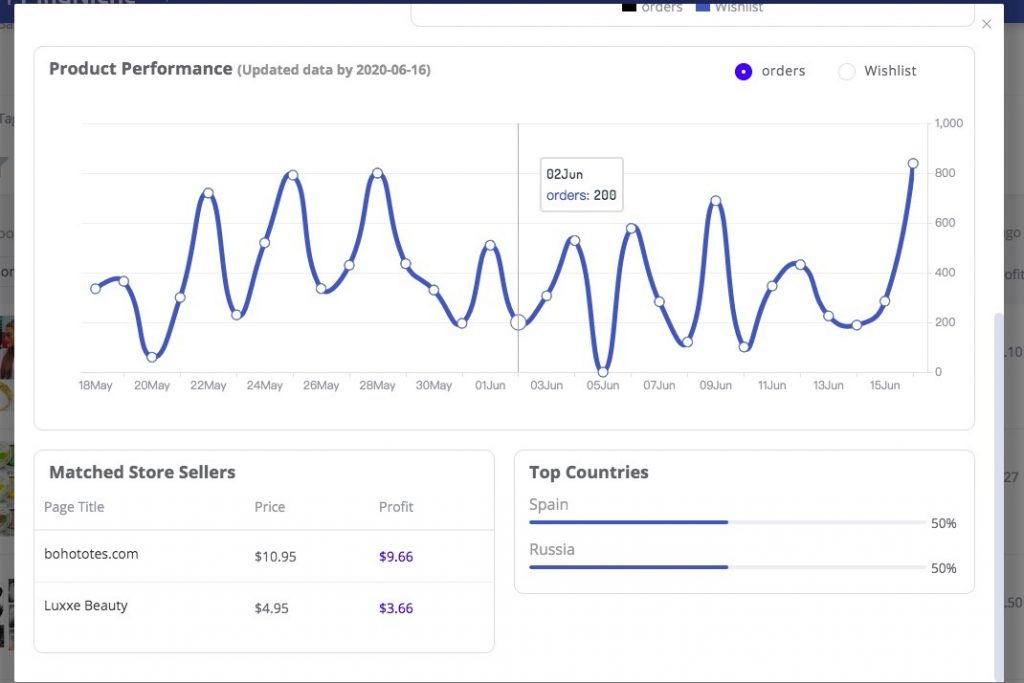 Obviously, besides more detailed data analytics, it also shows which Shopify store is selling this product, you can check it out, then you will know the selling prices of these stores and their operating conditions. If there have too many competitors, just look at the next product. And from these two product detail images above, we can conclude that FindNiche is really detailed on product data analysis.
Compared to FindNiche, Thieve is quite simple, there is only one image, with price and product's name, if you go into the detail page, it also shows orders, how many people like and collect in the platform, and links to AliExpress of this product, the interface of it is much cleaner than FindNiche, just like browsing Instagram. Anyway, detailed information about the product is really limited. Its likes and collections are liked by users of this platform, not all the people who buy on the market, so there is no authoritative reference, you can only conclude which products are popular on this platform. If there is Top Shopify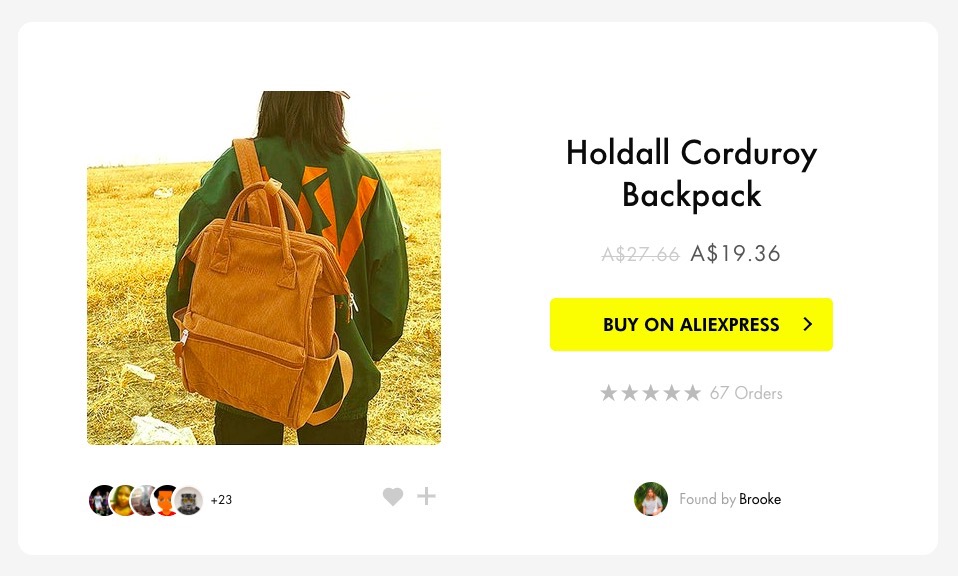 If there shows Top Shopify —— it only displayed on FindNiche
FindNiche offers a full list of Top Shopify Stores, which can be selected through categories and top countries. It shows address, target country, ads in 30 days, FB likes, and rank of these stores. You may check out the successful stores and your competitors as well, you may get great inspiration through tracking their store operation and data changes. Meanwhile, you can also check the newly opened store in the last 30 days, and how they start.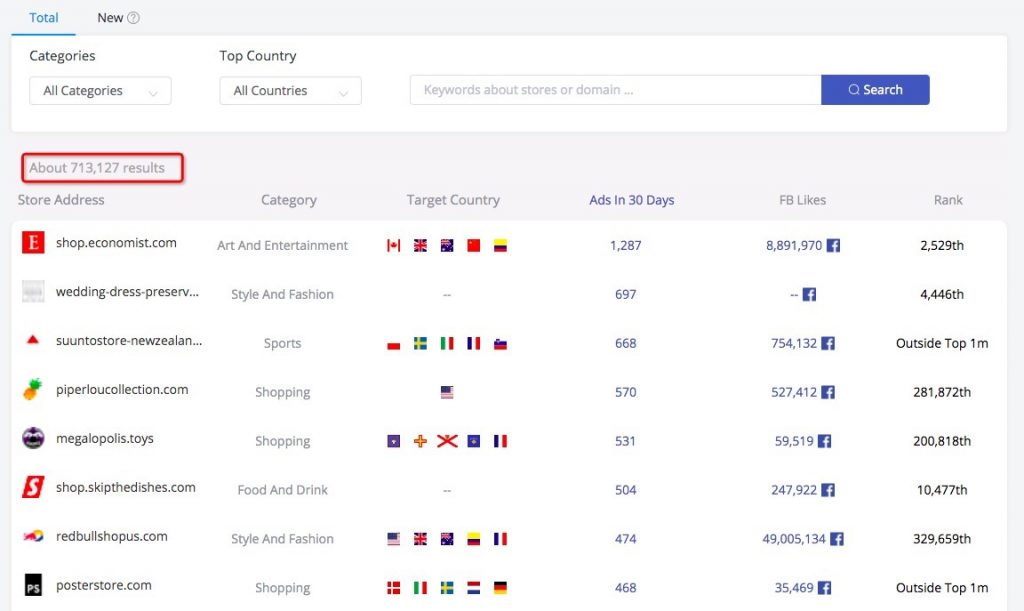 Even though there is no Top Shopify provided on Thieve, you can check who found the product, and trace to the picker's personal page, in most cases, there is not much introduction, and so far there are no particularly hot influencers.
Pricing/membership plan
Currently, FindNiche can be used for free, and the high-privileged version can also be unlocked for free through the invitation code.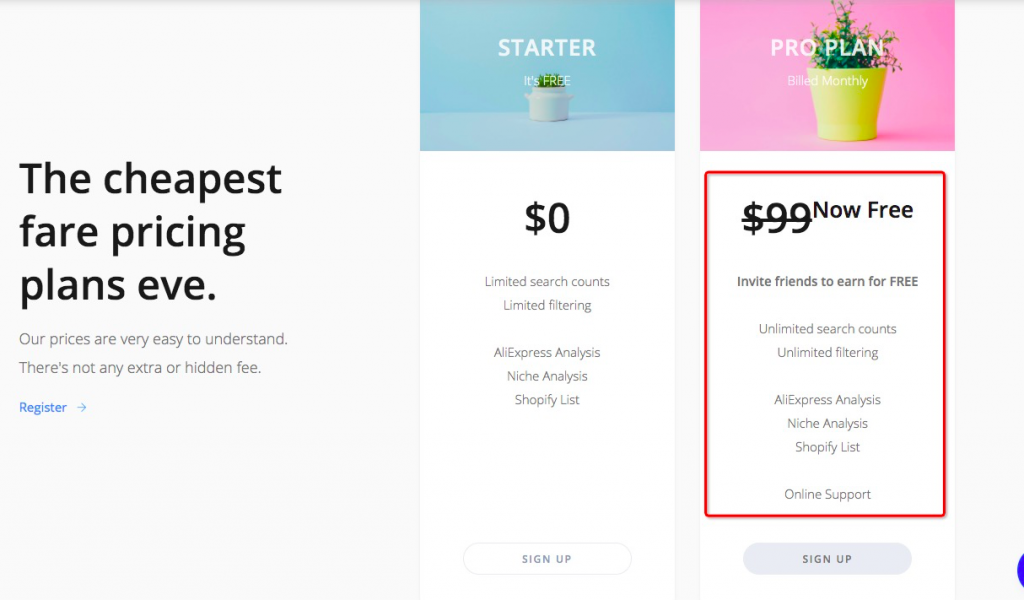 Thieve's provides a series of products for free on the home page, but you have to pay to unlock another dropshipping version called Thieve Supply, it currently charges $29 per month, and the pro version requires $99 per month, besides getting the winning product, you can access thousands of pro release products. if you pay annually, you will get a 20% discount. Now, they don't offer a trial for Thieve Supply.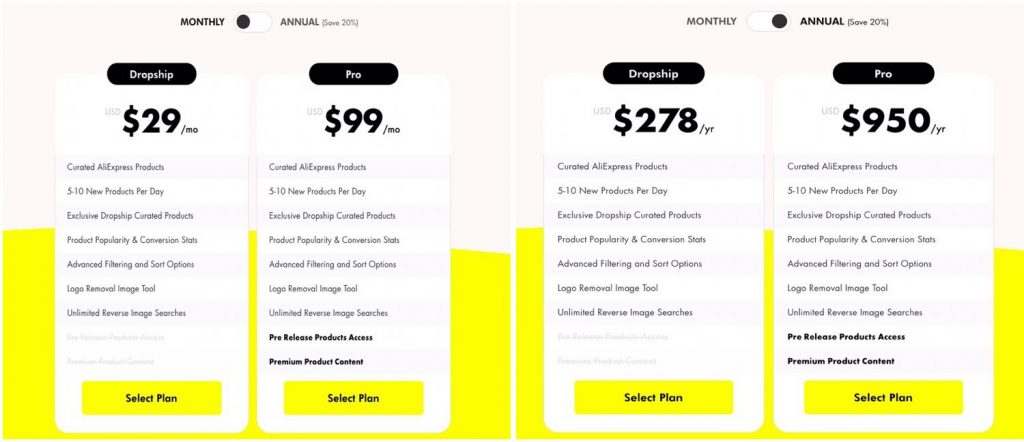 All in all, both FindNiche and Thieve are good niche analytics tools for dropshippers, but FindNiche provides more detailed information about products than Thieve, and the amazing part about it is the value they offer at 0 price, which is more cost-effective, and you can easily and quickly find your winning products on FindNiche.