Do You Know The Most Successful Dropshipping Products?
The first step in starting a dropshipping store is choosing a niche. Do you have such confusion?
Don't know how to choose which product to build a store?
I don't know if I need to choose to establish a store based on my interests? Or choose a profitable product to build a store?
I don't know whether to establish a store only in the local area (US area)? Or is it to be a global store market?
Of course, no matter which method you choose, it requires you to find a professional field to help you attract the right customers. Therefore, if you want to open an online store, but are not sure how to start, then please read the following :
How to find a dropshipping niche?
We can find the needs of users. For example, through Google Trends, we are pleased that many online tools can help us find and evaluate the needs of our products, such as Best Dropshipping Niches Analytics Tool, which I recommend for online store——FindNiche.

By using this tool, we can help us stop wasting time and money on bad products, get dropshipping niches from AliExpress and Shopify every day. And this is not the most important thing, the important thing is that it has 1,000k products, 80,000 customers and 700k Shopify store. This is a huge database, which can help us find the most successful dropshipping products.
Of course, you might say that you still can't find a suitable product. It doesn't matter. FindNiche can give you a list of 20 best winning dropshipping niches. You can find the most profitable dropshipping niches on a daily basis. Then choose one your favorite or the most profitable products come to your online products. These niches were created by powerful AI algorithm. In addition, there are a lot of professional feedback. Lots of advanced dropshippers say it has helped them a lot with their brainstorming and niche hunting.
Of course, if you sign up for an account, you will find that it has another function, which has more product search options than competitors. You can easily find a niche product by categories, order number, order growth, top country or custom filters in Product Database. This is enough to allow you to find the most popular products, and which products sell the best, which will let you know which products are sold a lot in the United States, but few people buy them in India. Of course, The advanced product filter can keep you ahead knowing winning dropshipping niches with high profits, high demand or performance rising. With the matched store seller, you can analyze all the sites online selling this same product on their stores, study their pricing, layout and even ads once you find them here.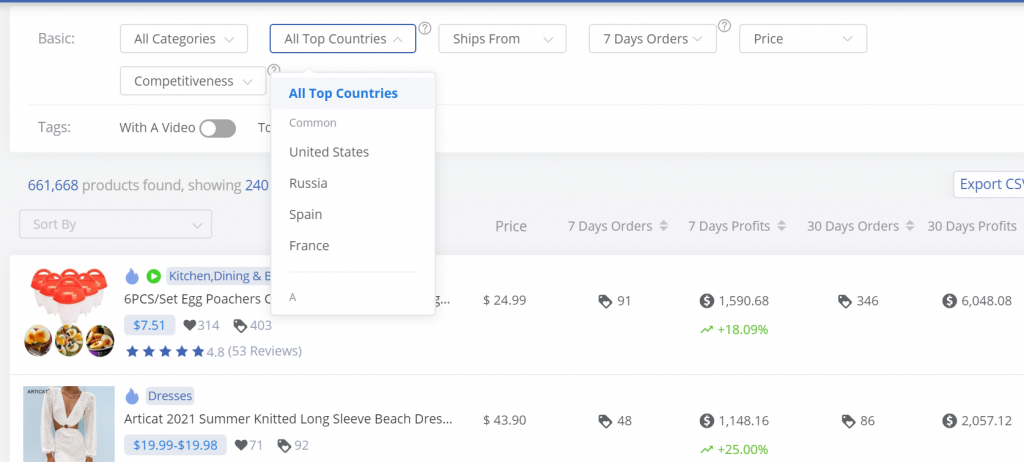 By the way, if you already have an account, then you can log in and you can quickly check the products' information below: price, reviews, orders, the country/region with the highest sales volume, last month sale historical records, whether there is a video, whether it supports ePacket, whether it can be dropshipped, which Shopify stores or other online stores are selling these products. Finding out which products have the highest sales and profitability, can also help you check whether the products can be shipped directly, and analyze all the websites of the product, and help you study the space for advertising investment and profit.
If you are an advertiser, this will help you analyze the number and ranking of competitors' ads, because it also has a feature that FindNiche has analyzed almost all of the Shopify stores around the world. Here you can track Target Country, Ads Count, Facebook Page Like, Alexa Rank, and the total number of ads of your competitors or top dropshipping stores. Want to be the best Seller like them? Learn from them!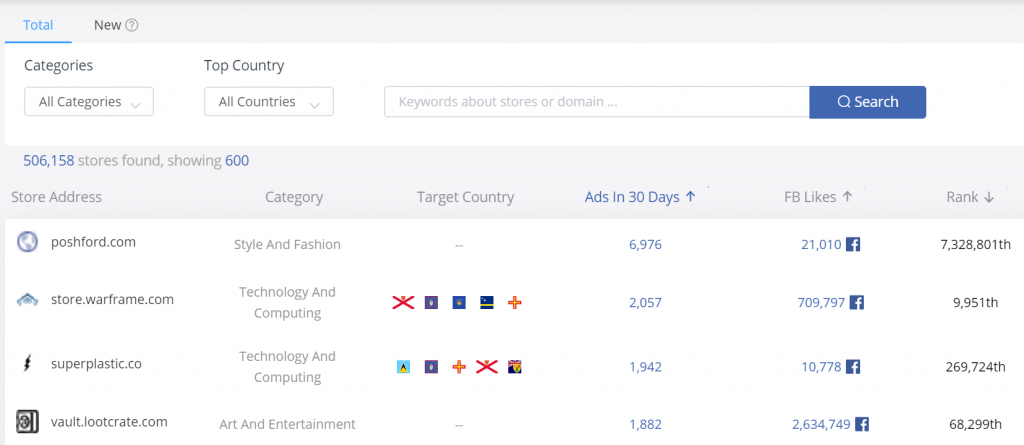 Of course, if you have used this tool to help you choose a good product, another problem you will face is competition to promote the product. On the search engine Google, you may face many problems. If you choose product competition too much, it is difficult for you to build a traffic to help you sell your products. Some product operators may use paid advertising, but most of them will rely on the free traffic brought by search engines to establish a business model, and this model cycle is relatively It's longer, so you can use other ways to attract traffic, such as: you can promote products in facebook groups, post product feedback on twitter, etc., and then write your feedback into a blog and put it in yours in the store.
Finally, if you want to sell your products to more people, then you can check your store views and conversion rate every day, and then find more products in combination with FindNiche. If these products are relevant to you, it can be put together. If there is not enough relevance, then you can choose to establish another online store and sell multiple products together. Of course, there must be one thing to note here is that you must choose the one you are most interested in in FindNiche. And then spend your energy on this product, so that you will find that the products in your online store will sell better and better. By the way, FindNiche has another function that you can read the analysis report. There are many experts recommend Shopify products for you every day! I believe these reports will give you more surprises.
By the way, if you find the most popular product using FindNiche, remember to share it with your friends.