Gabriel St Germain: Why 90% Of Dropshippers Want To Replicate His Success?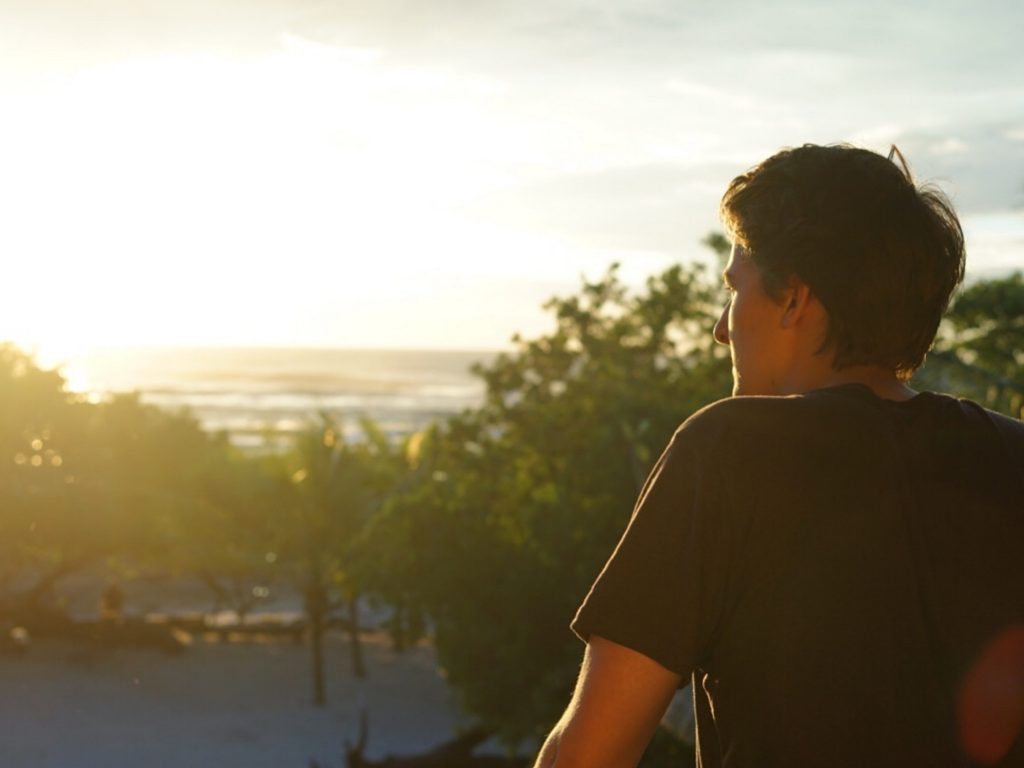 We haven't seen or heard anything about Gabriel St-Germain for a while, his last video uploaded on YouTube channel was 11 months ago, and meanwhile, his other social media account on Facebook, Instagram isn't active anymore. Also, all of his Shopify stores are closed, such as Flexposture.com, Cloudcushion.co, BeautyCharcoal.com.
Where did he go? Most people don't know.
"He's probably out of dropshipping, I heard him talk about his real brand, manufacturing his own products", says Ramy_91, one of the dropshippers. "I'm sure that the people who bought his course are seeing him active in the private FB groups. Good gurus don't rely on courses as their main source of income", another dropshipper assumes on Reddit. A lot of guesses there.
However, there is one thing certain, he did earn tons of money through dropshipping and paid courses, he's at a place where every dropshippers are eager to reach.
How did he start dropshipping?
Gabriel St-Germain, 22 years old, is a French guy who lives in Canada. He has been interested in making money online since he was 16, in the beginning, he had been learning affiliate marketing and struggling to make a stable income with it. Later, he was studying software engineering full-time in the next two years, while he was consistently seeking new opportunities. In early 2017, inspired by "Free Watches" advertisements, he decided to pick up on this "Free Just Pay Shipping" model, which was effective for a lot of people. Hence, he started to build a dropshipping store and tried to sell some popular charcoal powder for free. Why he chose this product to sell we haven't known yet, but today due to the fierce competition, we couldn't test randomly popular items aimlessly, most of the time we depend on using some niches spy tools to help us find winning products, such as Ecomhunt, Dropshipspy, FindNiche, etc. Then his business had quickly developed, then he began to learn as much as possible to expand this store after it started taking off, he was very stressed and almost had no free time because he had to split time between schooling and business, eventually, he made up his mind to drop out of university and devoted himself to his dropshipping business entirely, the result has shown that he made a right decision, or in other words, he made his decision right. And his first store, BeautyCharcoal, has generated great value for him in return, even now, this domain is on sale estimated $3095.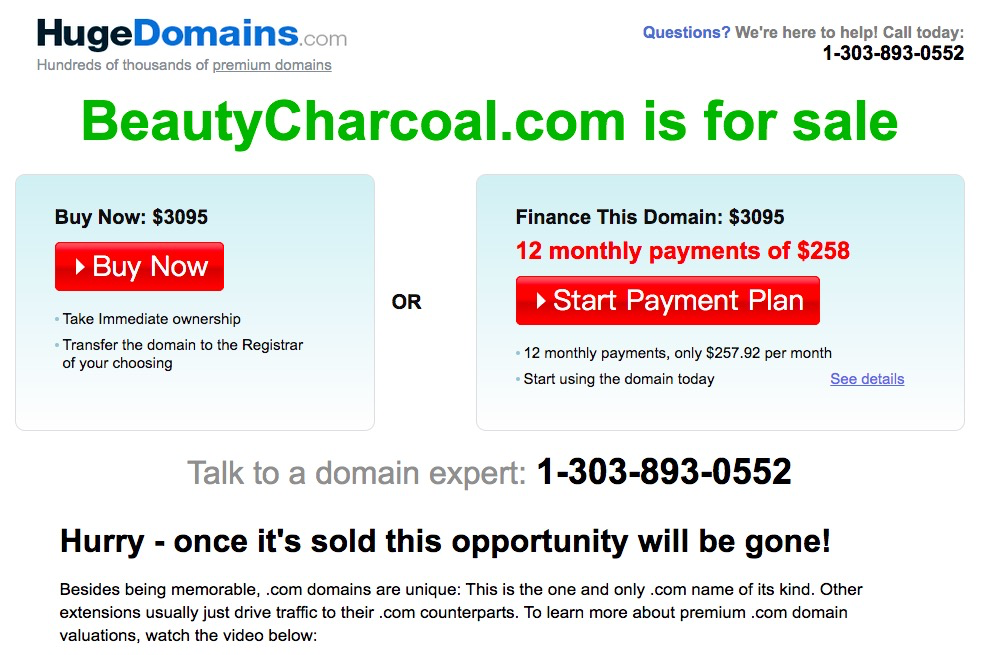 Not like many other dropshippers, his first sale came from Instagram Influencers. He had been watching dozens of orders came in the first hour after he bought a simple post on a meme page. At that time, there were not many people doing Instagram Influencers posts, so it's much easier to get sales in this way. And the next day, he spent all his money on buying more posts from different Instagram Influencers, it turned out $5k sales income that day, he said it was an amazing experience because it proved that his strategy of marketing was right and it encouraged him to try more.
He is out of the e-commerce market
It's your chance to stand out
What did he get on YouTube?
Now, even if he no longer updates his channel, he still has 220K subscribers on YouTube, and each of his videos has driven at least one new traffic every day. In fact, he's not the pioneer of dropshipping on YouTube, and before his appearance, this topic has been quite popular, but he's still considered by dropshippers to be the first one that really blew up on this topic and generated great attention as well.

Since his first video posted, for almost one year, he had been consistently making videos on his YouTube channel to help other entrepreneurs to build their e-commerce business well. He's one of the brilliant dropshippers, it has shown that his first video" How To Find $10K/Day Shopify Dropshipping Products [Step-By-Step]" gained a very high number of views, it was mainly because he shared real statics with the audience, while other dropshippers would not share for free. In this video, he went over the different strategies that he used to find hot dropshipping niches to sell and he also expressed how to find your competitors and spy on their ads. His courses are full of the real stuff, people enjoy it, so he quickly gained popularity on YouTube.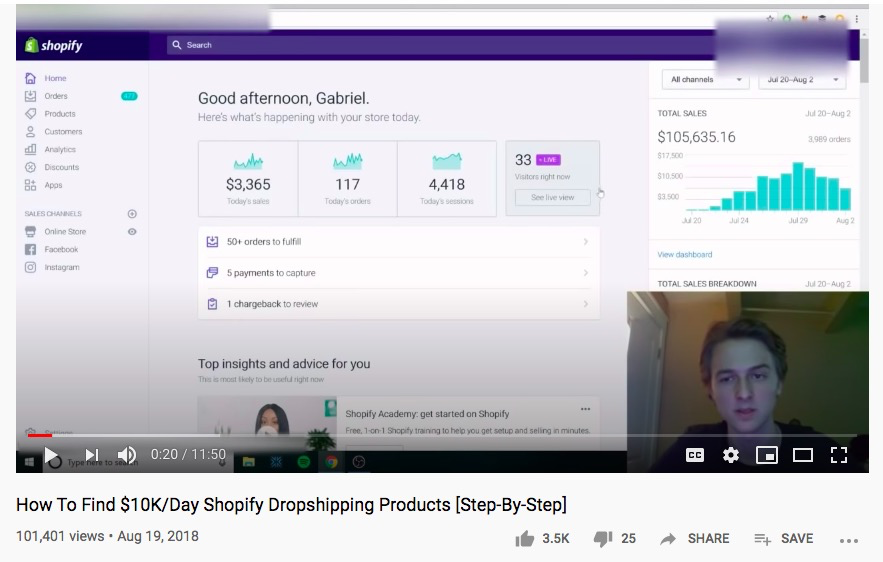 His most popular video is a free dropshipping course about how he made more than $600k in only 3 months with one product, which has driven more than 1 million views. After he shared this free tutorial video, his channel really blew up. In this video, he shared the exact strategy he used to kickstart his new dropshipping store to $664,442 in sales in just 3 months. Also, this free course covers everything about how to start a profitable 6-fIgure Shopify dropshipping sore in 2019-2020, he explains some different product research methods by which dropshippers can use to find their winning products that were selling well. Besides, he explains some strategies about Facebook ads and demonstrates how to launch a product on Facebook ads, and introduces a few tips for scaling campaigns. All of these are completely free, which no one did before.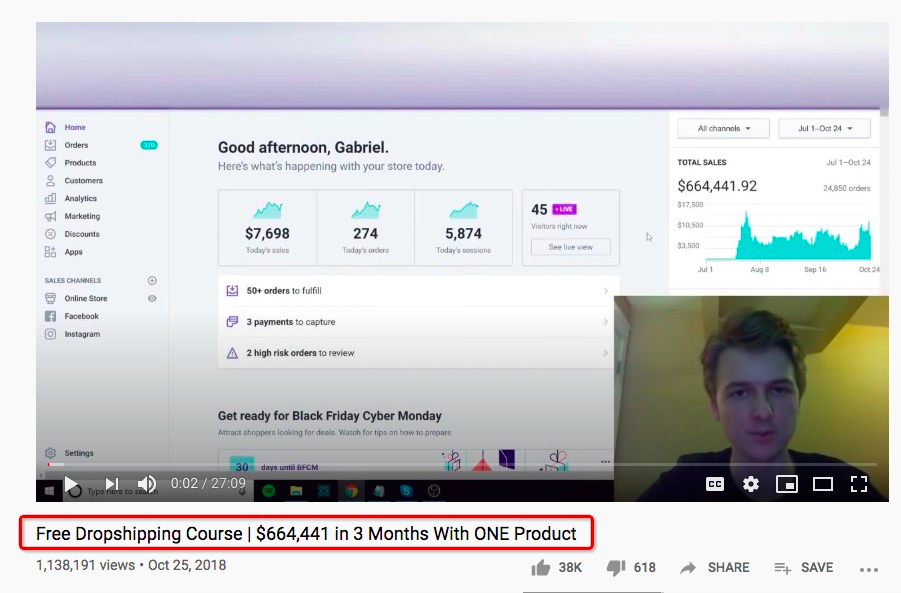 Additionally, he offers paid courses based on his successful dropshipping stories and influence, which brings him huge wealth, such as eCom Blueprint, is a case study based course in which Gabriel St-Germain reveals two of his dropshipping stores one that generated over $1 million in 5 months, and the other over $300k in 2 months (approx. 20% profit for both). If you bought this course, you could see behind the scenes how he launched these stores, ran the ads, and managed all the operations, it's kind of like a step-by-step tutorial course.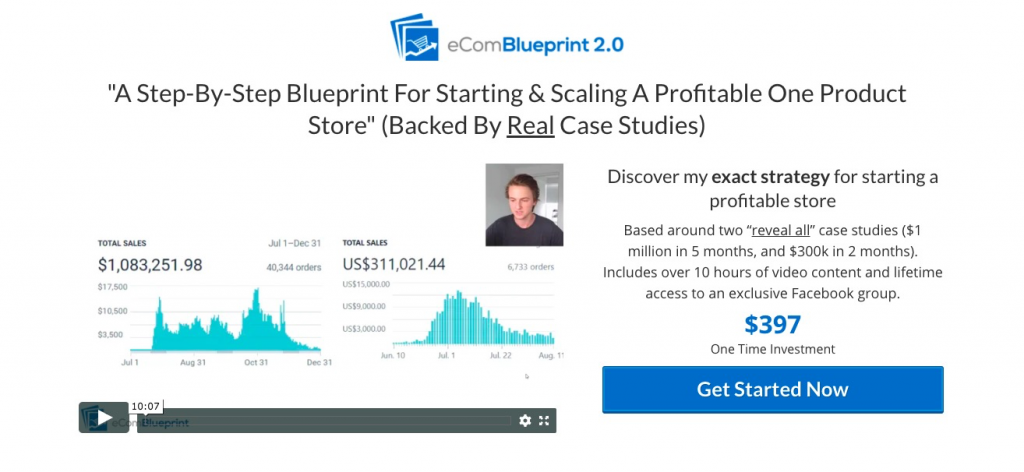 There are many speculations about his leaving, but he actually updates the possible reason on his video in 2020, "I'm currently not focused on YouTube/creating content. Instead, I am focused on my eCom stores and working on new long-term projects. For my latest updates, you can join my Facebook group." As many people said, Gabriel St-Germain has earned enough money to support him to do the next long-term plan.
What can we learn from his success?
In 2019, he already ran multiple 6&7-figure stores and he is an influencer in the dropshipping field indeed. There are several possible reasons that contributed to the success.
First is passion, he has a great passion for dropshipping, which leads to his quitting university and then pursuing entrepreneurship full time, while it's not a great case for dropshippers who are students, not everyone can make it as he does. But passion is a great push that can make you keep motivated.
He is a so hard-working person, who learned dropshipping mainly by himself, just tested products as much as possible, and did more of what was already working well, because the e-commerce space is extremely competitive so without setting goals and working towards others consistently, it's easy to fall behind competitors.
Besides, he also suggests that dropshippers should focus on building a niche store rather than a general store, test more products, and sell products that could solve an issue. If you already had found your winning products, just focus on doing better than your competitors.
But how to find your competitors? Never waste time searching for them, you can find all your competitors on SellerCenter and then spend more time analyzing their market strategies.
Last but not least, he's really an insight businessman with sharing his success and building it a course, then even though he's out of the dropshipping market, his dropshipping courses are still making money for him.
There is no wonder why people comment that he is the best dropshipping mentor in the world, he is a successful businessman indeed.
Anyway, chances are for people who are prepared. The road to success is full of thorns, but as Gabriel St-Germain's favorite quote says, "If you don't build your dream, someone will hire you to help build theirs." Especially for dropshipping, it requires patience, persistence, and perspiration that make an unbeatable combination for success.
Join our eCommerce community to get more dropshipping ideas and meet more ambitious entrepreneurs.
References:
1. Gabriel St-Germain's YouTube
2. Ecomhunt's blog- how this 20-year-old french guy made $825276.85 in under 4 months