SMAR7: One Of The Most Popular Shopify Apps For New Entrepreneurs
More and more new entrepreneurs create their online store through Shopify to start their eCommerce journey. However, not everyone has enough time and energy to get that business off the ground, then the Shopify App Store provides many amazing apps to make work more efficient and extend your eCommerce store's functionality as well as grow your business, which presents many options before us, but it's not easy to filter through tons of apps to select the best for your business. Today, I am going to recommend to you one of the most popular Shopify apps — SMAR7, which can help you increase your sales through some effective marketing strategies.
SMAR7 apps: a new combination called Skup
In fact, although SMAR7 apps have been renamed to Skup, the former name — SMAR7 is still well known by most Shopify store owners.
Although they changed the brand name, as the CEO&Founder of SMAR7 Devin Zander said, everything remains the same and users don't need to make any changes at all. After their rebranding, they've been doing all they can to give better services, such as world-class 24/7 support.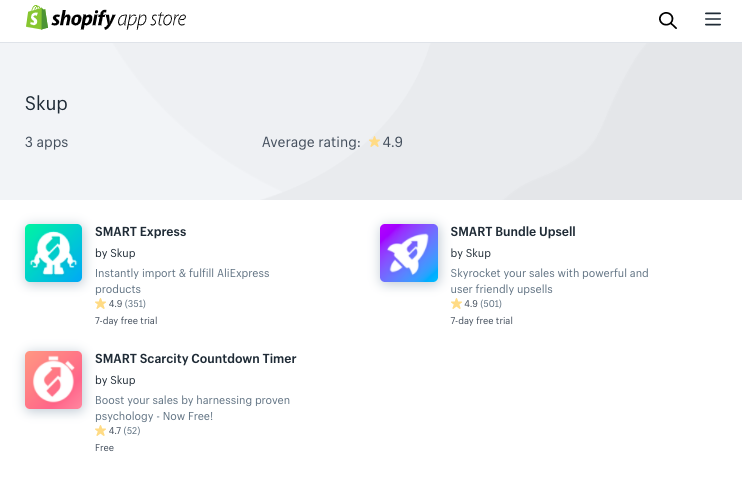 As you can see from the image above, Skup is a combination with Smart Express, Smart Bundle Upsell, and Smart Scarcity Countdown Timer included, of which the most popular app is Smart Bundle Upsell. Additionally, the philosophy of their team is: Lift Shopify store owners from where they are, to where they want to be.
Smart Bundle Upsell —— Sales And Conversion Optimization
To ensure that your business flourishes in a competitive eCommerce environment, it's essential to maximize the revenue generated from every dollar you spend. Smart Bundle Upsell was created to be the world's first smart upsell application for Shopify which can track every single item in the user's shopping cart and the device they're using to shopping for, building the most user-friendly and targeted upsell possible.
Key Features:
Instantly increase revenue
By providing smart upsells that adapt to your users' shopping experience, you'll be able to instantly boost your average order value.
30 second settings time
It to be as simple to use as possible, you can have your first upsell setup and running in 30 seconds.
Special BFCM pricing
Typically $47/month but for the BFCM weekend only you can get a lifetime discount of $27/month no matter what Shopify plan you're on, which is a humane policy.
Benefits:
Show commodities related to the products in the customer's cart
Human psychology reveals that when people have an opportunity to save money… They buy more. and the best way to ensure high conversions and to maximize your earnings is to upsell relevant or complementary products. This feature ensures that satisfied customers are shown of what they desire to see and then boost more sales and revenue for you ultimately, this is where Smart Bundles "smart" technology comes in. This way the customers may feel like they're saving money (because they are) and you're creating more sales without spending extra on advertising. A real win-win for you and your customers.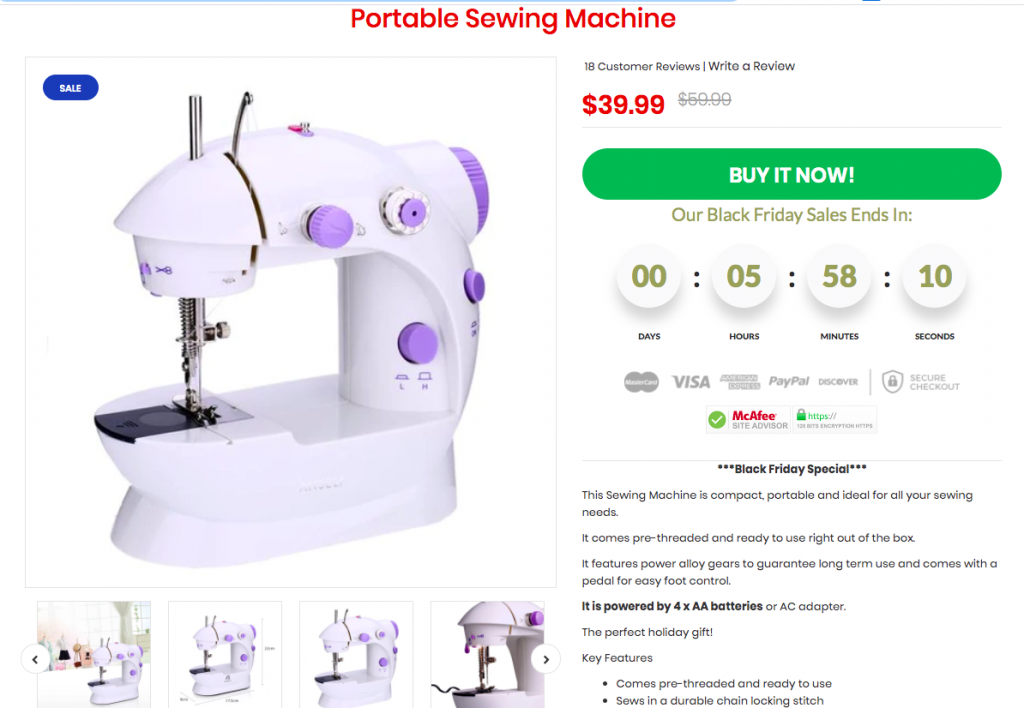 Gamification encourages shoppers to spend MORE money on each purchase
It's a very attractive point, they turned the purchase of products into a game. This technology rewards your customers and encourages them to spend more on your store by enhancing user engagement and interaction with your website, which makes them more likely to buy, come back & refer you to other customers.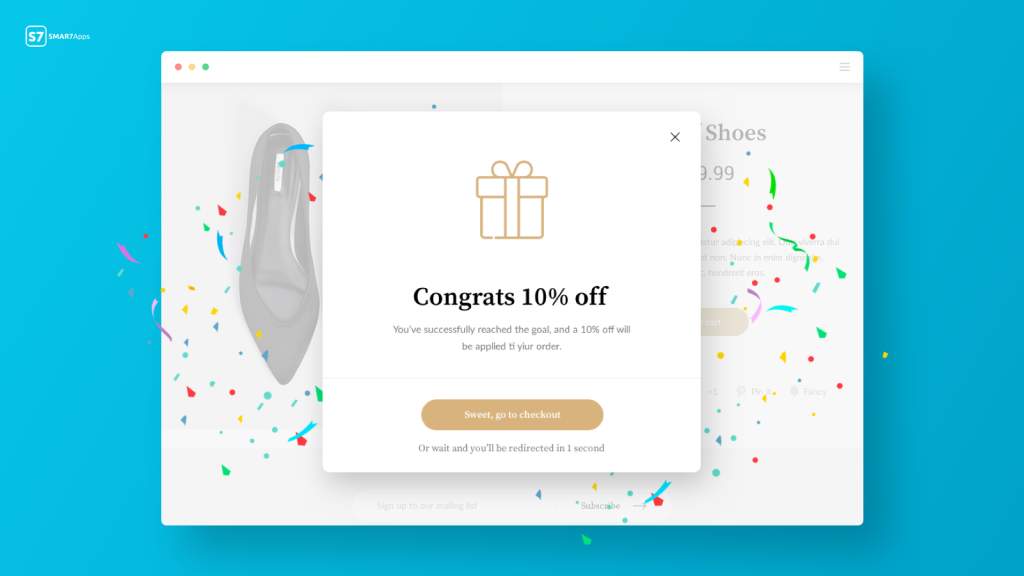 Actually, this app is quite popular in the Shopify app store, before it was free to install, although now it's a paid application, relatively speaking, it's still valuable. Besides, it offers 7 days of a free trial.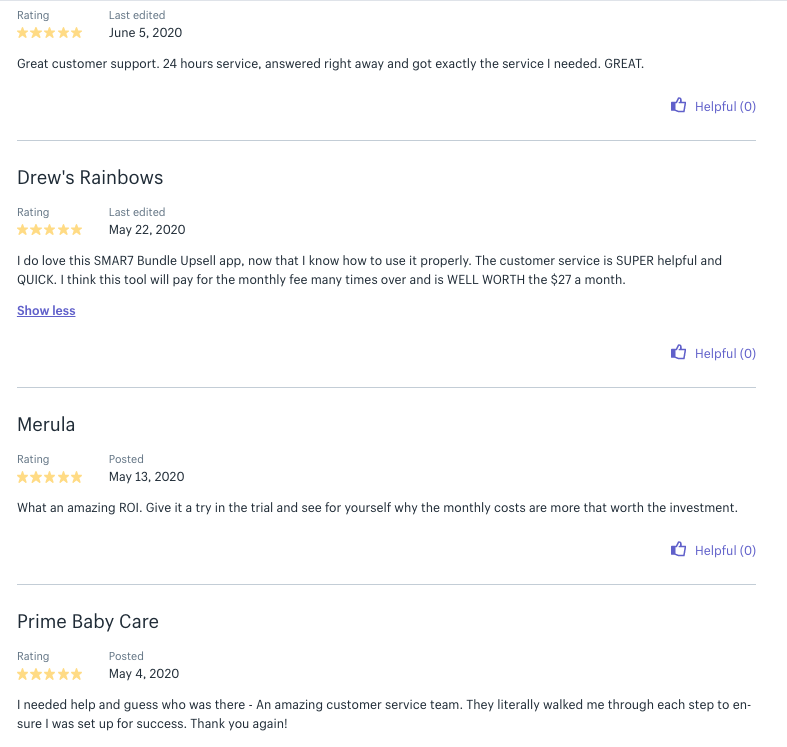 Smart Express -- Instantly Import & Fulfill AliExpress Products
Smart Express dropshipping app has been developed by SMAR7 apps with rating: 4.9/5 based on 4.9 reviews, concentrating on importing products and fulfilling orders immediately.
Key Features:
Automate your dropshipping
You'll be able to instantly import dropship products into your store with Smart Express, and the chrome extension of which will fulfill your merchandise.
Connect existing products
If you already have products in your store that need to fulfill, all you have to do is type the product supplier URL and they'll connect you.
Just 1-click and you are done
All it takes is one click to import a product into your store and when you're ready to fulfill an order all you do is click one more time.
Benefits:
Instantly fulfill orders with one simple step
One of the key features of this app is that you don't have to waste tons of time importing your products one-by-one through AliExpress, which means you can save more time and resources. Whenever you have an order, all you need to do is to log in to your dashboard, and to click a button for Smart Express takes care of the remaining and ship the cargos directly to your buyers. Moreover, every single product can be customized, which indicates that any description or images can be automatically added too.
The biggest goal of Smart Express is to utilizing your time wisely and optimizing your business to make as much profit as possible.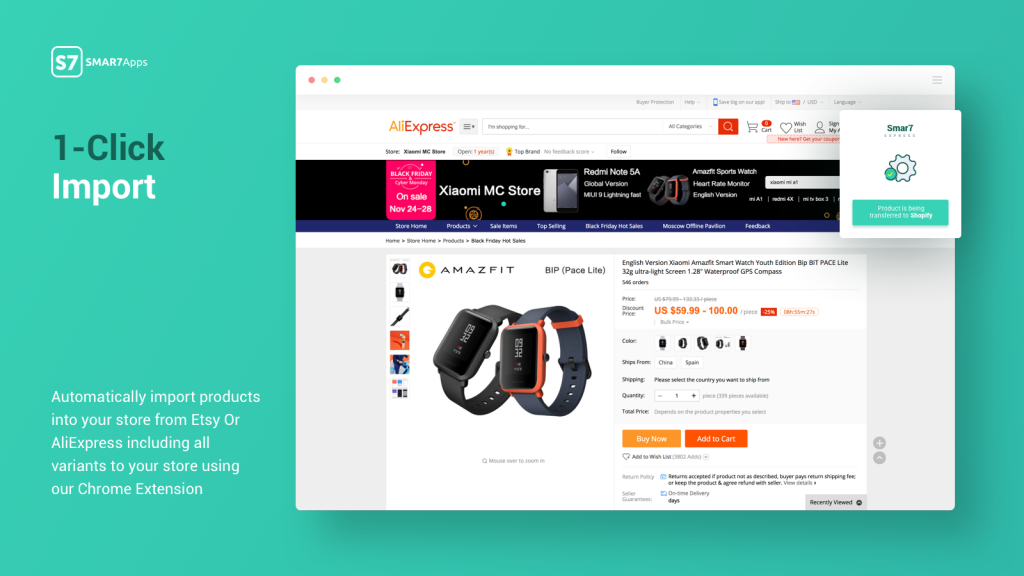 It is a really useful app indeed, but from the perspective of cost performance, I personally do not particularly recommend it, it's not free, the price starts $7.99/month (provides a 7-day free trial), you can also use Oberlo as an alternative to import products for free with one click.
In fact, the general process is:
Use FindNiche to find your winning products (it has massive product data and powerful filtering functions, I believe you can find your niches), then click "Show on AliExpress", which links to AliExpress, and use Oberlo's plug-in to import products to your Shopify store.
SMART Scarcity Countdown Timer -- Boost Your Sales By Harnessing Proven Psychology
It's scientifically proven that scarcity can immediately promote sales & revenue. If you are interested in this app, and what if someone or a pop-up window tells you that the free trial of this app will expire ten seconds from now, with absolutely zero risks, and it's the last chance to increase your sales, what would you do? Close this window or take immediate action? Similarly, In this proven way, encourage your customers to take action and boost your visits and revenue.
Key Features:
Boost sales with psychology
Harness a proven psychological principle that has been around as long as sales itself because scarcity is proven to increase conversions and sales.
Different timer styles
Various timer styles are provided for you to choose, with which, you can not only enhance sales but also make it matches the shop brand.
Get started in 30 seconds
Have your first-timer set up and operating on any product or the whole product catalogs in under 60 seconds. It only needs the simplest 4-STEP setup on the market: choose your countdown timer type, set a time frame, select your colors, pick a product or collection & that's it. Just enjoy more revenue from every single visitor.
Benefits:
Regular timers could be set on multiple products at once or even entire collections
With it, you can countdown for ten minutes or one hour, whatever you like, and rest once it hits zero, this app will benefits you with allowing you to have constant scarcity, easily improving your conversions, especially when you plan to run a special promotion, just set up one of these regular timers and pick the end date and time. Let your customers know in a simple, attractive way that your sale will be ending and about the amazing deal they're getting! Also, this timer can be used on multiple products, not just only a single one.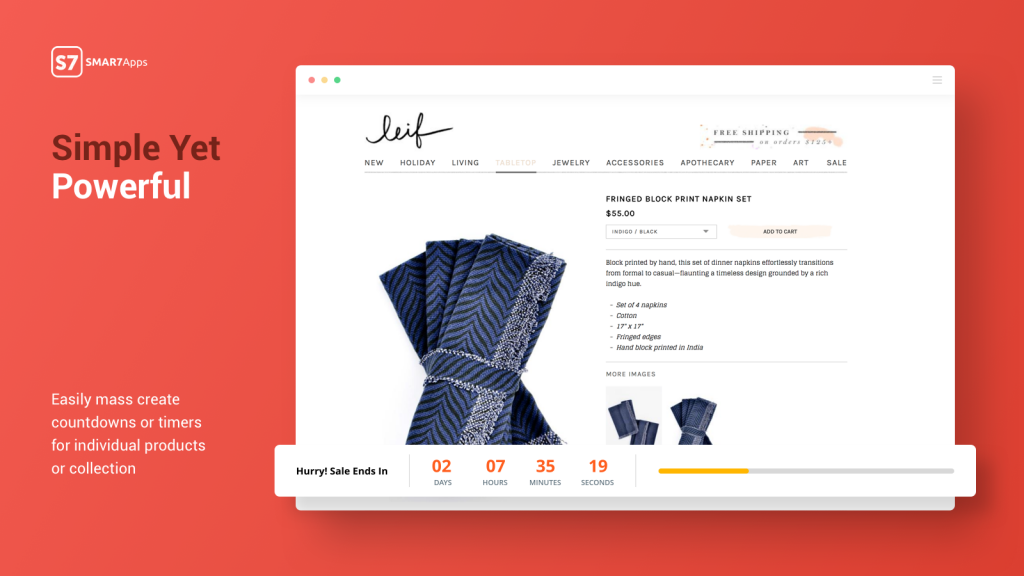 So far, this application is still free to install for your Shopify store, with the high cost-effective performance, you are highly recommended to try it.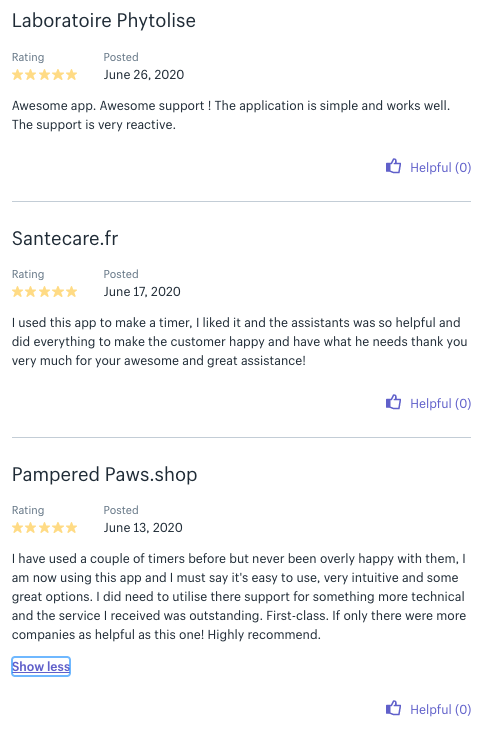 Actually, the idea of this kind of countdown timer was mentioned in our previous article (Click to check "Traffic, But No Sales? 10 Steps To Boost Your Sales"). You can go back and review it. Generally, it is also significantly important to put the timer in the right place, as we've mentioned in that article that a countdown timer can be placed in the announcement bar, product's page, or the shopping cart, which would produce a sense of urgency, generating a strong demand for customers, especially for price-sensitive shoppers, but you'd better not set up too many timers, too many of which will cause anxiety and greater pressure on customers, resulting in the loss of your sales and visitors.
Here are some suggestions for you:
the best place to announce "all at sell" and "free shipping" is the announcement bar, the promotion of several products are better placed in the product's page and shopping cart, as well as the homepage (don't launch too many products on your homepage), and commodity combination discount countdown timer would take effect positively if you put it in the shopping cart interface.
To spend less time and energy while achieving better sales and revenue for your eCommerce business, one of the effective ways is to be good at using these Shopify apps, of course, for new entrepreneurs, you can start with what I recommend above. Besides, apart from the Shopify app store, you can find more right software for your dropshipping business in BigMongolian.