Walmart Dropshipping: How to Set Up Walmart Dropshipping in 2022
According to eMarketer, about 63% of US Amazon buyers turn to Walmart as an alternative. Walmart is nearly twice as popular as Target and eBay when it comes to Amazon alternatives. If you are doing dropshipping, you will want to be involved in Walmart since it is a profitable marketplace.
Walmart does not only own a huge customer base, it also runs excellent customer service with its fast delivery and refund procedures. Therefore, as a drop shipper, you will be entering a reliable and well-known ecosystem that is going to help you to expand your dropshipping business. For beginners, Walmart dropshipping is a nice start since they don't need to worry about getting social proof for their products once they get approved for doing business on Walmart. Hence, Walmart dropshipping is a newbie-friendly in terms of what they can do for beginners at the beginning of their dropshipping business. After all these, what exactly are you going to prepare for Walmart dropshipping? You will get some ideas and help throughout this blog. If you wanted to do Walmart automation dropshipping, we also recommend some tools to help you with that.
For beginners, Walmart dropshipping is a nice start since they don't need to worry about getting social proof for their products once they get approved for doing business on Walmart. Hence, Walmart dropshipping is a newbie-friendly in terms of what they can do for beginners at the beginning of their dropshipping business. After all these, what exactly are you going to prepare for Walmart dropshipping? You will get some ideas and help throughout this blog. If you wanted to do Walmart automation dropshipping, we also recommend some tools to help you with that.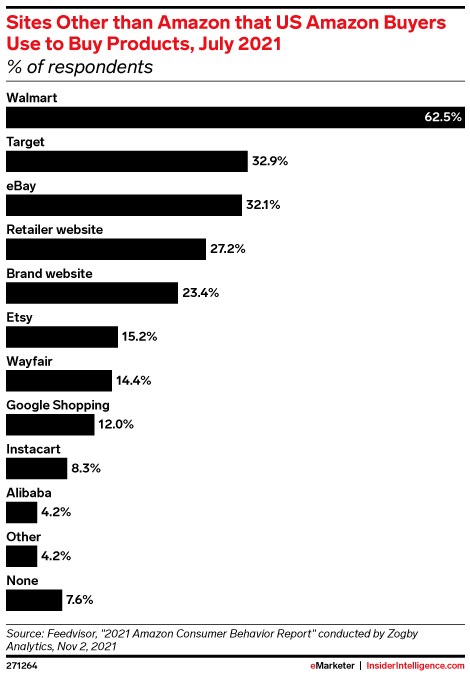 What is Walmart Dropshipping?
It is like other platforms, when you dropship on Walmart, you are using Walmart as the marketplace for selling your products online. You will be shipping orders from suppliers directly to Walmart customers. You are dropshipping on Walmart. Therefore think about Walmart as a deposit for your products where it helps you to sell thereby you are restricted to its rules and terms in order for you to keep your products on shelves.
The Pros and Cons of Doing Walmart Dropshipping
Get yourself informed from two sides and get more insights into Walmart dropshipping by introducing the pros and cons of Walmart dropshipping.
Pros:
Abundant product assortment. Walmart has over 35 product categories. You have more flexibility over items you can sell as long as they are not forbidden items listed by Walmart.
No upfront fee. You pay nothing to apply for selling on Walmart. You do need to share a portion of your revenue with Walmart that is called the referral fee. Find your split with Walmart.
Get access to fast shipping delivery. Shipping can be a nightmare for drop shippers. However, Walmart's logistics partners cover the shipping for you with its two-day delivery. Fast delivery is really a boost for dropshipping sellers to earn positive reviews from customers.
Traffic. Dropshipping products are getting high-intense traffic with 220 million customers visiting the store across 24 countries every week.
Cons:
Hard to get listed. Walmart is strict on its partners. If you plan to apply to drop ship at Walmart, you will need to provide very detailed information. The application review normally takes two to three weeks.
Restricted to Walmart pricing rules. Selling on Walmart means you are going to price-match in accordance with Walmart pricing rules. That usually means lower prices and less profit to you.
Don't be put away by the cons though. Walmart has a comparatively large advantage over other dropshipping platforms. Think about how much it saves you on product management and advertising budget.
The Challenges of Doing Walmart Dropshipping?
While Walmart opens up new opportunities for drop shippers, it does not come without challenges.
Lack the knowledge of market trends and competition when entering Walmart dropshipping
Probably we will all agree on the importance of market analysis on business growth and long-term planning. When we shift into a new marketplace, it is the first information we want to have by hand. A well understanding of the dynamic of the market trend helps you to uncover opportunities and define your unique sales proposition. It is better off if you are constantly monitoring the market. That is to say, if you want to make a hit on Walmart dropshipping, you will want to know what niches or products are on-trend in the Walmart market.
Get into a profitable niche
Niche is the key to the success of dropshipping. Walmart Dropshipping comes with no difference. However, finding the right niche is a hurdle for all drop shippers since it requires them to analyze through a bunch of data. Since Walmart has a large product assortment, it only makes data analysis and decisions more difficult.
Find reliable suppliers
Finding suppliers from scratch is going to be time-consuming. You will never want to partner with crappy suppliers since they will ruin your business.
Get your products to stand out among other competitors
Yes, you will be getting large traffic but at the same time, you are competing with a great number of other products.
Despite all these challenges, we get you the solutions to help you start a profitable Walmart Dropshipping:
How to start Walmart Dropshipping?
The following passages focus on providing tips and solutions to help you get over the challenges aforementioned. We will be especially discussing market dynamic monitoring, product researching, and listing optimization to help you get started on Walmart dropshipping.
Monitor market dynamic of Walmart
Speaking about market dynamics, there are a lot of things included: utility, popularity, prices, demand, and more. As for the Walmart market, since it sells almost everything and it is the first alternative to Amazon, it is reasonable to assume that items that sell well on Amazon are also going to sell well on Walmart. Therefore, the Amazon market is a strong proof for you to monitor Walmart dropshipping.
Also, your competitors' moves signal the market dynamic therefore keep an eye on them in order to quickly respond to the market.
Find lucrative products for Walmart dropshipping
Product metrics as important metrics. How do you know that a product is going to make profits? You won't. Nobody gets it right every time. However, it is important for us to know how to "read" a product so that we are able to tell it has the potential to make the hit. For instance, 7-day sales are more important than total sales when it comes to predicting the potential. I am not suggesting the total sales aren't important. What I am suggesting is that as a drop shipper you need to understand what product metrics to look for and how to weigh them differently in your context.
Best-selling products on Shopify as forecasters. If you start from scratch, it is a good idea to look up what products sold well on Shopify; they can be your target to sell for Walmart dropshipping as well. FindNiche features a chart recommending potential niches for drop shippers every day which is a nice start for product researching.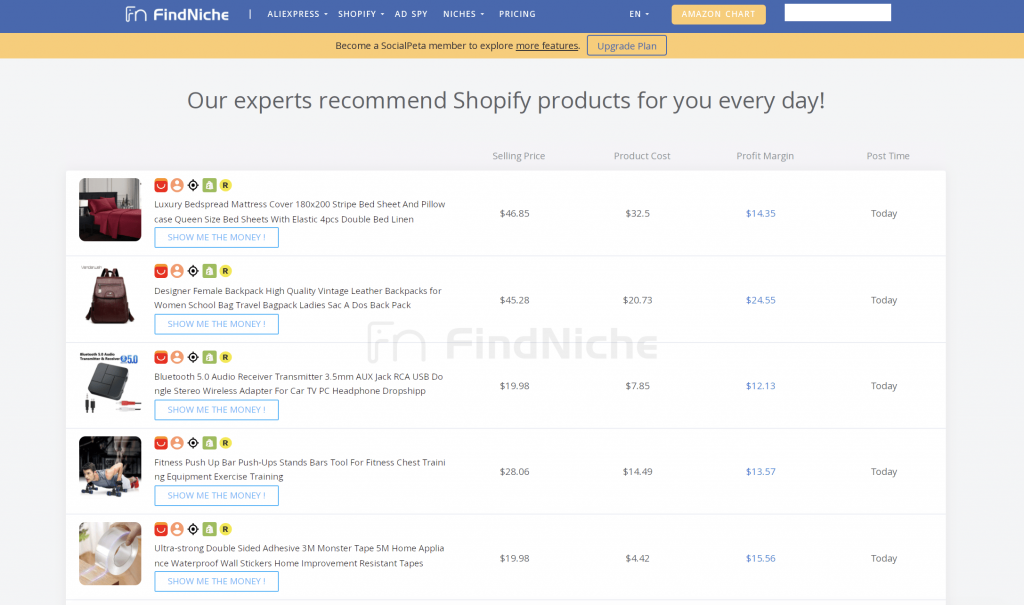 Find reliable suppliers for Walmart dropshipping
If you did Shopify dropshipping before see if you could work with your past suppliers. If not, you can find suppliers on FIndNiche. FindNiche shows suppliers, if available, of Shopify products. "Due to the integration of Shopify and Walmart, these apps can be used for Walmart sales (eprolo, 2021), you can trust FindNiche on finding reliable suppliers for your Walmart dropshipping.
Use FindNiche to find dropshipping suppliers
There are two ways you will find suppliers on FindNiche.
On the one hand, go to the Aliexpress database. Search for the item and click to view them on Aliexpress webpage. From there you can reach out to Aliexpress suppliers.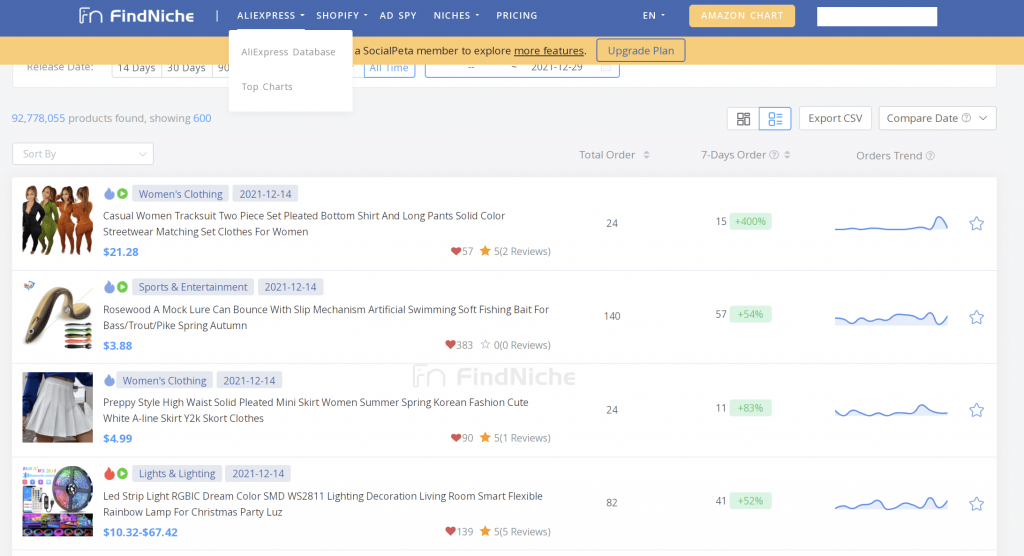 On the other hand, search a Shopify product in the Shopify database. Click through the product and you will see its Aliexpress suppliers.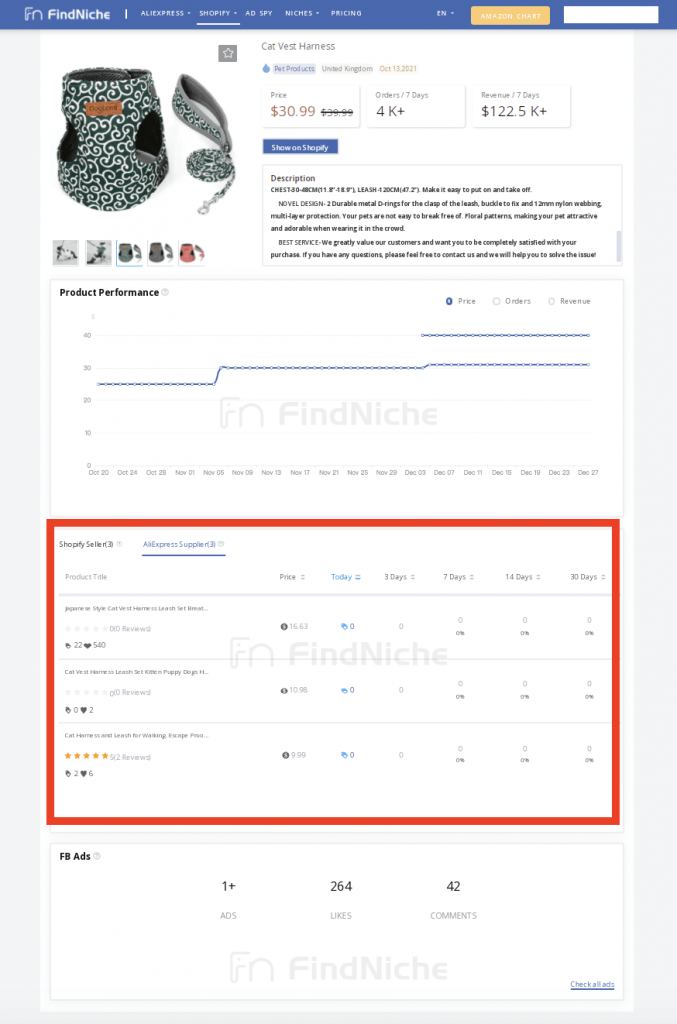 Optimize listing for your dropshipped products
Like every platform, Walmart has its algorithm to determine which product appears as the first result when customers search for a keyword. In order to increase your product visibility, it is necessary to optimize your listings. You can start SEO on product names, quality of images, key features description, and product description by adding accurate and competitive keywords.
Get your list's information all accurate and appeal to Walmart Algorithm is going to help you win the buy box on Walmart. In addition to that, well-written, authentic content is going to affect customers' shopping experience and reviews. You will want to have a positive performance on customer service since that will increase your possibility to earn the buy box and boost your orders.
Top 5 Walmart Dropshipping Automation Services
Ecomdash: manages Walmart dropshipping through auto-update inventory, orders/sales management, orders tracking, and automate fulfillment. You can try it for free!
InventorySource: helps connect sellers to wholesalers and vendors. A plus of InventorySource is that they have an accountant system that allows you to keep track of sales records. The pricing ranges from $0 to $199 depending on whether you want a full automation service or not.
EcomeCircles: it is more of a service that you will be assigned and worked with a professional team. They will guide you through all the processes. EcomCircles offer a 7-day plan for free and subscription plans starting from $197.
NextGenInvestments: it is a service provider that will take care application process, inventory management, delivery, and customer service for you. Since it is a one-on-one service, it is much expensive to use NextGenInvestments unless you have a six-figure business.
Elite Automation: they offer an end-to-end service that basically helps you from scratching to managing your automation business. They don't reveal their pricing on their website. You will need to schedule a call for further information.
Personally, I would recommend Ecomdash as it provides up to 30 orders per month and unlimited listings for free. It is a fair deal if you just start Walmart dropshipping.
Conclusion
In conclusion, Walmart is a competitive arena for drop shippers. To prepare for doing Walmart dropshipping you will need to know the preposition of Walmart customers. Take advantage of FindNiche's massive database, learn product metrics to find a pattern for lucrative products, and get reliable suppliers to help you get the last piece on the right spot. Also, turning to Walmart dropshipping automation service is a good option when you feel needed to save you time and energy on tedious tasks.
FAQs
Does Walmart allow dropshipping?
Yes. Walmart supports three ways of dropshipping. 1). Be the dropshipping vendor 2). Resell Walmart products on other platforms such as eBay 3). Dropship on Walmart (this is what we focused on in this article)
How to dropship from Walmart to eBay?/How to dropship from Walmart to Amazon?
eBay and Amazon both state that a seller can't purchase from other retailers and ship them directly to customers. What they allow is you sell items that belong to you. That means you can sell things you bought from Walmart on eBay or Amazon, and you can't contact wholesalers of Walmart to ship products to customers.
How to dropship from Walmart to Shopify?
There are a bunch of apps to help you to import products to your Shopify store. Apps such as AmaZone DropShipper + Walmart allow you to sell both on Walmart and Shopify.