5 Best AliExpress Analytics Tools For Winning Product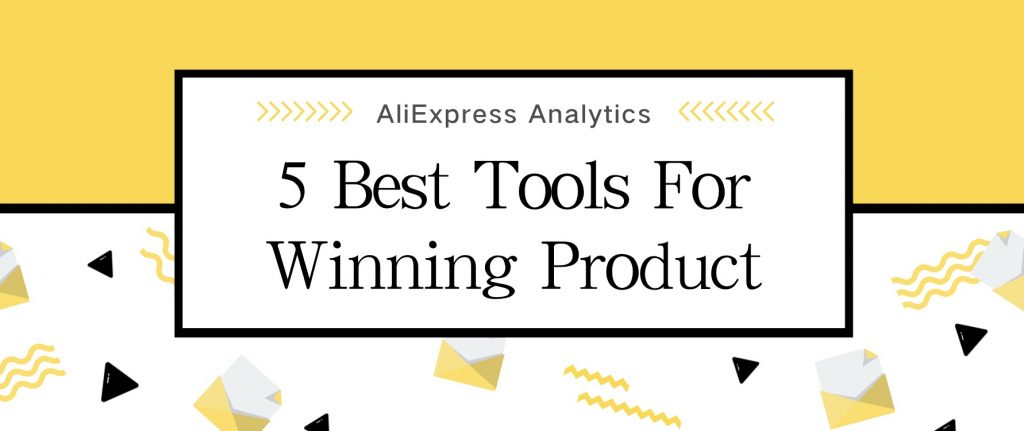 Why should you find winning product on AliExpress?
Finding products to sell in your online store can be challenging, most especially when you're a novice to the game. Trust us, sourcing winning, trending, hot (or whatever you want to call them!) products can be a huge difference between your store's success and failure.
Why select products on the express platform? AliExpress is the largest online supplier platform in China. Global AliExpress has become one of the world's largest online markets and the world's largest online supplier platform. The products covered range from electronic products and clothing to household goods and jewelry. A variety of commodity information can be obtained through this platform. On this platform, you can directly contact suppliers to obtain the source of goods at the lowest price and expand your profit margin. It is the most effective strategy for dropshipping to find winning products on this platform.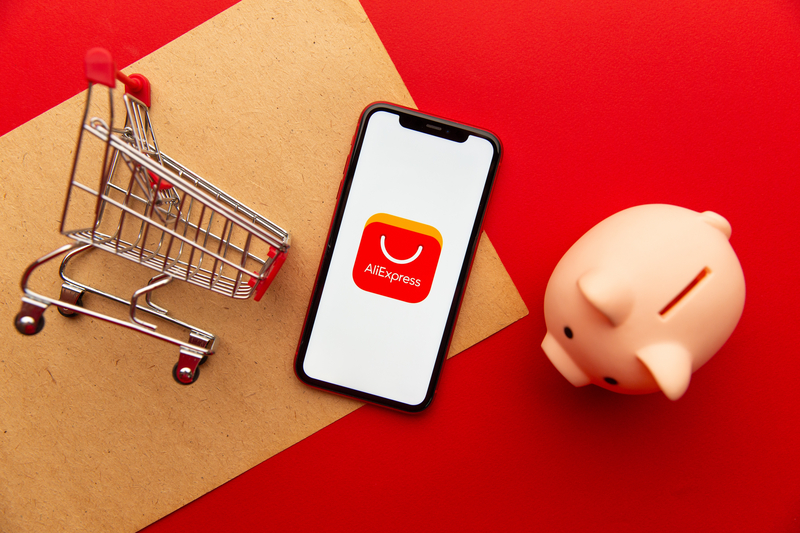 What can the AliExpress analytics tools do for you?
Now, people who have experience in finding the niche on AliExpress know that the number of products on AliExpress is more than 100 million. We can only use classification and keyword conditions to narrow the selection range. we can only look at the total order of goods to judge the Potential niche. It is difficult to filter products, and the reference of the total order for finding potential niches is limited.
Therefore, many AliExpress analytics tools provide multiple screening and order monitoring functions to monitor the daily orders of goods. It also supports importing express products into an independent station platform, and even creating an order management system to realize a series of services for sales.
Although you can find niche directly on the AliExpress platform, the paid tool can make you find your own niche market faster and easier. it depends all on you
5 Best AliExpress analytics tools
No.1 FindNiche
The very first AliExpress analytics tool that gets an AliExpress tool inside is FindNiche which is one big search engine for AliExpress products. It could be searched the Shopify/AliExpress best sellers and track competitors display ads. By using this, you have a ton of options available to filter products and view daily orders for AliExpress products. You can even check the Shopify sellers and advertising of this AliExpress product.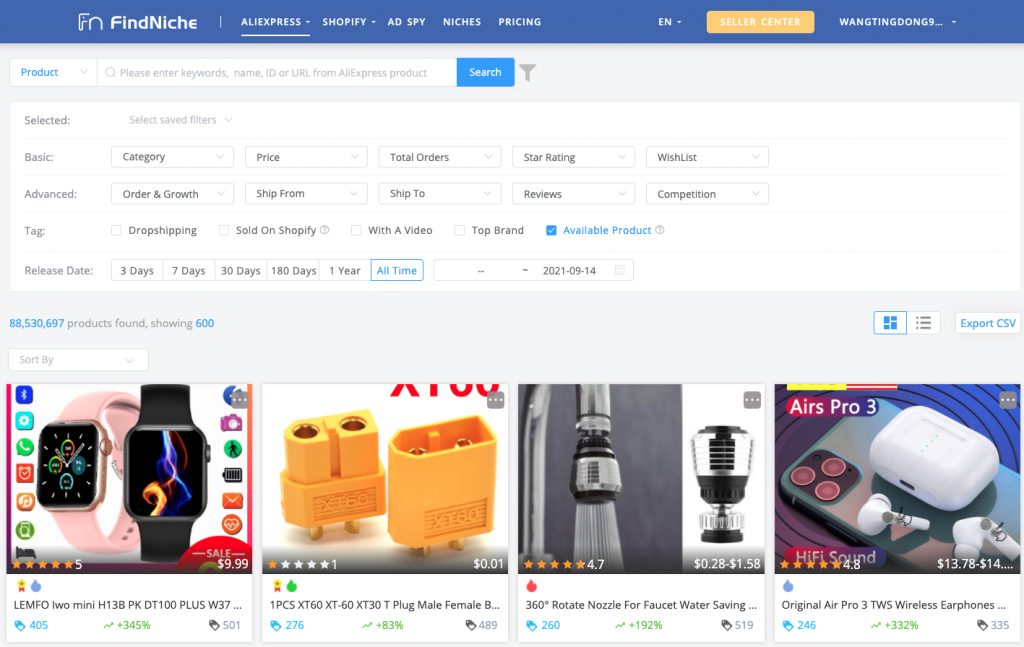 This is what you can filter products on:
Category. This displays the category of AliExpress products from the platform.
Price. You can select the price range or fill in the minimum and maximum prices of the Product.
Order. It will show you the filter items about orders, including total orders, 7-day orders, 14-day orders, 30-day orders, and their growth rate
Product Rate. This filter only shows the performance of consumer reviews. In a way, it can reflect the level of the supplier.
Wishlist. This displays the number of adding to the wishlist.
Ship address. It will show you the information about delivery, including delivery address and delivery location
Review. This filter only shows the number of consumer review
Besides, you can also view the Shopify sellers of this commodity to get the degree of competition of the commodity. Check the advertisement to get the performance of this product in the traffic market.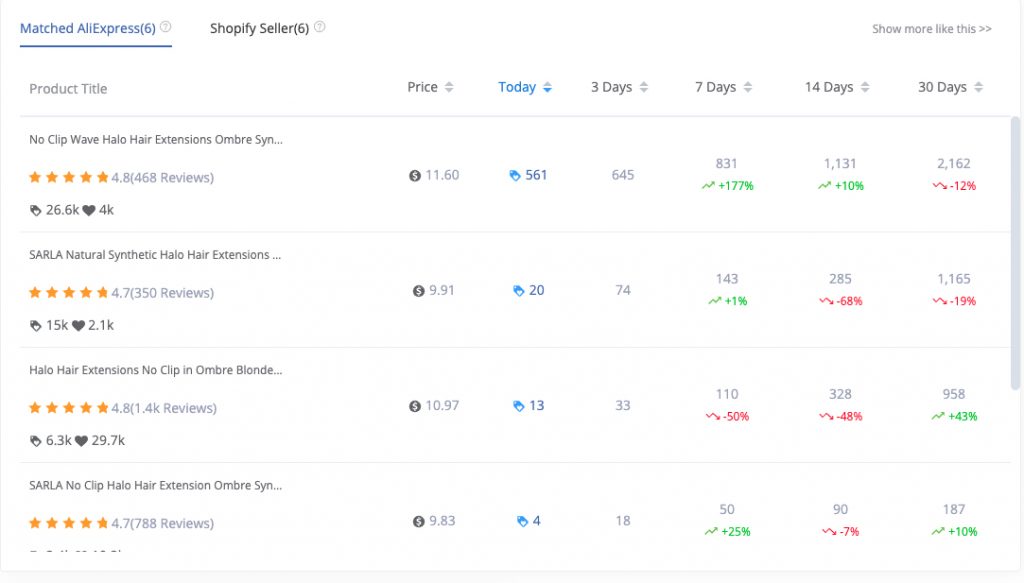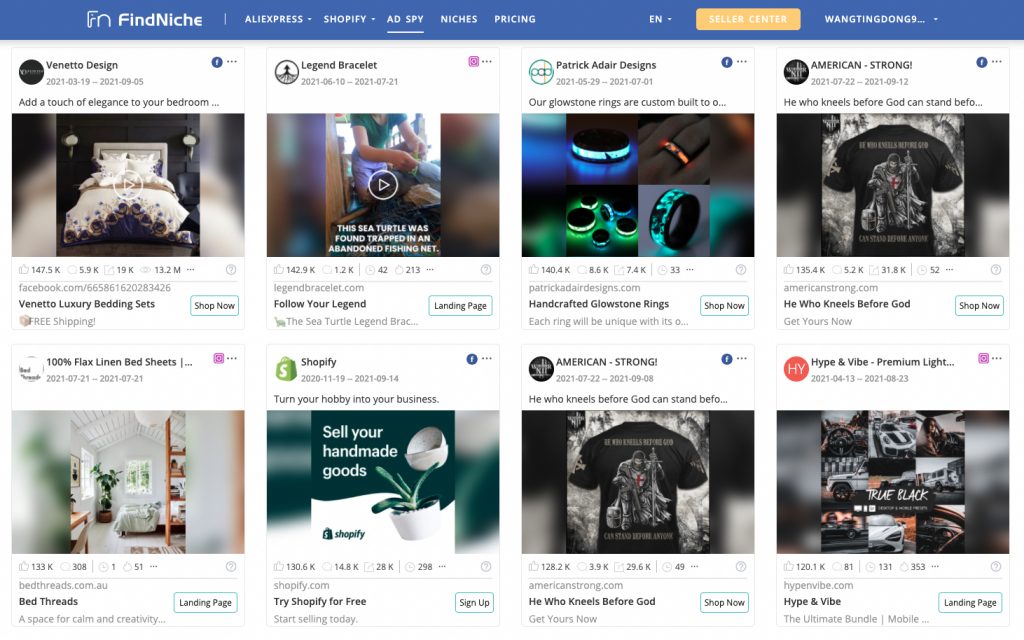 FindNiche's current price is $9 per month of the Aliexpress platform, and they do provide a trial for just $1 to the new account. The trial program includes the right to use Shopify and advertising.
It is worth mentioning that Find Niche provides a variety of ideas for finding winning products, not only selecting products on the express platform but also verifying popular models from sales channels. It also includes the monitoring of competitors. That means using one tool is equivalent to using multiple niche tools at the same time.
No.2 Sell The Trend
Sell The Trend is a new product research tool. It contains many different functions, which will certainly surprise you.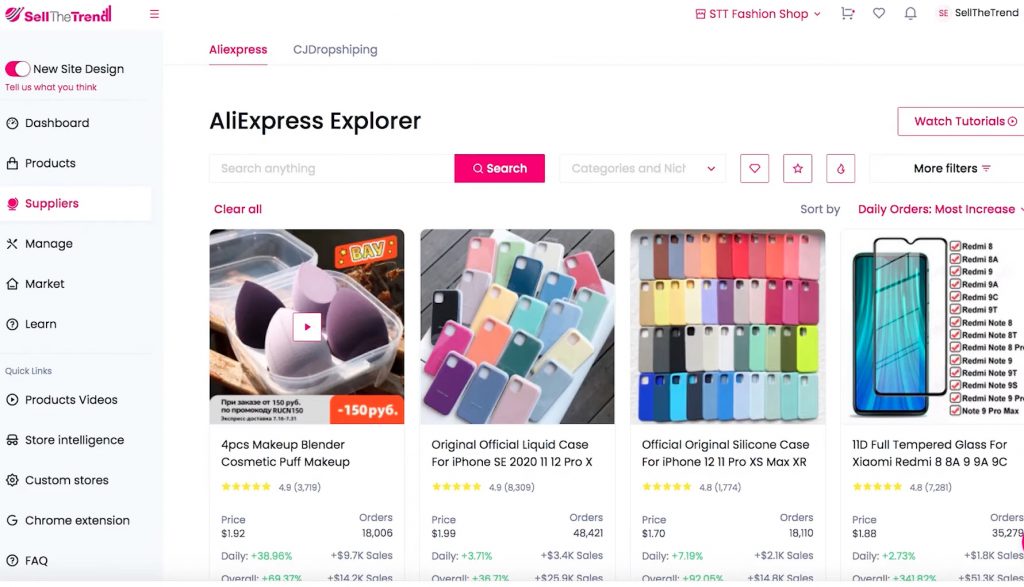 This tool has relatively few data dimensions and is relatively simple to use. Check today's sales volume and sales trend to judge whether the product is a popular item.
The price of Sell The Trend is $39 per month, and you'll get 2 months for free if you pay annually. At the same time, the tool also provides a 7-day trial.
No.3 AliShark
AliShark doesn't have different tools inside. There is only one AliExpress tool. It is very similar to Find Niche and is one big search engine for AliExpress products. You have a series of options available to filter products of the AliExpress platform.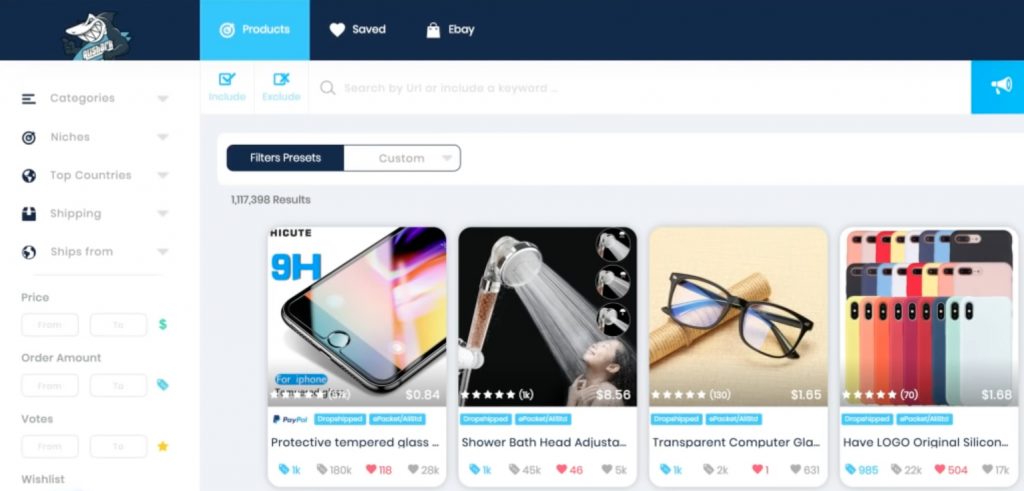 It is worth mentioning that both products provide database queries, but the data volume of Find Niche far exceeds that of Alishark. Alishark's current price is $20 per month, and they do offer a 2-day trial for $1.
No.4 Niche Scraper
This tool that gets an AliExpress Analytics tool inside isNiche Scraper. This tool has fewer filters, but it can also achieve the function of a basic niche finder. Although there is a 7-day order growth trend, there is no longer order monitoring, and there is little data for AliExpress analytics.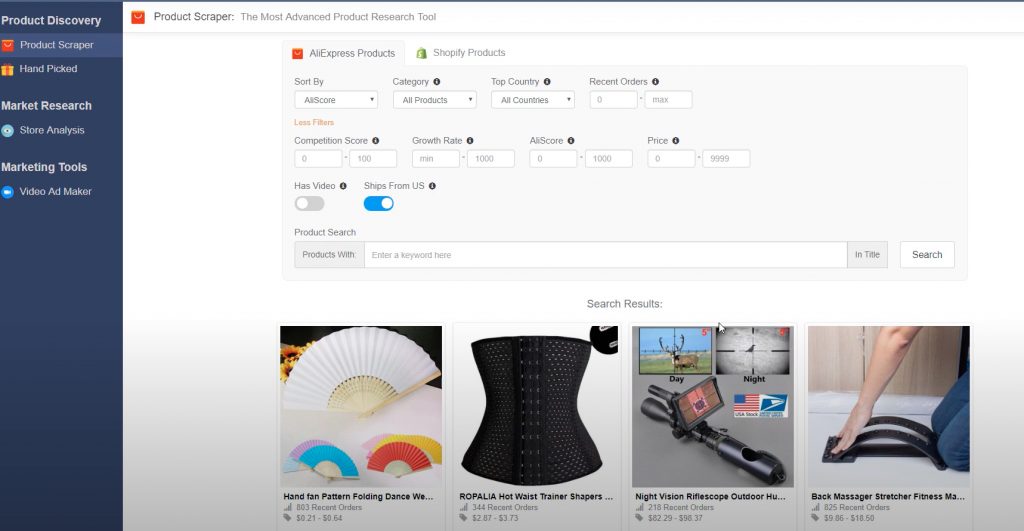 Niche Scraper's current price is $49.95 per month. Create a free account and you will have access to a few free searches in each category.
No.5 AliExpress Dropshipping Center
Aliexpress Dropshipping Center is a tool produced by AliExpress itself, which can help businesses find products, analyze products and easily find suppliers.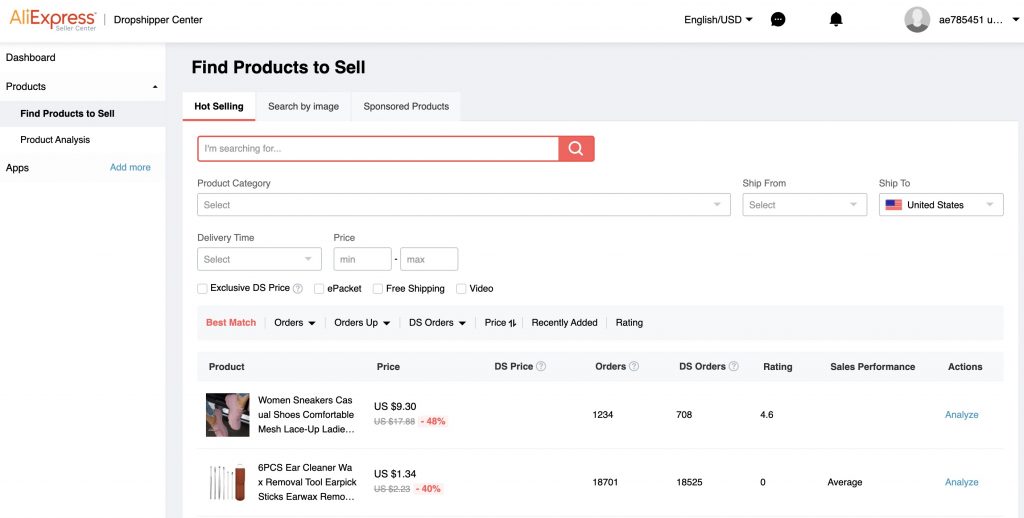 You're ready to find winning products by keywords, categories, prices range,shipping condition, video availability, and more selection criteria now.
It should be noted that the quantity of products officially provided is limited, and the daily change trend of orders is not disclosed. This tool is still the first choice for novices who are Dropshipper. And it is free
The bottom line
The importance of find winning product is self-evident. If you choose a potential niche, you will be half successful. On this basis, combined with some operational skills, it is easy to create your own popular product. The above tools can help you better find winning products on AliExpress. Hope they can help you,and good luck with everything that you are going to do!