Alibaba Vs AliExpress: Which One is Your Best Choice for Dropshipping?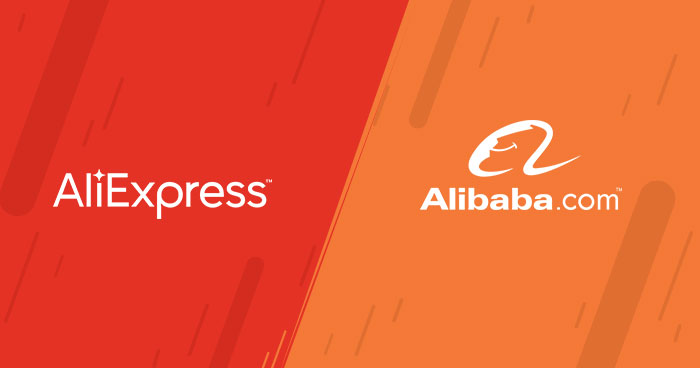 Have you heard of Alibaba?
Known as the Chinese version of Amazon, Alibaba Group is one of the world's largest retailers and e-commerce companies, with its products monopolizing a large portion of the world's B2B and B2C business. If you are a dropshipper who is eager to source products from overseas, then you need to know about Alibaba and its "brother", AliExpress, and choose the most suitable platform for you to start your dropshipping business.
What is Alibaba.com?
You need to understand the difference between Alibaba Group and Alibaba.com. Alibaba Group, one of the largest e-commerce companies in the world, has major B2C products including Taobao.com (China) and AliExpress.com (global), and major B2B products including 1688.com (China) and Alibaba.com (global).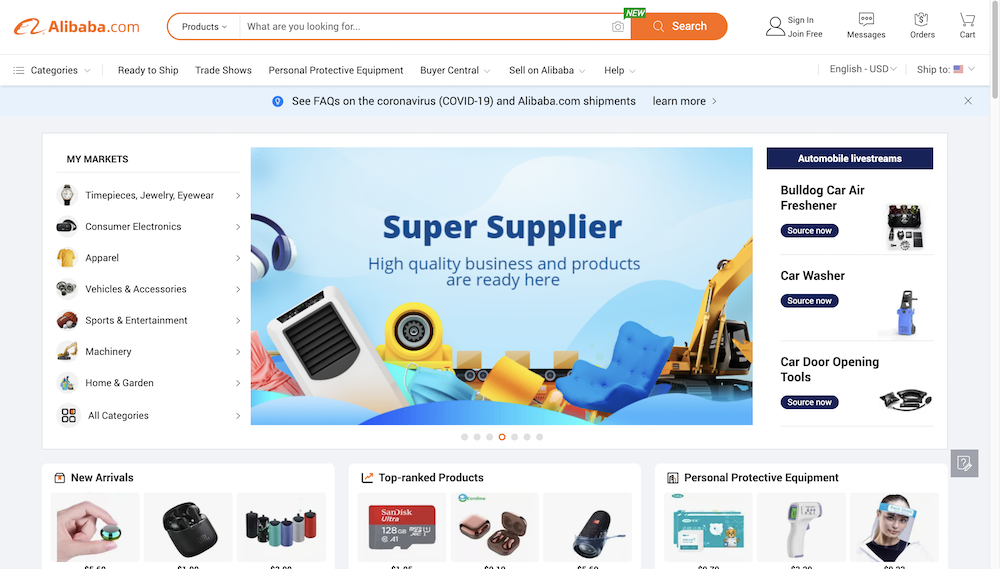 Founded in 1999, Alibaba.com is the first business of the Alibaba Group. Alibaba.com is a B2B marketplace and a leading platform for global trade. Tens of thousands of small businesses can connect with suppliers from more than 240 countries on Alibaba.com. Because of this, items on Alibaba.com have huge price advantages and have become one of the sources for dropshipping products.
Alibaba does not own the supply chain or inventory of its products, but rather provides a secure trading platform for business sellers and suppliers, and provides the technology to support the transaction process. Suppliers who are enrolled in Alibaba are directly responsible for their products and shipping, but must adhere to Alibaba's guidelines and specifications.
This is completely different from the Amazon we are familiar with. Amazon stores are required to send items to Amazon's operations centers, and Amazon selects, packages, ships, and provides customer service for these products, which is called Amazon FBA.
What is AliExpress?
AliExpress, a B2C product of the Alibaba Group, was launched in April 2010 and is based in China as an e-commerce trading platform for global consumers. Thanks to the strong industry chain in China, AliExpress sells more than 100 million items and you can buy goods on AliExpress through the lowest price.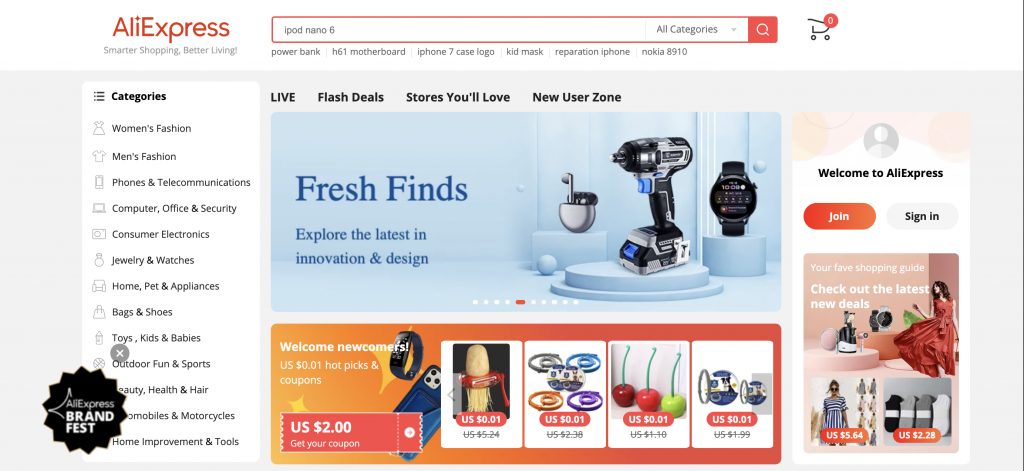 How does AliExpress work?
Unlike Alibaba, AliExpress is a B2C model e-commerce platform. A large number of companies from China sell their products on AliExpress. Consumers from all over the world can buy their favorite products directly on AliExpress.
In a way, you can think of AliExpress as an Asian version of Amazon. Compared to Amazon, the products on AliExpress are cheaper, but the delivery time is longer because the products need to be shipped from China to the customer.
Compared to Alibaba, it is Chinese companies, not necessarily suppliers, that sell products on AliExpress, so consumers may not always get the best prices. However, AliExpress dropshipping has a unique advantage.
Difference between Alibaba and AliExpress?
As mentioned earlier, Alibaba is a B2B (business-to-business) e-commerce site, while Aliexpress is a B2C (consumer-facing) e-commerce site.
It is because of this basic difference that Alibaba and Aliexpress differ in terms of minimum order quantity, product prices, shipping costs, etc. The details are shown in the table below.
| | | | |
| --- | --- | --- | --- |
| | | Alibaba | AliExpress |
| 1 | Minimum order quantity requirement(MOQ) | High, usually at least 2 products, but some products allow single purchase. | ✕ |
| 2 | Payment Methods | Support credit and debit card payment | Support credit and debit card payment |
| 3 | Price | Low, and different prices for different order volumes, prices can be negotiated | Relatively high and fixed non-negotiable price |
| 4 | Shipping Costs | Vary based on seller | Usually free |
| 5 | Whether to support customization | Custom design and logo support | ✕ |
| 6 | Evaluation Rules | Evaluate products and suppliers | Evaluate products and suppliers |
| 7 | Returns & Refund | ✔ | ✔ |
| 8 | Add products directly to the store | ✔ | ✕ |
| 9 | Dropshipping section | ✔ | ✕ |
According to the chart, Alibaba is more suitable for bulk sales dropshipping business, which will give you more cost-effective prices. Of course, if you want to sell private label items, Alibaba is more suitable for you, because the suppliers on Alibaba support buyers to participate in designing and adding logos.
Aliexpress, on the other hand, is more suitable for single-sales dropshipping businesses. You can't sell your own brand and most items are not customized.
How to do Alibaba dropshipping?
When you read this, you may lose faith in Alibaba dropshipping and think that Alibaba is not suitable for dropshipping business.
Alibaba's minimum order size limit will undoubtedly put many dropshippers off.
Yes, AliExpress is obviously a better choice for dropshippers who don't want to bear the pressure of inventory, but that doesn't mean that Alibaba dropshipping is impossible. Alibaba has also made a lot of improvements and efforts to facilitate dropshippers. You can follow our steps to try Alibaba dropshipping.
Find the Alibaba dropshipping area
Did you know that Alibaba has opened a dropshipping area to allow dropshippers to better carry out their dropshipping business?
Here, you don't have to filter out the products that you can sell yourself, because the Alibaba dropshipping area has already filtered out those products for you with a minimum order quantity of 1. This means that you can buy them as a single item. The first step you need to take is to find the Alibaba dropshipping section.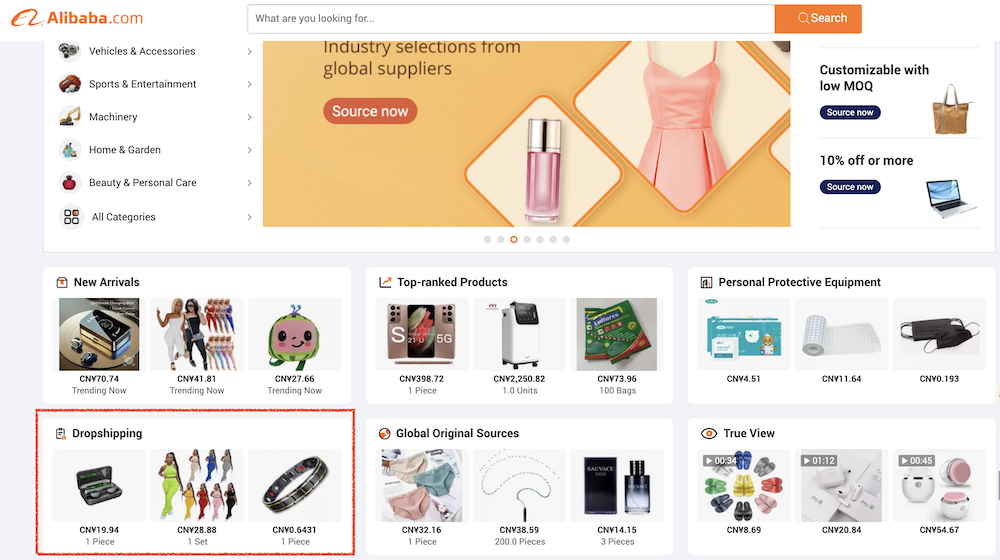 Add your store
After entering Alibaba dropshipping, don't rush to add products, you first need to import your online store. Click "My Stores" at the bottom left of the page, you will see the store import portal.
Alibaba dropshipping supports importing Woocommerce and Shopify stores. You can click "Add Store" and fill in your store link to import.
Please note that Alibaba dropshipping only supports importing one store. If you want to add another store, you must disconnect the existing store.
Search Products
Product research is often a critical and very headache-inducing part of the dropshipping business. Although Alibaba dropshipping provides you with all the products you can sell, just "being able to sell" is not enough, most dropshippers want to find niche products.
But this is not easy to achieve in Alibaba dropshipping. Because there are fewer products to choose from, and fewer filters to search for them. If you hope to find niche products to sell, the only thing you can do is to brainstorm and then keep searching, comparing, and then making your own judgment.
This is hard to do for newbies without a lot of experience. If you are a newbie, I suggest you try AliExpress dropshipping first. the best dropshipping niche finder - FindNiche can help you find niche products efficiently. How to do it, please read carefully later, we will make a detailed introduction.
But for senior dropshipper, it is possible to use experience and understanding of the industry to find niche products, thus using the low price of Alibaba products to achieve a breakthrough in profit growth.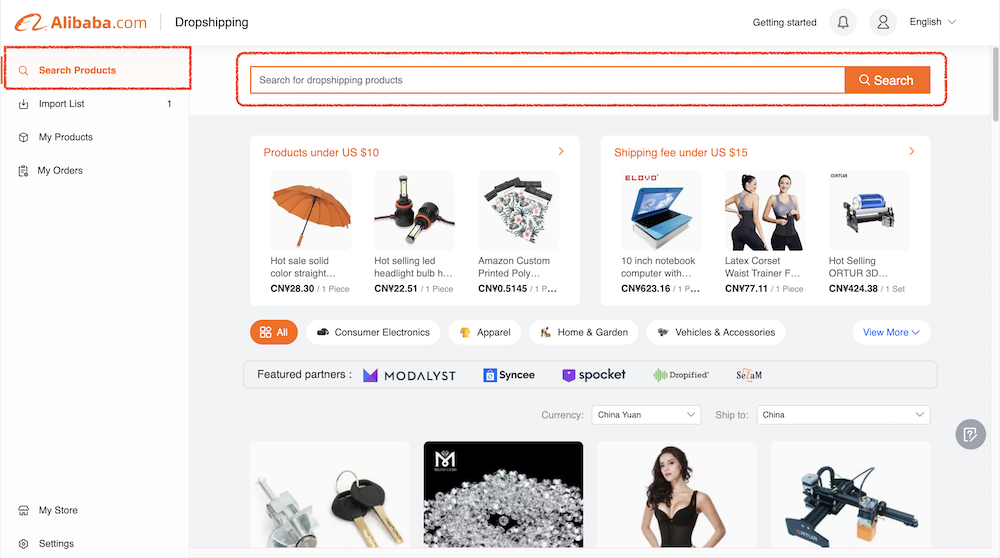 Import products into your store
Once you have selected your products, the next step is to import the products you want to sell into your store. Click on the product details page and click on "Add to Import List" on the right side of the product page.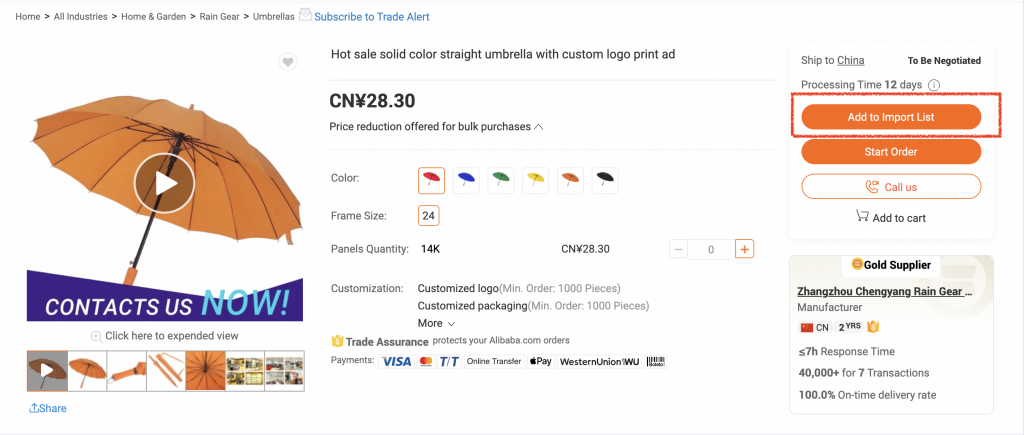 The product will then go to the import list. You can modify and edit the description, images and other information of the product in the import list. After confirming that there are no problems, click "Push to store". Of course, if you still have questions about the product, you can click on "Chat with Supplier" to communicate with them.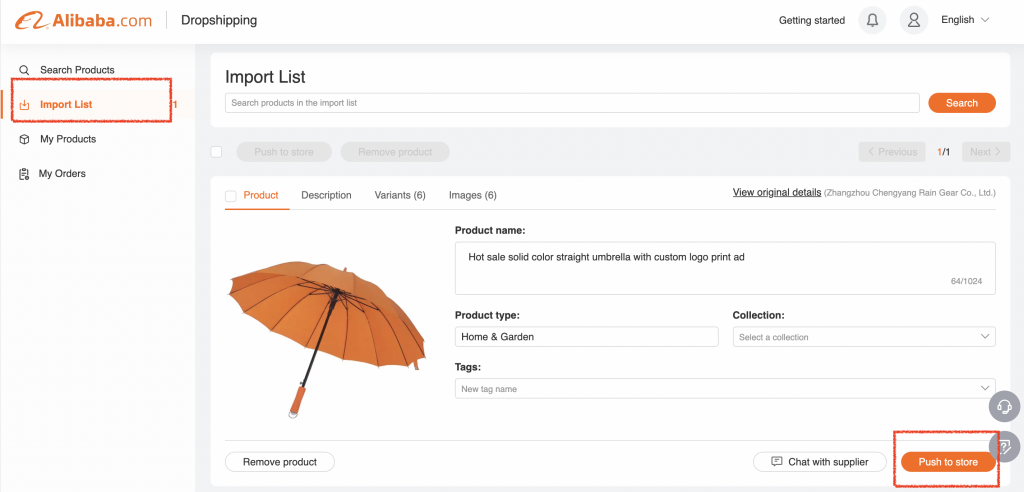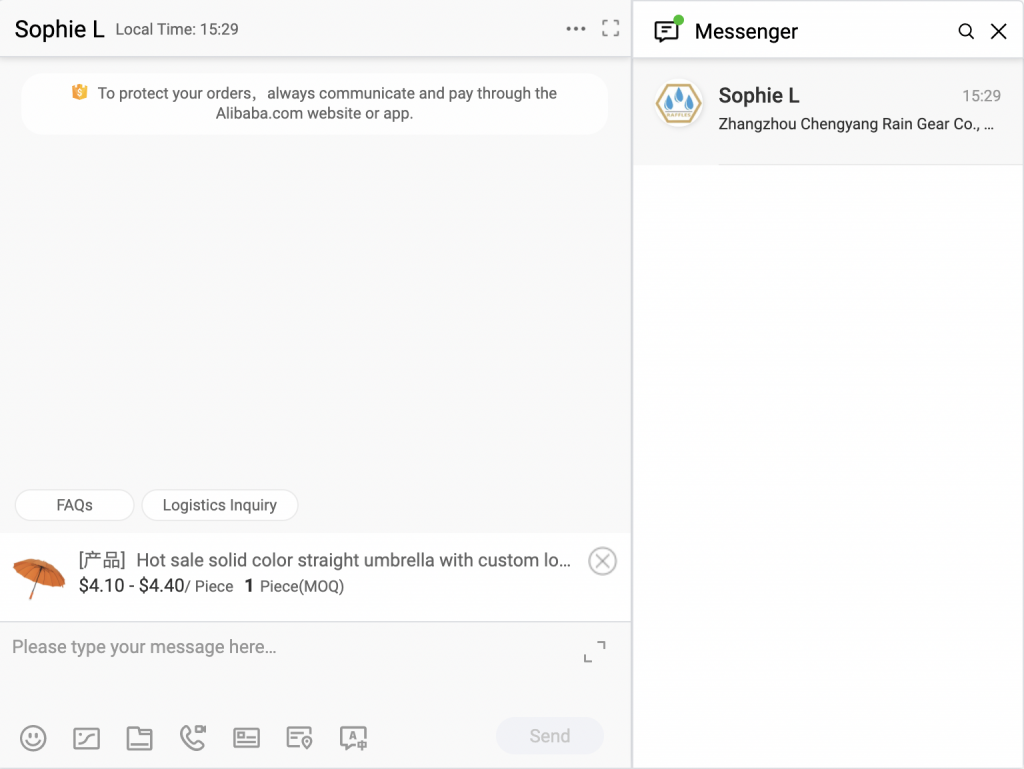 Then the finished products are successfully imported into your store and you can start selling them!
It's worth noting that Alibaba dropshipping is set to "auto-update" by default. Alibaba dropshipping also offers a price setting feature where you can fill in your price calculation formula. When the cost of a product changes, Alibaba will automatically modify the price of the product on your store based on the formula you fill in. All this can be done and modified in "Settings".
Compared to Alibaba dropshipping, AliExpress dropshipping process is much simpler. There are various tools available throughout the process to help you conduct your dropshipping business better. All you need to do is to choose those tools that can really help you to increase your profit among a large number of tools.
As mentioned before, product research is quite important in the dropshipping business. Product research requires long-term dropshipping experience and industry insight. But now with the best dropshipping niche finder--FindNiche, newbies can easily find niche products.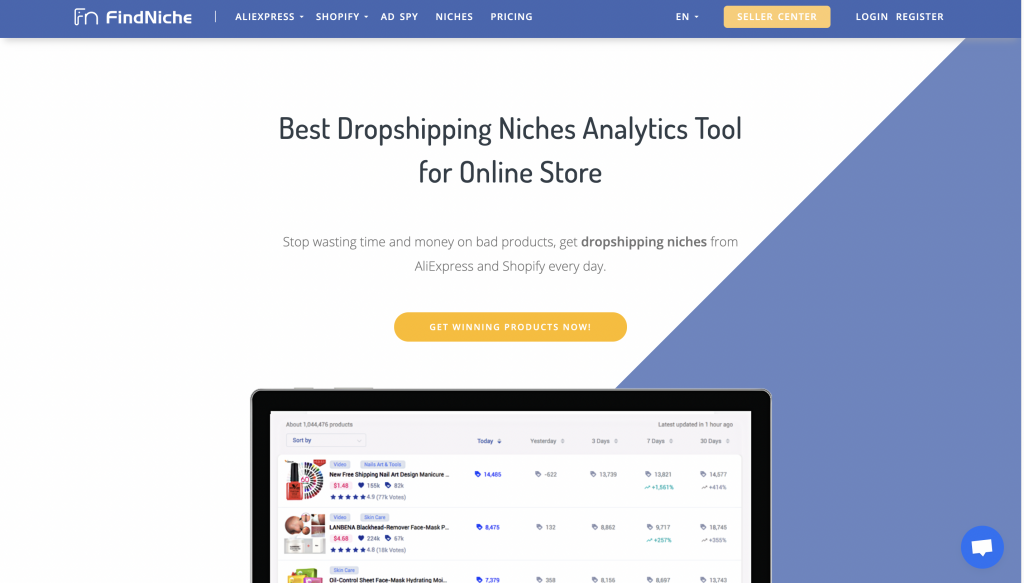 Click on the ALIEXPRESS page in FindNiche. Go to AliExpress Database and you can start filtering niche products.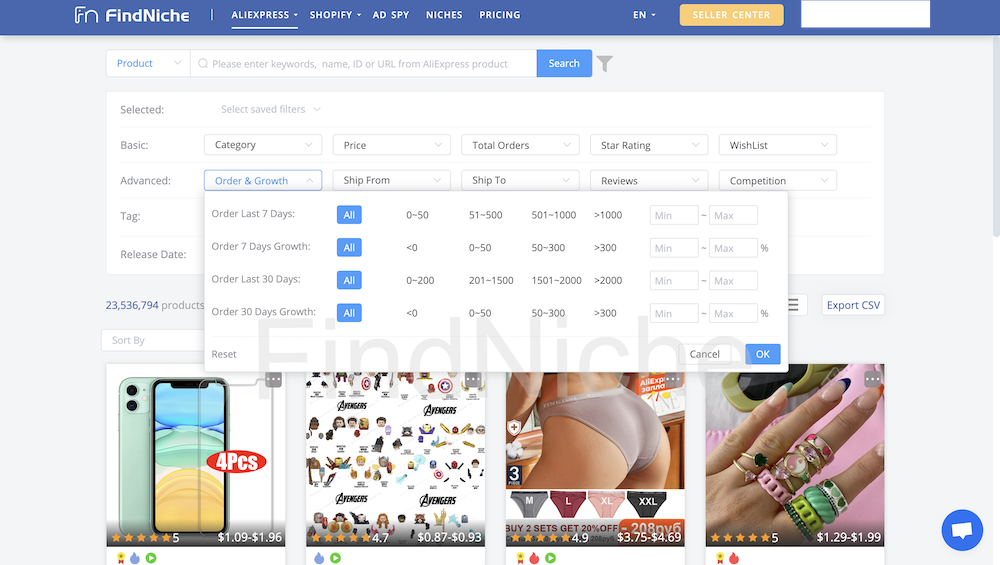 You can filter by category, price, total order quantity, star rating and other information according to your requirements. In addition, advanced filtering is important. Please focus on the two filtering items of order & growth and competition. If you want to get niche products with high potential and low competition, then order & growth can choose a slightly higher value and competition choose the lowest possible value. You can get niche products that are suitable for your sales. At the same time, you can clearly see the star rating, price, order volume and growth trend of each product.

In addition, FindNiche's Top Charts page for ALIEXPRESS provides you with 7/30 days of hot trending products and new trending products. You can always keep up with the latest trends in AliExpress.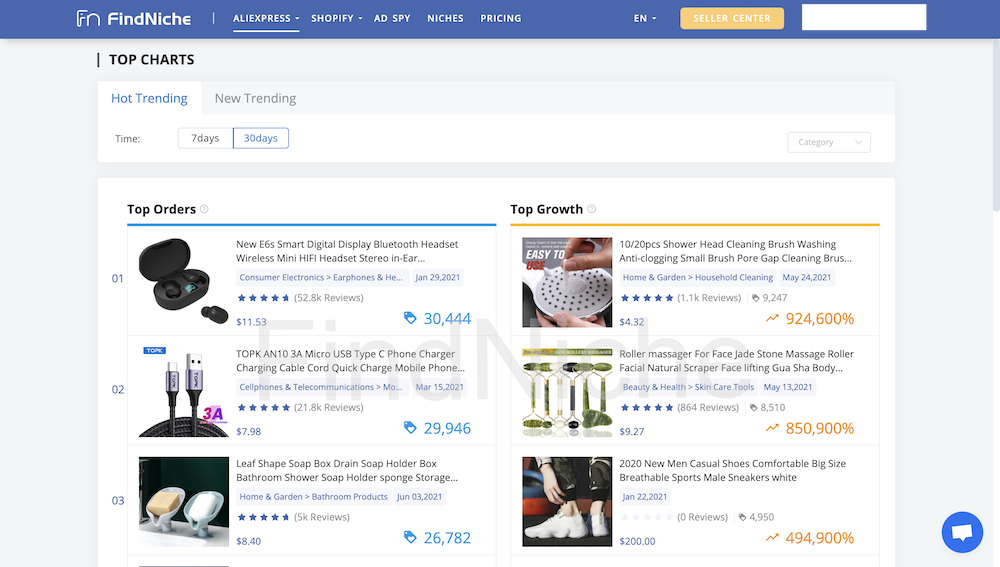 Import niche products into the store
After selecting a niche product, you can view the product's detail page. findNiche provides information on the product's order growth, reviews and sales in each country for your reference. If you go directly to Oberlo to import the product into your store and go directly to AliExpress to place your order.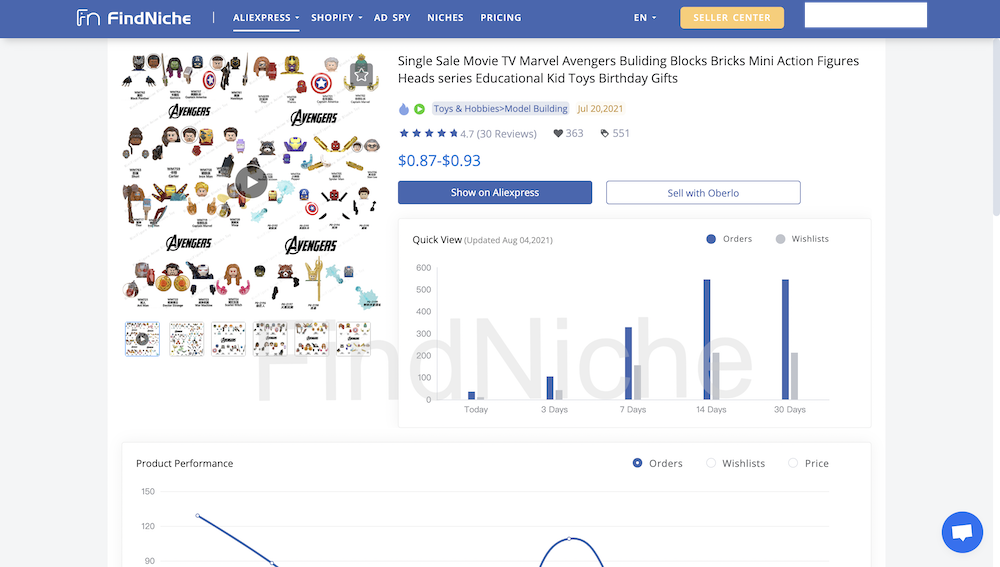 See, AliExpress dropshipping is so easy!
Conclusion
In general, Alibaba dropshipping and Aliexpress dropshipping are very different and may not be suitable for all dropshippers; if you are a senior dropshipper with your own unique approach and insight into product research, then you can try Alibaba. You can achieve further profit growth with low cost.
If you are a novice dropshipper and want to achieve profitability more quickly, then I suggest you start with AliExpress dropshipping. FindNiche, the best product research tool, is the bridge to the dropshipping business.
However, Alibaba dropshipping and AliExpress dropshipping do not exist in isolation from each other. If you find a supplier on Alibaba that is okay, you can ask them if they have a store on AliExpress. This will allow you to avoid the minimum order quantity. Also, Alibaba can provide you with a reference of price levels, which can help you create your own pricing strategy.
Those who achieve success are often those who will make the most of all the conditions, whether it is a dropshipping tool or Alibaba/AliExpress.