The Best 10 Dropshipping Products to Sell Online for Summer 2021——FindNiche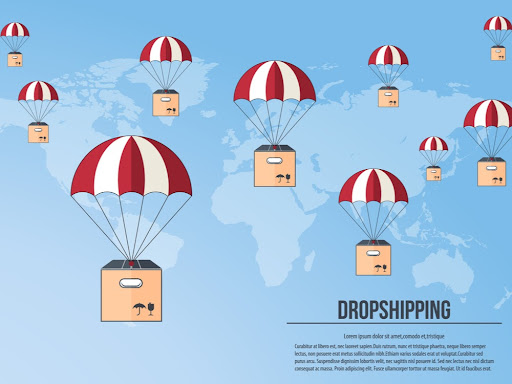 Starting your first online business and finding the best dropshipping products can be exciting and lead to great joy, or be a bitter disappointment.
There are thousands of potential products and niches to enter, so it almost feels like whatever you select you will either be missing out on a better product, or be making a complete mistake (unless you use FindNiches' many amazing product research tools that simplify the whole process of course).
That is why In this article, we are going to cover in great detail:
Why is dropshipping product research important?
What products should you pick?
What makes a great dropshipping niche.
Our favourite dropshipping niches.
Our list of the best dropshipping products to sell this summer.
Let's get started on discovering the best dropshipping products.
The importance of product research for dropshipping
The aim of product research is for us to make sure that we have all of our logistics taken care of in order to achieve our end goal - creating a successful (profitable) business.
And with product research we are actually doing market research to make sure our products have at least 2, ideally 3, out of these 3 things:
Competition levels (avoiding oversaturated products so you don't become a commodity while having the ability to "ride the trend" if possible).
Good profit margins (buy low, sell high) so you have room for extra expenses like online advertising in order to scale faster.
Long-term potential (a big enough market of passionate/interested buyers to build a long term business)
We will be focusing on 1. and 3. because your profit margins will depend on a few factors like the supplier's price and the product's resell price you select.
Also don't forget to select a supplier that may have the product in a warehouse closest to countries like the US, for example, so your shipping speed is optimal.
How to choose the best dropshipping products?
As a way to make sure our products meet the above mentioned criteria, here are some of the best market research tactics to find high-quality products to promote.
Identifying "Passion Niches"
So what exactly is a "passion niche"? A passion niche is simply a niche where people have been buying for a long period of time(usually for years) items that they simply enjoy.
A few things that come to mind immediately are things that fall into the "hobby" category.
So things like camping equipment, fishing, card collections, etc. would fall into the category.
Understanding how important a niche is on your road to success, our tool gives you multiple categories and niches with the click of a button. All with the necessary data to back it up.
For example, if you go to our
Aliexpress database you will be able to pick between 20+ profitable niches and filter the data by price, star rating, orders growth, competition, and a lot more.

And in case you want to find additional niche products ideas, you can go to our "Niches" category and find new products with great profit margins that we personally recommend you look into.

Looking at top marketplaces like Amazon, Ebay, or Aliexpress
Going to marketplaces, whether it be Amazon or Aliexpress, is a great way to validate the demand for the niche you have selected previously, or find new opportunities.
We will use Amazon as an example.
Simply go to Amazon and click on "All" at the top left corner.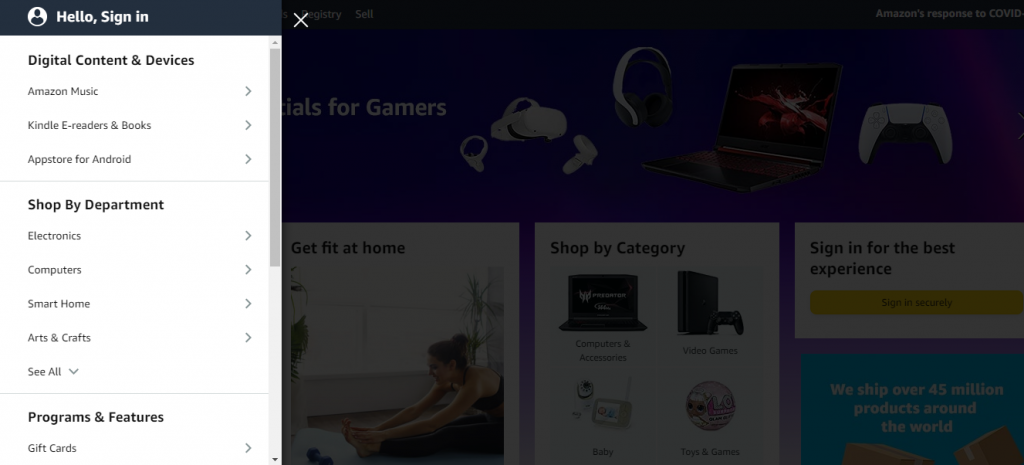 After that click on any of the bigger categories like Electronics, Computers, Smart Home, etc. to go to a sub category (sub niche).
As you can see I chose "Electronics". I find "Camera & Photo" interesting so I will go with that.
Now, we just want to see products that have a good amount of reviews, high number of orders, and are ideally in the 30-100$ dollars price range.1
We are looking at lower priced items because the more expensive an item is, the more the consumers think to themselves "let me think about it".
And that is something that we don't want.
Also, it is worth pointing out that 50$ for one niche may be considered cheap while in another it may be quite expensive.
So try to get an average product price and quantity of orders per product.
A great way is to niche down even further by selecting a specific product category on the left hand side.

I will select "Binoculars & Scopes".

Doing keyword research
With keyword research,we are accomplishing the same goal of getting a birds eye view of the average demand for a specific product, or our niche overall.
The other benefit is that we can assess the competition levels better than going through Amazon or Ebay alone.
So after you get some ideas from the major marketplaces, you can use a free tool like Ubersuggest to get an estimate of both the paid and organic Google competition levels for your product/niche.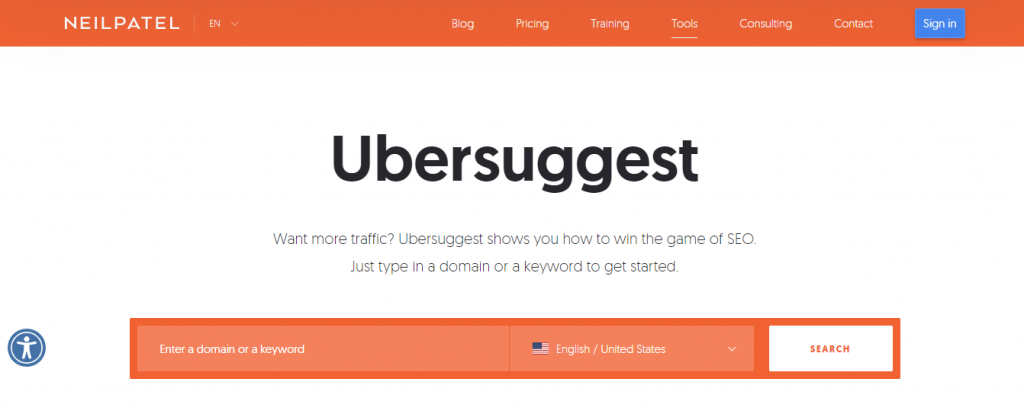 Make sure the filter is set to English/United States and enter the product (keyword) you wish to check.
I will enter "binoculars"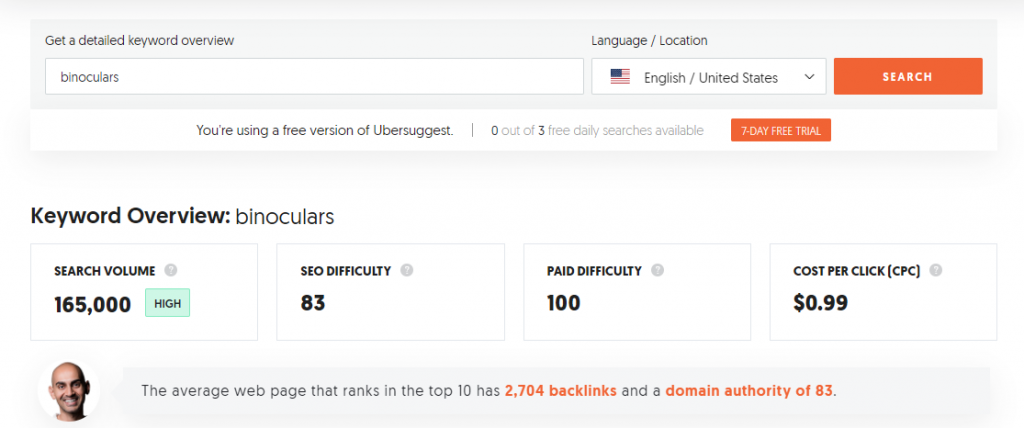 As we can see, it is quite competitive both organically and paid on Google but the keyword has very good demand.
And if you scroll down a bit, then you will get more insight into which brands or product features consumers are specifically looking for.
You also see on the right the organic traffic numbers and competition levels for each search phrase/keyword.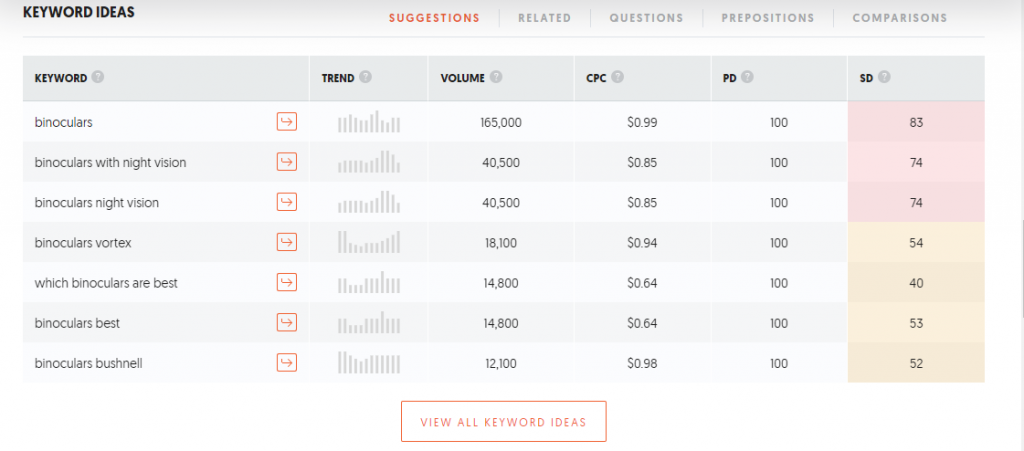 Doing SEO and PPC are beyond the scope of this article, so It would be good to look into ways to get traffic to your dropshipping store later on.
Here we are just assessing the demand, competition, and getting an insight into the consumer's mind about our products.
Spying on the best dropshipping stores
For identifying the best dropshipping products out there, here are some of our favorite competitor research tools.
Similar Web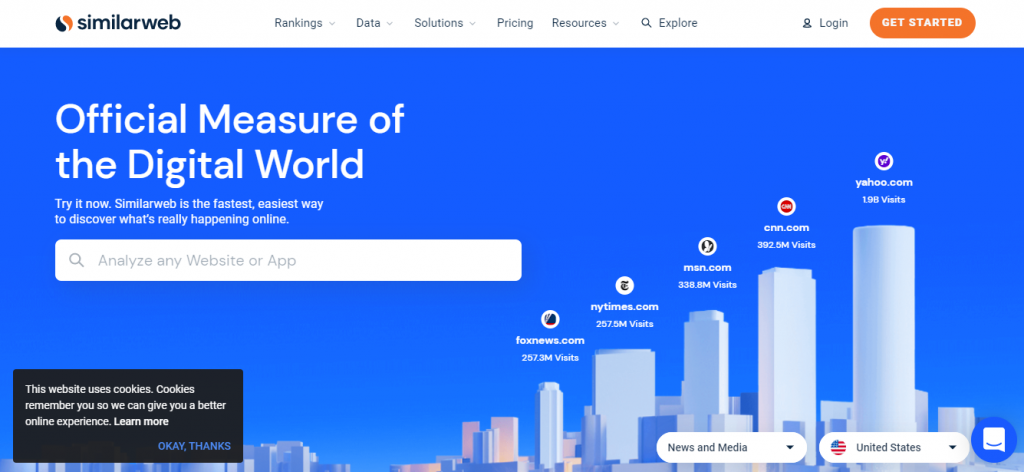 Similar Web is a free chrome extension that will help you go behind the scenes so to speak about each competitor's website that you visit.
You will see a lot of important data beyond product research,such as:
Total visits
Traffic by country
Traffic sources
Referrals
Organic and paid search data
Traffic share per social channel
Competitors
We in particular care about the "Search" category where we can see which search phrases/products are bringing in the most visitors/sales to their website.
And in case you are wondering, yes the below mentioned website is a dropshipping store.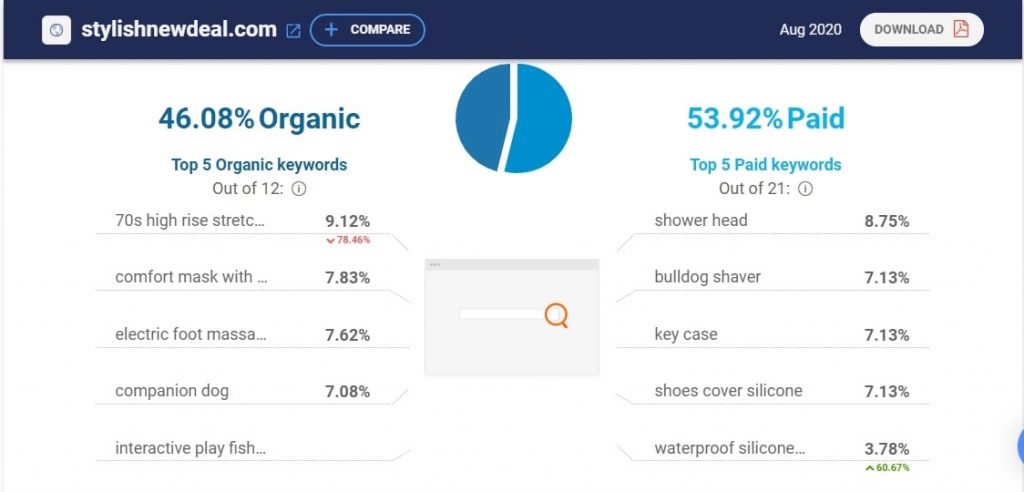 SEMRush

SEMRush is one of our favourite tools because it can show you, just like SimilarWeb, how your competitors are getting their traffic in terms of SEO (organically) and PPC (paid)
However, if you click on "Paid Search Traffic", you can find out your competitors' top paid keywords (their best selling products most probably).
With the "Traffic %" column you can identify which products they are focusing on primarily at the moment.
We can assume that their ads are most likely profitable since they are allocating a significant percent of the available budget).

And if you decide to start running Google Ads for the same product, then you can look at their ad for some ad copy inspiration. Just hover over the green ad text under the "Ad" column.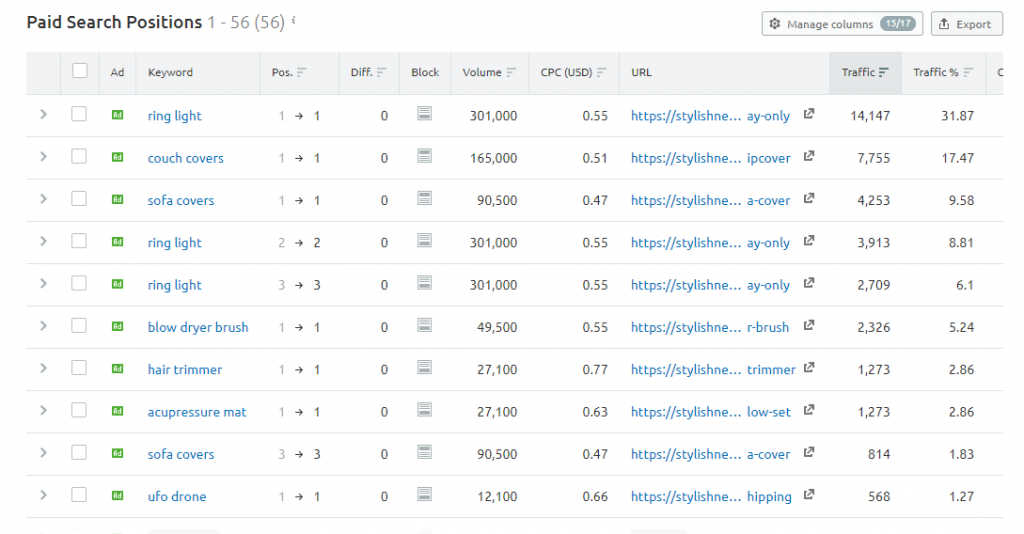 Facebook Ads Library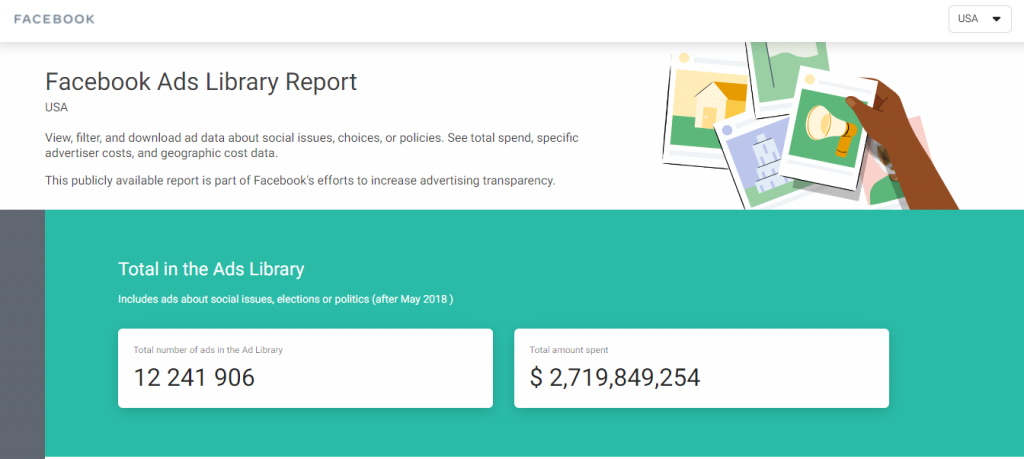 The best thing about the Facebook Ads Library is that it gives you the ability to see exactly what ads all of your competitors are running.
But most importantly, you can see for how long they have been running them.
Here is a quick guide on how to use it effectively for competitor research.
FindNiche Ad Spy

No list of favorites would be complete without our own tool, right?
Our tool helps you get all the data you need for any advertising keyword, page, post, or URL that you enter for the three most important social platforms ( Facebook, Instagram, and Youtube).
We will show you all of the best ads in our database along with all the key engagement metrics you need before deciding after which ad you should model yours for optimal results.
Top 10 Best Dropshipping Products to Sell Online for Summer 2021
Finally, the most interesting part of the article: The best dropshipping products to sell right now.
High Quality Lovers Bracelet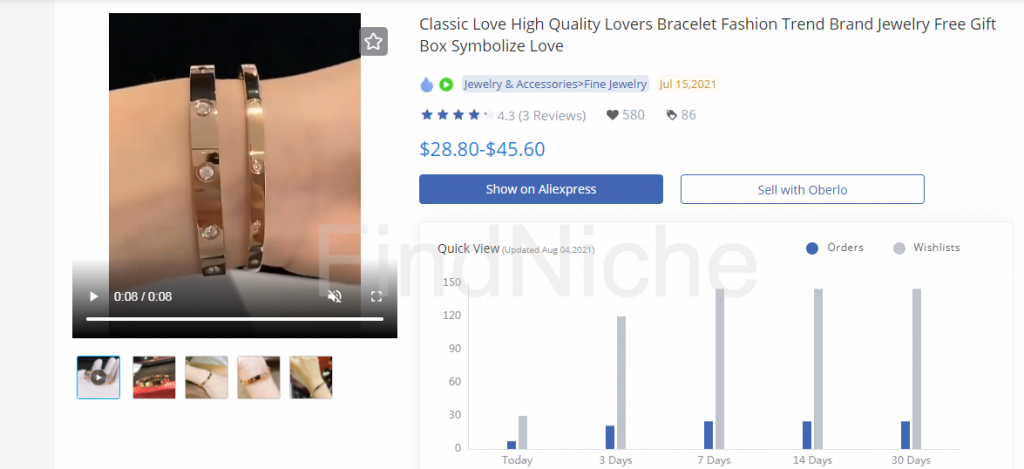 This is an amazing product to sell due to its great design, quality, and the emotional message it brings across.
Also, as you can see based on the screenshot, 86 people have bought and 580 people have added the product to their wishlist ( just from aliexpress in 14 days).
Our software (FindNiche) also gives the order growth to be 2,400% for the last 30 days.
It will most likely get even more as word of mouth spreads and the right occasion for those 580 people approaches.
Wedding Tiaras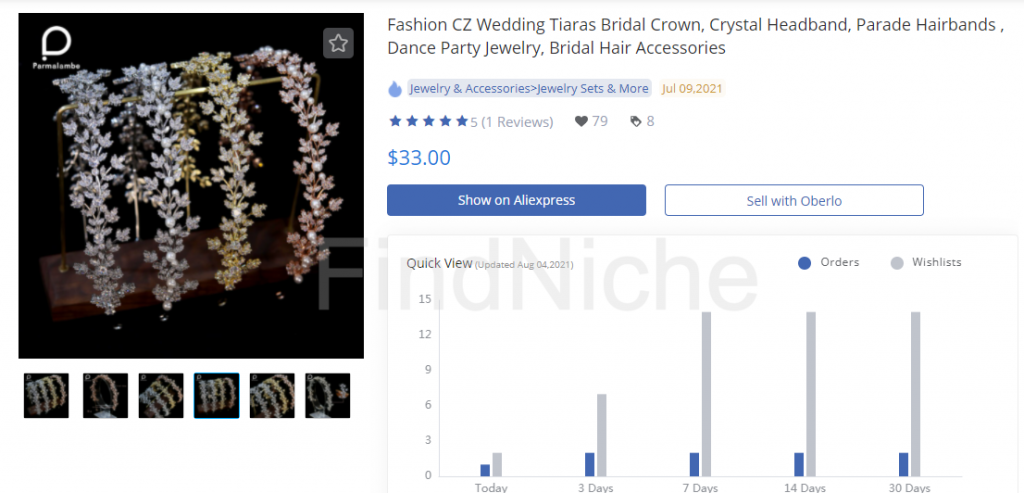 Yet again we see an emotional gift where 79 people have added the product to their wishlist.
At the same time, the product itself has a 100% sales growth rate for the last fourteen days on Aliexpress.
Scratching Cats Tree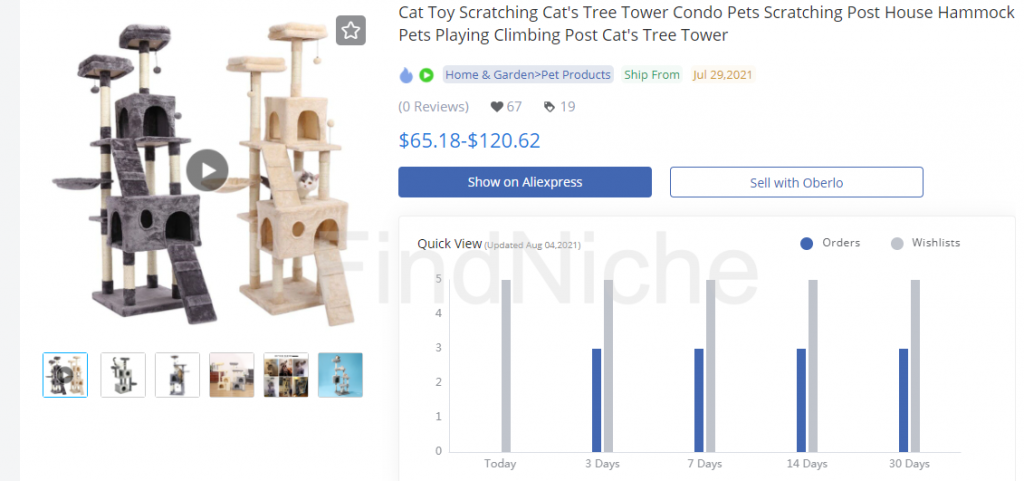 From the pet niche we have this amazing cat tree that has 19 orders, 67 people added to wishlist, and the 14 day growth on Aliexpress is 200%.
Another great thing is that the seller on Aliexpress has included a video which will make promoting the product a lot easier.
Warm Sofa Mat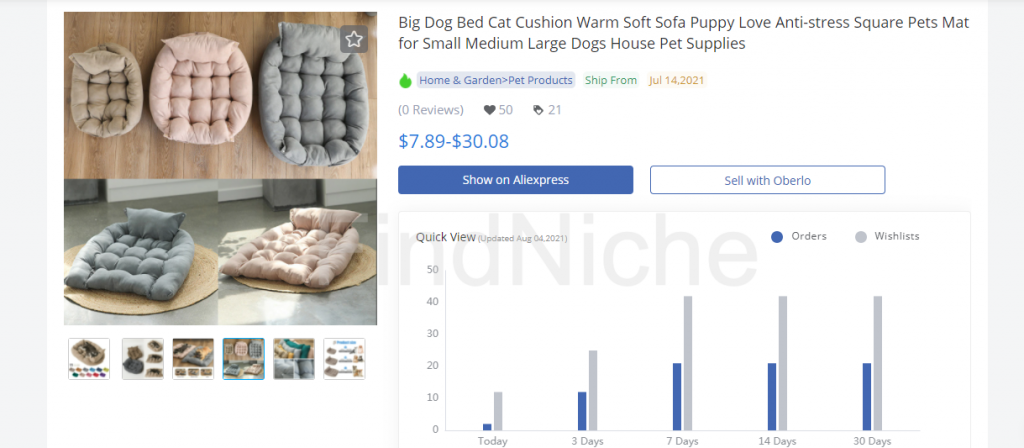 The product is growing at a 100%+ growth rate with 21 orders and 50 people added the product to their wishlist in the last 14 days on Aliexpress alone.
Portable Espresso Maker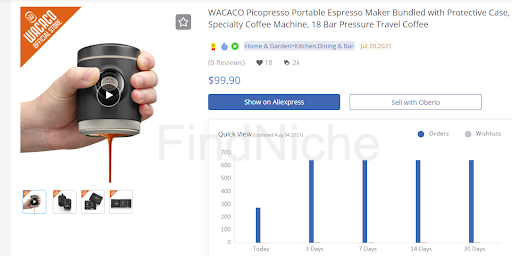 Next on our list of best dropshipping products is a very useful tool in case we need to hit the road on a short notice.
The most amazing thing is that, as you can see, it has 2000+ orders and they aren't slowing down anytime soon.
The 14-day growth in orders has been an astounding 9,999%.
New Mini Drone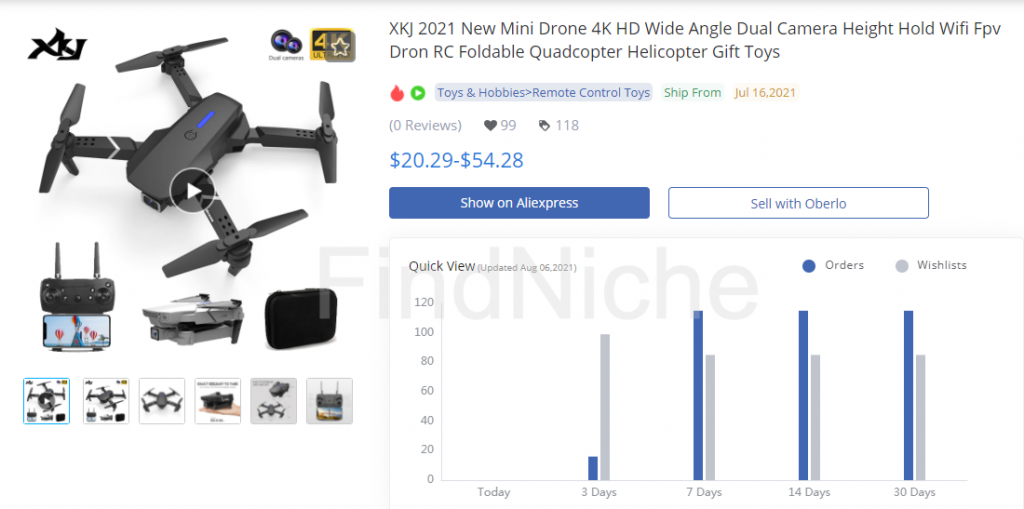 Another great FindNiche dropshipping product that doesn't fall behind the portable espresso maker is the mini drone.
This product has also had a 9,999% percent increase in orders over the previous fourteen days and is so well-priced that we doubt the orders will slow down anytime soon.
Matching Outfits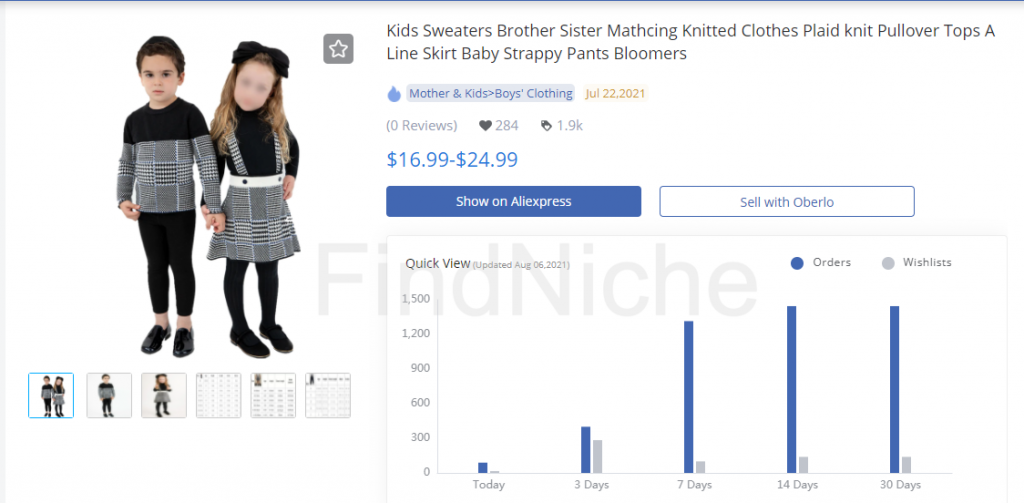 Matching outfits are a very popular theme that you should take advantage of.
With 1.9 thousand orders and again a 9,999% increase in sales for such a short period of time, we can say that a lot of kids look like one another and many more will soon.
Outdoor Fishing Chair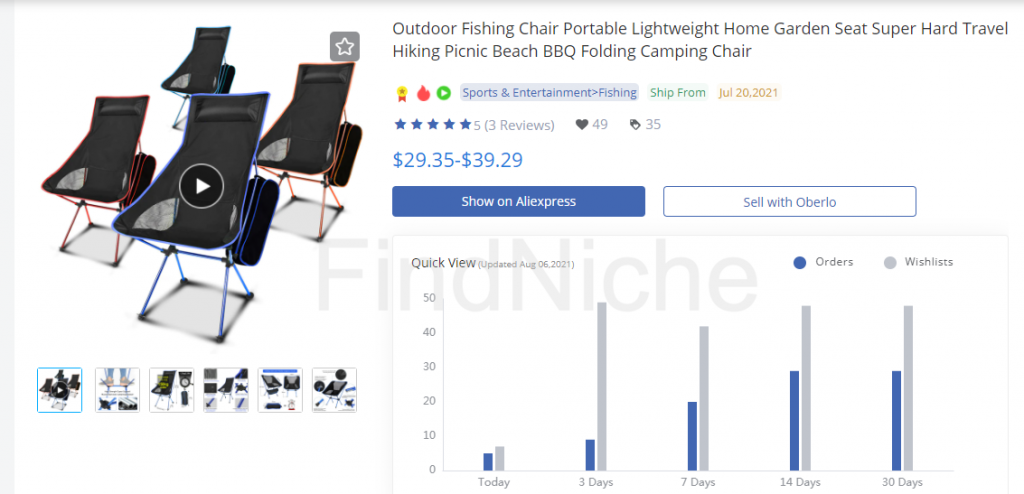 No list would be complete without covering any products related to the sports and outdoors niche.
As the headline says, this is a very useful chair for when traveling, at home in the garden, the beach, or while preparing the BBQ.
And due to its practicality and comfort it is 2800% up in sales in the last 14 days in Aliexpress (for now).
The sellers have a video demonstrating how to put it together so you can get an ad up and running in no time.
Mountain Cycling Shoes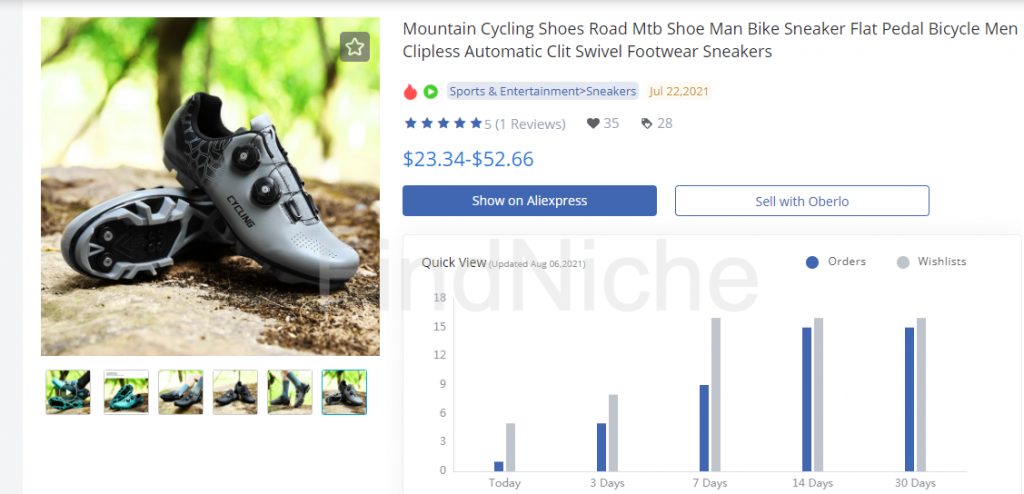 Again another product on FindNiche's best dropshipping products list that is for enjoying the outdoors.
Our mountain cycling shoes have seen an increase of 1400% in orders over the last two weeks across multiple sellers. Some even average a higher number of orders than the above.
The important thing is that the summer is here, and now is the ideal moment to capitalize on the trend.
Beach Tennis Raquete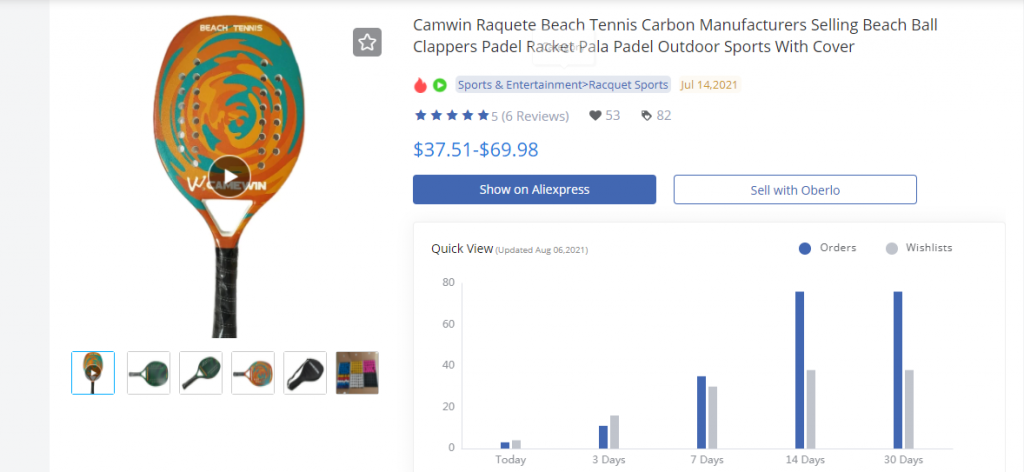 And the final candidate on our list is a beach tennis raquete that has generated a 7500% increase in sales for half a month on average.
Some sellers are getting a zero, others 700%, and some even a 11000%+ increase in sales.The happy medium is 7500.
Conclusion- Finding The Best Dropshipping Products
Inside this article. We gave you some interesting suggestions for new products that you can add to your dropshipping store.
You also know some great tools (including FindNiches' Aliexpress, Shopify, and Niches tools) that will help you identify great opportunities through competitor research and develop your skills in terms of spotting profitable products.
We also recommend you look into other aspects except product research like generating traffic to your store, or finding suppliers that offer fast shipping before selecting a product.
We wish you success on your dropshipping journey. Until next time.