Ecwid Vs Shopify: Which One is More Suitable for you?
Ecwid and Shopify are very popular tools for selling stuff, but the question is, which one is more suitable for you? (like Alibaba Vs AliExpress, Shopify Vs Etsy and more comparison)
It is difficult to choose between Ecwid and Shopify, because the two tools are very different. Maybe after reading this blog, you will have a clear cognition about their key features/ pros and cons/ value for money and more details, then, make your own choice. In addition, we will tell you how to choose Dropshipping niches to create a successful business.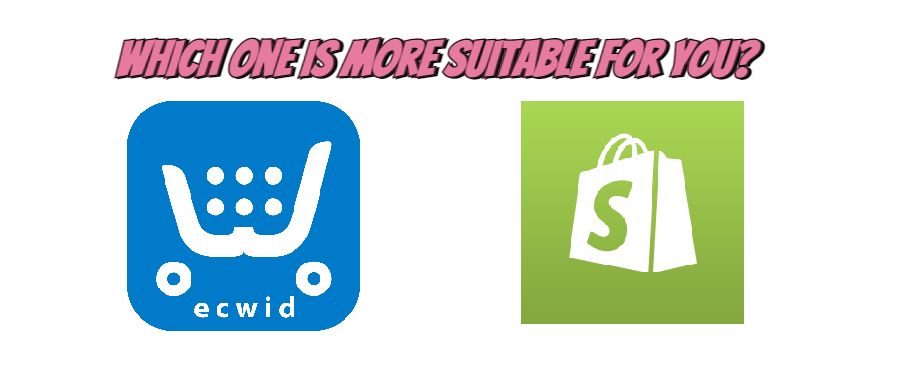 What is Ecwid?
Ecwid is a tool designed to let people sell products on an exiting site by adding a snippet of code to it. The e-commerce experts always named Ecwid as a"e-commerce widget".
In fact, Ecwid is a very useful tool, it was launched in 2009, with built with estimating that it now powers around 824,000 live sites. It allow sellers to create their online store really easily. However, it's limited to a one-page website so it's only really suitable for very small stores.
Because of the single function, installing Ecwid couldn't be easier. Sellers simply create a new page on their website and paste the HTML code Ecwid provide. It's very convenient, isn't it?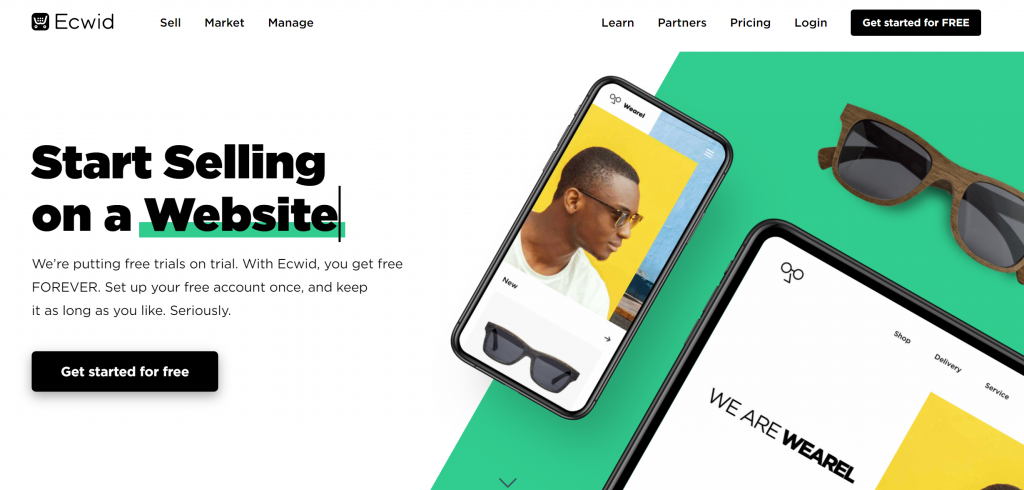 The good news is that Ecwid is reasonably priced. According to the official statement, Ecwid is putting free trials on trial, the sellers will get free forever. But in fact, if the sellers want to use more features, then pay more. For example, Ecwid free plan lets seller sell 10 physical items a month, but with Venture, seller can sell 100 physical or digital items for $15 a month.
Price
Support
$ 0
Free
Their Freemium Package,Which is limited to 10 items
$ 15
Venture
Sell up to 100 items of both physical and digital products
$ 35
Business
Allows you to add up to 2,500 items, use more integrations and phone support
$ 99
Unlimited
Has it all: no limits on your store items, includes even custom development
Of course, if you already have a website and only need to sell under 10 physical products a month, the free plan is as good as it gets. But there must be no sellers limit their stores to 10 physical products or less, unless the seller wants to close store.
What is Shopify?
Shopify may be known by more sellers than Ecwid. It launched in 2006, and according to the data, the users have sold over $82 billion worth of goods. With those stats in mind, Shopify is more incredibly popular.
Why more sellers use Shopify? Because Ecwid is only a plug-in software, while Shopify is an entire site-building system that sellers can use to build a store from scratch. It means Shopify are better suited to anyone wanting to create an e-commerce store from the ground up.
So, Shopify sellers not only sell their products but also create regular web pages, like Blog posts/contact forms/about us and more. It is very suitable for sellers who want to build their own brand.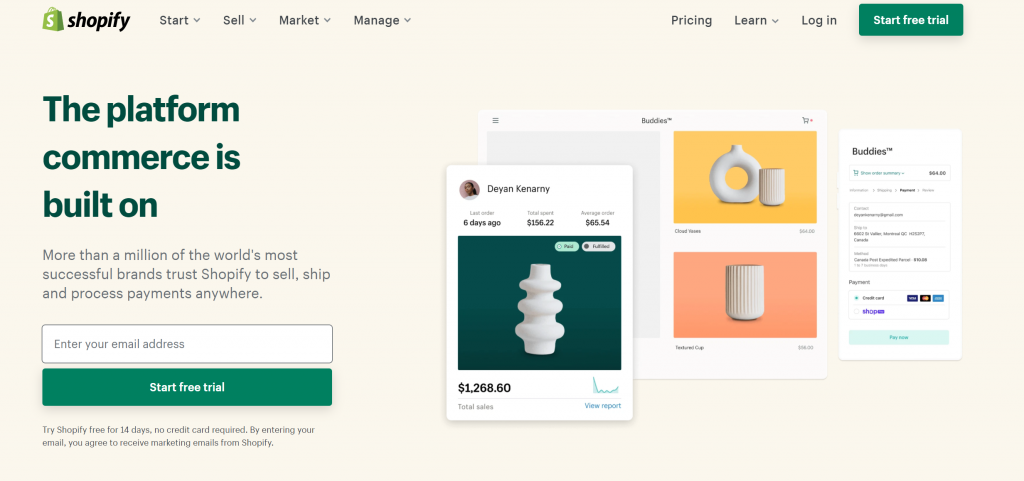 However, when it comes to running own brand, sellers still have to factor the cost of credit card processing fees. Same as Ecwid, the more you pay, the more you get on all counts.
Of course there is a free trial of Shopify, sellers can test their products and get sense of their requirements, but this normally lasts 14 days, or extended upon request. Look at the pricing, Shopify is more expensive, but more useful.
Price
Support
$ 29
Basic Shopify
Best for new ecommerce businesses with occasional in-person sales
$ 79
Shopify
Best for growing businesses selling online or in-store
$ 299
Advanced Shopify
Best for scaling businesses that require advanced reporting
That said, if the seller is looking forward a unlimited item sales, it becomes even harder to recommend Ecwid because it is something will get with Shopify. But Ecwid is still a great solution if sellers current CMS or website builder doesn't offer enough features for the e-commerce business, and it is free.
Ecwid Vs Shopify
Through the simple introduction, you might have some understanding of Ecwid and Shopify. Then put them together for comparison, you will have a more clearer idea.
In terms of price, Ecwid is more cost-effective.
Ecwid
Shopify
Free
/
Venture
$ 15 per month
Basic
29 per month
Business
39 per month
Professional
79 per month
Unlimited
99 per month
Unlimited
299 per month
But in terms of function, It is hard to say.
The advantage of Ecwid is ease of use, ease of admin, ease of setup, and give sellers the flexibility of embedding e-commerce in their existing site. By the way, Ecwid has no transaction fees, but Shopify will takes a 2% transaction fee for every purchase made without Shopify Payments.
And the disadvantage of Ecwid are also obvious, like the limited design choices, do not calculate shipping costs for sellers, not much functionality in basic free plan and no AMP pages……
About Shopify, some people say that It is the most flexible, feature-rich and the most complete e-commerce platform of the bunch. Why say that? Because after years of development, Shopify can really offers everything what the sellers might need to run an effective store, and the sellers also can customize their design and add various feature extensions.
It also could be argued that the goal of Shopify is to really make it possible for everyone to launch their own e-commerce store, even with out having any design or development skills. Because Shopify has tons of professional looking templates to get the seller started, and it has unlimited orders, products, file storage, bandwidth, full blogging platform, mobile app, powerful tools for managing inventory and excellent sales tools for stores. It is certain that no matter what type of store sellers want to launch, Shopify will be able to handle that, including drop-shipping.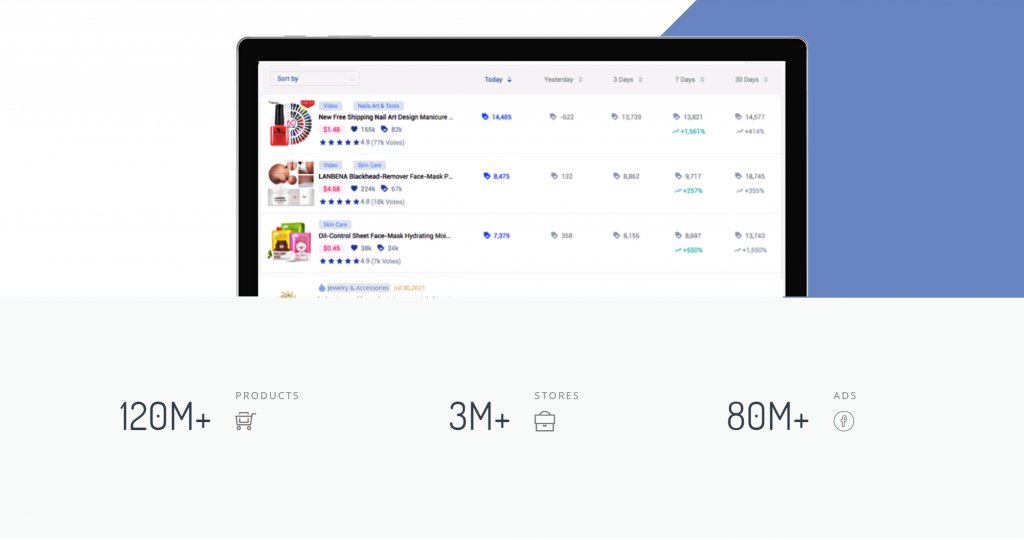 Find Niches and Get Started
The complex systems mean that sellers need to invest more effort, this is how Shopify works, the more you put in, the greater the payback. And there are some tips for running an e-commerce store, no matter what you choose Shopify or Ecwid, both valid.
The first important one is to dropshipping niches, to create a successful business. So, you should confirm that the selected product is reasonably profitable and acceptance by the market. If you have tried our Shopify Data, you will be able to select between 20+ profitable niches, or you can go to our Niches to find new products with great profit.
First of all, create the account that you want to give your own.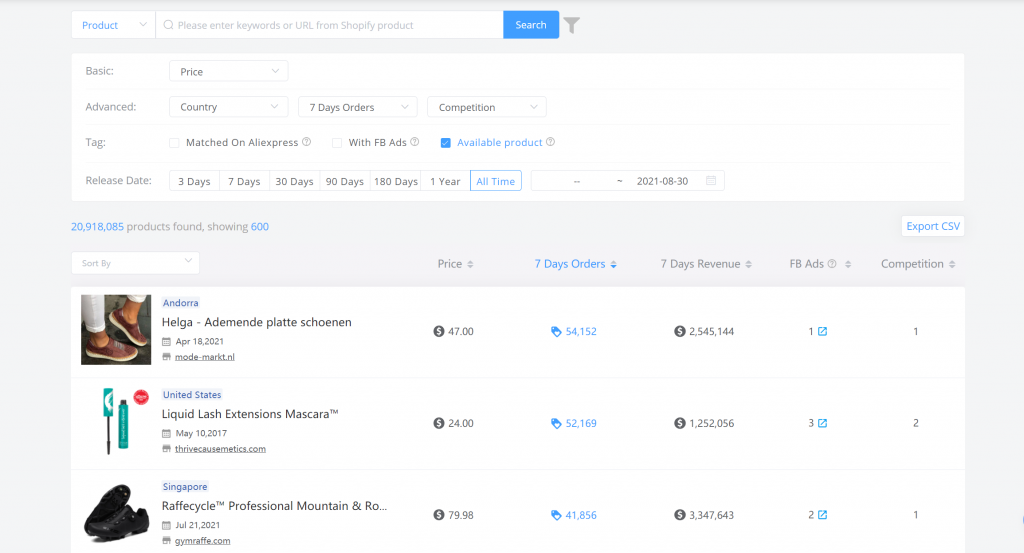 And then click on the Shopify link, you can toggle the different options to select what you intend to analyze. You will be allowed to analyze different niche categories and their number of orders at various times.
So, you can figure out different niche products easily under the different competition levels, then you will find everything is going well.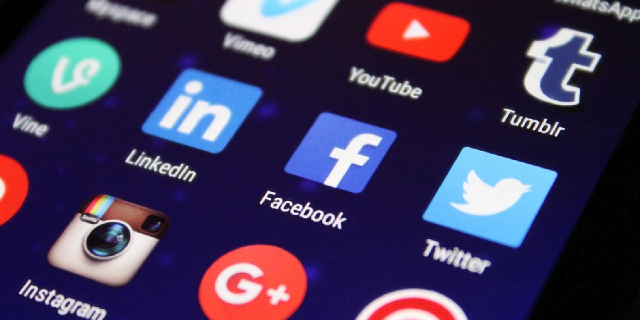 A successful seller must know some marketing and promotion measures, including content marketing, TDK sittings and using SEO tools, like FindNiche Ads spy. Of course, the customers also can be interested in your Facebook ads and Youtube videos.