A Complete Guide For Aliexpress Dropshipping In 2020 | FindNiche
1. What is Aliexpress dropshipping?
"Aliexpress + Shopify + Facebook" is the most common mode of dropshipping. Many people who are doing cross-border e-commerce have begun to try Aliexpress dropshipping. So what exactly is Aliexpress dropshipping? Let's first take a look at what role Aliexpress, Shopify, and Facebook play in this process.
Aliexpress: Find suppliers, resell products, get profit from it.
Shopify: Used to quickly build e-shops. Shopify provides templates, plugins, themes to build websites quickly.
Facebook: an advertising platform to get traffic quickly
There are several roles in a normal e-commerce industry chain: supplier, retailer, and customers. The main role of dropshipping in the entire e-commerce process is to reduce the burden on retailers. Through the Aliexpress dropshipping model, retailers do not need to pick up the goods themselves, have no inventory, don't need a lot of cash, and do n't need to pack and ship by themselves.
2.Pros and cons of Aliexpress dropshipping
What are the advantages and disadvantages of Aliexpress dropshipping? We must understand it before deciding to invest in Aliexpress dropshipping. Combining our own advantageous resources, we then decide whether we can start our e-commerce business through the Aliexpress dropshipping model.
Advantages of Aliexpress dropshipping:
No need to stock up, reduce a lot of cash investment
No need to pack and transport yourself, reducing labor costs
No inventory, reducing sales burden
Shopify quickly builds a website, saving technical costs, and individuals and SMEs can build their own websites to sell goods
Multiple plug-ins and tools help import products from Aliexpress and save time
Overall, you can start dropshipping with no money!
Cons of Aliexpress dropshipping:
Not in control of the transportation process. Transportation depends on a third party and has no control over the entire transportation process, which requires us to choose reliable suppliers, otherwise, the credibility of our stores cannot be guaranteed.
Return issues are not guaranteed. According to incomplete statistics, the average value of returns is about 5%, but many suppliers do not provide refunds, and because of cross-border transportation, returns have become a big problem.
Get traffic is difficult. As an independent website, if our store wants to increase the order volume and continue to develop, it must drive traffic to our store. But how to drain is really a big problem.
3. How to find and select dropshipping niches in Aliexpress
Before setting up a Shopify store, the thing you have to confirm is: what am I selling. Only after you find your dropshipping niches, then you can decide who your customers are, what your shop name is, how to choose a shop template, and which channels you can drive traffic from.
So, how to find and select dropshipping niches in Aliexpress? We need to use 2 tools, one is Google Trends and the other is FindNiche.
FindNiche is a free niche analytics tool for Aliexpress & Shopify. Through FindNiche we can browse the recent hot sales products, find dropshipping niches. We can sort products by the total number of recent orders, and we can sort products by the recent profit also.
As shown in the figure below, we sort the products according to the number of orders in the last 7 days. We can see that the products that have sold the most in the past 7 days are masks and fitness products. In view of the recent global spread of COVID-19, the demand for masks, disinfection products, and fitness products should indeed rise.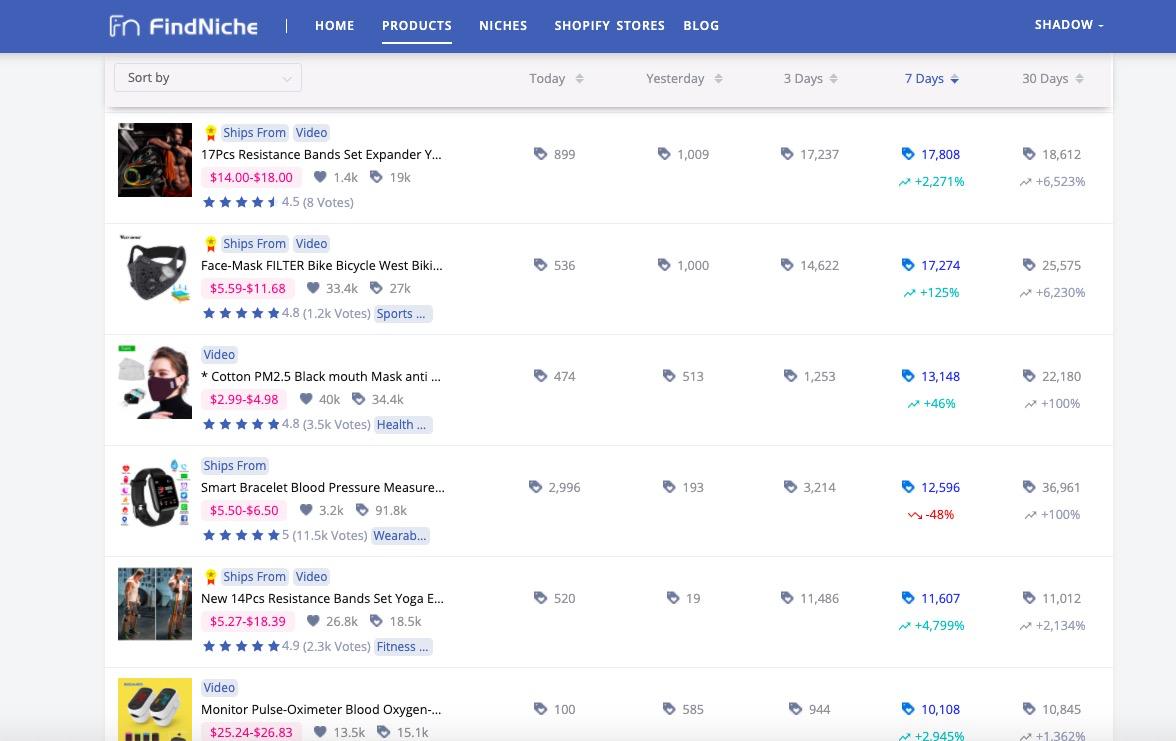 At the same time, we can use Google Trends data to judge. The figure below is the result of searching for a "face mask" in Google Trends. From the figure, we can see that from February 25, 2020, the search volume for face masks in the United States began to rise, and continues to rise. This further validates the results we see on FindNiche.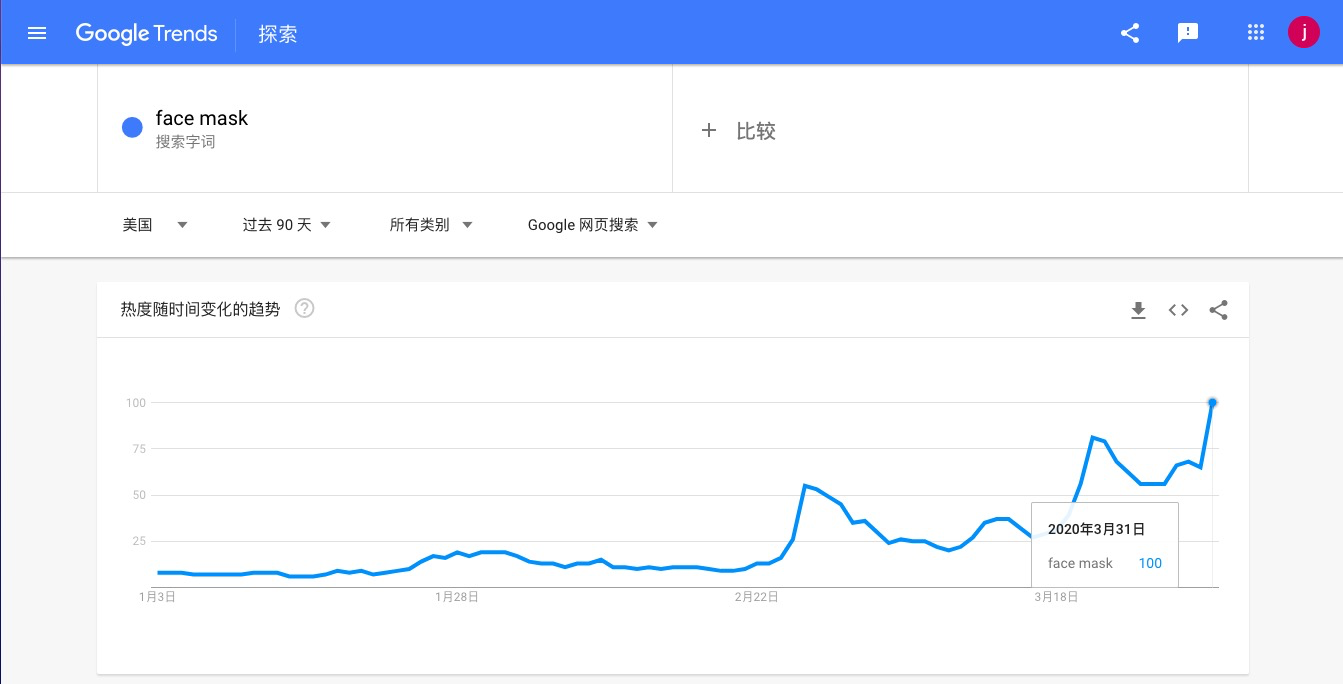 What kind of product is worth our choice? We can judge by the profit situation in the past 30 days. With FindNiche, we find the most profitable products in 30 days.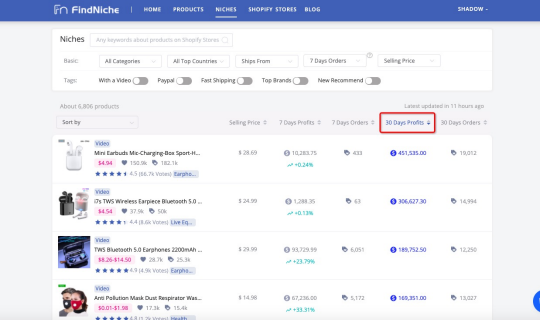 Click to see the product details page. We can clearly see the selling price of this product in Aliexpress, which is the price of our supplier. In addition, there are a number of reviews, popularity, product pictures, and title description of the product on Aliexpress. Most importantly, we can see the recent sales of the product and its selling price in the Shopify store. Finally, the system will give the profit of selling a single product, and the recent total profit and profit rate. We can use this data to determine whether the product is profitable.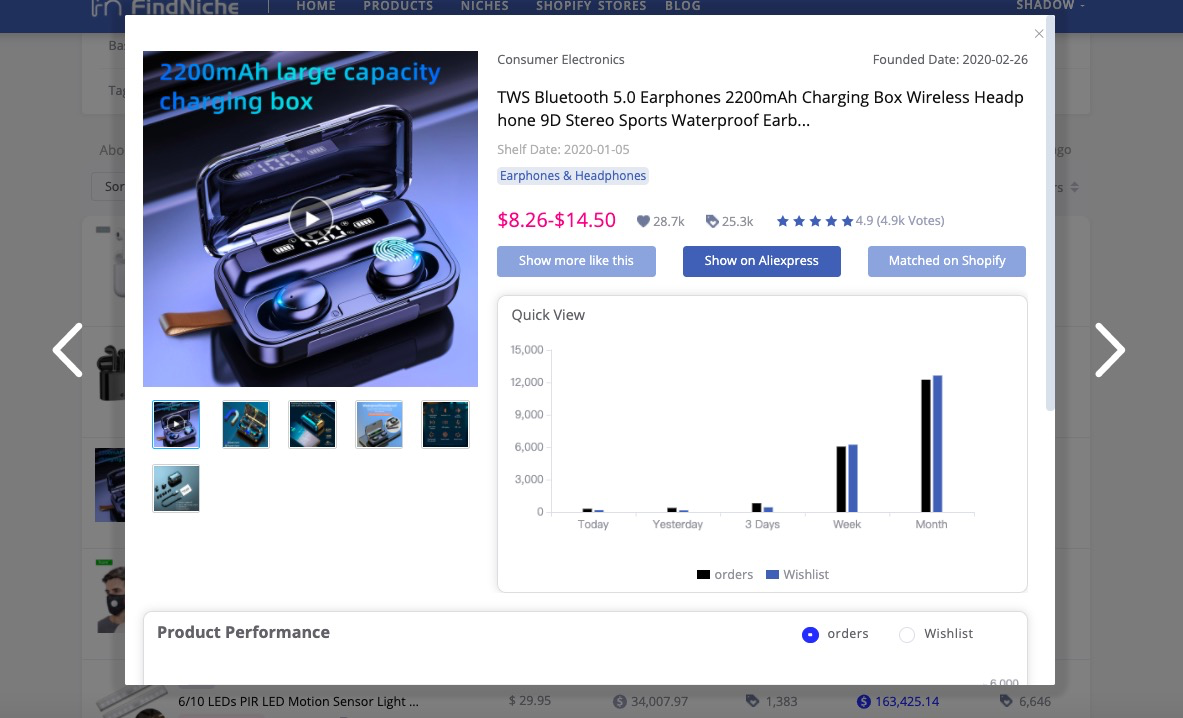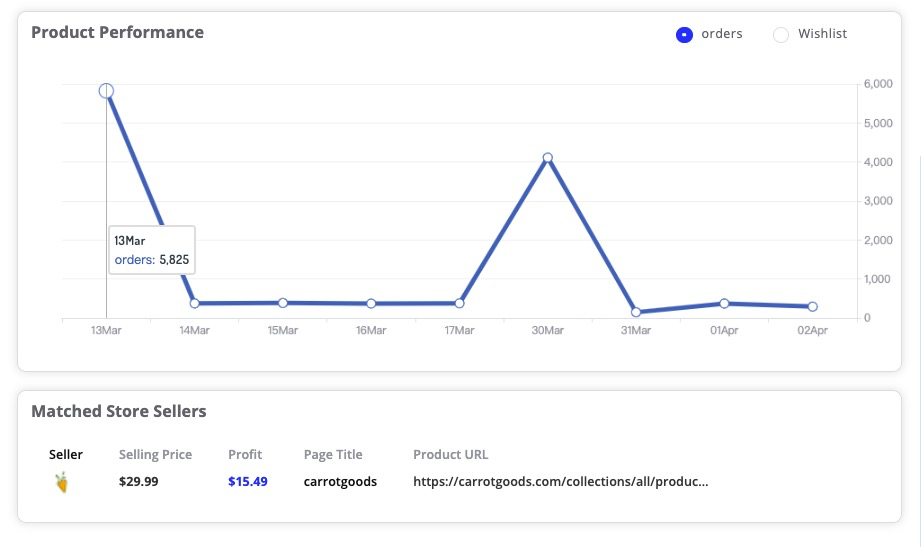 Based on our experience, here are a few tips to tell you how to choose dropshipping niches.
Prepare seasonal products in advance: According to the sales data of previous years (you can find it in FindNiche), before a certain season comes, prepare the sales of seasonal products in advance, and formulate and prepare sales activities. If summer is already here but you just begin to think of selling swimwear or swimming rings, your customers are likely to have been snatched by competitors.
Select a supplier with ePacket delivery: When you find your favorite product in FindNiche, you can directly link to the Aliexpress page of the product through FindNiche to confirm whether the product is delivered by ePacket. ePacket delivery arrives within 2 weeks at most, and standard shipping arrives within 1-2 months.
Choose a product that has potential but has not become popular: If a certain product has become a popular product on major platforms and there are many retailers selling it, will there be more opportunities for you? So we must have the vision to discover explosive models, and discover a product before it becomes popular. For example, we look for a short-term increase in sales from FindNiche, but there are not many comments from Aliexpress, and the total number of additions to the wishlist is small but the trend is increasing. Such products often have the potential to become explosive models.
4. How to identify a reliable supplier
We all know that Aliexpress's number of suppliers is huge and complex, and it is difficult for us to select high-quality suppliers, and it is precisely that the supplier's products that are suitable for our sales. Perhaps it is more reliable for us to make a choice in reverse thinking, first find a reliable product, and then judge whether the supplier is reliable.
Through the FindNiche platform, we can first find products with good trends and high-profit margins and then analyzes it to determine whether the supplier is reliable. For example, we can choose a brand merchant with a gold medal. Or by observing the star rating of the product, the number of votes, the number of added to the wishlist, etc.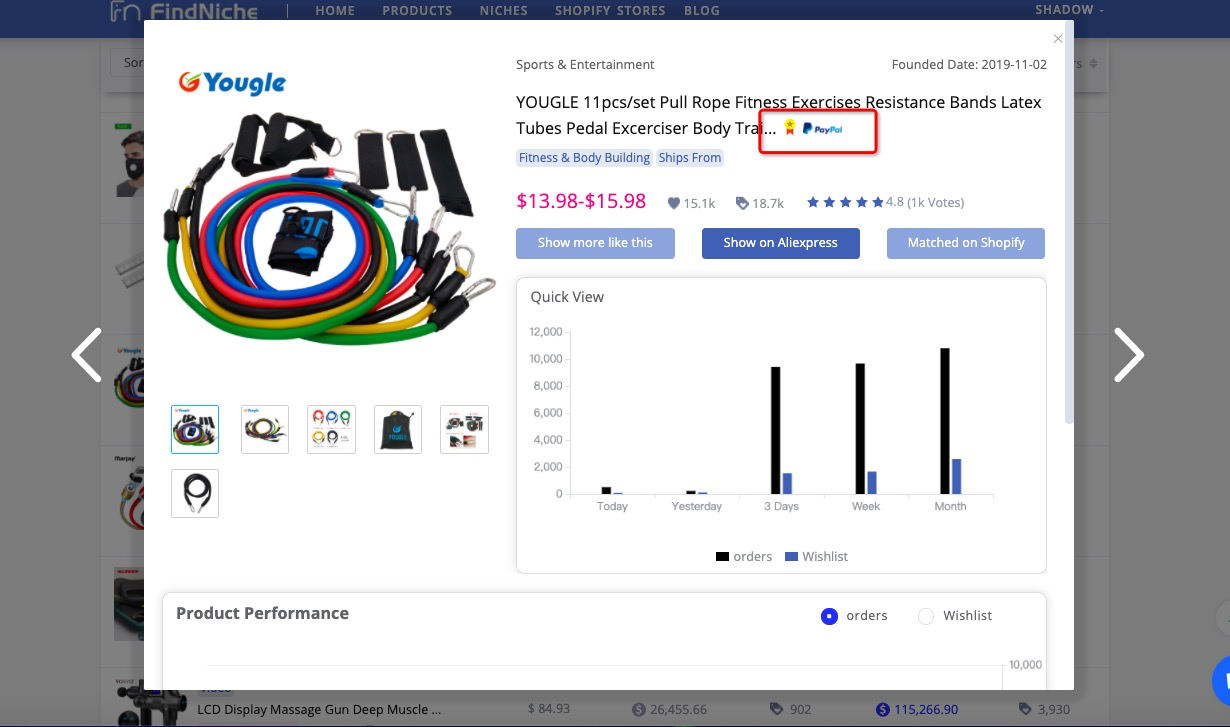 After selecting your dropshipping niches, you can link to the product's Aliexpress page through the button (show on Aliexpress) provided by FindNiche. We can directly contact the supplier through the Aliexpress page to see if the supplier's response is timely and positive, to understand the background of the supplier, to see how long his store has opened, and so on.
Finally, through comprehensive understanding, we can finally give a judgment as to whether this supplier is trustworthy.
5. AliExpress alternative
If you don't know how to make the right choice among Aliexpress's massive suppliers, you may find other alternatives, such as CJdropshipping. It's a platform that specializes in helping drop shipper fulfill orders. CJdropshipping is an all-in-one dropshipping solution provider and well-integrated with Shopify, Woocommerce, and eBay. CJdropshipping offers free product sourcing service and has its own supply chain, more than 200K products on its platform, this number is continually increasing, you can easily import the products to your store. What's more, CJdropshipping has many warehouses around the world, 3 in China, 2 in the United States, 1 in Germany, 1 in Thailand, and 1 in Indonesia, and the warehouse in Britain and France are opening soon. The most important part is its own shipping method-CJPacket. If you are looking for a dropshipping supplier who offers a better price, faster shipping, CJdropshipping would be a good option.
6. Trending dropshipping products recommended
Based on the analysis of the platform data, we believe that some products may become explosive in the near future. These dropshipping niches we have recommended in blogs. You can view our previous blogs by clicking on the two titles below.
The above is our complete guide for Aliexpress dropshipping in 2020. Hope to help.