Is One Product Shopify Store a Good Choice for You?
For most online sellers, they always start with attempting to sell a wide range of products at the beginning, and they will also put a variety of products on the shelves for testing. After all, multiple products also mean multiple opportunities for success, and providing consumers with more choices seems to be a good thing. But is this really the case?
From the customer's point of view, too many choices may have a negative impact on the purchase decision. As psychologist Barry Schwartz says in 'The Paradox of Choice'; "…as the number of choices we face increases, the psychological benefits we derive start to level off".
And we don't want psychological benefits leveling off now, do we?
This is why more and more practitioners choose to deepen their niche stores, and more niche shops have won in Shopify and gained a lot of sales.
One product store is a special niche store derived from a niche store. Next, We are going to talk about it.
What is one product Shopify store?
As the name suggests, you build a store based on Shopify and only sell one product in your store.
There is no specific rule of which kind of product to sell. Generally, there are some common cases that Shopify owners can take the fullest advantage of a one product Shopify store.
Digital products: educational products (ebooks, courses), software tools, and services.
Niche products: sell narrow-niche products that are sought after by a certain type of consumer groups.
General products: products required by most users can meet the needs of different types of customers.
Although you are selling a product, you can increase the size, color, or material to widen the range of choices.
Why create a one product store?
There are many benefits that you can gain with a single product Shopify store.
First of all, you can make full use of your time and concentrate all your energy on the development of finding your only star product, because you only need to sell one thing, and you can do better.
Second, you can attract more audiences. The audience your flagship product brings to you is very precise, so you can get more sales. If you are selling a certain type of fitness machine, then you must be attracted to fitness enthusiasts or fitness clubs. Once you have a precise audience, brand promotion and community building are much easier.
The third point is that a niche store will make it easier to build a brand. Because you have time to focus on a certain product, you can more easily build brand awareness and develop a reasonable advertising plan. Especially in a niche market, if you spend time and energy investing in a website that actively interacts with segmented customers, it will be more effective than a view that pleases everyone.
Last but not least, it is relatively easier to design and manage a product store. There is no need to build a large number of collections and catalogs, nor do you need to change recommended products from time to time like a general Shopify store. You only need to make and improve a product page. The workload is greatly reduced, and you can focus more on how to optimize the product.
Successful one product store examples
There are some successful single product stores that I find on FindNiche – Top Shopify.
#1: Truff Hot Sauce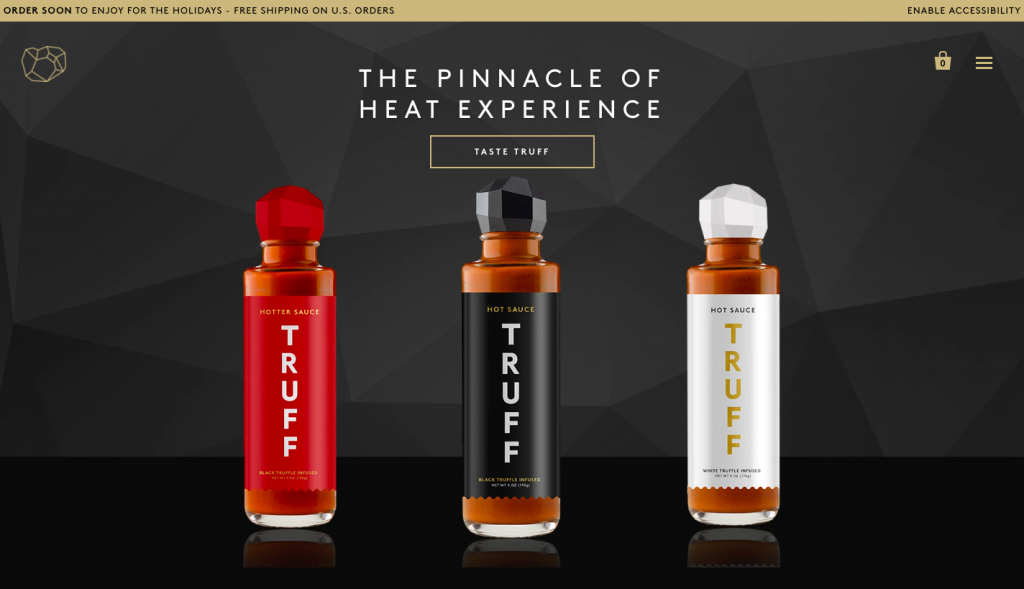 How can you imagine it's a Shopify store that only sells hot sauce? It shows a big image on top of their homepage to attract visitors' attention. They use "the pinnacle of heat experience" slogan and a really clear CALL TO ACTION button "Taste Truff" to call people to try their hot sauces.
According to FindNiche, Truffhotsauce has 16,329 Facebook Likes and ranked 123,796th in Alexa. By clicking the FB icon, you can link to the FB homepage of Truffhotsauce.
Their FB posts are updated frequently. In addition to some discounts, they also update the customer experience, such as posting a video of the customer tasting this hot sauce.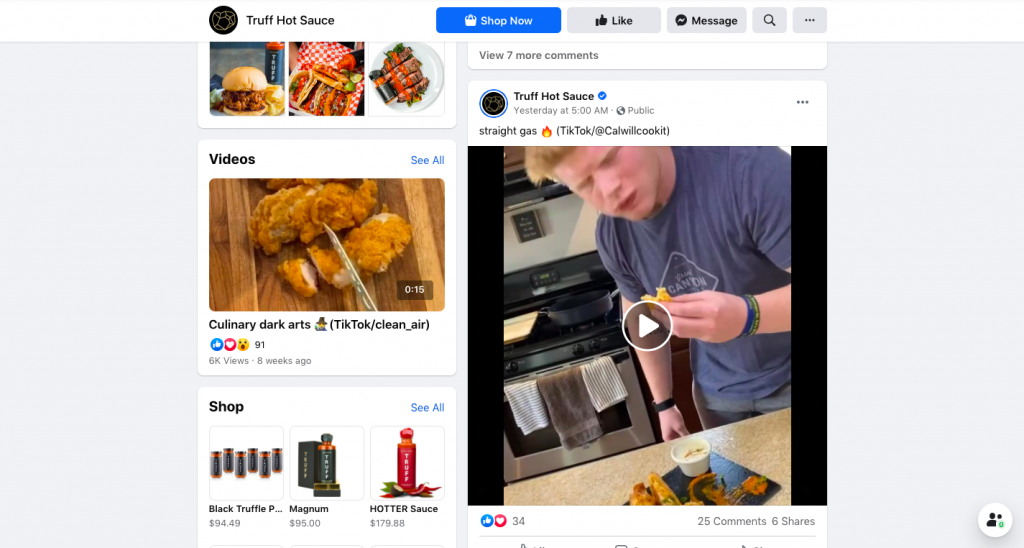 #2: Niki's Natural Wipes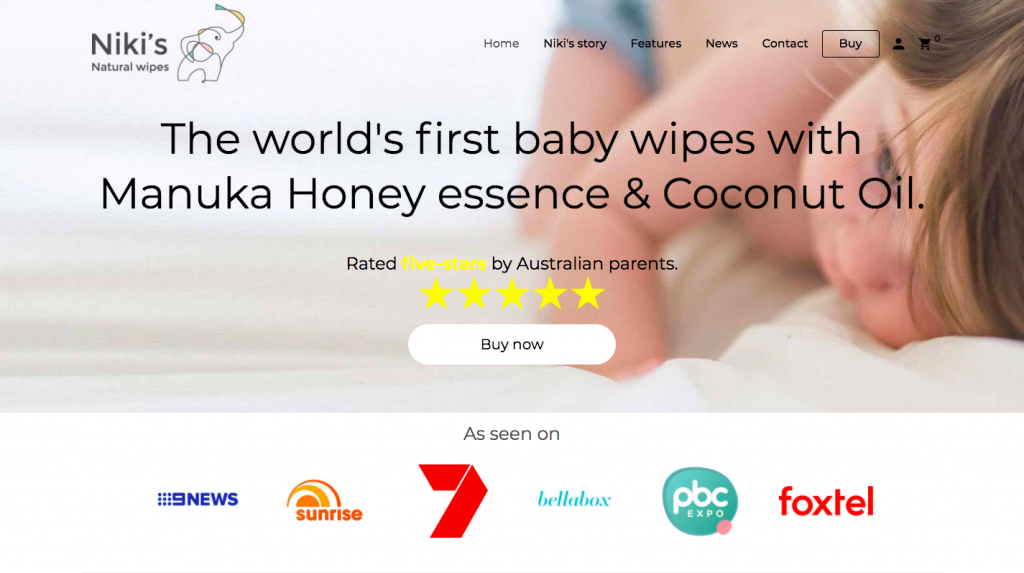 Here is another one Shopify store I find on FindNiche when searching the "coconut" term, it only focuses on baby wipes, but this is not that normal baby wipe, it made with Manuka honey essence and coconut oil, which makes it special. And they claim that Niki's has set a new global standard for premium baby wipes, also, Niki's wipes are organic, 100% natural & biodegradable!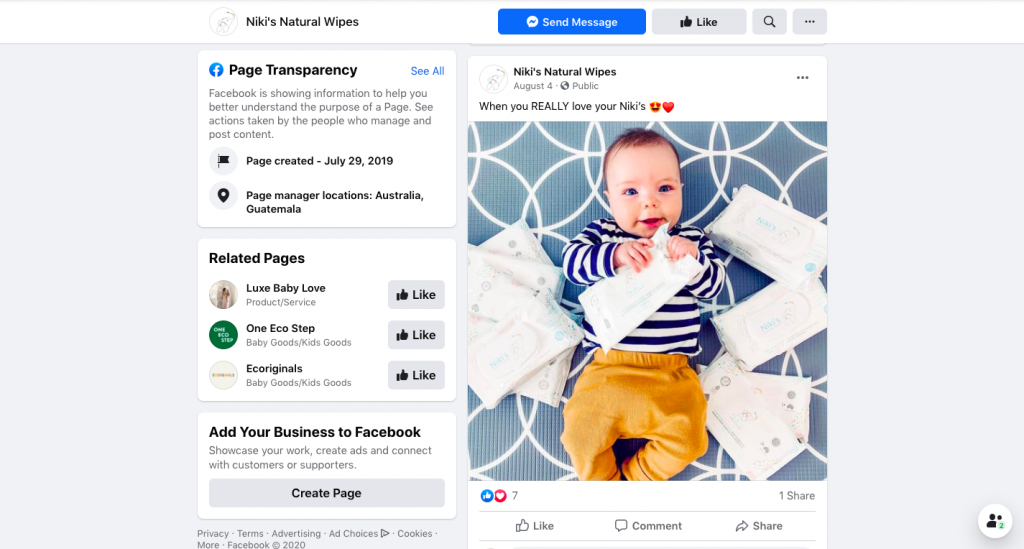 On their FB homepage, they always post some cute photos of babies and Niki's wipes, which are very attractive, especially for novice mothers.
#3: Ratio Coffee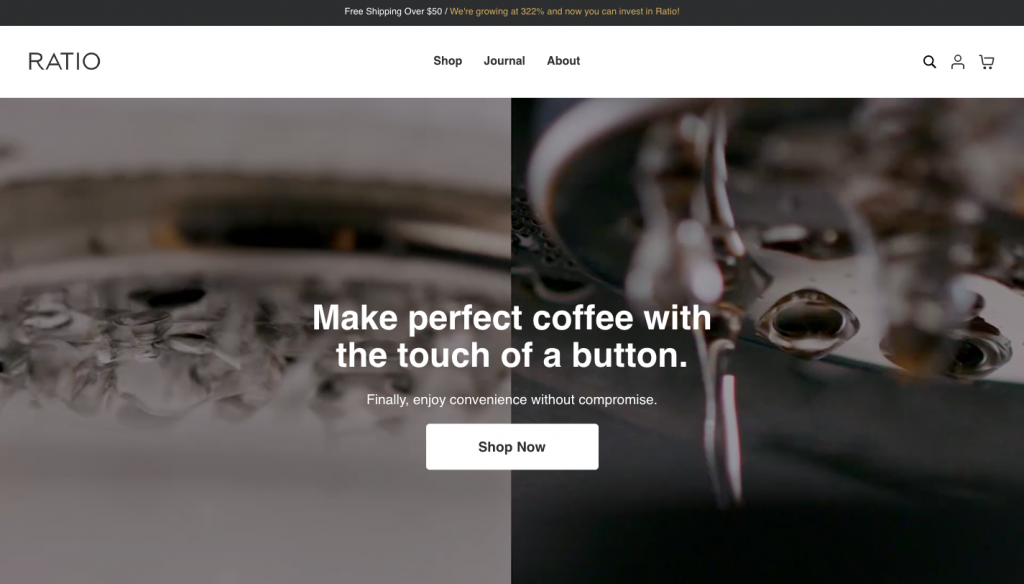 Once you enter Ratio Coffee's homepage, you can see videos of the whole process of making coffee using the coffee machine without playing it, and it is silent, so you won't be bothered. And their slogan is also very attractive, "Make perfect coffee with the touch of a button".
Also, when you click on a product page, it has all the necessary descriptions with images and also many 5-star reviews from their customers showing how their coffee is better after using the product.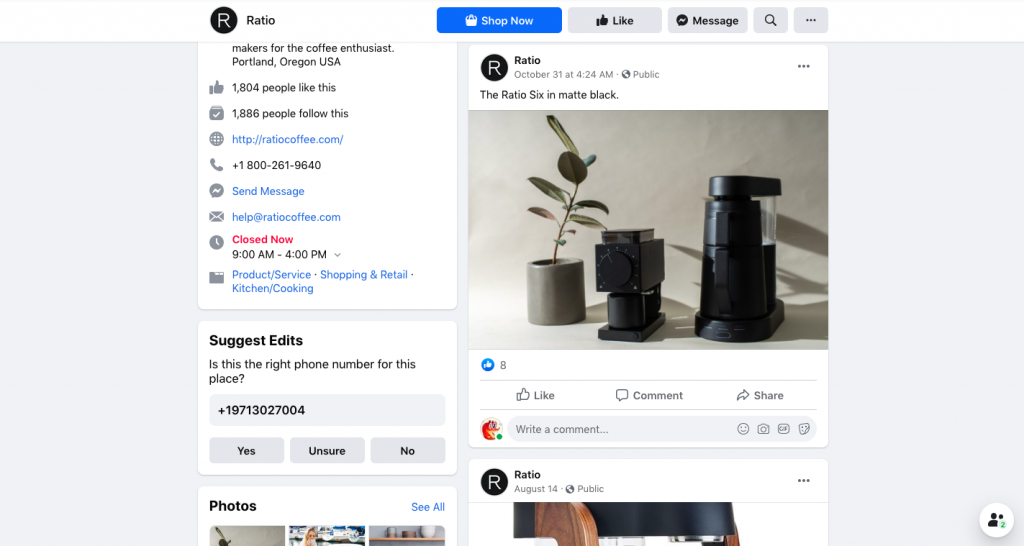 Just like their homepage, their FB page is also very simple, they will post some elegant coffee machine or coffee photos to attract visitors.
#4: Cocowhite Teeth Whiter Coconut Oil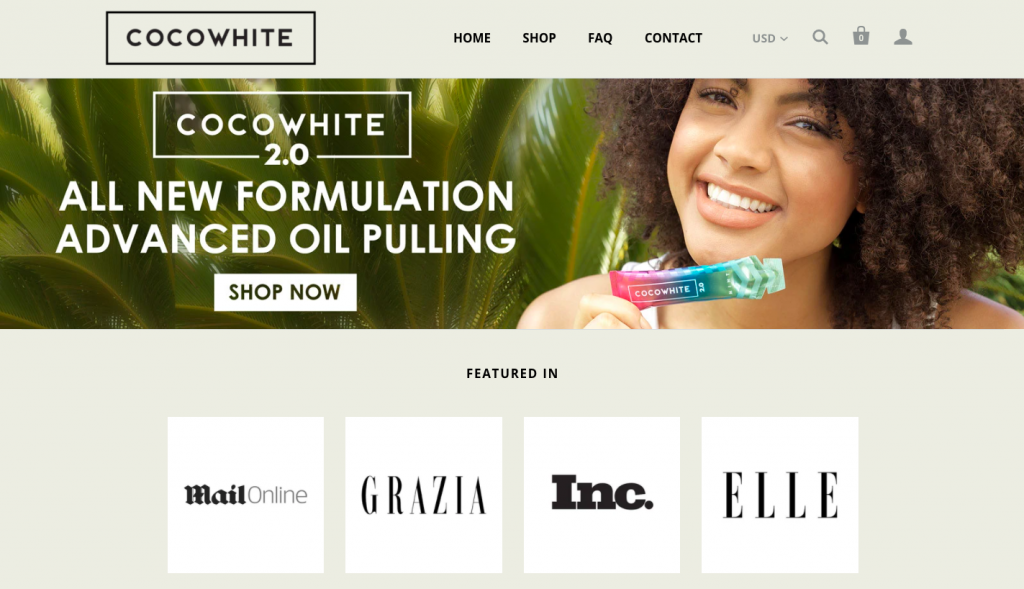 The homepage is simple and fresh. They mainly sell coconut oil for whiter teeth & a healthier mouth. In fact, only two products are sold in the store, one is coconut oil version 2.0, and the other is charcoal flavored. Unfortunately, both products have been sold out.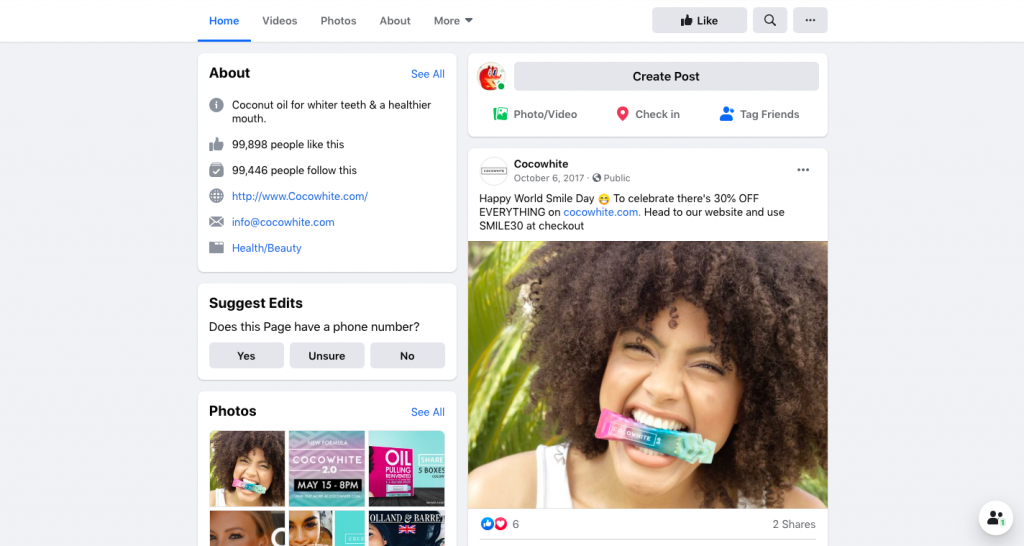 Although they got nearly 100K FB Likes, they seem to have stopped updating their FB as early as 2017, but their domain names can still be accessed normally and visitors will not be redirected to other pages. However, the reason for this is not clear to anyone.
#5: Classroom Friendly Supplies Sharpeners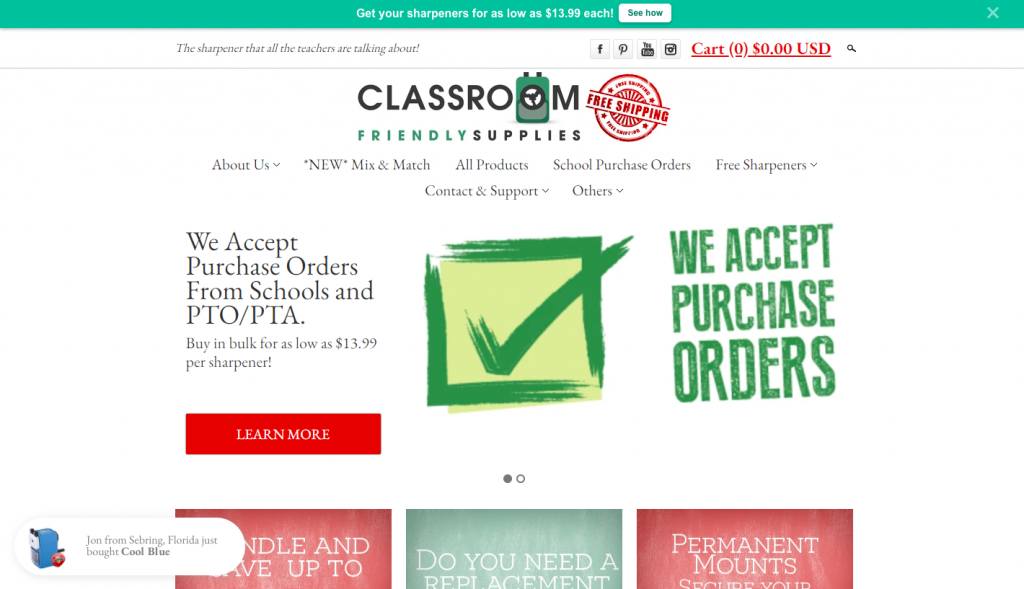 This is a one product Shopify store that specializes in selling sharpeners. Its homepage is not as simple as the homepages of the other stores mentioned above, but it is also very distinctive. When you go to the homepage, a pop-up window will appear in the lower-left corner, showing what color sharpeners a customer named "XXX" has just purchased. Instant shopping feedback from other customers will increase the visitor's impulse purchase (because many visitors who come to this shop are already potential precise customers), this will speed up their purchasing. This tiny trick to improve conversion was mentioned in the previous article.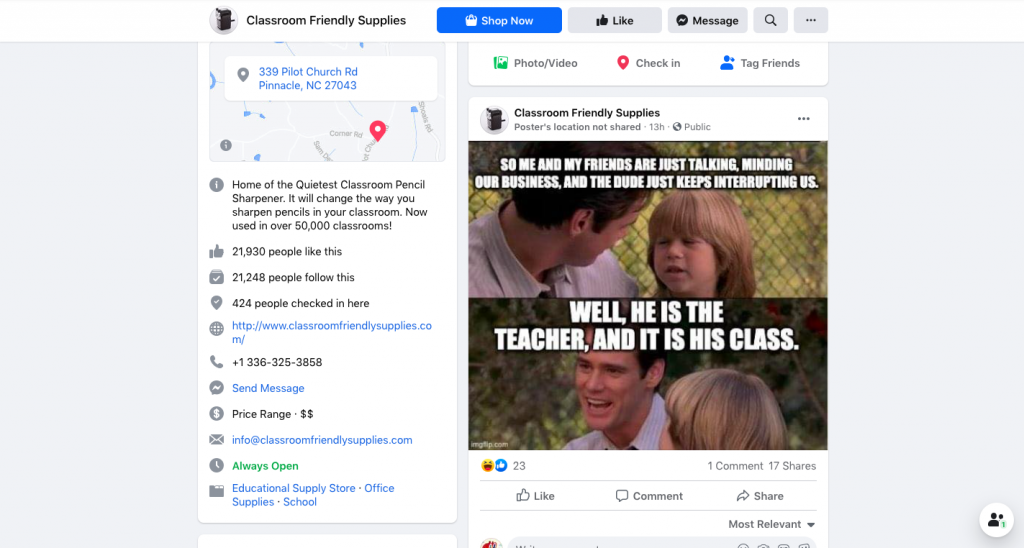 On the FB homepage of this store, they rarely post product pictures, but frequently update some humorous pictures, such as the conversation between parents and children, and the feelings of children going to school. These pictures are for children, parents, and school. Undoubtedly, This shop knows how to attract the right audience.
How to build one product Shopify store?
How should you create a good single product Shopify store from scratch? These are some factors that you need to consider carefully.
1.Get one winning product
If you have been in a certain niche industry for many years, that would be great, so your journey will be easier. If you don't know what to sell, you need to find some successful product ideas and optimize them. Fortunately, these can be found in FindNiche, it updates 20 winning dropshipping niches (which are selling by Shopify owners) daily filtered by the powerful AI ​​algorithm. Of course, it does not allow you to directly put these products in your store. You can enter one Shopify store that sells a certain niche product, check his business status, and make further designs based on user reviews.
Please remember that before you choose the product, you need to draw a detailed portrait of the buyer, find out the buyer's pain points, and show the solutions you provide them, such as "Make perfect coffee with the touch of a button" provided by Ratio Coffee, which could well meet the needs of coffee lovers.
At the same time, in the detailed information of 20 niche products that are provided daily, you can directly link to the FB advertising pages of these products to further understand your user group. My suggestion is to optimize on the basis of potential winning niche products to form your unique product. Take Niki's Baby Wipes as an example. Are wipes, coconut oil, and Manuka honey newly invented? Not really! If you combine these things that already exist, then it is a kind of "creation."
2.Make a brand plan
You need to position your product. This positioning is the starting point for your business. You build a brand for one of your products, which will make it easier for customers to remember you. Also, having a grand strategy of using a professional but conversational and empathizing voice with your own story is essential for brand awareness. Furthermore, creating an identical logo is important to help provoke customers into thinking of your brand whenever they see it.
If you have no idea about how to build a top Shopify store, I suggest you check these top dropshipping stores first.
3.Prepare your content & Design your Shopify store
Unlike other general stores, you don't have to change your design frequently, all you have to do is prepare every detail of your store, especially the content (such as slogan, CTA), which is a pivotal part of the whole plan. Design your navigation bar, banner, introduction video well that would attract visitors.
In addition, please pay attention to the content of the advertisement. Think about how attractive and unique your ad is. Use methods (such as Google Drafts & Experiments for Google Ads, or AdEspresso for Facebook Ads) for A/B testing to optimize your budget​​.
Is one product Shopify store a good choice for you? Selling one product online have many benefits, but it's easy to start a single Shopify store, it's not that simple to do it well. You are going to focus more on how to expand your business if you want to start a single product Shopify store.