Is Dropshipping Dead in 2020?
This is a very common question that gets asked on a daily basis. Last year, we were asked "is dropshipping dead in 2019?", this year, we were also asked, "is dropshipping dead in 2020?", believe it or not, the same question will still appear next year.
I've heard people said that some entrepreneurs become millionaires when they start their dropshipping business, however, this kind of fortune hasn't happened to them so this means that dropshipping sucks, or there's something wrong with the dropshipping business model, or it has already died.
Really? Is dropshipping dead?
Let's look at Google's proof.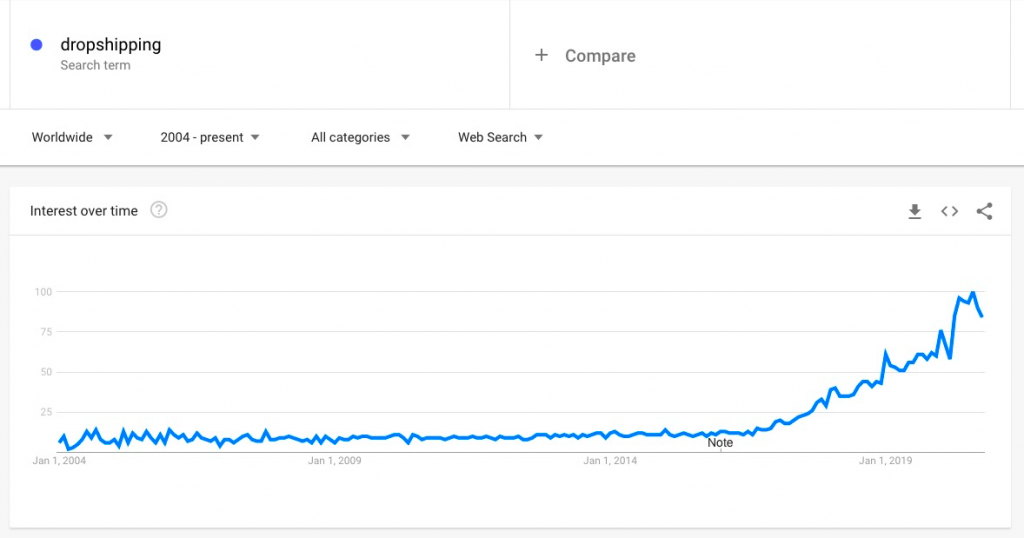 As Google trends shows above, "dropshipping", this term, has gradually become popular worldwide since 2007 and is in a trend of continuous growth. Although many people asked us "is dropshipping worth it?" last year, and it did get a dip, it is still going strong. Also, if you check the Google trends for the United States, you will notice that more people within the United States are searching for "dropshipping" terms, especially this year, although the coronavirus spread terribly, its popularity is still rising compared to last year. It is a shocking surprise.
As "AliExpress+Shopify" is the most common dropshipping model, let's look at their trends on Google as well.
Google trends regarding Shopify — FindNiche

Google trends regarding AliExpress — FindNiche
As can be clearly seen from the above figure, both Shopify and AliExpress are on the rise. Shopify has been on the rise since 2015 and reached a peak this year, while AliExpress has become popular globally as well and this year it has slightly down.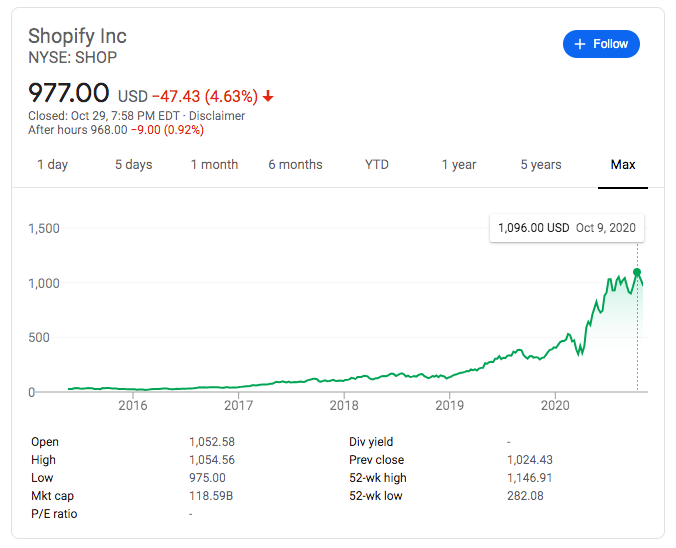 As a supplementary explanation, Shopify's stock price also hit a new high this year.
What is dropshipping? It's a low barrier, low start-up capital, and low-risk e-commerce business model that allows everyone to enter without any requirements. If you are an e-commerce beginner, it's the best choice for you.
I have to say that as early as 2016, it was the golden and bonus period of dropshipping, and it was easier to achieve success. The dropshipping masters mentioned in the previous article, Harry Coleman, Jared Goetz, and Gabriel St Germain were all successful in that period. At that time, Facebook's advertising costs were relatively low, and advertising creativity was relatively simple. There were fewer businesses engaged in dropshipping, and you could do fewer things and be successful. But at that time, people who tended to shop online were still much less than today.
Dropshipping in 2020 and future
Lower barriers make dropshipping a good choice for e-commerce beginners, and it's still viable as well as a profitable business model from the past to now. Now is the future too, there is no wonder why there are still many entrepreneurs who are squeezing into this business. So the problem comes, one of the problems faced by more dropshippers is that the competition of dropshipping is getting fiercer. Is it saturated? The answer is not sure, in some aspects, it's saturated, in another perspective, it's far from saturated. That is to say that you still have a chance to stand out.
Also, more entrepreneurs realize that it is no longer feasible to meet only the lowest barrier. They must be more creative and have a long-term vision in order to beat their competitors and stand out.
We can see from the above Google trend of dropshipping and Shopify's stock price that in 2020, dropshipping is not only not dead, but is still booming. In 2020, due to the impact of Coronavirus disease, people spend more time home and an increasing number of people shop online through convenient online platforms. According to the data provided by FindNiche, masks and home fitness equipment were the winning dropshipping products in the first quarter of 2020.
The dropshipping business model is always feasible, as long as entrepreneurs adapt and work hard to build a solid business-this is a win-win situation for customers and entrepreneurs.
2020 is a good opportunity to start dropshipping, for the following reasons.
①Many physical stores have gradually turned to online sales due to the impact of the epidemic. The era of e-commerce is approaching, online business is booming and is expected to double by next year, and dropshipping is as well.
②Online payments are becoming more widespread and frequent.
③Dropshipping is accepted by more and more people, and many suppliers are gradually entering it.
④More dropshipping tools and software are invented to simplify the whole process of dropshipping business, such as FindNiche, as a niche analytics tool, provide convenience for product searching&sourcing.
In 2020, it's still worth starting a dropshipping business as long as you are ready to face the challenges. Despite the incentives of competition, the rewards are generous.
How to start a dropshipping business?
Although the barrier of dropshipping is very low, it is not so easy to build a successful dropshipping business. According to the Pareto Principle, 20% of the people in society own 80% of social wealth. In any industry, there will always be less than or equal to 20% of people who will succeed, and dropshipping is no exception, so some people become millionaires while others not.
How to start a successful dropshipping business from the beginning?
1.Name your store
First of all, you need to determine the platform you want to sell. Generally speaking, we will choose Shopify to open our dropshipping store, because, for most dropshippers, Shopify is easier to use. Secondly, we need to choose a name for our Shopify store. This is usually the domain name of the website, but don't underestimate it. The store name is also important to the success or failure of a dropshipping store. A memorable name will help future brand building and promotion, here are some suggestions for you to name your Shopify stores:
1) Use your brand name. If you have your own brand, the Shopify store name can also use your brand name
Eg:
redbullshopus.com
netflixstore.us
shop.economist.com
shop.miss.at
shop.medlife.com
minbie.com
2) Short names are easier to remember than long and complicated names, preferably 2 syllables
We put these two store names together and give you 10 seconds. Which name will you remember?
store.nextdoor.com
snowboardaddiction.com
Obviously, we can remember "nextdoor" faster!
From the Shopify store list ranking, we can see a lot of this two-word shop name:
twothirds.com
shop.medlife.com
shop.mindvalley.com
shop.gamespot.com
shop.bestfiends.com
3) Unique, special, and creative
Creativity has infinite charm. You may not imagine "love your melon" as a shop selling hats. Love Your Melon was founded in an entrepreneurship class at the University of St. Thomas in St. Paul, Minnesota by two friends, Zachary and Brian, who wanted to start a business with a meaningful and positive social impact. On a mission to improve the lives of children battling cancer with the simple idea of ​​putting a hat on every child battling cancer in America.
4) Consider SEO optimization effects
When choosing a name, consider the difficulty of SEO optimization for this term. If the word is very hot, it means that the competition is also fierce, and you may have a hard time competing with these high-traffic websites. Your store website is likely to appear after dozens of pages of Google search results. However, if the optimization of the word is difficult and there is no traffic, then it is difficult for you to get Google traffic.
Therefore, we must use some tools to find long-tail keywords that are suitable for you. In the last section of this article, we will detail how to use tools to find long-tail keywords.
Moreover, we have prepared 200+ Shopify store names for you, which might give you some inspiration.
2.Find your niche market
Next is to find a niche market that you are familiar with, if you have no idea about how to find dropshipping niches, you can use niches finder tools such as Ecomhunt, Salesource, or FindNiche to discover product ideas. But how to find dropshipping niche products step by step?
1) Deeply Consider Your Personal Experience and Passions
On the one hand, your experience and interests require to be taken into account, on the other hand, you need to find an industry that you can persevere. Ask yourself, have you ever thought to turn your passion into a business? You really need a passion for the product you're selling as well as for the market you'll serve, when you are really passionate about something, you will devote yourself and you will know more about the niche theme you intend to sell than anything else. Otherwise, your patience will burn out pretty quickly.
2)Find the Problems You Can Solve
Generally, you'll build a target audience based on the pain points your product solves. Just like earplugs can alleviate noise, eye masks can solve the problem of staring dazzling light, aspirin can relieve headaches. Every product is invented to solve problems in our life, and there is a well-known phrase that says "necessity is the mother of invention", similarly, when you choose a niche product for sale, it's a great way to start, it couldn't be more accurate than it is here.
3)Research Your Competitors
Contrary to what most people think, successful entrepreneurs are not so exclusive of competition. Actually, the existence of competition isn't necessarily a poor thing, it might be showing you that the project you are currently carrying out or the product you are selling is proved to be in-demand in the market. So before you dive into your career and start your own business, one thing you have to perform is research some potential competitors. At present, how many other stores are selling similar products as feasible product ideas as yours, and how many top Shopify stores of which are there?
4)Assess Trends and Potential Profitability
When you have some great ideas in your mind, jump on Google trends to research your options, type the keyword into the explore topics bar, then narrow down or expand your topic based on what information you're searching for.
5)Test Your Products
The last step is to verify your idea. You can contact your friends and family members first to see whether they are interested in your new products or services. If they are interested, then it is recommended that you give certain discounts to Invite them to purchase at your store, and then give you some useful feedback and suggestions to optimize your store, while sharing it to the forum or the group you did product research before to see the reaction of the public.
3.Check top Shopify stores
If you know what niche market you are going to dive into, don't be hurry, my suggestion is to go check those top dropshipping stores first, Shopify spy tools like FindNiche, SellerCenter could help you find those top dropshipping stores, and you can spy on FB ads, profit margin as well as top-selling items of them, then discover the secrets of their marketing strategy and make your own strategy better.
4.Drive traffic to your store
As the competition of dropshipping is getting fiercer, if you are a Shopify store owner, in 2020, you have to aware that entrepreneurs need to gain as many advantages as possible. The biggest problem for the dropshipping businesses you have to deal with is to attract more traffic. But how to drive traffic to your store? There are many solutions.
1) Some basic Shopify SEO optimization measures
a. Content marketing
If you don't have the energy to run a blog for the long term to attract users with content, then there is a very simple way to help you drive traffic to your Shopify store. I searched the top Shopify stores from the "Shopify analytics" page of FindNiche and researched their homepages.
They have almost one feature in common: at the bottom of the store's homepage and main page, both there are simple paragraph descriptions, these descriptions usually contain some core keywords.
b.TDK settings
In the e-commerce website, in addition to the product title, product description, and the alt tag on the picture is the best place to use keywords, there are some very basic SEO optimization methods, which is to set the TDK on the main page.
Similarly, we found some high-ranking Shopify stores to see how their TDK was set.
First, open the store's homepage or other core pages, right-click "View", and then click the "head" down arrow in the code. Usually, you will see details of "title" and "description" here. With FindNiche's category search function, you can quickly find the TDK of your competition.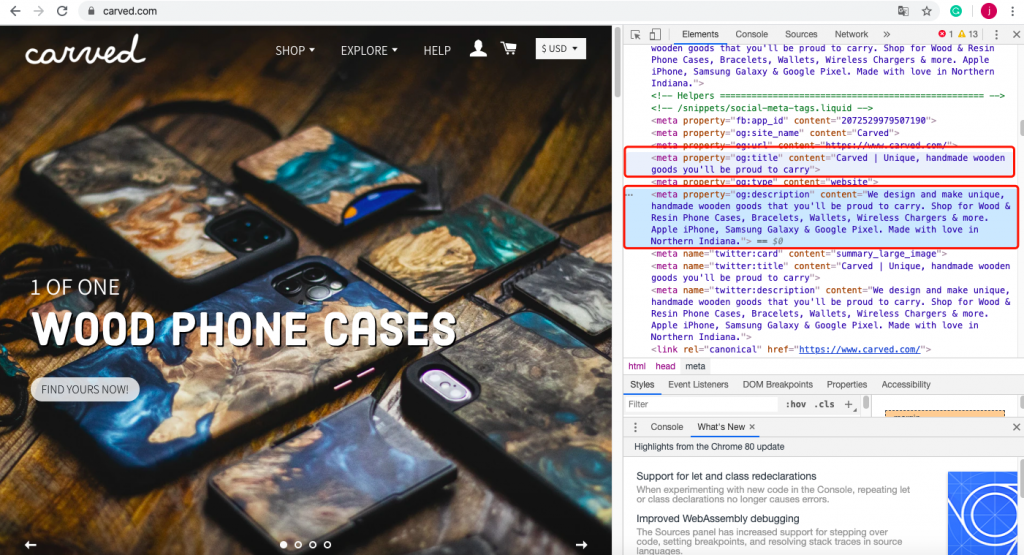 2) Social Media Promotions You May Ignore
a.Video promotion on YouTube
There are two ways to choose, one is to make your own promotional video. Another way is to work with YouTube influencers and ask them to make a video for your product, or just add your product to one of their shows. As long as your products are consistent with their style, your chances of cooperation will be high, after all, influencers also need content and products.
b.Link the Ins account to the Shopify store
Instagram provides "purchasable posts". Users can click on the product picture to view product details. If users need to purchase the product, they can directly click on the link to your Shopify store to buy.
This is really too convenient!
3) Email marketing
If you are not good at acquiring new users through EDM, the only thing you can do is wake up old users. Promote some promotions on your store's homepage to attract your users to subscribe to email. Of course, the greater the strength of this offer, the greater the willingness of users to fill in the mailbox.
Anyway, for dropshippers, finding winning products is the first step to get close to success. Then you have to pay more attention to improve your marketing strategy, which would provide a competitive advantage for your dropshipping business.
Is dropshipping dead in 2020?
No, Dropshipping is not dead yet. For entrepreneurs who intend to make money, dropshipping is still a profitable business model. The only change in 2020 is you have to be more creative to stand out from the fierce competition in dropshipping. Determine your field, then optimize your business from every detail, increase customer satisfaction and uniqueness of advertising creativity, and make your business flourish.