Is Dropshipping Worth It In 2020? Tell You The Truth!
E-commerce business models have emerged in the market with the birth of the Internet. In recent years, globalization and the advancement of technology have made e-commerce accessible to every single person.
Do you know how popular e-commerce is?
According to statistics, by 2021, global e-commerce retail sales will reach 4.9 trillion US dollars, from 1.3 trillion US dollars (2014) to 4.9 trillion US dollars (2021), reaching a growth rate of 265%. These figures show that the future of e-commerce is stable and shows no signs of decline.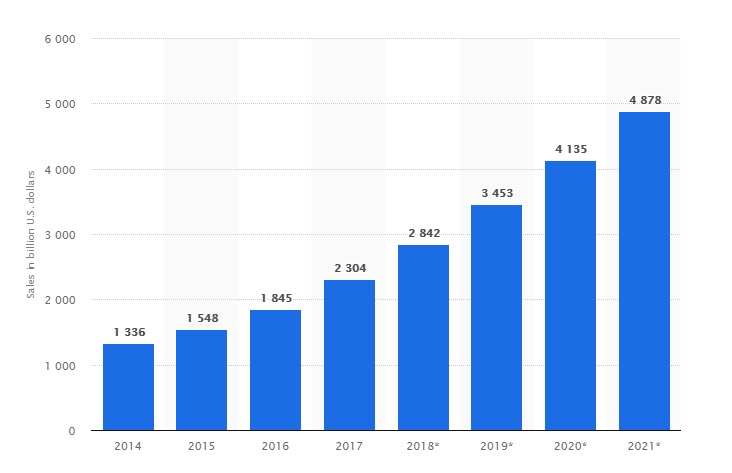 If you are seeking an online business opportunity in 2020 and consider selecting one from various different business patterns, will you choose dropshipping? We all know that it is one of the easiest business opportunities on the web over the last decade.
But in 2020, we have to ask, is dropshipping still worth it this year? Is it time to start now? Before answering this question, let's find what is dropshipping and it's pros as well as cons.
What is dropshipping?
In our previous article, we have defined dropshipping. Simply put, this is a business involving three separate parties: the buyer, the dropshipper, and the supplier. The dropshipper acts as an intermediary, selling products directly to buyers, and then send orders to suppliers, who then directly ship to buyers.
The biggest difference between dropshipping and other means of retailing is that dropshippers do not stock any products but depends wholly on the third party to fulfill its retailing needs.
Is dropshipping legal?
The good news is dropshipping is perfectly legal. There are no existing laws barring anyone from running a dropshipping company. However, depending on the country/region, certain laws and regulations govern how this type of activity should be run. And there are a few additional regulations of each platform if you want to drop ship between different platforms, you'd better get knowledge of these restrictions before getting your business on the ground.
Pros of dropshipping
1. Ecommerce is wildly growing
Just like the statistics I mentioned above, e-commerce is prospering and will continue to prosper because, with technological development and e-commerce changing, more and more people are enjoying the convenience brought by e-commerce: ordering items from the internet and then being delivered directly at their doorstep within a few days.
2. Low restrictions and barriers to enter
The entry barrier for dropshipping is relatively low. In other words, it's cheap to get started. Unlike traditional companies, you don't need to prepare too much initial capital or register a company, or do you require to invest stock or maintain a warehouse. You can launch a dropshipping store that selling items worldwide by yourself and become your own boss.
Anyone can participate, whether you are a college student, housewife, social elite, or retiree. For everyone, opportunities are fair. You can do it full-time or part-time, depending on your needs.
3. Test new products with minimal risk
it is easier to test the product in the dropshipping model. Regardless of whether you are opening a niche store or a general store, you can test the entire product line or even a single product on the market without inventory, thereby reducing the potential risk of product rejection by the market. Since there is no inventory, even if the product is not popular in the market, it will not cause great loss to your business. If someone in the market accepts to buy this product, then you can order from the supplier according to the user's requirements.
Since the market trend is changing, for the traditional business model, even if your goods are no longer popular, no one will pay for it, but you have to bear the loss of inventory. And as the market changes, in the dropshipping model, you can put the corresponding products on the shelves according to the trend.
4. Build your own brand and easier to upscale
In fact, dropshipping is helpful to build your own brand, typically, however, this is not suitable for beginners, that is, it is best not to build your own brand in the early stage. Usually, we build your own brand after we have a certain amount of stable traffic and sales, and a certain niche of yours is recognized in the market, which means that you have a certain amount of experience. Moreover, the building of a brand also shows that you have established a long-term and stable cooperative relationship with one or several suppliers. Many dropshippers worry about unstable suppliers. You may not need to worry about it again.
For dropshipping business, more orders mean additional customer support staff and a few other sales requirements, drop shippers generally have an easier time upscaling their businesses. Further orders are handled by the supplier of the product, enabling the business to grow with minimal effort and investment.
Cons of dropshipping
1. High competition
The same low barrier to entry that makes dropshipping attracting heavy competition. To stand out from the competition, you have to find something special to launch your store. If you have no idea about how to find something interesting, check on FindNiche, you will get lots of product inspiration by analyzing the massive data.
2. Low margins offered
You won't get the lowest price from a wholesaler because you won't be buying products in bulk, but rather one-by-one as your customers order them.
Besides, you have to pay additional fees for the wholesaler to pick, pack, and ship each customer order, and your profit margin will suffer accordingly.
3. Lose quality control and inventory is not guaranteed
Dropshipping makes you outsource warehousing and fulfillment to suppliers, it makes for convenience, but not great for quality control. You can't inspect the product and you won't join the shipping process, so you have no available to know the actual condition of the goods, so it puts you at risk for negative customer feedback about factors that are literally beyond your control.
What's more, It's difficult to be certain of your stock availability under a dropshipping model. Your ability to fulfill customer orders depends on the supplier's inventory, if you sell products with severely insufficient inventory may cause dissatisfaction with customers.
In general, even though there are many entrepreneurs complaining about the deficiencies of dropshipping, more and more people are still joining the dropshipping business. The shortcomings we mentioned above, as well as the long shipping time, high costs, etc. that others have said, are actually areas where you can spend your time and improve. If you can solve the complaints of others, then you are very likely to succeed in your dropshipping business.
How to make dropshipping work for you?
Successful dropshipping business starts with picking the right products and vendors. FindNiche is a place where you can find some product ideas, there is a large number of dropshippers finding their winning products on it, but don't worry, FindNiche has many filters, you can combine different conditions to filter your niche product, everyone has their idea about how to combine these filters and focus on a different niche industry, besides, FindNiche collects product data from AliExpress, so there are massive products, you probably won't find the same product as others.
After finding some special&unique products for your business, then marketing, branding, and customer service are critical to success with dropshipping. Focus on these kinds of things, and make your own strategy, then you may also become a successful businessman like Harry Coleman, Jared Goetz, and Gabriel St-Germain.
Is dropshipping worth it?
Is dropshipping worth it in 2020? Here is Google's proof.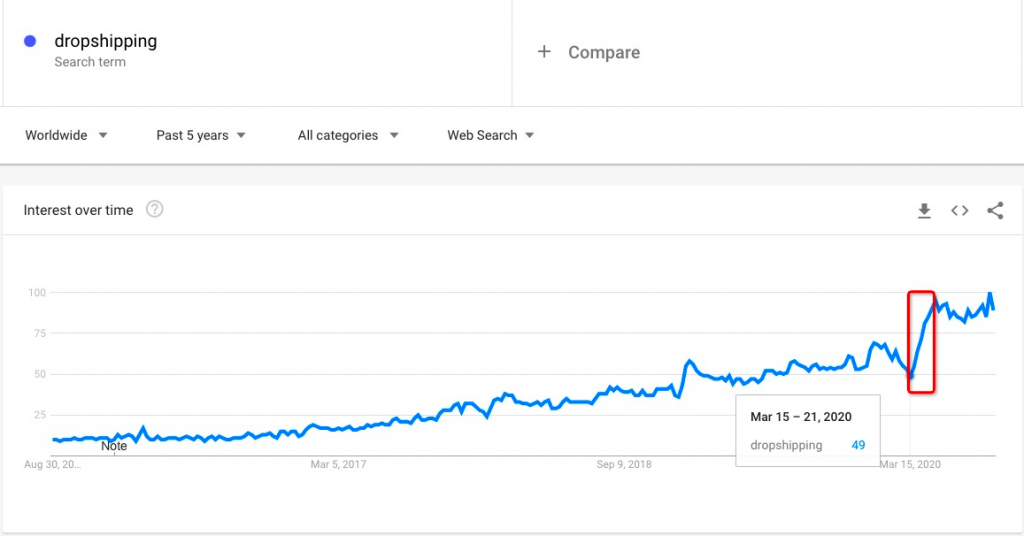 Obviously, in the past 5 years, the popularity of dropshipping has been on the rise globally, and there was a sharp rise in March this year.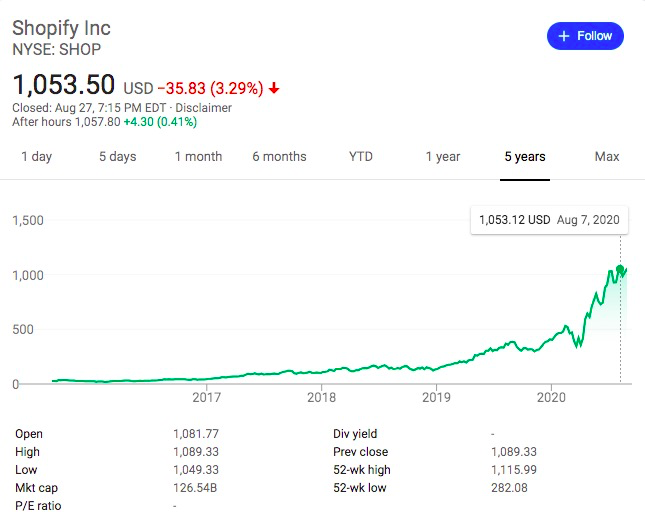 The above is Shopify's stock price in the past 5 years, Shopify is one of the most popular and convenient platforms for a dropshipping business. Like the popularity of dropshipping, it has been on the rise most of the time. And the all-time high Shopify stock closing price was 1094.65 on August 05, 2020.
Final thoughts
Every day, many people enter the dropshipping industry, while some leave. Some succeed, and of course, some failed. If you are looking for an e-commerce business opportunity and don't want to invest too much money and time, then dropshipping may be a good opportunity. Every year, there are people who are worried about the fierce competition, but every year there are people who make a big slice, I hope you will be the next one.