How To Make Money On Shopify? (The Ultimate Guide In 2020)
In this era, it is no longer difficult to build your own online store, because there are many platforms on the market that can assist set up your own e-commerce store, such as Shopify, WooCommerce… All of them will make your e-commerce business journey easier.
In this article, we'are going to talk about one of the most popular platforms among them, Shopify, which has helped tons of entrepreneurs establish, grow, and expand their businesses.
What is Shopify?
As one of the most popular e-commerce platforms, Shopify is available to most merchants, and it has become one of the most scalable, feature-rich, and fastest-growing platforms that exist. It supports many types of enterprises, from young new startups to branded enterprises such as Gym Shark, Deliveroo, it is very inclusive.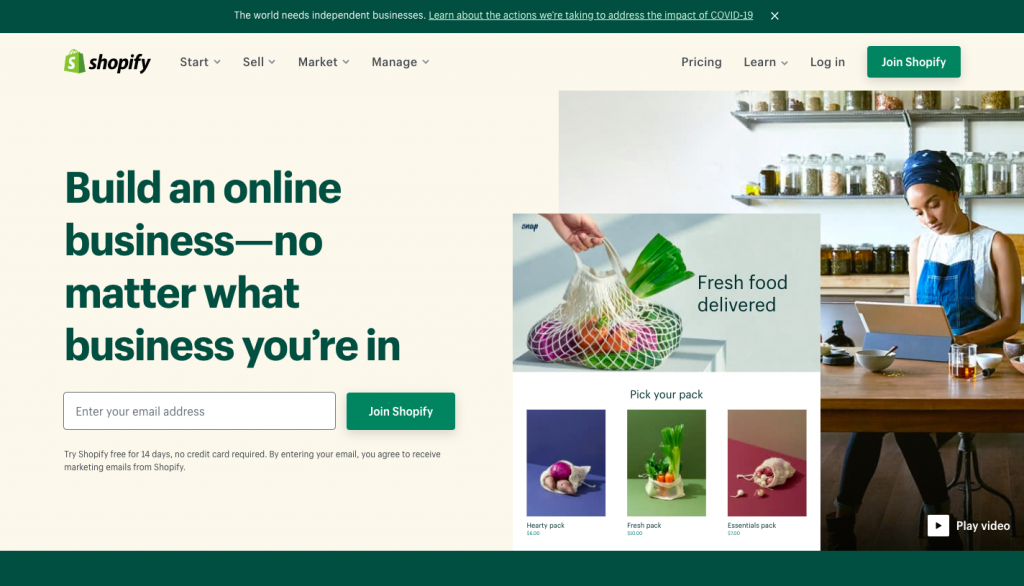 Because it is an all-in-one solution, so it is mostly suggested for those who want to focus more on the selling part rather than the technical parts. Meanwhile, Shopify is the best choice for the small-scale or individual seller because you can set it easily even if you have no idea about programming.
It provides business owners with a solid and flexible store builder that can increase conversion rates and sales, reduce many management tasks, and provide valuable management information.
Multiple business modes on Shopify
1. Sell Thrift Store Finds
Do you like thrift stores? Some people spent hours and hours searching for something interesting in thrift stores. There are many unique and interesting items such as Vintage t-shirt, old soccer jersey that you probably couldn't find at other normal stores. You can purchase these interesting items at an affordable price in thrift stores. Then you can sell them on your Shopify store, you don't sell products, you are selling something unique. Believe it or not, many people love these tiny beautiful items but they just don't have time to collect these, then it's a chance for you to sell these products and get money as a reward.
2. Dropshipping business
Dropshipping is a business model in which sellers selling products without having any inventory, after customers purchasing products at their store, then the shop owner sends the order to the supplier, and the supplier ship the products directly to the customer. This is how dropshipping works. There is no doubt why dropshipping is considered one of the perfect business models for new e-commerce entrepreneurs, it doesn't require large startup capital and easy to set up and manage.
Moreover, "Aliexpress+Shopify+Facebook" is regarded as one of the most popular dropshipping modes among dropshippers. Merchants source products on Aliexpress(just select products, they don't really have to purchase any of them as inventory, but they could order some of these products' samples to check the quality), then launch these products to their Shopify stores and deliver ads on Facebook.
Shopify is a great choice to start a dropshipping business. What we actually do? The common steps are as following:
①Find winning products on FindNiche
②Link to the Aliexpress product page on FindNiche
③Use Oberlo to upload the products to your Shopify store
④Run Facebook ads(it depends on what you are selling and your budget)
3. Sell print on demand items
Print on demand is a process in which you cooperate with suppliers to customize white-label products such as t-shirts or handbags with your own designs to sell them on a per-order basis under your own brand.
From t-shirts to backpacks, print on demand enables you to put your own original ideas to the products then launch to your store and sell them online.
From creating designs to building your online store, Shopify has everything you need to start a business using print-on-demand.
4. Selling Services as products
Adding services as products is the easiest way to sell service on Shopify. Then you can add images and descriptions to the items you launched. And because the items you're selling are intangible, you have to take extra care with your item listings, making sure that you describe all details regarding this item clearly and accurately, and eye-catching images are needed to attract your customers.
5. Promote online courses
It's a great way to sell online courses on Shopify. All you need to do is put together a video walkthrough explaining a subject that you're familiar with and then host it on your own Shopify store. You already have the knowledge, you just need to share it. It will take some energy to prepare all the courses, but if you manage to design a popular high-value video tutorial series and welcomed among people, people would enroll in your courses and you will gain benefits.
There are many people selling their courses online, they just record some courses, and sometimes they don't even update. But one course will bring them a continuous stream of income with time goes by.
How to set up a Shopify store?
1. Determine what kind of Shopify store you will build
Before setting up your Shopify store, you have to determine what kind of products you want to sell, we have talked about some business modes that you can sell on Shopify above. If you decide to start a dropshipping business on Shopify, then the first step is to do product research using product analytics tools like FindNiche.
Doing product research is relatively easy, but it would take some time to find something special.
There are quite a lot of filter criteria on FindNiche which you can set based on your preferences to complete advanced filtering.
If I'm going to sell on Shopify, I always tick "Shopify products", then the result of these products are also can be found in Shopify stores. You can personalize your filters, the more filter criteria, the accuracy of the result(products that satisfy your requirements)is.
2. Check Top Shopify stores
Always check successful Shopify stores before starting your own store. Find out the secrets behind their success such as how do they design their Shopify store, what kind of strategies they take, how they promote their store on Facebook. You can learn from them, save more time, and take fewer detours.
You can also find these top Shopify stores on FindNiche. You can search the domain or keywords of these stores to locate the store and you can search them by categories and top countries. My suggestion is to download the Chrome extension ShopifyFinder, which is developed by FindNiche, either. And every time you visit one Shopify store, it will show the details such as the Alexa ranking, created time, bounce rate, number of ads of this shop.
3. Set up your own Shopify store
Go shopify.com and create an account, enter the required details, and click the 'Start free trial' button(Shopify offers a 14-day free trial). Just fill in some basic information then you complete the whole registration process.
②Start building your online store
After signing up, you will go directly to your store admin dashboard. Now you are ready to start customizing your store, uploading products, and setting up payments and shipping. If you're doing dropshipping, then you can use Oberlo to upload your products from AliExpress to your Shopify store.
③Select a "Theme" or a "Layout"
Shopify has its own official theme store with free themes and paid themes, and you can find themes on other marketplaces. You can browse the themes and get more information about the theme such as whether the theme is responsive/mobile ready among other features, you can preview the theme and once you have decided, you can install it and apply it to your Shopify store and you can edit it anytime.
④Add products to your store
Select "Products" on the left navigation bar, then upload products as well as product details, then click the "Save Product" button to make sure they are uploaded. Meanwhile, you can set up a collection of your products.
After filling all the information such as shipping, taxes, you have to test your order system to make sure everything runs smoothly.
To get your Shopify store live, you have to add a domain name for it. There are two ways to get a domain name, the first is to buy a domain from Shopify and it will be added to your store automatically, the second option is to purchase a domain from a third party, you'll have to redirect the DNS records yourself by this means.
4. Drive traffic to your Shopify store
After all things about setting up a Shopify completed, the next important part is to promote your store and drive more traffic to your store to get more sales and make you money at the end. We've written some articles about how to drive traffic to your Shopify and how to get more sales on your Shopify stores, you can check them below.
We talked about how to make money on Shopify, hope you can benefit from this article and run your Shopify business smoothly.