Dropified vs Oberlo:Choose The Best Dropshipping Tool for You in 2021
To figure out what Oberlo and Dropified are, it is important to first figure out what Dropshipping is.
In the Dropshipping model of the entire business process, you do not need to buy in advance to prepare inventory, all you have to do is to use Shopify or WooCommerce to build an e-commerce website, find a niche market and the products you want to sell, and then through various channels such as Facebook ads, Google SEO, TikTok short video, etc. to get traffic and orders, and then you get the orders. Then you can place the orders you get to the platform that provides one-piece shipping service (such as Selling, etc.), third-party service providers (such as Spocket, CJDropshipping, Printful, etc.) or factories. These one-for-one service providers will send the orders directly to your customers for you.
In the whole process, you don't need to spend money to prepare inventory, you don't need to set your packaging and packing, and you don't need to deal with shipping. All you need is a computer or cell phone with internet access to manage your website, traffic channels, handle orders, and after-sales service anytime and anywhere.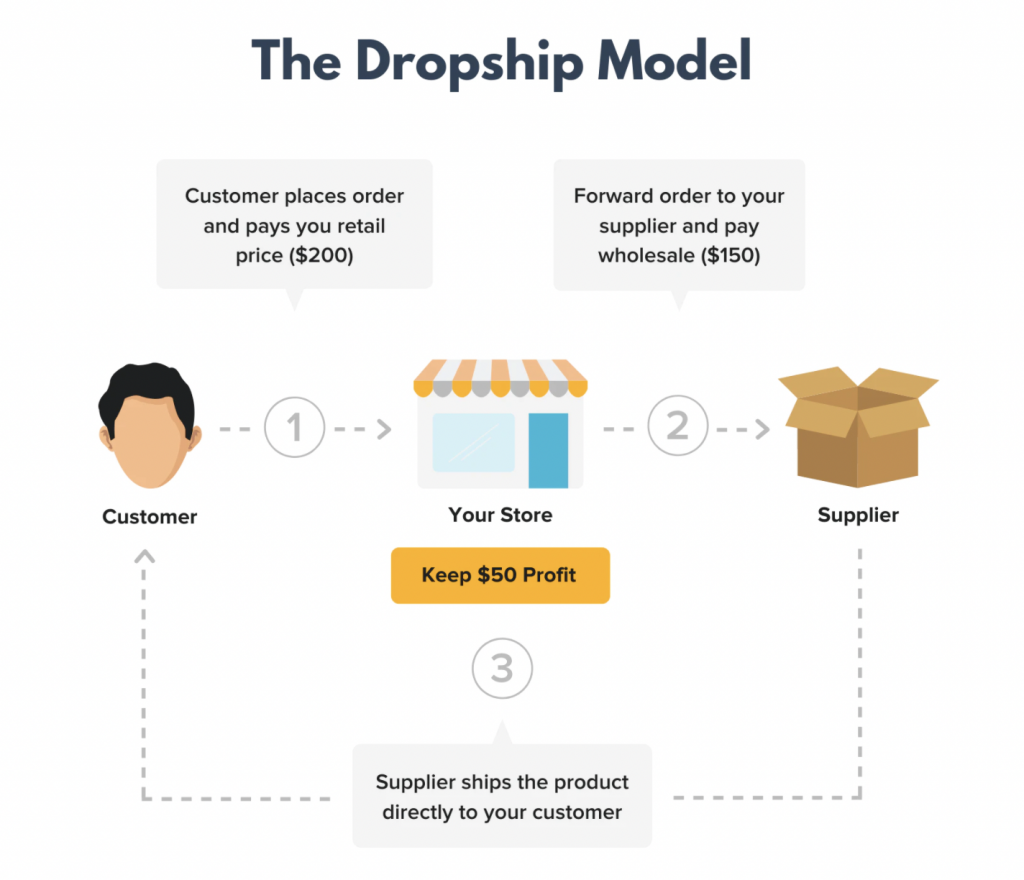 What is Oberlo?
Oberlo is almost the most familiar Shopify Dropshipping plug-in, you can import a key to Aliexpress products, but Oberlo currently only supports Shopify, can pick products from a very limited platform: Selling. Oberlo is responsible for the collection and handling of products.
If you still do not understand, then you can look at the Oberlo website definition of their own.
"Oberlo is a platform that makes it easy for you to find great products to sell online. With Oberlo, you have access to a huge variety of different products in just a few clicks. Whether it's clothing, electronics, toys, beauty, or the next trending product, Oberlo makes it easy to find products from suppliers all over the world and add them to your online store immediately.
Once you've made the sale, your supplier will ship the product from their warehouse directly to your customer's doorstep - you never need to worry about storing, packaging, or shipping the product yourself. Instead, you can focus on what matters - growing your brand and making sales."
What is Dropified?
Many people will understand Dropified as an upgraded version of Oberlo, because Dropified not only supports the Shopify platform to collect products on Aliexpress, Dropified supports platforms such as Woocommerce, CommerceHQ, GrooveKart, and more than 80 collection platforms.
Dropified website also defines itself.
"Dropified ® is a software application that makes it easy for you to import and manage direct sales products to your favorite e-commerce platforms (e.g. WooCommerce, Shopify, etc.) and then ship the products you sell directly to your customers wherever they are on the planet - with just a few clicks ...... without physically touching the product.
No more spending hours adding products to your store, setting up all variants correctly, editing product images and descriptions, tracking vendor price increases or remaining inventory, getting real product reviews, fulfilling orders - all by yourself, finding out tracking numbers, getting other software to send Facebook product feeds to your store, manually setting margins, calculating profit reports and other tasks needed to run a successful eCommerce business.
The relationship between Oberlo and Dropified
To many users, Dropified appears to be an upgrade from Oberlo. However, we found an interesting fact that Oberlo and Dropified seem to view each other as their competitors. To highlight their strengths, even more, the official websites of both Oberlo and Dropified have comparisons with each other.
There is no doubt that Oberlo and Dropified are the most popular Dropshipping tools. However, what is suitable is the best. We will compare these two tools to help you choose the best Dropshipping tool for you.
What do Oberlo and Dropified have in common?
Supplier product price and inventory information synchronization
Product Board
Manual order processing available
Step-by-step order button
Support for importing variants into App/Ecom platform
Support batch editing of products
Variant Mapping
Support to change the product supplier for placing orders
Manage orders in the application
Automatic marking of orders as completed on e-commerce platforms
Trigger shipping confirmation emails on your e-commerce platform
Support for uploading custom product images
Simple image editor
Large library of U.S. products
Support to save AliExpress order ID as order tag
Pricing marker tool on import (including advanced pricing marker rules)
Automatic markup on pricing when importing
Set Primary Location
Custom Tracking URL
Provide processing time for supplier products
Provide free Google Chrome extensions
Sorting products by ePacket
Hide products in search results when no ePacket is available
What is the difference between Oberlo and Dropified?
As we can see from the previous article, both Oberlo and Dropified offer complete and automated services in their core services. However, there are still many differences between these two tools in some other aspects.
Pricing
Dropified has two packages, Build Plan for $19 per month. The most popular package is the Grow Plan at $47 per month. The Grow Plan has more features available than the Build Plan.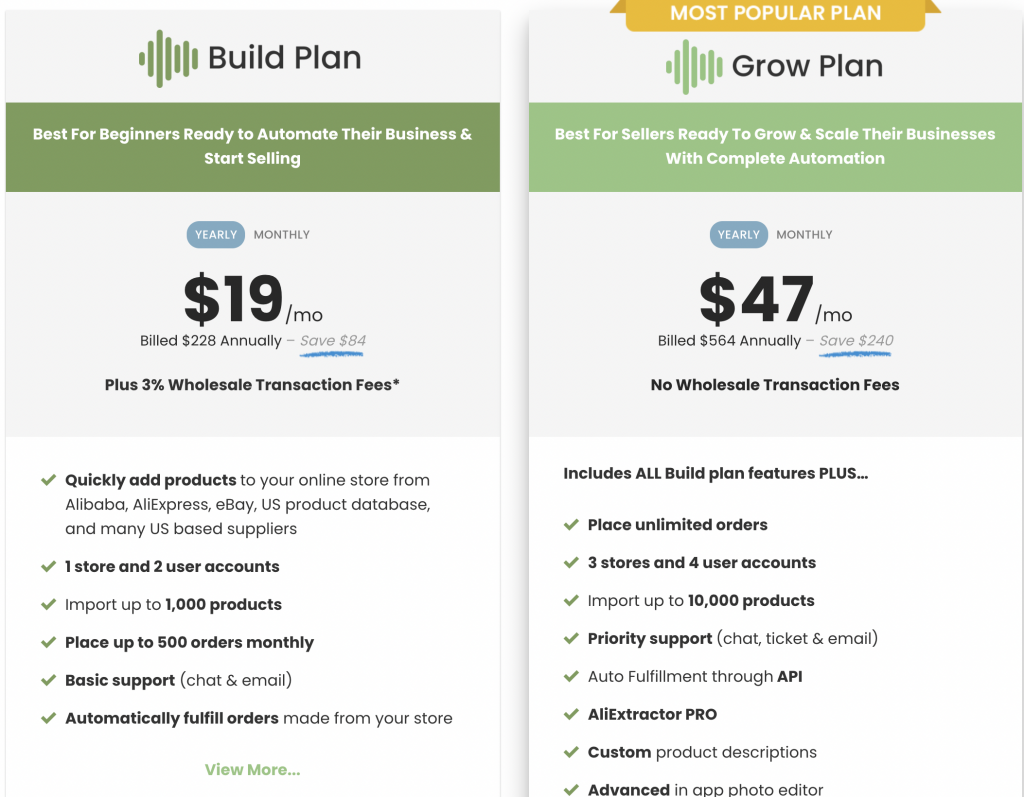 Oberlo has set up three packages based on your Dropshipping process, and Starter is free. As a newbie, you can try out Oberlo's basic features for free. When your Dropshipping business moves to the next level and you need to use more features, then you need to purchase the Basic package for $29.90 per month. After purchasing the Basic package, you will have access to 90% of Oberlo's features. When you need more advanced features to scale up, you will need to purchase the Pro package to use the full functionality of Oberlo. the Pro package is $79.90 per month.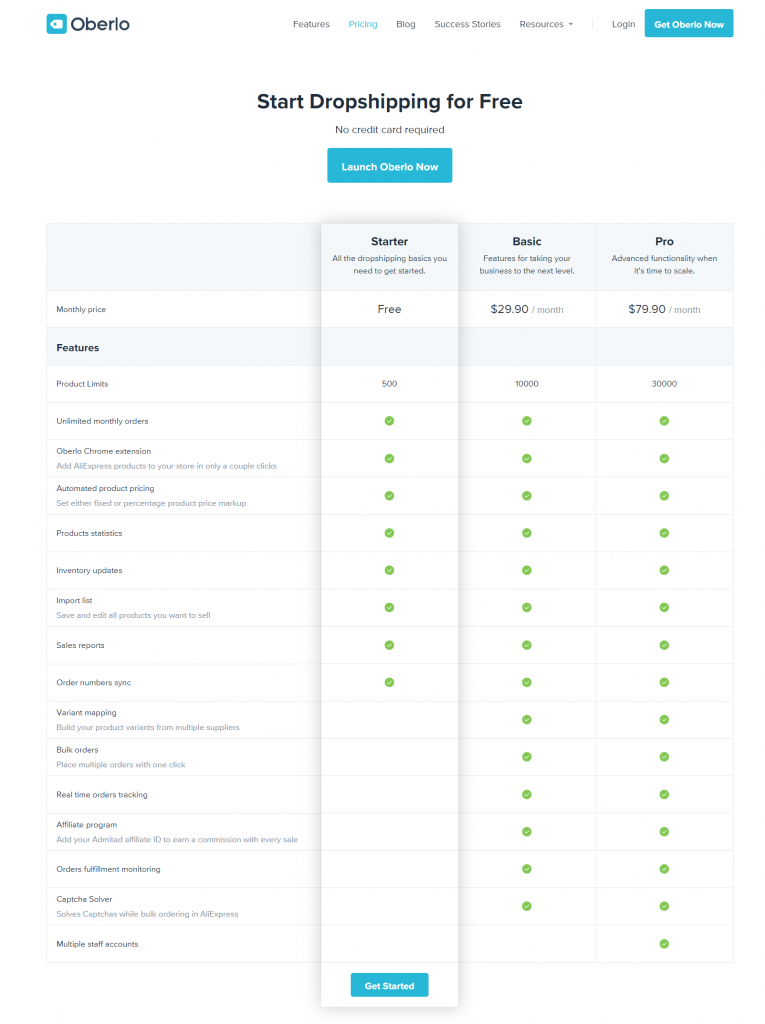 It's worth noting that if you need to use a tool for a long time, it's more cost-effective to buy Dropified's annual package. The Build Plan annual package is $19 per month, saving $84 a year, while the Grow Plan annual package is $47 per month, saving $240 a year.
Support Platform
Oberlo only supports the Shopify platform, while Dropified supports account interoperability across four platforms - Shopify, Woocommerce, CommerceHQ, and BigCommerce. If you only do business on Shopify, then Oberlo is perfectly adequate for you, and if you need to use multiple Dropshipping platforms, then Dropified may be better.
Advantages and disadvantages of Oberlo
Advantages
1.Oberlo offers 24/7 support, so you can always turn to the site for support when you need it. At the same time, Oberlo has more abundant learning resources that can help you achieve self-improvement outside of work.
2.Oberlo has a much longer history, more users, a bigger reputation, and more sustainability. On top of that, Oberlo is the #1 app in the Shopify app store with over 1000 reviews. You can find references in the reviews.
3.Basic functions can be used for free
4. Oberlo does not need to purchase the top package to enjoy unlimited order quantities, while Dropified requires the most expensive package before it can use unlimited order quantities.
Disadvantages
Chrome extensions do not support multisite import, only AliExpress import. This drawback may prolong the time it takes for your customers to receive their shipments compared to Dropified's support for multi-site import.
Advantages and disadvantages of Dropified
Advantages
1.More detailed product categories and one-click extraction and modification of product information.
2.Faster access to high-quality products from AliExpress, Amazon, eBay, SammyDress, Overstock, Walmart, Blinq, and other platforms with just one click.
3.Automatic generation of sales reports to determine the quality of suppliers.
4.Assign permissions, multiple people online to jointly manage website products.
5.Dropified will be a little more comprehensive than Oberlo, meaning that Dropified is no longer just a tool for collecting products, but probably more often than not, it can help you improve your efficiency. When you have more orders, such as the one-click order function, it will be more comprehensive than Oberlo, and the price is also different.
Disadvantages
The Dropified app provides support 9 hours a day, 5 days a week. And Oberlo offers 24/7 support. When using Dropified, you don't have access to the site's support anytime, anywhere.
Conclusion
Many of you may expect us to give an accurate answer to the question of who is the best Dropshipping tool. Sorry, we can't give you that answer, but you need to choose between Dropified and Oberlo to meet your needs and get the best value for money.
Also, if you are having trouble researching products for Dropshipping, try FindNiche, the best niche analysis tool that has a huge AliExpress & Shopify product library to provide you with professional AliExpress & Shopify product analysis advice. With Dropified and Oberlo, you can greatly increase your productivity and revenue!