How to Find Shopify Stores And Best Sale Products
If you are ready to start or are engaged in cross-border e-commerce, how to find Shopify stores is very important for you. It can help you analyze the market environment and competitors. Choosing the product is the key step, choosing the right one can will help you get the best results.
How to find Shopify stores
1. Google search
Open Google and enter "inurl:myshopify.com" in the search bar. All you see will be Shopify websites. The top ranked stores in Google are all shops with better traffic. You can click on the store website link to check the status of this store.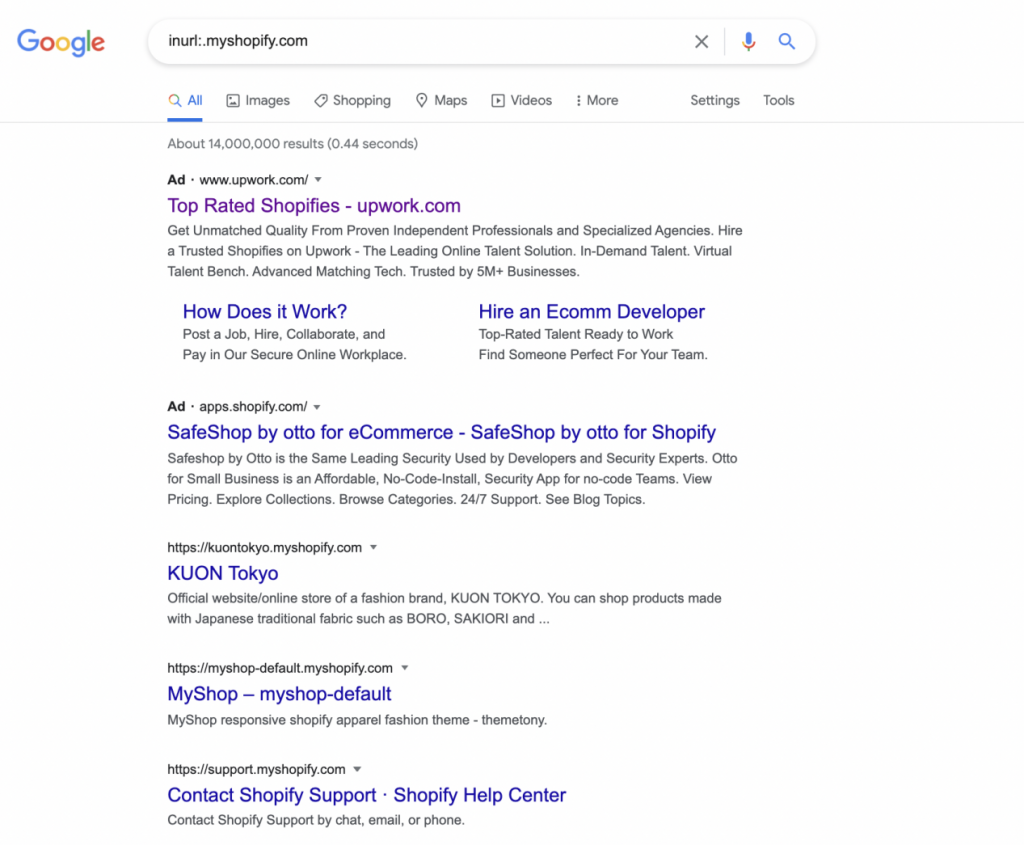 2.Webminer website search
When using webminer, you can find the Shopify store by searching keywords. Not only that, it can also help you analyze these stores, such as jquery and Google Analytics. It has a variety of filter conditions, you can type domain name, language, Alexa rank and company mail search. In addition, social networking sites that contain information can also allow you to find Shopify stores.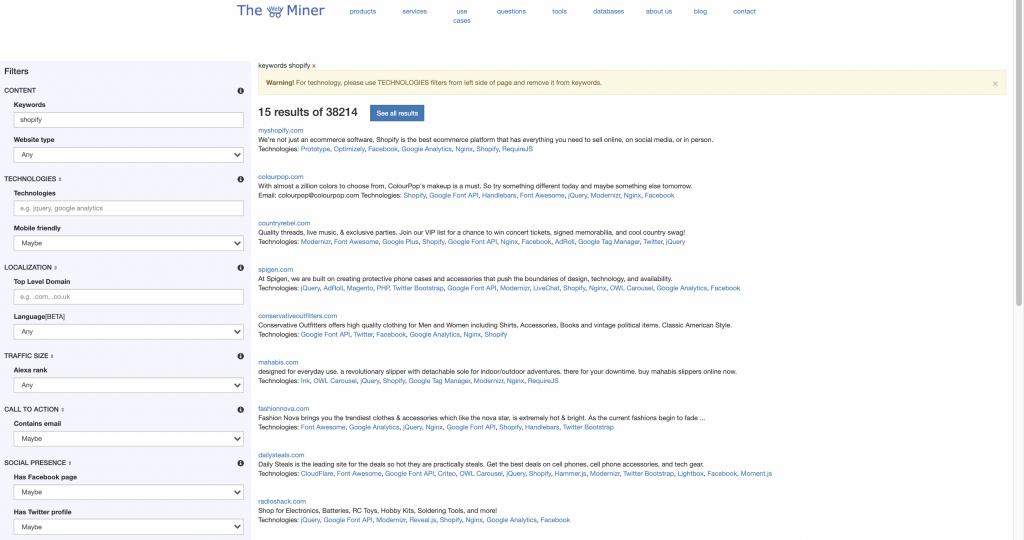 3.FindNiche
Webminer is easy to use, but it requires you to master the precise conditions of the Shopify store, such as the store domain name and Alexa rank. If you don't know this, How to find Shopify stores? Then you can use FindNiche, Click on Shopify store in the Shopify menu, you only need to search for keywords related to the Shopify store, and other information will be displayed, such as store category, target country, Facebook ads, and Alexa rank.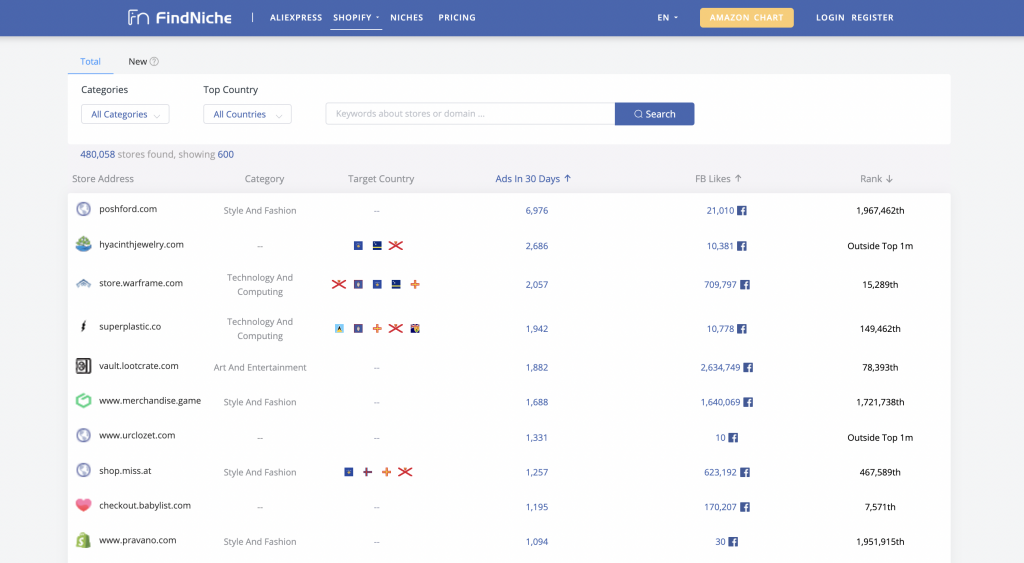 4.Sellercenter
This is a website that specializes in querying seller shops. You can find all Shopify shops by clicking "shopify". You can also see more types of shops, such as Aliexpress, Amazon, Wish, Shopee, Lazada. If you want to search accurately, just enter the keyword and url link of the store. Even better, you can see the top 500 Shopify stores.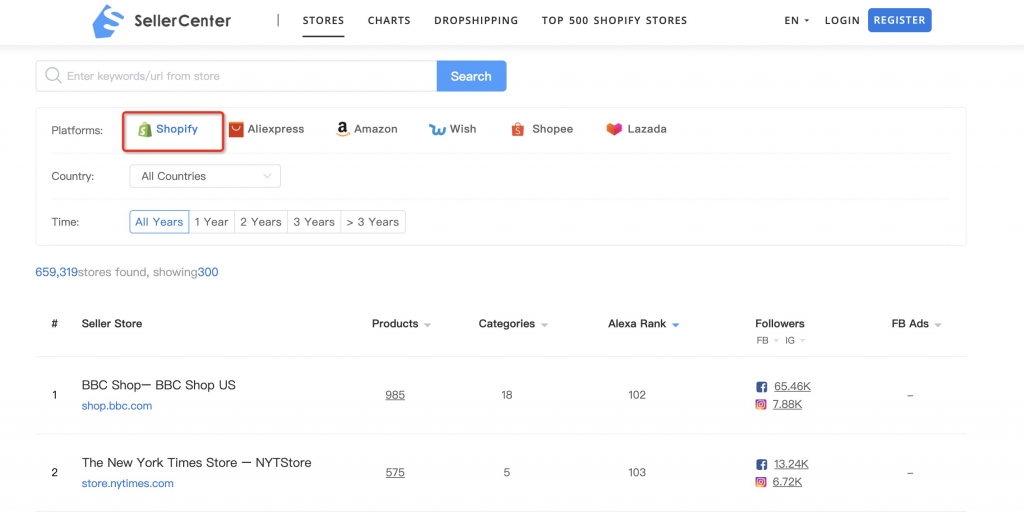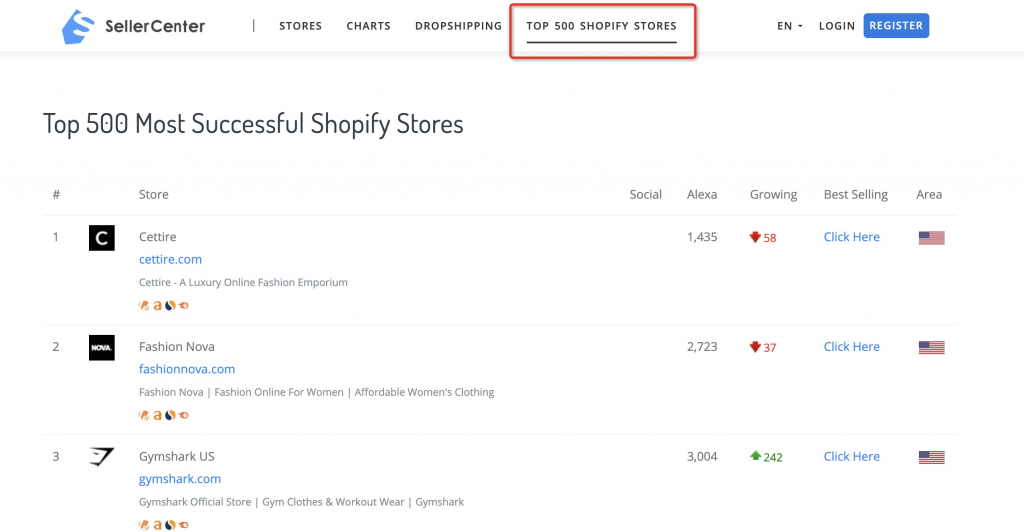 二、How to find best sale products
1. Amazon bestseller list
Click on Amazon's best-selling product list, and you can see a list of the most popular products. Don't forget that Amazon is the number one e-commerce platform in the world. Therefore, products that sell well on Amazon will also sell well on your independent website.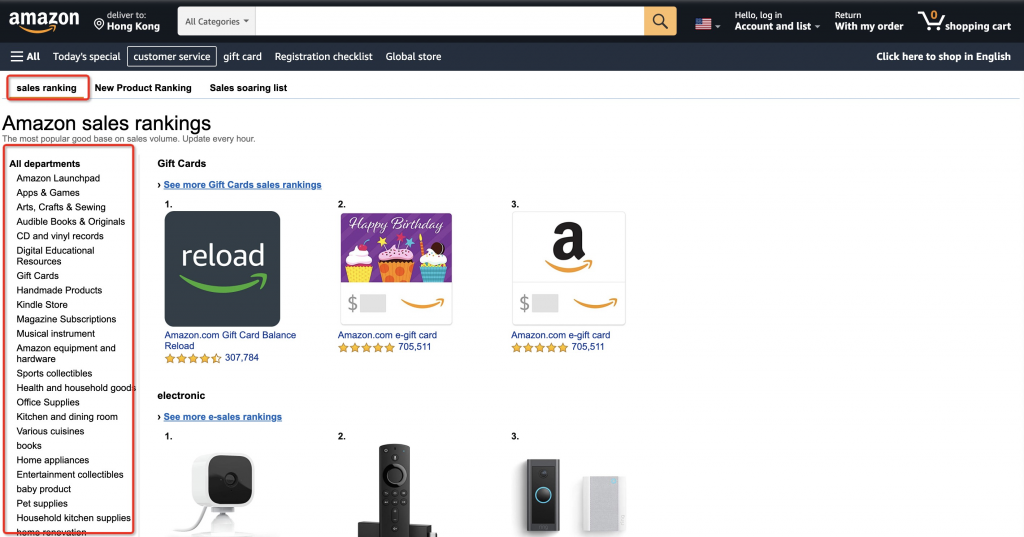 For example, the target product of your independent website is: Bracelet, you can enter the keyword on Amazon: Bracelet.Filter 4 stars or more and best-selling brands, two products are more suitable: relatively low price & score Relatively high.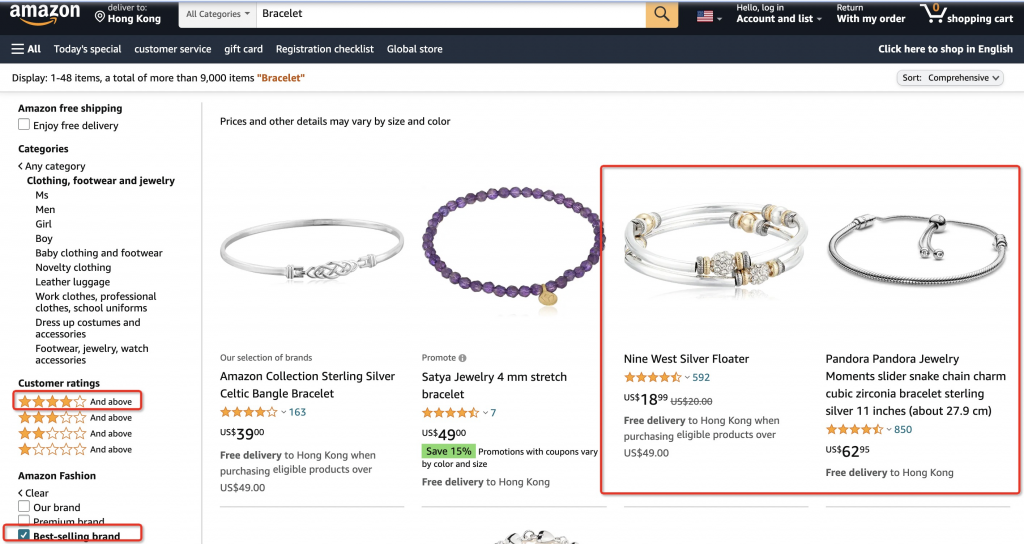 2. Find best sellers on Facebook
People like to talk about their favorite products, so you can find best-selling products on social platforms. For example, finding the most watched and discussed products on Facebook is a good way to select products.
How to choose products on Facebook? First, type a keyword in the Facebook search box. Then click on the video, you can follow the top three videos, find the video with the most views, and click on the video to view the likes and comments. If the number of likes, comments and shares for the video exceeds 5,000 or 10,000, this is one Best seller.
Similarly, you can also view the photo feedback to see the number of likes,comments, and shares of the photo. You will find that people share/like and comment on many popular products. This is how you use Facebook to find the best-selling products in minutes.
FindNiche updates the latest niche products every day, where you can pick and choose the most popular products that suit you. Supporting this function is FindNiche's powerful AI intelligent algorithm. These products can help you find your own niche hotspots, and at the same time can provide inspiration for your selection.
Not only that, you can also quickly view these information: prices, reviews, orders, countries with the highest sales, last month's sales history, whether there are videos, whether ePacket is supported, whether it can be dropshipped, and which Shopify stores are selling these products.
4. Use Ahrefs to find popular products
Ahrefs is a great tool for SEO related activities. If you want to find the perfect keywords, content ideas or anything else for your online business, Ahrefs is essential. How to use Ahrefs to find popular products?
Search for suitable keywords on Ahrefs, such as rugs, and click "View All" under "Keyword Tips" to get similar keywords. This will open a list of all related keywords that contain your keywords. Then select keywords with traffic greater than 1000, difficulty lower than 10, and click-through rate greater than 60%, so that we can see the "urban outfitters rugs" keywords that meet these requirements.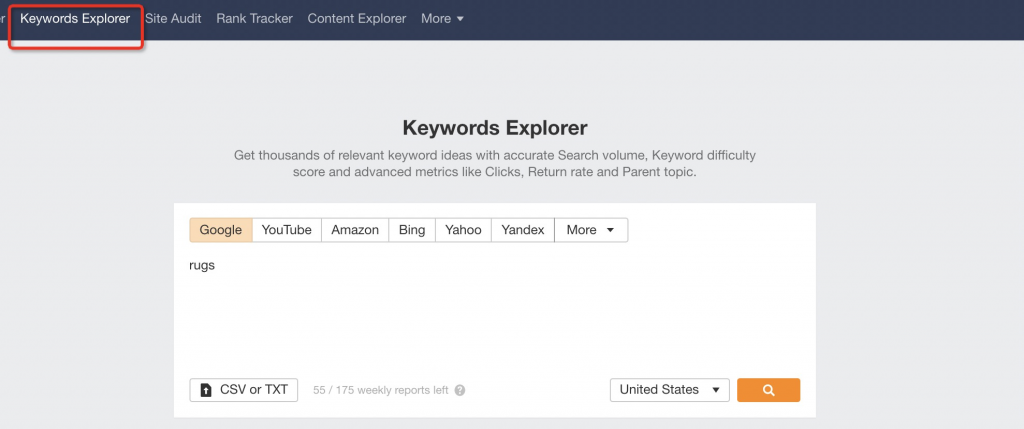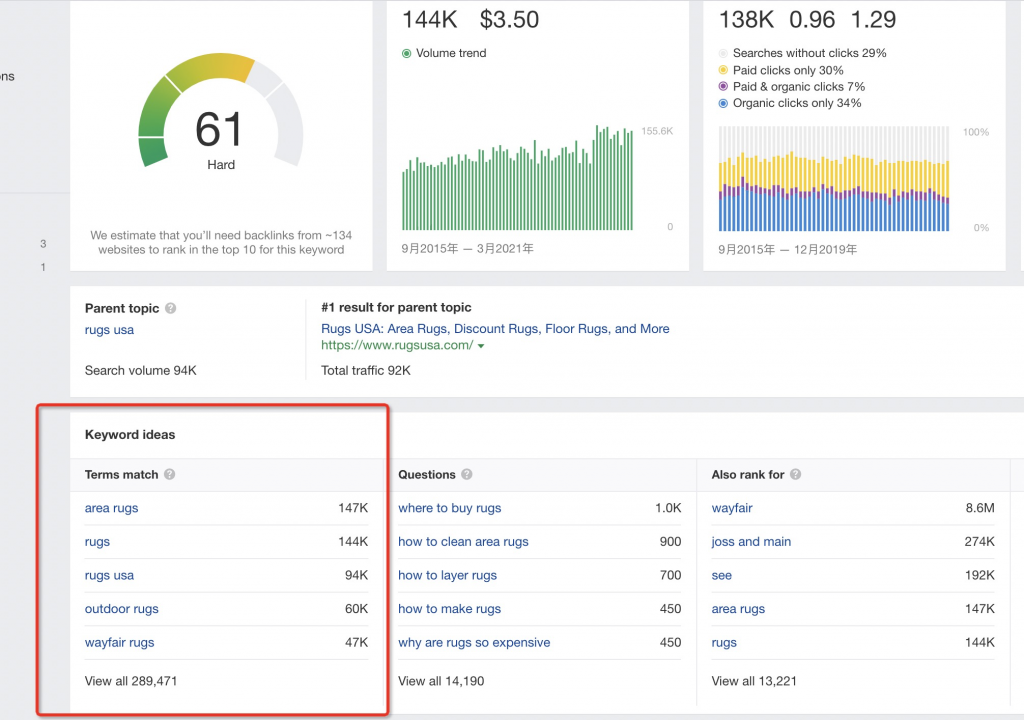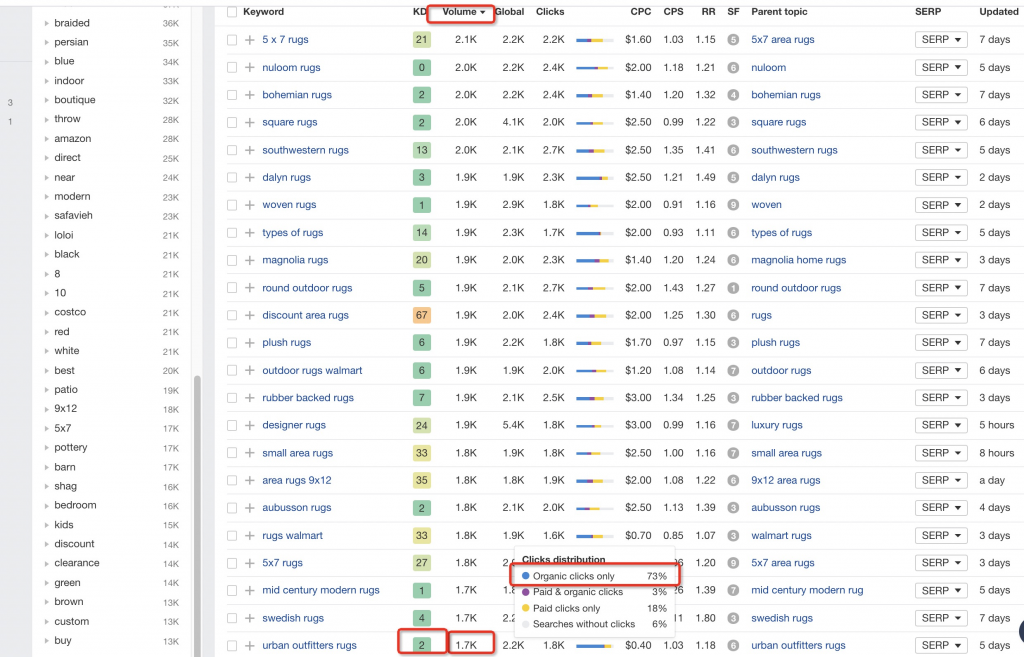 Finally, we use Google Trends to search for the selected keywords (urban outfitters rugs), take the United States as an example to view the global and target regions. If we see an upward trend, urban outfitters rugs are popular products.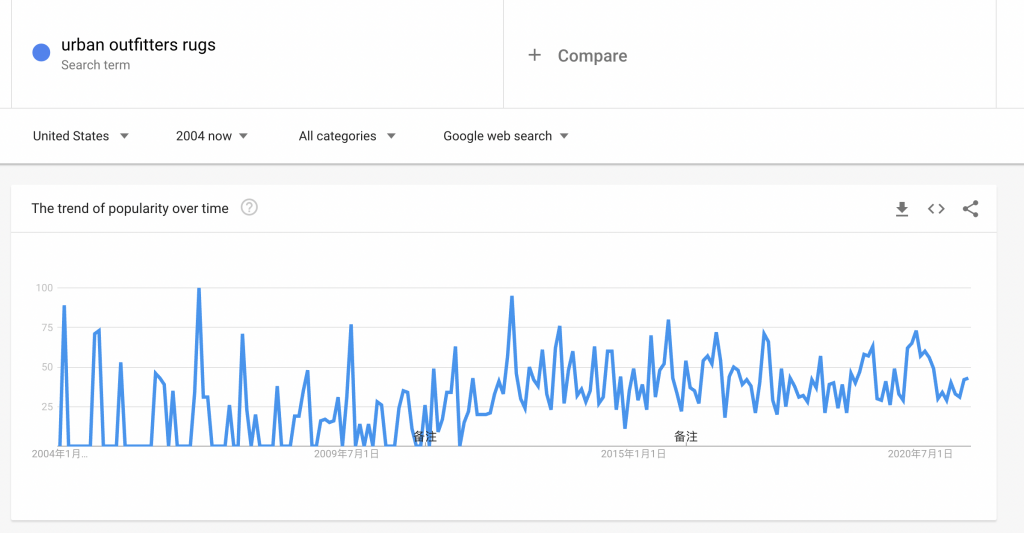 三、The enlightenment to us
1.Use search tools
If you want to open a store, then understanding the Shopify stores in the market is the first first step. The above has introduced 4 ways to find Shopify stores, each of which has its own advantages and disadvantages. Google search can see shops with better rankings, but you can't judge whether these rankings are from the real traffic of buyers, it is possible that the sellers bought them with money.
Webminer has a relatively high threshold for searching stores. It requires you to know the information of Shopify stores in advance. Sellercenter and FindNiche are the best tools. You don't need to know the relevant information in advance. It can help you find the key you need.
For product selection, after understanding the popular products, it is important to analyze product data, such as product price, sales volume, target country, collection volume, etc. It can help you better formulate your sales strategy. Maybe FindNiche is a good assistant to help you analyze product data.
2. How to use the search tool
Shopify store analysis - Sellercenter
SellerCenter provides a large list of Shopify premium sellers. Through these indicators, you can understand the market operation strategies of these premium Shopify sellers, such as the number of products, the number of categories, the number of Alexa rankings, the number of FB ads, and the status of fans.You can also click on a store to view the number of reviews and praise rate of this store, so that you can better understand your competitors.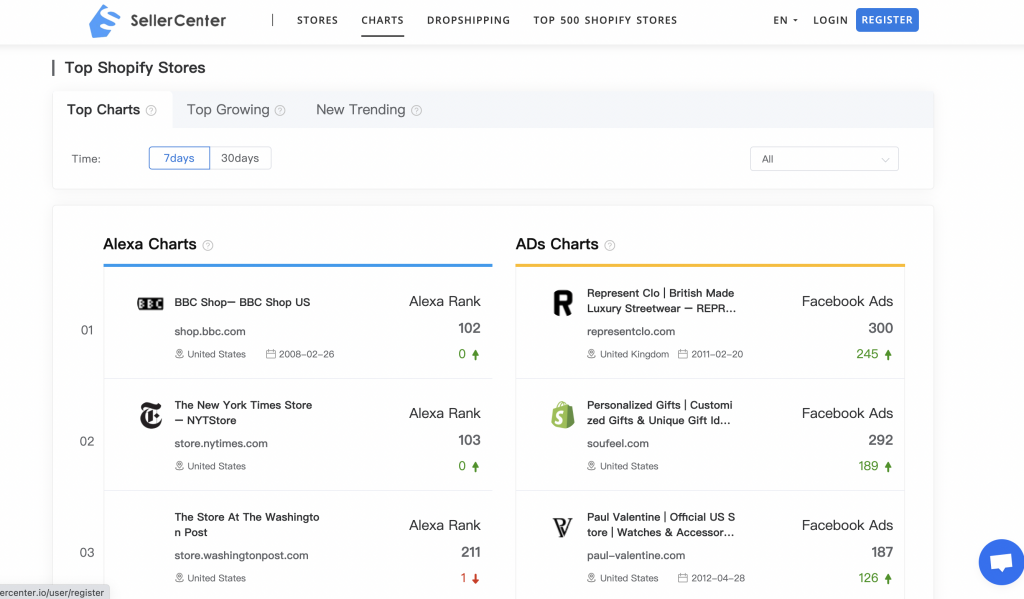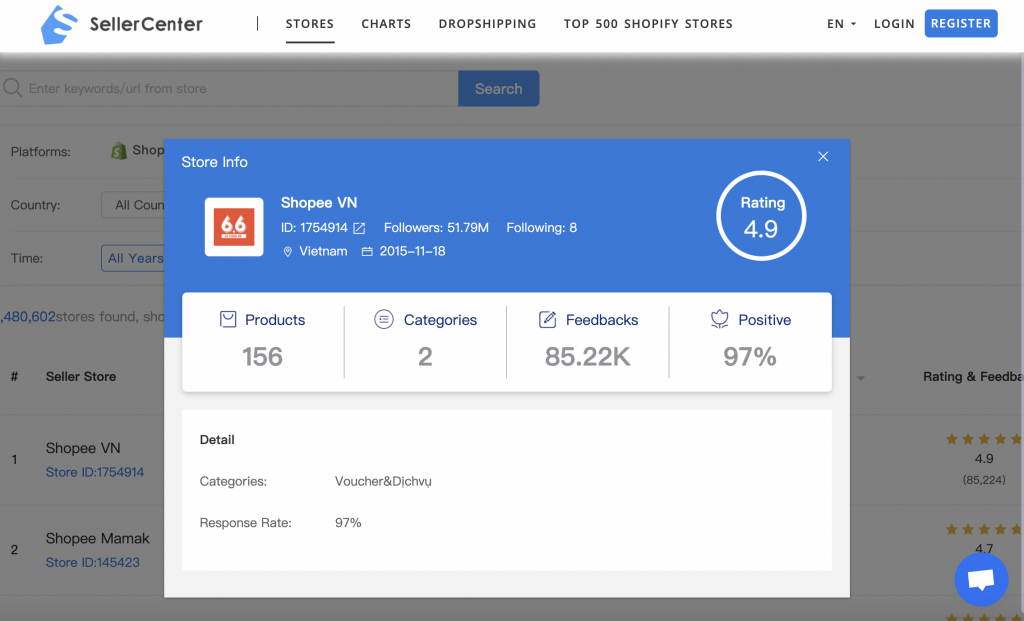 Shopify selection analysis-FindNiche
FindNiche product selection items are very rich, including more than 20 selection items such as product classification, total number of orders, order growth, delivery country, etc, which can be very convenient and accurate to find the products you want. You can also quickly check product prices, reviews, orders, countries/regions with the highest sales, and sales history for the previous month.
In conclusion
The above are some recommendations on Shopify store search and product selection methods. How to find Shopify stores and best sale products? I think this article has solved it for you.It is very helpful for you to master the method of finding Shopify stores, such as being able to understand where you can find information about your competitors. These product selection methods can not only help you find popular products, but also analyze the products of other stores, study their pricing, layout, and even advertising. The combined use of Sellercenter and FindNiche can help you do better.