Is High Ticket Dropshipping A Good Choice For You?
In the conventional dropshipping model, we usually looking for high-traffic, low-cost products then launch to our shop and make profits mainly by selling a huge quantity of products. But you probably have heard of the business model of high-ticket dropshipping, which is to sell only a few high-value products to generate massive margins, and some merchants are doing this now.
1. What is high-ticket dropshipping?
High-ticket dropshipping is a dropshipping business model with high-ticket items, which refers to products that in high value and high selling prices such as jewelry, DSLR cameras, or luxury furniture, and most of these items are also high in cost.
When you hear this word — "high-ticket", you might think that this item values at least $1000 or up around to $2000. In fact, the initial price of these high-ticket products is not standardized, and legal dropshipping products that cost above $1,000 are not common. If one item really needs to cost more than $1000, the customer may choose to buy it directly from the brand manufacturer instead of you.
In this article, we will focus on high-ticket products with a retail price of more than $200. Assuming that you can earn a profit of $40 per item, then you can gain $2,000 for 50 items, and the conventional dropshipping model may require to sell more than four times the quantity of your products to gain these profits.
2. Advantages of high-ticket dropshipping
In addition to higher profits, there are other positive aspects of selling high-ticket products.
Low competition
There are very few dropshippers that specialize in selling high-ticket products, and many of them may not be able to afford upfront costs to suppliers. Hence, for you, you have fewer competitors, if you perform some effective advertising and improve the ranking of the store, customers are likely to make a purchase in your store.
High-quality products
High prices often mean high-quality products, which usually lead to fewer customer complaints. For example, diamonds have ornamental properties as well as value-preserving functions and are not easily damaged. Also, DSLR cameras are usually designed for professional photographers with high-grade materials and undergo a rigorous manufacturing process, which is where their value lies. There is not surprising that customers always have high expectations about these products concerning not only top-quality but also first-class customer support that matters.
Repeat customers
Of course, people who can afford expensive items will come back to your store. It seems like that they will buy more things to supplement their first purchase. If someone buys a drone from you, then the customer will definitely need more accessories for it, so does the camera, they will buy a different lens. Where will they buy? They are likely to buy products from your store because you are in this specific niche market and already provided them with quality products.
3. Disadvantages of high-ticket dropshipping
Most of the shortcomings of high-ticket dropshipping are derived from high prices. The prices of these products are mostly above $200-$300, and you also have to pay the supplier in advance for each order, which not including shipping fees. If you sell several orders on the same day, then you need to pay these fees to the supplier at all once or wait for your last business deal before buying from the supplier again. If you do this, you'd better tell the buyer that she may wait at least 3 working days.
Small market
Unlike regular dropshipping model, these products automatically shrink the consumer market due to the high price, because people normally won't spend money on luxury goods. In this case, there is an advantage that you will not target the wrong audience. Generally, people who visit your store to browse and register for shopping are those who can afford the products you sell.
Higher shipping costs
These high-ticket items are relatively precious, which means the transportation cost will be higher than ordinary products, and suppliers have to pay insurance costs to ensure that the money can be returned in the event of a loss. If you plan to ship high-ticket items, you need to be risk-aware, avoid these risks in advance, or minimize losses as much as possible.
Purchases may not happen every day
Typically, impulsive buying drives the development of dropshipping, but it only works for products that are inexpensive. The customer comes to your store, then finds an unusual but interesting and low-cost product, he will make an order without hesitation if it happens to have a promotion. It does not work well for high-ticket products, though. The product is expensive, so you can't expect people to buy it because of impulse. They will spend a lot of time comparing the same type of products before making a decision. However, you can use email to wake up the customer after the customer has logged in to your webpage multiple times or added to the shopping cart then abandoned it.
4. Requirements to start your high-ticket dropshipping business
Capital requirement
For dropshipping business, we normally don't have to prepare capitals, but in the high-ticket dropshipping model, you need to prepare at least $500-$1000 of reserve funds in advance. Why? For high-ticket dropshipping, it is important to compress the order processing time, speed up all operations, and allow the goods to reach the customer at a faster rate. Overall, it is essential to increase customer satisfaction. No one wants to purchase goods at $800 waiting for 10 days, then informed that the order has not yet been processed.
So this means that you possibly need to pay the supplier to order the product first before the payment system processing the customer's payment. Although this situation is not common, it is recommended that you prepare in advance and have a psychological expectation. In addition, you might need to purchase samples in person before putting them on the shelf to check the quality of the product and the delivery service of the supplier.
In addition, if the product does not meet the description or there are quality problems, you may need to advance the refund before negotiating with the supplier. At the same time, a larger budget is required for advertising and other marketing work.
3-5 years of dropshipping experience
To be honest, high-ticket dropshipping is not suitable for beginners. Entrepreneurs engaged in high-ticket dropshipping need to be very familiar with the mode and operation of dropshipping, have control over every link and have the ability to measure and respond to risks. Before joining the high-ticket dropshipping model, it is best to have experience in successfully operating a store.
The ability to build a top brand
This is actually very difficult to achieve. Not every entrepreneur who has worked in the dropshipping industry for 3-5 years would be doing well in high-ticket dropshipping. If you want to establish a high-ticket store filled with high-quality products, the most important thing you have to consider is how to make people buy it at such a high price, this is a big task you will work hard on. You'd better understand how to optimize a store, not just the design of the exterior, comfortable navigations, user-friendly layout, convenient payment methods, etc., and also need to think of some great ideas to keep visitors to spend more time in your store.
5. How to find high-ticket dropshipping products?
Before entering a more detailed search, we can locate the categories in which most high-ticket product lies, such as digital cameras, home theatre equipment, watches, jewelry, drones, model aircraft, and so on.
Actually, these high ticket products can be found on AliExpress, but for your convenience and quick screening, we usually suggest using the AliExpress analytics tool, such as FindNiche to find the specific niche.
I'm going to show you the steps on how I find high ticket dropshipping products, which is quite simple.

First, you should set the minimum price of $200 as the filter condition, we mentioned the categories above, here you can also choose a high-ticket product category. For example, here I added the filter condition of Home Appliances so that I can get a list of high-ticket products in this specific category.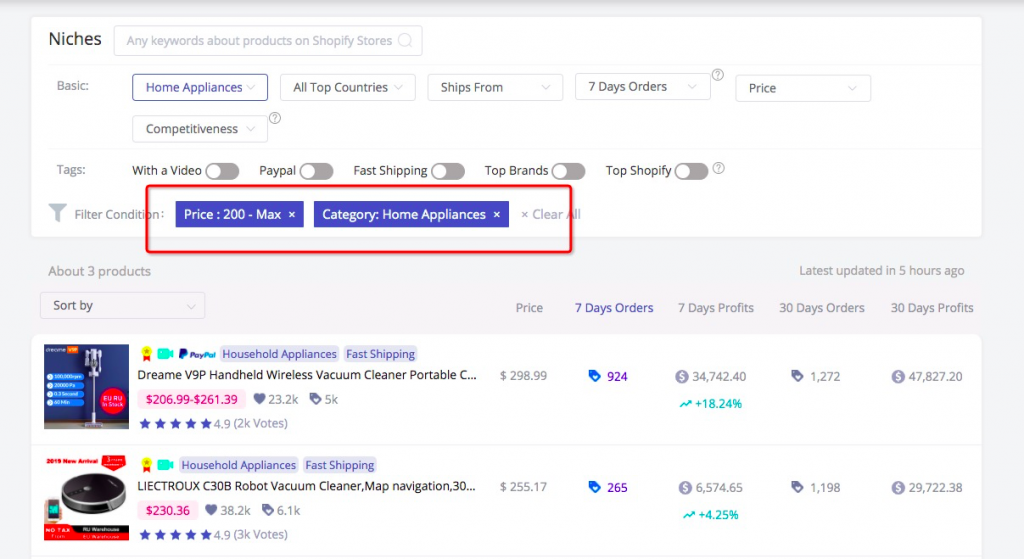 Go into the detail page of one of these products, then you get more specific information of it, Such as the orders, likes, if it belongs to top brand, and you can also link it to AliExpress to find more reviews posted by customers.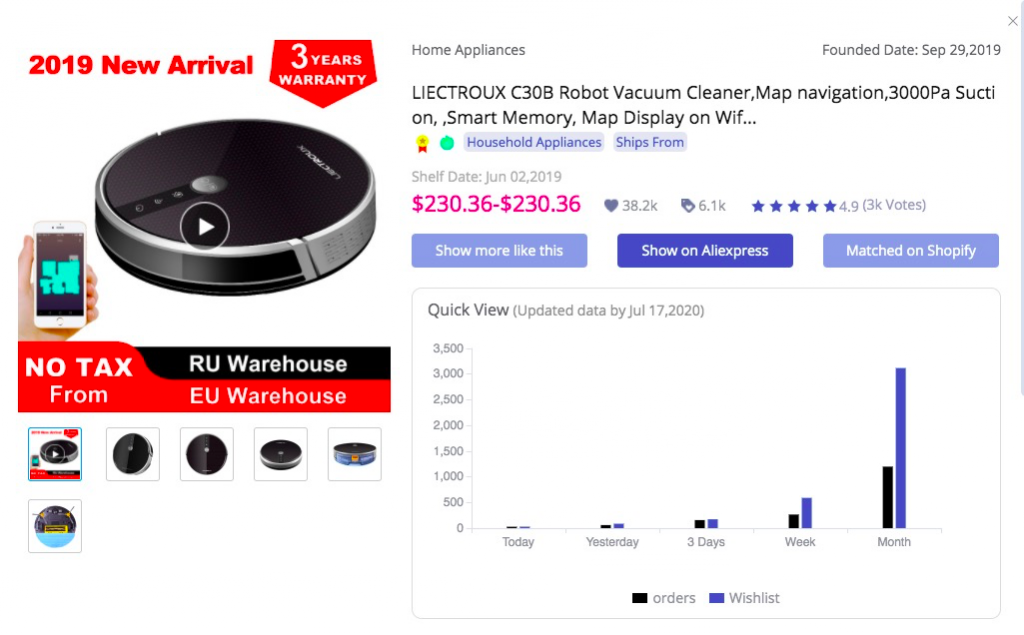 At the same time, you can also see how many Shopify are selling this product and their average profit so that you can set your profit in advance. Actually this is like what I mentioned in the previous article < How To Find Best Dropshipping Niches? >, just follow the steps and find your personal high-ticket products.
Final thoughts
In this article, we talked about what high-ticket dropshipping is, its pros and cons, and how to find it for sale. In fact, these are not difficult to start. The most important thing is that you have enough experience and are determined to enter this industry. Hope you can make it.