How To Find Best Dropshipping Niches?
We all know that having a focused niche allows you to more efficiently grow your audience, connecting with sponsors and advertisers, and concentrate on marketing as well as content creation. But how to find the best personal niche for the eCommerce market? This is a big task for many dropshippers, actually, most of them waste money and energy on the wrong products. Hence, we've come up with 6 strategies to help you with product research.
1. Deeply Consider Your Personal Experience and Passions
2. Find the Problems You Can Solve
3. Research Your Competitors
4. Assess Trends and Potential Profitability
5. Selection of Suppliers/Factories
6. Test Your Products
1. Deeply Consider Your Personal Experience and Passions
When building your own business, generally, it's much easier to start with a field that we've been familiar with, rather than choosing an industry which is not relevant. For example, if you have 10- year experience of working in the niche industry of leather shoes, but now you prepare to sell electronic components in your store, then you have to start over and learn about everything about this industry, and if there is no professional guidance, you are very likely to go through constant trial and error. In contrast, if you start with a familiar one, it would be much easier and faster to find your winning dropshipping niches with your previous industry experience, also, they may have not to be discovered by people outside that market yet, not only saving more time but also take fewer detours. Additionally, you can also ask what hobbies you have, and begin with such interests.
Furthermore, since the e-commerce business does not only involve products but also includes advertising and certain technical work if you have been exposed to marketing or advertising creative work in the previous working, it will be more manageable.
On the one hand, your experience and interests require to be taken into account, on the other hand, you need to find an industry that you can persevere. Ask yourself, have you ever thought to turn your passion into a business? You really need a passion for the product you're selling as well as for the market you'll serve, when you are really passionate about something, you will devote yourself and you will know more about the niche theme you intend to sell than anything else. Otherwise, your patience will burn out pretty quickly.
2. Find the Problems You Can Solve
Generally, you'll build a target audience based on the pain points your product solves. Just like earplugs can alleviate noise, eye masks can solve the problem of staring dazzling light, aspirin can relieve headaches. Every product is invented to solve problems in our life, and there is a well-known phrase that says "necessity is the mother of invention", similarly, when you choose a niche product for sale, it's a great way to start, it couldn't be more accurate than it is here.
Investigate your target market and analyze where their pain points are, if you have no idea of it, I suggest you start from:
Have a conversation with your target market through questionnaires or dialogue. Walking down the street or visiting friends, to see what kind of dilemmas people are facing, you never know when inspiration might strike.
Visit the forum frequently. Searching for topics related to your niche in Quora, Reddit, and other forums, take a look at what people are caring about, what they are discussing, and what problems are they might facing? Especially participate in Facebook group team conversation, providing solutions to help people who are dealing with headache problems, also, test your products or services in this way, meanwhile, they may be the accurate audience of your product.
Research keywords. Explore different keyword combinations on Google Trends and Google Adwords' keyword planner, which could help you find popular search terms related to pain points.
Before adding the product to your test list, you'd better consider thoroughly whether this product could solve certain issues for a specific crowd.
3. Research Your Competitors
Contrary to what most people think, successful entrepreneurs are not so exclusive of competition. Actually, the existence of competition isn't necessarily a poor thing, it might be showing you that the project you are currently carrying out or the product you are selling is proved to be in-demand in the market. So before you dive into your career and start your own business, one thing you have to perform is research some potential competitors. At present, how many other stores are selling similar products as feasible product ideas as yours, and how many top Shopify stores of which are there?
There are several ways to investigate your competitors.
Firstly, using some niche spy tools like FindNiche, Ecomhunt, or Thieve to looking for your competitors. For example, if you prefer a camping hammock as your potential niche product, then you can go FindNiche to check how many Shopify stores are selling it and how they operate their products. Maybe you can get a long list of these stores as a result(a long list sometimes mean high competition), at the same time, there is the price on AliExpress and the selling price on different Shopify stores, provided for you.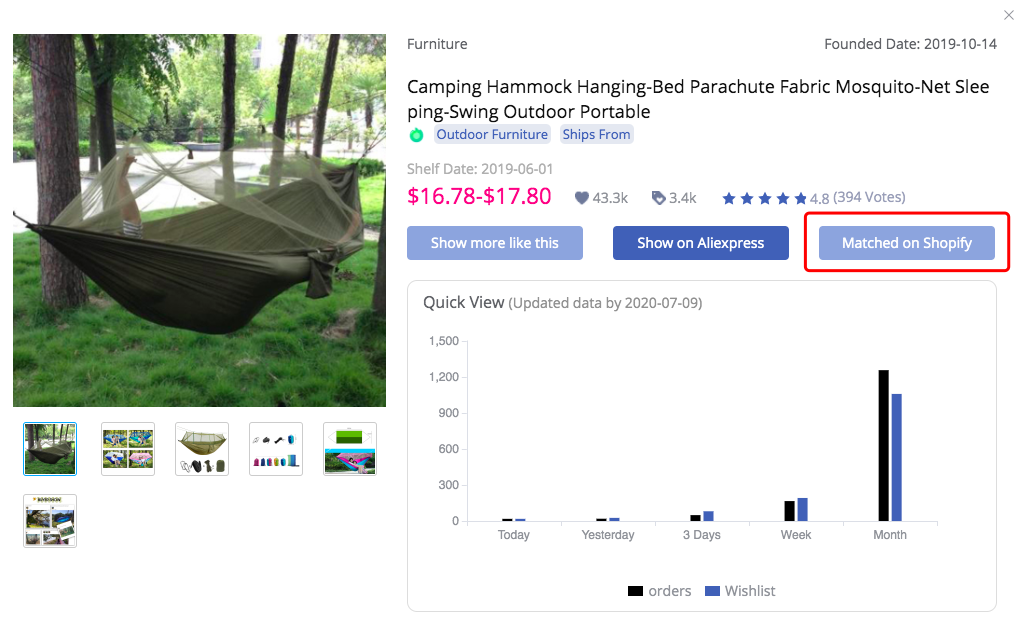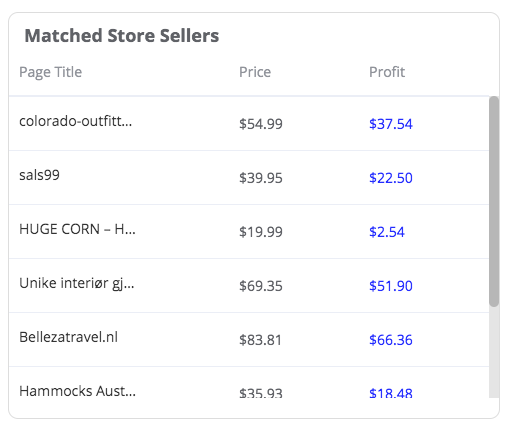 In addition, you can also find some top Shopify stores on FindNiche, by observing and imitating their success, you can shape your own development.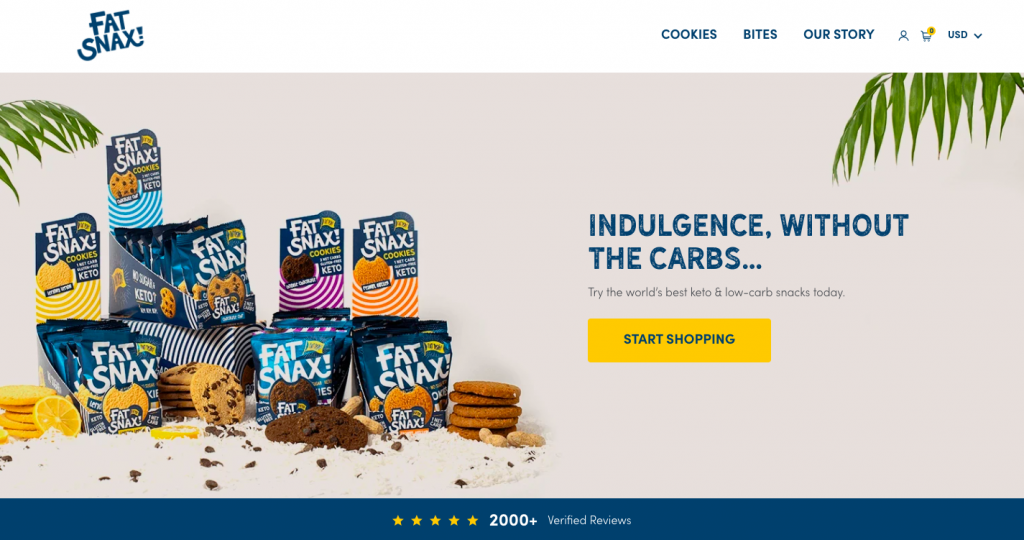 This store is one of the top Shopify stores I found in FindNiche, and if you happen to be selecting niche products like snacks, then you may be able to find some relevant information by looking at its performance in SimilarWeb, such as its marketing channels, the main source of traffic and way of drainage. Every time you type a domain and it will show some similar websites to you, it's another effective way to determine your competitors, find out how they drive traffic and their operation as well.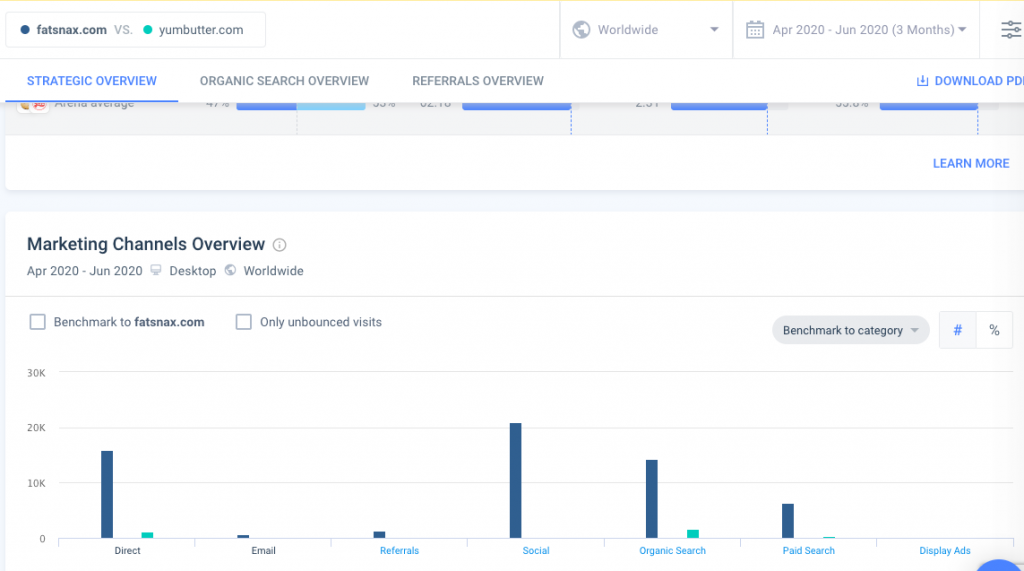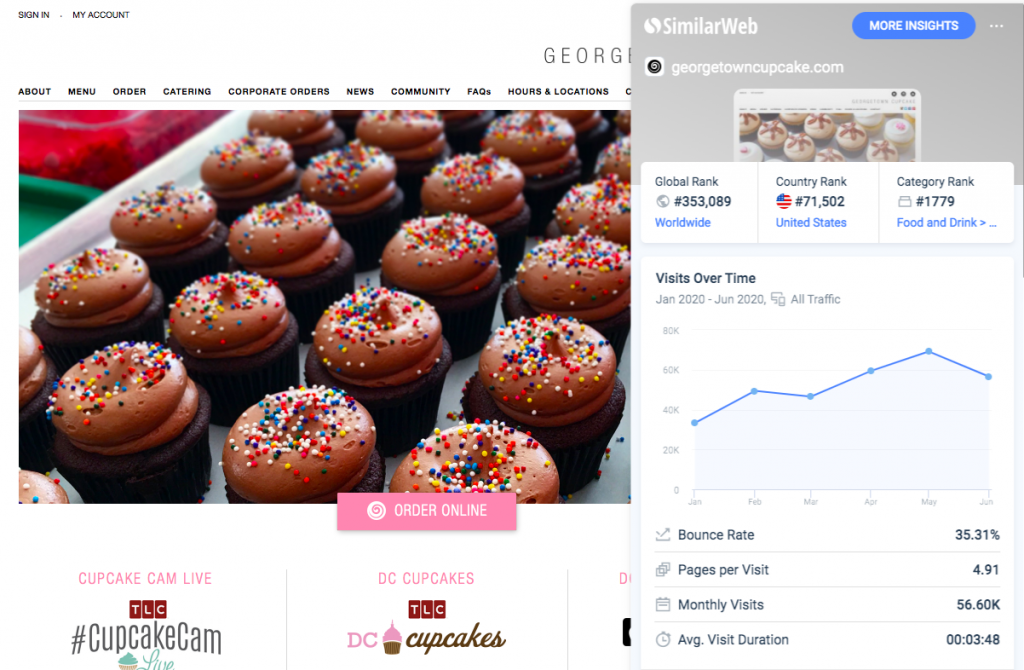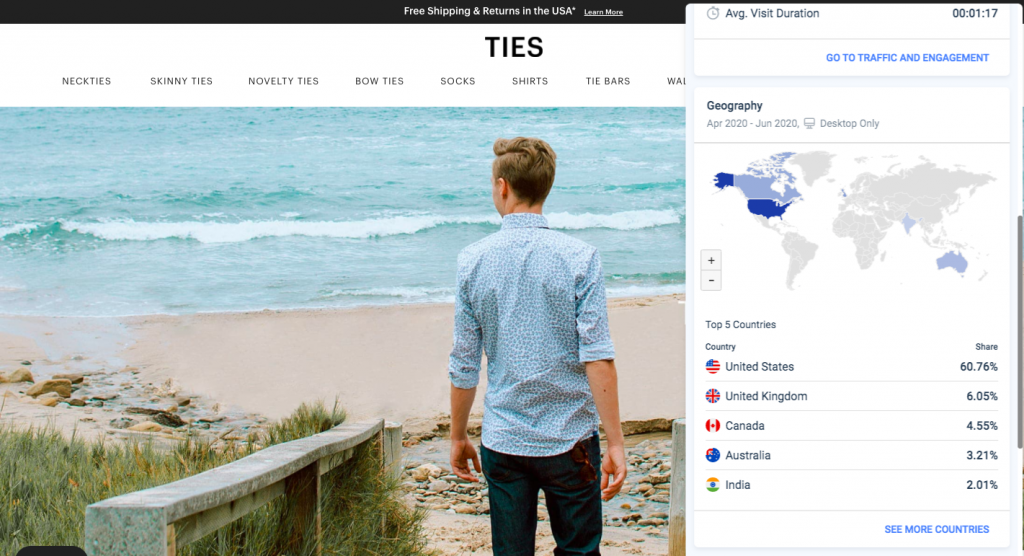 There's no doubt that you could learn a lot by observing these excellent top Shopify stores.
Looking for ads on different social platforms
Actually, this is a useful way to find your competitors as well as your winning products. It's investigated that the best way to measure the significance of a niche is to check if companies are willing to invest in their advertisements. You can search for specific niches and see which companies are advertising, how they deliver their ads, and how's the result.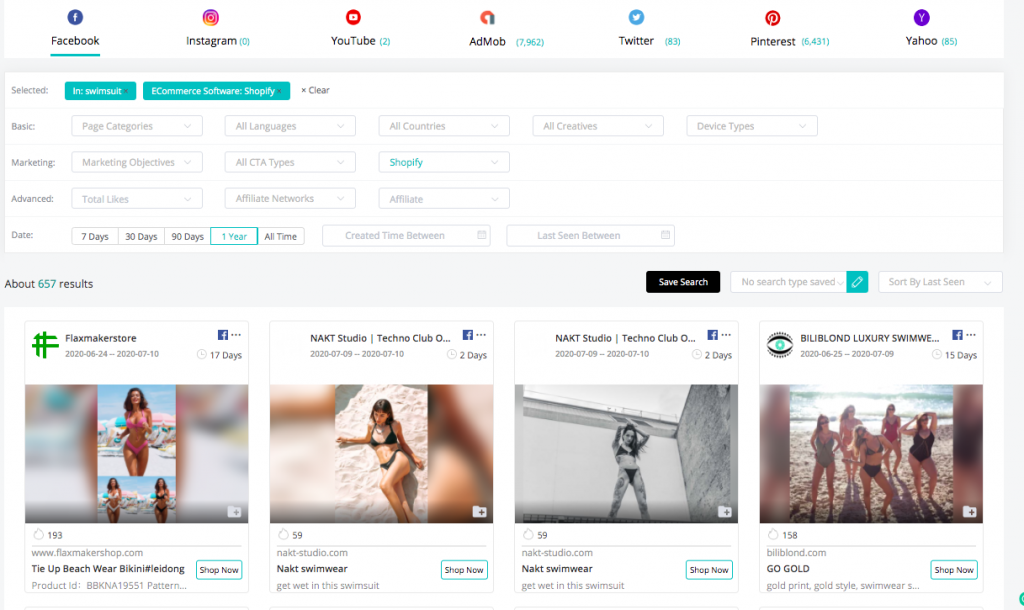 Competition is a good thing, as we've talked earlier, but if several sites already dominate the space, you might not want to take them on. Use these ways to find out whether you have a chance to stand out from the crowd.
4. Assess Trends and Potential Profitability
When you have some great ideas in your mind, jump on Google trends to research your options, type the keyword into the explore topics bar, then narrow down or expand your topic based on what information you're searching for.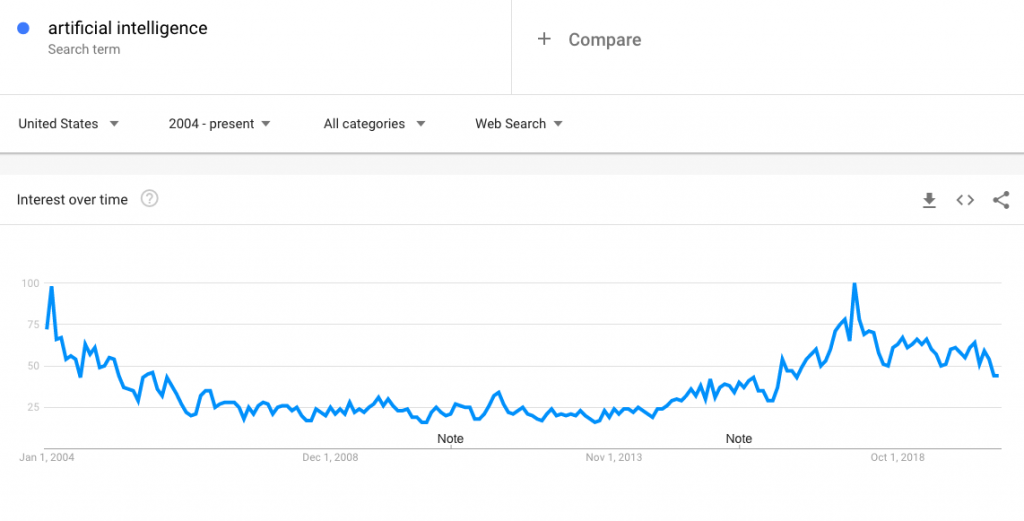 Entrepreneurs who notice the trend and seize the opportunity as early as possible are often generated massive profits. Once you have completed your research, you might have a good idea of which niche will be the most profitable for your business, what type of shoppers are interested in your niche, keywords you can use for search engine optimization, and how to start developing your social media.
It can be found whether a niche could make money for you on FindNiche, literally. Of course, it would not tell you exactly what your profit is, but it provides you with the selling price and profit of other Shopify stores, which can be used as a reference and then calculate your own profit space. As the graph shows below, it is a popular mobile phone accessory, and there are many Shopify stores selling it. You can find Shopify's name, price as well as profit there, and the profit of this product varies from $7.3 to $22.3, then you may have the potential profits in your mind.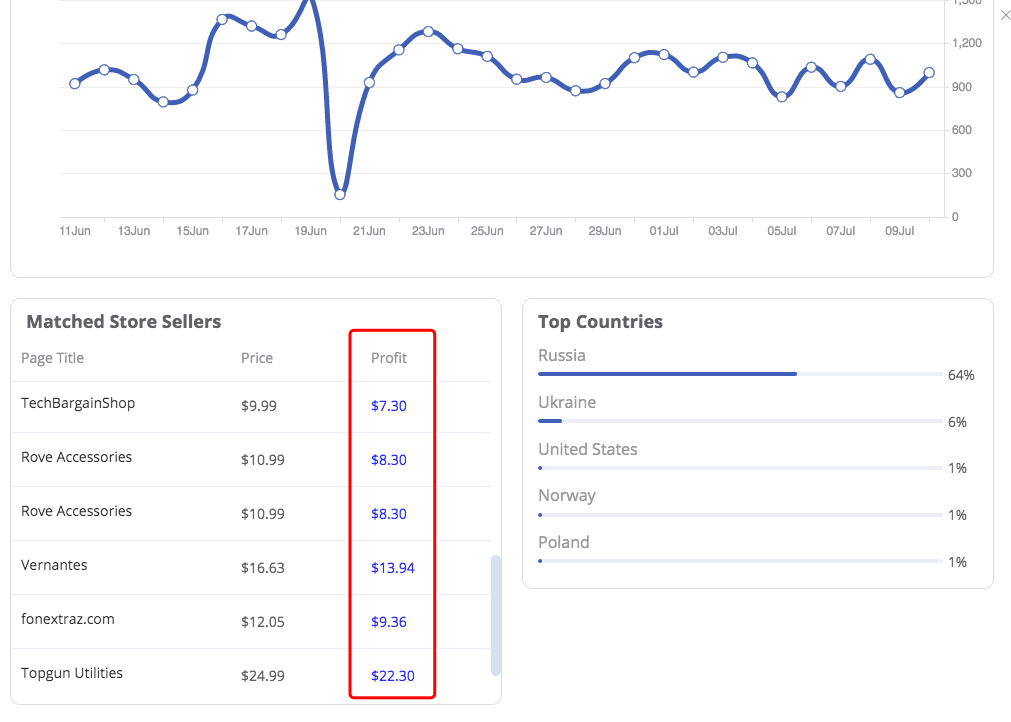 When you in the process of finding your winning products, one of the most important things is to check if this product can take profits for you. Although it is under low competition, it couldn't generate profits for you, then don't put it on your shelf.
5. Selection of Suppliers/Factories
Some suppliers have their own factories, some suppliers do not, and the role of them in business is to provide high-quality products from a manufacturer at a good price to a distributor or retailer for resale. Generally speaking, we always pay more attention to products and ignore the choice of suppliers. Under normal circumstances, you may not feel the huge difference between them, but once some special circumstances arise, you will find that, in fact, the choice of suppliers is also very important.
Taking the Coronavirus situation of this year as an example, many factories were shut down, at that hard time, some irresponsible suppliers closed their shops and interrupted their connection without any notice, resulting in some dropshippers not only to bear the losses but also to deal with customer complaints. Once this happens, the losses for eCommerce businessmen are huge.
Therefore, it is essential to find a quality supplier, which is more resistant to risks and then establish a long-term&stable cooperative relationship with them, although it cannot be asserted enough that the quality of the suppliers is crucial to the success of your business, once the special situation happens, you can handle this uncertainty together. Meanwhile, having a good relationship with your suppliers will benefit you a lot, such as reducing the cost, promoting innovation, and they know your preference, so once a new product is launched, you might be the first man they informed.
6. Test Your Products
The last step is to verify your idea. You can contact your friends and family members first to see whether they are interested in your new products or services. If they are interested, then it is recommended that you give certain discounts to Invite them to purchase at your store, and then give you some useful feedback and suggestions to optimize your store, while sharing it to the forum or the group you did product research before to see the reaction of the public.
Final Thoughts
We provide you with 6 strategies to find your winning products, but this does not mean that you can find the best niche products that are most suitable for you only through these 6 steps. In fact, we still have a lot of more comprehensive and in-depth work to do, but for the preliminary product research, you can proceed from these strategies. I believe you will definitely gain something. Wish you can find the best niches, grow your brand and stay ahead of the competition.