Sell The Trend Shops Review 2022: Best Shopify Alternative?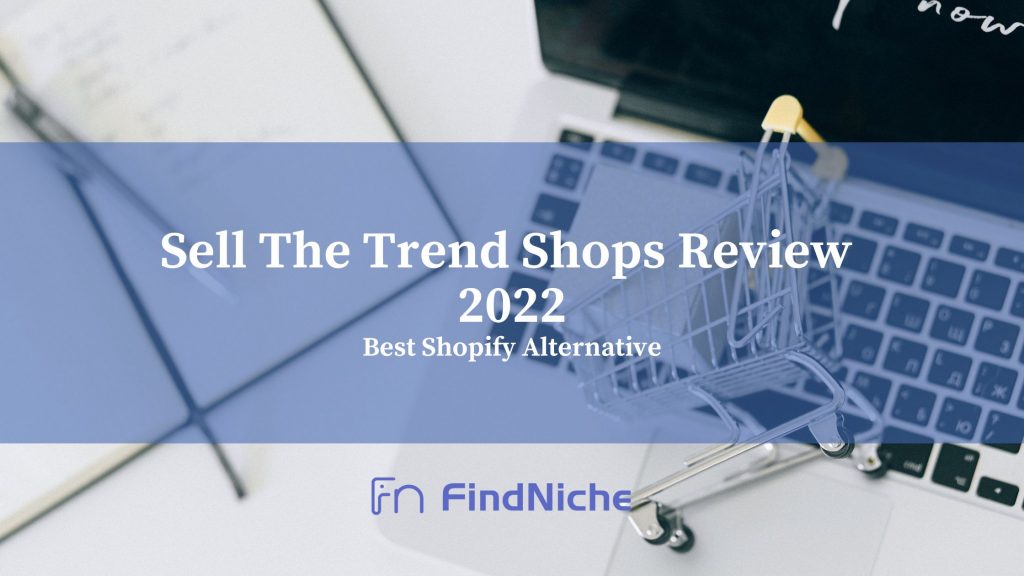 Online shopping, especially the dropshipping business, has gained a lot of popularity over the past two decades. This momentum inevitably has required implementing new tools and making new improvements to systems in this huge market for the better.
One of the leading actors in this dropshipping market is Sell The Trend. This all-in-one platform has been standing out with many features which are essential for success in dropshipping.
The platform has released a new feature called Shops in which you will better understand weak and strong parts to challenge its competitors. All in all, you are going to have a full grasp of the Sell The Trend Shops review if you keep reading. Enjoy it.
Table of contents for this article.
What is Sell The Trend?
First things first, let's get to know the basics about this platform. It uses product research explorers specifically created to help people start a dropshipping business and to find them the items that are really popular and have the highest selling potential.
Moreover, in order to actualize this strategy, Sell The Trend uses various databases of the most popular online dropshipping marketplaces such as AliExpress, Amazon, and Shopify empowered by A.I., enabling a would-be dropshipper to find their niche.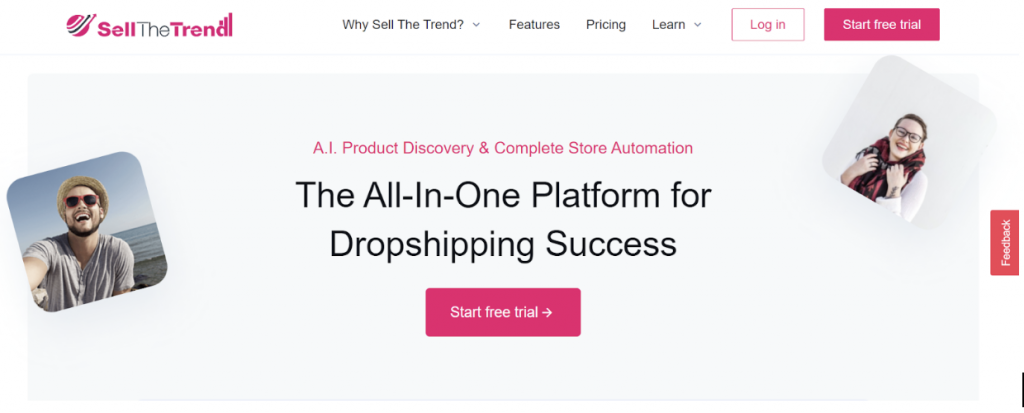 Sell The Trend also shows you some other important features worth mentioning. Store automation, automated order fulfillment, and marketing tools like Video Creator and Instagram Engagement Calculator will make a difference in your business.
Last but not the least, this platform gives the potential dropshippers resources and extended content so that they get the fundamentals as much as possible. The tutorials provided are quite easy to understand for a perfect start.
New Feature: Sell The Trend Shops
There you have it! The motto of the newly launched feature is the ability to allow you to launch an online shop in 5 minutes or less, focusing on being time-efficient. Tested and approved for real! Give it a try and explore the simplicity.
What makes the Sell The Trend Shops review unique is that potential dropshippers will not need any additional resources to start their store. It is at the touch of a few buttons away. All the required features and tools are inside it.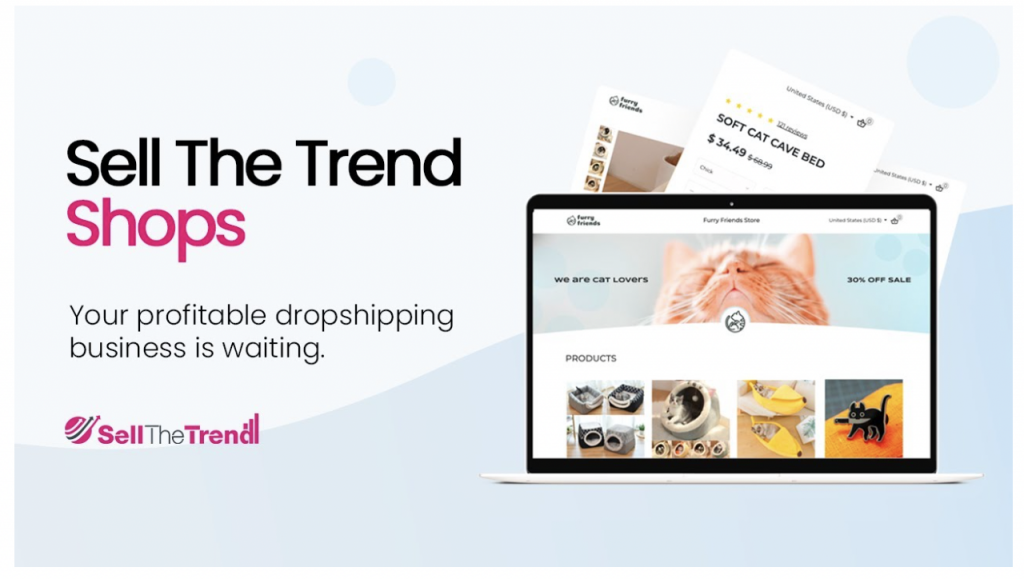 It really has tons of tools that make you stand out among other competitors in the dropshipping marketplace. Yet, before we dive deeper into them, let's learn about the registration process for this feature.
Create a Sell The Trend Shops in 6 Steps
Actually, finishing to log up for the Sell The Trend directly enables you to launch your shop in a few minutes. All you need to do is to follow the steps and make a huge change in the way you handle your dropshipping store.
1.Registered Successfully and Set to Go for Connection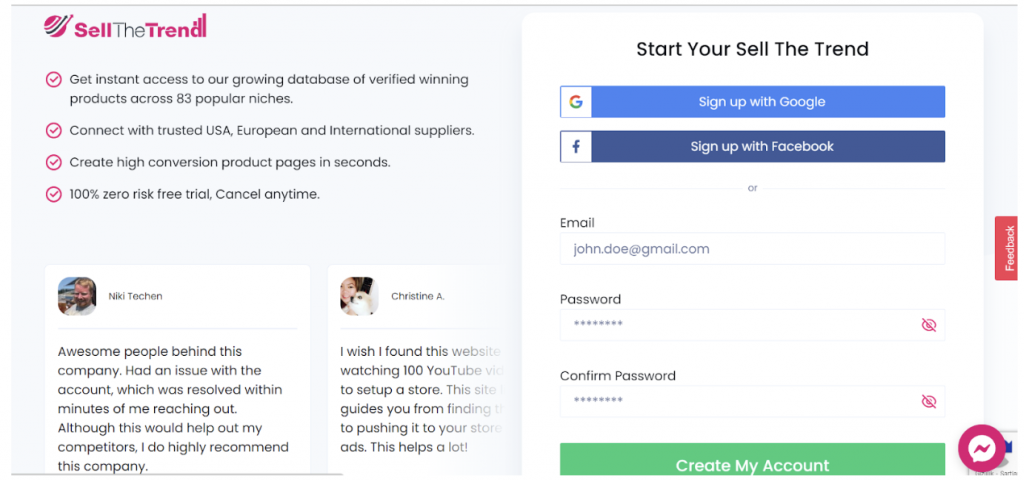 Now that you have fulfilled all the registration requirements, it is high time to have a closer look at the tools readily available to you. From that point, you are to connect your shop to it and create it within seconds.
You can also create an account easily with your Google or Facebook account.
2. Store Name and Currencies Identified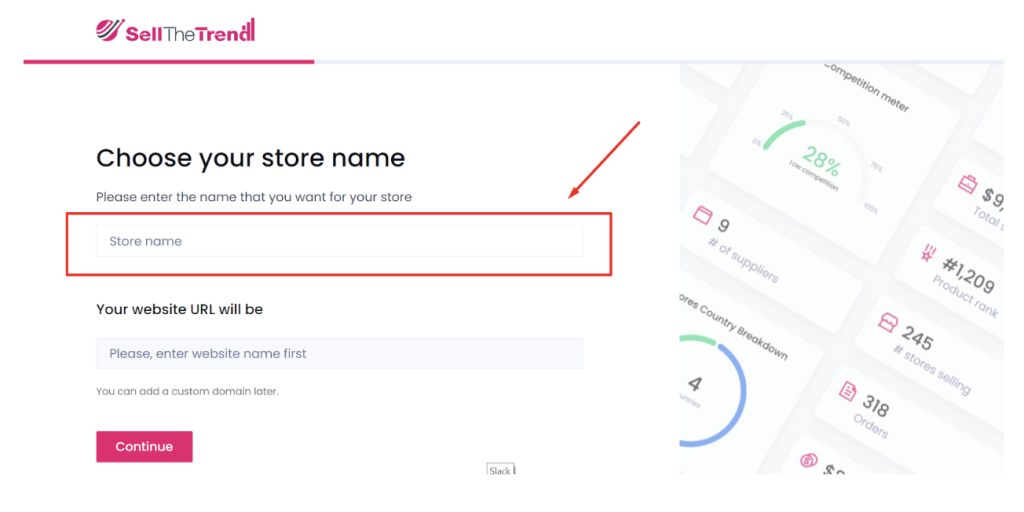 Coming up with a catchy shop name will be crucial for you to entice target shopz zpers into your shop. It will help you associate the name and the items in shoppers' minds. After having chosen your currency, you can change it at any time. No worries.
3. What You Know and Your Unique Niches
How knowledgeable you are in this dropshipping stuff will be of vital importance to the platform to provide you with some personalized recommendations and solutions. At this level, you are expected to state your level of expertise in the marketplace.
Finding your unique niche is essential for any dropshipper out there to launch their business without issues. It is not always easy to specify that niche for a number of reasons like lack of data to obtain or getting confused by too much information provided.
So, when it is a matter of finding your niche, the FindNiche tools are here to help you out. They really knows what you need in terms of having a fresh start in your dropshipping business. Every single day, you are recommended the best winning items.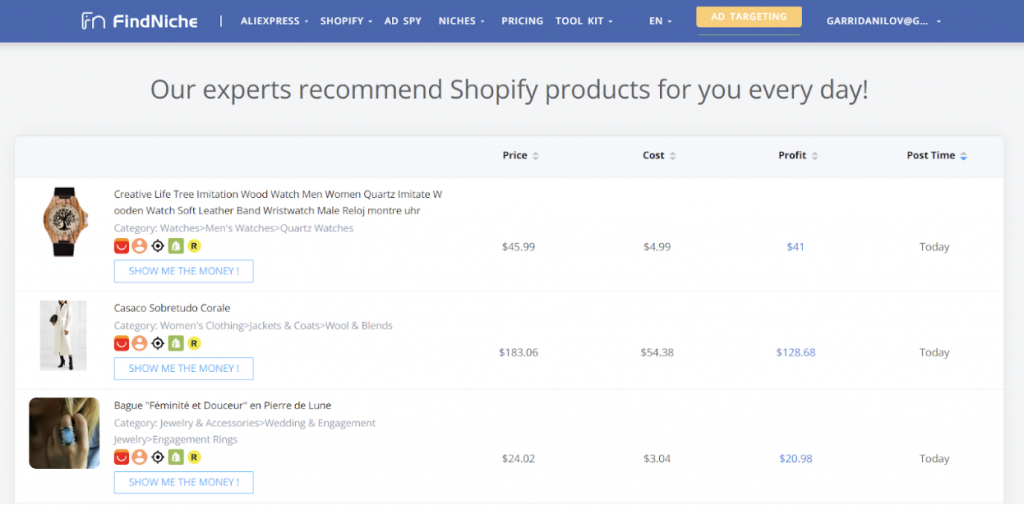 This winning products recommendation tool on FindNiche is quite an efficient helper for you to decide which alternative niche best works for your store. Needless to say, it provides you with useful data to meet your expectations to the fullest.
First off, it shows you the figures necessary for you to calculate the profit such as the price of the item, the cost of it, and of course post time so that you will figure out whether it is an up-to-date item or not.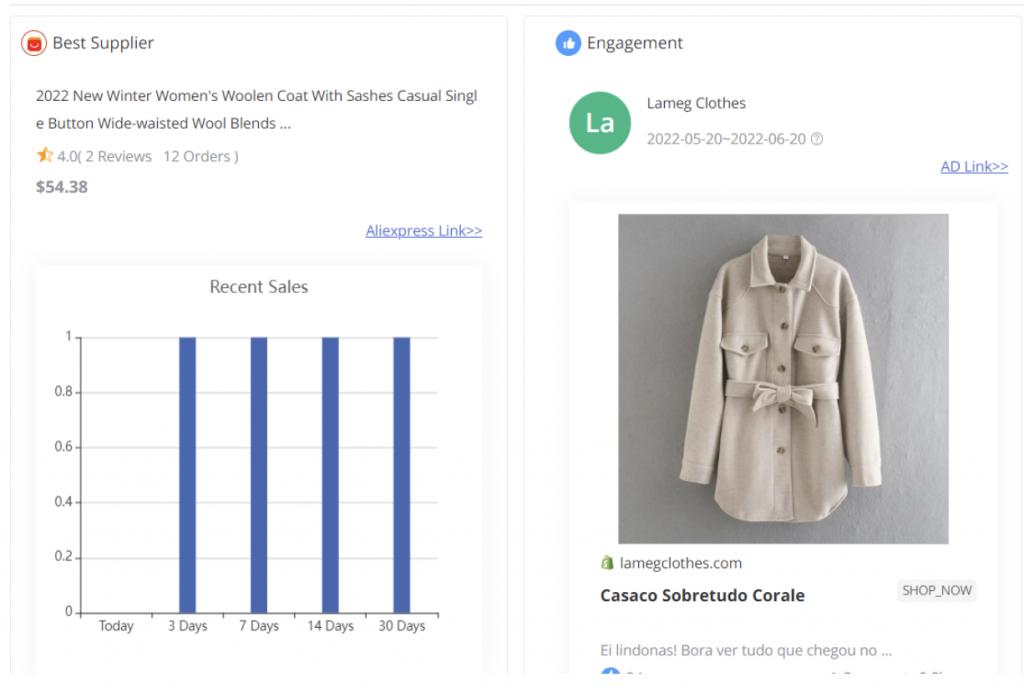 Plus, this tool gives you detailed statistics on AliExpress such as the best supplier, and the number of sales made. It displays the engagement rate on Shopify, one of the most important figures when it comes to realizing your dream of winning items.
Finally, with the help of this instrumental tool, you can see what kind of audience you are aiming to sell your items to. In this regard, demographic data such as age, top country, and gender are also provided for you to get the best results.
4. General Settings All Set-Up
These settings include selecting an enticing logo and a good looking banner, the payment method, shipping rates, preferably free, and of course a well-set customized domain for your new store.
5. Putting the First Item in Your New Store
Two different ways of adding your products are provided. Using extension programs and importing the item to your store is the first one. The best part is you can use many different marketplaces like Amazon, Shopify, etc. for it.
Second, the built-in Nexus product explorer is the next best tool to use. It allows you to find and put the items which definitely have the best winning features. Bear in mind that you maintain your uniqueness with captivating photos and astonishing descriptions.
💡Pro Tip: If you are still unsure about what to sell on Aliexpress, consider trying AliExpress Niche Finder. This tool enables you to follow winning products on AliExpress. Moreover, it is updated every day.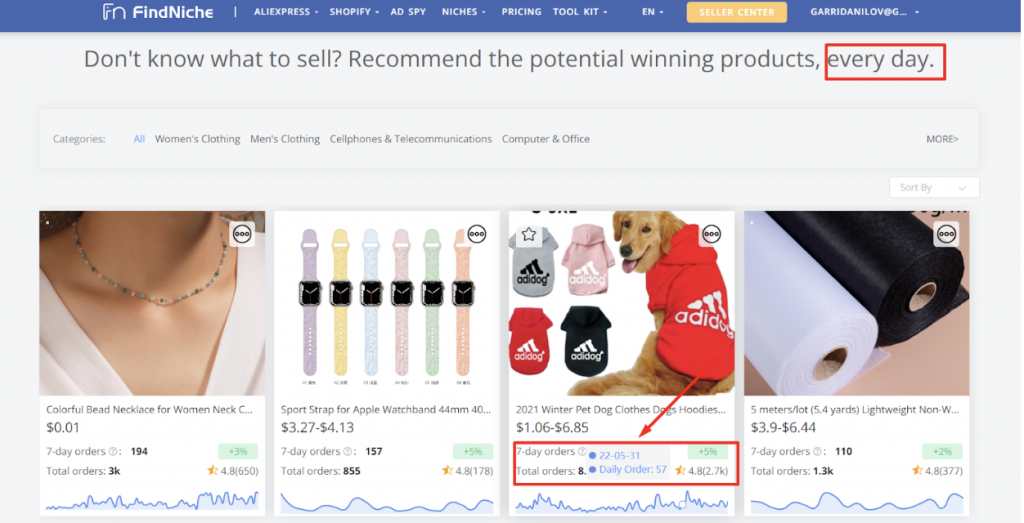 6. Reviews and Editing
Finally, adding Sell The Trend Shops review to your store will certainly give you credibility and make potential shoppers on the platform trust you. Importing it from other marketplaces is a piece of cake!
The page editor is the last thing you need to give a shiny finish to your item in your shop. When imported, the description of the product is the same as the previous platform, e.g. AliExpress. You may need to make small alterations to it and make it shine.
9 Tools Giving Dropshippers an Edge on the Sell The Trend Shops
Now is the time to take a closer look at the tools you can use as a potential dropshipper to get the most out of them. You will definitely have the upper hand against your competitors and increase both your sales and brand recognition.
1.Shopify Explorer
This tool is ideal to determine whether a certain type of item on Shopify will also be a success on Sell The Trend Shops. As the suggests, you can import products from the marketplace at the touch of a button.
2. AliExpress Explorer
You can find out what is trending on AliExpress and which products have a much higher possibility of sales. It also provides you with the supplier of the item you are interested in so that you can communicate with them easily.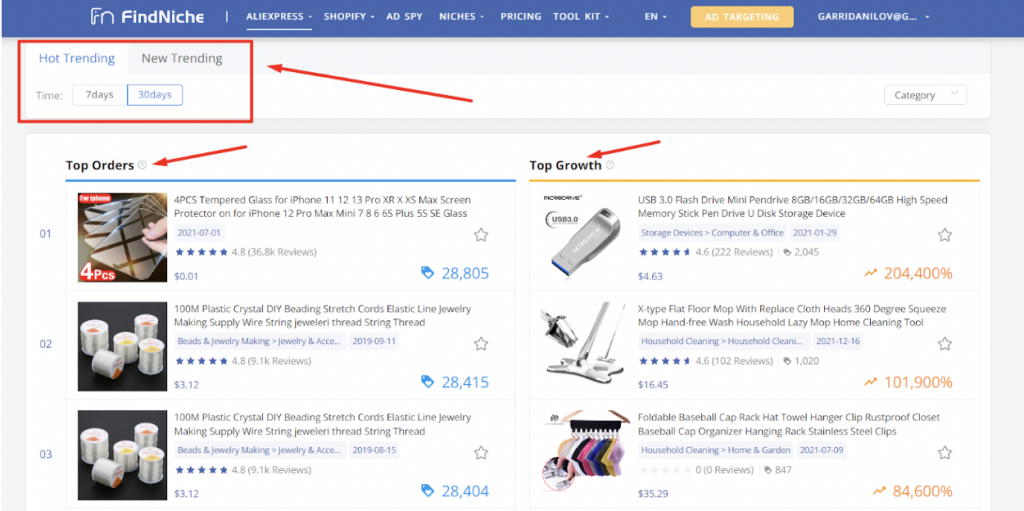 3. CJ Dropshipping Explorer
It is no different than the first two explorers and gives you the statistics and data that you need to see the trending items on the platform. Also, suppliers are shown in case you have some questions regarding the product or the process.
4. Amazon Explorer
This handy tool gives you the opportunity to explore the best-selling items on Amazon. You will make the most out of it by focusing on only the winning products and start boosting your profit.
5. Nexus Hot Products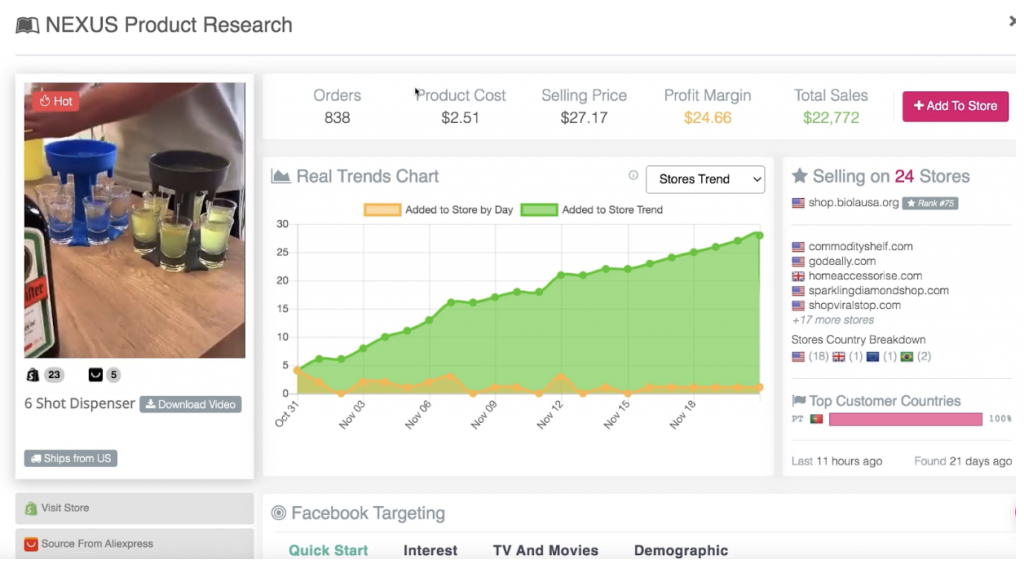 This platform-native tool is the best if you are directly starting on Sell The Trend. It employs A.I. technology to give you the winning items and the most popular results through detailed statistics and data within the website and across marketplaces.
6. Real Trends Chart
What makes this chart special is giving detailed data such as pricing, orders, reviews, and rating for a particular period of time. You can have a full grasp after having seen the statistics related to that specific product.
7. Video Ads Creator
Shooting videos for your dropshipping items is an integral part of running your business successfully. The video tool in this sense is a great helper for you to put your items through charming and captivating videos.
8. Audience Builder
If you target your audience in the way you want, then it will be much easier for you to do the rest. This handy tool shows you interest, websites and pages, societies, jobs, and public figures of a specific search, making your workload less busy.
9. Engagement Rating Calculator
Partnering with social media influencers seems like a profitable way to get more brand awareness and boost sales. But you have to make sure that they will be worth the money you will spend. It is the calculator's job to complete this task perfectly.
Pros and Cons of the Sell The Trend Shops
This feature has been recently released and maybe it may be too early to specify its ups and downs about it. Yet, it doesn't hurt to give it a go. Let's get cracking.
Pros
It is by far the fastest way to launch a dropshipping store in minutes.
It has one of the best time research tools among other platforms.
It is fully optimized for mobile use.
The built-in features are amazing for skyrocketing sales and profits.
It may be regarded as a free alternative to Shopify.
Page loading times are way faster than other platforms.
Cons
It has limited tools when compared to Shopify or a similar platform.
For print-on-demand and e-commerce stores, it is not suitable.
It is focused only on the dropshipping business.
Its subscription might be expensive compared to other dropshipping tools.
Final Words
Dropshipping has attracted millions of sellers and suppliers worldwide in the last 15 years. This paradigm shift has given rise to changes and better solutions for issues along the way, enabling dropshippers to adapt to changing situations quickly.
In this article, you have seen the big picture about one of the key players in the dropshipping business, Sell The Trend. The platform has released its brand new feature Shops to make the dropshipping process much easier and more affordable.
The issues regarding the Sell The Trend Shops review and the handy tools it offers have been analyzed to get the full perspective. It is the new kid in town and it seems this platform is worth trying.
FAQs
We will find answers to 2 frequently asked questions in this review.
What payment methods are accepted on Sell The Trend?
It uses Stripe and Paypal basically. Yet, other payment methods are also available.
Is there a free trial version on the platform?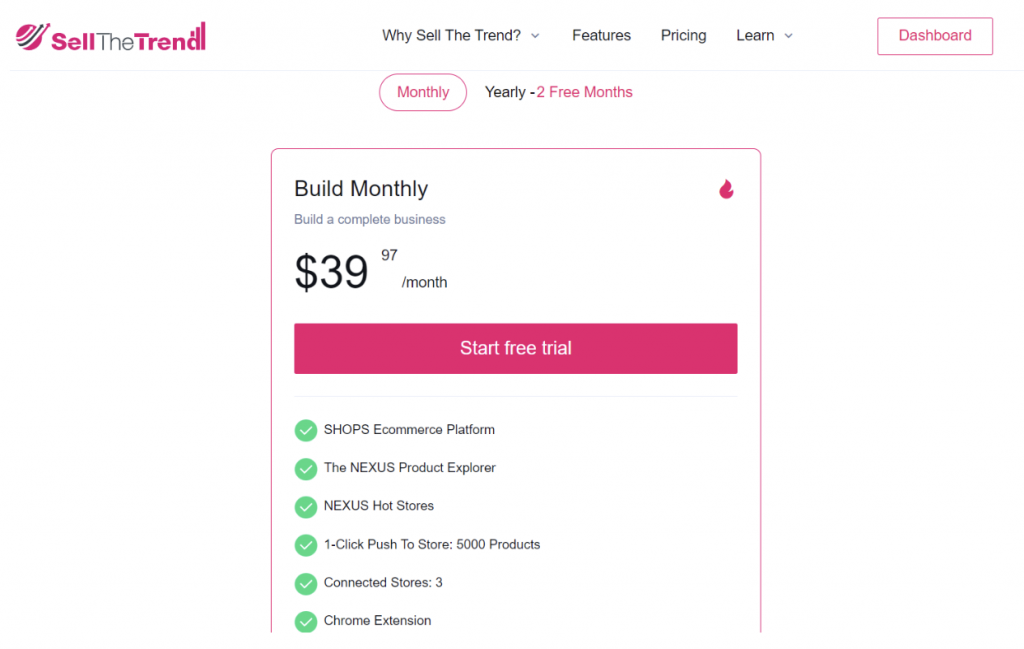 You can experiment with it for free for seven days, which may give you the idea to start or give up. After the free trial, it is $39.97 monthly. If your yearly plan applies, two months are free of charge.
Find Niches, Multiply Your Sales!
Uncover the secrets of the winning products that your competitors will never tell you.
Try it for $1!