Discover Top 11 Shopmaster Alternatives After Shut Down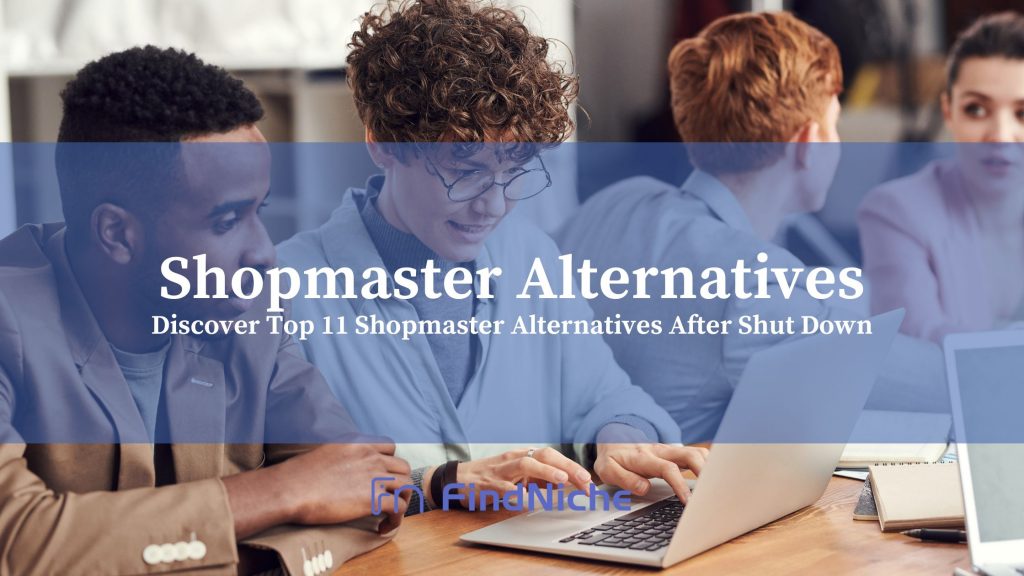 When it comes to product listing and super-efficient dropshipping services, the first dropshipping platform would be Shopmaster which was used to allow you to make AliExpress and Shopify dropshipping easier and more productive.
Until recently, ShopMaster was one of the most significant dropshipping giants and a lot of online sellers regarded it as indispensable because of its complete solutions.
However, the ShopMaster Team announced the news that ShopMaster will be shut down permanently on 30th April 2021 due to some serious unanticipated problems in maintaining a successful service for the users.
No need to panic! Here we will quickly recap on what ShopMaster is, its essential tools, and more importantly, we will recommend to you 11 top ShopMaster Alternatives for free and paid for continuous dropshipping business services.
Table of contents for this article.
Why Did Dropshippers Love ShopMaster?
ShopMaster was one of the best dropshipping solutions for worldwide sellers, which could import products from plenty of the outstanding suppliers to Amazon and eBay and similar other + 20 stores with such speed, efficiency, and super ease. It also helped you manage your listings at a low cost.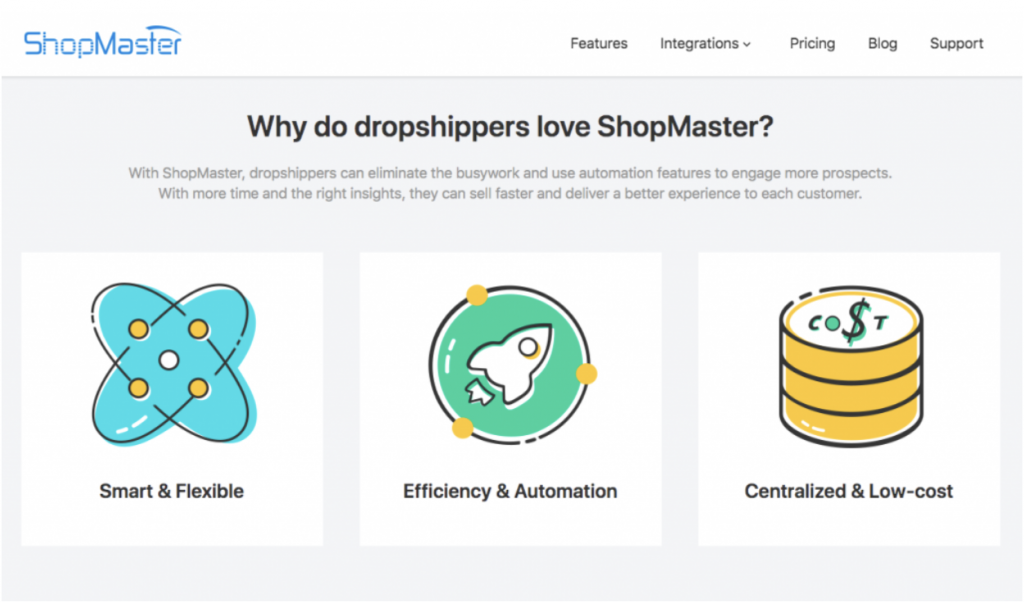 In order to use it, you would get ShopMaster and connect it to your AliExpress or Shopify store, then import the products to your AliExpress or Shopify store with the ShopMaster Chrome extension. Moreover, you could track your sales and shipment.
What Were ShopMaster Tools?
Furthermore, users could customize the product's description, pictures, titles, and variants easily with ShopMaster. Platform used to assist users automatically set competitive prices for products individually or in bulk and also monitor price and inventory changes of suppliers and update them automatically to the store.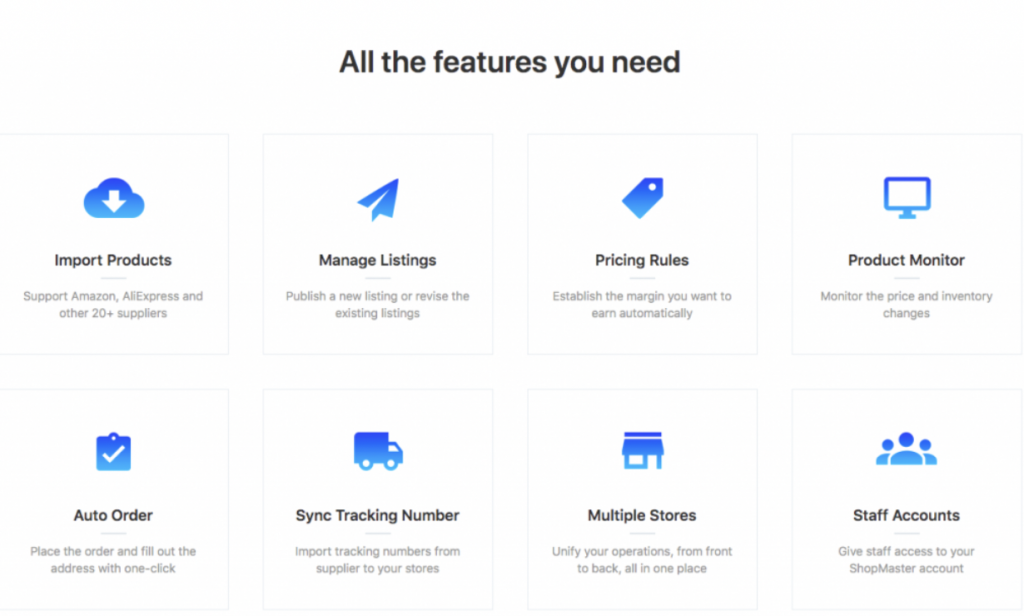 In a nutshell, shopmaster tools would make it easier for dropshippers to do their job regarding fulfilling and tracking orders. But, the operation will not continue. Thus, keep on reading to discover the best alternatives.
Top 11 Shopmaster Alternatives (Free and Paid)
Though it seems a little difficult with the closure of ShopMaster, we will help you find new alternative dropshipping platforms for a dropshipping business.
Although the active products currently in their stores have not been removed, the supplier information is not available anymore since ShopMaster shut down.
No worries. Here you just find the right alternative for your stores. So what are some top ShopMaster alternatives for you?
1.FindNiche
With great dropshipping tools such as FindNiche, you can boost your sales traffic easily.
FindNiche is one of the biggest and most massive dropshipping niche analytics tools for AliExpress and Shopify, which includes detailed information from more than 120M products and more than 1M Shopify stores.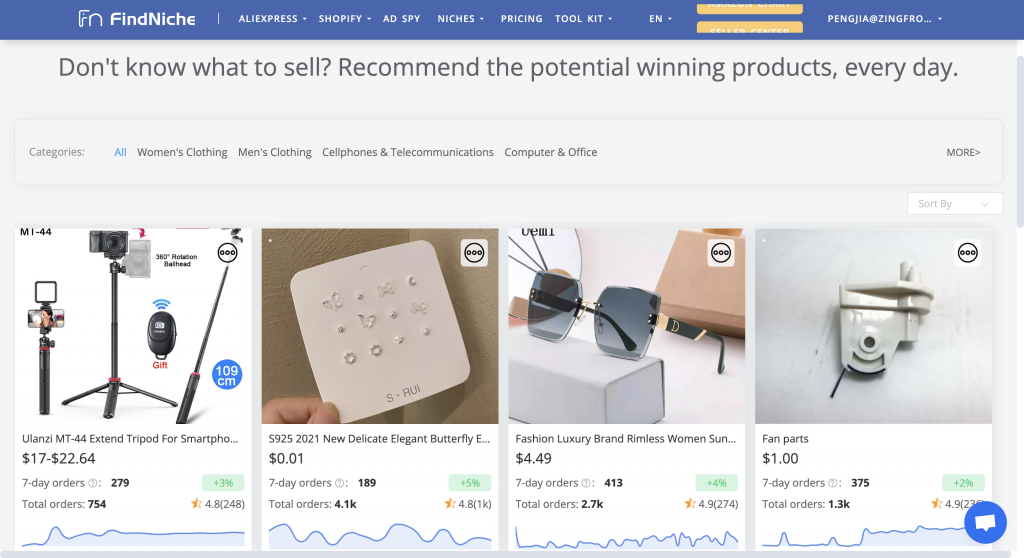 With this ShopMaster alternative platform, you can:
discover winning and trending products effortlessly,
display top Shopify stores, your new competitors, and dropshippers to help you locate the best niche market.
Analyze competitors' ad strategies with the Ad Spy tool.
Obtain all data by FindNiche API.
FindNiche is financially effective in terms of costs as well. It offers 4 plans: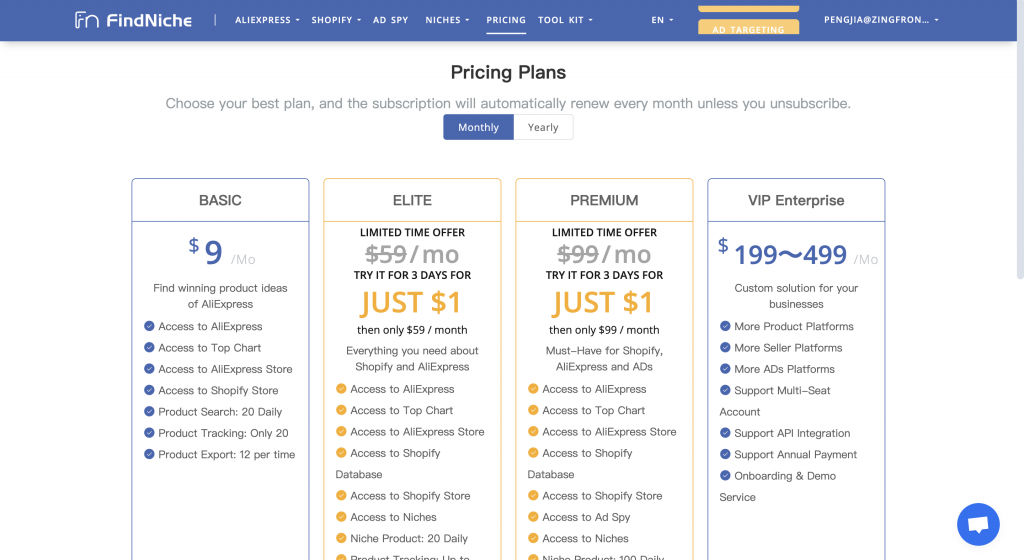 Basic
Elite
Premium
VIP Enterprise
You are allowed to try Elite and Premium plans at $1 for 3 days. Moreover, you can request a demo for the enterprise plan. For further information, please visit the FAQ page.
2. AutoDS
If you plan to enhance your sales globally, then AutoDs might be the right tool for you.Because AutoDS is another popular ShopMaster alternative for dropshipping.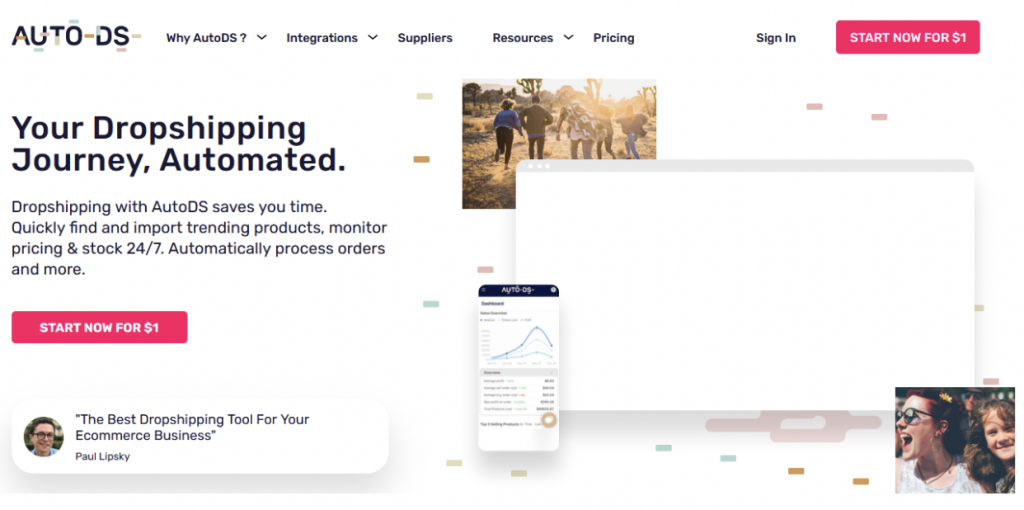 You can monitor over 500M trending products from AutoDS's collection of trusted, global dropshipping suppliers. Plus, you can instantly add new products to your store in one click and enjoy fast shipping to your customers.
All efficient tools you need for a productive dropshipping business:
product research tool which allows you to find and import trending dropshipping products in a few minutes,
automatic ordering and price optimization,
automatic tracking number updates,
inventory management,
price and stock monitoring,
products importer from 25+ global suppliers.
The last feature of AutoDS is the biggest difference from other dropshipping tools as you can see in the visual below.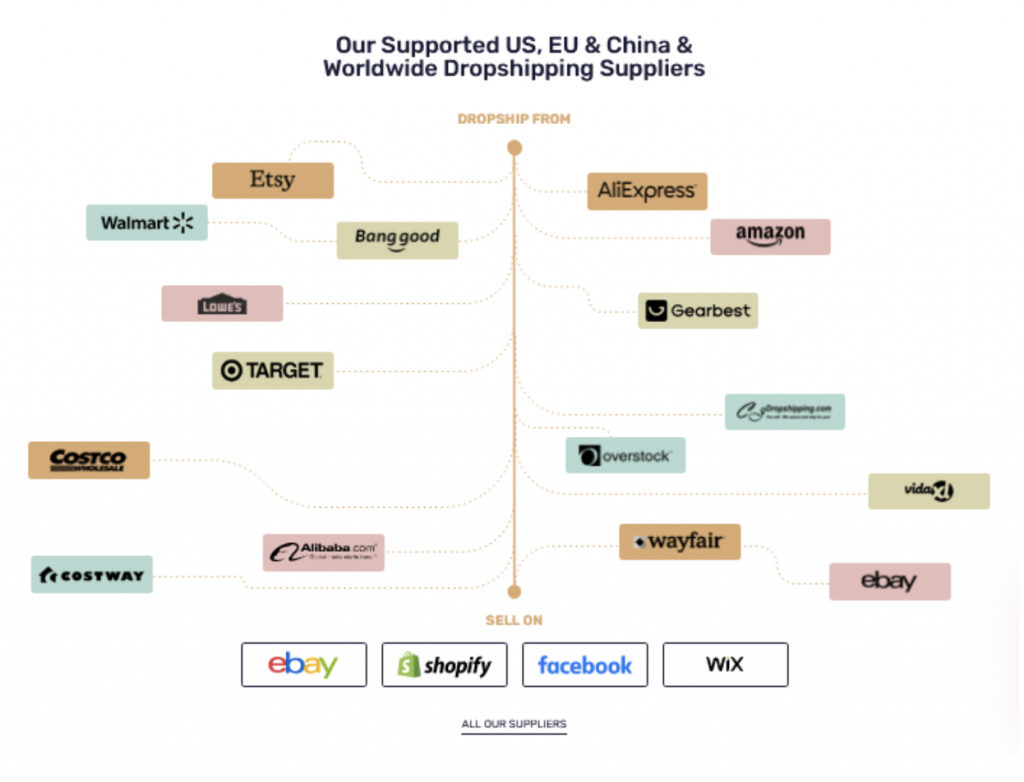 3. Dropified
Dropified is a platform similar to AutoDS that helps you to import products into your stores. Unlike Dsers or Oberlo, it allows you to import products from not only AliEpxress but also from several large platforms such as eBay, and Alibaba, and integrate with Shopify, WooCommerce, Zapier, Captcha solver, and GrooveKart.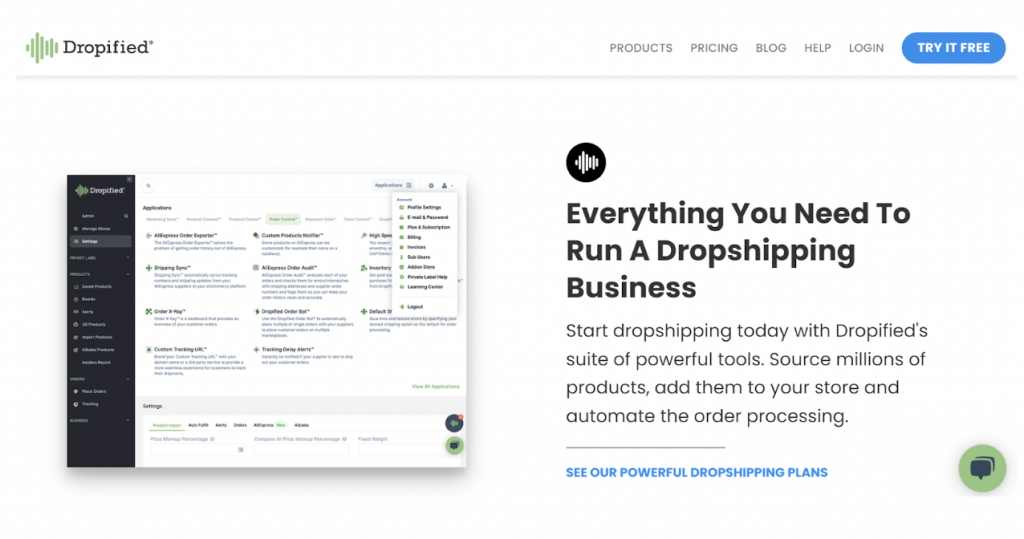 With the help of Dropified, you can easily add and ship products in the e-commerce store, save time and make more money with less order management.
Dropified offers only 1 paid plan which is "Retro" and it charges 49 USD monthly. You can try this tool free for 14 days.
4. DSers
Dsers is one of the best AliExpress Dropshipping tools for E-commerce that you can choose as a ShopMaster alternative. This tool assists you to process bulk orders to AliExpress and make payments.
Moreover, with Dsers, you can locate a lot of suppliers from AliExpress in no time. Unlike ShopMaster, DSers offers you several remarkable tools that will grasp your attention such as:
automated supply orders,
customer service management,
variant mapping,
fast order placement,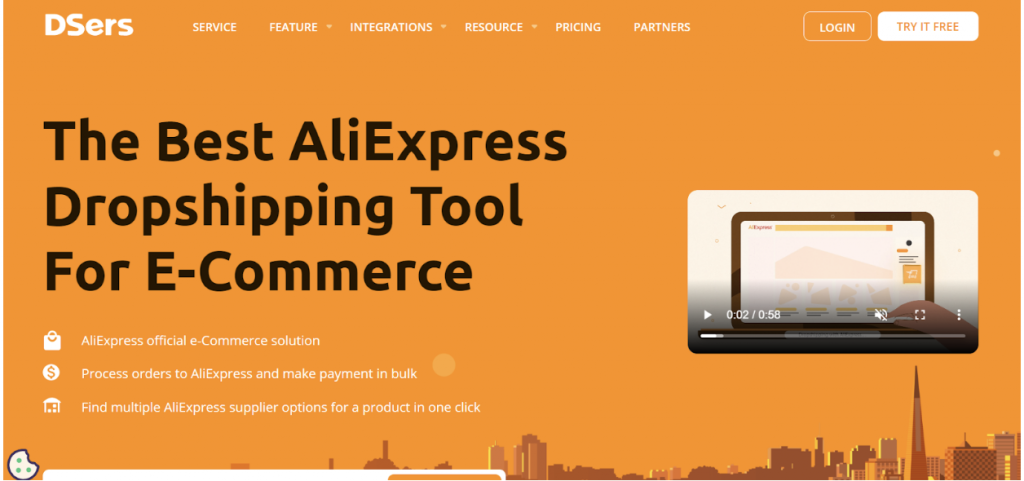 Besides these smart dropshipping tools, there are also pricing optimization tool, product data management tool, real-time order tracking, and of course, bulk orders tool.
The majority of Dsers users praise its "top-notch customer service" and reliability.

⚠️When it comes to pricing, Dsers might be expensive compared to competitors since the enterprise plan will cost you 499 USD per month. However, you can try Dsers for free with limited features.
5. DSM Tool
DSM Tool is another preferable alternative for ShopMaster. Its most prominent advantage is the DSM Auto-Paste chrome extension to explore 50+ dropshipping suppliers in a click.
DSM Tool is an automated dropshipping management software that will monitor your stock and prices and automate the dropshipping daily tasks: product search, sourcing process, listing optimization, orders processing, customer support, etc.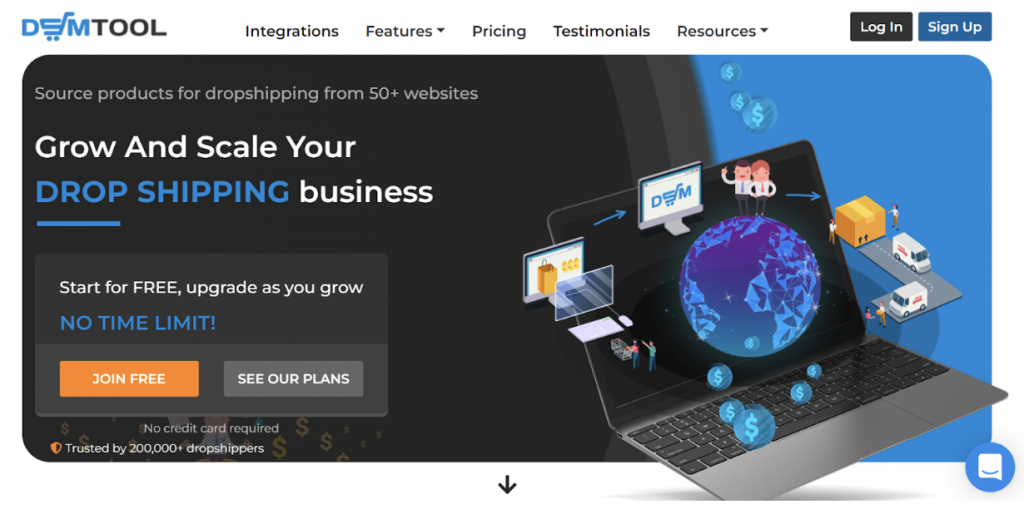 DSM Tool will help you to save time and improve your dropshipping business. It is provided by more than 50 websites and 100k sellers globally. Sad to say that there are limited services for Etsy.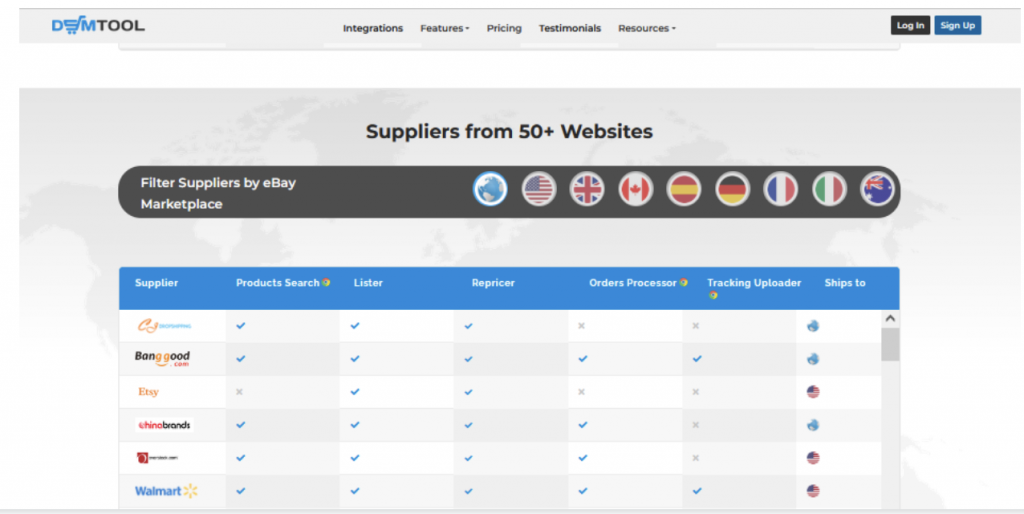 6. EasyShip
Easyship is a powerful cloud shipping software, that allows drosshippers to manage their business plans globally. The platform helps companies collaborate with 250+ shipping services and charge their own negotiated rates by connecting FedEx, DHL, and UPS accounts.
One of the biggest differences of Easyship is supporting not just medium or small businesses, it also supports large enterprises.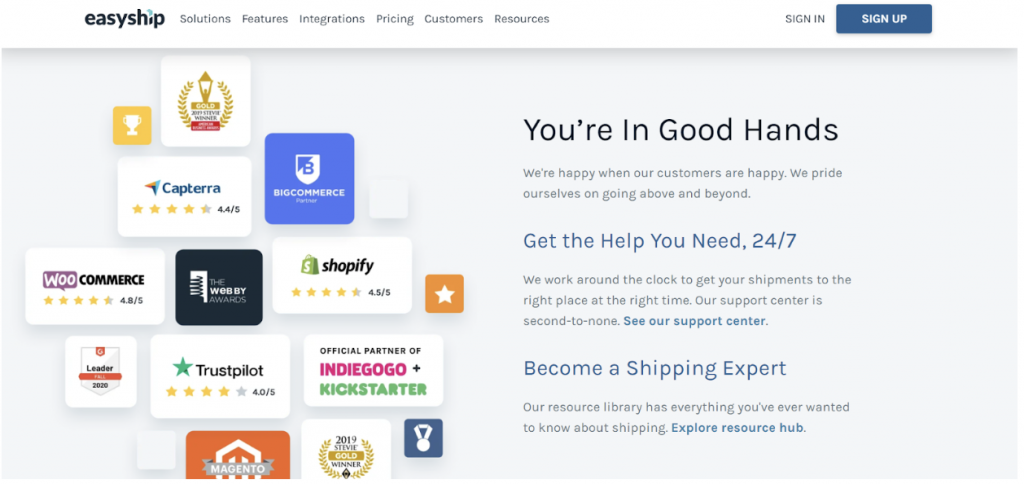 The main tools of EasyShip are a cloud-based dashboard to:
help you manage all shipments in one place,
automate shipping with customizable shipping rules based on delivery preference or courier choice,
create shipping labels, customs paperwork, and packing slips, top tracking and return management features,
use analytics dashboard to get in-depth data insights,
analyze useful data for duty and tax charges for international orders,
open API for developers
different kinds of methods for payment.
7. Importifiy
If you are still unsure about which dropshipping platform you wish to use, then Impotify might be the right ShopMaster alternative.
Though it seems like all platforms offer similar features for your dropshipping business, Importify provides unique tools for you other than generally required features, such as becoming a supplier yourself or easy supplier change, automatically assigning your collections, and split variants.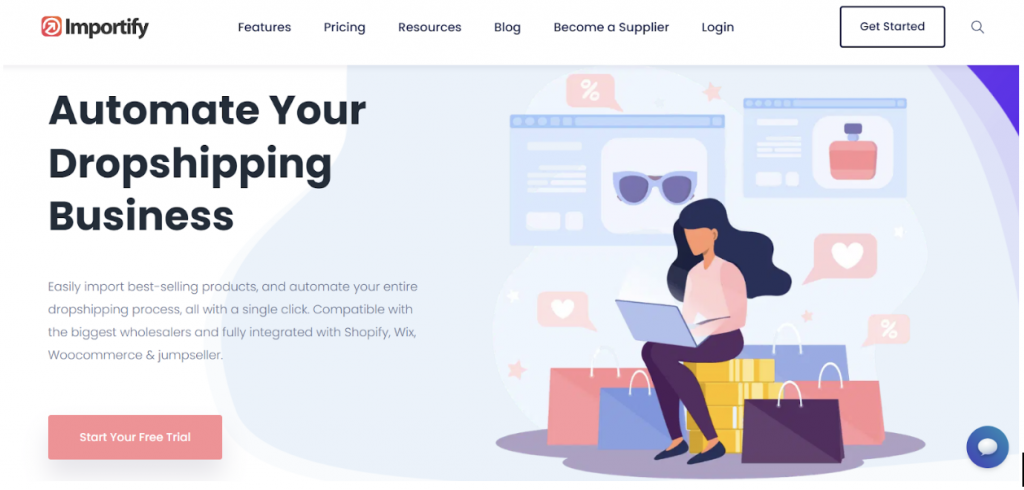 Furthermore, Importify also offers you the tool to Shopify Importer. Thus, manage your Shopify store without worrying about finding a place to store your products.
It offers 3 paid plans and no free plan. The cheapest plan, which is Basic, will cost you 14.95 USD. You can change your plan at any time directly from the Importify dashboard.
8. SaleYee
Sale is another promising Shopmaster alternative that provides global online sellers with top dropshipping products of 30,000+ profitable SKUs and fast free delivery from their local warehouses. With the SaleYee Platform, you can focus on making the best of your marketing and boosting your sales with high-quality dropshipping services.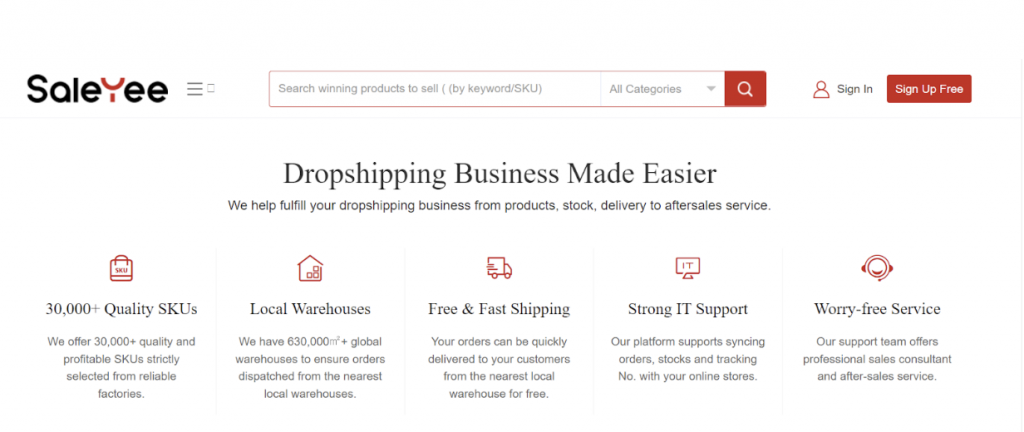 Here are the most prominent features of SaleYee:
You can also save your time and cost without worrying about any product, inventory, delivery, or after-sales problems.
There are no membership fees for dropshipping business owners.
You can use the Research Tool in order to determine the most profitable products to dropship.
You can choose any platform of your choice like Wish, eBay, and Amazon or create a new web store for your dropshipping business.
SaleYee also lists the nearest local warehouse from the delivery place to offer fast shipping.
9. AliDropship
AliDropship is popular online dropshipping platform designed specifically for AliExpress users. It helps you to create your own AliExpress dropshipping online shop with the help of their advanced tools. You can even let them create a store for you from scratch or replicate the success of a booming store.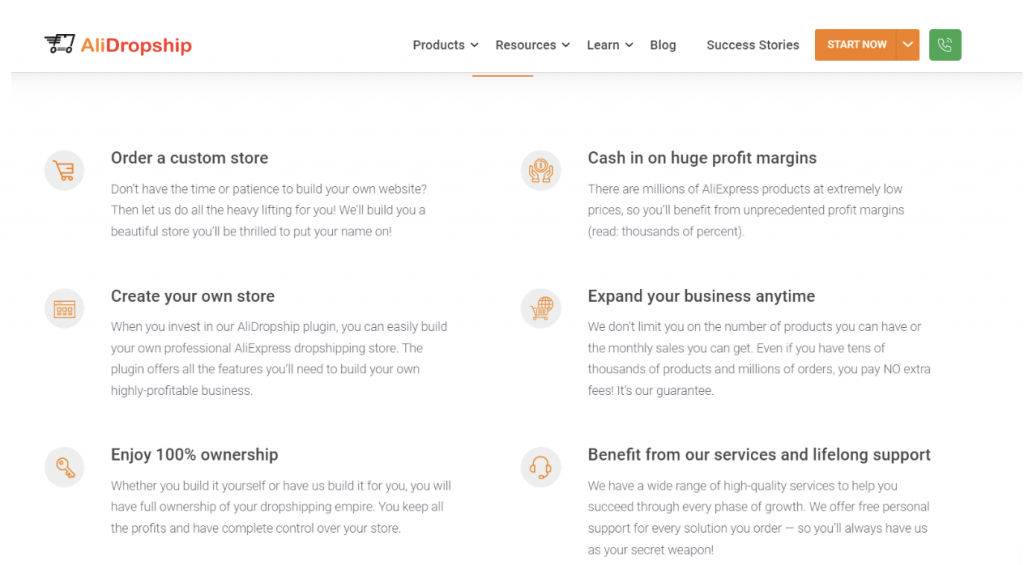 Here are the top tools of AliDropship:
search & import automatically,
auto updating,
pricing automation,
ePacket shipping filter,
auto fulfilling orders,
auto order tracking,
product variations,
unlimited number of products,
WooCommerce support,
Inventory Management Tool,
free updates & support.
Moreover, you can earn up to 8% commission on each purchase as an additional bonus to your main dropshipping revenue.
10. Yakkyofy
Our last ShopMaster alternative is Yakkyofy. It allows you to automate and manage all of your dropshipping store jobs to save money and time. It will help you improve your dropshipping business by assisting you in finding products to sell at B2B prices that you can add to your store.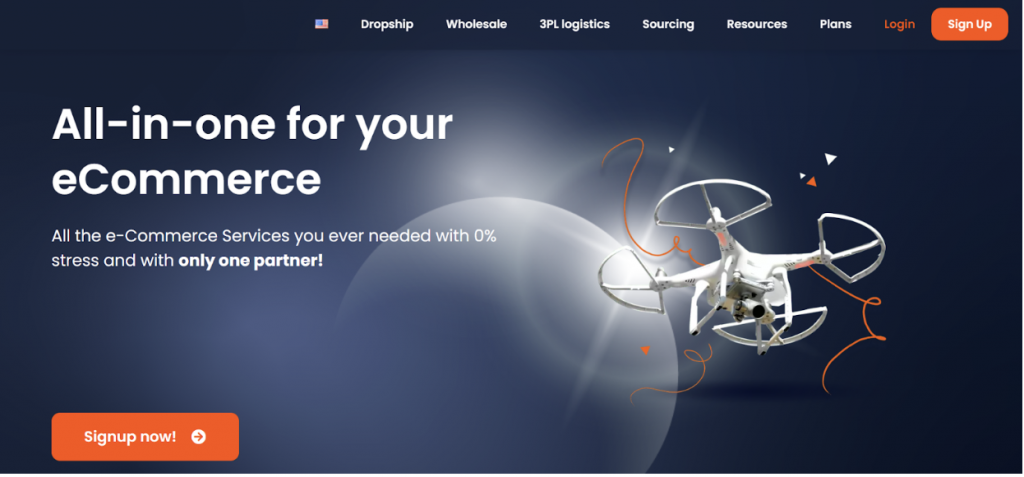 Thanks to their Image Recognition Technology, you can find all the products that you need directly from Chinese factories in no time and get real-time product quotations at B2B prices.
So what makes Yakkyofy different from other dropshipping platforms?
Well as you can see in the visual below, there are several advantages from free unlimited orders and branded packaging to 3PL services and free storage. You can use them depending on your sales traffic.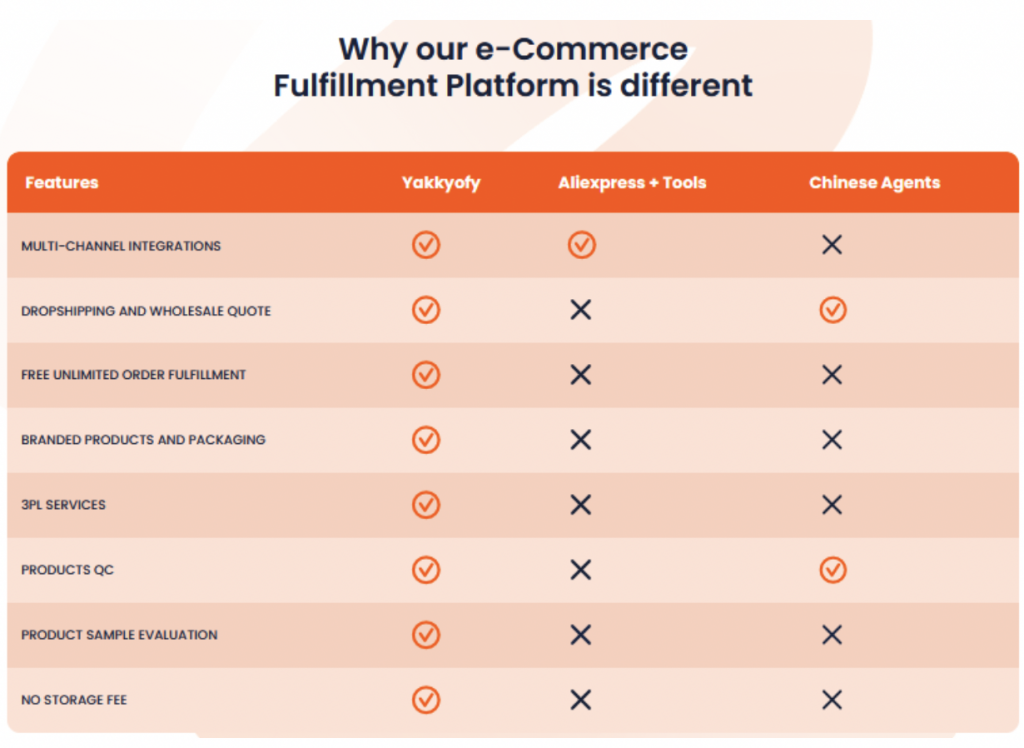 11. CJ Dropshipping
Dropshippers know CJdropshipping as a supplier like AliExpress. However, CJ also offers to fulfill these processes:
product sourcing,
automated processing,
order synchronization,
shipping and
customized products,
Integration with Shopify, eBay, and other online shopping platforms.
Final Words
If you want to be successful in dropshipping business then you should have the right idea about which tools you need to be a productive and top-quality dropshipper. Here we have prepared ShopMaster alternative tools for dropshipping that will give useful insights to determine which alternative you should pick for your best interest.
Since you know your business better than anyone else, it is highly recommended to consider the specific needs and compare them with the tool features to make an informed selection.
Remember, selecting from the best dropship product research tools is no hassle even while you are switching from one platform to another.
Now all you need is to focus on maintaining and marketing your e-commerce store to guarantee your success as a profitable Dropshipper.
You can see that these dropshipping tools could provide more services for your online business than ShopMaster was able to. Some of those tools are specially created to help you find any products and import them to your store but also manage your sales or business effectively.
So why not choose one of those ShopMaster alternatives to grow your dropshipping business?
FAQs
Which Shopmaster alternatives are free?
Dropshipping tools that offer a free plan:
DSM Tool,
SaleYee,
EasyShip,
Yakkyofy,
Oberlo,
AliDropship,
Easyship
Dropshipping tools that offer a free trial:
FindNiche
AutoDS
Dropified
Importify
Is Shopmaster shut down?
Yes, ShopMaster was shut down permanently. See the official announcement below:
Dominate Your Market Now!
460,000+ sellers are using FindNiche as a secret weapon to win! But they'll never tell you.
Try it for $1!