Top 9 Shopify Competitors and The Best Alternatives
Shopify has been a decent player in the e-commerce market for years. It is preferred by many online sellers due to its success in many areas such as a suitable dashboard for online shopping, SEO compliance, marketing strategies, and site speed.
However, not everything is perfect with Shopify. Due to some handicaps, especially pricing, dropshippers are looking for new alternatives. Like Shopify, there are also tens of e-commerce companies leading the market.
At this point, sellers wonder what should be the best Shopify competitors or alternative platforms in terms of price, templates, customer support, plugins, and so on.
In this article you will find out brief information about the company first, then 5 prominent functionalities of it respectively. Hope to enjoy the article and find the best option for your business.
Table of contents for this article.
What is Shopify?
Shopify is an e-commerce CMS (Content Management System) headquartered in Canada. The company provides its online store owners with some tools to make their online store operating process easier, including payments, marketing, and even shipping.
💡Good to Know: How To Start And Create an Amazing Shopify Store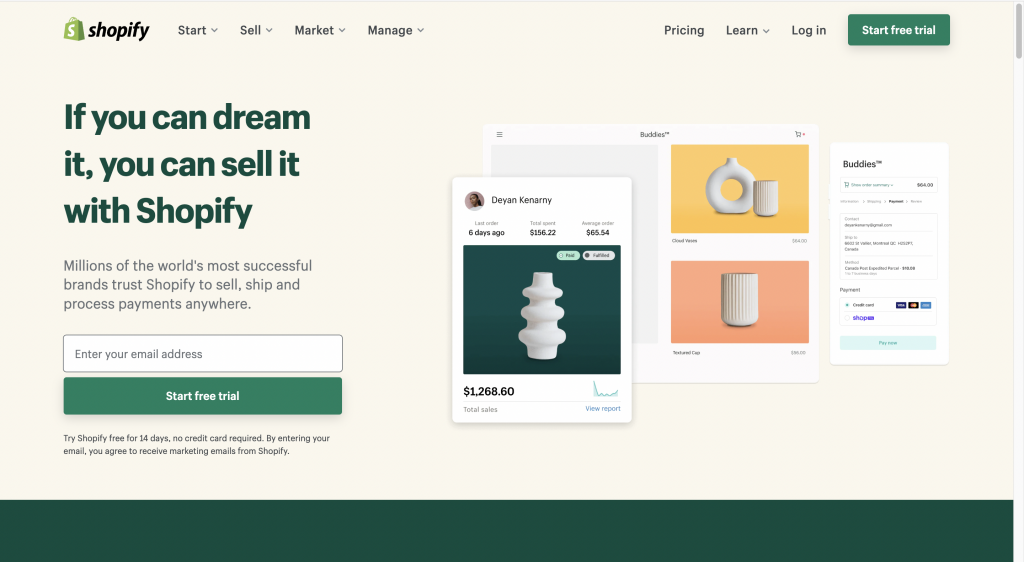 Shopify -and especially its unique software itself- is one the most popular e-commerce platforms all over the world. It is reported that, by May 2021, it has more than 1.7 million online sellers from 175 different countries, so far concluding a 496-billion USD huge budget spent on applications which are hard not to be aware of Shopify.
What to Sell on Shopify?
The vital factor when dropshipping with Shopify is to find the proper product, as with other e-commerce platforms. Selling low compatible niches with high profit leads to success. But how to find them?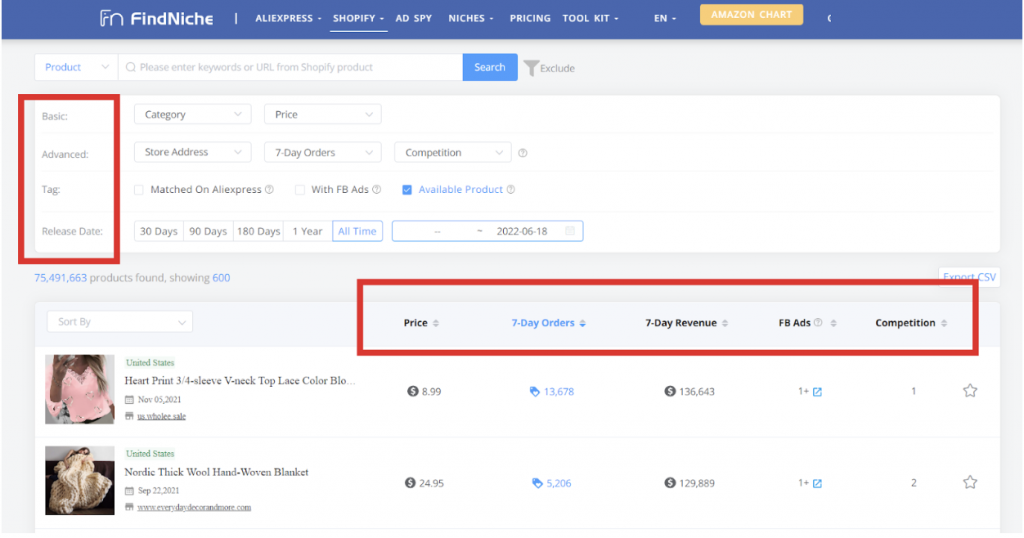 FindNiche offers a great solution with Shopify Niche Finder. You can analyze dropshipping niches among 25 million Shopify products. Furthermore, you can filter products by their category, price, competition, and orders. In addition, FindNiche enables you to pick tools based on their store address.
💡Pro Tip: If you are still unsure about what to sell on Shopify, you can examine your competitors with the FindNiche Shopify Store tool. You can explore what trending items and winning strategies are.
How is Shopify Pricing?
As almost every application has, Shopify allows you to have a 14-day free trial as well. It has been introduced three plans on the welcoming page;
Basic Shopify: $24/Month
Shopify: $69/Month
Advanced Shopify: $299/Month
Transaction fees are varying based on the plan you pick. Moreover, some features like staff accounts and inventory locations are increasing when you purchase an advanced or Shopify plan.
💡Pro Tip: Once you start a free trial, Basic Plan's price decreases by $5, and Shopify Plan's price decreases by $10. Otherwise, those are $29 and $79 respectively. Furthermore, you can save %10, %20, or %25 if you buy Yearly, 2 Years, and 3 Years respectively.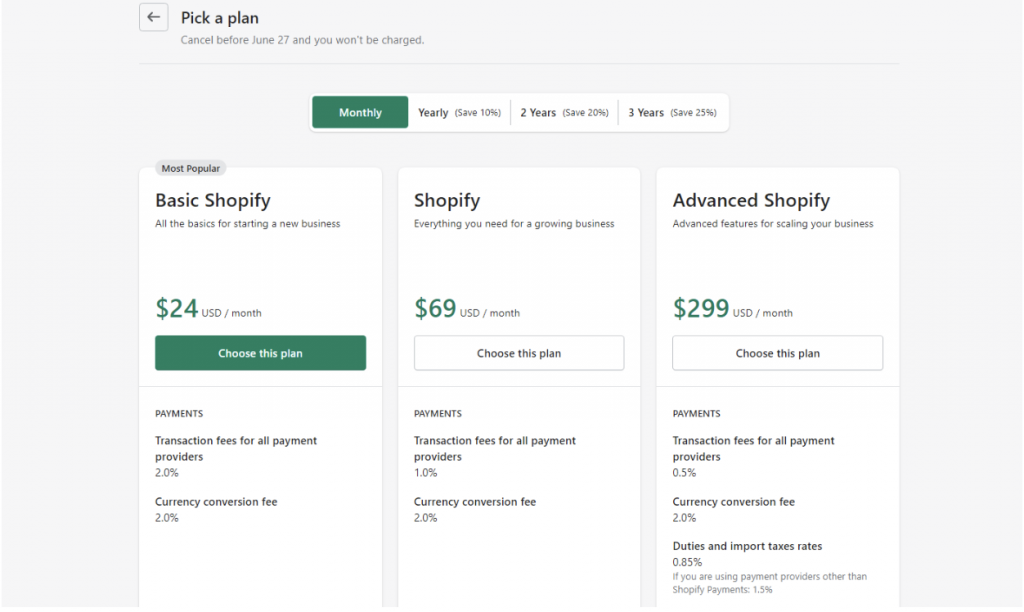 Apart from those three plans, you can select Shopify Plus or Shopify Lite options. Their pricing is as follows:
Shopify Plus: $2000/Month. It offers enterprise-grade solutions for high-volume merchants and large businesses.
Shopify Lite: $9/Month. This plan is only used to add products to any website and accept credit card payments.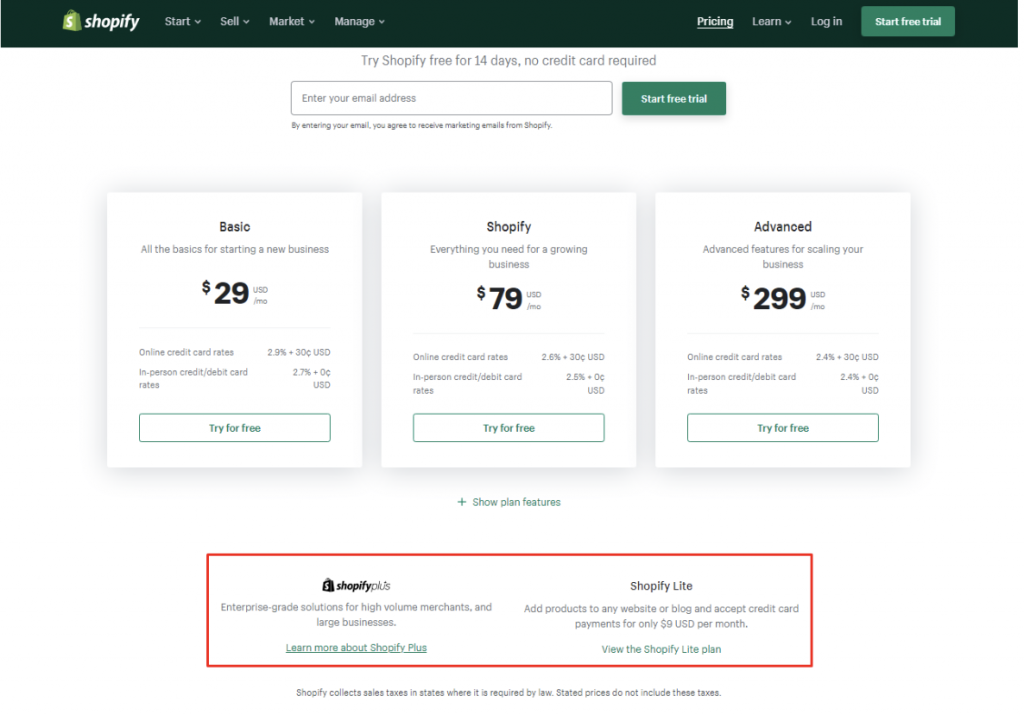 Why Do Dropshippers Look for Alternatives to Shopify?

There might be several reasons for dropshippers to look for new paths for selling their goods in a more lucrative manner. We can list them as shown below which makes us think of Shopify competitors as new alternatives.
You might have been fed up with additional transaction fees up to %2 of each sale
The content and abilities of Shopify might have had you frustrated,
Not flexible exit policy - In case of closing or moving your store for any reason, Shopify doesn't help as much as you expect,
First-time users might be unfamiliar with Shopify tools,
Poor SEO - for those who are unfamiliar with this, SEO(Search Engine Optimization) allows product owners to make their goods to be seen and found easier. Unfortunately, Shopify does not let you have access to those skills. Even if it doesn't seem a big issue at the beginning, most probably it will be so as your company grows.
Discover Top 9 Shopify Competitors with Their 5 Features
Due to some cons that were explained above, people have been trying to find new paths as a Shopify competitor to sort it out. Here we are to introduce new alternatives. You are going to find a compilation of 9 platforms to use instead of Shopify.
Wix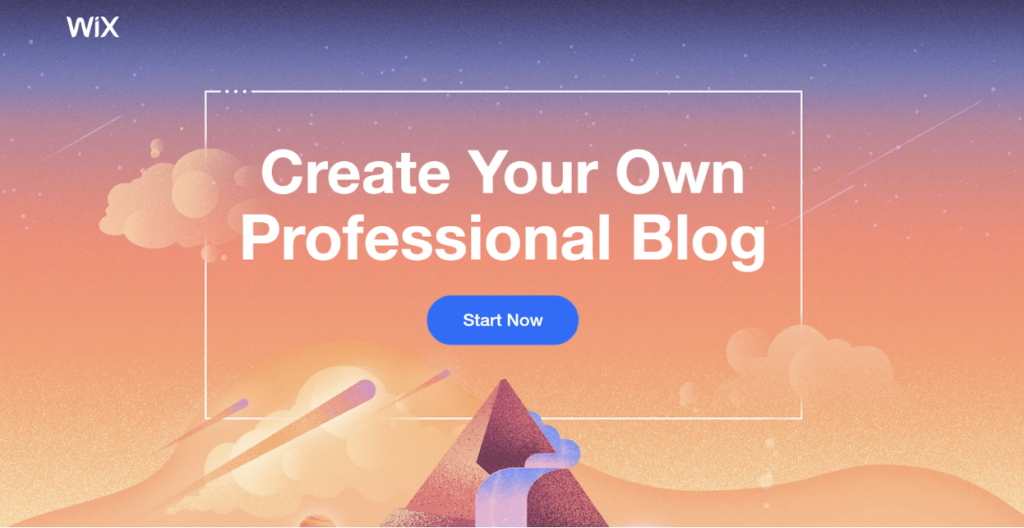 Founded in 2006, Wix is a platform to develop web-based and mobile applications. It is one of the most well-known software of its sort. According to statistics, of the top 10 million websites, %2.3 is created by using Wix.
It is free to an extent. If you are a professional user like an e-commerce company owner, you could need more developed paid features. Otherwise, basic Wix will be enough for you.
It is completely beginner-friendly. Its drag-and-drop tools are easy to use.
Wix SEO Wizard makes an analysis for your website and produces an SEO plan for you to follow.
You can't get rid of ads unless you buy Combo Plan or more.
Also, it doesn't allow you to transfer your website to other platforms as Shopify doesn't so.
BigCommerce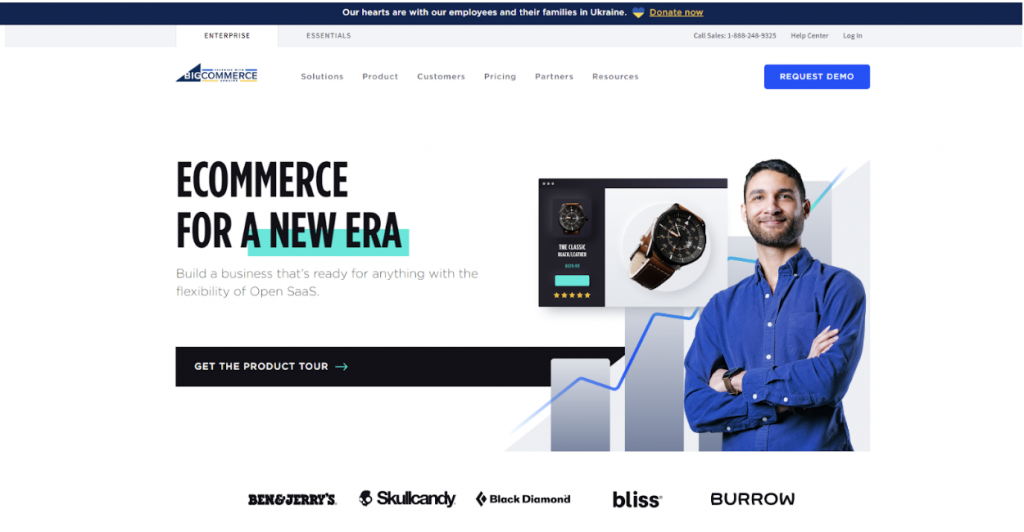 Introduced in 2009, BigCommerce is one of the most challenging Shopify Competitors, offering users software-as-a-service for building and hosting online stores. So far, it has hosted over 145.000 websites, 52.000 of which are active on the platform.
BigCommerce allows you to enhance your SEO with search engine-friendly tools.
It also has a drag and drop capability which is not necessary to know how to code.
Satisfactory support is available with a ratio of %85 of the problems are solved just in the first phone call.
In comparison to Shopify, BigCommerce is adequate for larger businesses.
It has only 5 free themes compared to the 9 that Shopify offers.
Big Cartel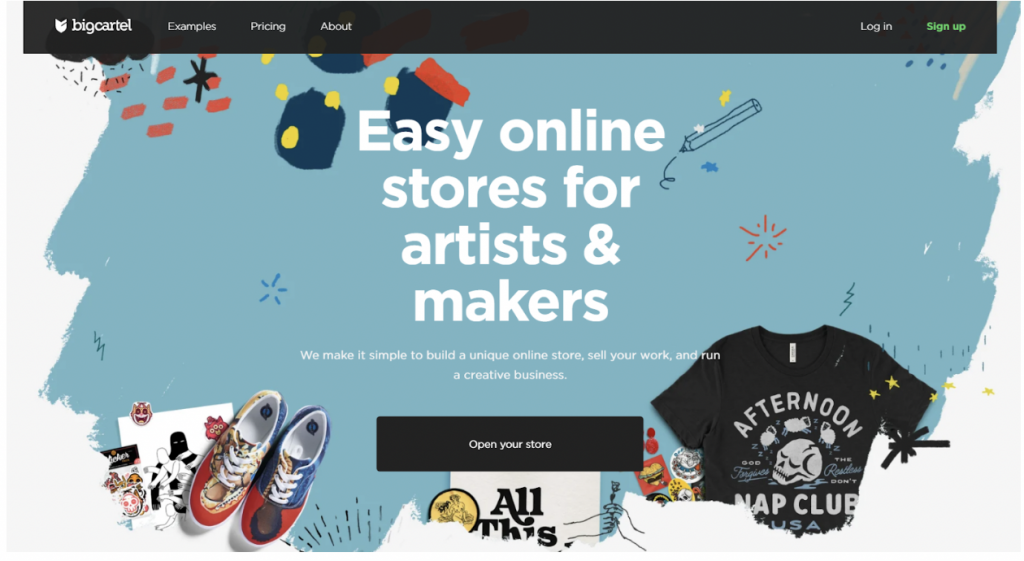 Deployed in 2005, Big Cartel stands out for its simplicity. Founders say that "it is built to stay small", but it was named on the Forbes Small Giants list. It also grabs attention with its catchy name "Big Cartel" for those looking for Shopify competitors.
It is extremely user-friendly and designed for simplicity without requiring a lot of configuration or setup.
The first 5 products are free (Gold Plan).
The good news, it has no transaction fees.
Even though it has paid plans, it is still cheaper and more reasonable than Shopify with the prices of →

Planitium plan - $9.99/month for 50 products
Diamond plan - $19.99/month for 500 products.
One of the major issues you may think of is that Big Cartel only lets you sell your goods in person, on Facebook, Instagram, or on your website, and bad news, there is no 7/24 phone support.
WooCommerce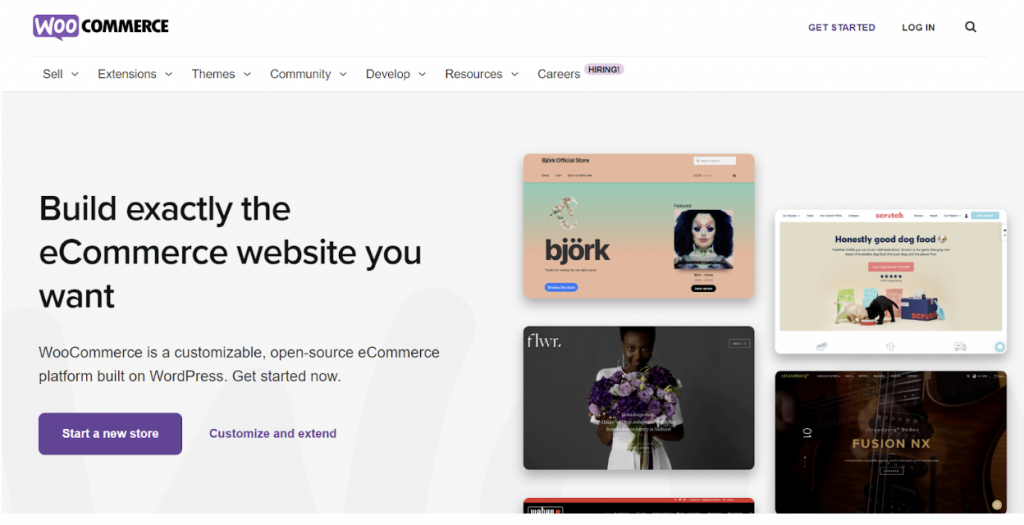 WooCommerce was launched as a WordPress plugin in 2011. It is only compatible with WordPress websites. WooCommerce is suitable for small to middle-sized businesses.
It has numerous themes and plugins. Besides, you can find multiple free themes.
If you are familiar with WordPress, this could be a super convenient platform for you to join.
WooCommerce gets in touch with a huge community which enables you to sell your goods much easier and also it allows you to implement SEO strategies.
Despite its great customizability features, as a Shopify competitor, this is much of a time bandit.
Even though the plugin is free, it is the customer's responsibility to pay off the domain hosting, and an SSL certificate. Moreover, you might purchase extra plugins for integrations, order tracking, payments, etc.
Shift4Shop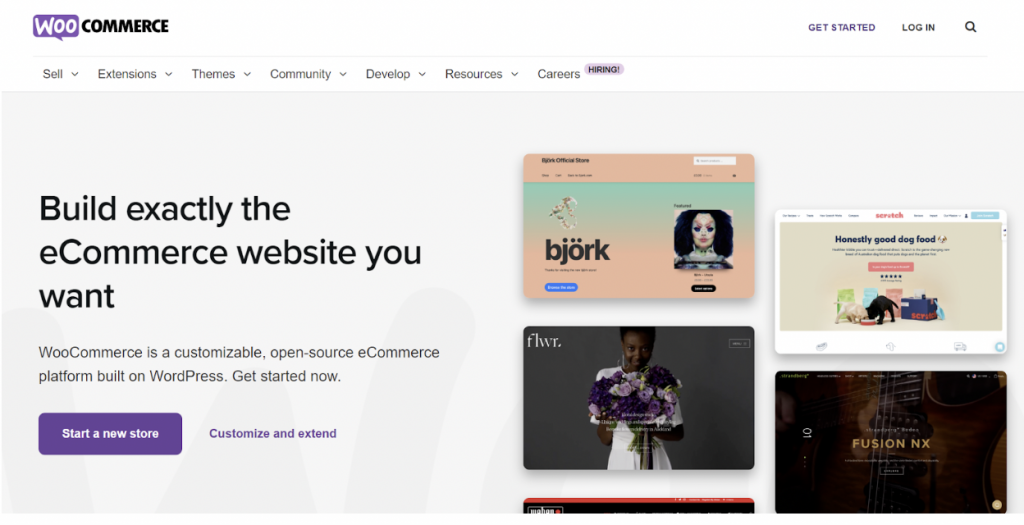 Founded in 1997, Shift4Shop, formerly known as 3dcart, is a useful Shopify Competitor. The company focuses heavily on SEO.
Shift4Shop enables you to use more than a hundred payment methods.
It has several kinds of SEO tools, like Google AMP.
You are able to change themes anytime and also if you are a US-based seller, a free plan is going to be offered.
It does not support mobile applications for selling
According to user reviews, it is more complicated than it is worth.
Squarespace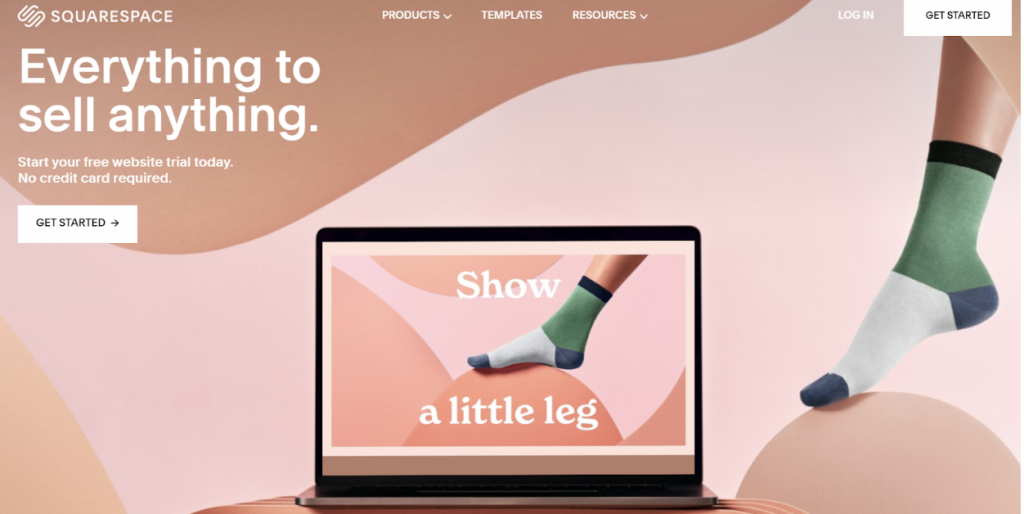 Providing software as a service to build a website and hosting services, Squarespace was launched in 2004 in New York City, USA.
The company brings a focus on modern-looking and attractiveness. According to sellers' experiences, it is by far their right to boast about their modern look.
It enables sellers to dropship with Spocket, Printful, and Printfy.
While still having some companies not providing 7/24 support, we can consider this as a positive feature for SquareSpace having this 7/24 support ability.
Even though the website of the company is translated into many languages, those are not more than European languages.
It has limited getting paid methods. Even if they are like Stripe, Paypal, and SquareSpace, most probably you might need more opportunities in the future.
WebFlow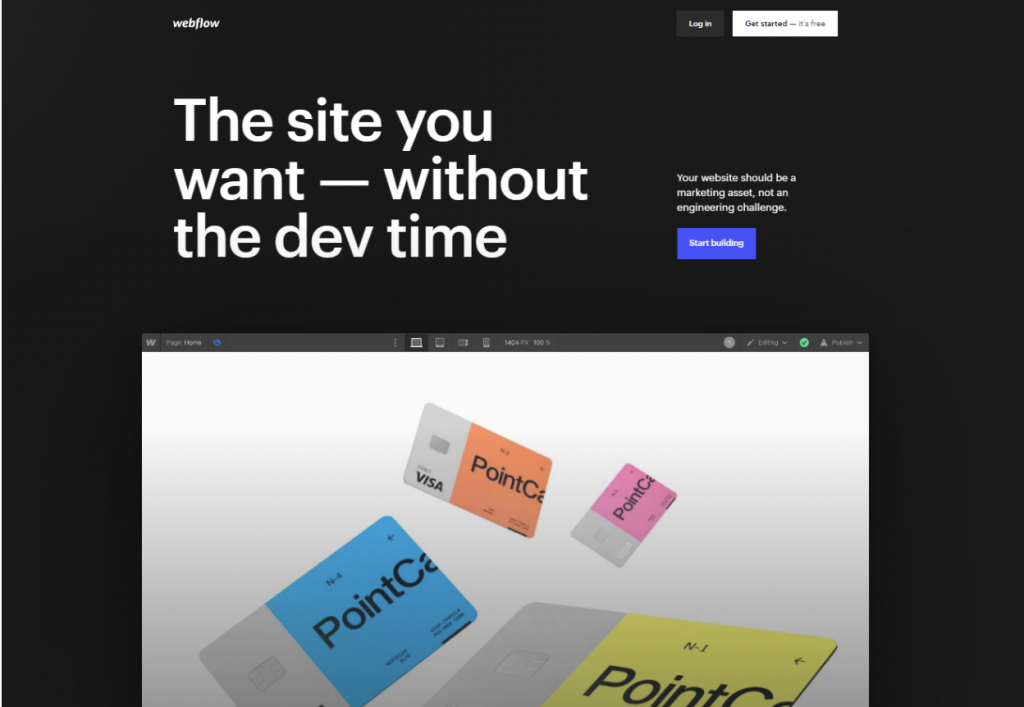 Released in 2013, WebFlow supplies software as a service to build a website and hosting services. Webflow is kind of a drag-and-drop website builder to create responsive websites.
It is riddled with features, providing everything including an excellent range of templates, e-commerce and marketing tools, and so on.
WebFlow also provides you with exceptional levels of design customization without any code skills. You can launch your dropshipping store in hours.
WebFlow is noted for its responsivity. This is known for the company's leading feature in the market. Its template's responsivity means it can automatically adapt to fit different kinds of screen sizes, depending on the device being used by the customer.
In comparison to Wix, it is sort of complicated to use and also as a Shopify competitor it has similar price ranges starting from $12 to $212. Maybe we can say that Webflow is a little bit cheaper.
In this communication world, it is a gigantic loss not to have 7/24 online chat or phone support.
Ecwid
Founded in 2009, Ecwid, standing for E-Commerce WIDget, is one of the most popular e-commerce plugins. While Shopify has been a platform letting you create your own online store, Ecwid enables you to add e-commerce features to your website.
However, as the two of them grew, they started to offer much more than before. Nowadays, while Shopify has some tools letting you add new features to your website, it is possible to create your very own online store by using Ecwid as well.
Ecwid could be linked with many platforms like WooCommerce, Wix, Squarespace, and some social platforms like Instagram, Facebook, Tik Tok, and Snapchat.
Easy to use, packed with handy functionality, and awesome for especially first users, Ecwid is a useful tool for selling all kinds of goods online.
Some users complain about poor tools in comparison to Shopify when we think of Ecwid as a Shopify Competitor. It may be needed to be developed.
If you are not that much comfortable with English, you should probably not work on Ecwid. Because it is not %100 translated to other languages, unfortunately.
When it comes to pricing, only the basic plan is free.
OpenCart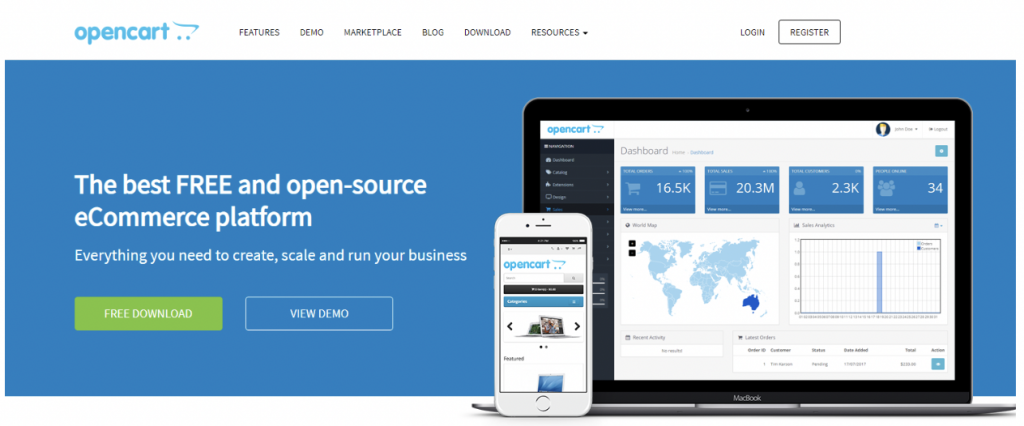 Introduced in 2010, OpenCart is a PHP-based online store management system that can manage several online stores from a single back-end.
With low startup costs, OpenCart is a pleasing friend for new entrepreneurs having good ideas but not enough budget.
It supports more than 40 languages including Chinese, Japanese, Greek, and Arabic. It means that you have no border to do your business internationally.
You would never run out of design options due to its rich and numerous design library.
If you are to install add-ons, you might find yourself hiring a developer to do it if you are not familiar with coding.
First-users must be careful about OpenCart since its customization can be difficult for them. Basic features can be enough but when it comes to customizing, you might feel stressed if you are doing it alone.
Final Verdict
With the advent of the 21st century's blessings, commerce has been turned into e-commerce in a moment. Those aware of this started inventing some new tools for people to use. At the end of the day, we all have access to those to make it visible, simpler, affordable, and global.
When it comes to those companies, while Shopify meets a considerable amount of requirements of many, it may still be insufficient for some, which is completely understandable. Also, you have many priceless ideas and businesses.
You would like to have them evaluated on the top. So, we have listed many alternatives to Shopify as a Shopify competitor for those who are looking for new approaches. Make sure that the e-commerce features explained above are one of the most prominent factors when you are to sell something.
We tried to cover every detail to point out differences, similarities, and also powerful and weak sides of them. We hope this review is going to yield you a good result as you expected. Hereupon, the choice is yours.
Dominate Your Market Now!
460,000+ sellers are using FindNiche as a secret weapon to win! But they'll never tell you.
Try it for $1!